Can You Help Us With Photographs Of This Trek?
We are looking to enrich this documentation with more photos. Pictures go a long way in explaining the trail, more than words ever can. If you have done this trek, can you share your photos with us? We will include them on this page, with due credit to you.Click here to contribute.
The Guide To Lonavala Bhimashankar Trek
Lonavala to Bhimashankar is arguably the best back-country trek in the Sahyadri range. The route passes through deep wild rainforest, head-high bushes, lost-and-found trails, small rivulets, remote tribal villages, eerie temples, green meadows, hidden waterfalls and a plateau of flowers.
You explore the best features of the Sahyadri range on this trek.
Green gorges, distant villages, countless tunnels and occasional waterfalls - Indian countryside at its best.
The valley of flowers of Maharashtra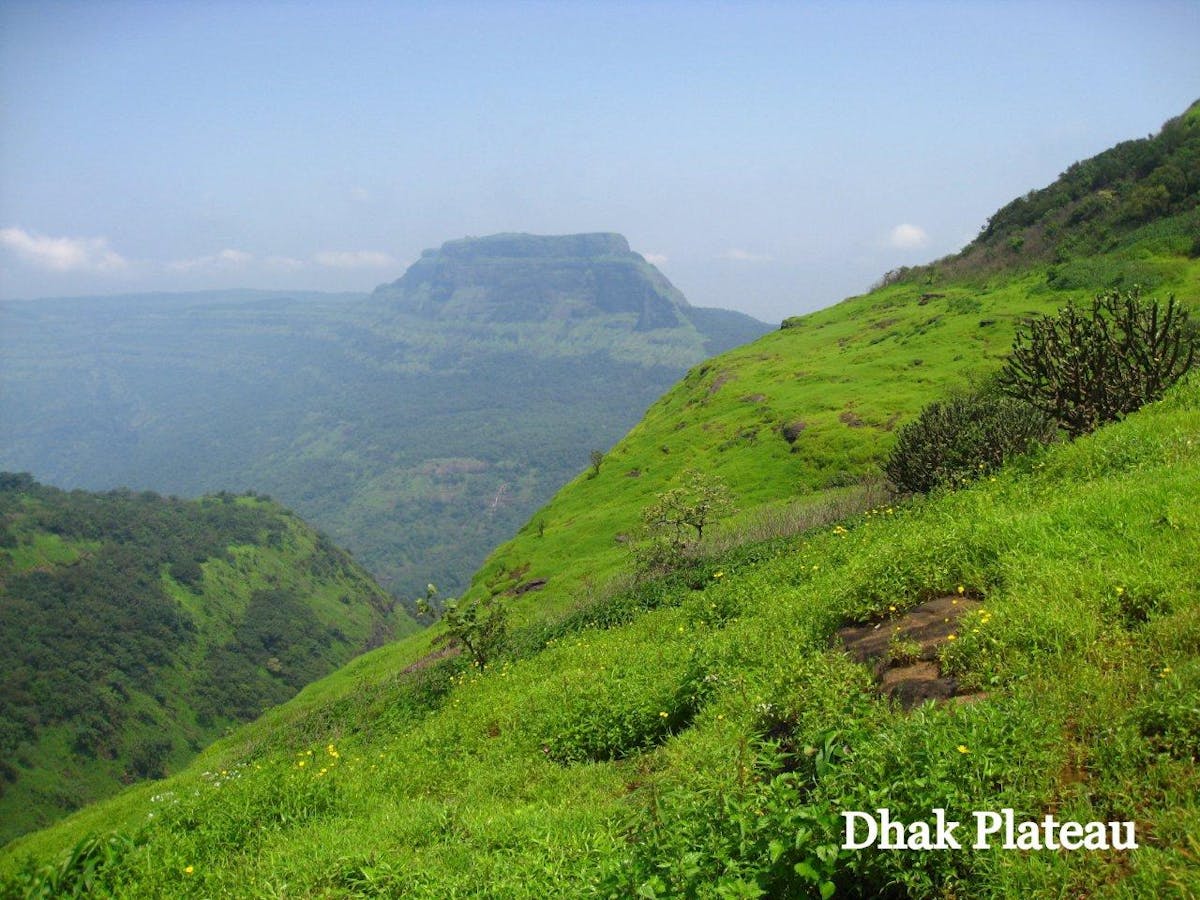 Dhak Plateau
The Lonavala Bhimashankar Trek route passes through deep wild rainforest, head-high bushes, lost-and-found trails, small rivulets, remote tribal villages, eerie temples, green meadows, hidden waterfalls and a plateau of flowers.
Due to the remoteness of the Bhimashankar Wildlife sanctuary, there are a few tribal villages where life still revolves primarily around hunting, gathering, and subsistence agriculture.
You explore the best features of the Sahyadri range on this trek. The Bhima river originates from Bhimashankar hill and passes through the deepest part of the forest. It attracts abundant wildlife, as there is no other water source around.
Short Itinerary
Day 1: Lonavla to Kundeswar village; 6 hours
Day 2: Kundeswar village to Kusur village; 5 hours
Bus to Talpewadi; 1 hour
Day 3: Talpewadi to Bhimashakar; 10 hours
Trail Information
Day 1: Reach Lonavala; Trek from Lonavala to Kundeswar village
Time taken: 3-4 hours to reach Lonavala; 6 hours trek
Trek gradient: Moderate
Water sources: None. Carry 2-3 litres of water
Starting point: Tungarli Dam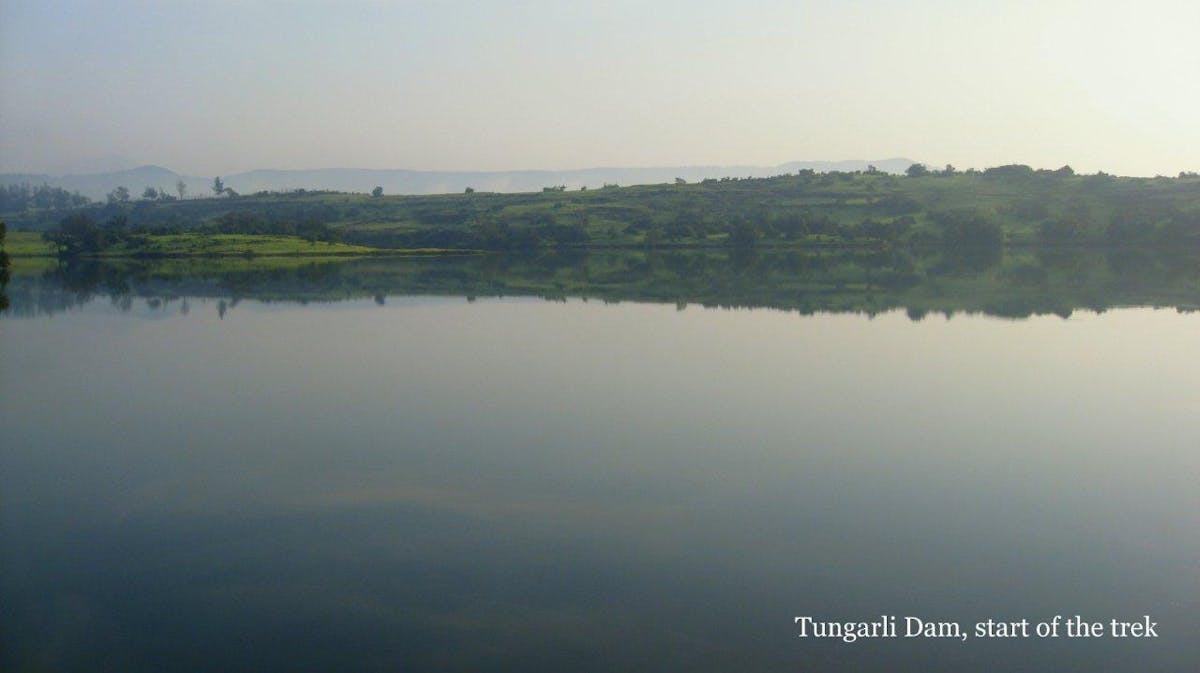 Tungarlu Dam, start of the trek
Once you reach Lonavala, take an auto-rickshaw to Tungarli Dam. This is where the trek begins.
At Tungarli, walk straight ahead on the wide trail. After about 2 hours you will reach a fork. Proceed along the trail on the right. An hour on this trail will bring you to Valvand village. While trekking through this stretch, you will get breathtaking views of the Rajmachi hills. Numerous birds and butterflies dot the landscape. You might even be able to spot trains in the distance.
The wide trail ends at Valvand village. Once you cross Valvand, you enter a forest. The trail ascends steeply as soon as you're inside the forest. The forest is very dense and the trail is barely visible. Wishing 15 minutes, you reach a clearing. Shirota Lake becomes visible to your right - this is a blue reservoir surrounded by hills.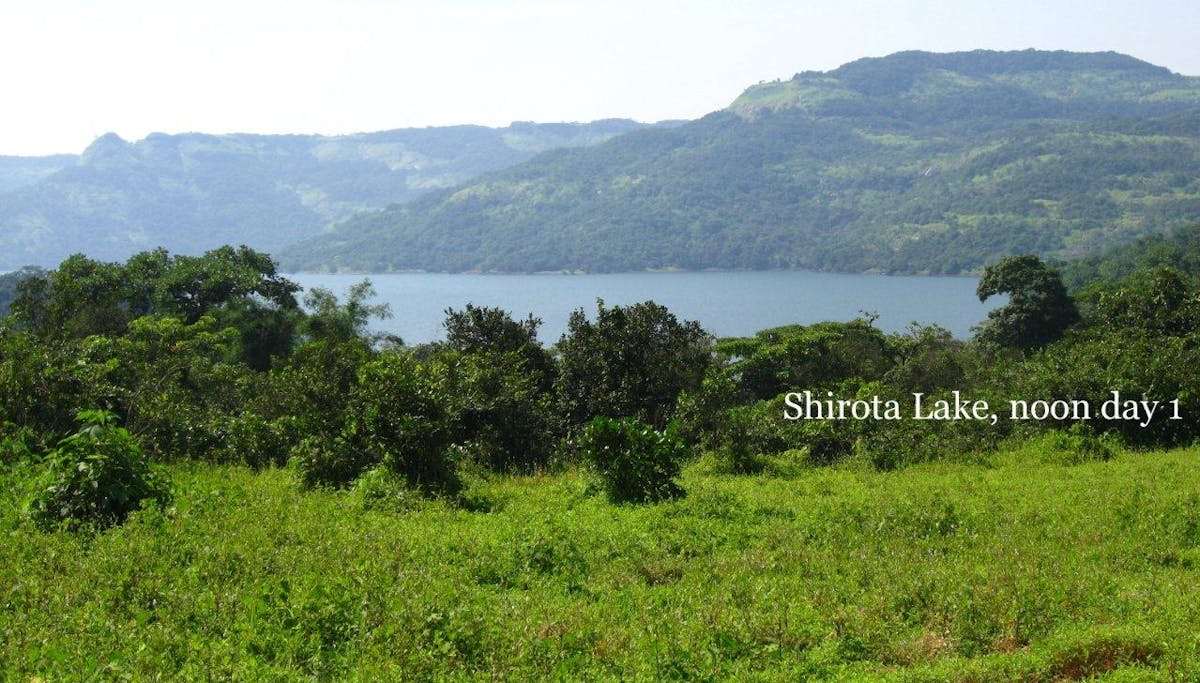 Shirota Lake
Continue ahead on the trail. The forest begins again in about half an hour. After monsoons, it might get difficult to locate the trail. Continue making your way through the forest. After about an hour, Dhak plateau becomes visible to your left. At this point, the trail also becomes clearer. This can be very reassuring, especially if you're fumbling your way through the forest without a trail at all!
Around 200 meters on, this trail brings you to a grassland. You can take a break here.
Dhak Plateau
The forest which begins soon after the grassland is not as dense as the previous stretch. The trail is clearly visible. In about 10 minutes, you get to a spot where multiple trails proceed in different directions. Take the one descending to the left.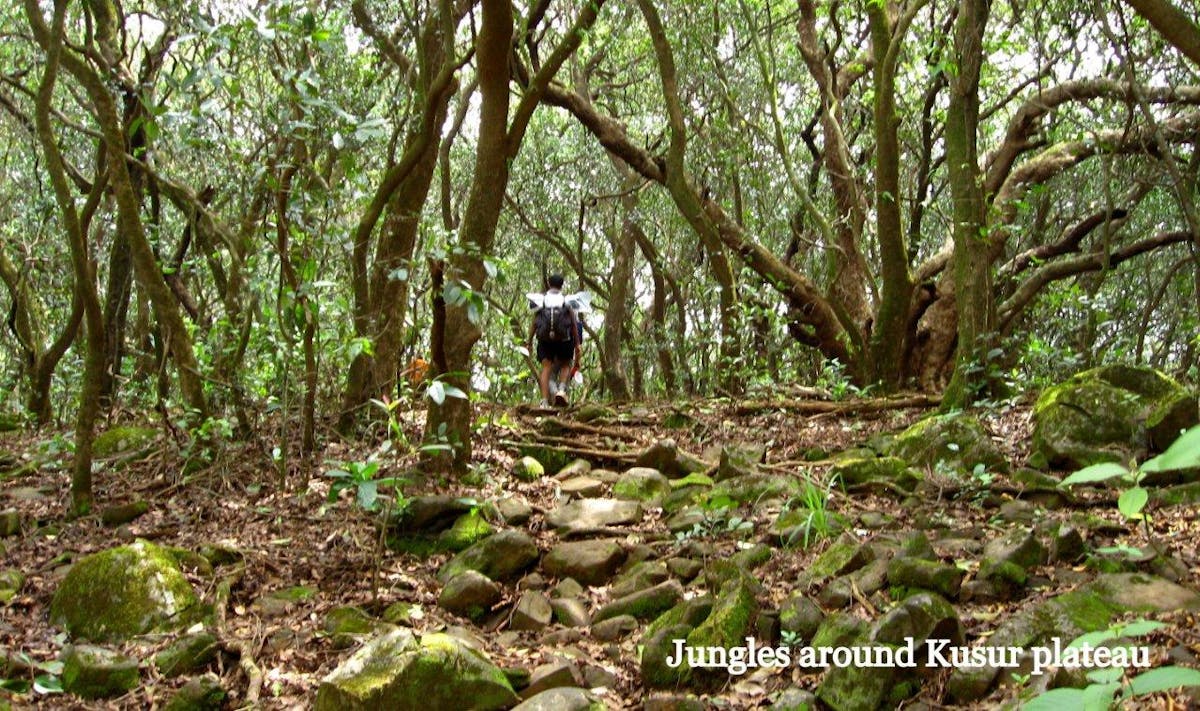 Jungles around Kusur plateau
You will reach the temple outside Kundeswar in about 45 minutes. The village is another 15 minutes away. You can rest in the village for the night or back at the temple, in the courtyard. You can arrange with the villagers to provide you with dinner and breakfast the following morning. The villagers can also help you with a mattress and candles.
There is a rivulet flowing just behind the temple. Dhak plateau is visible to your right.
Day 2: Kundeswar to Talpewadi via Kusur 
Time taken: 5 hours trek to Kusur and 1 hour bus ride to Talpewadi
Trek gradient: Moderate
Water sources: None. Carry 2-3 litres of water
Starting point: Ganesh temple outside Kundeswar
Start early and proceed towards the village. In about 30 minutes, the flat trail starts climbing onto a hill. The trail curves to the right after a while. Kusur plateau lies ahead of you. After the monsoon, the plateau is filled with flowers. It almost reminds you of the Valley of Flowers in Uttarakhand.
You walk through the plateau on a very narrow trail. The flowers grow more colorful as you move ahead. You can stop for tea at one of the huts that you reach shortly. It is easy to lose track of time, admiring the flowers and clicking photographs.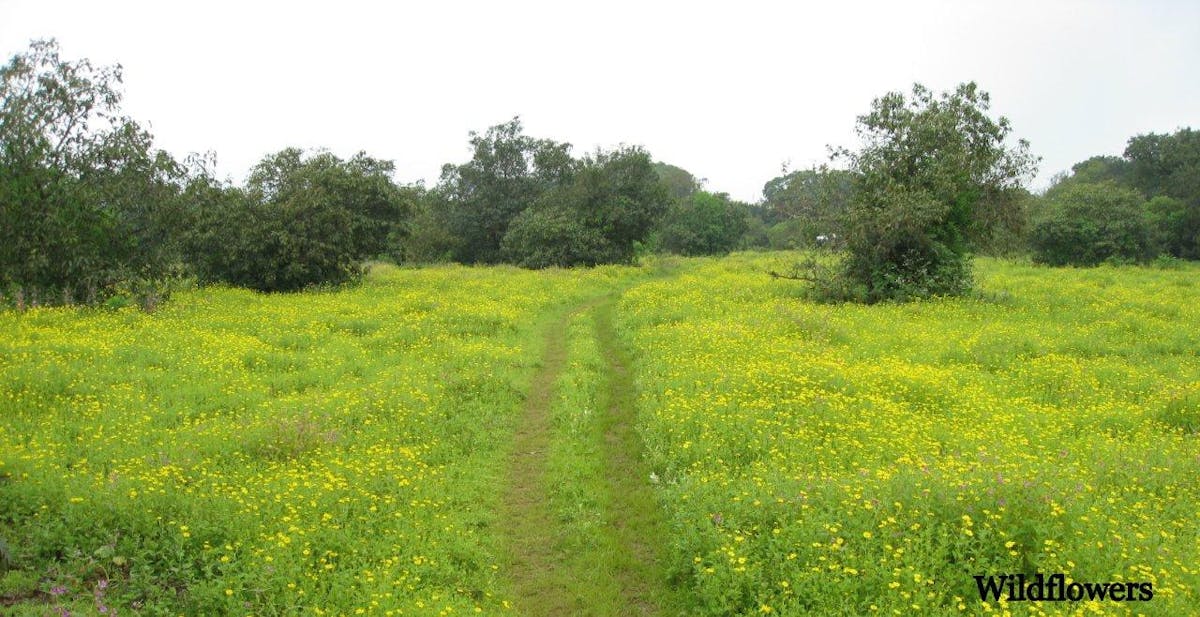 Wildflowers
Kusur village is an hour's trek from here. It's mainly a descending trail. Kusur is a reasonably large village. You can buy food here. Board a bus here for Talpewadi village, which is 15 km ahead.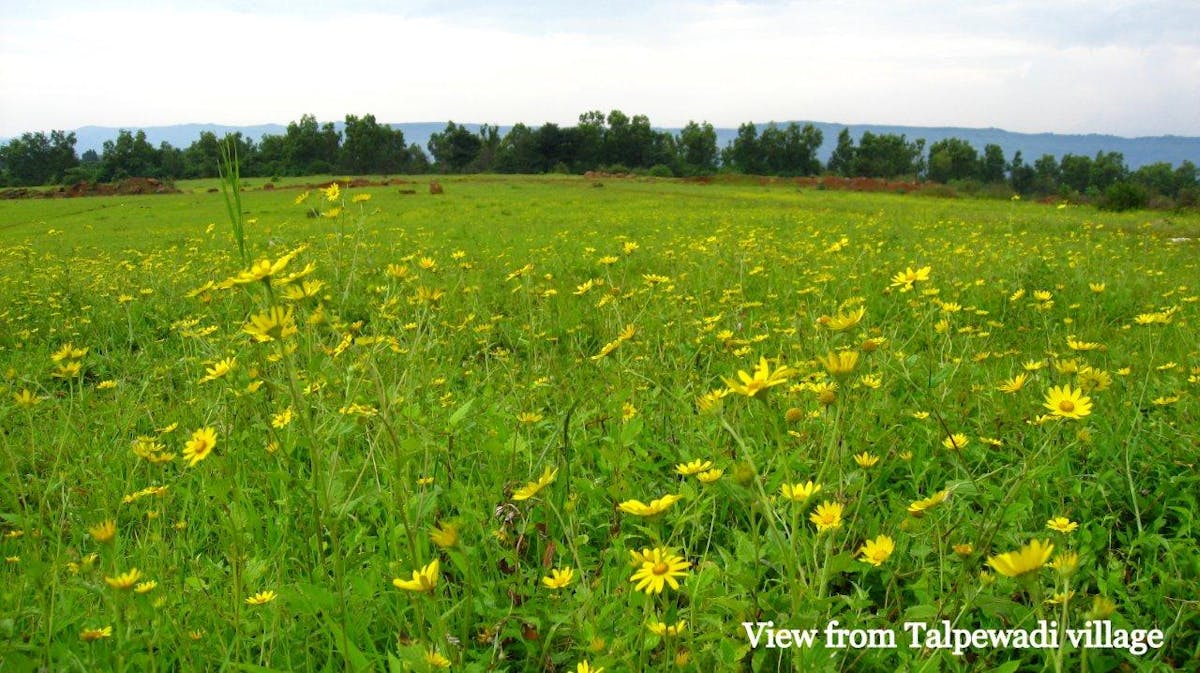 Villagers at Talpewadi allow you to stay with them for a fee. You can approach any of them.
Day 3: Talpewadi to Bhimashankar through Bhimashankar wildlife sanctuary 
Time taken: 10 hours
Trek gradient: Moderate
Water sources: Carry 2-3 litres of water. Bhima river, which you will reach after 8 hours of trekking is the only water source.
Starting point: Talpewadi village
Start early from Talpewadi. The trail from Talpewadi is straightforward and you enter Bhimashankar Widlife sanctuary in about an hour. The trail inside the Sanctuary is clearly marked. However, you can also get a guide from Talpewadi if you're unsure.
Once you enter the sanctuary, it's wilderness again. You see occasional bushes of wild flowers. The trail is undulating and turns frequently. In about 2 hours, you reach a waterfall. It's 100 ft high and hidden deep in the jungle.
Continue on a similar trail after taking a break at the waterfall.  In about 2 hours, you will reach a plateau. This is similar to the Kusur plateau - brimming with flowers. Once you cross the plateau, the trail enters thick bushes. Within minutes you're out in the clear again. To your right, you get unobstructed view of a vast uninhabited valley. Numerous streams flow across it.
Two more hours on this trail bring you to the other side of the hill. Two tribal villages appear at a distance. Descend towards them. At the backdrop of these villages stands the imperial Bhimashankar hill and on the other side lies the endless basin that had kept you mesmerized for the last 2 hours. A rivulet gently flows. Bhimashankar base is 30 minutes away, down this trail.
From the base, the Bhimashankar temple is a straight climb up. The trail enters a deep and dark forest yet again. If you're lucky, you might spot a shekru or giant Indian squirrel. In about an hour, you reach the Bhima river. It can get tricky to cross right after monsoon. The Bhima river originates at Bhimashankar and flows deep through the forest. It's the only water source for animals in the forest.
The trail up from the river is steep but well laid. You will reach Bhimashankar after about an hour's climb.
What to reach the base of Lonavala Bhimashankar
Reaching Tungarli Dam
If you're traveling from Mumbai, board a local train to Karjat. From Karjat, there are frequent trains to Lonavla. Tungarli Dam is a short ride away from Lonavla railway station. Autos are available right outside the station.
You could also time your journey with one of the long distance trains starting from Mumbai. Some of these stop at Lonavla.
Getting back to Mumbai
Bhimashankar is 211 km from Mumbai. There is a bus stand close the temple, where the trek ends. You can board an State Transport bus here to bring you back to Mumbai. The journey will take 6-7 hours.
Difficult Sections on the trek
The trail passes through a dense jungle. Plan your days in a way that you reach the villages mentioned before it gets dark.
What to pack for the trek
No, stuffing it all in isn't the right way to do it Packing a backpack correctly saves precious time that you might waste trying to find your things later. It is wise to spend some time on learning what really goes into packing a backpack.
What should I pack
On a trek, you only get what you take. Something as simple as a forgotten matchbox can cripple your cooking plans throughout the trek. So, it's essential to prepare early and prepare well. To begin with, make a checklist. While shopping, remember this thumb rule - keep it light. "Every item needs to be light. This ensures that your backpack, on the whole, stays light," says Sandhya UC, co-founder of Indiahikes. Balancing out heavy items with light ones isn't going to have the same effect as having all light items. "Always opt for good quality, light items," says Sandhya.
How to pack
The thumb rule for this one is to eliminate air spaces. Make sure that everything is packed tightly, especially clothes and jackets, as they tend to take up maximum air space. Put in all the large items first. Then squeeze in the smaller ones in the gaps. This ensures minimum air space. A good way to pack clothes is by using the Ranger Roll method.
Where to pack
BottomSleeping bag: Make this your base layer. Sleeping bags tend to be voluminous, but do not weigh much. They're perfect for the bottom of the bag. Tent: Just like the sleeping bag, even tents are voluminous and light. Keep the tent poles separately and place the fabric at the bottom of the backpack. MiddleHeavy jacket: Roll up the jacket in a tight ball and place it in the middle of the backpack, close to your back. The middle region of the backpack should always have the heaviest items. You can store other things like ration or mini stoves in the middle. Other clothes: Roll other clothes and place them in the remaining space, to fill air gaps.
Top Water: Water, although heavy, needs to be easily accessible. So put it in the top most region of your backpack. Medicine box: This is another component that you wouldn't want to be scavenging for when in need. Poncho: It could rain at any time in the mountains. So, ponchos should be accessible easily. Also, having a waterproof poncho at the top of the backpack provides additional waterproofing to items in the bag.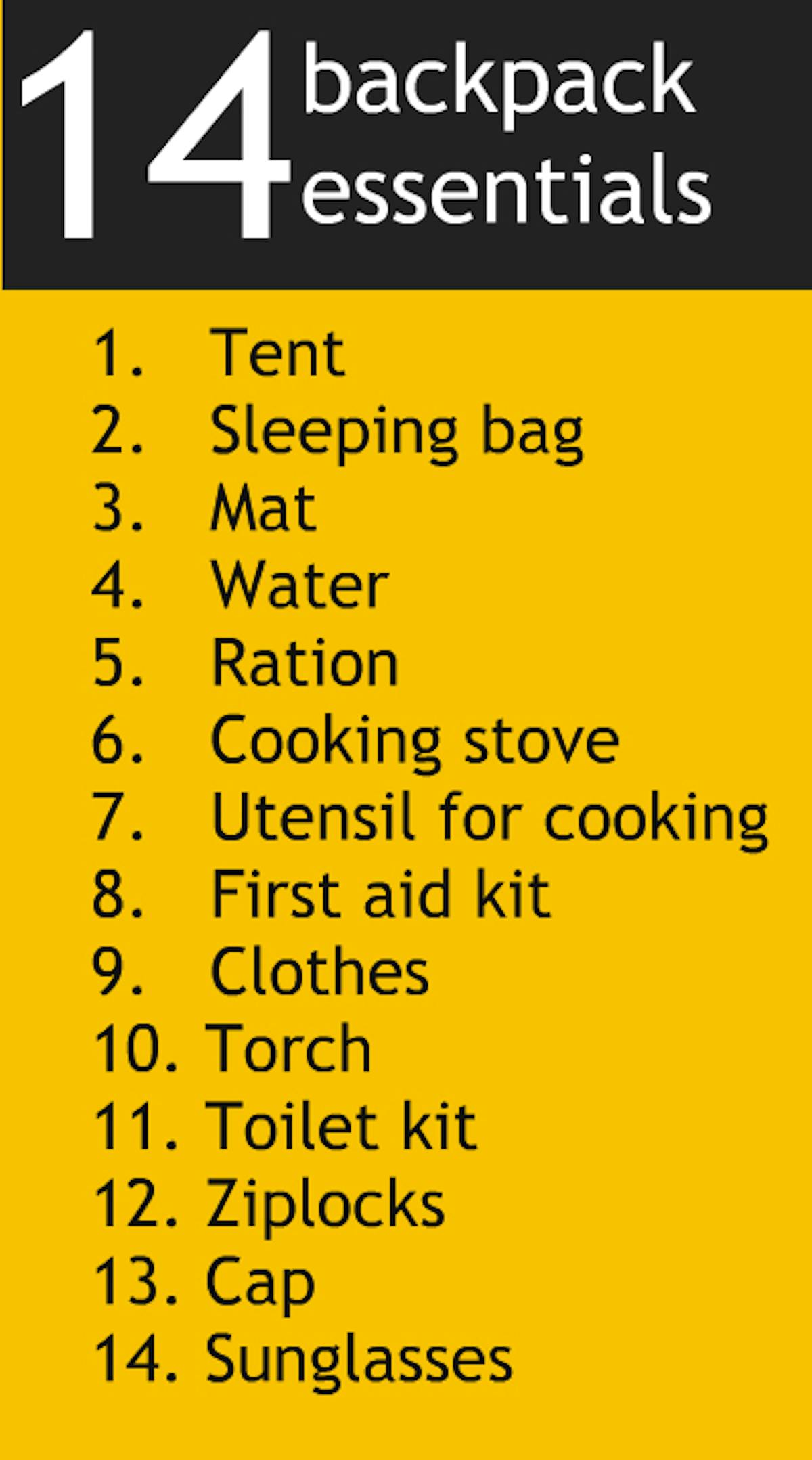 Backpack essentials
How to Get Fit for the trek 
Cardiovascular endurance
The secret to ascending any trail lies in building your cardiovascular endurance. You can begin by jogging every day. Ideally, you should be able to jog 4 km in 20 minutes before the start of the trek. It takes time to be able to cover this distance in the given time. Start slow and increase your pace every day. Swimming, cycling and stair climbing without too many breaks in between can help too. Strength This is another area you should work on. You will need to build strength in your muscles and in your core body. You can do some squats to strengthen your leg muscles. Do around 3 sets of squats, with 8 squats in each set. Apart from this, you can add planks and crunches to your workout.
Flexibility
Another aspect that will help you trek comfortably is flexibility. For this, you can do some stretching exercises - stretch your hamstrings, quadriceps, hip flexors, lower back muscles and shoulders regularly. Carrying a backpack, however light, can become a strain after a while. These exercises will help you to be in good shape before the trek. Working out indoors
If you can't go out and jog because of time and space constraints, here's a video you can use to work out indoors.