Can You Help Us With Photographs Of This Trek?
We are looking to enrich this documentation with more photos. Pictures go a long way in explaining the trail, more than words ever can. If you have done this trek, can you share your photos with us? We will include them on this page, with due credit to you.Click here to contribute.
The Guide To Mahuli Trek
The Mahuli Trek is popular amongst enthusiastic rock climbers and and also corporate professionals looking for some adventure, due to its proximity to the city. It is a complex group of hills which share pinnacles and cors. Mahuli, being at the highest altitude in the Thane district, gives you a birds' eye view of the landscape below. Plan this trek in the monsoons to enjoy the cool breeze
The trek is much loved due to the lush green forest and meadows around. It is a spectrum of green and surprises you with its landscapes.
The Mahuli Trek begins at the Mahuli Fort base. Here you can visit the local temple where you will find a map of the trek. Finish you darshan and start the trek early with an enthusiastic "Ganapathy Bappa Morya"
History
Mahuli's historical significance lies in the various eras of rulers who have ruled here. Beginning with the Moghuls who created the fort, it came under the rule of Nijamshahi dynasty in 1485. It was later on won and sacrificed by Shivaji Raje twice, passing it back to Moghuls in the 'treaty of Purandar'. In 1670, when Gaud was in charge of the fort, Marathas attacked the fort again, but ended up losing a gem, Sardar Kadam, later named 'Sonare' (Gold of Swarajya) by Chatrapati Shivaji Raje. By mid-1670, the fort was conquered by Moropant Pingle and added to Swarajya. Around 1,700 different climbing pinnacles surround this fort, making it a fort worth fighting so much for. It also is the highest fort in the Thane district, and since a lot of the fortification still remains, it is quite an attraction for history lovers.
Trail Information
Time taken: 2 hours to ascend from Mahuli fort base + 45 minutes to descend
Trek gradient: Easy. Couple of gradual ascents for about 40 minutes each followed by short level walks. Final section is a steep ascent
Water sources: None. Carry 2-3 litres of water
Altitude: 2,815 ft
Starting point: Temple next to the Mahuli Fort Base
The Mahuli trek begins with a train journey to Asangaon from Mumbai. The base of Mahuli fort is where the trek begins. This is a short ride from Asangaon station.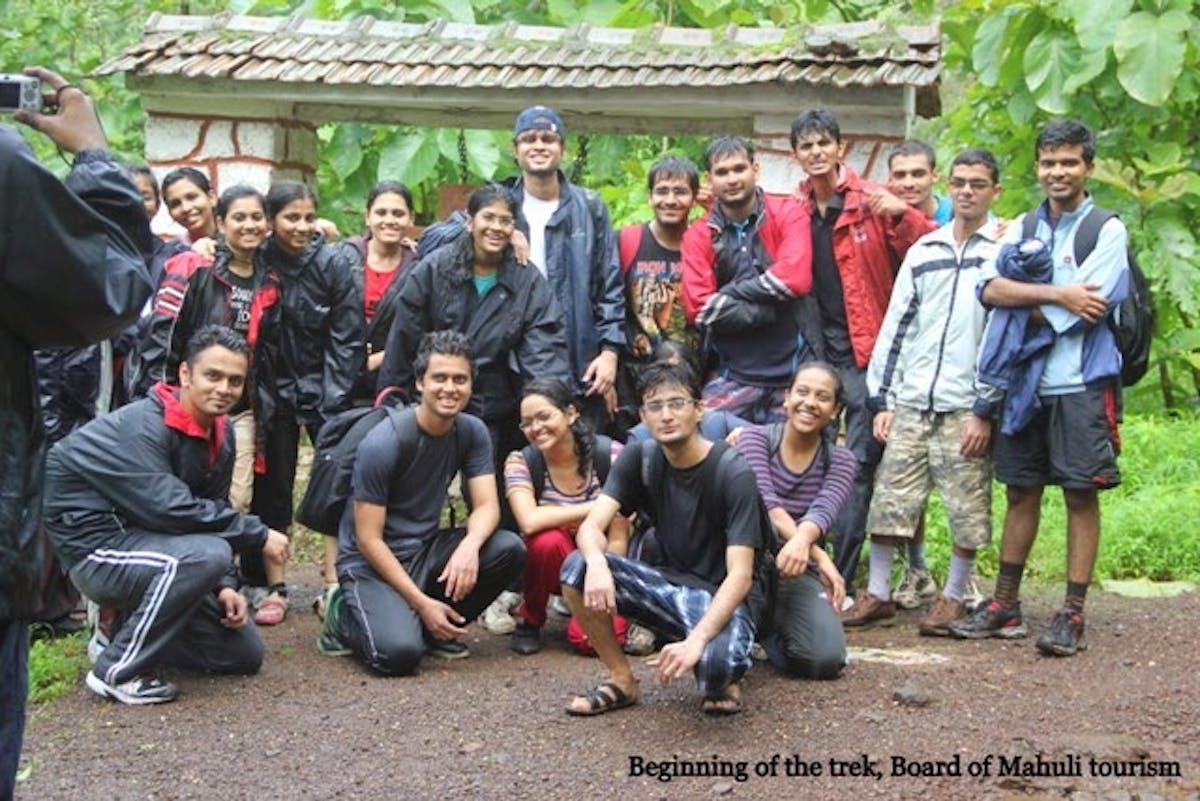 Beginning of the trek
Take the trail going towards the right side of the temple, and reach the Mahuli Trek and Tourism Centre. That's the main entrance to Mahuli's jungle area. Ahead lies the trail, which is covered with trees almost all the way. You will pass a village soon after.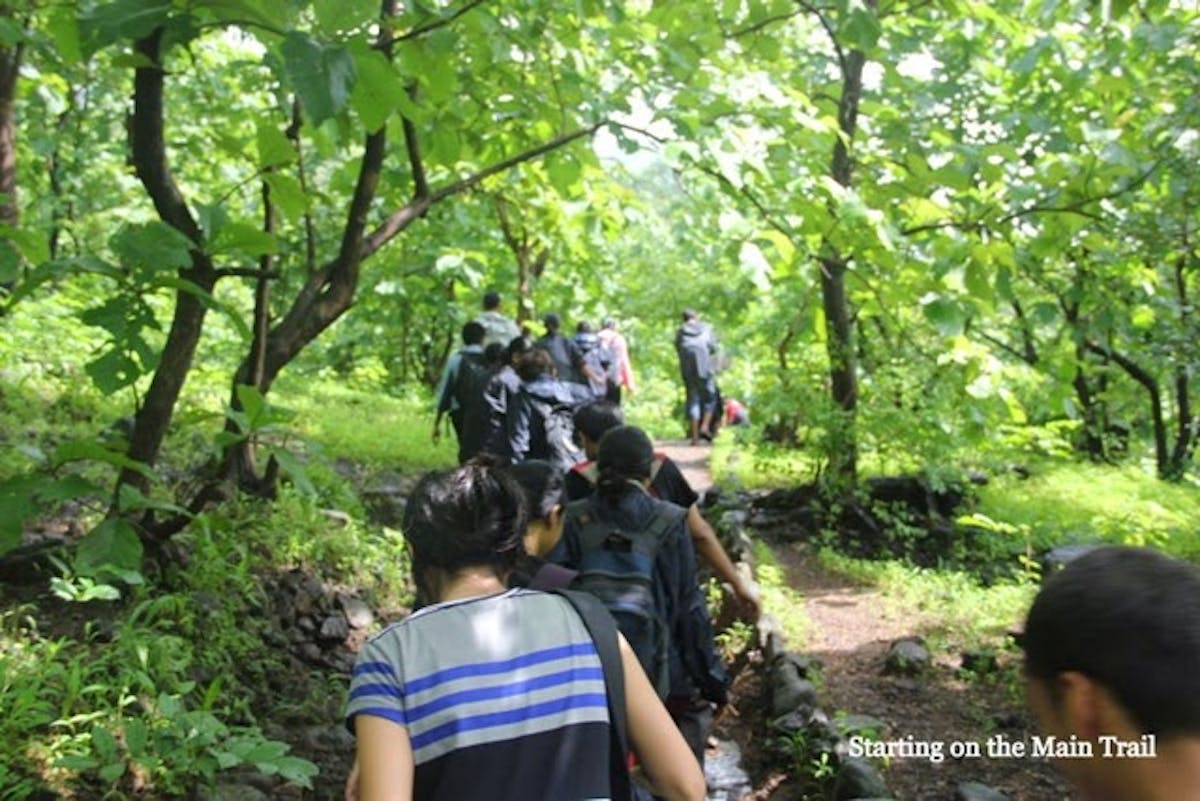 Initial trail
The villagers are warm and helpful and you can hire a guide or buy food from them. Since the trail is straightforward, you might not require a guide. You will come to the river crossing within 10 minutes of starting the trek. During monsoons it is difficult to predict the force of the flow, so tread carefully. (2019 Update: A bridge has been constructed over the river to aid crossing in monsoons.)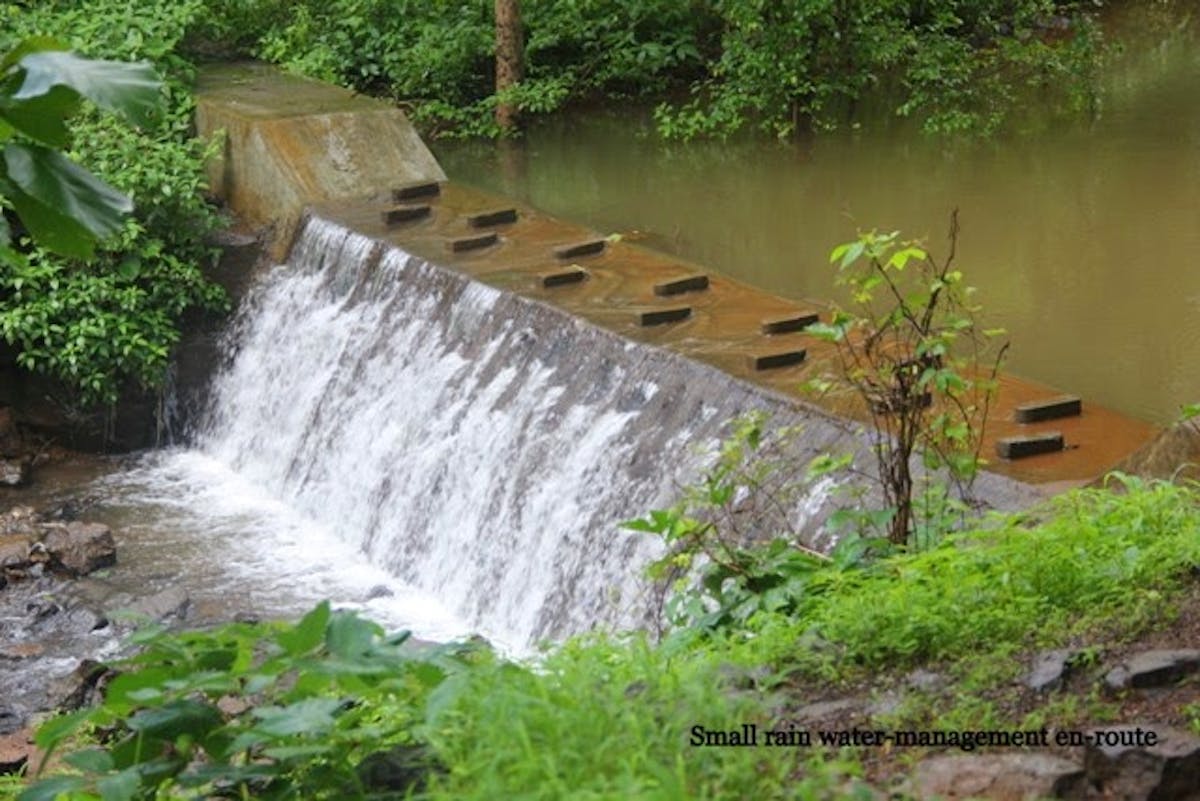 Small rain water management en-route
After the river, the trail begins to ascend gradually through zig-zag routes on a small hill. This leads toward Mahuli. In about 30 minutes, you will reach a clearing where the trail flattens out. Ahead, at a short distance, is the next ascent. This stretch is similar to the previous one – you will gradually ascend through the jungle for 30-40 minutes and reach another clearing where the trail eases. This is a good point to take a break if you wish.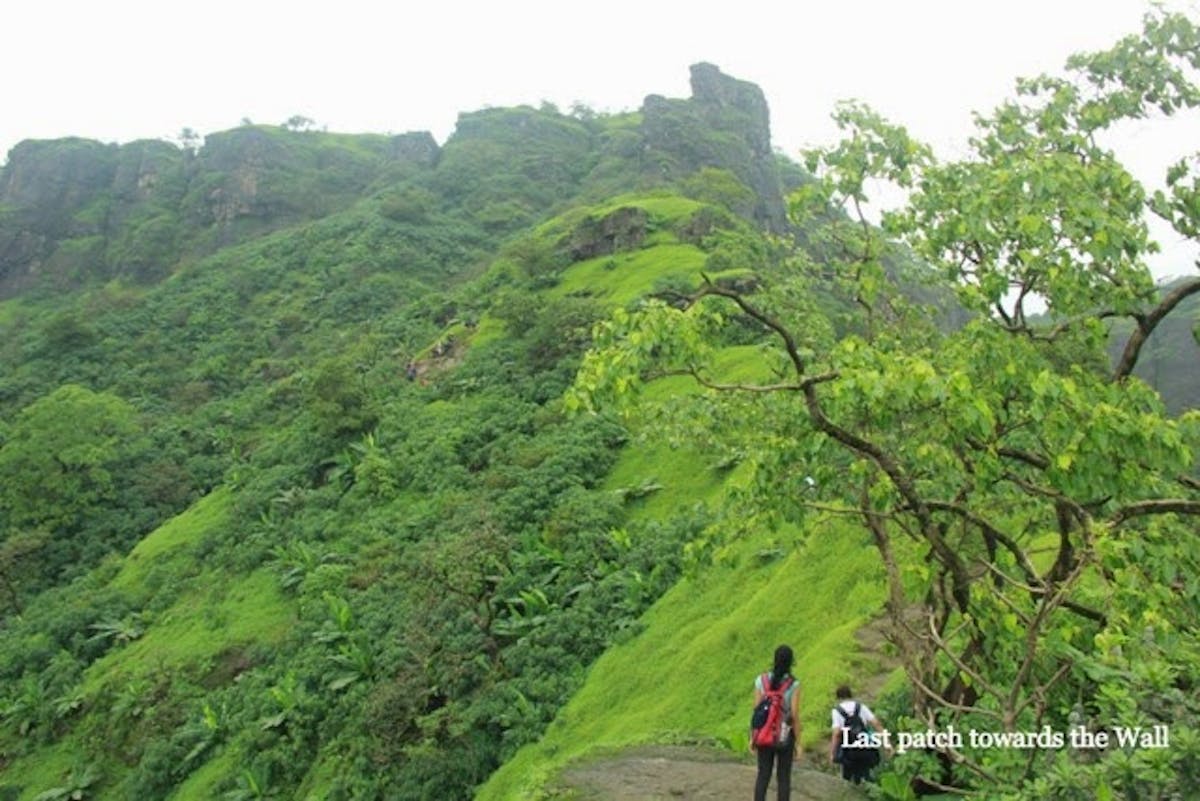 Last patch towards the wall
From here on, the trek gets steeper and a few slippery patches need to be crossed. You will begin to get views of Mahuli's well-known pinnacles on your left.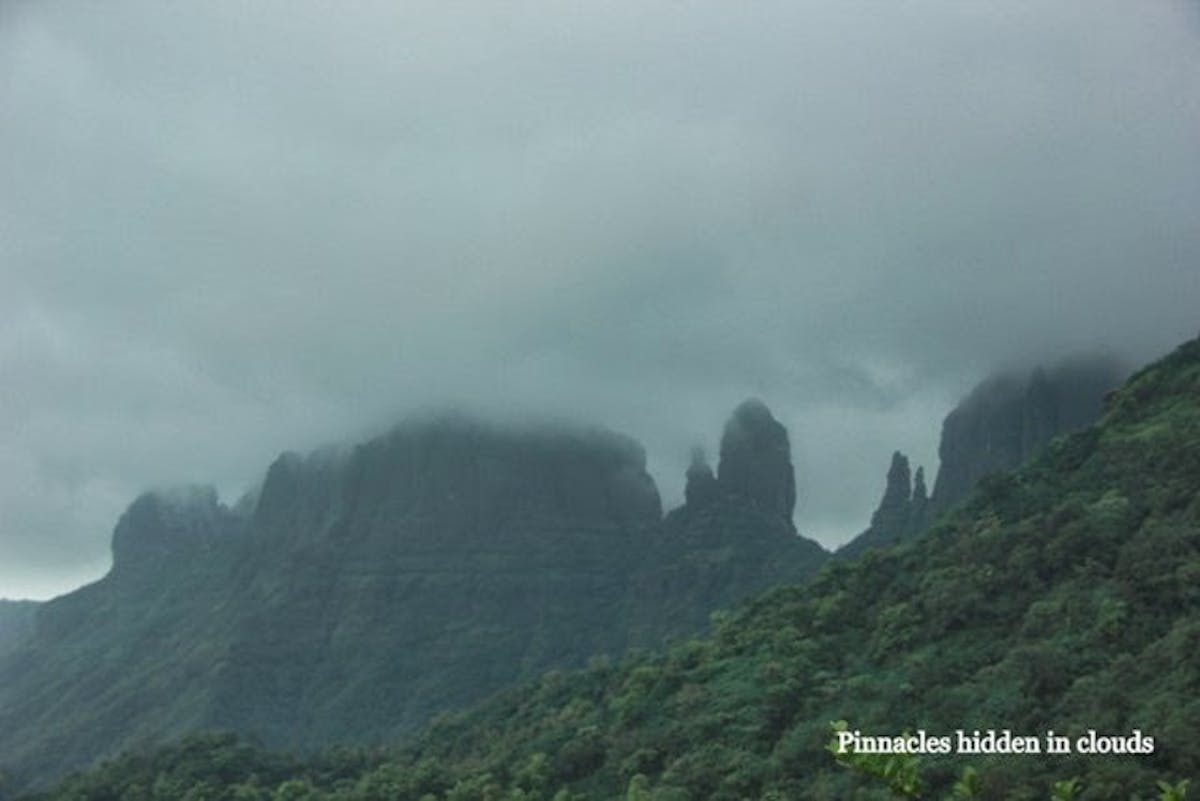 Pinnacles hidden in clouds
The final patch of this fort arrives after a small clearing, which takes about half an hour to climb. The top has a beautiful Gate-like structure, in the fort's wall. The trek ends here, but you can spend time exploring the fort. There is a Shiva temple if you walk towards the left. It is under a huge tree and was probably built by villagers many years ago. If you go further ahead, you will find remains of the original fort wall. To the right, are a few caves – if only they were better maintained!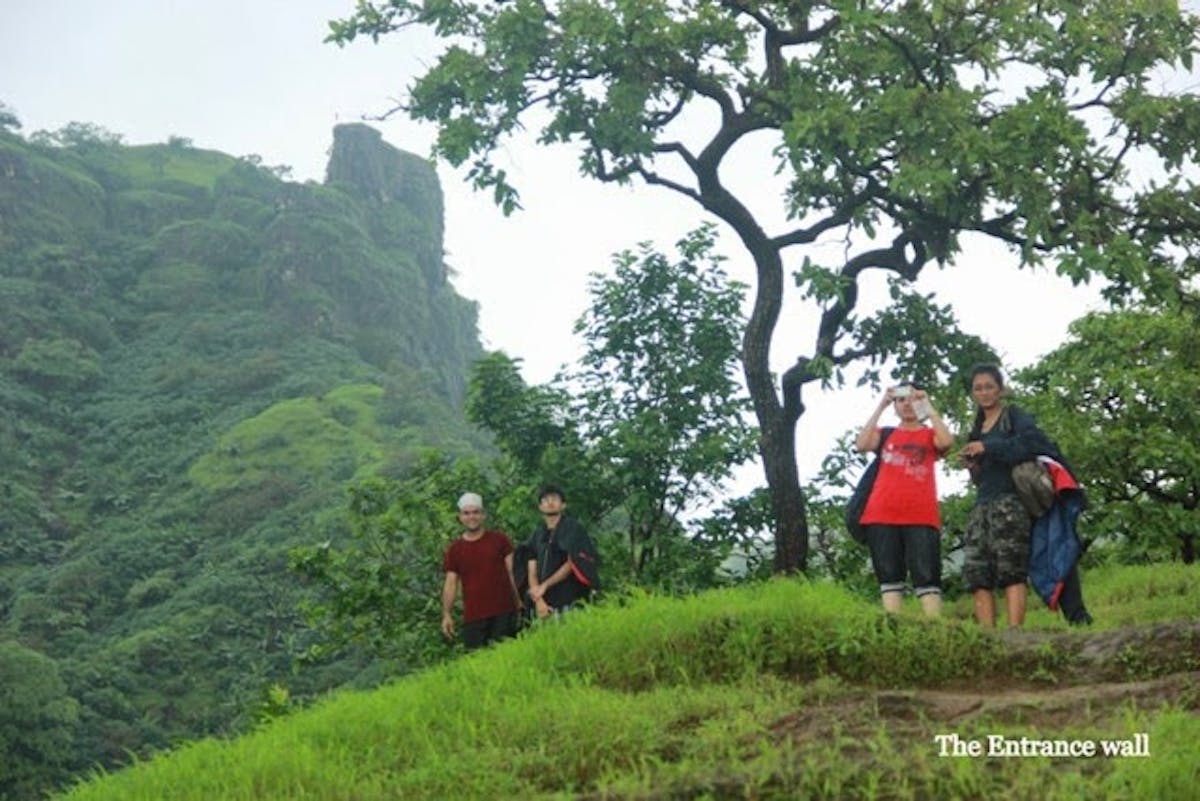 The entrance wall
The descent is on the same route. It doesn't take too much time but you need to watch out for loose pebbles and slippery patches, especially in the monsoon. You can grab a bite at one of the village houses and head back to Asangaon.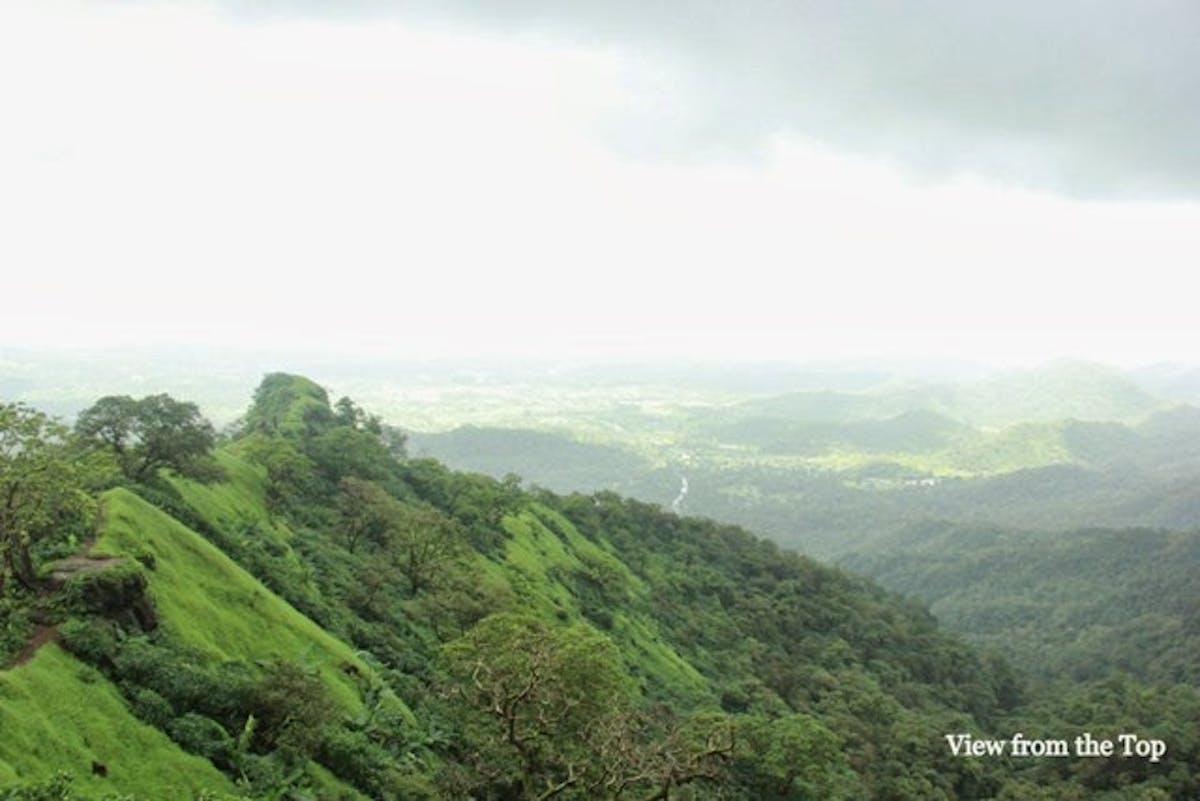 View from the peak
To sum it all up, Mahuli Fort is an easy monsoon trek. The trail is well defined with no tough patches on the route. It can be enjoyed by beginners and experienced trekkers alike.
How to Reach the base of Mahuli Trek
Plan Your Travel for Mahuli trek
Nearest railway station to Mahuli:
Reaching Mahuli By Public Transport System
Reaching Asangaon from Mumbai: Mahuli is easily accessible from Mumbai. The best way to reach there is to take a local train to Asangaon. Travel time from Mumbai CST is around 2  hours. 
Reaching Mahuli Fort from Asangaon: It is a short drive from Asangaon Railway station to Mahuli fort. Autos and buses are easily available outside the station. You can also grab a snack outside the station before you proceed.
Directions: Get down at Asangaon and take an Auto/Bus to Mahuli Village.
Transport By Bus: There are buses running from Asangaon to Shahapur which you can find on the opposite side of the highway, Asangaon station. You will have to get down and change the bus at Shahapur.
Catch another bus from Shahapur to Mahuli, the tickets are priced at Rs.15. There is a bus at 8.00 am from Shahapur and the last buses for Shahapur leave Mahuli at 5 and 6.45 pm. Do confirm the bus timings before starting your trek so that your return journey is planned as well.
Transport By Auto: You can reach Shahapur by sharing an auto for 10 rs/seat from Asangaon or take an auto to Mahuli base directly. It will cost you Rs. 250 for 3 people.
Remember to collect the contact numbers of the auto drivers so that you will have an alternative if you return to the base later than 6 pm.
Also, fix the price for the return journey or you might be charged higher. 
Nearest International and Domestic Airports
Frequently Asked Questions about Mahuli trek
​Can I do Mahuli trek if I have never been on a Sahyadri trek before?
Even though Mahuli trek is considered an Easy-Moderate trek, there are some sections that can be difficult for beginners. So if you are leading an active lifestyle with a regular fitness routine then the trek will be a lot easier.
What are the accommodation options near Mahuli Fort?
Camping on the Mahuli trek is not allowed. So if you are staying overnight you might have to pitch your tents at the base of the trek, Bhakt Niwas.
Where can I get food and water during the Mahuli trek?
There are a few restaurants on the Mahuli Fort road. However, your options dwindle as you go farther from the base village. The last restaurant can be found at Bhakt Niwas just before the trek trail starts and there are no other restaurants after that.
Do I need to obtain permission for trekking to Mahuli Fort?
No. You don't need permission to trek to Mahuli Fort as such. However, there might be an entry fee of Rs. 20/head collected at the ticket counter right after a mandir where you start the trek.
Where can I get a guide for the Mahuli trek?
The trail to the fort is very clear cut. However, if you are still unsure or need help with negotiating the slippery trail during monsoon, you can hire a guide from Bhakt Niwas. 
Hospital: The closest hospital is the Sub District Hospital, Shahapur which is just 8.5/9 Kms away from Mahuli Fort. 
Police station: The nearest Police station is the Shahapur Police Station which is 20 minutes drive from Mahuli Fort. You can contact them on 02527 272 090.
Mountain rescue: Giripremi has started a Pan-Maharashtra rescue group called Maharashtra Mountaineers Rescue Coordination Centre (MMRCC). You can contact them on 7620230231 for help in the Sahyadris. Read more about this wonderful initiative here: (Link: http://www.giripremi.com/mmrcc/) 
ERSS: For any kind of emergency help, you can contact the Pan-India Emergency Response Support System (ERSS) number- 112. 
Nearest ATM
The nearest ATMs are found on the National Highway which is close to 10 Kms from Mahuli Fort.
How to Get Fit for the Mahuli Trek
The Mahuli trek is classified as an Easy-Moderate grade trek. From Bhakt Niwas at 404 feet, you will gain approximately 2,815 feet in altitude. Though the altitude gain is not much, the continuous ascent can be quite demanding for people who lead a sedentary lifestyle.
Training yourself for a low-altitude Easy-Moderate grade trek
Here's a guide to help you get fit for the trek in 4 weeks.
Cardiovascular endurance
In case you're just starting with a fitness routine, start slow and increase your pace everyday in the following manner –
Target completing a brisk walk of 5 km in 45 minutes when you begin.
Gradually increase your pace by walking 5 km, 4 times a week.
As you become more comfortable, introduce jogging in your routine. 
Progressively increase the distance you jog in a workout until you can complete 5 km in 40 mins.
If you prefer cycling over running, target covering 15 km in 60 minutes when you begin.
Progressively increase your pace to cover 18 km in one hour.
Strength training
This is an important area you need to work on. 
Strength training is equally important to trek comfortably. Work on your glutes, calves and knees. Additionally, work on strengthening your core.
You must strengthen your core muscles. For strengthening your core muscles, holding a plank and it's variations (elbow, side planks) are the best exercises to go about doing it.
Also try these exercises for strength-
Target 4 sets of squats with 20 in each set
– Squats (Mix it up with sumo squats)
– Lunges (Forward, backward and lateral lunges)
– Planks
Flexibility
Flexibility determines the amount of movement your bones can make in any direction around joints such as shoulders, elbows, hips and knees. 
It is an aspect that will help you trek comfortably. Carrying a backpack, however light, can become a strain. Stretching your hamstrings, quadriceps, hip flexors and lower back muscles regularly, promotes relaxation in the tissues reducing the strain on your back.
Working out indoors
If you can't go out and jog because of time and space constraints, here's a video you can use to work out indoors.
What to Pack for the trek
When attempting it as a standalone trek in Summer & Winter
Basic First Aid kit*
Identity Card
Trail/ region map
Cap/ Scarf/ Bandana & Sunglasses
Water (Minimum two litres)
Lemon and salt OR Electrolyte Powder/Drink (Electral/Gatorade/Glucon D, etc.)
High-calorie snacks (Nuts & dry fruits, home-baked cake, etc.)
Insect repellent (Odomos, etc.)
Spare newspaper
Multi-Tool/ Swiss Army Knife
Torch/ Headlamp with spare batteries.
Powerbank
Safety Pins, Rubber bands & Whistle (Useful in emergencies.)
Optional: Rope, Camera.
During Monsoon
Quick Dry T-shirts are preferable over cotton tees.
Poncho
Additional set of clothes, socks, etc.
Plastic sheet to wrap electronic devices.
If you are attempting Mahuli trek as part of a longer multi-day trek, you should carry
Sunscreen (SPF 50+)
Rehydration pouch/ bladder
Tent & Sleeping Bag/ Mat
Trekking pole
A spare set of clothes & footwear (Floaters, sandals, etc.)
Water filter/ Thin cotton cloth & water purification tablet.
Utensils
Antiperspirant powder (Candid, etc.)
Magnesium Flint/ Match boxes
Basic Toiletries: Toothbrush & Toothpaste/Mouthwash.
First aid kit:
Scissor
Band aids (Regular & Waterproof)
Analgesic spray (Relispray, Volini, etc.)
Antiseptic Liquid (Savlon, Dettol etc.)
Antiseptic powder (Povidone-Iodine based powders like Cipladine, Savlon, etc.)
Cotton roll & Bandage
Crepe Bandage
1 inch wide medical tape (paper or cloth.)
Micropore tape
Tablet for motion sickness (Avomine), Acidity (Gelusil, Digene, etc.).
Mild pain relief tablet (Crocin)
Note: Always consult a doctor before taking any medicine.
Learn how to pack for longer weekend treks
No, stuffing it all in isn't the right way to do it Packing a backpack correctly saves precious time that you might waste trying to find your things later. It is wise to spend some time learning what really goes into packing a backpack.
What should I pack? 
On a trek, you only get what you take. Something as simple as a forgotten matchbox can cripple your cooking plans throughout the trek. So, it's essential to prepare early and prepare well. To begin with, make a checklist. While shopping, remember this thumb rule – keep it light. "Every item needs to be light. This ensures that your backpack, on the whole, stays light," says Sandhya UC, co-founder of Indiahikes. Balancing out heavy items with light ones isn't going to have the same effect as having all light items. "Always opt for good quality, light items," says Sandhya.
How much should my bag weigh?
"Your backpack for a weekend trek should weigh between 8 and 10 kg," explains Arjun Majumdar, co-founder of Indiahikes, "To break it down, your tent should weigh around 2.5 kg, your sleeping bag, around 1.5 kg, and the ration, stove and clothes should constitute the other 5 kg." The best way to plan is by concentrating on the basic necessities – food, shelter and clothes. Gather only those things that you'll need to survive. Do not pack for 'if' situations. "That's one of the common mistakes that people make – packing for 'if situations'. It only adds to the baggage that you can do without on a trek," says Sandhya.
Trekking hack
One good way to go about it is to prepare a list of absolute essentials. Start with the most essential and end with the least essential. That way, when you feel you are overshooting the limit, you can start eliminating from the bottom. Another tip is to be smart while packing clothes. Invest in light. wash and wear fabrics. "Replace a sweater with two t-shirts," adds Sandhya. Layering is the mantra when it comes to trekking. Refer to Sandhya's clothes list to pack smart.
How to pack 
The thumb rule for this one is to eliminate air spaces. Make sure that everything is packed tightly, especially clothes and jackets, as they tend to take up maximum air space. Put in all the large items first. Then squeeze in the smaller ones in the gaps. This ensures minimum air space. A good way to pack clothes is by using the Ranger Roll method.
Where to pack
 Bottom Sleeping bag: Make this your base layer. Sleeping bags tend to be voluminous, but do not weigh much. They're perfect for the bottom of the bag. Tent: Just like the sleeping bag, even tents are voluminous and light. Keep the tent poles separately and place the fabric at the bottom of the backpack. Middle Heavy jacket: Roll up the jacket in a tight ball and place it in the middle of the backpack, close to your back. The middle region of the backpack should always have the heaviest items. You can store other things like rations or mini stoves in the middle. Other clothes: Roll other clothes and place them in the remaining space, to fill air gaps.
Backpack essentials
Top Water: Water, although heavy, needs to be easily accessible. So put it in the top most region of your backpack. Medicine box: This is another component that you wouldn't want to be scavenging for when in need. Poncho: It could rain at any time in the mountains. So, ponchos should be accessible easily. Also, having a waterproof poncho at the top of the backpack provides additional waterproofing to items in the bag.
Nearby Places to Visit after the trek
Some of the tourist attractions that you can visit near Mahuli Fort:
Manas mandir – Situated at the base of Mahuli hills, the temple is famous for its architectural design. The dome approximately reaches 76 ft with high ceilings and intricate carvings. The brass statue of Lord Mahavir inside the temple attracts the travellers and pilgrims alike.
Tansa Lake and Tansa Wildlife Sanctuary – The Tansa Lake is an artificial lake formed across the Tansa River. It serves as the biggest water source for Mumbai. The Tansa lake is surrounded  by the Tansa Wildlife Sanctuary which has become a home to various species of animals and water birds. It's famous for its rich flora and fauna.
Bhatsa Dam – Situated 30 Kms away from the Mahuli Fort is a multi purpose Dam built on the Chorna and Bhatsa rivers. It is the main source of water in the Thane district, Maharashtra. This dam covers an area of about 3,070 hectares and has the capacity of generating 15 MW of power.
Trek Contribution
Trek documented by Vinita Chhatwani & Saurabh Sawant