Can You Help Us With Photographs Of This Trek?
We are looking to enrich this documentation with more photos. Pictures go a long way in explaining the trail, more than words ever can. If you have done this trek, can you share your photos with us? We will include them on this page, with due credit to you. Click here to contribute.
The Complete Guide to Mamneth Top Trek
Srinagar is one of the most popular tourist destinations in Kashmir with people from all over the country and the world visiting to experience Jannat e Kashmir or 'Heaven on Earth.' While Srinagar was viewed earlier as an escape from the scorching heat that the rest of the country would face during the summer, the city and the region have become a much sought after winter destination in the last decade or so.
The largest city and the summer capital of the state, Srinagar is famous for its lakes, Mughal gardens and mountain peaks. But there is more to the city than what the travel books tell you. The Mamneth Top Trek is a popular trek amongst locals that takes you away from the hustle and bustle of the city and gives you a bird's eye view of Srinagar. In recent years, the trek has caught the attention of domestic as well as international tourists who are looking for experiences that are off the beaten track. 
The trek starts from Dara Harwan, a town located 20 km from Lal Chowk, Srinagar. Mamneth Top sits at an altitude of 7,710 feet and is part of the Zabarwan Mountain Range. Mamneth Top lies in the vicinity of Mahadev Peak, the highest peak in the Srinagar district. 
Mamneth Top is an easy-moderate level trek and is suitable for fit beginners and experienced trekkers. The total trek distance is 4 km. The best time to visit Mamneth Top is from May to September.
➤ Table of Contents
Just like you, we love trekking! And this is a trek we've documented in great detail to help you do it on your own. Drop-in comments at the end of the page if you need any help!  You will get all the information required to do the Mamneth Top Trek on your own.
To navigate through the documentation easily, use this section of the Table of Contents
Highlights of the trek
Trail Information
GPX File for the trek
Best Season to do the trek
How to Reach the base of the trek
Difficult Sections
Things to Take for the trek
Frequently Asked Questions
Nearby Places to visit after the trek
➤ Highlights of the Trek
1. Memorable Golden Hour Views 
Mamneth Top is best known for its stunning sunset views. The mountains take on a magical quality during the golden hour allowing you to simply enjoy the spectacle that unfolds in front of you to the fullest. Spending the golden hour at the ridge is an unforgettable experience and is one of the reasons trekkers who do the trek choose to stay overnight.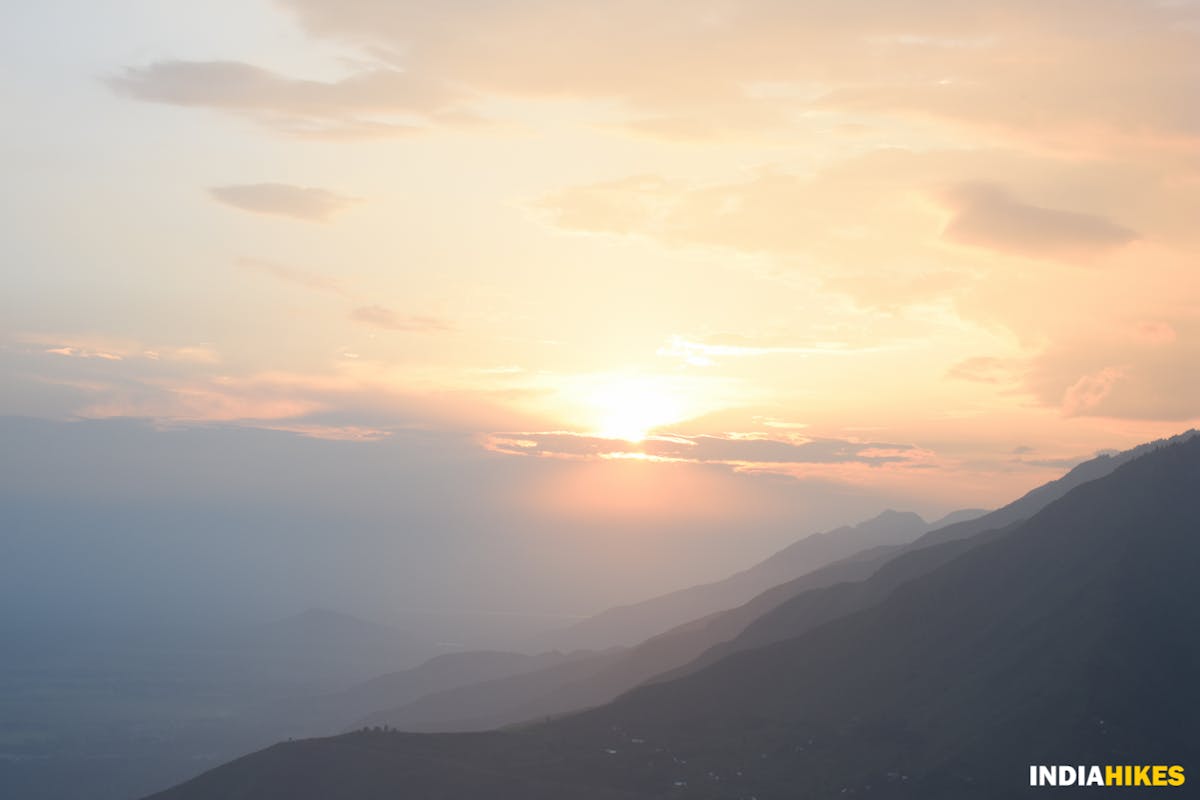 Spend a few moments in silence to absorb the beauty of the mountains at sunset. Picture by Saliyah Ahmad
2. Sparkling Nighttime Views of Srinagar City
One of the best highlights of the Mamneth Top Trek reveals itself as the sun goes down. Watching the sunset and the city lights turn on as the skies turn dark is not a sight you get to see often on an alpine trek. Luckily, the Mamneth Top affords the most splendid city light views of Srinagar city and provides the perfect canvas for some landscape and night time photography.
Note: If you are keen on experiencing the golden hour and the nighttime views from the top, please note that you will have to stay overnight to do so.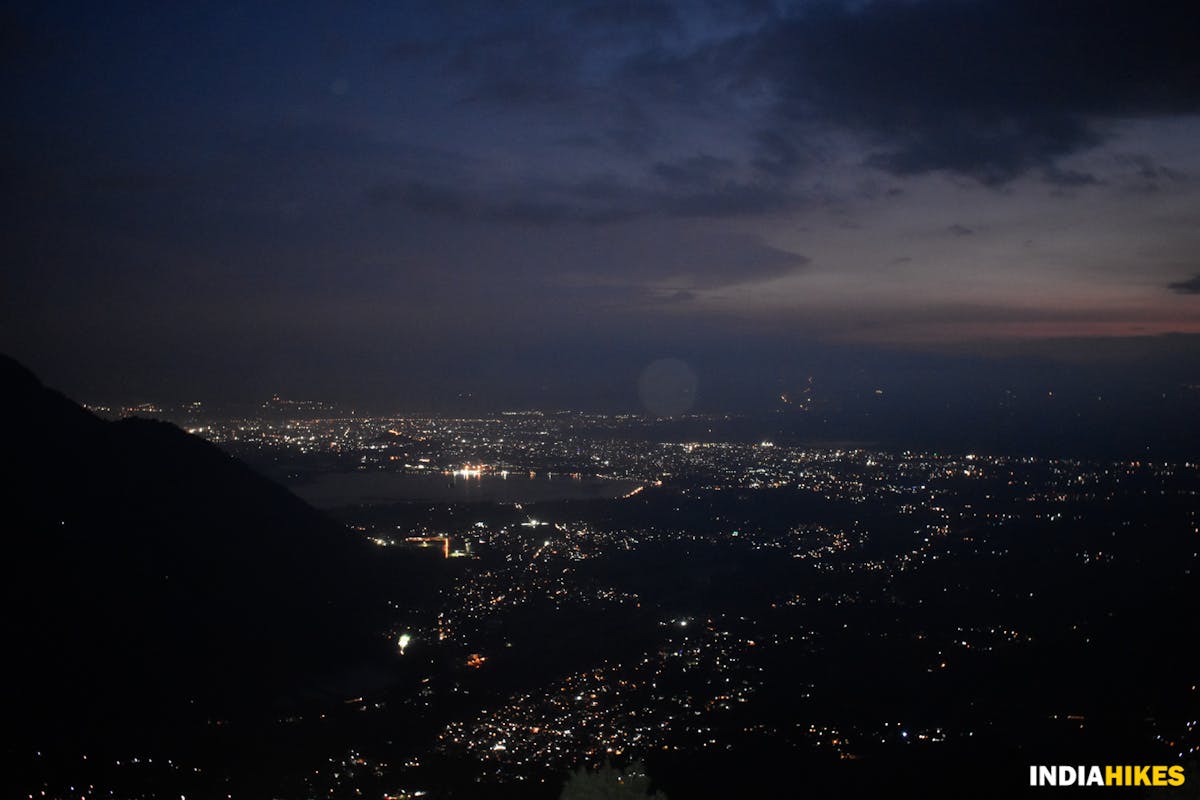 Gaze at the twinkling lights of the city from Mamneth Top. Picture by Saliyah Ahmad
3. Stunning Daytime Panoramas
As you ascend, the trail opens up to charming vistas of Srinagar city. Standing on the summit of the Mamneth Top trek will give you far reaching views of Srinagar city and some areas of north Kashmir as well. The views are spellbinding, particularly the aerial view of Dal Lake and Hazratbal shrine.  Sometimes, you can witness the entire city of Srinagar under a cloud cover. Watching a sea of clouds below you float gently is an unforgettable feeling. 
On your left, the view of a lush Astanmarg Meadow adds an extra dimension of freshness to the trail. Towards the East, you will get fabulous views of Mahadev Peak (12,940 feet), the tallest in the Srinagar district. Towards the north are the rolling green meadows of Astanmarg while Lidwas Meadow opens up in the East.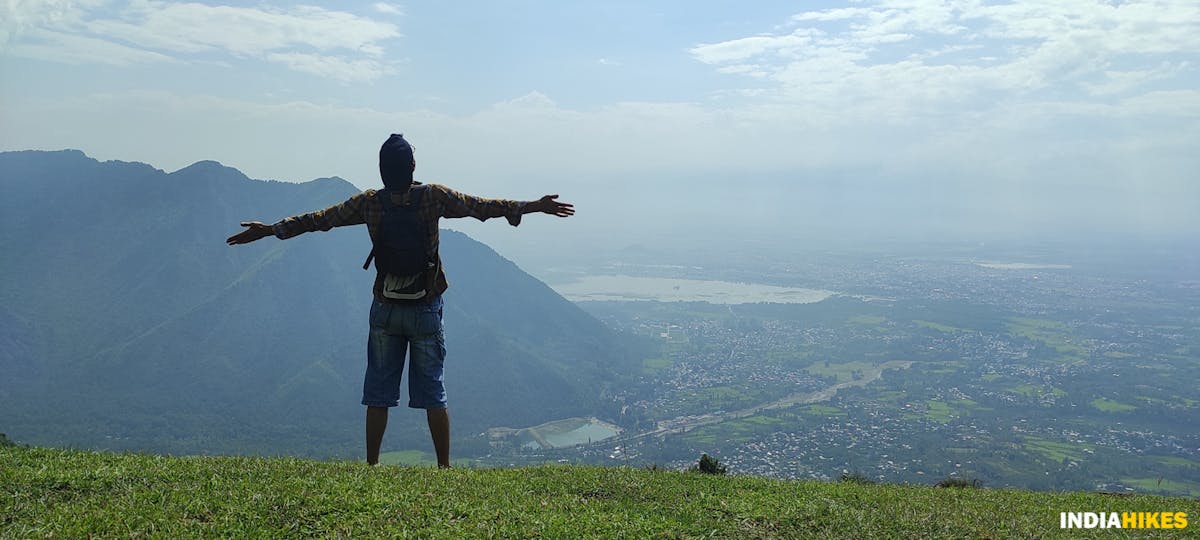 Day views from Mamneth Top are equally alluring. Picture by Saliyah Ahmad
4. A rich diversity of avifauna
The Mamneth Top Trek is a birdwatcher's paradise. You can spot a variety of bird species during your trek. Several Himalayan bird species such as Koklass Pheasant, Bearded Vulture, Golden Eagle, and Crimson Tragopan can be spotted here. Apart from this, the trail is rich in butterfly species too such as Pelopidas Mathias, Aricia Agestis, Lampides Boeticus, Lycaena Phlaeas, and Argynnis Hyperbius.
Do not forget to take a set of binoculars along for the trek.
5. Trekking through the Mamneth trail
The rock and mud trail made by the nomads gradually ascends from Dara Base through dense forests. As you pass through the dense forest, you can enjoy the soothing scent of wildflowers. Wild berries are common from the month of May to July. This along with the sounds of chirping birds allows you to connect with nature in a deep and profound way.
The presence and movement of members of the Gujjar and Bakarwal tribes add an extra cultural element to this trek.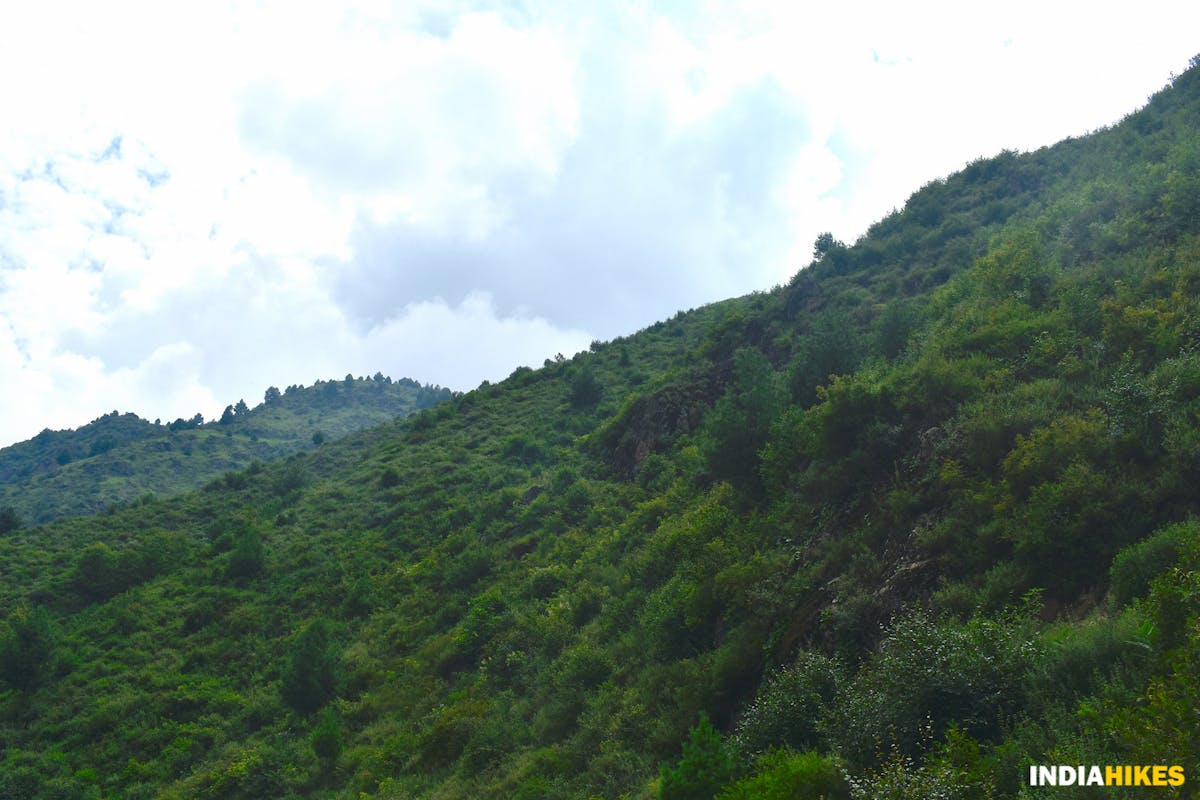 Trek through the dense Mamneth trail, home to a variety of bird and butterfly species. Picture by Saliyah Ahmad
➤ Trail Information
Route Map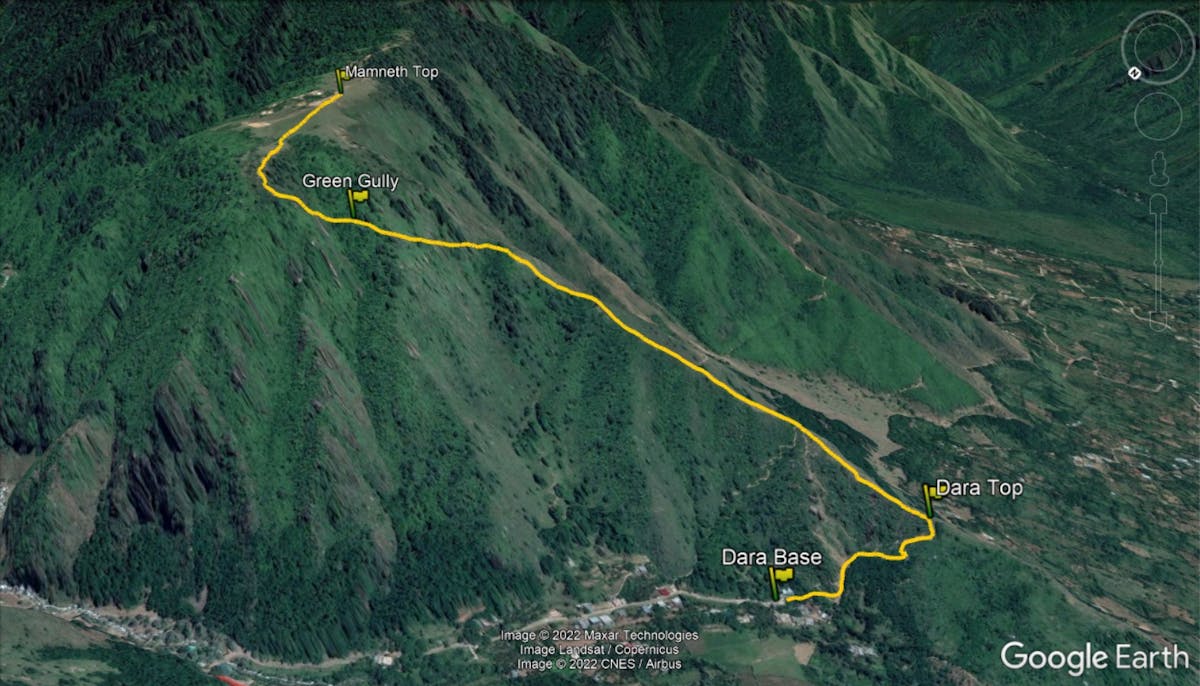 Trail Map of Mamneth Top Trek. Screenshot on Google Earth Pro
The Mamneth Top trek can be divided into three sections:
Srinagar to Dara Harwan
Gradual hike from Dara Harwan to Dara Top.
Gradual hike from Dara Top to Mamneth Campsite.
Section I: Srinagar to Dara Harwan
Altitude: 5,880 ft 
Trek Distance: 20 km
Trek Duration: 50 minutes
GPS Coordinates of Dara Harwan:  34°10'41.48"N 74°55'13.72"E
Dara Harwan, the base of the Mamneth Top Trek, is about 20 km from Lal Chowk Srinagar and about 29 km from Srinagar International Airport. 
You can take a taxi from Lal Chowk, Srinagar or from the airport to reach Dara Harwan. It will take around 50 minutes to travel to Dara Harwan from Lal Chowk by taxi. A shared taxi will cost you Rs 60 while a private taxi from Lal Chowk or Srinagar will cost between Rs.800 to Rs.1200.
Section II: Dara Harwan to Dara Top
Altitude: 6,216 ft
Trek Distance: 280 meters
Trek Duration: 30 minutes
GPS Coordinates of Dara Harwan:  34°10'41.48"N 74°55'13.72"E
GPS Coordinates of Dara Top:  34°10'35.47"N  74°55'10.43"E
Your trek begins from Dara Harwan, a village that serves as the starting point of the Mamneth Top Trek. Do note that there are no water sources during the entire duration of the trek so fill up your water bottles before you start the trek. 
Begin your trek from the Scholars School. You will see a trail which ascends into the mountainside. If you are not able to find it, ask the locals about it, and they will point you in the right direction. Once you are on the rocky mud trail, follow the trail which incrementally ascends to Dara Top.
The steep ascent on the trail takes you to Dara Top where you can enjoy a panoramic view of Srinagar city. The zig-zag structure of the trail makes this manageable for fit beginners too. You will be hiking through dense bushes, some of which have thorns. Be mindful as you hike past these.

The distance from the base to Dara Top is 280 meters. It will take you 30 minutes to reach the top.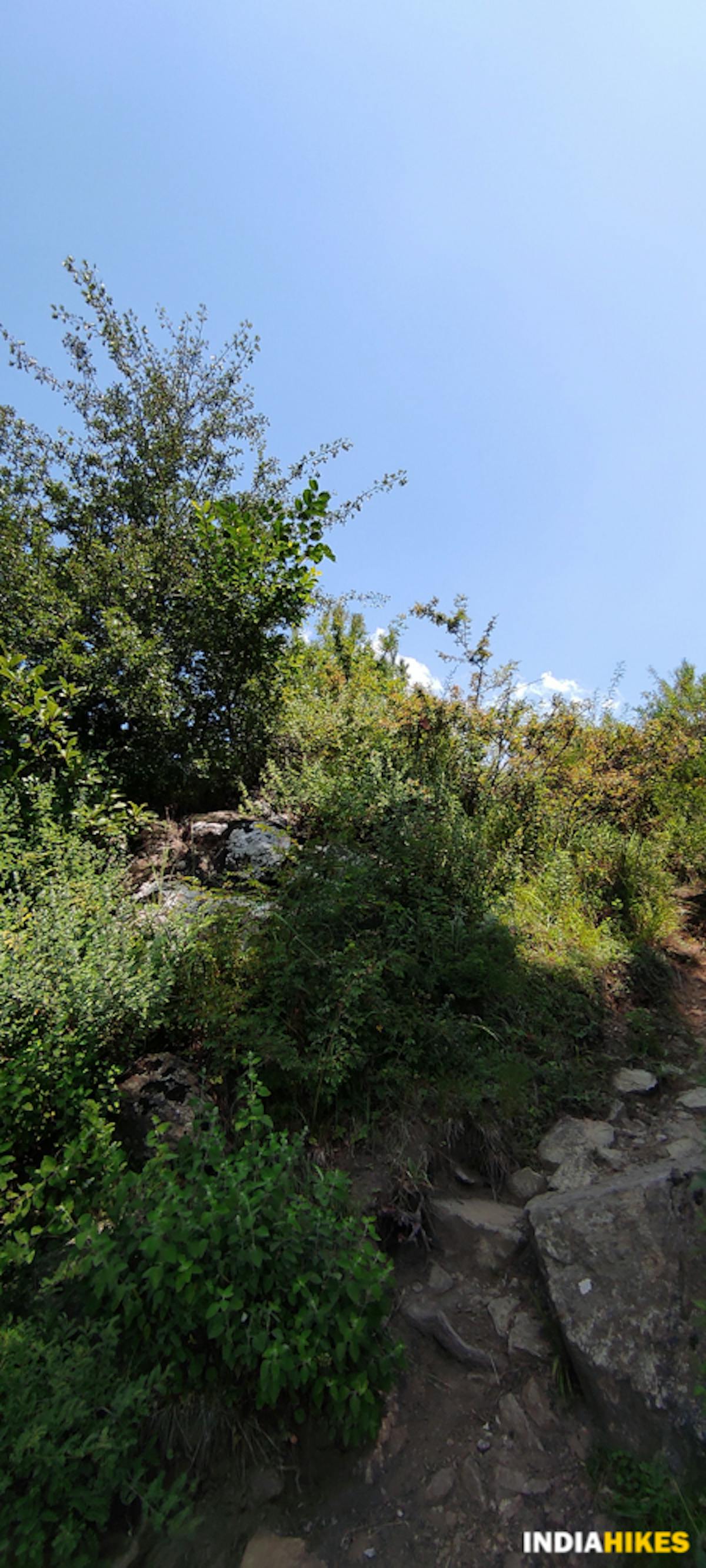 The path to Dara Top. Picture by Saliyah Ahmad
Section III: Dara Top to Mamneth Top
Altitude: 7725 feet
Trek Distance: 1750 meter
Trek Duration: 2.30 hours
GPS coordinates of Dara Top : :  34°10'35.47"N 74°55'10.43"E
GPS coordinates of Mamneth Top : 34°10'38.15"N 74°56'2.24"E
Once you are at Dara Top, you will see two trails in front of you. One trail goes straight downhill and another goes left towards the mountain. Follow the mountainside trail. The trail is through the ridge and leads you to the top. The trail is now moderate in difficulty level. 
As you move higher, you will enjoy a wider view of Srinagar city. The terrain is an uneven one with gently sloping grasslands and sharp rocky outcrops.
After a 30 minute hike, you will see another trail coming from Dara Base. This trail is mostly vertical and used by nomads as a shortcut. We recommend you NOT take this trail as it is very steep and has multiple tricky sections. 
You will see another trail leading to the right side. Do not follow that. Follow the trail that cuts across and leads to the mountain top. This section is quite thrilling and lends an adventurous feel to the trek.
The trail becomes slippery when it rains. Make sure you wear proper trekking shoes with good grip as well as ankle support and carry a pair of good quality trekking poles.

Tip: Always remember to stay towards the mountainside when there is human or animal traffic on the trail.
After 50 minutes of a gradual hike on the trail, you will reach the green gully. The green gully is a section of the trail which is covered with large bushes from both sides. Once you cross the green gully, a 30-minute gentle hike will take you to the gateway of Mamneth Top. 
Once at the top, walk towards the campsite point from where you will get the best views of Srinagar city.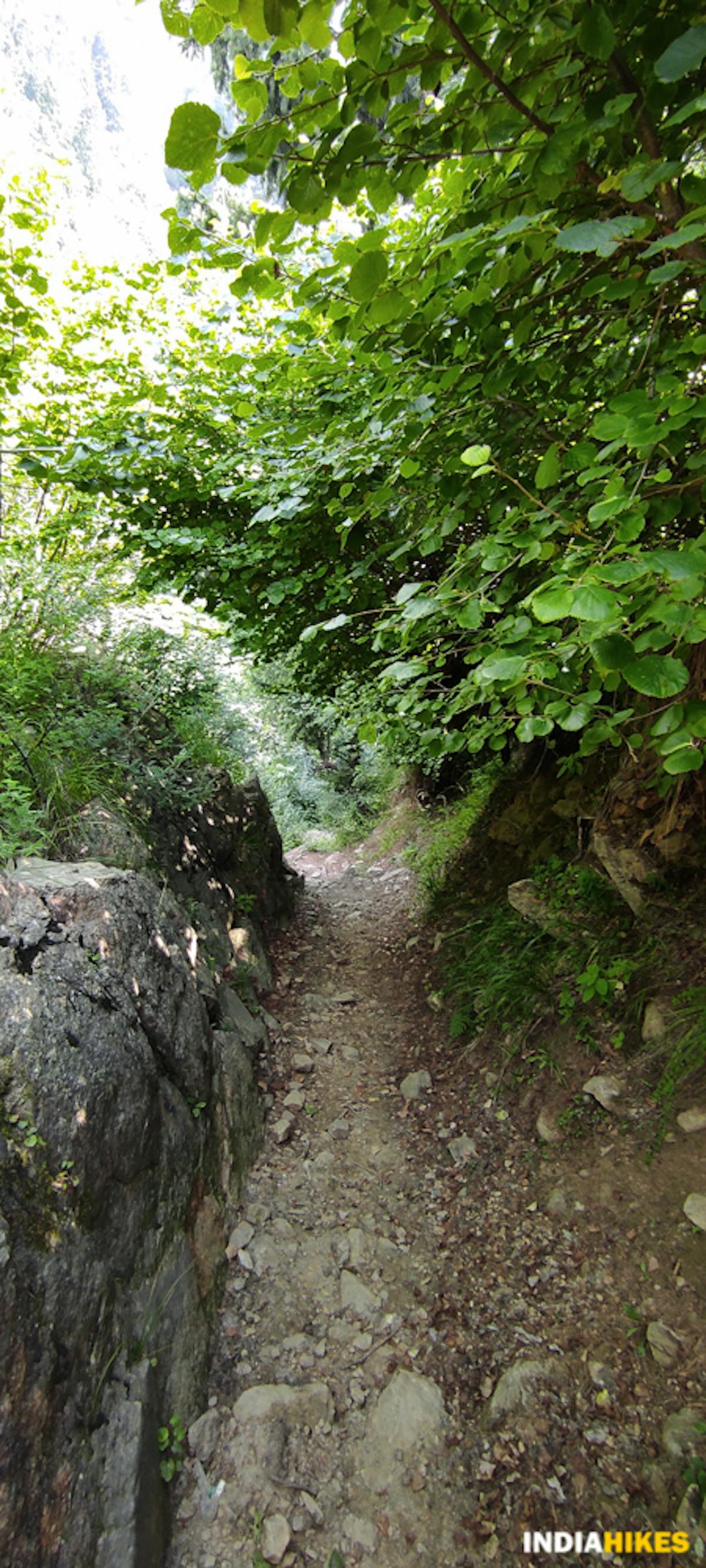 The green gully stays true to its name - lush, green and dense. Picture by Saliyah Ahmad
About the Descent from the Peak:
The descent from Mamneth Top takes around 2 hours and follows the same trail as the one to the top. It is best to stick to the route described above and not take the route that the local shepherds take as the descent is very steep.
If you are not planning on staying overnight, be sure to descend down when the sun is still out. Since the trail borders Dachigam National Park and locals have spotted wild animals in the region, it is best to reach the basecamp before dark. 
➤ Best Time to do Mamneth Top Trek
The best time to do the Mamneth Top Trek is from April to September. 
The best months to do the Mamneth top trek are May, June, and July. During these months, nighttime visibility is high which allows you clear views of the city lights of Srinagar. Also, from May to July, the entire meadow is a carpet of green.
Before April and after September, the chances of rainfall and snowfall are high, so it is best to plan for the trek during the above mentioned months if you are new to trekking or prefer to trek under favourable weather conditions.
However, in recent years, many adventure clubs have started going on the Mamneth Top Trek as a winter trek as well. With adequate preparation and the right kind of equipment and gear, this trek can be attempted during the winter season. 
➤ How to Reach Mamneth Top Trek
Reaching Dara Harwan by your own vehicle
From Lal Chowk, head towards Dalgate via Maulana Azad Road. The distance from Lal Chowk to Dalgate bridge is 3 km. It will take you 15 mins to get there.
Once you reach Dalgate bridge, take a right through Boulevard Road towards Dal Lake. Follow the same road till you reach the New Theed taxi stand. You will be passing through Nishat, Shalimar, and Harwan Mughal gardens which are famous tourist attractions. The distance from Dalgate Bridge to the New Theed taxi stand is 16 km. It will take 40 minutes to reach this point.
Once you reach the New Theed taxi stand, take the route straight in front of you towards Faqir Gujri. Follow the same route till you reach Dara. The distance from New Theed to Dara is 2 km.
The same route will end at Scholars school.
From Scholars school, you can start trekking on the Mamneth Trail.
Tip: Remember, the route is hilly with blind curves, so keep your attention on the road and drive carefully.
Reaching Dara Harwan by Public Transport System
Travelling to Dara Harwan by public transport is slightly more difficult than using a private vehicle.
If you plan for public transport, start your journey as early in the day as possible.
You have two options for public transport - taxi or bus.
Taxi :
You can take a shared taxi from the State Road Transport Corporation, Srinagar or the taxi stand at Lal Chowk. It will cost you Rs 60 and about 50 minutes to reach New Theed.

The taxi will pass through Dal Lake via the Mughal gardens. From New Theed, you have to take another shared taxi for Dara Harwan. It will take 20 minutes to get to the Dara Harwan base and costs Rs 20.
Bus :
A bus option is also available at the SRTC terminal. Take the bus that is headed towards New Theed via the Boulevard Road. 
The bus takes 1 hour 10 minutes to reach New Theed and costs Rs 30. 
The bus will pass through the Dal lake via Mughal gardens. 
Once you reach the New Theed Bus stand, take a taxi to Dara Harwan. It will take 20 minutes to get to Dara Harwan base and costs Rs 20.
Note: Direct bus service till Dara Harwan is not available, and you will have to travel via bus and taxi to reach the base. 
Note: Public transport is not available as per the timing mentioned. Instead, it is based on seat demand. When the seats get full, the bus leaves for its intended destination. There may be a variation in timing due to traffic jams and seat demand.
Pro Tip: If you have added a buffer day to your itinerary, taking a bus is a good option, and it is an inexpensive choice.
Nearest Airport and Railway Station
Srinagar international airport- 30 km
Srinagar railway station- 26 km
➤ Difficult Sections on the Mamneth Top Trek
The Mamneth Top Trek is an easy-moderate level trek. However, there is one section that might be a little tricky for beginners.
One of the sections where trekkers need to be mindful is during the last part of the trek when the trail cuts across and leads to the top. The trail gets muddy when it rains and can be slippery to walk on. Proper trekking shoes and trekking poles can make it easy for the trekkers to climb this section. 
The first section of the trek is of easy level as you will have to gain an elevation of 280 meters gradually till Dara Top. Other than the slightly tricky section mentioned above, the rest of the trek is an easy grade trek, perfect for beginner trekkers to enjoy hiking in the alpine zone.
The distance from the base camp to Mamneth Top is around 2 km which can be covered in a day with ease.
The trek has easy exits in case of a medical emergency. The nearest primary health centre is at Dara Harwan, and the nearest police station is at Harwan, 3 km from Dara Base.
The Mamneth Top trek starts from Dara Harwan which is 21 km from Lal Chowk in Srinagar.
➤ What to Pack for Mamneth Top Trek
Basic First Aid kit*
Identity Card
Cap/ Scarf/ Bandana & Sunglasses
Water (Minimum two litres)
Lemon and salt OR Electrolyte Powder/Drink (Electral/Gatorade/Glucon D, etc.)
High-calorie snacks (Nuts & dry fruits, a home-baked cake, etc.)
Safety Pins, Rubber bands & Whistle (Useful in emergencies.)
Quick Dry T-shirts are preferable over cotton tees.
Poncho, only during monsoons
Plastic sheet to wrap electronic devices, only during monsoons
Sunscreen (SPF 50+)
Optional: Trekking poles
Tent and camping equipment - to be taken if you are planning to spend the night at the top
*First aid kit:
Scissor
Band Aids (Regular & Waterproof)
Analgesic spray (Relispray, Volini, etc.)
Antiseptic Liquid (Savlon, Dettol etc.)
Antiseptic powder (Povidone-Iodine based powders like Cipladine, Savlon, etc.)
Cotton roll & Bandage
Crepe Bandage
1 inch wide medical tape (paper or cloth.)
Micropore tape
Tablet for motion sickness (Avomine), Acidity (Gelusil, Digene, etc.).
Mild pain relief tablet (Crocin)
Note: Always consult a doctor before taking any medicine.
➤ Frequently Asked Questions
1. Stay Options near Dara Harwan
Some private hotels such as the Cherry Tree Resort, Nadis, Urban Den, and Harwan Heights provide accommodation for tourists.
However, you can also opt for a houseboat at Dal Lake. Living in the houseboats will give you the perfect opportunity to experience a slow-paced life surrounded by the picturesque beauty of Kashmir.
You can also pitch your own tents near the stream at Dara Harwan.
2. Is the Mamneth Top Trek Safe?
Yes, trekking to Mamneth Top is safe even though it lies adjacent to Dachigam National Park. However, you have to be vigilant because nomads have often spotted wildlife, particularly Himalayan black bears, leopards, and jackals in the region. 
The presence of friendly local shepherds and nomads who are always ready to lend a helping hand makes the trek even safer. 
Note: The Gujjar tribes and local shepherds have very aggressive dogs. It is best to trek in groups of at least 3 to 4 people. If you are not in a group, avoid approaching Gujjar huts without their permission.
3. Weather and Temperature on the Mamneth Top Trek
The Zabarwan range has considerably low variations in temperatures. It is not uncommon for short rain spells to occur during the day. It's due to these frequent rain showers that the meadows are lush green. 
It is advisable to be prepared with appropriate clothing so as to have a comfortable trekking experience. 
Temperatures from May to October
Day time - 20°C - 32°C
Night time - 5°C - 15°C
4. Timings on the Mamneth Top Trek
No official time restriction is issued for the Mamneth Top Trek. However, it is best to start early from the Dara Harwan base to have ample time to reach the top, which is 2 km away. 
The ideal time to start the trek is between 6.00 AM and 10.00 AM. 
5. Food and Water source on the Mamneth Top Trek
For Food Sources:
Many restaurants in and around Dara Harwan provide both vegetarian and non-vegetarian food for visitors. The Mahnoor Dine Inn, a highly rated restaurant in the area, supplies all kinds of foods to customers.
For Water Sources:
The government taps at Dara Harwan and the stream crossing Dara Harwan village are the water sources for the trek. Carry sufficient water from the base village. The entire trek is dry. However, in case of emergency, you can ask nomads at Mamneth Top for water. 
Tip: If you are not comfortable drinking water from streams and springs, carry purification tablets or purification bottles to purify the water.
6. Emergency Contacts on the Mamneth Top Trek
Hospitals:
Primary Health Centre Faqir Gujri
Health Centre Hazratbal Srinagar – This hospital is 10 km away from Mamneth base village.
SKIMS - Sher I Kashmir Institute of Medical Sciences, Soura. This hospital is 13 km away from Dara Harwan.
Police Station: Police Station Harwan, Srinagar (0194-2461801) is the nearest police station to the Mamneth Top Trek
Forest Department: In case of any emergency, Contact: 0194-2455027
7. ATMs and Network on the Trek
ATMs: Dara Harwan and Harwan have the closest ATM services to Mamneth Top Trek.  
Note: Only post-paid sim cards work in Kashmir.
➤ Places to Visit After the Mamneth Top Trek
1. Dachigam National Park: is a famous national park in Kashmir valley. It is popular for its population of rare and critically endangered Hangulsor Kashmiri stag
2. Doodhpathri: is a beautiful tourist destination which is also the base camp of Pamsar Lake Trek. 
3. Yousmarg:  Yousmarg is a hill station located in the Budgam district. Yousmarg is also the basecamp for many popular treks in Kashmir such as the Danizab Meadow Trek, Trusar Lake Trek etc.
4. Mughal Gardens of Srinagar: are a UNESCO World Heritage Site located in the heart of Srinagar around the shores of Dal Lake. The Mughal gardens are famous for their exquisite Mughal architecture.
5. Gulmarg: is arguably India's most famous ski destination and offers adventure winter activities such as heli-skiing, snowboarding etc. Gulmarg receives a heavy rush of tourists in winter.
6. Pahalgam: Pahalgam is a popular hill station located in the Anantnag district of Kashmir. Pahalgam also serves as a base for many treks like the famous Tarsar Marsar, Kolahoi Glacier and Tulian Lake Trek.
Trek Contribution
Trek explored and documented by Saliyah Ahmad
Pictures by Saliyah Ahmad
Edited by - Gayathri Ranganathan
GPX File Opt in
We go to great lengths to ensure you have a safe trek. So here's a GPX file of the trail to help you navigate without getting lost.