Can You Help Us With Photographs Of This Trek?
We are looking to enrich this documentation with more photos. Pictures go a long way in explaining the trail, more than words ever can. If you have done this trek, can you share your photos with us? We will include them on this page, with due credit to you. Click here to contribute.
The Complete Guide to Musattu Hill Trek
Musattu Hill is located in Varatanapalli village, which is 12 kilometres from the Krishnagiri district in Tamilnadu. The Musattu hill trek is a pristine, undiscovered beauty in Krishnagiri.
The beautiful multiple farmlands, untried dense forest trail full of flowers and butterflies, marvellous isolated temple, and a spectacular view of mountain ranges are all you can expect from the Musattu hill trek, and it does not stop there; there are a few exciting things hidden on this trek, which we will reveal later in this trek guide.
Musattu hill is a middle hill in the Trimurti hill ranges, sandwiched between Shiva and Brahma hills. The name 'Trimurti' means 'three forms'. True to its meaning, Trimurti hill tiers are named after the three types of lords, namely Brahma, Vishnu, and Shiva.
The Trimurti hill range in Krishnagiri is the only hill range in India where we worship all three types of lords in a single continuous range of hills. However, now people only have access to the Shiva hill and the Vishnu hill called Musattu hill.
The region is steeped in history. According to archaeological finds, this region has existed since the stone age, and the collection of rock art, stone sculptures, sepulchral stone, and other things in and around the district provide evidence of the ancient civilization.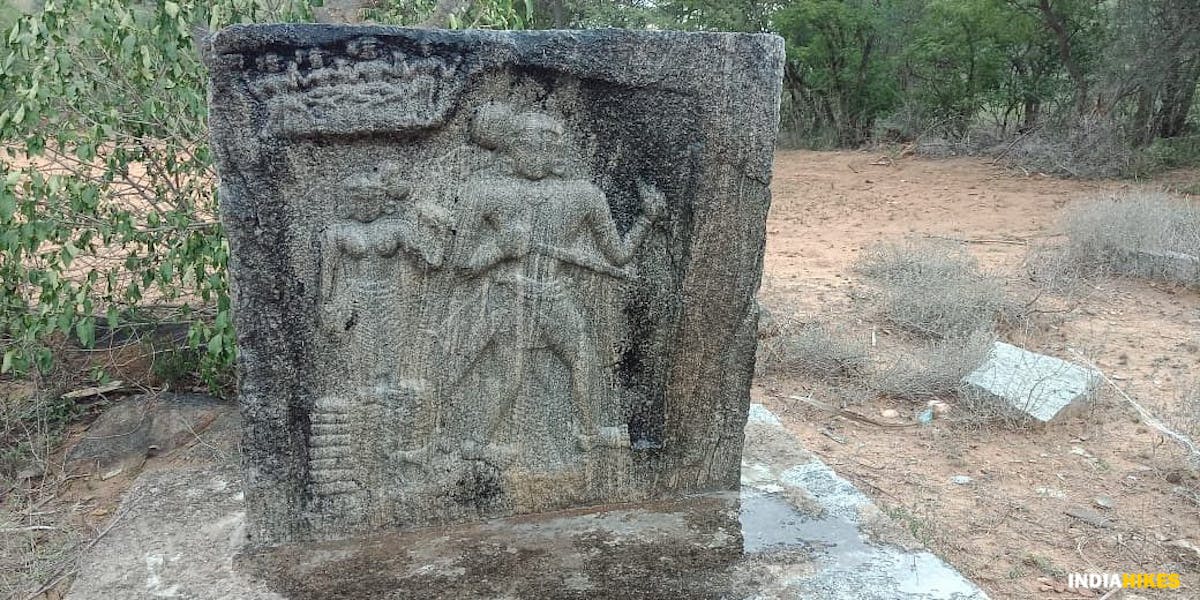 A sepulchral stone from the 12th century featuring a sculpture of a warrior gripping his sword, his wife standing next to him holding flowers, and a dog at the bottom. Picture by The Team Vikatan
The Musattu hill trek is a moderate trek that can be completed in a couple of hours by fit trekkers, while those who wish to spend time with nature may easily spend half a day exploring the trek.
➤ Table of Contents
Just like you, we love trekking! And this is a trek we've documented in great detail to help you do it on your own. Drop in comments at the end of the page if you need any help!  You will get all the information required to do the Musattu Hill trek on your own.
To navigate through the documentation easily, use this section of Table of Contents.
➤ Highlights of Musattu Hill Trek
1. Lovely farmlands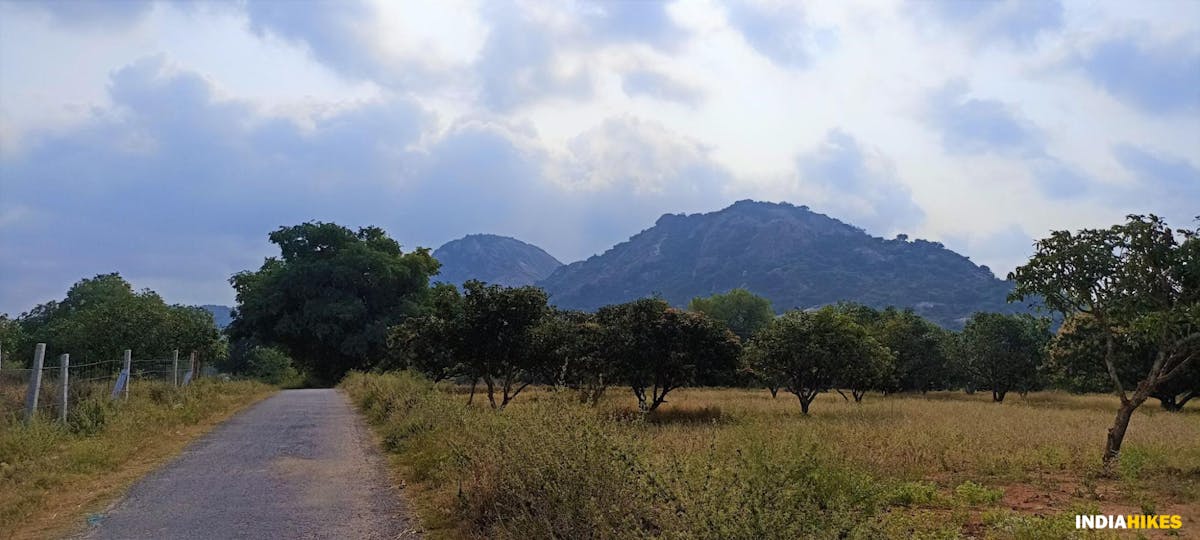 The lonely road with mango farms on both sides with Musattu hill in the background. Picture by Ajay Vignesh
The Musattu hill trek offers a beautiful view of several farmlands. While proceeding to the base of the Musattu hill from its entrance, a trekker gets a unique sight of different farms, namely coconut farm, mango farm, palm farm, and Sapota/ Chikoo farm.
2. The rich flora and fauna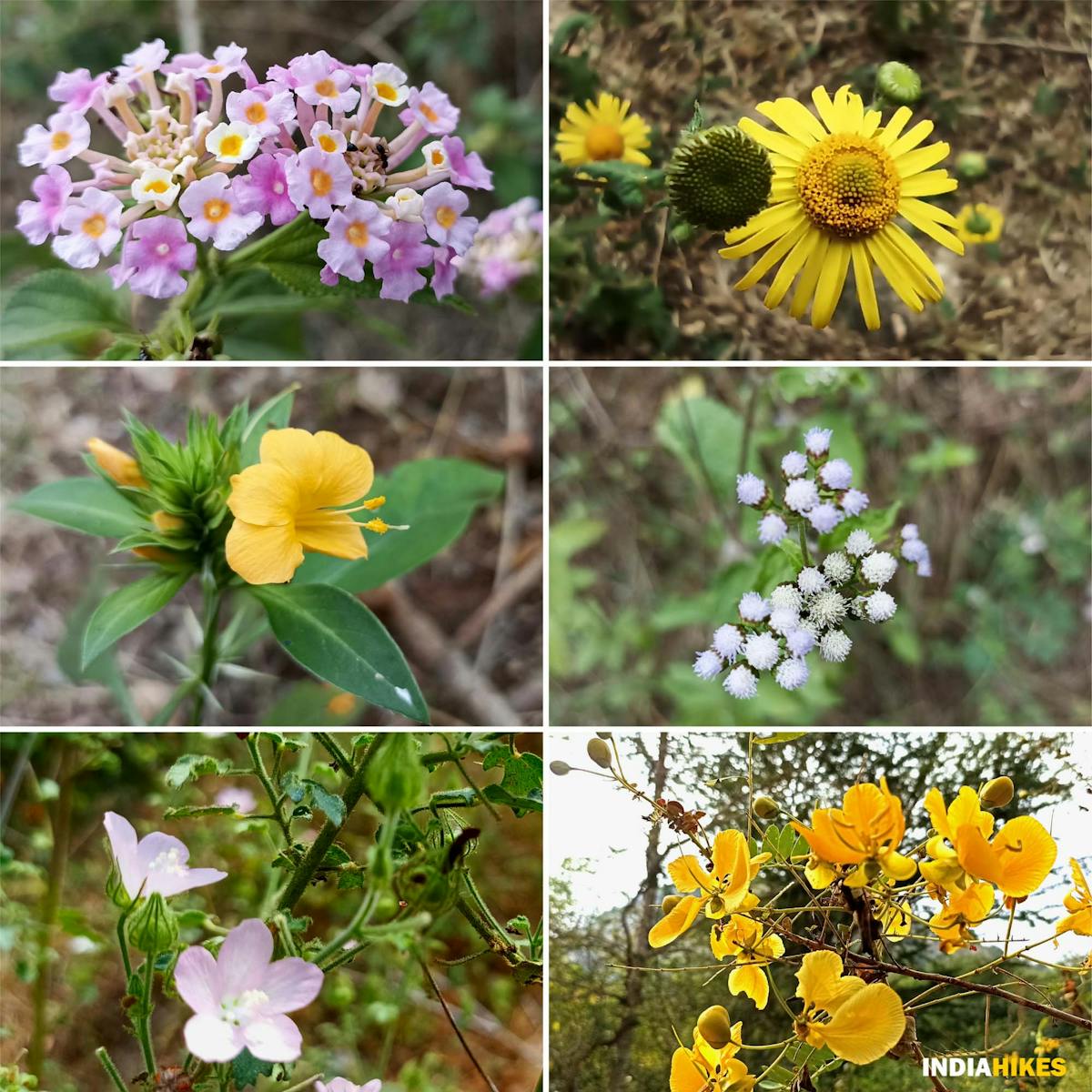 Throughout the trail, you will see beautiful flowers all around you at any time of year, although the highest proportion will be during the spring season. Picture by Ajay Vignesh
Musattu hill is densely forested, with a diverse range of vegetation and wildlife. While ascending, a strong fragrance and a stunning vista of many flowers will greet you.
Throughout the walk, you will encounter attractive flowers such as aster, alyssum, evening primroses, sunflowers, beach moonflower, butterfly bush, tara spinosa, magnolia champaca, senna auriculata, and butterflies such as swallowtails, admirals, and silver-washed fritillaries.
If you're lucky, you'll get to witness the rare blue mormon and the peacock butterfly.
3. The isolated Lord Vishnu temple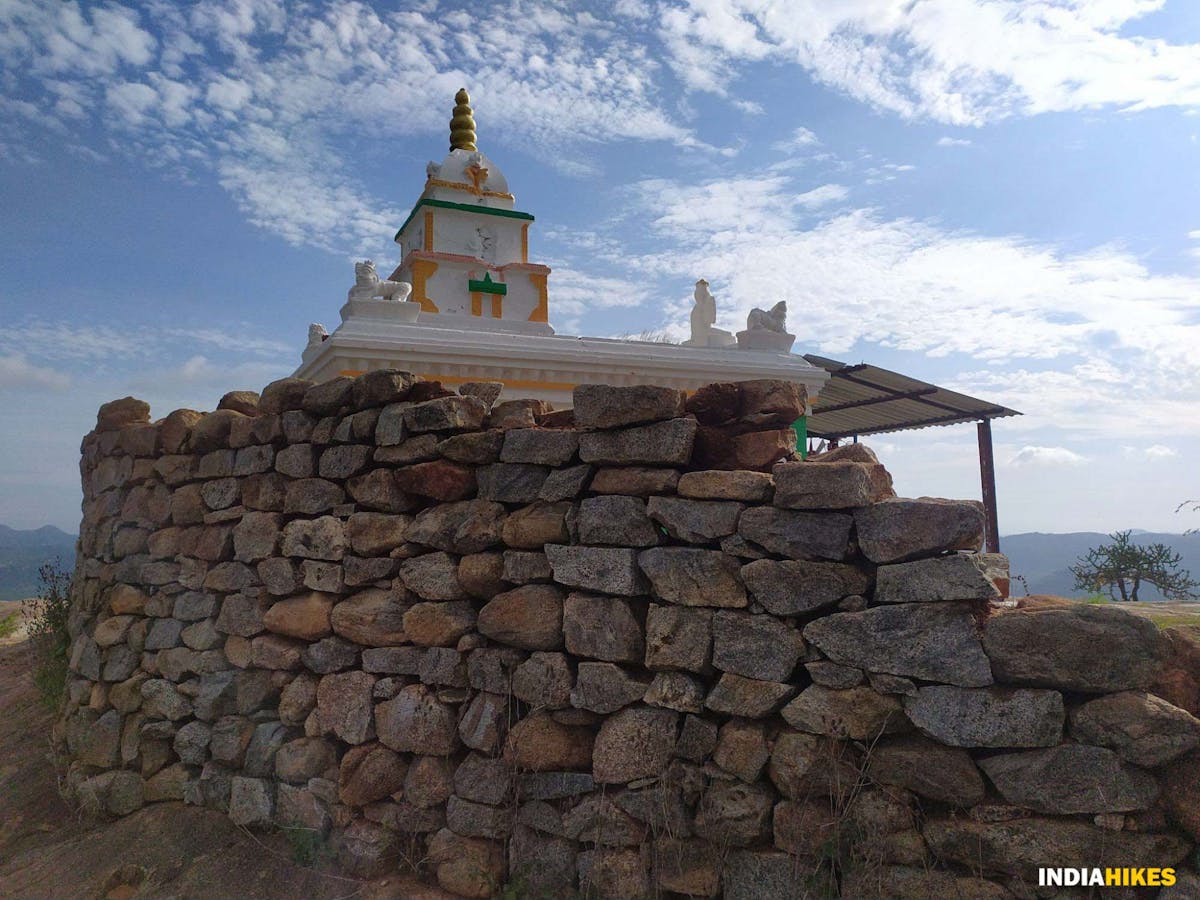 Stone-built palisade wall with a secluded Lord Vishnu temple. Picture by Ajay Vignesh
The Lord Vishnu temple at the peak has existed in some form or another for the last 1,000 years or thereabouts.
The view of the hills and Magnolia Champaca blossoms encircle the temple, providing a sense of calm.
4. Spectacular view of the surrounding hills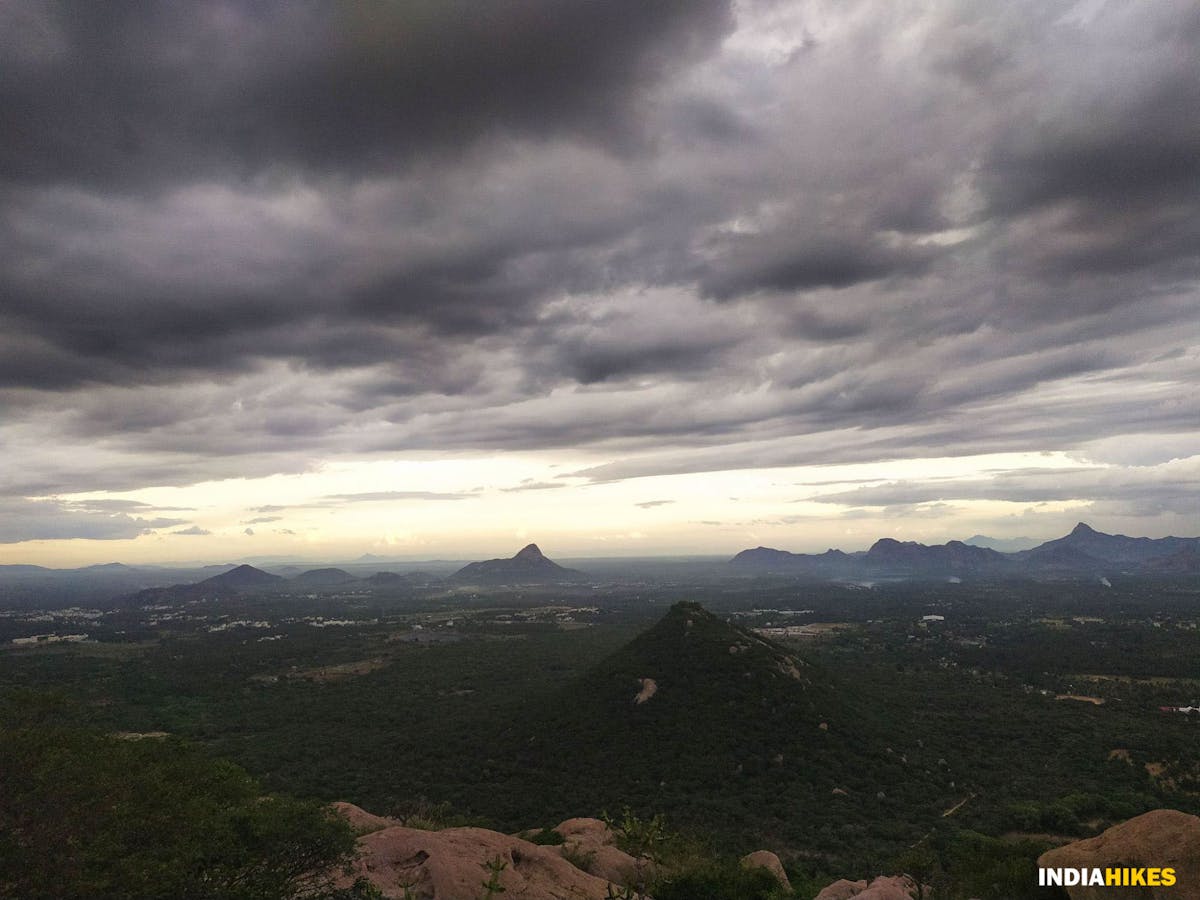 View of the clustered hills, with the Shiva hill in the foreground, from the top of Musattu Hill. Picture by Ajay Vignesh
The Musattu hill provides a stunning 360-degree panorama of the surrounding hills. The sunrise and sunset views from Musattu Hill are breathtaking in all seasons.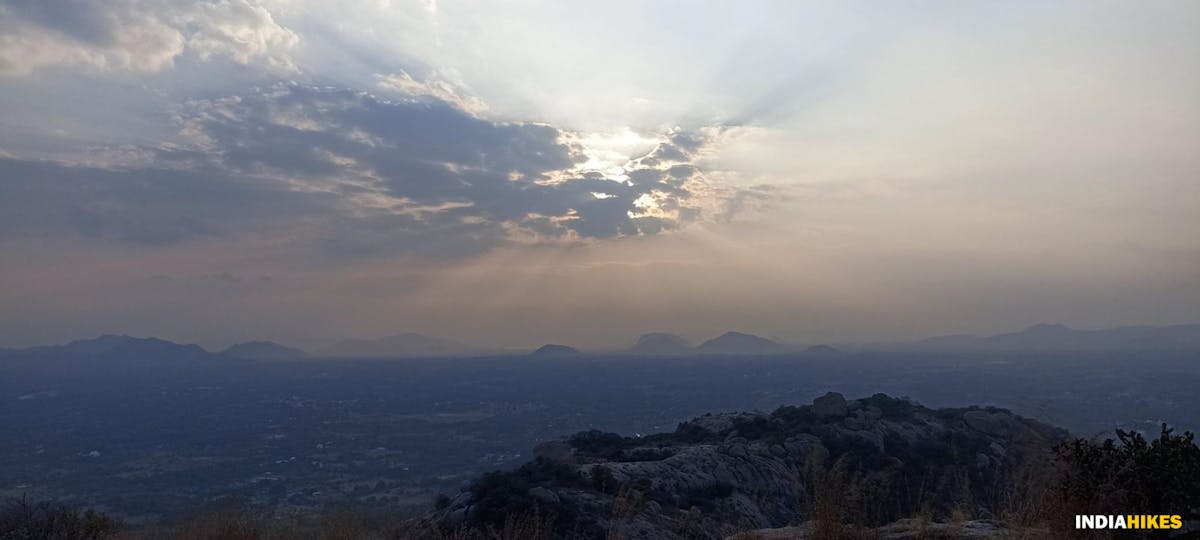 It's a treat to watch the sunset from the top of Musattu Hill. Picture by Ajay Vignesh
➤ Trail Information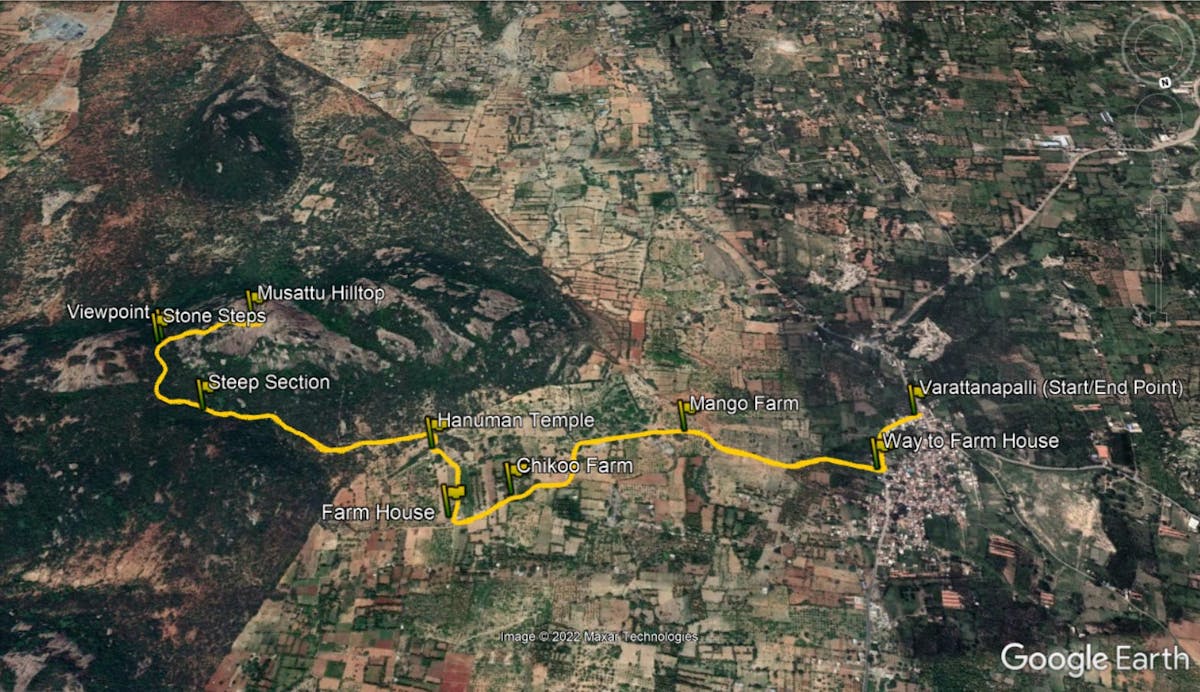 Route map of the Musattu Hill Trek. Screenshot on Google Earth Pro
Musattu Hill Trek is broken down into three parts.
If you are driving or hiring an auto from the Varatanapalli bus stop (Starting Point), you can skip the first stretch till you reach the farmhouse.
Walk from Varatanapalli Bus Stop to Farmhouse
Trek from Farmhouse to Stone Stairs
Stone Stairs to Musattu Hill Top
Trek Distance: 2 km | Trek Duration: 25 minutes
The Musattu hill trek begins from the lovely hamlet of Varatanapalli. When you arrive at the Varatanapalli bus stop, you will notice a junction in front of you.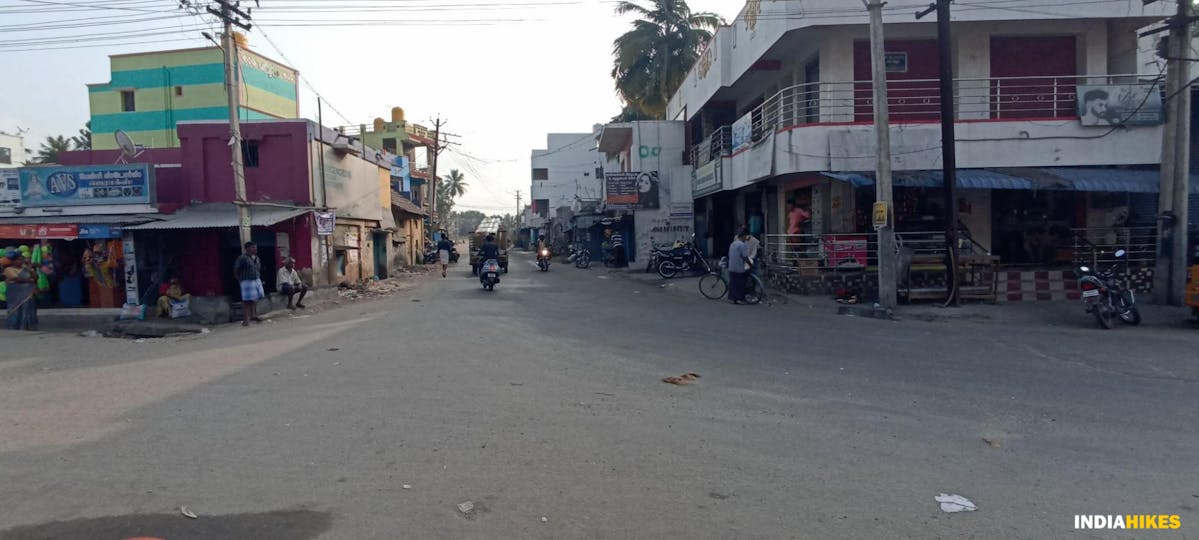 Take the centre road in the junction to reach the entrance arch of Musattu Hill Trek. Picture by Ajay Vignesh
To reach Musattu hill's entrance, take the central road in the junction. Once you've reached the arch, follow road signs to the farmhouse.
The trail from the arch to the farmhouse offers a fantastic view of several farmlands.
A lone road leading from the arch first leads to vast coconut farms. The coconut farms provide soothing views, and you can also see numerous birds chirping and roaming around you, particularly parrots.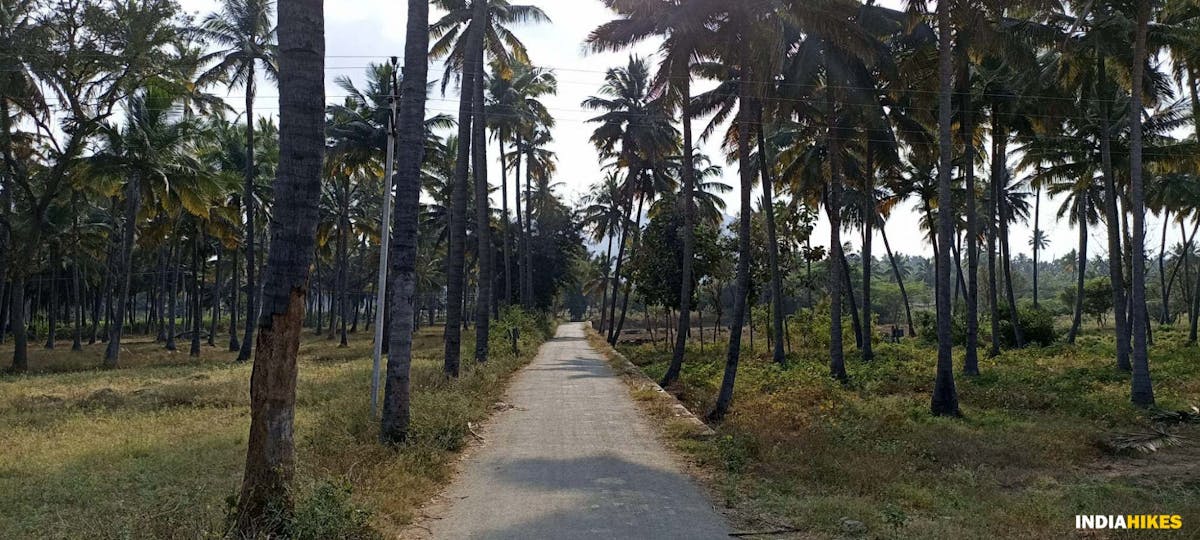 A walk through the beautiful coconut farm with birds chirping all around. Picture by Ajay Vignesh
After passing the coconut farms, you will reach mango farms. During the monsoon season, this location is golden and filled with mangoes.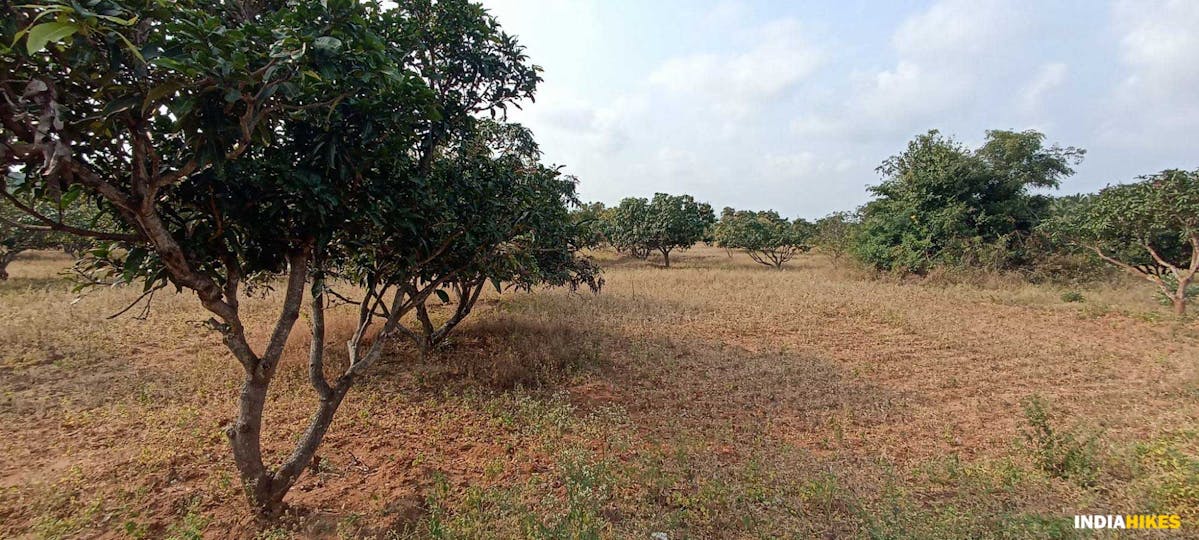 The vast mango farms. Many parrots may be seen if you keep your eyes open. Picture by Ajay Vignesh
If you visit the Musattu hill trek during the monsoon season, you will undoubtedly have a once-in-a-lifetime experience.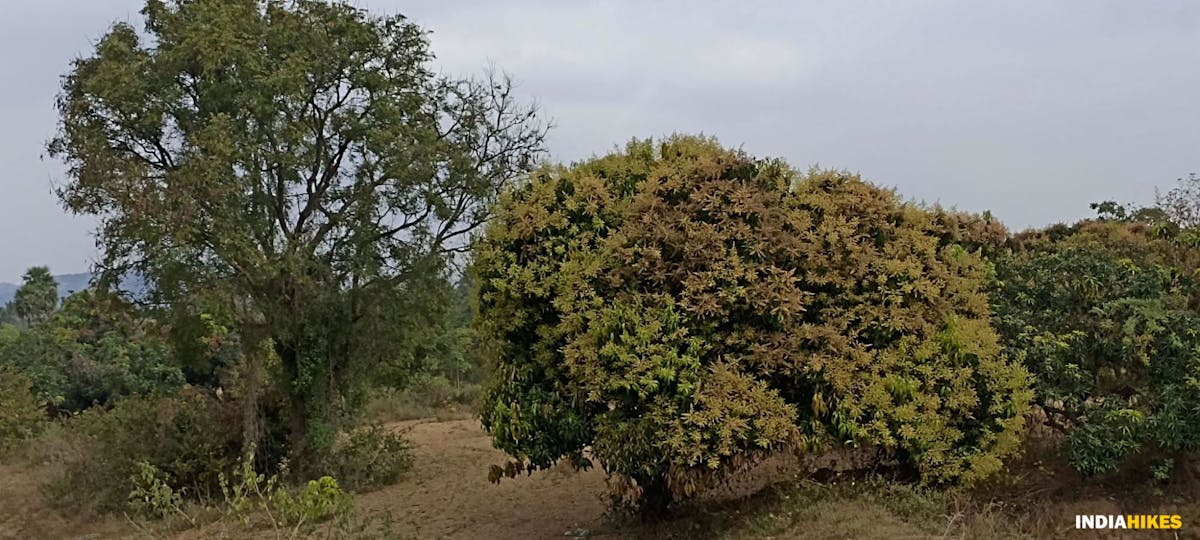 A mango tree filled with mangoes. Picture by Ajay Vignesh
| Trivia: Krishnagiri is known as the "Mango Capital of India" as mangoes are cultivated as the main crop, and the soil here is exceptionally fertile with abundant access to fresh water, making it ideal for agriculture. Mangoes of many varieties, including Totapuri, Alphonsa, Neelam, and Sendura, are cultivated and exported.
Following the pleasant mango farms, you will reach the palm trees. Some of the oldest palm trees may be found in the palm tree area, and if you're lucky, you might spot the white cluster blossoms of the palm trees.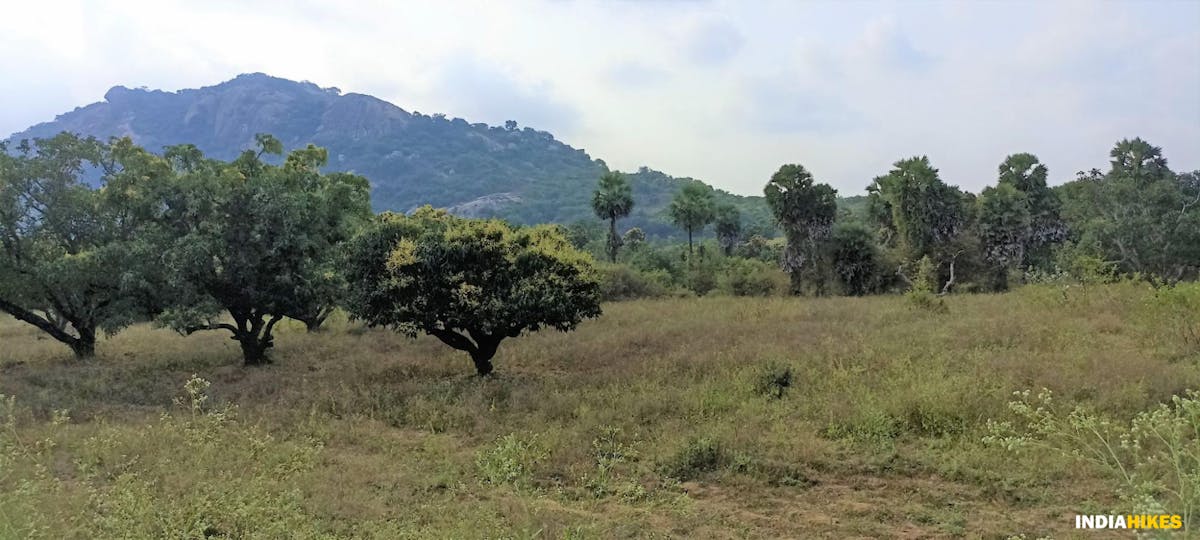 Giant palm trees that are over 50 years old. Picture by Ajay Vignesh
From there, the trail brings you to the agricultural farmlands, which welcomes you with lush greenery surrounded by a variety of flowers. Keep your eyes open for rare butterflies.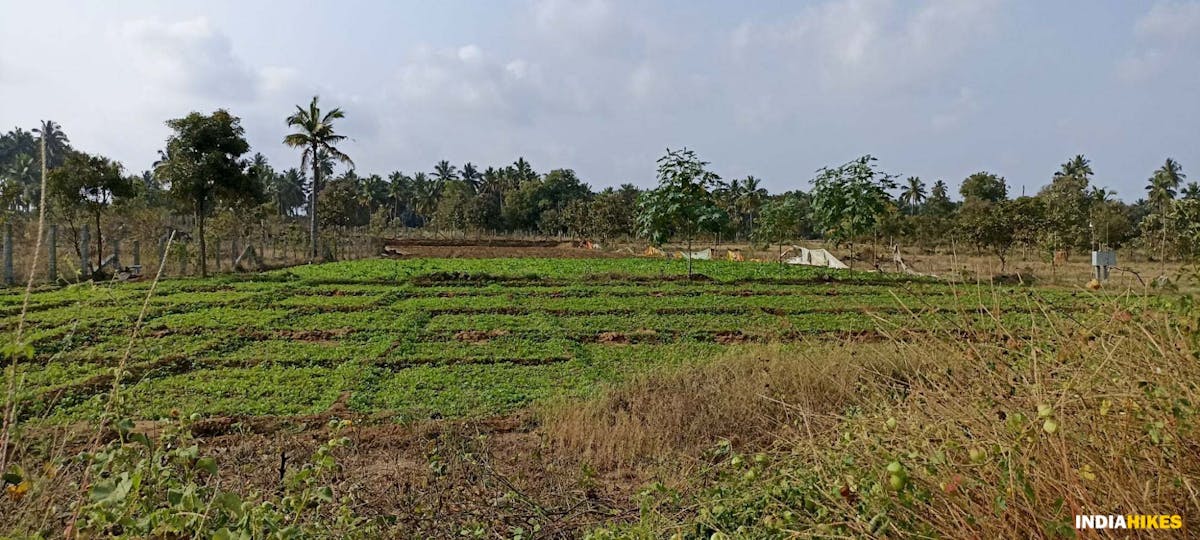 The farmlands on the trek. Picture by Ajay Vignesh
Chikoo farm is the last one you will pass through before reaching the farmhouse. There are a few houses near the Chikoo farm, and each one has at least two dogs, so be cautious of dogs at this point.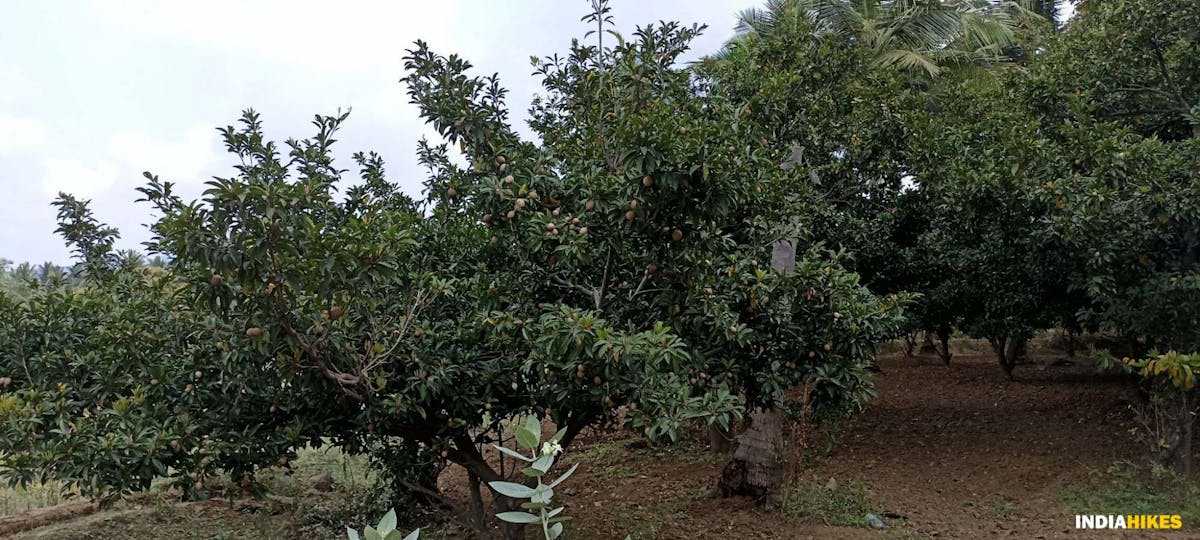 Enjoy the last farm before walking straight for 300 metres to the farmhouse. Picture by Ajay Vignesh
| Tip: If dogs approach you, do not try to run away; instead, stay still and do nothing; they will smell you and then make way.
Finally, after passing through all of the lovely farms, you will arrive at the farmhouse. Take a little break at the farmhouse before starting the trek.
Drink some water at this point because you have travelled two kilometres without realising it.
| Tip: If you come by your vehicle, you can park it at the farmhouse's parking area. Mr. Samudi, the owner of the farmhouse, is also kind enough to let you park your four-wheeler.
If you're having problems getting to the farmhouse, you can contact Mr. Samudi, and it's a good idea to ask him about the current weather patterns before you go.
Mr. Samudi – 9751132809
Refill your water bottles here, since this is the final reliable source of freshwater.
Trek Distance: 1.60 km | Trek Duration: 30 minutes
Go straight through the agricultural land from the farmhouse to reach Hanuman temple.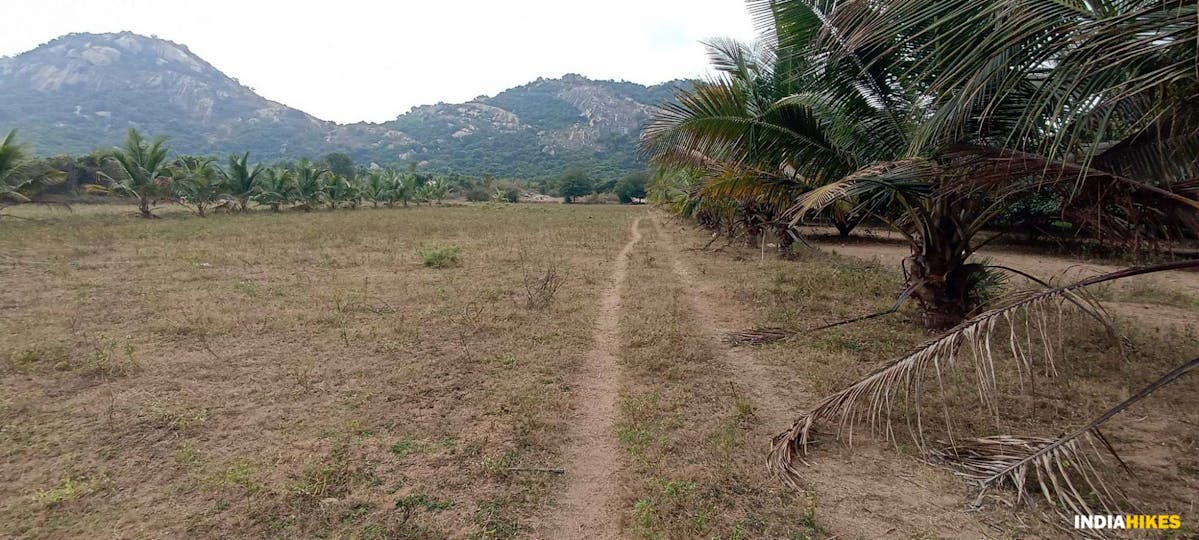 To get to the Hanuman Temple, walk straight along the farm. Picture by Ajay Vignesh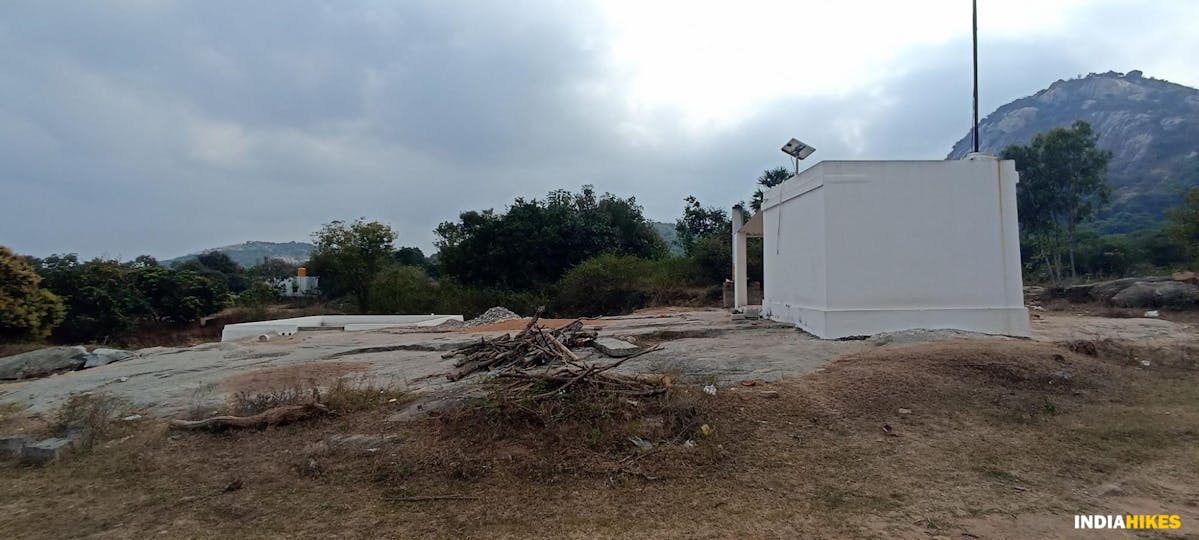 Take a right from Hanuman temple to start the trek through the forest. Picture by Ajay Vignesh
When you get to the Hanuman temple, an unexplored forest route greets you, with Musattu Hill in the background. The trek begins gradually after the Hanuman temple.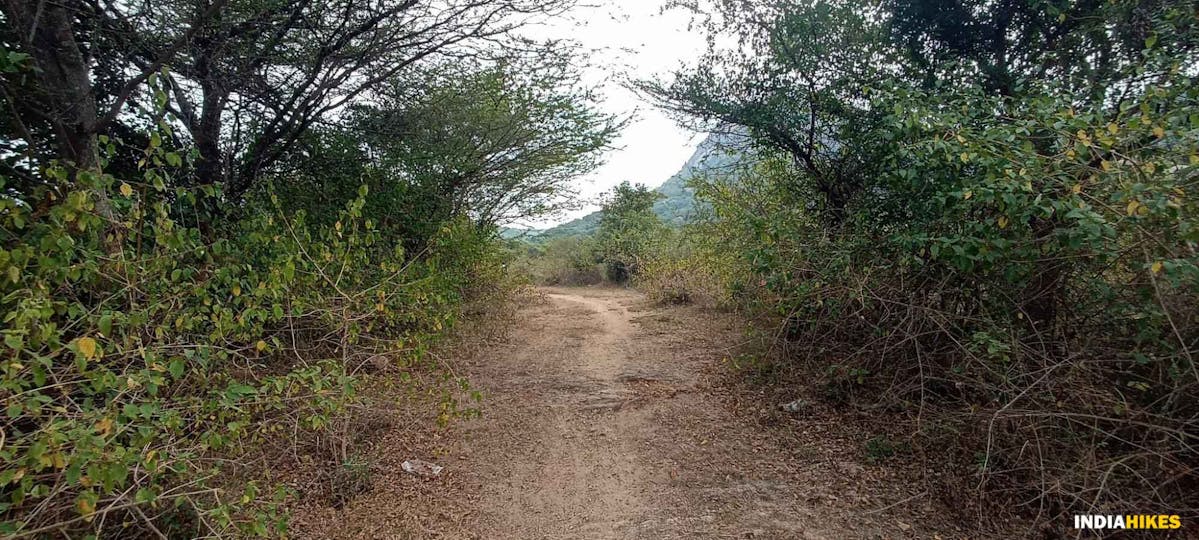 The route is gradually covered by dense forest. Picture by Ajay Vignesh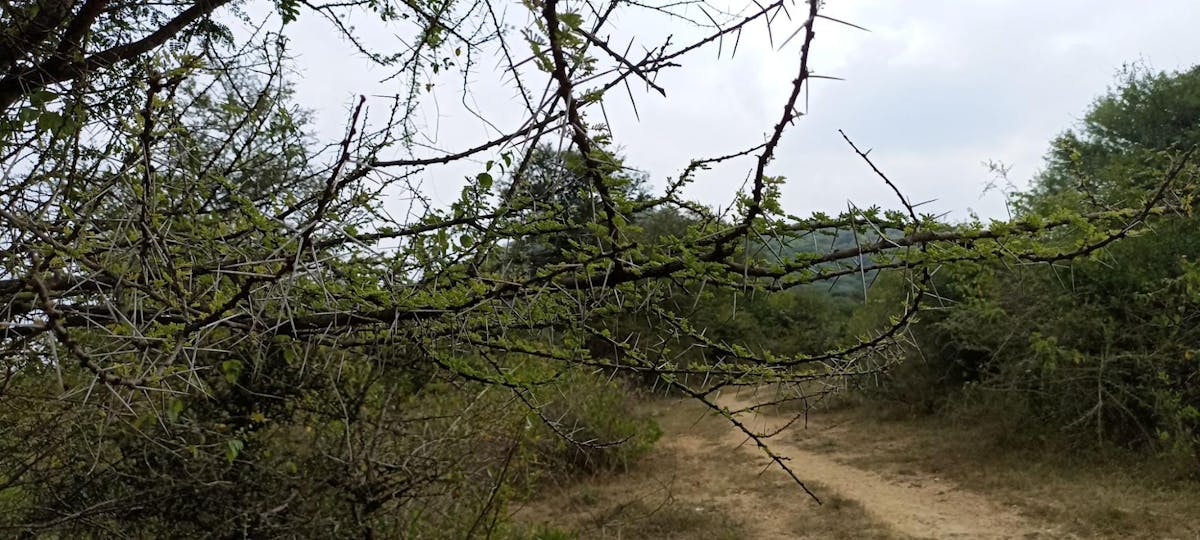 The path is lined with thorny bushes, so exercise caution. Picture by Ajay Vignesh
The trail leads you to a fork in the trail where a structure is built. Choose the left path to continue; both paths lead to the top, but the trail on the right is tricky, and finding the appropriate path without any locals around is hard.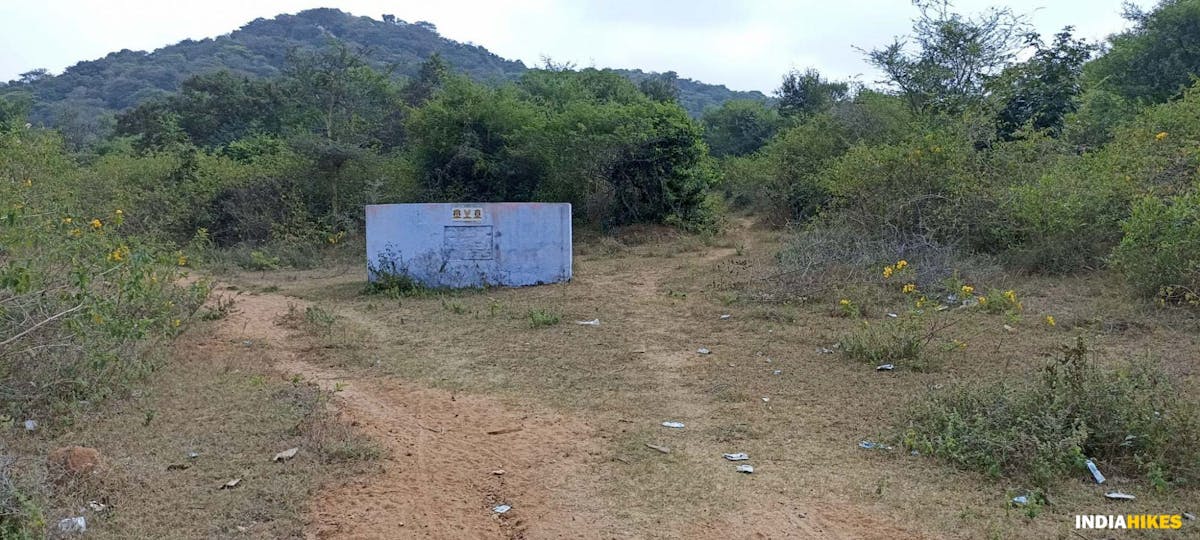 Take the left path at the intersection. Picture by Ajay Vignesh
You will walk on narrow trails surrounded by different types of flowers. The fluttering of hundreds of butterflies will lighten up the atmosphere.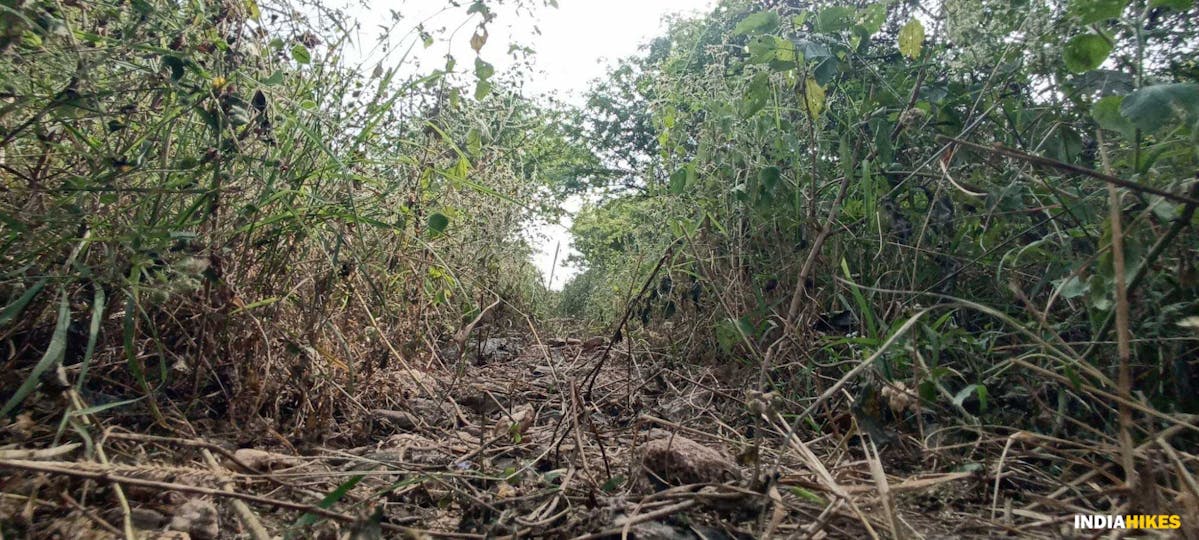 Trekking through a narrow, forested trail. Picture by Ajay Vignesh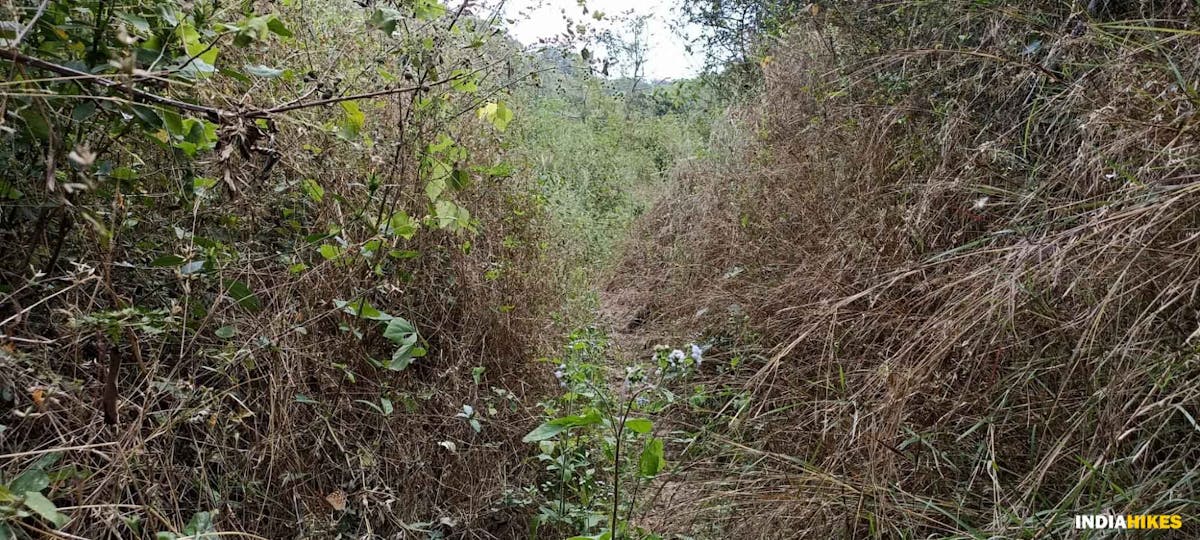 The trail starts becoming extremely narrow while the bushes around you grow taller. Picture by Ajay Vignesh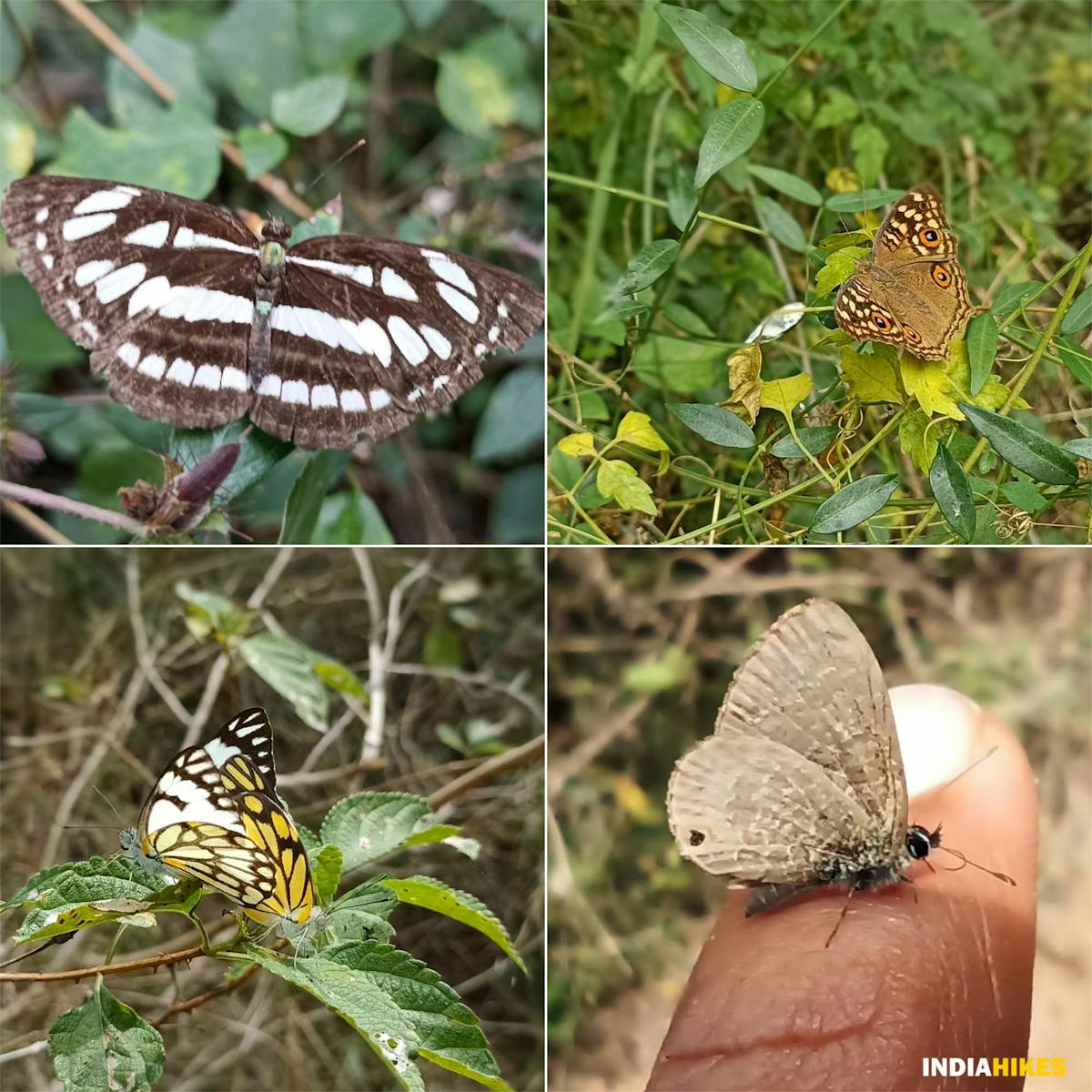 These gorgeous butterflies will accompany you on your journey. Picture by Ajay Vignesh
The difficult part of the trek begins when you reach the steep trekking point; from there, you must hike vertically to reach the stone stairs. The steep, gravely trail will test you, so make sure you place your feet firmly to avoid any misstep.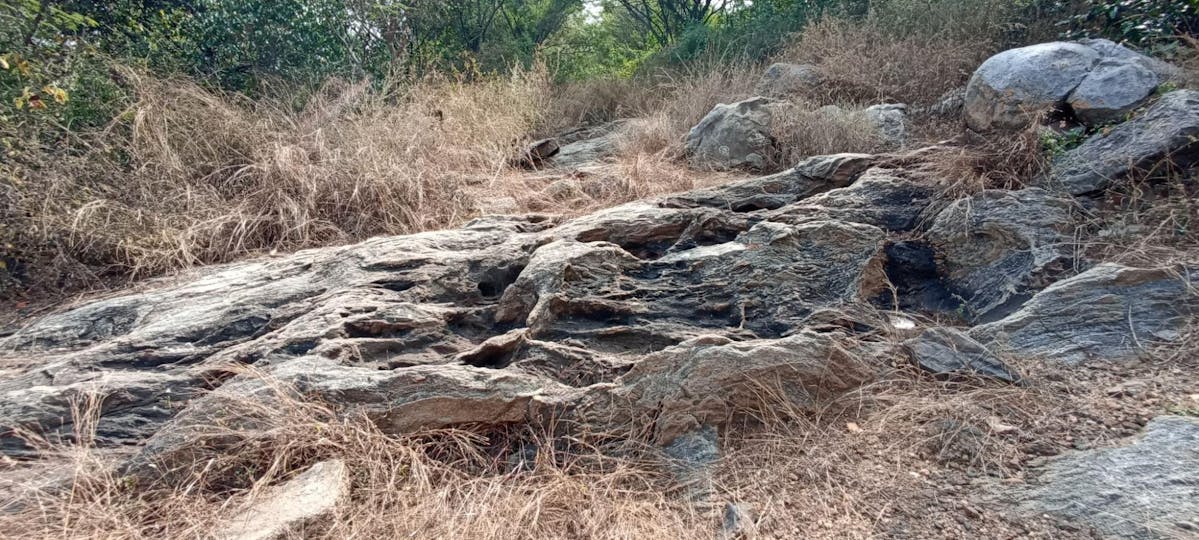 This volcanic rock marks the start of the steep trail. Picture by Ajay Vignesh
The untried forest trail and the steepness makes you dehydrated easily so it is recommended to drink water regularly.
Click here to go back to the Table of Contents.
Trek Distance: 1.50 km | Trek Duration: 30 minutes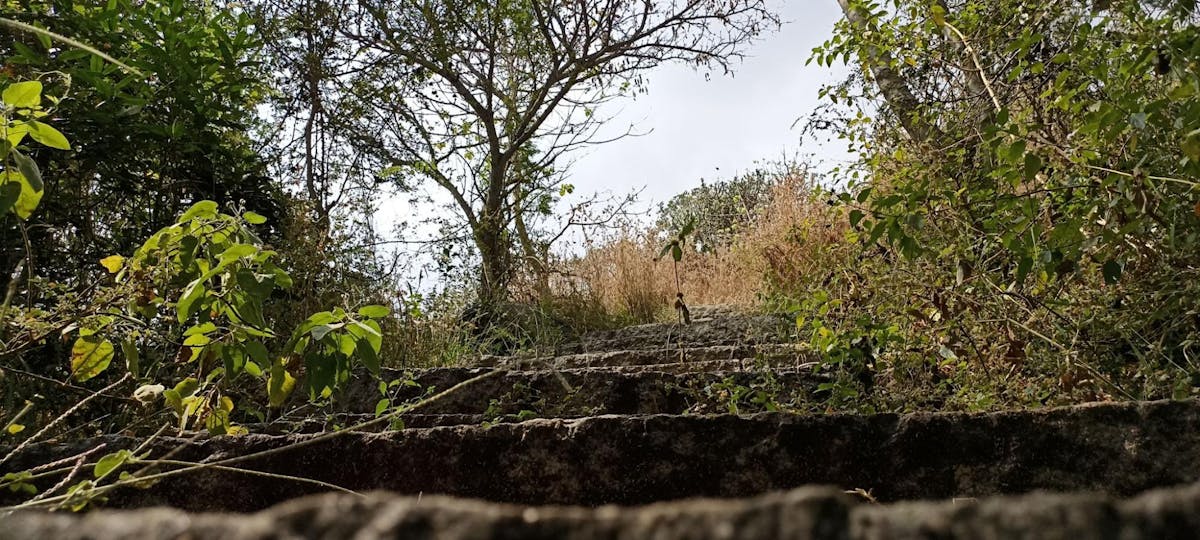 Stone steps surrounded by overgrowth. Picture by Ajay Vignesh
The most beautiful part of the trek begins here. Once you are on top of the stairs, you will have a 180-degree view of the hill cluster and villages dotting in the distance.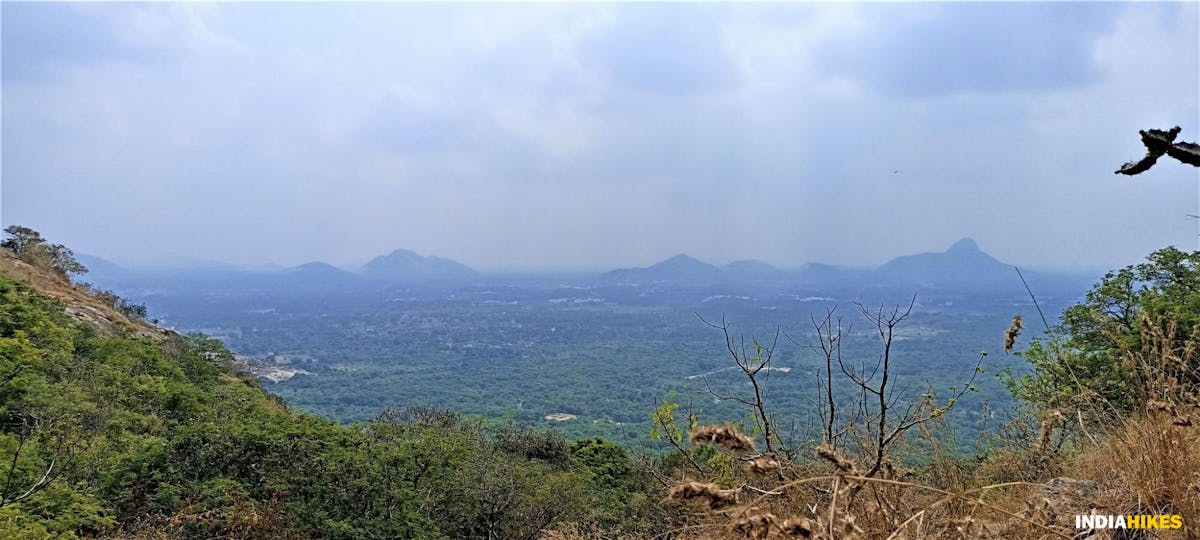 The breathtaking panorama of the hills. Picture by Ajay Vignesh
Take a rest here and appreciate the view. It is also a good time to have some snacks before continuing on your trek.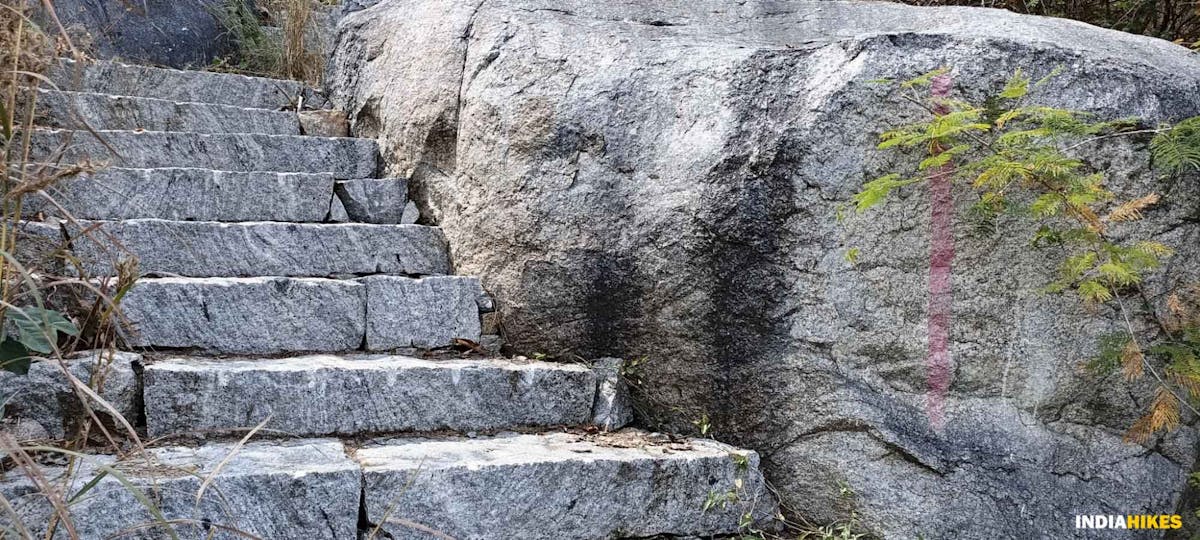 Keep an eye out for brightly painted arrow marks to ensure you're on the right path. Picture by Ajay Vignesh
You will first reach the holy pond, then the Magnolia Champaca tree surrounding the little temple dedicated to Lord Vishnu, and lastly the top of Musattu hill.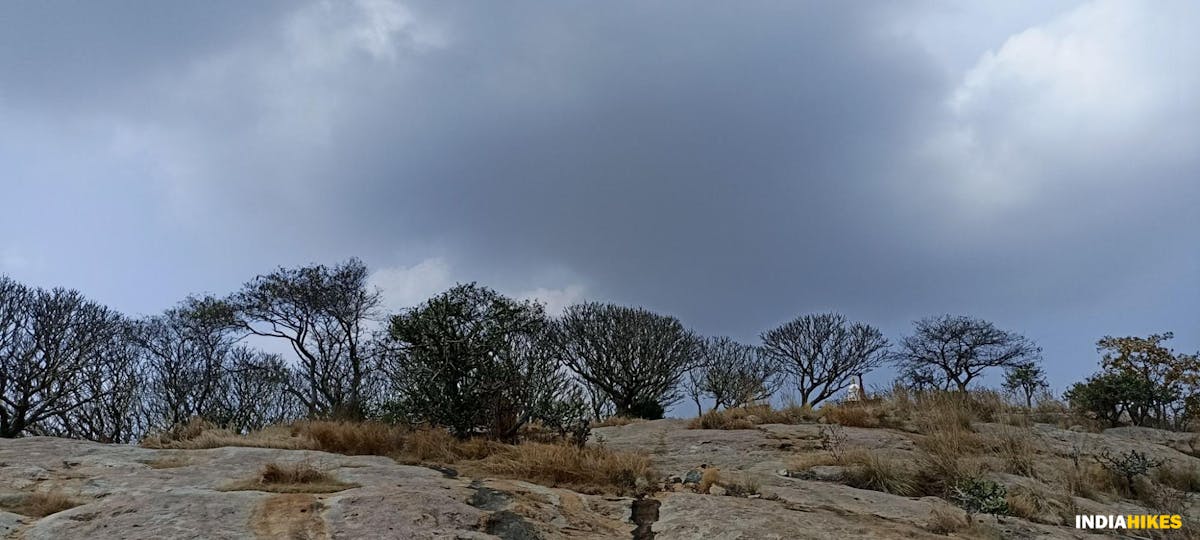 Climbing the rocky route to the top of the Musattu hill. Picture by Ajay Vignesh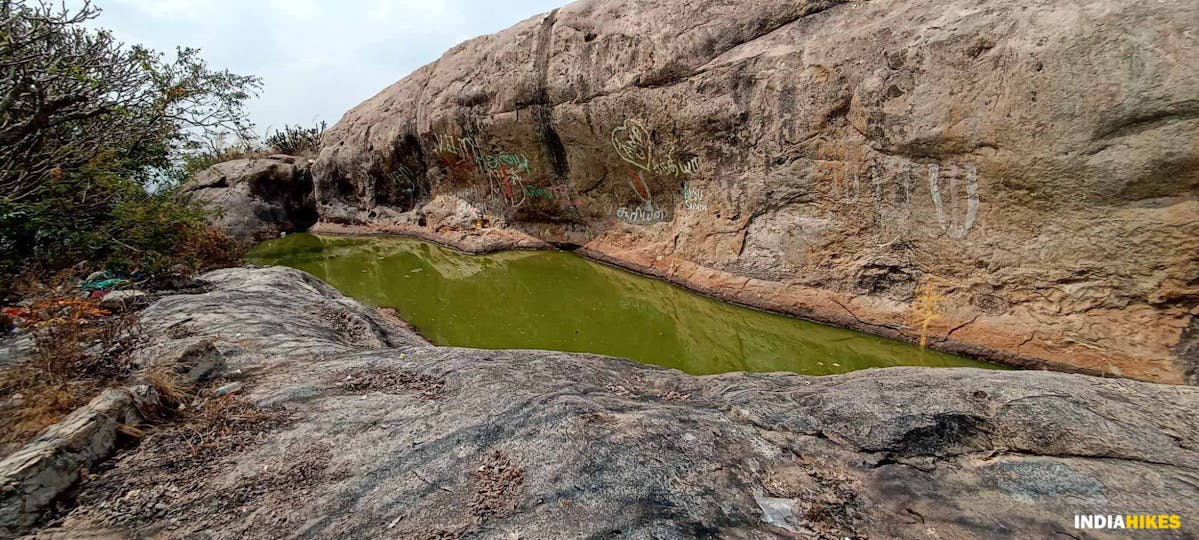 Theertha Kulam (the holy pond) at the Musattu Hill Top. Picture by Ajay Vignesh
The panoramic views of the hills all around leave you spellbound.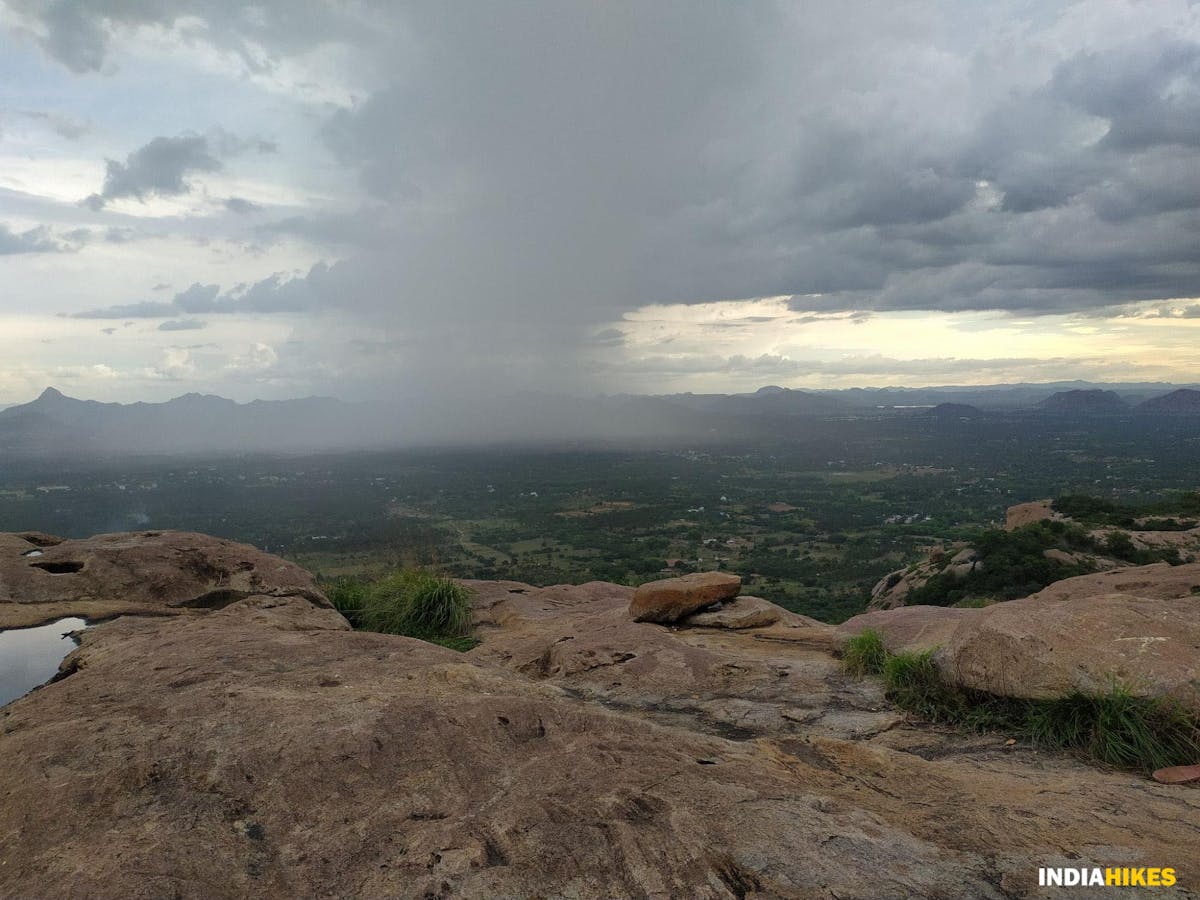 Rain clouds burst at a distance, as seen from the top of Musattu Hill. Picture by Ajay Vignesh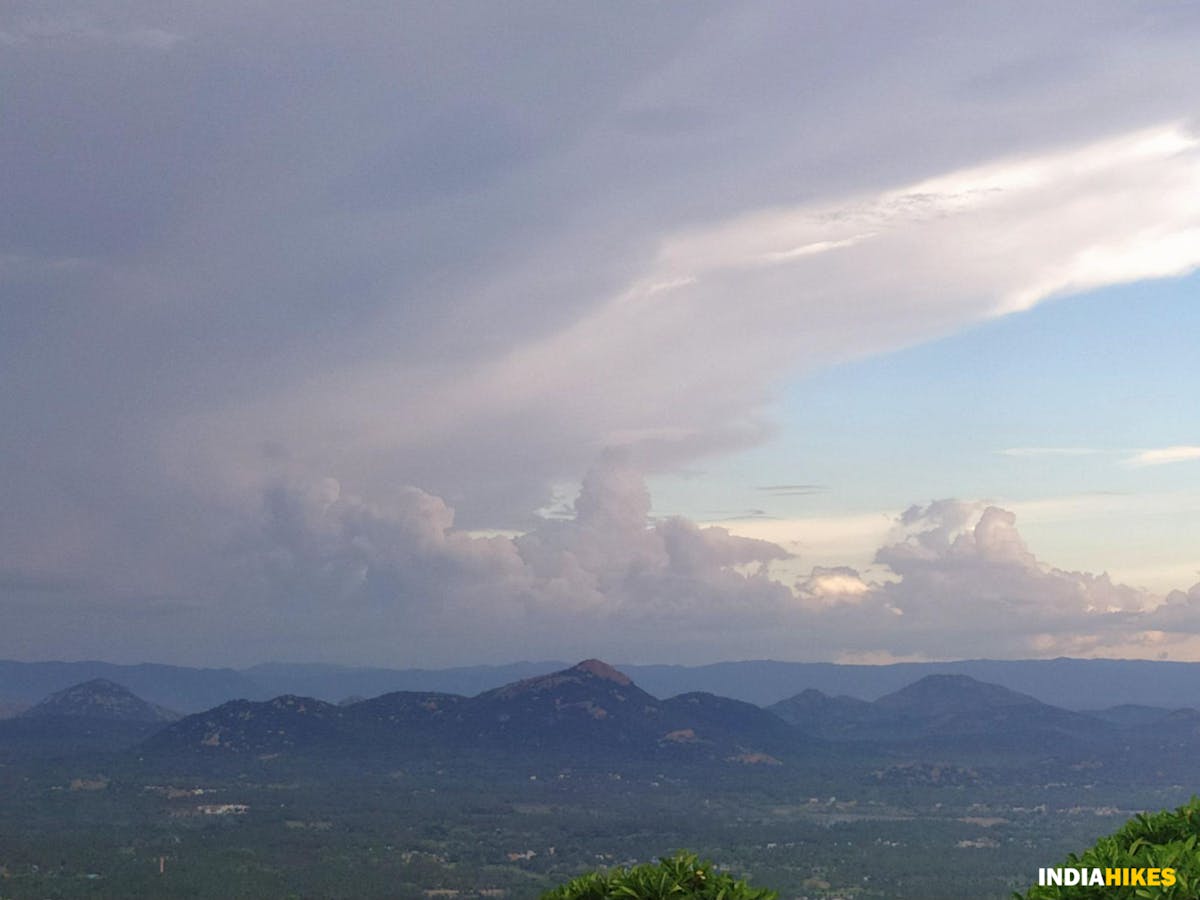 View of the surrounding hills from the top. Picture by Ajay Vignesh
The Musattu Hill trek not only provides you with a lasting experience, but it is also an ideal location for stargazing.
The entire journey from the Varatanapalli Bus Stop to Musattu Hilltop should take around two to three hours depending on the fitness level.
Stargazing
On a clear night, most of the hill stations in Tamilnadu provide good opportunities for stargazing. However, if you are a dedicated stargazer and intend to bring your own optics (Telescopes, Binocs, etc.), the Musattu Hill has some wonderful rooms facing the outdoors, with stunning views of the star-filled Milky Way.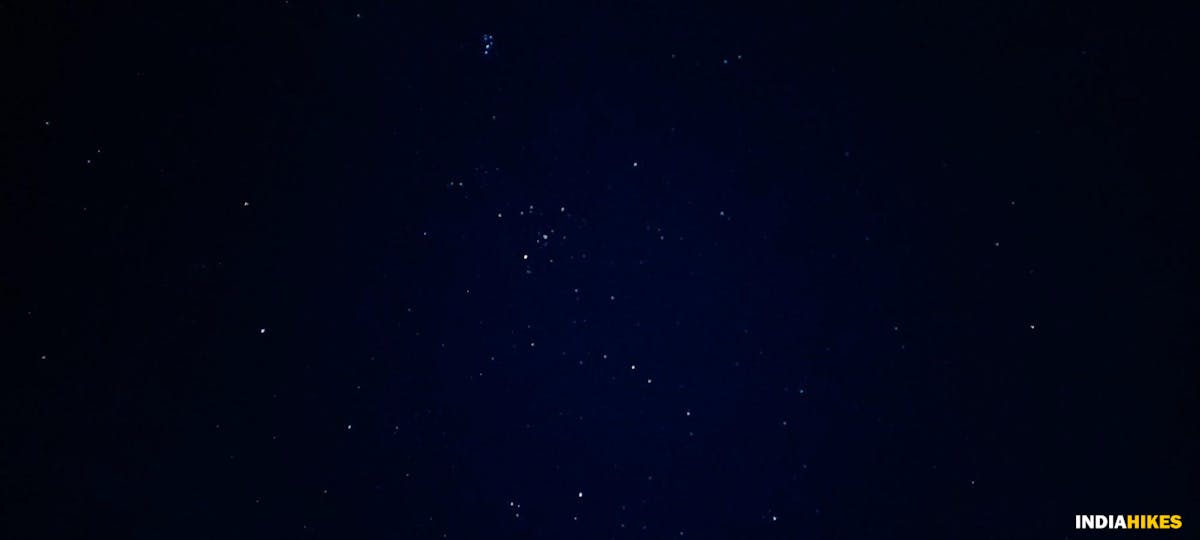 The Orion belt and its constellations were captured after a long wait. (f 1.8, ISO - 400, Shutter speed - 20 Sec) Picture by Ajay Vignesh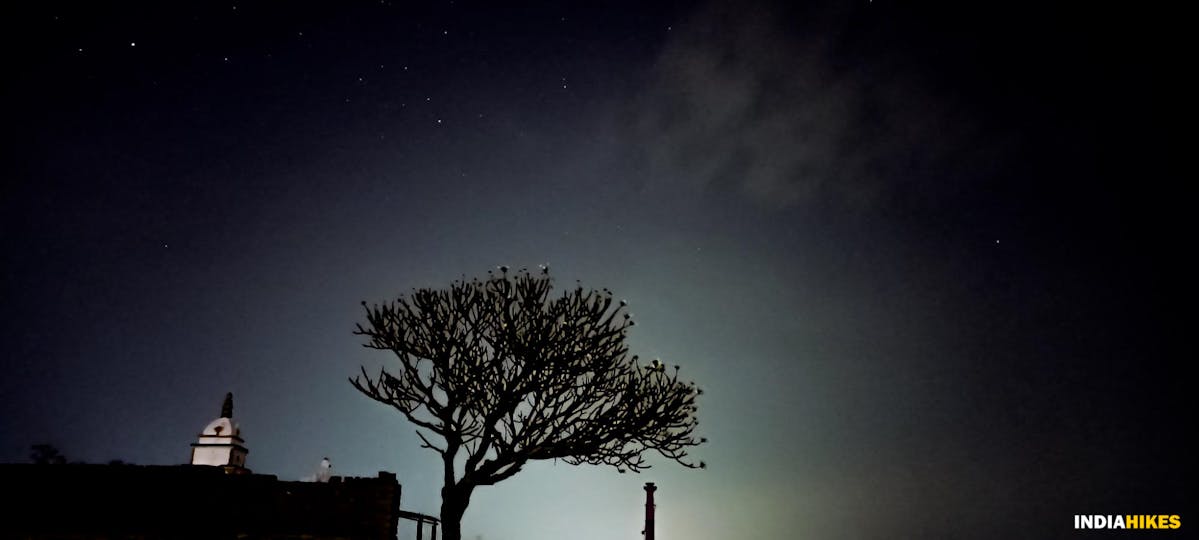 The splendid Aquarius constellation behind the picturesque temple tree. (f/1.8, ISO - 1600, Shutter speed - 30 Sec) Picture by Ajay Vignesh
Climatology
Before packing for the trek, it is essential to understand the climatology. Here we provide the whole climatic data of Musattu hill of 2021 in order to pre-analyze the fundamental facts.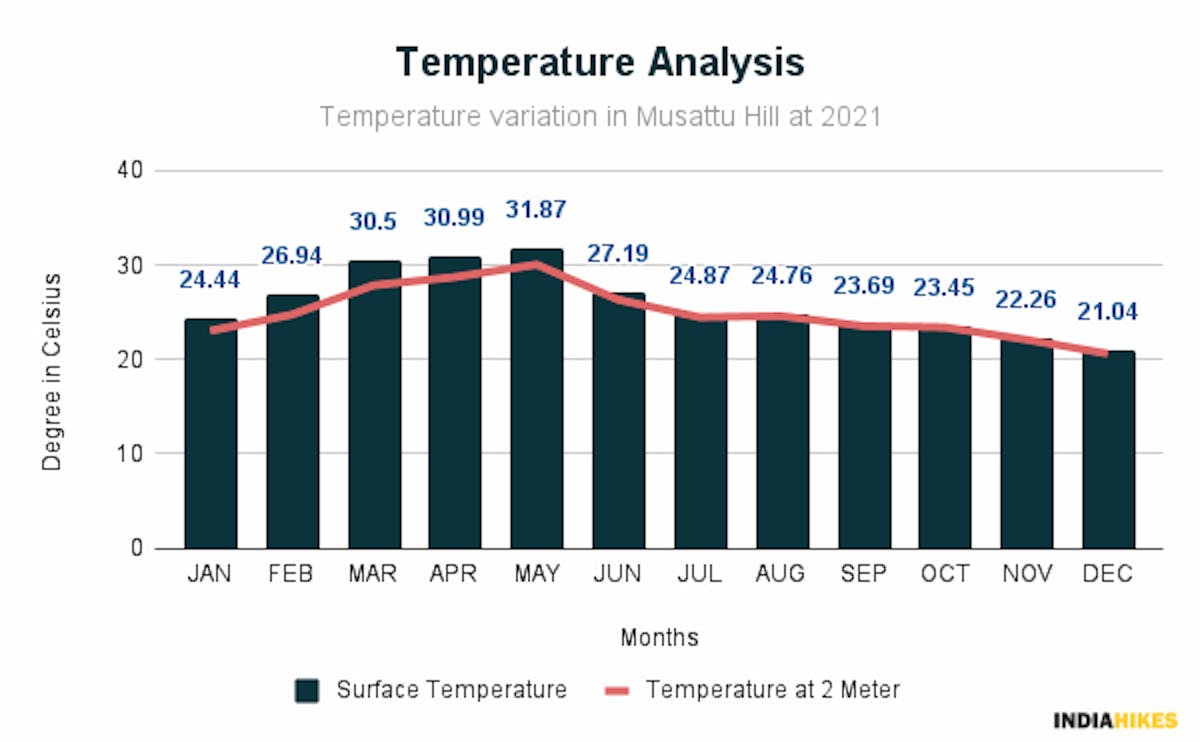 Data collected from NASA Power Project. Analyzed by Ajay Vignesh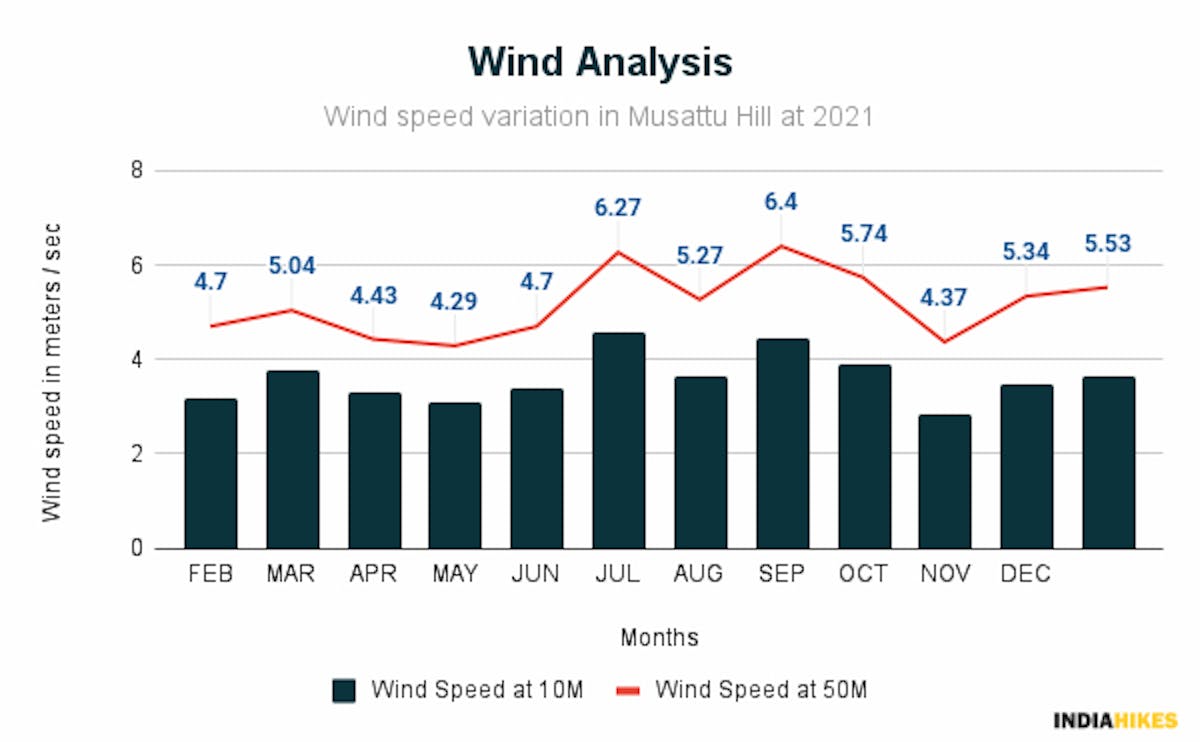 Data collected from NASA Power Project. Analyzed by Ajay Vignesh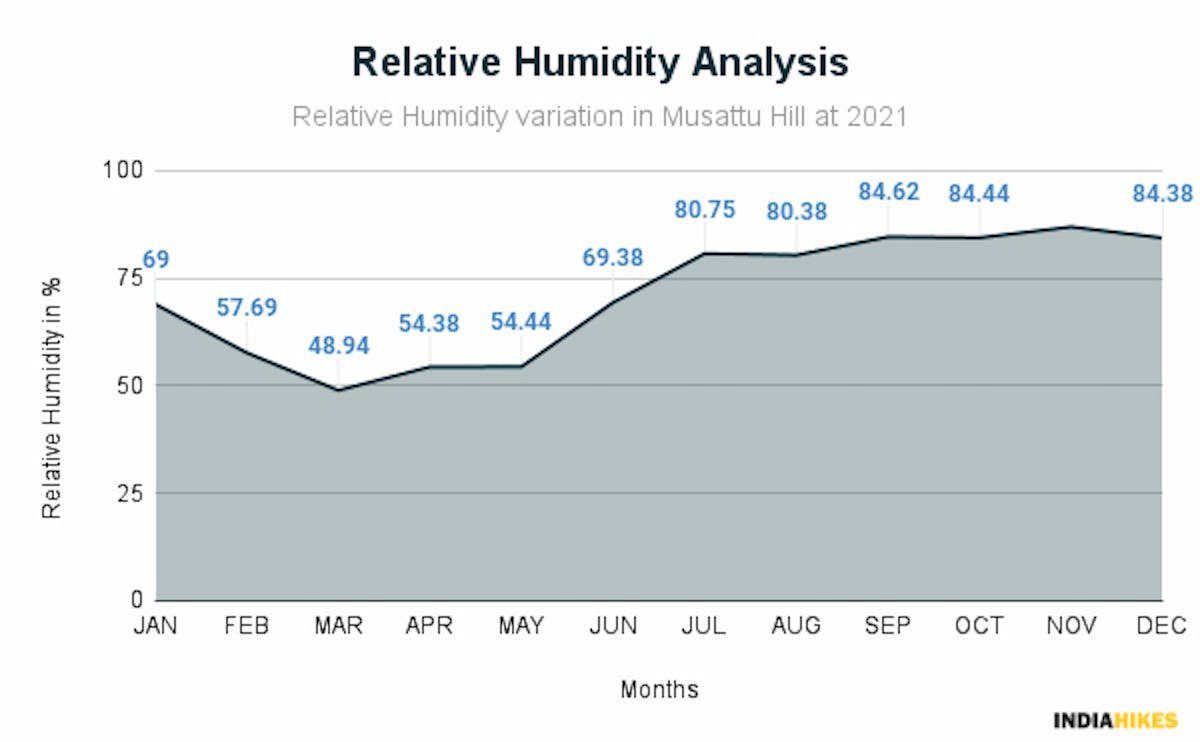 Data collected from NASA Power Project. Analyzed by Ajay Vignesh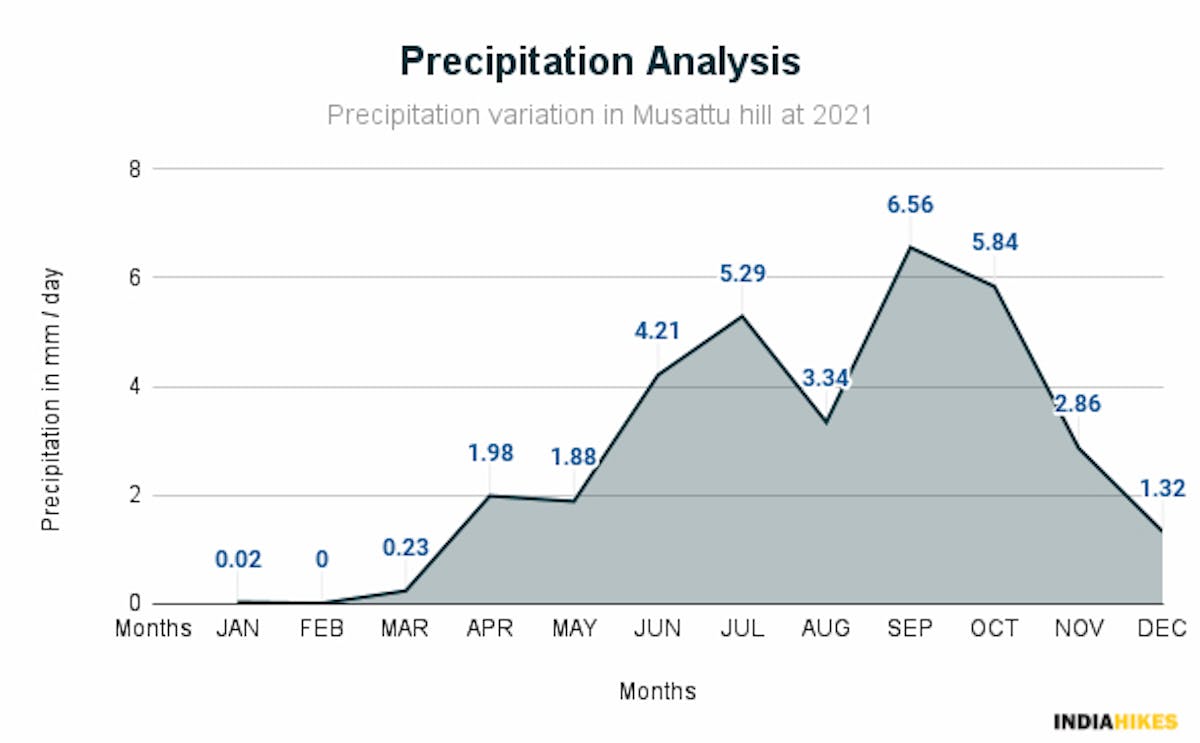 Data collected from NASA Power Project. Analyzed by Ajay Vignesh
The data presented in this document is collected from the National Aeronautics and Space Administration's Power Project. Use this Link-1 & Link-2 if you require the data.
➤ GPX File of the Musattu Hill Trek
Click here to go back to the Table of Contents.
➤ Best Time to do the Musattu Hill Trek
The best season to do Musattu Hill Trek is from June to September.
During the summer season, daytime temperatures frequently reach the upper 30's. This can rapidly lead to dehydration, making the final portion tough to complete in the afternoon. However, if you still want to go on the journey during this season, make sure you have the necessary equipment.
➤ Difficult Sections on the Trek
The Musattu Hill Trek is a moderate hike. It's 5 kilometres one way, with some steep sections. As a result, your up and down journey will be a little longer than 10 kilometres. If you trek from the Varatanapalli Bus Stop to the Musattu Hilltop in one day, your endurance will be put to the test.
The Musattu Hill Trek has no sections that may be classed as tough. However, a trekker must be aware of the following points.
The slippery path through the rocky landscape in the last section (monsoon-specific):
During the rainy season, the route becomes difficult to navigate due to the slush, and the boulders become extremely slippery, necessitating extreme caution when trekking.
Trekkers should take caution when choosing footwear during the monsoon season and should check weather predictions to avoid days with heavy rainfall.
➤ How to Reach the Base of the Trek
The Musattu hill trek begins from the small village called Varatanapalli which is about 12 kilometres from the Krishnagiri district.
The buses stop at the Varatanapalli Bus Stop. You can start your trek from there or you can hire an auto to reach the farmhouse.
Reaching Musattu Hill by your vehicle
If you are planning on driving to Musattu hill using your vehicle from Chennai, you can use this link to help set up navigation in Google Maps.
If you do not have access to Google maps, here is how to reach Musattu hill from Chennai.
To get to Musattu Hill from Chennai, take the NH 48 Road to Sriperumbudur, then continue on the same highway to Vellore, then Ambur and Kandhikuppam to Musattu Hill.
Protip: If you are travelling from Chennai to Musattu Hill, you do not need to go to Krishnagiri; instead you can proceed to Kandhikuppam from Ambur. To go to Musattu Hill from Kandikuppam, take a right on the NH 48 Highway near Govind Rao Complex.
Reaching Musattu Hill by Public Transport System
Musattu Hill can be reached by public transport easily. There are frequent buses from Chennai and Krishnagiri.
Take a bus to Krishnagiri from Chennai and take a local bus to Varatanapalli bus stop from Krishnagiri bus stand. You can find the detailed local bus timings for Varatanapalli here.
You can use this TNSTC website to book the bus tickets if needed.
The cost of a bus ticket from Chennai to Krishnagiri is Rs.235 for TNSTC Deluxe buses and Rs.270 for TNSTC semi-seater buses. On weekends, the semi-seater TNSTC bus ticket fare will change.
From Krishnagiri to Varatanapalli, the bus fare is Rs.20.
PROTIP: If you arrive in Krishnagiri via roadways from other districts or states, the buses will drop you off at Krishnagiri new bus stand. You will not need to travel to Krishnagiri old bus stand to catch a bus to Varatanapalli as most people recommend. Instead, take an Andhra Pradesh State Road Transport Corporation bus to Kuppam and get off at Varatanapalli. You can also take a Tamil Nadu State Transport Corporation bus to Kuppam from Krishnagiri new bus stand, though it runs less frequently than the APSRTC bus service.
During peak hours, a few private buses run from Krishnagiri main bus stand to Varatanapalli.
If you arrive at Krishnagiri early in the morning, the first APSRTC bus service from Krishnagiri to Kuppam departs at 3:00 AM, with a frequency of 30 minutes till 7:00 AM, and 15 minutes from 7:00 AM to 7:00 PM. 
After 7:00 PM, the frequency is reduced to 1 hour, and the last bus time varies depending on the crowd level, although 11:00 PM is usually the final source.
To get to Varatanapalli, use local buses with the numbers 23,45,21,51,58,18, and B3 from Krishnagiri old bus stand.
If you have any questions about bus schedules or how to go to Varatanapalli, you can contact Mr Munirathanam for complete information.
Mr. Munirathanam – +91 9442983936.
Nearest Railway Station
Hosur Railway Station – 45 km
Jolarpettai Railway Junction – 40 km
Dharmapuri Railway Station – 50 km
Click here to go back to the Table of Contents.
➤ Things to Take for the Musattu Hill Trek
Basic First Aid kit*
Identity Card
Cap/ Scarf/ Bandana & Sunglasses
Water (Minimum two liters)
Lemon and salt OR Electrolyte Powder/Drink (Electoral/Gatorade/Glucon D, etc.)
High-calorie snacks (Nuts & dry fruits, a home-baked cake, etc.)
Safety Pins, Rubber bands & Whistle (Useful in emergencies.)
Quick Dry T-shirts are preferable over cotton tees.
Poncho, only during monsoons
Plastic sheet to wrap electronic devices, only during monsoons
Sunscreen (SPF 50+)
Optional: Trekking poles
* First Aid Kit:
Scissors
Band-aids (Regular & Waterproof)
Analgesic spray (Relispray, Volini, etc.)
Antiseptic Liquid (Savlon, Dettol etc.)
Antiseptic powder (Povidone-Iodine based powders like Cipladine, Savlon, etc.)
Cotton roll & Bandage
Crepe Bandage
1-inch wide medical tape (paper or cloth.)
Micropore tape
Tablet for motion sickness (Avomine), Acidity (Gelusil, Digene, etc.).
Mild pain relief tablet (Crocin)
| Note: Always consult a doctor before taking any medicine.
➤ Frequently Asked Questions
Permission and Camping on the Musattu Hill trek
No, you don't need to take any prior permission for the Musattu Hill trek. However, since it is a reserved forest it is recommended to bring a valid government identity card.
Camping is allowed on Musattu Hill; nevertheless, finding a flat area is problematic; yet, you may modify and pitch your tent near the Lord Vishnu temple.
Stay Options near Musattu Hill Trek
If you want to stay overnight you need to go to Krishnagiri from Varatanapalli bus stop for a secure and comfortable stay. You can find some good stay options from these 2 links – link-1 and link-2. 
Timings of Musattu Hill trek
There are no set times for the Musattu Hill Trek, however, we recommend starting early in the morning to escape the heat radiation from the huge boulders and to reach the peak before sunset.
Food and Water source on the Musattu Hill trek
Varatanapalli village is your last reliable source of food and the farmhouse is the last reliable source of free water.
The water may then be obtained from the little pond near the Hanuman temple and from the holed rocks at the top.
| Tip: We recommend that you dine in Krishnagiri if you want good food.
| Tip: If you are not comfortable having water from the stream or well, carry purification tablets or a life straw bottle to purify the water.
Emergency Contacts for Musattu Hill trek
Hospital:
Government Hospital, Krishnagiri – 04343-462007
Midhu Clinic – 9786052414
Midhu clinic is a small private clinic that is open from 5 pm to 9 pm. 
Krishnagiri Government Hospital, which is about 12 km from the trail, is equipped to handle emergency cases.
Police Station:
Kandhikuppam Police Station – 04343 268 405
Fire and Rescue Department:
Fire and Rescue Station – 04343236101
ERSS: For any kind of emergency help, you can contact the Pan-India Emergency Response Support System (ERSS) number- 112
ATM and Network on the trek
ATM: The nearest ATMs are located at Varatanapalli village. However, it is better to withdraw cash either at Krishnagiri or at a reliable town en route if you are driving to the base. 
Mobile Networks: You get good coverage of JIO and Airtel through various patches on the trek. The signal connections are intermittent.
➤ Nearby Places to Visit
1. Sri Lakshmi Narasimha Swamy Temple: It is believed that the Sri Lakshmi Narasimha Swamy Temple existed 2,500 years ago and that King Janamejaya constructed it to erase his doshas and achieve a pleasant life. King Janamejaya is the great-grandson of Arjunan one of the five Pandava brothers in Mahabharata.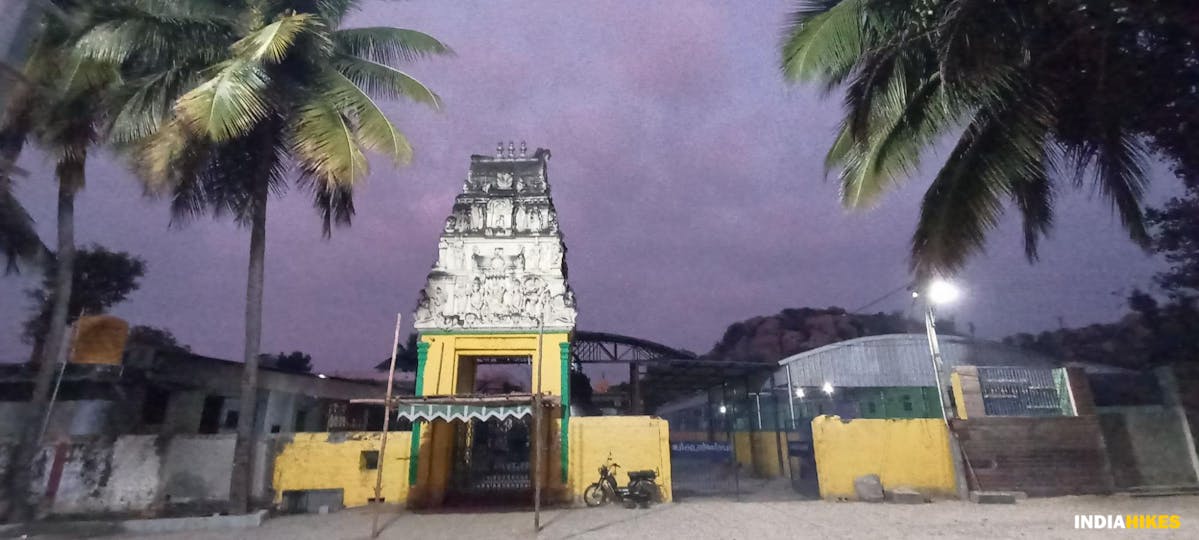 The Lakshmi Narasimha Swamy Temple. Picture by Ajay Vignesh
2. Thally Garden and Lake (Little England): Thally garden and the lake is located 25 km from Hosur 77 km from Krishnagiri. Thally village is fully surrounded by the number of hill stations in Denkannikottai taluk this place is located 1000ft above the sea level salubrious weather is remembering England climate therefore during the British regime onwards this place we call it as "Little England".
This pleasant climate is yielding to cultivate vegetables, fruits, flowers to the formers. Tourists from Hosur, Krishnagiri, Dharmapuri, Bangalore are frequently visiting this place to enjoy this climate.
3. Krishnagiri Government Museum: Krishnagiri Museum is located near Apsara Theatre on Gandhi Road. It was opened as the 12th District Museum in the year 1993. This Museum exhibits objects of Art and Archaeology, Anthropology, Geology, Botany and Zoology disciplines. The most important exhibits of this Museum are the Hero Stones, which were collected from different parts of this district.
Visitors can have Knowledge of the history of the Krishnagiri district from as early as the Paleolithic period through the Neolithic and Megalithic to the modern period by the exhibits displayed here. Palaeolithic tools were collected from Varattanappalli and Kappalvadi, Neolithic tools were collected from Katheri, Gangaleri, Thogarapplli, Paiyur, Kokkikalpodu, Modhur, Gollahalli and Vellolai are displayed.
4. Krishnagiri Dam Park: Krishnagiri dam is located in between Dharmapuri and Krishnagiri 10 km away from Krishnagiri and river Thenpennai is supplying water sources to the dam, this dam is constructed in 1955 – 1957 by the former chief minister of Tamilnadu Thiru. Kamaraj benefited thousands of acres of land around Krishnagiri irrigated with the help of this dam. This dam has a park around a 50-acre land area on either side being decked with beautiful flower gardens and children's playing equipment.
➤ Trek Contribution
Trek explored and documented by Ajay Vignesh
Photos Clicked by Ajay Vignesh
Trek written and edited by Ajay Vignesh and Gautam Singh
GPX File Opt in
We go to great lengths to ensure you have a safe trek. So here's a GPX file of the trail to help you navigate without getting lost.