Can You Help Us With Photographs Of This Trek?
We are looking to enrich this documentation with more photos. Pictures go a long way in explaining the trail, more than words ever can. If you have done this trek, can you share your photos with us? We will include them on this page, with due credit to you. Click here to contribute.
The Complete Guide to Pin Parvati Pass Trek
The Pin Parvati Pass is a thrilling challenge for any seasoned trekker. It's a long expedition that gives trekkers a massive dose of adventure, beauty and a sense of achievement. The exhilaration of traversing a 17,457 ft pass is an experience of a lifetime.
Pin Parvati Pass trek provides the most spectacular traverses, right from the forest and verdant meadows of the Parvati Valley to the Buddhist villages in the Trans-Himalayan region of Spiti. The sharp contrast in landscapes, culture, flora and fauna will catch you off-guard. Within hours, you'll walk from cold dry mountain desert region of Spiti to the rich biodiversity in Parvati Valley.
As you climb higher to Pin Parvati Pass, the bird's-eye view of the Parvati and Pin Valley is fantastic.
Pin Parvati has a host of unique experiences to offer you: from the pulley bridge at Tunda Bhuj to marshlands of Mantalai to alpine meadows of Odi Thach, dense forests near Kheerganga and glacier near the Pass. Pin Parvati trek builds from cold dry deserts of Spiti and its unique settings to the lush, wet greenery of Parvati valley.
The greenery, the flowers of Odi Thach hits you harder after days of trekking among wind-carved rock formations and glaciers. Near the end of  trek, you also experience the hot water springs at Parvati Kund at Kheerganga. Words cannot describe the experience of a hot water bath here after a hard day of trekking. It is a five star sauna experience on a trek, which you seldom get on any Himalayan Trek.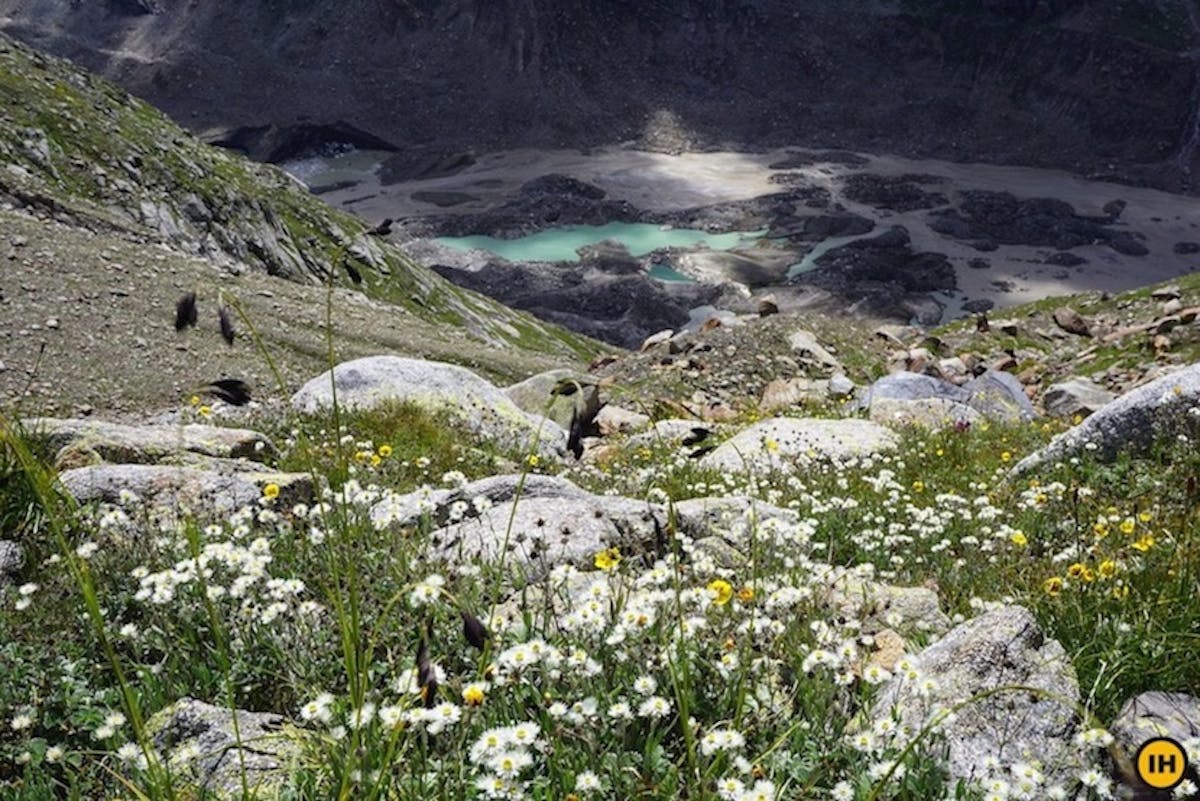 Descent to Mantalai lake. PC: Sandeep
➤ Short Itinerary
Day 1: Getting to base camp – Kaza (12,467 ft); 10 -12 hours drive
Day 2: Acclimatization day at Kaza (12,467 ft)
Day 3: Drive to Mudh. trek from Mudh (12,283 ft) to Tiya (12,795 ft); 2 hours drive + 2-3 hours trek
Day 4: Tiya (12,795 ft) to Shia (14,763 ft); 5-6 hours
Day 5: Shia (14,763 ft) to Pin base camp (15,780 ft); 5-6 hours
Day 6: Pin base camp (15,780 ft) to Mantalai (13,440 ft) via Pin Parvati pass (17,457 ft); 12 hours
Day 7: Rest day at Mantalai (13,440 ft)
Day 8: Mantalai (13,440 ft) to Odi Thatch (12,517 ft); 4 hours
Day 9: Odi Thach (12,517 ft) to Tunda Bhuj (10,499 ft); 8 hours
Day 10: Tunda Bhuj (10,499 ft) to Kheerganga (9,120 ft); 4 hours
Day 11: Kheerganga (9,120 ft) to Barshaini (7,251 ft); 3 hours
Day 12: Buffer day. 
➤ Trail Information
Day 1: Getting to the Base Camp - Kaza
Altitude: 12,467 ft (3,800 m)
Time taken: 10-12 hours drive
Take an overnight bus from Delhi and reach Manali the previous day. Pick up will be arranged from Manali at 6.00 am. The Rohtang and Kunzum passes are known for their notoriously bad traffic jams, making it all the more necessary to leave by 6.00 am. Drive out of Manali, and towards Batal via Rohtang pass on the Manali-Leh Highway. The road is not too good and is bumpy all through. From Gramphu, take a diversion towards the Gramphu – Batal – Kaza road.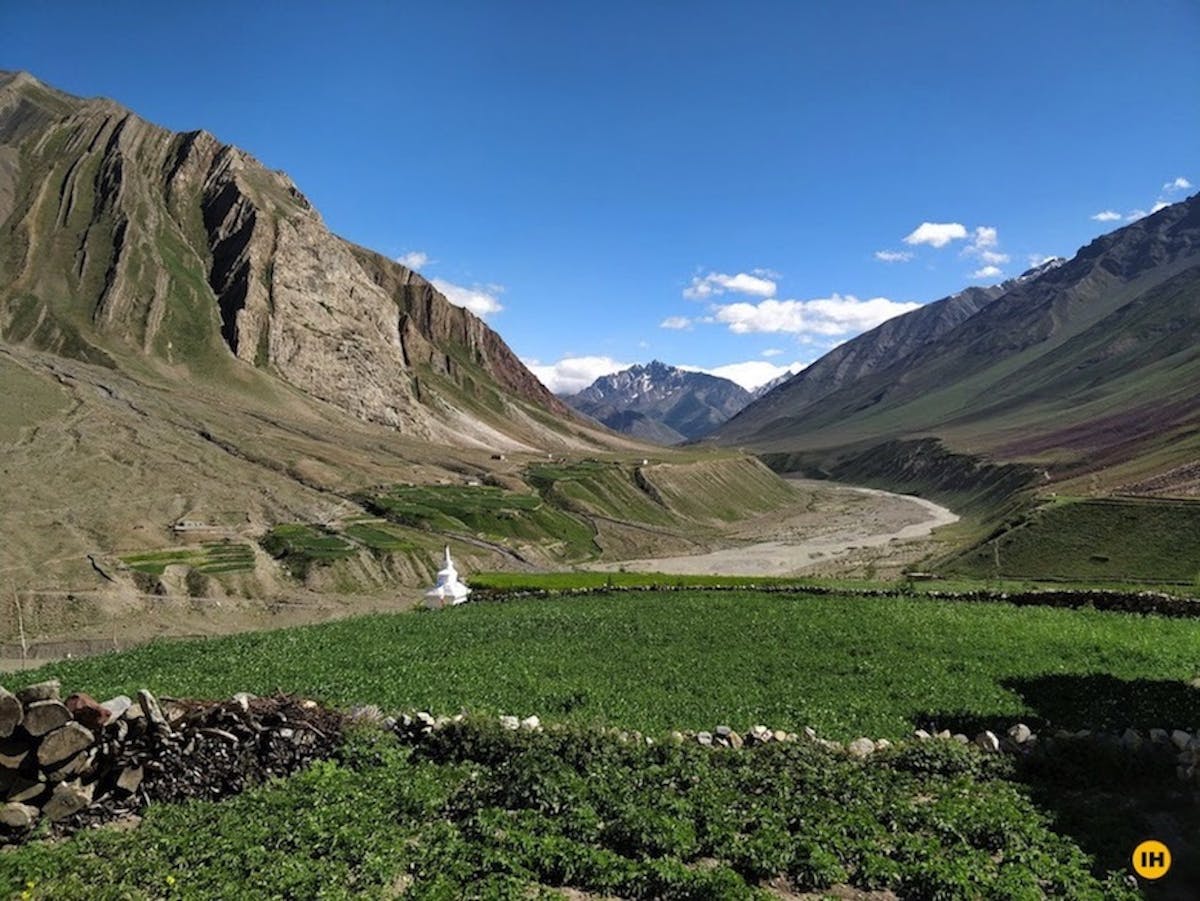 While Spiti is mostly barren, you find small fields along the river near Kaza and Mudh. PC: Mihir
From Batal the route winds through the real Spiti Valley. Quaint little villages, tucked away in the mountains and arid mountains dotted with green and yellow patches of peas and barley fields. The route from here is straight out of a picture postcard.  You will be camping along the Spiti river in Kaza. The acclimatization process starts today.
Day 2: Acclimatization Day at Kaza
Altitude: 12,467 ft (3,800 m)
Day 3: Drive from Kaza to Mudh village; trek from Mudh to Tiya
Altitude: 12,283 ft (3,744 m) to 12,795 ft (3,900 m) (trek from Mudh village to Tiya)
Time taken: 2 hours drive + 2-3 hours trek
Trek gradient: Moderate. Very gradual ascent
Water sources: None. Carry 2 litres of water
From Kaza, drive down to Mudh village which is at a lower altitude. The drive will take you about 2 hours and covers a distance of 49km. Once you reach Mudh village start trekking to Tiya. You will reach Tiya in 2-3 hours.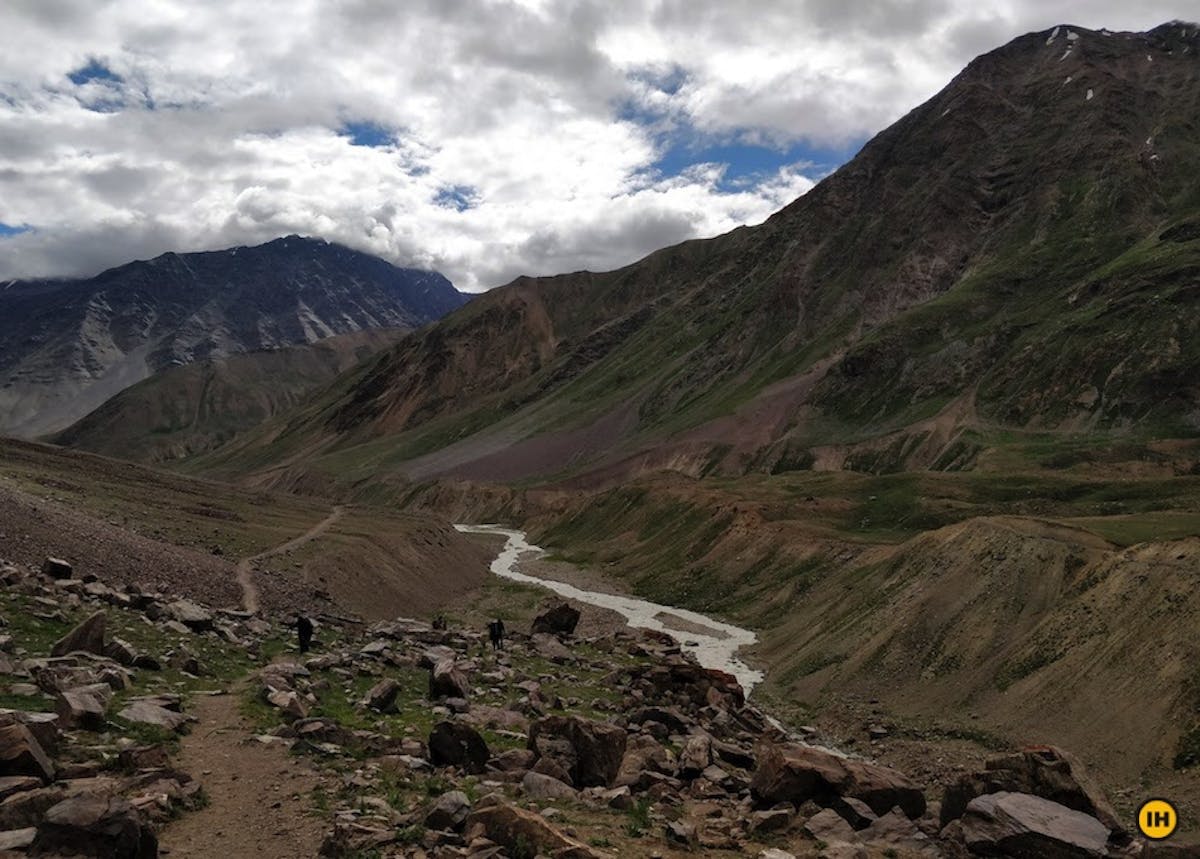 The trail from Mudh to Tiya runs along the Pin river PC: Mihir
Mudh is a picture-postcard worthy village with whitewashed houses, peas and barley terraced fields. You can find guest houses here to accommodate trekkers trekking in Pin Valley. Pin Valley is known as snow leopard and ibex country. However, chances of spotting these animals on your trek remain elusive.  It is important to start for Mudh from Kaza early as streams gets swollen later in the day, making it difficult to cross. Mudh is the last village you will see on this trek until Kheerganga on the second last day. This is also the only day of luxurious trekking - a very gradually ascending walk on scree and shale surrounded by barren yet colourful mountains typical of Spiti. The trails are well-defined with minimal chances of getting lost.
You will be trekking along the Pin River through the day, moving upstream. The trekking trail is at a higher level than the river, so it won't be possible for you to fill water anywhere. However, to set up camp at Tiya, descend to the river bed. You will have limited level ground that is suitable for putting up tents. Across the river is Mangrungse - which is a campsite on Pin Bhaba trek.
Day 4: Tiya to Shia
Altitude: 12,795 ft (3,900 m) to 14,763 ft (4,500 m)
Time taken: 5-6 hours
Trek gradient: Difficult. Continuously ascending trail, with a few sharp ascents
Water sources: Streams on the trail
A long day for trekking with beautiful views of Spiti Valley. An early start is important to ford the multiple glacial streams today- which will leave your feet numb. A couple of these tiny streams are also drinkable. Starting on the left bank of the Pin river, the first section is an undulating walk on loose, sedimentary rocks. After this section, you descend to the river, cross it and ascend up the other side. There are a couple of tricky sections - narrow scree-laden ledges over the river that need navigating.  After you've trekked some distance, the Pin Glacier becomes visible high up, in the distance.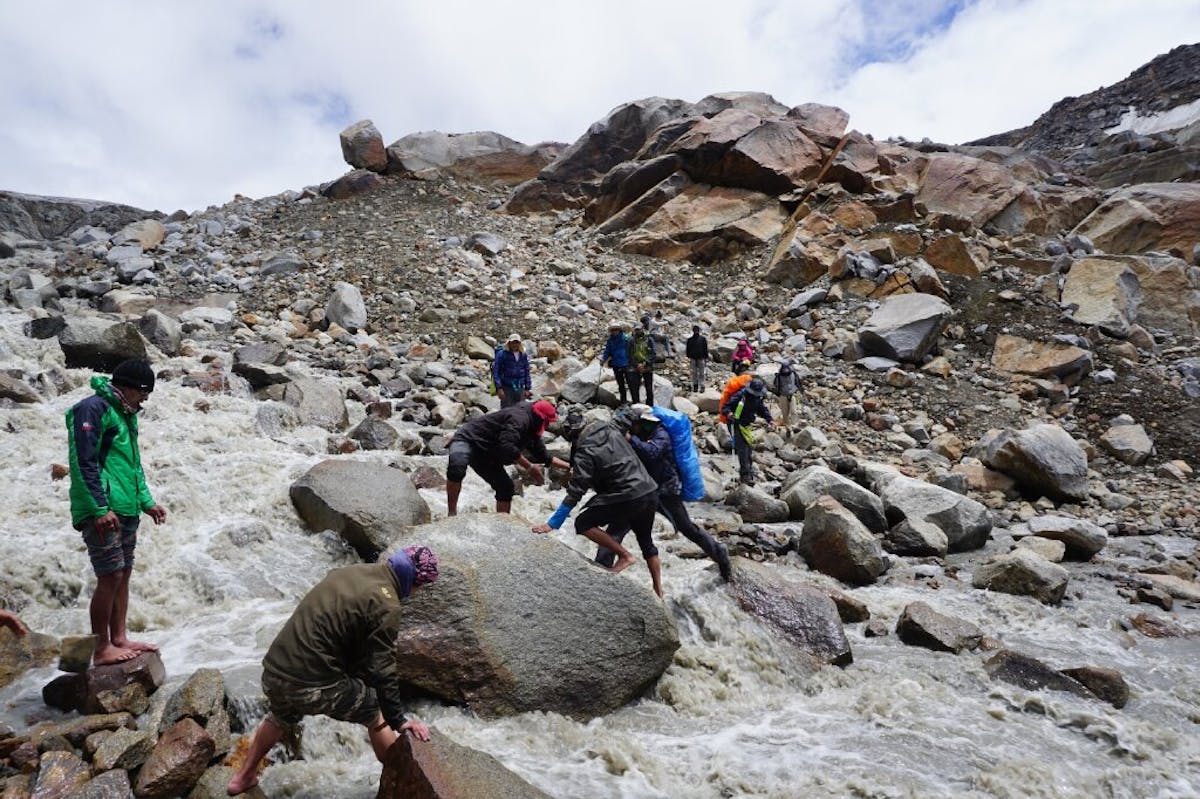 Crossing the Pin river. PC: Sandeep
Shia is a shepherds' campsite with barely enough space for camping. You have to find space among the rocks and shale to set up camp. This is also a landslide prone area, so you have to be careful.
Day 5: Shia to Pin Base Camp
Altitude: 14,763 ft (4,500 m) to 15,780 ft (4,810 m)
Time taken: 5-6 hours
Trek gradient: Difficult. Steep ascents interspersed with a long glacier walk followed by two tough river crossings
Water sources: River and streams on the trail
Start your day by crossing the Pin river. You will have to remove your shoes. However, this is not easy to cross barefoot as there are a lot of stones and pebbles on the river bed. If the flow is strong and not manageable, you will have to go 2 km ahead and cross it over the glacier.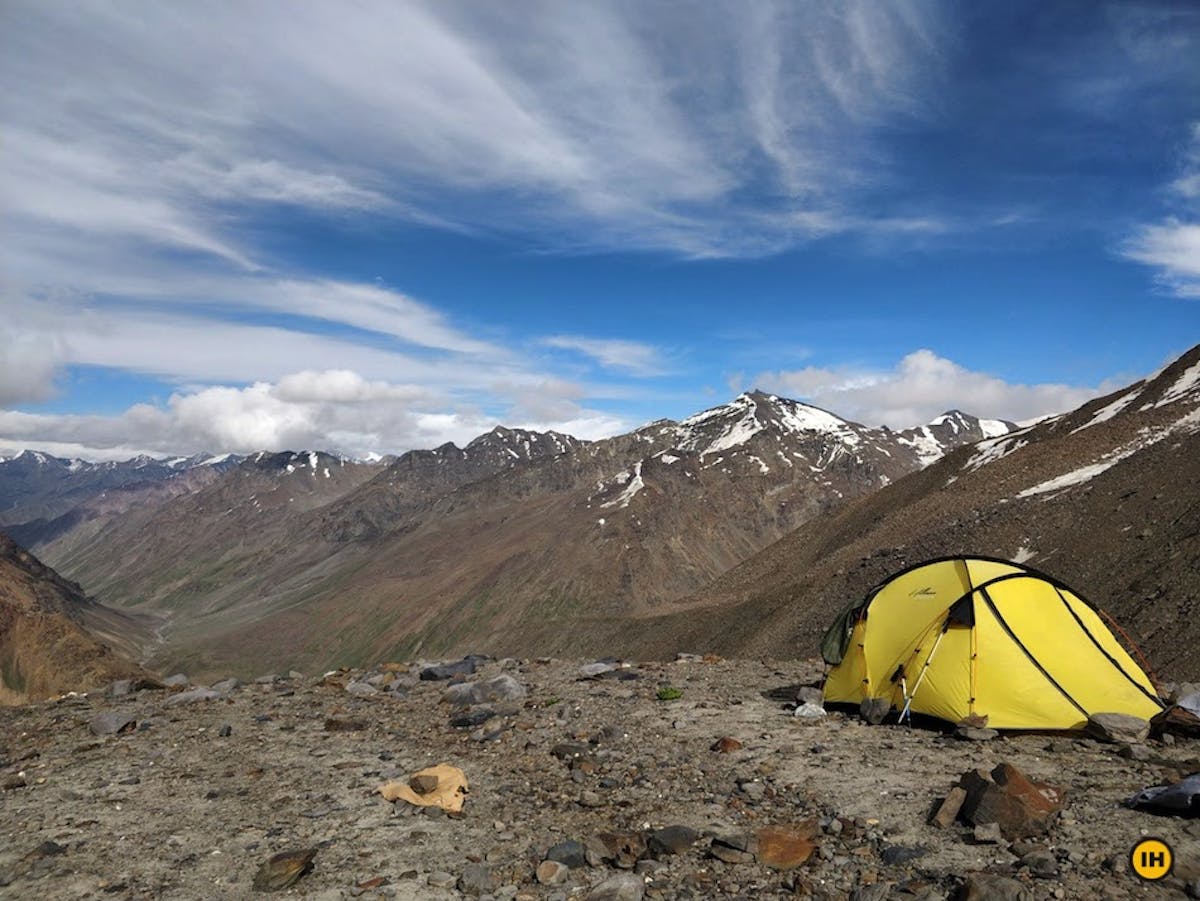 Get sweeping views of Spiti from Pin Base Camp. PC: Mihir
The ascent to Pin Base Camp will leave you breathless. It is a steep ascent of 1,700 ft. There is also a tricky section that comes midway in the ascent- a stream crossing. This stream comes from Pin glacier (we will camp close to its glacial line) and the volume of the water is high. With the stream flowing on an incline, special care has to be taken while crossing it. The flow of the water is such that you can be swept down to the valley below. The team will have to be roped up for this section.
Pin Base camp is a bare, rocky moonland below the Pin glacier and 1,000 ft below the Pass. The camp is also quite windy with views of rugged mountains all around - the setting is almost like Bhagwabasa campsite on Roopkund. These are very different mountains from the ones you see in Uttarakhand or the lower Himachal.
Day 6: Pin Base camp to Mantalai via Pin Parvati Pass
Altitude: 15,780 ft (4,810 m) to 17,457 ft (5,321 m) and descend to 13,440 ft (4,097 m)
Time taken: 12 hours
Trek gradient: Difficult. 3-4 hours steep climb to the pass. 3-3.5 hours tough descent through crevasses to Parvati base. 4 hours steep descent to Manatalai
Water sources: None for the first 7-8 hours. Carry 2 litres of water from Pin Base camp
Depending on the weather, an early start for the Pass is crucial. The Pass should not be traversed after noon as the weather always deteriorates in the second half of the day. The ascent to the Pass is tough, mainly because of the of the altitude - the glacier section is on a gradual incline. There are no crevasses to worry about on Pin side of the pass. The older and originally considered Pass can be seen to the left of the ridge. The Pass used nowadays is at a higher plane, above the one at the left.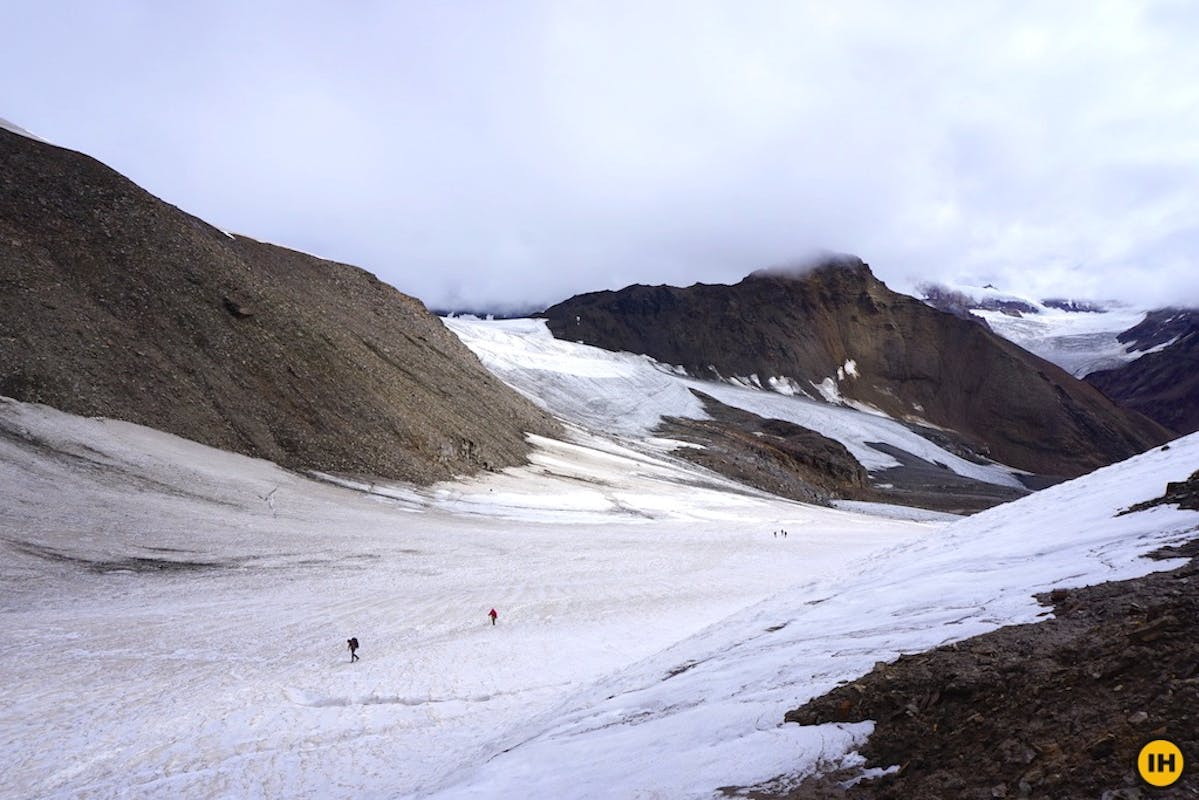 TrekkerS make their way through vast snowfields on their way to the Pin Parvati Pass. PC: Sandeep
The world changes at Pin Parvati Pass! The bird's eye view of both Pin valley and Parvati Valley is one of those grand views that stay with you. It is a very pretty panorama of both the valleys with unnamed peaks populating your view. You can see Parvati South Ridge, Snow Peak, Ridge Peak, Pyramid Peak, Kullu Makalu and Bara Shigri. You might even spot Kinner Kailash and Shrikhand Mahadev, if you know what to look for. The prayer flags fluttering- on your left- adds to the atmosphere at the Pass. Enjoy the view of lofty peaks from Kinnaur, Kullu and Spiti. You can also spot the Mantalai camp, far below, from the pass.
The descent to Parvati glacier is brutal - it is sharp and crevasse-ridden. The snow hides these crevasses so you have to be extremely careful. Ensure the team follows the guides' instructions as he finds the path through the glacier, and descend in a single file. The glacier tapers off and becomes wetter and muddier, transforming into a scree laden plateau. Parvati Base Camp is similar to Pin Base Camp. The weather gets very cold here and the wind chill factor is high. It is a much better option to do a longer trek to Mantalai and have a rest day.
The descent to Mantalai is steep and strewn with boulders which makes it a painful affair.   Depending on the season, the trail can have snow. From here, you will see breathtaking views of the Parvati valley. You will also see many endangered species of plants and flowers, especially "Losars" and the "Brahmakamals". Following the shepherds' trail, you will cross at least 2-3 mountain slopes before you reach Mantalai. At Mantalai, you will have to cross the ice-cold river barefoot and then proceed ahead along the river. Mantalai, said to be the source of Parvati river is not a conventional lake. The boundary of the lake is ill-defined and the area surrounding it is a marsh. The first signs of vegetation start from here - you might even find shepherds and a Baba living in a rock shelter. You will be able to see Pyramid Peak from its base to top and another unnamed peak on the other side. It is by far, the most beautiful and unique campsite you have come across on this trek.
Day 7: Rest Day at Mantalai Lake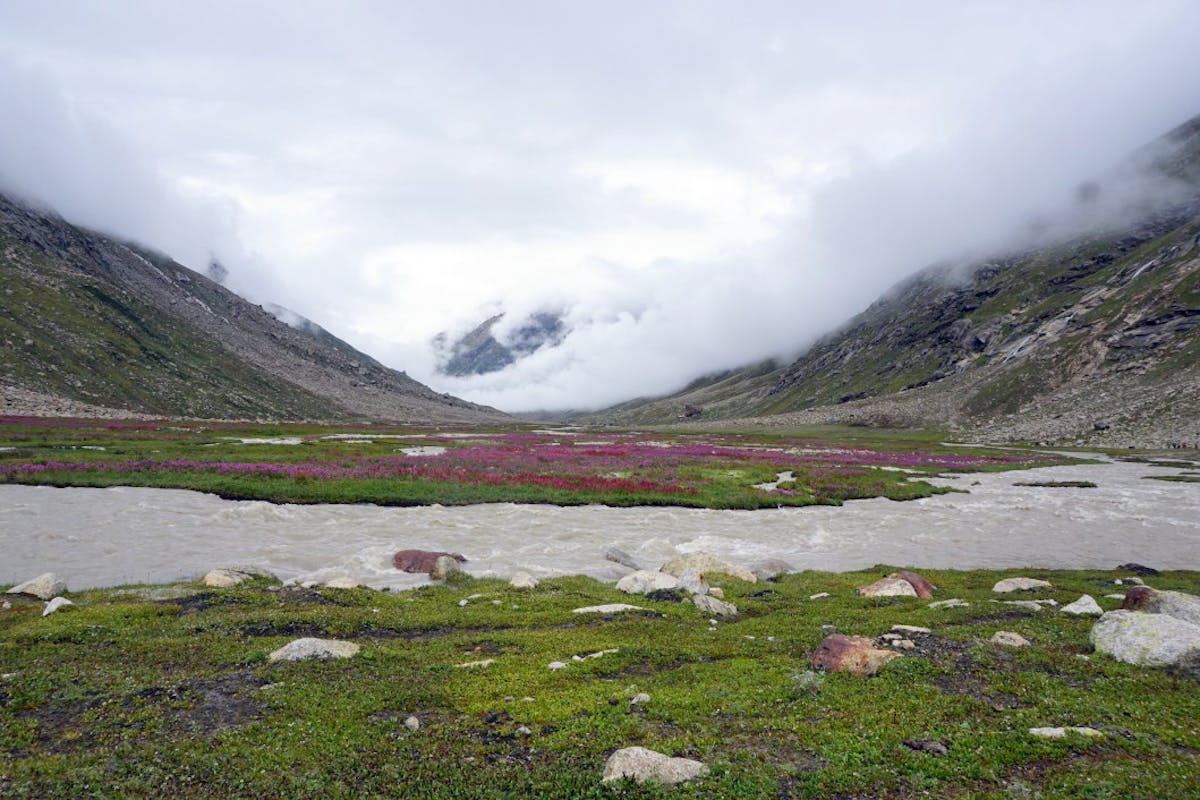 Near Mantalai Lake. PC: Sandeep
Day 8: Mantalai Lake to Odi Thach campsite
Altitude: 13,440 ft (4,097 m) to 12,517 ft (3,815 m)
Time taken: 4 hours
Trek gradient: Moderate. Gradual descent through the valley
Water sources: River or streams on the trail
This day consists of a scenic 9 km downhill hike all the way to the famous meadows of Odi Thach.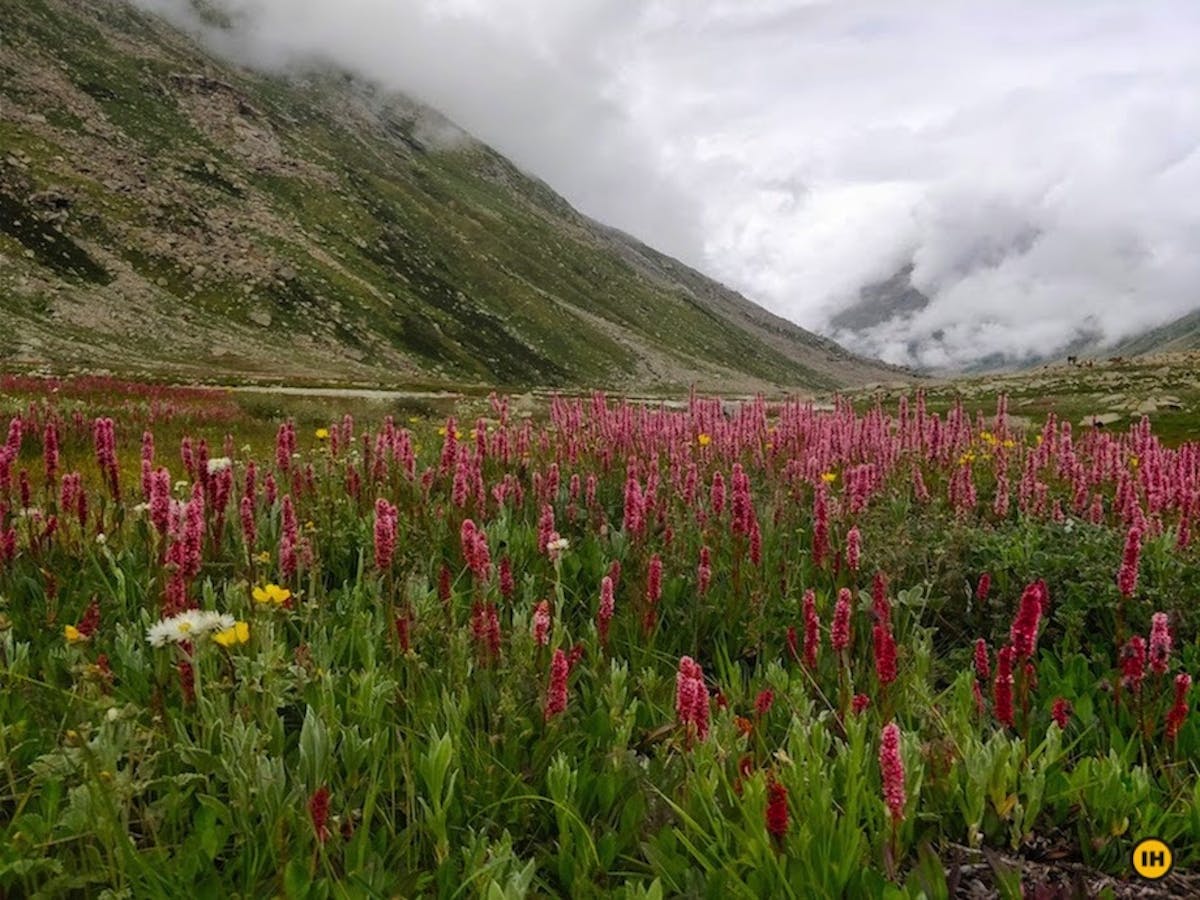 Himalayan orchids and wildflowers enroute Odi Thach. PC: Mihir
Walk ahead, along the right side of the river bank, up to a moraine-filled ridge. Once you reach the top of the ridge, you get a view of the point from where Parvati river is gushing down. You have to climb down a series of huge scattered boulders after which it levels out to a valley walk. This is an easier day compared to others as most of it is in a valley section.  Follow the trail on the right side of the valley till you reach a large ridge breached from the right side from where the River Parvati rushes down towards Mantalai. After traversing the first of the series of ridges, you officially exit the Mantalai region.
The route towards Odi Thach swirls towards the left side of the valley and it becomes easily the prettiest day of the trek. The flowers near Odi Thach give you slopes which are completely decked in red, blue and purple colours. It really hits you, coming from the barrenness of Spiti valley. Every 100 metres after these slopes, you will feel like camping.  The swamp land - with a very peaceful Parvati river which branches out to streams - culminates into a plateau and then goes through boulders till you reach level meadow - Odi Thach. A little ahead of Odi Thach is Jwari Thach where we camp.
Day 9: Odi Thach to Tunda Bhuj
Altitude: 12,517 ft (3,815 m) to 10,499 ft (3,200 m)
Time taken: 8 hours
Trek gradient: Difficult. All descending with a couple of stream and tough river crossings, interspersed with ledge walks
Water sources: Streams on the trail
A difficult day like this one would surprise you at this stage after the trek to Odi Thach. It starts out gradually over the meadows and goes lower into the valley to the Parvati river through boulder -strewn fields and streams. You will see a series of waterfalls on your right side and Parvati river flows on your left.  Notice Mt Kullu Eiger  in front of you to your left along with some un-named peaks and glaciers surrounding the valley.  Then you descend down to Pandu Pul which is a natural natural bridge over the river formed by large, misshapen boulders.
This rock section can be tricky and slippery so be careful. During rains, one can rope the entire team for safety. You will have to climb down another rock jammed on top of a tributary of Parvati the same way before you head to out to an open valley with waist high shrubs to wade through.
You will have to keep your eyes glued to the terrain as you will be walking on narrow ledges over the river. The pulley that takes you to Thakur Kuan is broken so you will have to stay on the same side of the river. This trail, however, gets tricky as it is overhanging the swollen Parvati river in many places. You cannot afford to make a mistake here. If the weather is not friendly, crossing this section will become dangerous. Once the tricky patch gets over, which is the only mountainous patch for today, you will enter forest a full of rhododendrons and pine trees.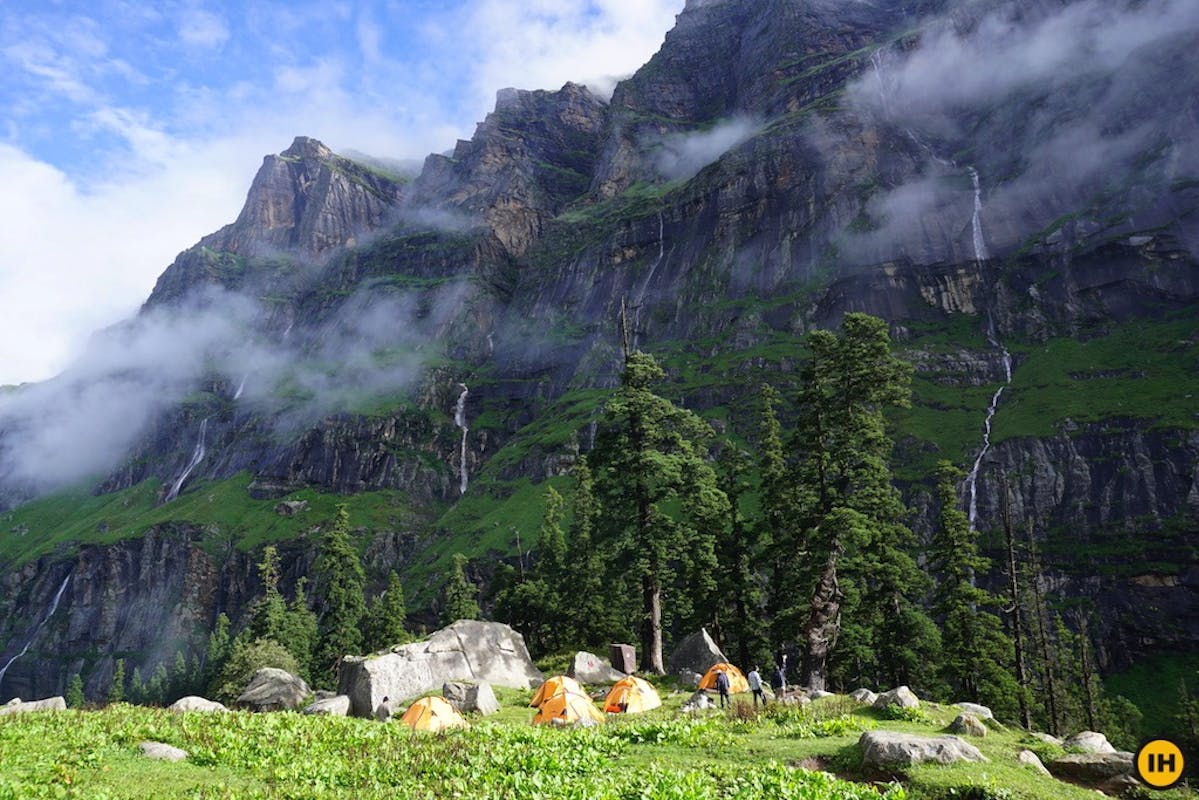 Tunda Bhuj campsite. PC: Sandeep
Tunda Bhuj campsite is a bowl on the mountain surrounded by cliff faces, higher up from the river.
There are a series of waterfalls on these beautiful cliff faces and descending into mist. The lush greenery feels luminescent after the moonlands of Spiti. Pin Parvati is an experience that grows better after each campsite – with a layers of greenery adding on and  following the various moods of the Parvati river.
Day 10: Tunda Bhuj to Kheerganga
Altitude: 10,499 ft (3,200 m) to 9,120 ft (2,780 m)
Time taken: 4 hours
Trek gradient: Moderate. Steep descent which can get slushy at times
Water sources: River and dhabas that appear as you approach Kheerganga
Today's trek to Kheerganga is a steady descent to  the gorge below where Parvati River is coming down at your right side. The trail will take you through many pasture lands, inside silver birch trees. You will also notice a series of lovely waterfalls on the huge mountain walls at the right side of the trail. These waterfalls, as they cascade down jagged mountain faces dissipate as mist. It is quite a sight.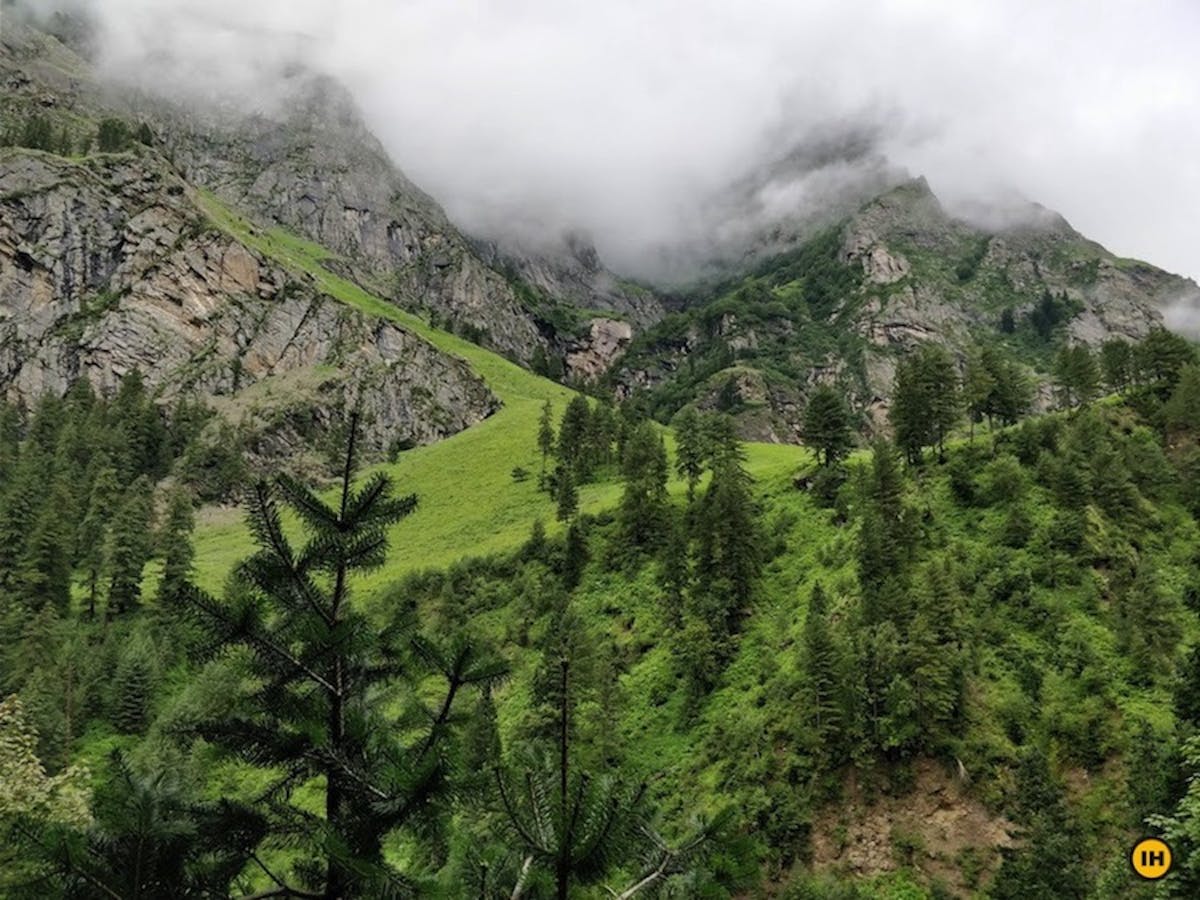 The trail to Kheerganga goes through grasslands and forests, surrounded by cliffs. PC: Mihir
Start your day by crossing the bridge over a tributary of Parvati river. An abandoned hut can be located on the left side of the trail. The trail will swirl downhill, out of the expanses of Parvati Valley to an open pasture land. The first forest section – reminiscent of pine forests on Roopkund trail will be steep. Watch your step as it can get slippery with all the mud. After 30 minutes, you enter pastures again – full of knee high bushes and boulders. On your right, you will see local shepherds living in their tents. You can buy fresh buffalo milk from there at a reasonable rate.
Ahead of you is a makeshift bridge that you have to cross – the second bridge for the day. After about 25 minutes of hike from here, the trail curves towards the left. You will find a small tent with locals selling refreshments – this is the first sign of civilisation after trekking through an entirely remote region. This is the first of many dhabas you will find near Kheerganga.
From the pasture land, there is a meandering descent down to forest for 30 minutes that exits into another small open pasture land. From here, you descend down to the stream and crossover the last tributary for the day over a makeshift bridge. The trail ascends from the stream for about 45-50 minutes followed by a series of gradual incline and decline towards Kheerganga.
You will reach Kheerganga by 1 pm and this is, frankly, one of the shorter days of the trek.
Kheerganga is your last campsite and it feels like the end of the trek. There are many cafes in Kheerganga and you are not the only one pitching a tent there. With the music playing in cafes, civilisation has creeped into this beautifully remote trek.
You can also take a bath in the hot springs of Kheerganga, which is a five star sauna experience at the end of long, tough trek. It is quite a luxury after an arduous trek like Pin Parvati!
Day 11: Kheerganga to Barshaini; depart from Barshaini
Altitude: 9,120 ft (2,780 m) to 7,251 ft (2,210 m)
Time taken: 3 hours
Trek gradient: Moderate. Steep descent for 40 minutes followed an undulating trail for about an hour. Ends with a steep descent.
Water sources: Streams and dhabas along the trail.
Trek for 7 km from Kheerganga to Barshaini. You will reach Barshaini around 11am. The trek ends at Barshaini. Indiahikes will arrange for transportation from Barshaini to Kullu. The cost of which will be additional and is to be paid to the drivers directly. It takes roughly 3 hours to reach Kullu. You can take the afternoon bus from Kullu to Delhi the same day.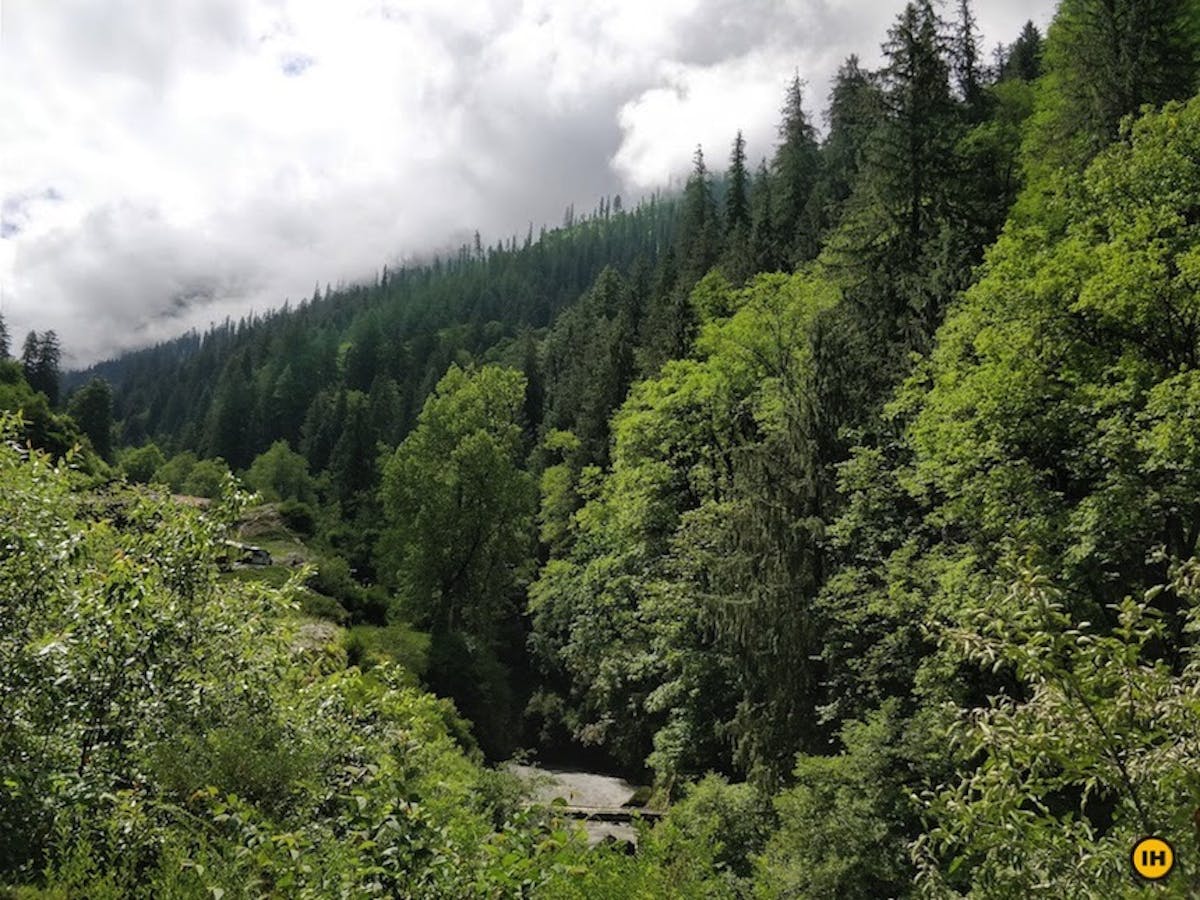 Thick forests on the way to Barshaini. PC: Mihir
The trail enters a thick forest cover as you start the trek for Kheerganga. This region experiences lot of rainfall so expect the trail to be filled with excess mud on a rainy day. Since this is going to be a steep descent, remain alert as the trail can get slippery at times. It becomes a level walk after 40 minutes. Since Kheerganga is a popular trail, you will find dhabas on your way down. There will be a couple of streams running down the mountain on your right. They can be used for filling up your water bottles if needed. You will cross a makeshift bridge over River Parvati one last time today – and Parvati is a gushing, angry force now from the serenity it exuded from its source, Mantalai. Parvati River is quite the moody companion from Mantalai.
Just 5 minutes ahead of the makeshift bridge is Rudranag. It is a small piece of land considered sacred, and has a temple dedicated Lord Shiva right next to it. There is a small waterfall next to it. The trail from here has its share of uphill and downhill walks and is manageable. About 30-45 minutes into the hike with Parvati river gushing below on your left side, you enter Nakthan Village. From Nakthan, the descent is steep – however, the trail is well laid, going through villages and lovely apple orchards down to an open meadow called Swagani Maidan.
With a motor-able road all the way to Barshaini, very few travelers trek the old 12 km, 6 hour hike from Manikaran to Pulga which is said to be a scenic trail going beside the right bank of Parvati river, passing some small villages like Uchich village. Pulga has a Forest rest house build of pure teak wood where one can find accommodation to stay. You will reach Barshaini by 1 pm.
Day 12: Buffer Day
➤ How to Reach the basecamp of Pin Parvati Pass Trek
Delhi/Chandigarh → Manali → Kaza
The Pin Parvati trek starts at Kaza, a beautiful town along the Spiti River river. Snow capped ranges and clear streams surround the town.
To get to Kaza, take an overnight bus from Delhi or Chandigarh to Manali. You will reach Manali early the next morning (travel time from Delhi is 12-14 hours). Tickets can be booked online on www.redbus.in or www.hrtc.gov.in. 
HRTC or HPTDC buses are usually on schedule. For a long trek like this one, it is highly important you reach Manali in the morning. You need to leave for Kaza as early as possible for your acclimatisation time. Therefore, take a bus out of Delhi for Manali no later than 7:00 pm. Do not take a private bus, you will be delayed.
Getting back
Barshaini → Kullu → Delhi
The trek ends at Barshaini – the roadhead for short hike to Kheerganga – at around 11 am. Indiahikes organises transport from Barshaini to Kullu.
It will take about 3 hours to reach Kullu if you take a shared vehicle. Buses are available from Kullu to Delhi.
➤ How to Get Fit for the Trek of Pin Parvati Pass Trek
Pin Parvati is a difficult trek. No two ways about it. If you want to do this trek comfortably and enjoy all the surprises it offers, you will need to prepare well.
Cardiovascular endurance – Target 10 km in 60 minutes before the start of the trek
On Pin Parvati Pass trek, you are trekking an average of  10 km each day on very difficult terrain. At the start of the trek itself, you are close to 12,000 ft. On the pass crossing day, you trek on ice fields for a few hours. That's a long distance to cover, with steep ascents at very high altitude. This requires a good amount of endurance and stamina. You can begin by jogging everyday. Start slow and increase your pace everyday. Swimming, cycling and stair climbing without too many breaks in between can help too.
In order to be prepared for a high altitude trek, you should have a combination of distance and speed targets. In case you're just starting with a regular fitness routine, you can phase out your targets in the following manner –
Target completing 5 km in 35 minutes when you begin
Gradually bring up your speed to do 5 km in 30 minutes
Start increasing the distance you jog to get to 10 km in 70 minutes
Before the start of the trek, get to 10 km in 60 minutes. Your aim should be to cover 10 km in 60 minutes once a week and 7 km in 40-45 minutes twice a week for 4 weeks.
Prepare for ascents       
To prepare yourself for the steep climbs, you can add stair-climbing to your routine as well. Start simply by climbing upstairs for two minutes non-stop. Overtime, increase this to five-minute bursts of climbing, and take it to ten minutes with a short break in between.
Strength
Work on your core body strength and also your thighs, to take pressure off your knees. You can do some squats. Do three sets of squats, with 8 squats in each set. Apart from this, you can include planks and crunches in your routine. This will help increase your core body strength.
Flexibility
When you're working your muscles a lot, you need to keep them loose and flexible. For this, you can do some stretching exercises – stretch your hamstrings, quadriceps, hip flexors, lower back muscles and shoulders regularly. Carrying a backpack, however light, can become a strain after a while. These exercises will help you to be in good shape before the trek.
➤ Things to Take on the Pin Parvati Pass trek
Click here to buy trek equipment.
Bare Necessities
Trekking shoes: The Pin Parvati trail with it's loose mud, moraines, scree and glaciers requires you to have a shoe with good sole grip and high ankle support for steep climbs. You can watch this video to help you choose the right trekking shoe.
Backpack (40-60 litres): A backpack with sturdy straps and a supporting frame. A rain cover for backpack is essential. Parvati Valley, especially, is prone to rain showers.
Carry a poncho as well since you might face rain while trekking through Parvati valley.
Clothes
On a trek, carry fewer clothes than you would normally need. Do not pack for 'what if situations'. That will only add to the weight of your backpack and not be used on the trek. Once your clothes get warmed up on a trek, you will not feel like changing. Just maintain personal hygiene.
Three warm layers: Here's a video on how you can layer yourself.
Three trek pants: Wear one pair and carry one pair. This should be enough. But your pants could get wet while sliding, so carry an extra pair. Denim/jeans and shorts are not suitable for trekking.
Three collared t-shirts: Carry light, full sleeved t-shirts that prevent sun burns on the neck and arms. A common mistake that trekkers make is not changing their tshirts often enough. Regardless of how cold it is, the body tends to sweat a lot. Trekkers who don't change to fresh clothes fall ill due to wet clothes and are often unable to complete their trek.
Thermals: Carry thermals to keep warm at night. Keep them fresh. Don't wear them while trekking.
Accessories
dlamp/LED torch:
Sunglasses: Sunglasses are to prevent snow blindness. They are mandatory on this trek since you will be traversing ice fields at the pass.
Suncap: The sun is more harsh on your skin at high altitude and will zap your energy quickly. Wearing a suncap will help.
Synthetic hand gloves: One pair of water proof/resistant gloves.
Balaclava: You may use woollen scarves instead as well.
Socks (2 pairs): Apart from two sports socks, you can take a pair of woollen socks for the night.
Headlamp/LED torch: Mandatory
Trekking pole: Watch this video to understand why you need a trekking pole.
Others
Daypack (20 litres): This is required ONLY if you are offloading your backpack.
Toiletries: Sunscreen, moisturiser, light towel, lip balm, toilet paper, toothbrush, toothpaste, hand sanitiser. Do not carry wet wipes since these are not biodegradable. If you do happen to use wet wipes to clean up after a trek, make sure you bring them back with you. The same holds for used sanitary napkins. Carry a zip lock bag to put used wet tissues and napkins. Bring this ziplock bag back with you to the city and do not dispose wet tissues and sanitary napkins in the mountains.
Cutlery: Carry a spoon, mug and a lunch box. We insist on trekkers getting their own cutlery for hygiene reasons.
Two water bottles: 1 litre each
Plastic covers: While packing, use plastic bags to compartmentalise things and carry few extra plastic bags for wet clothes.
Mandatory Personal Medical Kit
Diamox – 10 tablets (to prevent AMS)
Dexamethasone – one strip
Nifedipine – 5 tablets
Crocin – 6 tablets (fever)
Avomine – 4 tablets (motion sickness)
Avil 25mg – 4 tablets (allergies)
Combiflam – 4 tablets (Pain killer)
Norflox TZ & Lomofen– 6 tablets each (diarrhea)
Digene – 10 tablets (acidity)
Omez/ Rantadine – 10 tablets (antacids)
Crepe bandage – 3 to 5 meters
Gauze – 1 small roll
Band aid – 10 strips
Cotton – 1 small roll
ORS – 10 packets
Betadine or any antiseptic cream
Moov spray (aches, & sprains)
Knee cap, if you are prone to knee injury
Anti fungal powder
If you're shopping or packing for the trek, you can download this quick and simple checklist for offline use.
Here's a guide to help you pack for the trek -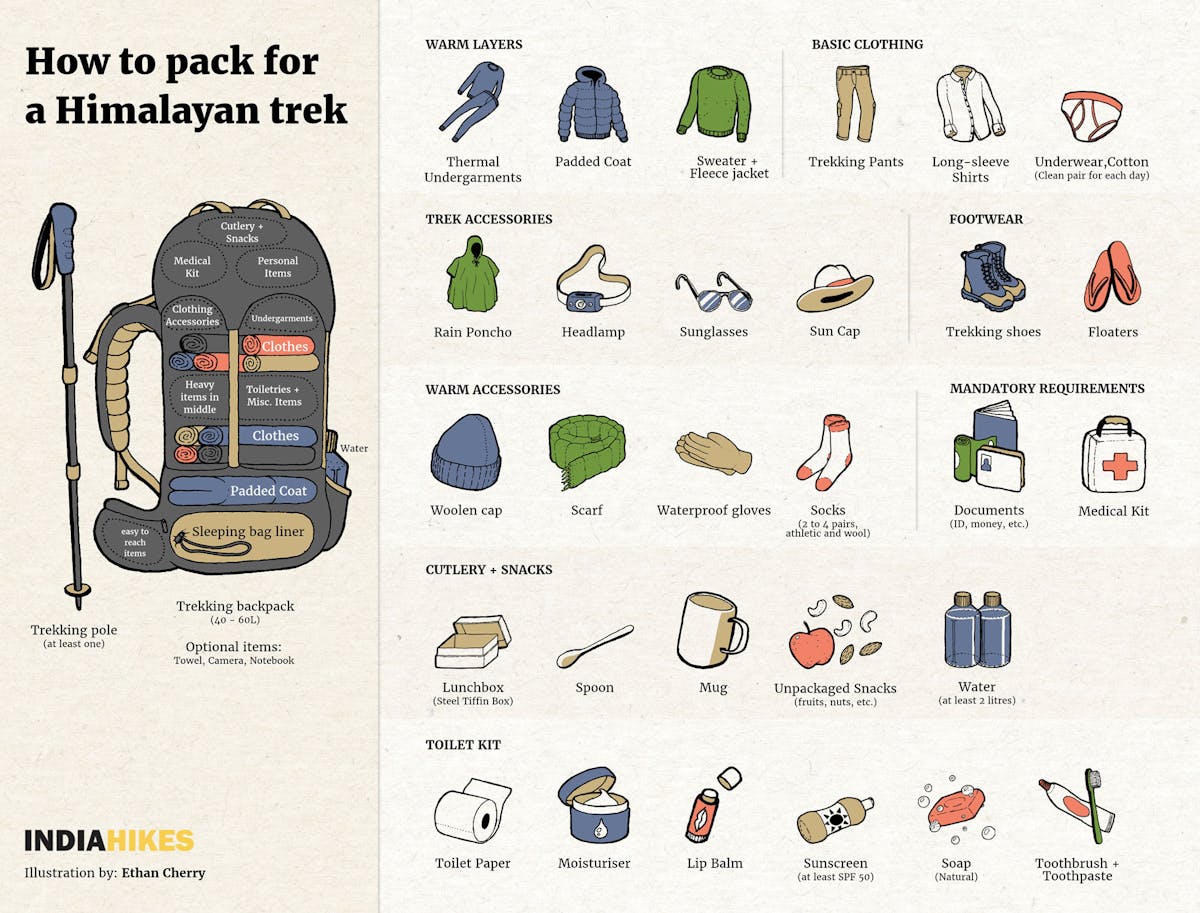 Here's a quick info-graphic to give you an overview of everything you need in your backpack.
➤ How Difficulty of Pin Parvati Pass Trek
The Pin Parvati pass trek is a difficult one. One of the reasons it is a difficult trek is that the you are covering about 100 km and touching very high altitude (over 17, 000 ft). There are a lot of tricky sections on this trek. Pushing your body in that high an altitude without being acclimatised may be dangerous. Also, there are no easy exits on this trek.
What you compulsorily need to know if you're going on the Pin Parvati Pass trek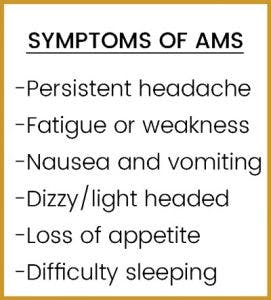 Acute Mountain Sickness:
At altitudes above 10,000 ft, the chances of being hit by Acute Mountain Sickness cannot be ruled out.
All the campsites starting from Kaza are a at considerably high altitudes. Each day on this trek is gruelling. Trekkers can develop symptoms of altitude sickness at any of the intervening campsites.
At any campsite, inform your trek leader about your condition immediately if you identify any symptom of AMS. If the symptoms don't alleviate it is best to head down to a lower campsite.
This risk can be avoided by going on a course of Diamox. Even while on Diamox, the risk of AMS still prevails. While AMS can be treated with rest and medicines for the most part, the symptoms must be recognised before it can go to advanced stages – High Altitude Pulmonary Edema (HAPE) and High Altitude Cerebral Edema (HACE).
HAPE and HACE are critical conditions that can be fatal within hours. And they can occur without AMS preceding them. So it's doubly important to recognise any symptoms and nip them in the bud.
Take this specific precaution – go on a preventive course of Diamox we strongly advise you to go on a preventive course of Diamox. Diamox is a blood thinner and helps you acclimatise much faster and reduces the chance of AMS by around 80%. Take half a tablet twice a day from one day before your trek.
What to do if you have symptoms of AMS?
If you feel any symptoms of AMS on the trek, you must report to the trek leader immediately. Do not wait till the end of the day's trek. Do not try to handle it yourself either. Our trek leaders are well-trained and experienced to handle any cases and they will be the decision-makers in any such cases.
Exit points on the Pin Parvati Pass trek:
There are none. The only way out is to descend all the way to Kaza or Barshaini. So you have to be very fit and prepared before you start the trek.
Closest hospital:
Kaza has the closest hospital in case of any emergency.
Why you should personally know about the risks and precautions of high altitude treks?
If ever you find yourself alone at high altitude, either while trekking independently or with another organisation, there are some life -saving steps you can take. Firstly, you should be able to recognise symptoms of altitude sickness. So acquaint yourself with the symptoms.
Secondly, there might be instances when you have to administer medicines to yourself or to a fellow trekker. There are three life-saving medicines that we suggest you always carry on you – Diamox, dexamethasone and nifedipine.
Also ensure that you are well hydrated throughout the trek and do not skip any meal.
You can watch the video below to learn about HAPE and HACE and how to tackle them. In the video, Sandhya UC, partner at Indiahikes, explains in detail about high altitude pulmonary and cerebral edema, what the symptoms are and how to tackle them.
We cannot stress enough on how important it is for you to communicate any symptom to your trek leader. Only then your trek leader will be able to take steps at the right time.
Acute Mountain Sickness
Click here to read about Sandhya's first hand experience of suffering from AMS on her 28th high altitude trek.
If you're of the opinion that fit people don't get AMS, please get rid of that notion right away. AMS can affect anyone without paying heed to their fitness and prior experience at high altitude! altitude sickness does not distinguish between a first-timer and an experienced trekker.
➤ Frequently Asked Questions on Pin Parvati Pass Trek
1. What will the temperature be like during the trek?
Day temperatures will be around 16-20°c. night temperatures will fall to around 0-4°c, especially at the higher campsites.
2. Which are the best seasons for the Pin Parvati Pass trek?
July - August is the best season to go on this trek.
3. When will there be snow on this trek?
You are most likely to find snow, if at all, while descending to Mantalai from the Pin Parvati pass on day 6.
4. How will we get back to Kullu?
The trek ends at Barshaini. the drive to Kullu from here will take about 3 hours. 
5. Is this a good trek for a first timer?
The Pin Parvati pass trek is definitely not for a beginner. it is an extremely difficult trek, with expedition like features. All days on the trek are long and some of the ledge and glacier walks and river crossings could also get dangerous. All of this at very high altitudes. You definitely need prior high altitude trekking experience to take this on. also, the trek requires high levels of preparedness irrespective of how experienced a trekker you are.
6. Can I take my child along on this trek? What is the age limit?
Pin Parvati pass is a difficult trek and requires high levels of fitness. Minimum age for eligibility is 18 years, and prior experience of high altitude trekking is a must. However, we would not recommend this trek for children.
7. Will there be water sources on the way? Will two litres of water be enough?
You will have access to drinking water at the tea houses where you stay. For your day's trek, two litres of water should be enough. There are no water sources on day 3 - the trek from Mudh to Tiya. The water sources on day 6 appear only after Parvati base, which is around 8 hours from the time you start. There will be streams and rivers on the trail on other days where you can refill your water bottles.
8. Is there any mobile network on this trek? Are there any electricity charging points on this trek?
Kaza is the last place where you will have mobile network on this trek. make sure you finish all your important telephone calls here and inform anxious family members about poor connectivity during the trek.
9. Why is the trekking pole necessary?
We suggest you watch this video to for a better understanding of why a trekking pole is necessary: https://www.youtube.com/watch?time_continue=5&v=lxezacvjeao
10. When it gets really cold can I consume alcohol?
Alcohol is dangerous in extreme cold, especially on altitudes as high as 12,000 ft. contrary to what people believe, alcohol does not make you warmer. Instead it opens your pores making your body colder. Moreover, it dehydrates you very quickly.
11. How do I manage the low temperatures on the trek? Do I need special jackets?
At high altitudes, temperatures are sure to dip into negative at nights. For these extreme cold temperatures, you need to keep the rule of 3 in mind. The rule of 3 usually takes care of cold that dip to -10°c. It is a simple formula of wearing 3 layers of woolen, inners and lower wear.
Follow this guide: wear one thermal and two t-shirts, three layers of woolens (two sweaters and a jacket). For your lowers wear a thermal inner with two layers of track suit. If you are prone to more cold, just add a layer.
The temperatures dip only late in the evening and early mornings. During the day if the sun is out, then you may even be trekking in your t-shirts. Make sure you use your thermal wear only at night and not while trekking.
A woolen cap/balaclava and gloves are a must.
12. ATM point and mobile connectivity
Kaza has the last ATM point before your trek begins. There is an SBI branch from where you can make bank transactions.
BSNL users get mobile connectivity at Kaza. If you are lucky you might get mobile signal at Kibber as well but the signal strength is usually weak. Please inform anxious family members about poor connectivity during the trek.
Temperature Chart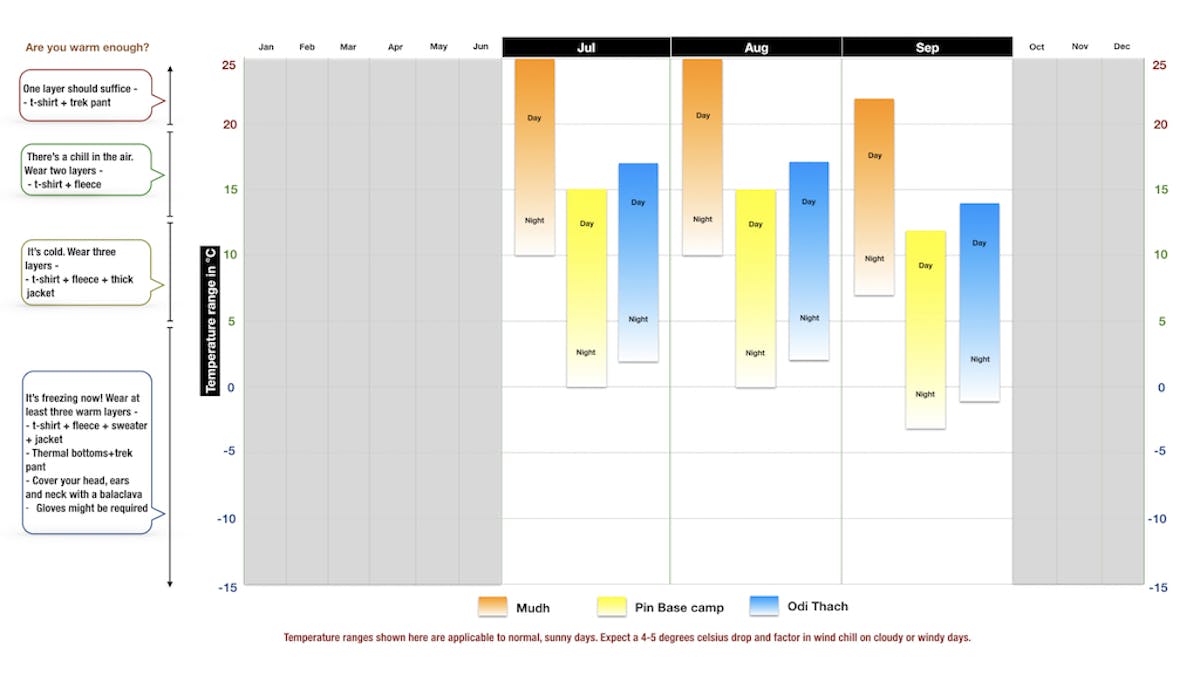 Click on the chart to see average temperatures on the Pin Parvati Pass trek
Rainfall Chart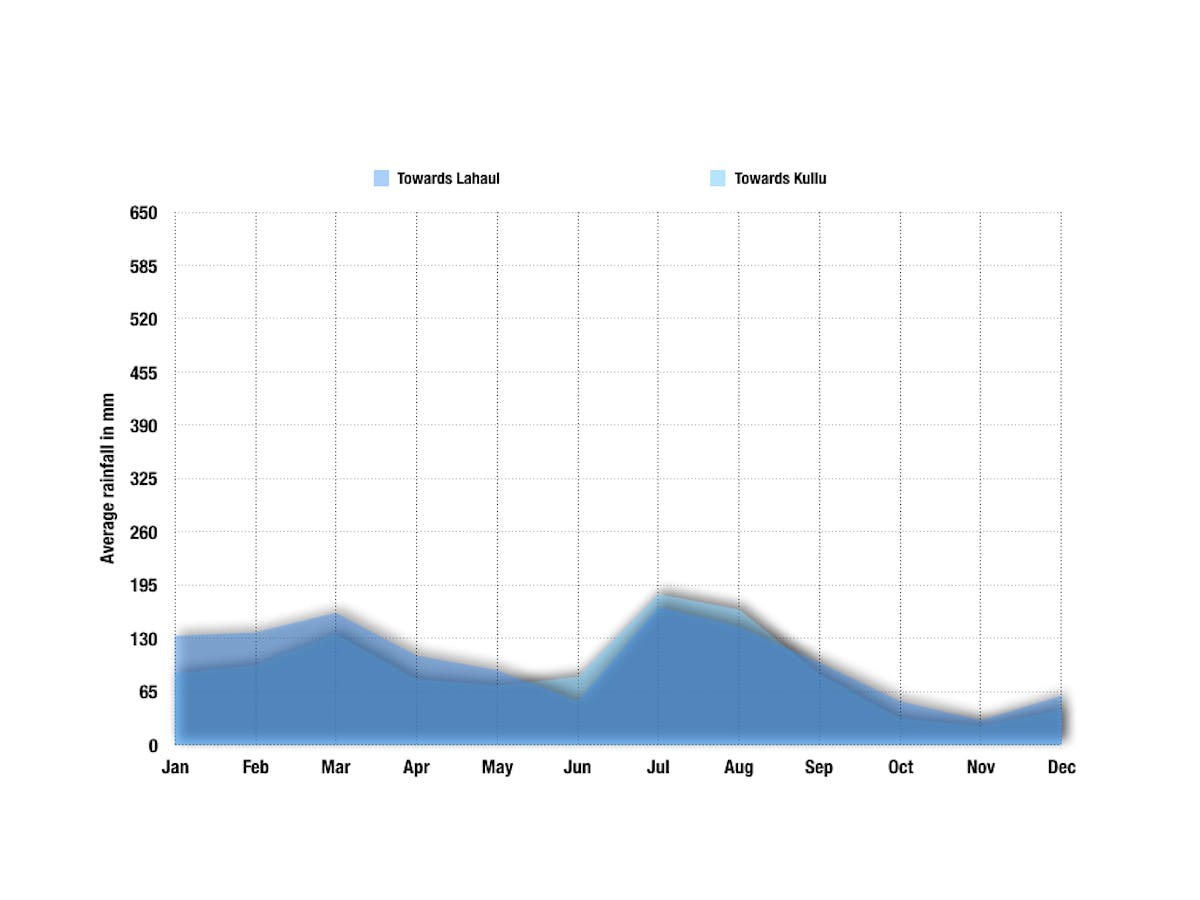 Click on the Chart to the see Average Rainfall at Pin Parvati Pass
➤ Trek Contribution
Trek done and documented by Indiahikes Team