Can You Help Us With Photographs Of This Trek?
We are looking to enrich this documentation with more photos. Pictures go a long way in explaining the trail, more than words ever can. If you have done this trek, can you share your photos with us? We will include them on this page, with due credit to you.Click here to contribute.
The Complete Guide To Plus Valley Trek
Plus Valley is accessible from Mumbai as well as from Pune. There are several Ghats that connect the Mumbai-Goa highway (NH7) and Mumbai-Bangalore highway (NH4). One such route is through the Tamhini Ghat, which is adorned with waterfalls. It is a little slice of heaven during monsoons and is frequented by bikers.
Tamhini is a tiny village situated at the confluence of Jula and Nila Rivers, at the foot of the Sahyadris. The village is home to very few people. Carpets of green paddy fields dictate the landscape. Tamhini is also home to the beautiful Vinzai Devi shrine. The ancient shrine is said to have been constructed in the 12th century.
Folklore:
According to a popular myth, Goddess Vinzai (another avatar of Goddess Durga) pleased with the devotion of Ramprabhu, offered him darshan here. Ramprabhu then built a temple to commemorate this act. The hill near this temple resembled the shape of a Tamhan – a broad copper bowl used during religious occasions. Hence the name Tamhini. You can easily spot the bowl-shaped valley from Tamhini. 
Short Itinerary
Trek to plunging waterfalls in this unique plus-shaped valley
Plus Valley is located in the midst of four towering hills.
When seen from above or far away, the valley resembles a plus sign.
It is lush with greenery and dotted with rocks, and during monsoon, alive with numerous waterfalls.
Situated at a distance of 150 km from Mumbai, this is an ideal weekend trek for those living in Mumbai or Pune.
Detailed Trail Information
Day 1: Tamhini Ghat to Plus Valley and back to Tamhini Ghat
Altitude: 749 m to 548 m and back to 749 m
Time taken: 6-7 hours, 10-12 km 
Once you have reached Tamhini Ghat, get to a point from where you can see the '+' sign of the valley. This point is 6-7 km from Raigad Inn Hotel, moving towards Mulshi Lake from Mumbai.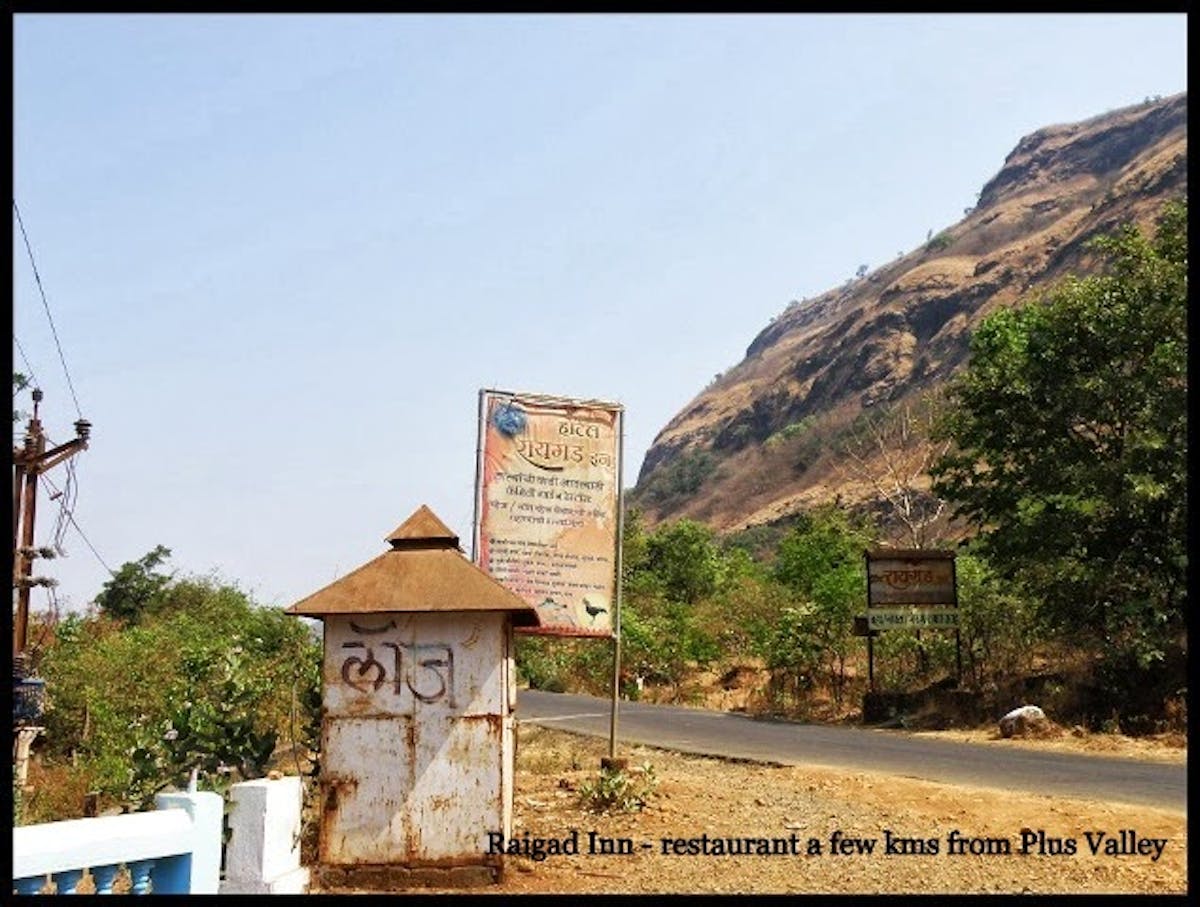 Raigad Inn - restaurant a few km from plus valley
There is a drainage pipe below the cemented block and it acts as a landmark. It is marked with red and white stripes. You need to get down from the side of the pipe and make your way into the valley.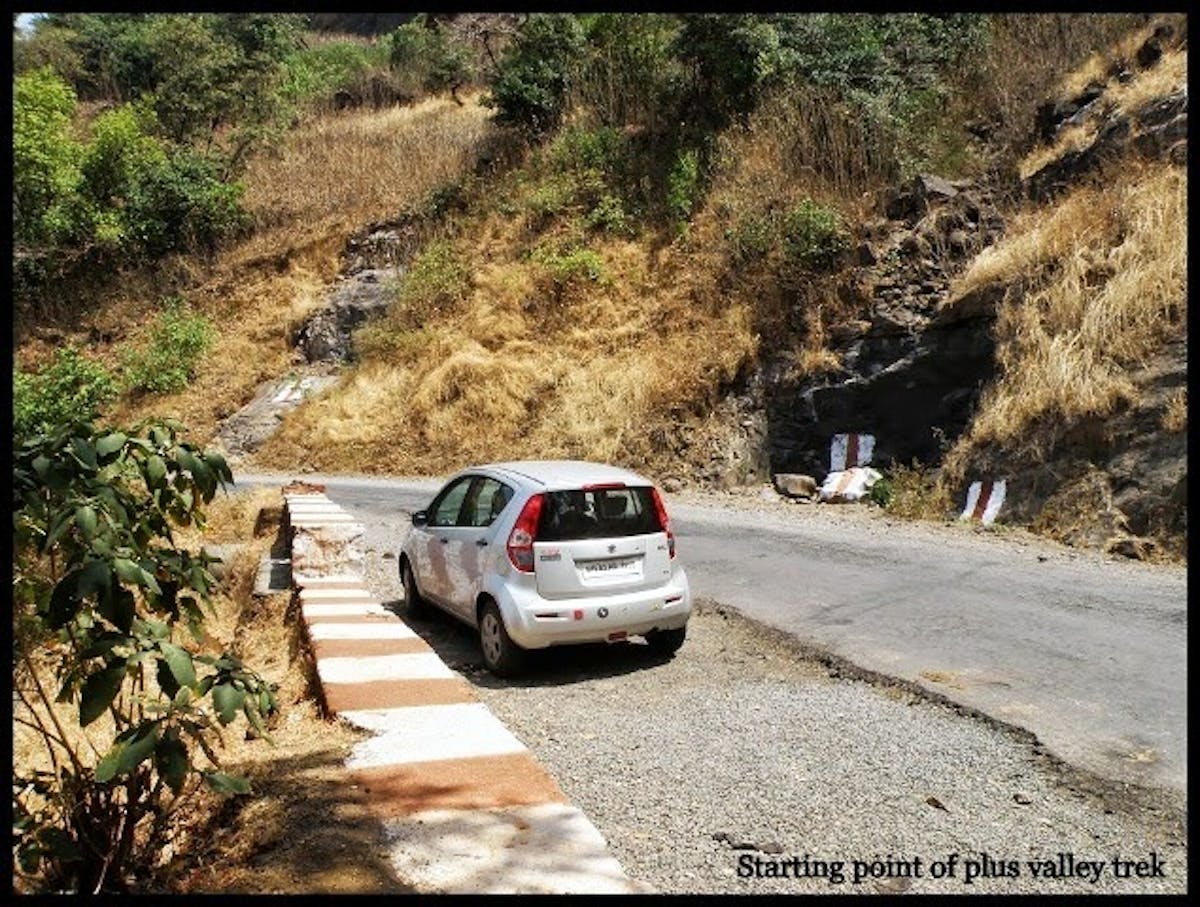 Starting point of Plus Valley Trek
The trail passes through dry grass, rocky terrain and scree. Continue for around 25 minutes until the trail gradually descends down the valley. You will also see a waterfall on the right. All waterfalls in the area have water only during the monsoon season.
Soon, the valley begins to narrow down. After 30 minutes, you will see that the trail changes into a rock bed, with the rocks naturally layered like steps.
 Continue for around 30 minutes, until you find bushes on either side. Soon, you'll come across a tree, under which you can take shelter for a while. After 20 minutes, you reach a tree line, which crops up on your left side. The trail passes through a rock bed, which must be a roaring waterfall in the monsoon. You now need to navigate through a small rock-cum-scree patch. Continue descending alongside the left wall of the valley. After a couple of minutes, you will see enormous boulders on the trail that you have to navigate. These boulders are frequented by rock climbers from Mumbai and Pune.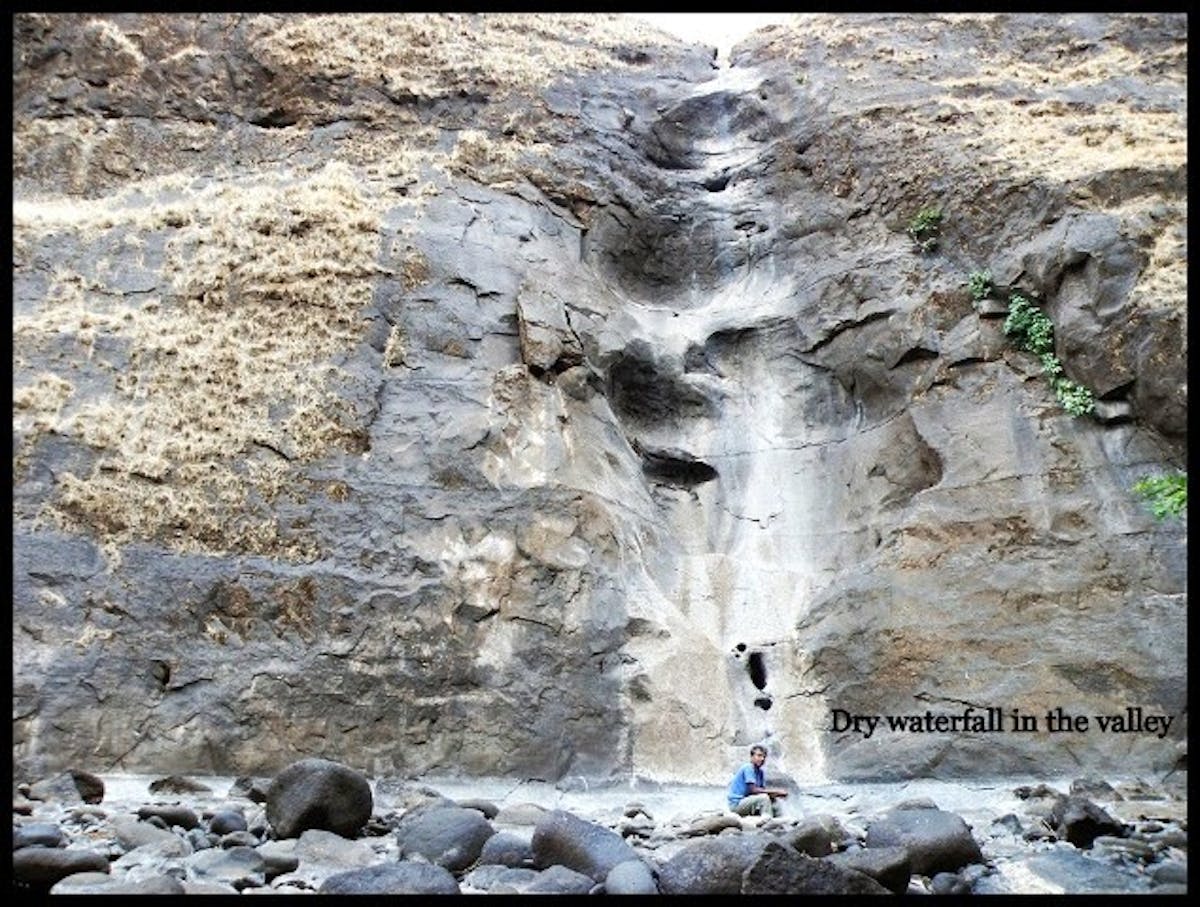 Dry waterfall in the valley
Dense vegetation is also seen on the left side of the valley. Gigantic trees here provide shade and protection from the summer heat. The trail passes through the centre of the valley and requires boulder hopping at many places.
You may encounter a couple of fallen trees en route as it is a waterfall route. After 40 minutes of boulder hopping and crossing some fallen tree trunks, you come across an intersection. This is the '+' point in the valley. You will see around 10-feet-tall boulders at the intersection. A group of piled-up stones indicate the way. Turn right from here to reach the campsite. The trail to the campsite involves tactfully hopping across huge boulders. After a few minutes, you come across a small stagnant pond on your left.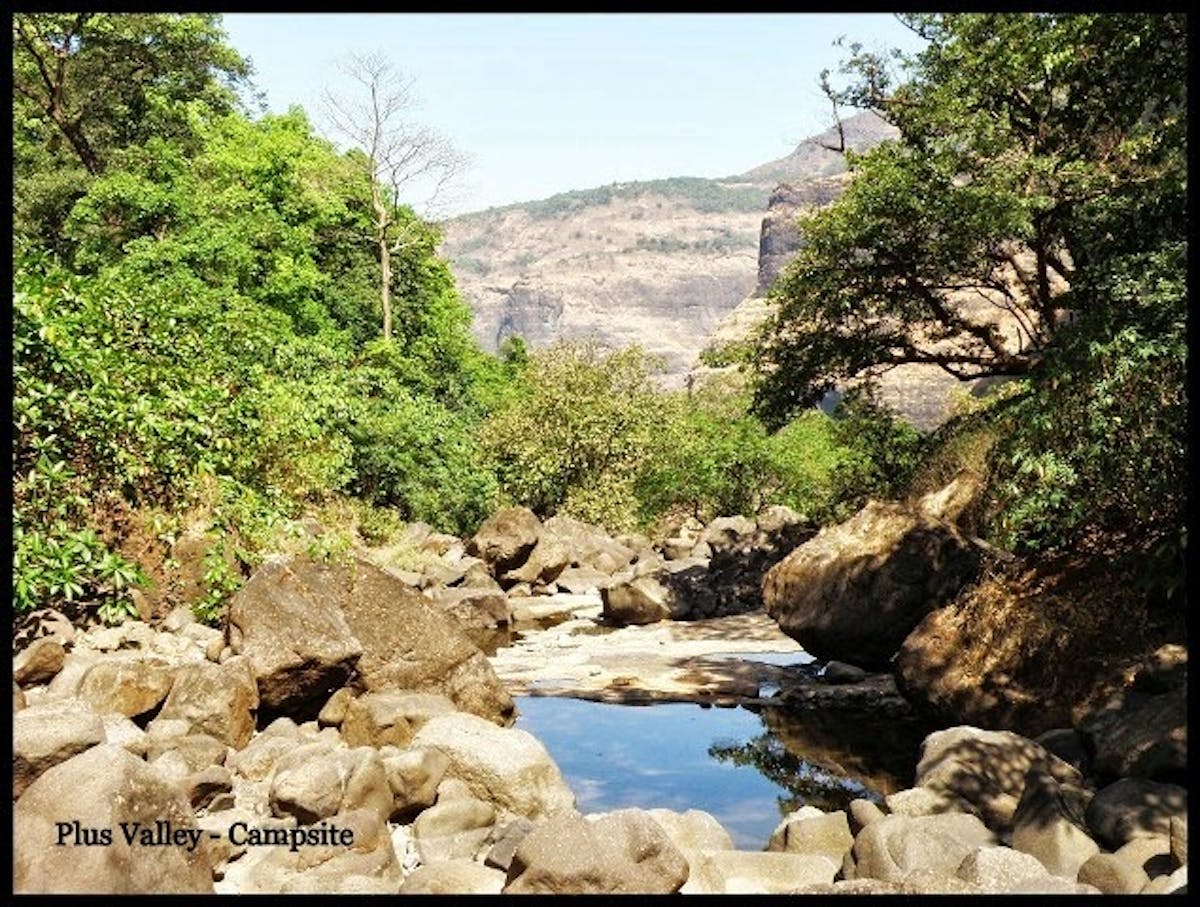 Plus valley - campsite
After around 10 minutes, you see a couple of small ponds with crystal clear water flowing underneath the boulders. You also come across a few cactus plants with yellow flowers on the river bed. The campsite is situated on the rock bed near a 20-feet tall boulder here. There is also a clear pond next to the site, which can be used as a water source. It takes roughly two hours to reach the campsite from the Tamhini Ghat road.
If you hike further down, you will come across a canyon with more ponds. The first pond is accessible after navigating a 4-5 feet rock patch. For the other three ponds, one has to rappel down. The last pond, called Devkund, can be reached by trekking down from Kundalika Valley or the traditional Andharban route to Bhira village. 
If you plan to return on the same day, head back to the intersection. Climb back up taking the same route you came down on. It lies towards your left now. Another route ascends to Dongarwadi plateau, which falls on your right. It takes around 3 hours to reach the top.
To explore the valley, proceed straight from the intersection. After 15 minutes, you come across a huge dry waterfall on your left. After traversing rocks and huge boulders for another 10-15 minutes, you reach the end of the valley. At this point in your journey, you come across a waterfall of about 75– 100 feet. The waterfall is accompanied by a pond at its bottom, which is a treat for swimmers.
How To Get Fit For The Trek
Cardiovascular endurance
The secret to ascending any trail lies in building your cardiovascular endurance. You can begin by jogging every day. Ideally, you should be able to jog 4 km in 20 minutes before the start of the trek. It takes time to be able to cover this distance in the given time. Start slow and increase your pace every day. Swimming, cycling and stair climbing without too many breaks in between can help too. Strength This is another area you should work on. You will need to build strength in your muscles and in your core body. You can do some squats to strengthen your leg muscles. Do around 3 sets of squats, with 8 squats in each set. Apart from this, you can add planks and crunches to your workout.
Flexibility
Another aspect that will help you trek comfortably is flexibility. For this, you can do some stretching exercises - stretch your hamstrings, quadriceps, hip flexors, lower back muscles and shoulders regularly. Carrying a backpack, however light, can become a strain after a while. These exercises will help you to be in good shape before the trek.
Working Out Indoors
If you can't go out and jog because of time and space constraints, here's a video you can use to work out indoors.
What To Pack For The Trek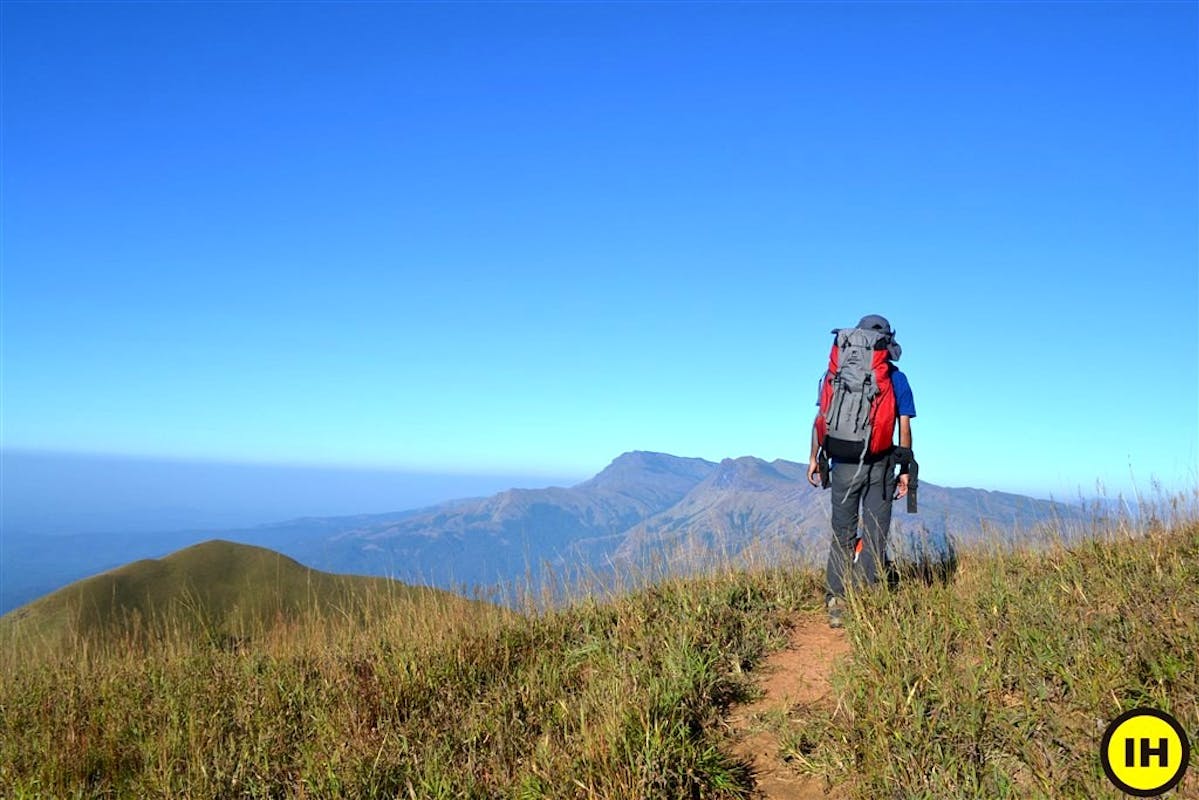 Backpack
Plus Valley is just a one-day trek. You will only need the following things.
Small 20L backpack
Two litre bottle
A jacket or poncho in case of rain
Snacks
Lunch
Trek Contribution
Author: Vinita Chhatwani