We don't run this trek anymore
Since there's a road that goes all the way to the lake, the fun of the trek has gone away. But we would recommend doing other weekend treks like Benog Tibba or Nag Tibba.
The Complete Guide to Prashar Lake trek
Surrounded by the Dhauladhar ranges in Kullu Valley is a blue-water lake called Prashar. Prashar Lake is a well-kept secret in the Mandi district of Himachal Pradesh. The trek follows a charming trail through a forest and several rivulets. Meanwhile, one can enjoy the local culture as the trail goes through villages as well. The trek offers a 180-degree view of the Dhauladhar, Pir Panjal and Kinnaur mountain ranges.
For those interested in architecture, the local temple of Prashar Rishi next to the lake, with its riveting Himachali architecture, blends perfectly with the landscape.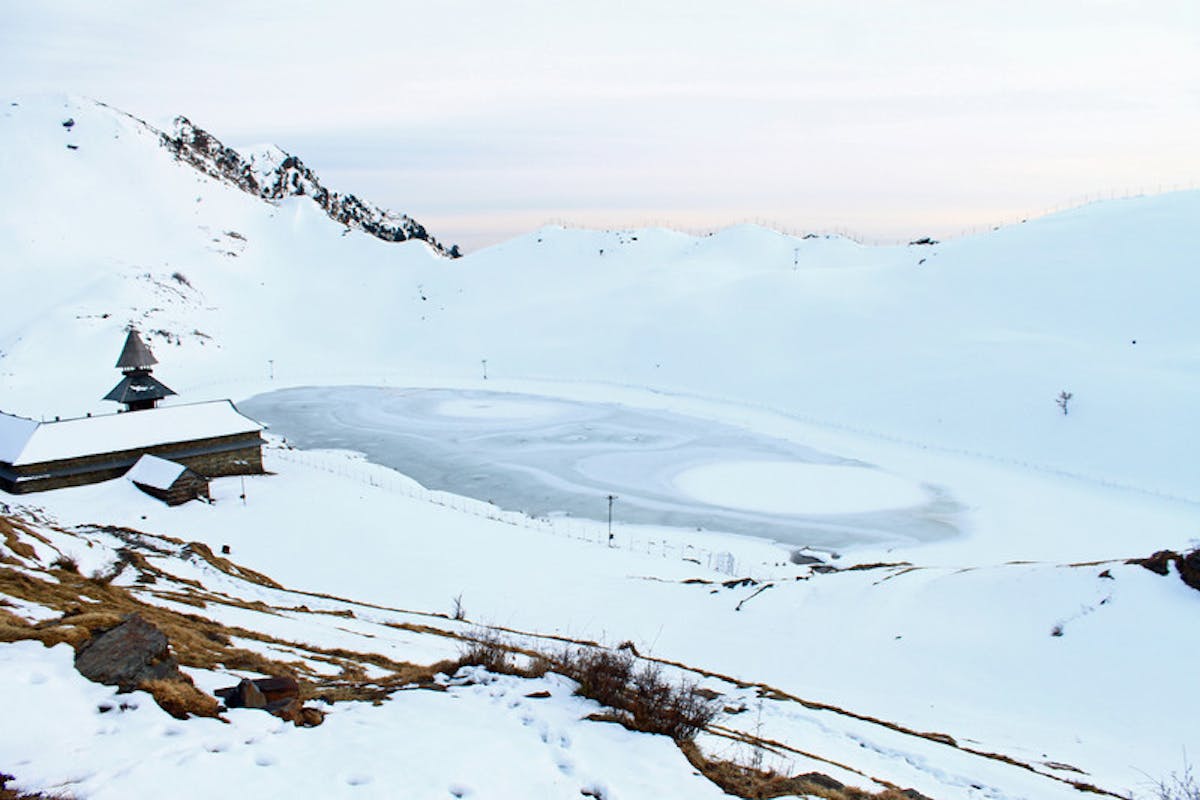 Prashar lake is semi-frozen in winter and the surroundings are blanketed in snow
➤ Short Itinerary
Day 1: Assemble at Mandi at 6.30 am.
Drive to Kantlu. Kantlu Village (6,050 ft) to Prashar Lake (8,900 ft); 7.5 km, 4-5 hours
Day 2: Prashar Lake (8,900 ft) to Kantlu Village (6,050 ft); 7.5 km, 3-4 hours.
You will reach Mandi between 6 pm and 7 pm.
➤ Trail Information
Day 1: Kantlu to Prashar Lake
Altitude: 6,050 ft (1,844 m) to 8,900 ft (2,713 m)
Time taken: 1 hour drive + trek for 5 hours, 7.05 km
Trek gradient: Moderate. Steep ascent for 500 metres followed by a gradual ascent for about 4 km. Another steep ascent for 3oo metres followed by an easy walk.
Water sources: Carry two litres of water. There is one water source at Til, around 2.6 km into the trek. You can refill your water bottles here.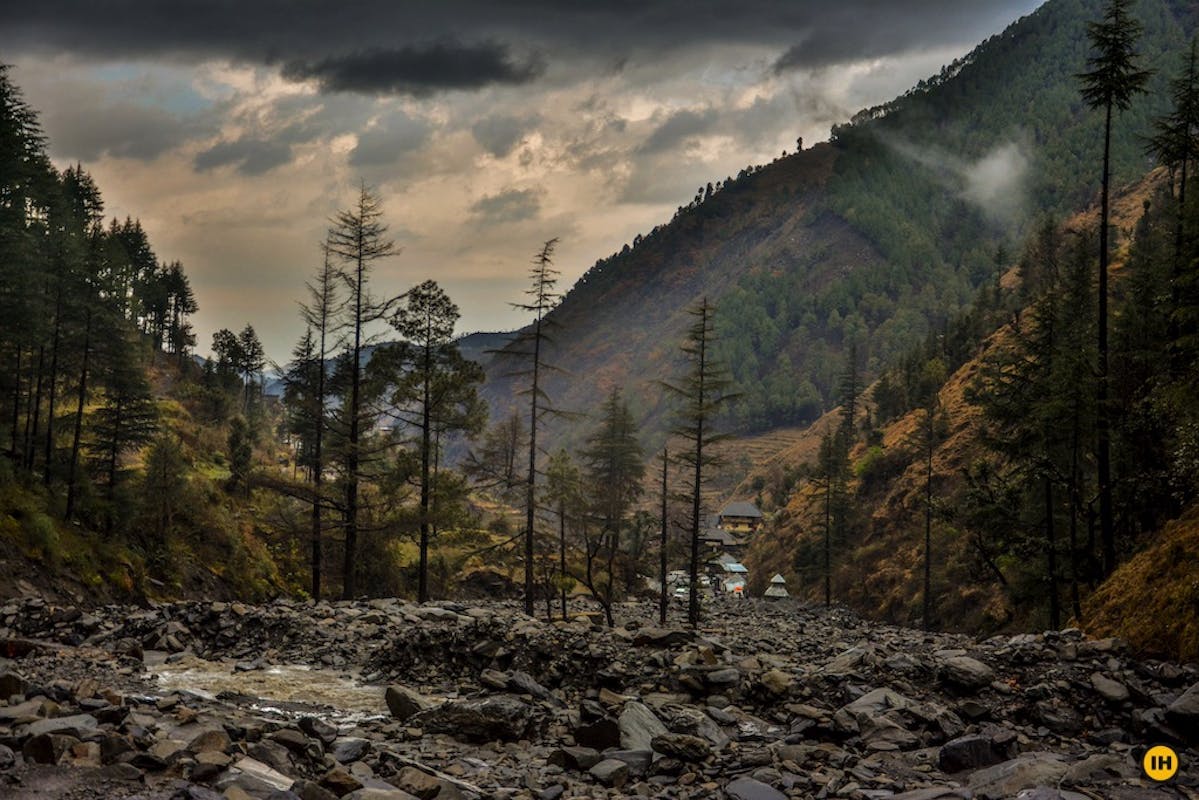 Last view of Baggi village before you head into the forest PC: Rohit Singla
Kantlu is about 2 hours from Mandi. Reach Mandi by 7.00 am and head straight to Kantlu. Have breakfast here and begin trekking.
The trail begins with a steep ascent for about 500 metres through open land. You will see the valley on ur right.
After this, you enter a jungle, which mainly consists of rhododendron. The trail eases a little here to become a gradual ascent. In 400 metres, you reach a clearing from where you get the full view of the Dhauadhar range. Take a break here. It's a good spot to click some photographs.
On you cross the clearing, the trail enters an oak forest. It continues to ascend gradually. After walking in the jungle for 1 km, you reach another clearing. This is also a good spot to take a break.
From this clearing, the trail gets on to the motorable road. Walk on this for the next 700 metres. You will then reach a place named Til. There are a lot of shops here.
From Til, seek the kachha road. Ascend on this for about 600 metres till you reach another small meadow. Break here for lunch. The views are great from here.
Once you start trekking from the meadow, you will come across apple orchards. Make sure you do not pluck any apples. After 700 metres, you will cross the motorable road again. From here, the trail ascends steeply for 300 metres. This section is a little strenuous. You reach a clearing right after this.
The views from here are outstanding. The mountain that you see from left to right are Triund, Dhauladhar Matterhorn, Kap Chuli, Man Hill, Hanuman Tibba, Sikar Beh, Mukar Beh, Manali peak, Friendship peak, Mukila, Ali Ratni Tibba and several smaller ones surrounding a beautiful valley. Rest here for a while.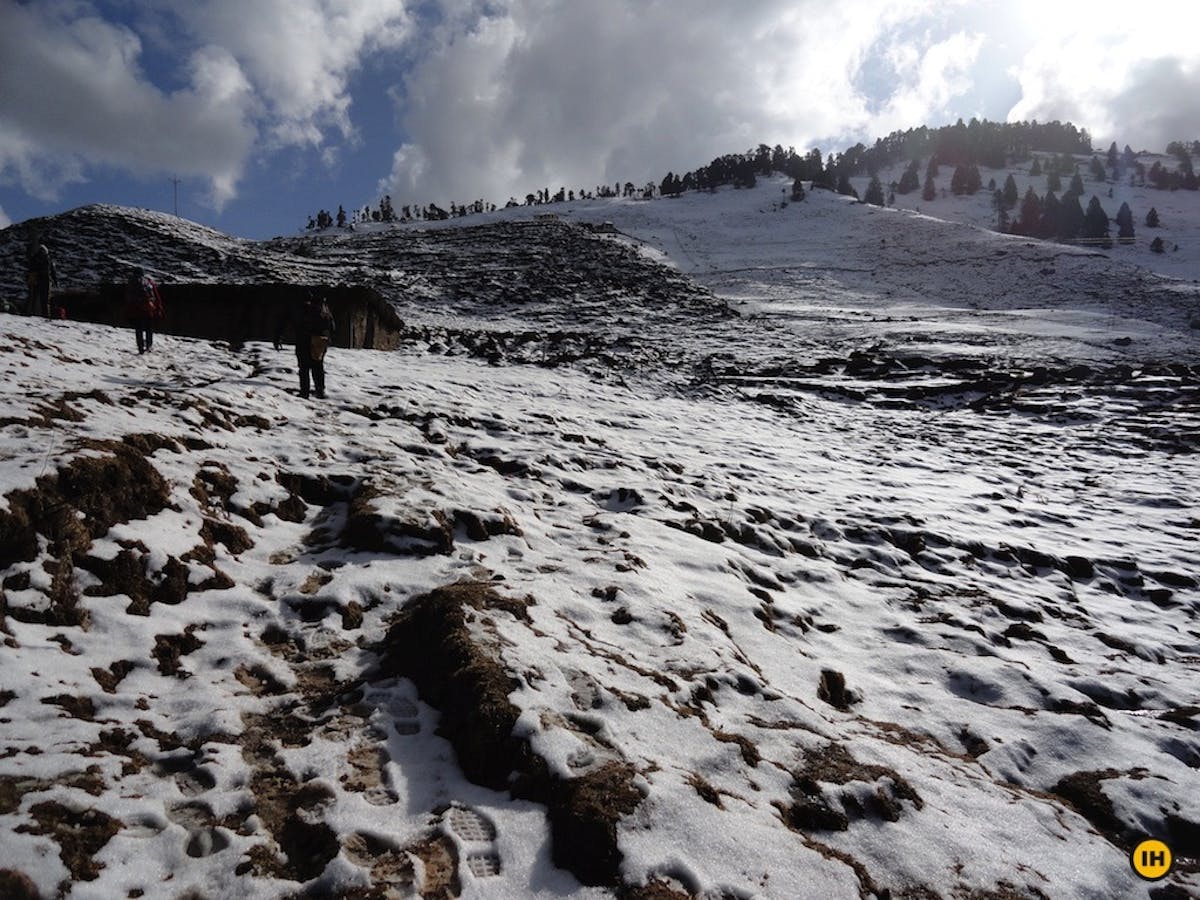 Walking through the snow to reach Prashar Lake on a winter day PC: Pratul Nigam
In 300 metres, you enter another forest. The trail here is flat, followed by a short ascent. At the end of this section, you will see a beautiful lake below. But this is is not Prashar Lake. Go down to the lake and explore around. You will also find two shepherds' huts here.
From the lake, follow the mkotorable road for 1.7 km. You'll see few houses before reaching Prashar. Take a turn once you cross these. A low ground is visible from here. Once you reach the edge of this low ground, a beautiful lake comes into view – this is Prashar.
Prashar lake is protected by a fence so you cannot enter it. There is a round, floating island inside the lake. If you are lucky, you can see the island move while you are there.
There is a beautiful temple dedicated to the sage Prashar next to the lake. Its architecture is unique and attractive.
Walk to the nearest 'top' from the lake to view the sunset and return early the next morning for the sunrise. You get to see whole mountains from here including Papsura and Dharmsura. Rest for the night at the dormitory.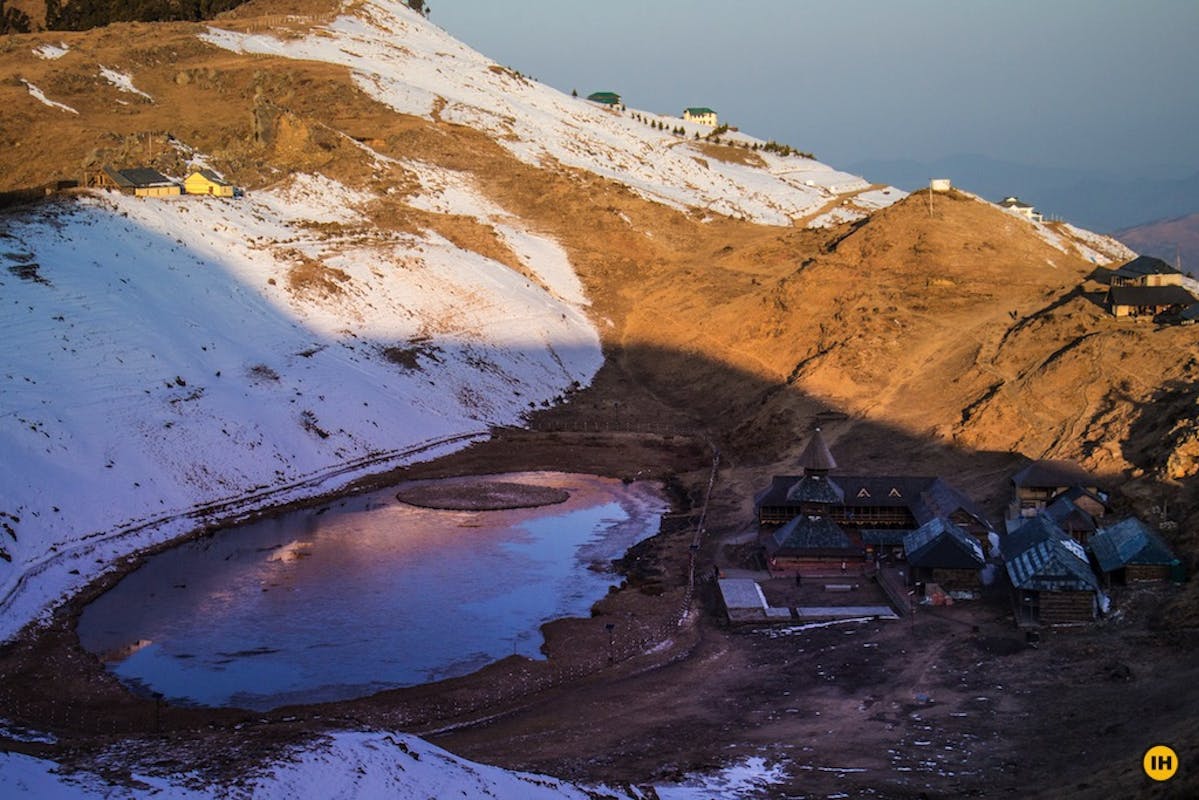 A different view of Prashar Lake PC: Ikshit
Day 2: Prashar Lake to Kantlu 
Altitude: 8,900 ft (2,713 m) to 6,050 ft (1,844 m)
Times taken: 3.5 hours, 7.7 km
Trek gradient: Easy. Mostly descending trail with few, short ascents.
Water sources: Carry two litres of water. You can refill your water bottles from the small pump that you reach 2.2 km after starting the trek.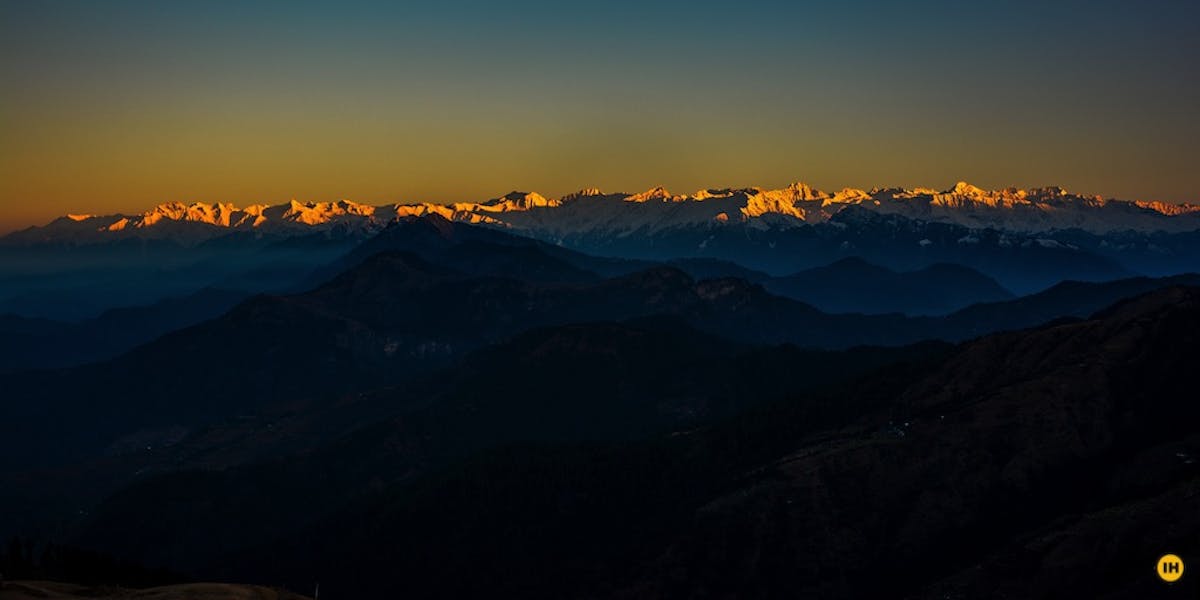 View of sunrise over the Dhauladhar range PC: Rohit Singla
You will return to Kantlu today but through a different route.
Walk on the motorable lake from Prashar lake f0r 1.5 km. From here, leave the mkotorable road and turn towards the right. This is a narrow path through grasslands. After 700 metres on this path, you will see a small water pump house. This, is an absolutely quiet, beautiful place surrounded by forests. The only sound hear is that of water. You can refill your water bottles here.
The trail enters dense forest from here. There's another diversion after 500 metres, where you need to take the trail on the right. The trail descends gradually after the pump house. After 1.2 km, you will reach an ascent
The trail enters dense forest from here. There's another diversion after 500 metres, where you need to take the trail on the right. The trail descends gradually after the pump house. After 1.2 km, you will reach an ascent. Once you cross this, a house beautiful house set in a clearing appears out of nowhere to your right. In front of the house is an apple orchard, which is filled with apples in May and June.
Behind the house is a beautiful valley. You can see the Dhauladhar range, Mukila and Hanuman Tibba peaks from here.
In about 200 metres from the house, you will cross the mkotorable road again and enter a forest. This is filled with pine, oak and rhododendron trees. After 1 km, the forest thins down. On your left will be a small reservoir. Within 100 metres you will reach a small village named Halgarh. This village has only a few houses. You get a clear view of Kantlu and the valley from here.
Begin descending again  from this point. In a short while, you reach the a part of the route taken on Day 1. Follow this to reach Kantlu, which is 2 km from Halgarh.
Have lunch at Kantlu and depart for Mandi.
Nearby excursions: A 12 km trek to Tunga Mata temple above the Prashar Lake is a viable excursion one can make while camping at Prashar Lake. The trail is a steep climb on the mountain ridge behind the lake. The view of the lake from here is stunning.
➤ How to get to the basecamp of Prashar Lake Trek
Delhi/Chandigarh → Mandi → Baggi Village
The Prashar Lake trek starts at Baggi, around 27 km from Mandi. Indiahikes arranges transport from Mandi bus stop at 6.30  am on Day 1. The cost is included in your trek fee.
Reaching Mandi from Delhi
If you are using public transport, take a volvo bus from Delhi to Mandi in Himachal. Any bus plying to Kullu or Manali will go via Mandi. Volvo buses by Himachal Roadways and Himachal Tourism ply daily from Himachal Bhawan in Delhi. It takes around 10-12 hours (430 km) to reach Mandi from Delhi.
Reaching Mandi from Chandigarh
The Volvo bus journey from Chandigarh to Mandi takes 6-7 hours. The roads are in good condition till Mandi, except for a few sections between Chandigarh and Bilaspur.
Getting back
Baggi Village → Mandi → Delhi/Chandigarh
Indiahikes drops trekkers back to Mandi by around 6.00 pm. Buses from Manali to Delhi pass through Mandi between 7.00 and 8.30 pm. It is recommended that you book your tickets prior to the trek, and coordinate with the bus conductors for your pick up from Mandi.
➤ How to get fit for the Prashar Lake trek
The Prashar Lake trek is classified as an easy trek. From Kantlu at 6,050 feet, you will gain about 2,000 feet to Prashar Lake. This can make the trek quite demanding.
Cardiovascular endurance
This trek requires a good amount of cardiovascular endurance. You can begin by jogging everyday. Start jogging at a slow pace and then keep increasing your pace day by day. In order to be prepared for high altitude trek, you should have a combination of distance and speed targets.
Here's a fitness routine that works:
In case you're just starting with a regular fitness routine, phase out your distance targets in the following manner –
–Target completing 5 km in 45 minutes when you begin.
–> Gradually increase your pace by running 4 times a week and bring it down to 5 km in 40 mins.
–>If you are 45 years or above, try to cover 5km in less than 45 minutes.
If you are somebody you prefers cycling over running, then try to cover 18 km in 60 minutes.
How to send us proof of your fitness routine? It is not mandatory on this trek, but you can still send us.
Record your run on an app like Nike Run. Start recording your run when you start running. At the end of your run, hit the stop button.
Take a screenshot of the summary of your run and upload.
Working out indoors
If you can't go out and jog because of time and space constraints, here's a video you can use to work out indoors.
➤ Frequently Asked Questions
1. What is the style of accommodation in this trek?
Prashar lake is a weekend trek. You can stay overnight in dorms or camp in your tents.
2. What will the temperatures be like during this trek?
Daytime temperatures will range from 13-18ºC and nighttime temperatures will range from 0-7ºC.
3. Will there be snow on this trek?
If you're trekking between December and March, you will find snow on the trail. However, this is a lovely trek to do even without snow.
4. Which are the best seasons for the Prashar Lake trek?
This trek can be done any time during the year. If snow is what you're looking for, then Prashar Lake is a great trek to do between December and March.
5. Can I take my child along on this trek? What is the age limit?
Prashar Lake trek is ideal for families. The minimum age requirement for this trek is 8 years. You can bring children along if they're at least 8 and physically fit.
6. What are washroom/toilet facilities like on the trek?
The dorms that you will be saying in will have washroom facilities.
7. Will there be water sources on the way? Will two litres of water be enough?
The campsite has water source on the trek. For your day's trek, two litres of water should be enough. There will be only one water source on the way, which you will get after a couple of hours of trekking of starting the trek on Day 1.
8. Is there mobile network on this trek? Are there any electricity charging points on this trek?
Beyond Mandi, you are likely to receive only intermittent network for BSNL. So make sure you finish your important telephone calls and inform anxious family members about limited connectivity during the trek. There will be no charging points on the trek.
9. How do I manage the negative temperatures on the trek? Do I need special jackets?
At high altitudes, temperatures are sure to dip into negative at nights.. For these extreme cold temperatures, you need to keep the rule of 3 in mind. The rule of 3 usually takes care of cold that dip to -10°C. It is a simple formula of wearing 3 layers of woolen, inners and lower wear.
Follow this guide:
Wear one thermal and two T-shirts, three layers of woolens (two sweaters and a jacket). For your lowers wear a thermal inner with two layers of track suit. If you are prone to more cold, just add a layer.
The temperatures dip only late in the evening and early mornings. During the day if the sun is out, then you may even be trekking in your T-shirts. Make sure you use your thermal wear only at night and not while trekking.
A woolen cap/balaclava and gloves are a must.
10. ATM Point and Mobile connectivity
If you wish to withdraw money or make an important phone call, do so at Mandi.
You are likely to get only intermittent BSNL signal beyond that. Please inform anxious family members about poor connectivity during the trek.
Temperature Chart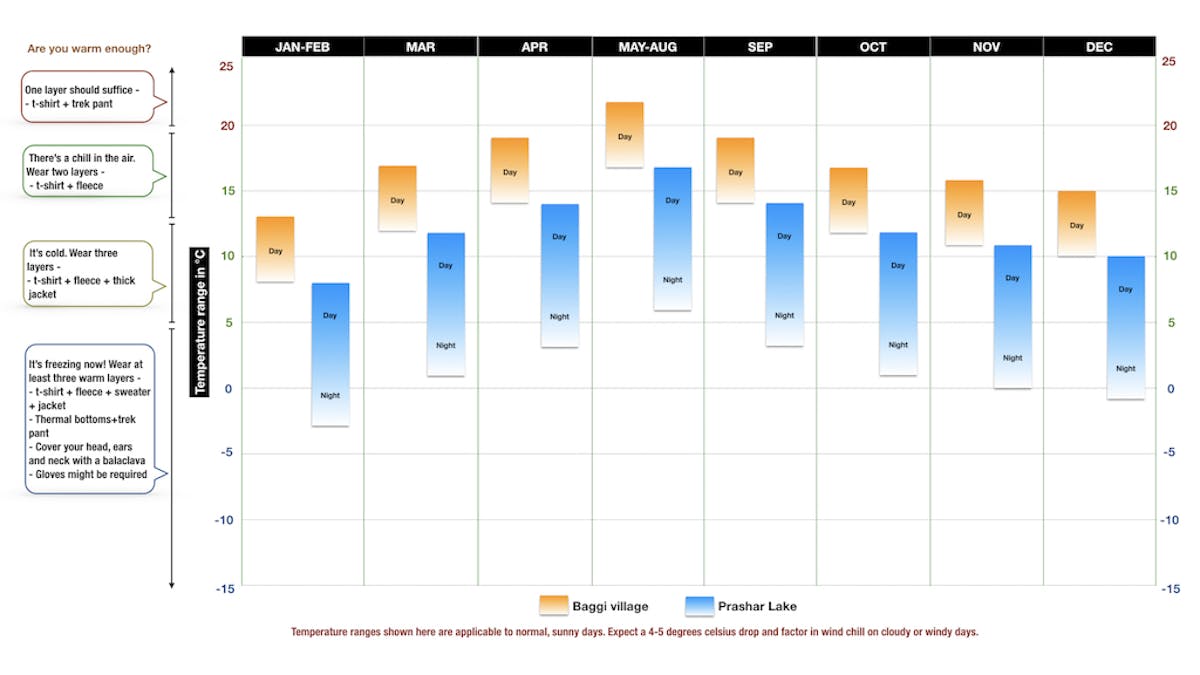 Click on the chart to see average temperatures on the Prashar Lake trek