Can You Help Us With Photographs Of This Trek?
We are looking to enrich this documentation with more photos. Pictures go a long way in explaining the trail, more than words ever can. If you have done this trek, can you share your photos with us? We will include them on this page, with due credit to you.Click here to contribute.
The Complete Guide To Rajat Pratap Trek
Rajat Prapat Trek is a trek right through the central part of the country. Rajat Prapat is a waterfall in Hoshangabad district in the Indian state of Madhya Pradesh. It is the 30th highest waterfall in India. It is a horsetail-type waterfall with a single drop of 107 meters (351 ft). When sunlight falls on it, it shines like silver, which is why it is known as Rajat Prapat or Silver Fall.
This is a trek in that part of the country where waterfalls are very rare. Trekking through this makes you enjoy the charm of water in the land where waterfalls are precious and rare. It makes for a perfect family getaway and can be done by trekkers of any age group.
Short Itinerary
A Horsetail Waterfall Trek
A beautiful trek through the 'Heart of India'
A perfect family getaway
Convenient trek for trekkers of any age.
Detailed Trail Information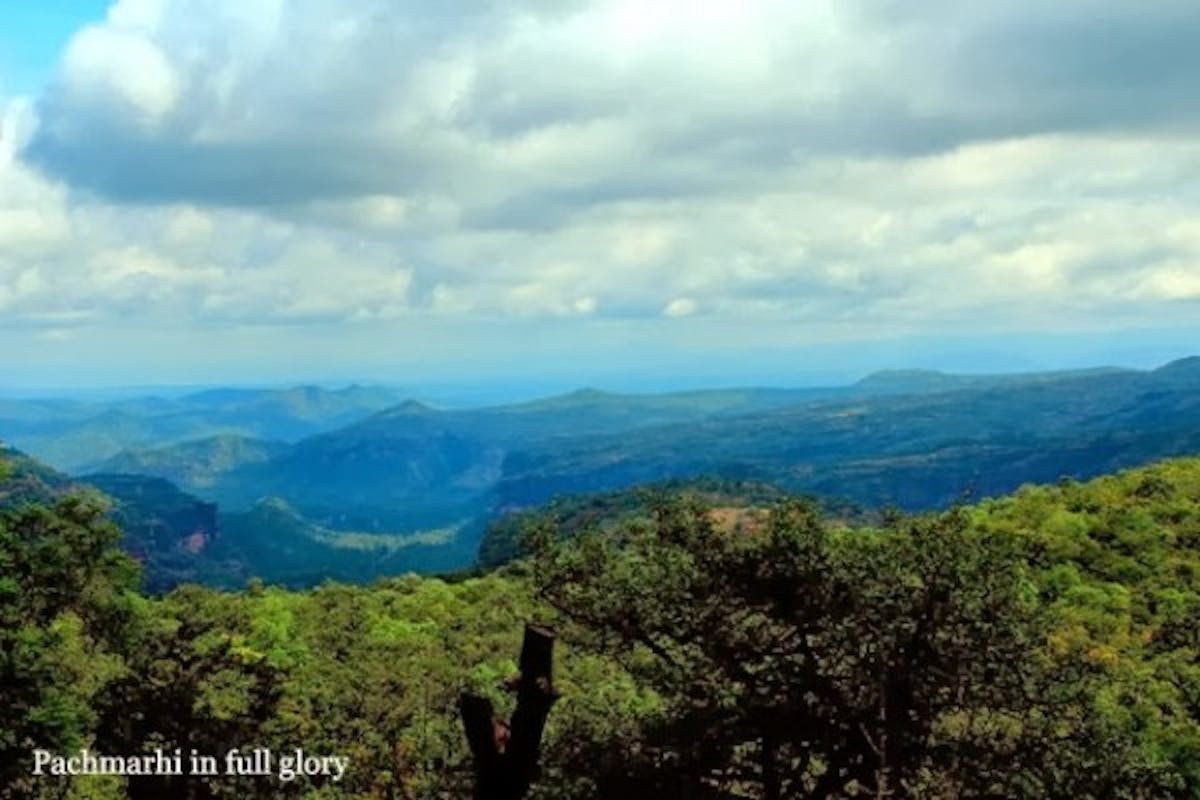 Pachmari in full glory
The Beginning
(Pipariya to Pachmarhi, base for Rajat Prapat): The nearest railhead to Pachmarhi is Pipariya, about 54 km away. Located in the Hoshangabad district of Madhya Pradesh, Pachmarhi is nearly 200 km away from the state capital, Bhopal. Known as the "Queen of Satpura Mountains" - Pachmarhi is covered with Sal trees and thick vegetation down the gorges and along the meadows.
The Final Steps
(From Bison Logde through Pandav Caves to the top of Rajat Prapat):-
Since Rajat Prapat lies in the Pachmarhi wildlife Sanctuary, a forest entry pass was a must to go there. We obtained it from the Bison Lodge, on the outskirts of Pachmarhi. A small museum there gave us a peek at the mammals, ranges and the demographic divisions of this place.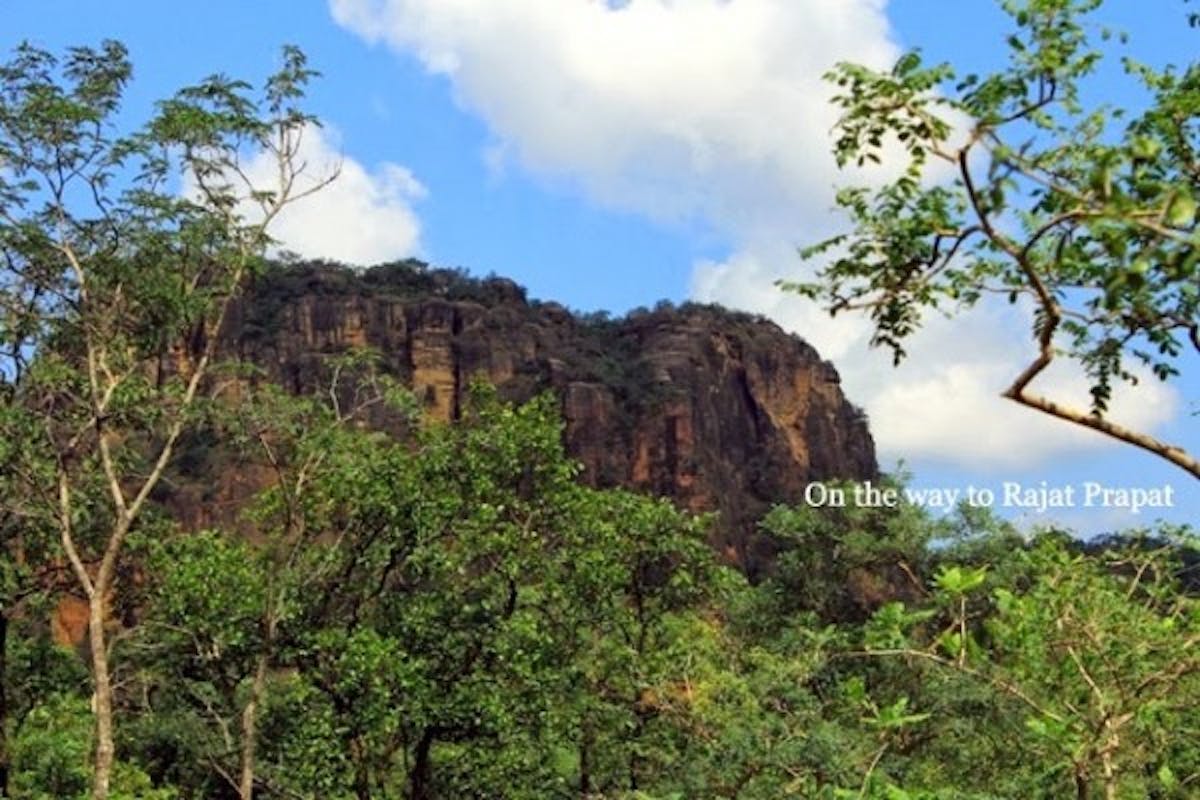 On the way to Rajat Prapat
The vehicle took us into the sanctuary to a point where no more vehicles were allowed. After this was a stretch of 300-400 m pedestrian walk which took us to the viewpoint of Rajat Prapat.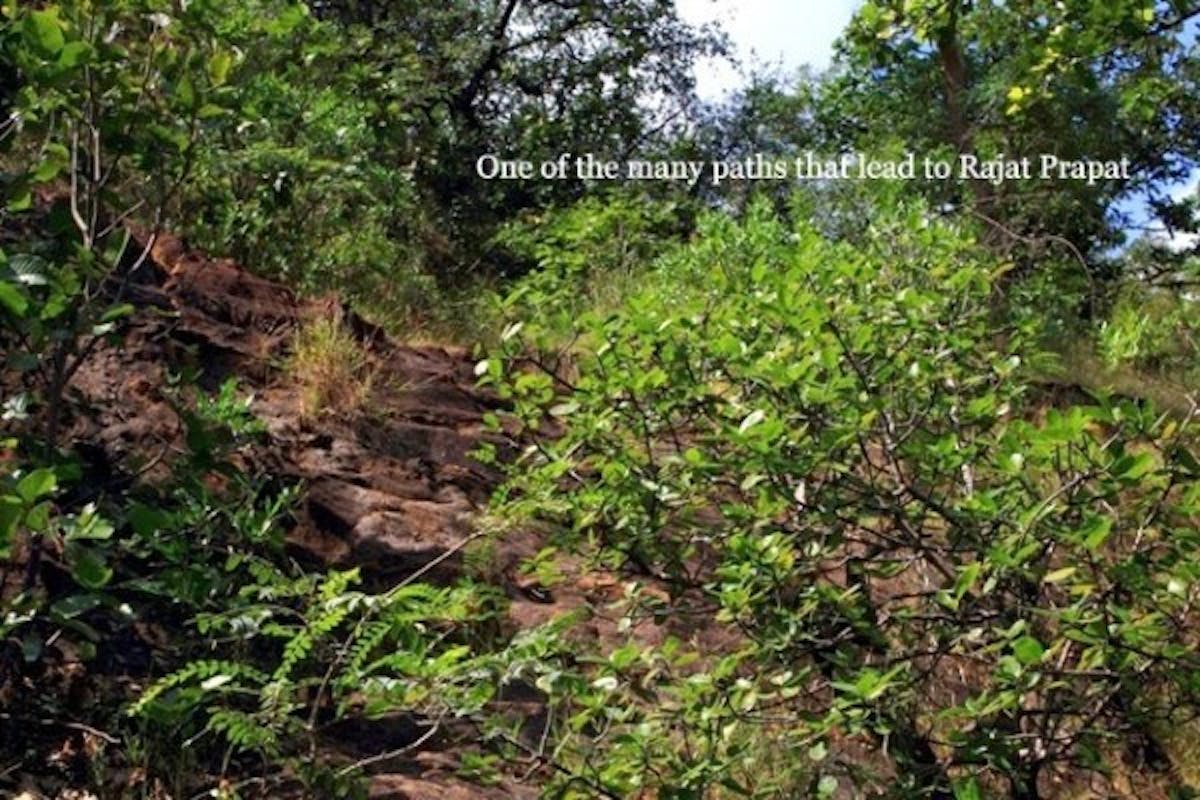 One of the many trails that lead to Rajat Prapat
Twist in the tale
(The left turn in the middle of the pedestrian road)
In the middle of this pedestrian road was a turn towards the left which led us to the base of the Rajat Prapat. The dense elephant grass in the beginning embraced us and the trail almost became nonexistent for a major part of the trek. The giant black sandstone rocks scattered in between created an enigmatic contrast to the entire landscape of this region. There was a lot of wet moss and green algae covering the stones which made the trek a bit slippery in some places. Careful treading along the side bushes helped to overcome this hiccup. 
The Final Push
As we passed the thick grasslands and lantana weeds along with tall trees interspersed on either side, a small opening through them gave us the first glimpse of the fall. The waterfall which is close to 107 m began to emerge. All our senses were alert in awe of the scenic beauty that began to unfold before us with each passing step. The roaring sound of the fall started getting louder and more pronounced as the dense undergrowth gave way to more clearings.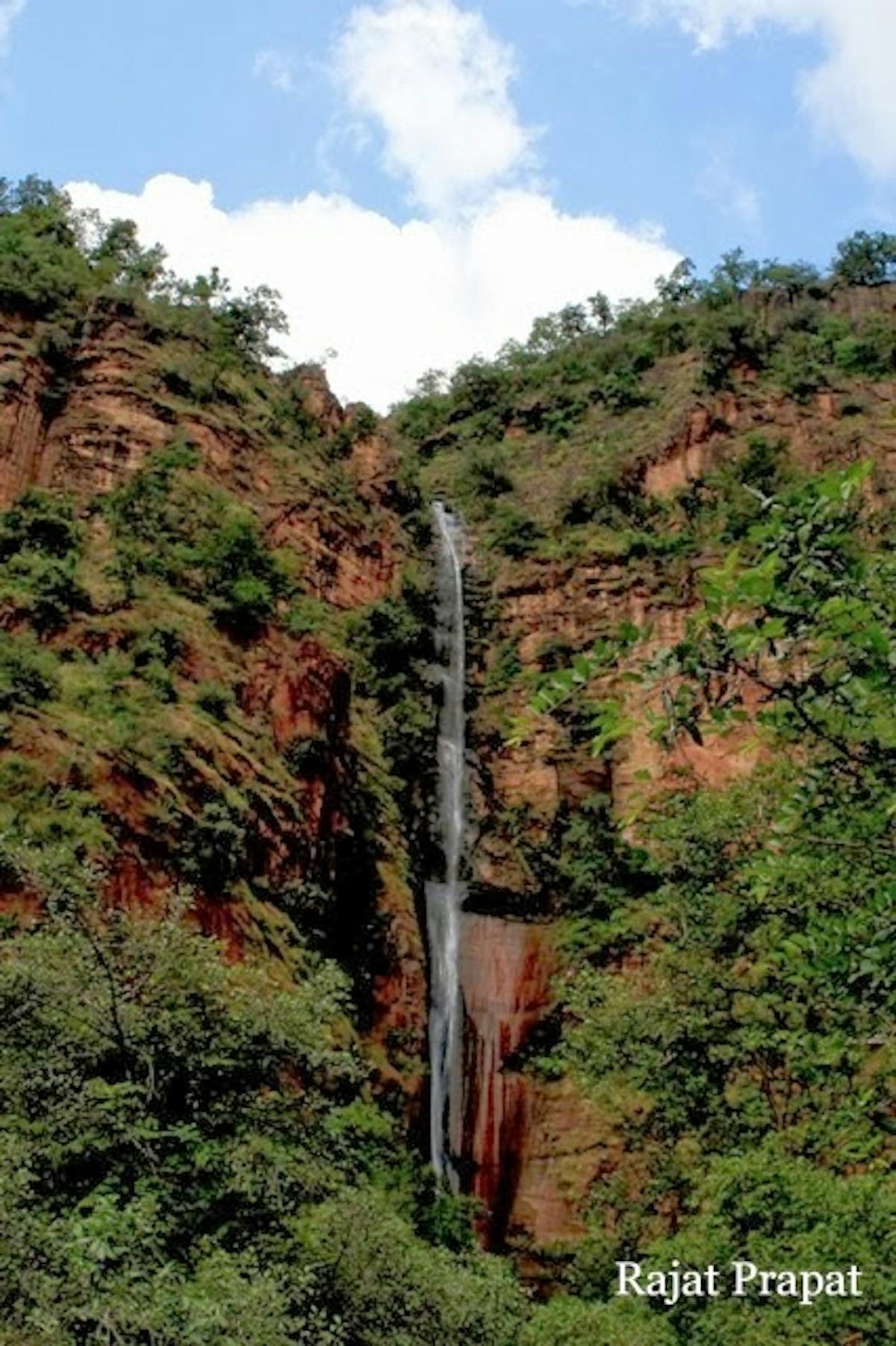 Rajat Prapat
A small set of clouds began to play hide and seek with the sun and the shades and highlights on the surrounding cliffs turned out to be a feast for our eyes.
Back to Square One
After spending close to an hour caressing the waterfall, we decided to head back to the top. The guide took us through a different route as he was keen to show us some of the earlier cave paintings done on some granite rocks in the jungle. The forest is extremely thick and it is difficult to navigate without a guide who is well versed with the guiles of this majestic jungle.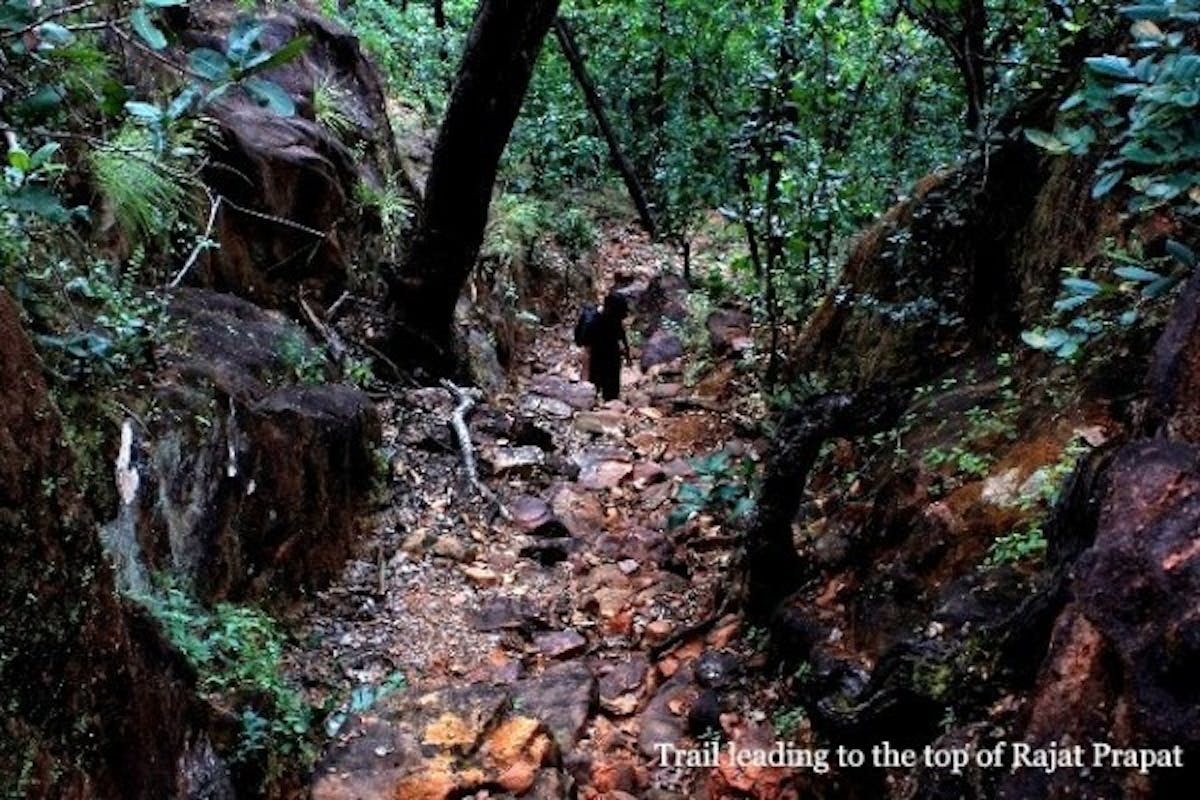 Trail leading to the top of Rajat Prapat
The journey to the top was entertaining as the guide shared some good anecdotes of his earlier experiences. Within an hour and a half, we reached the top. The forest is full of medicinal plants and a treasure house for nature lovers.
How To Get Fit For The Trek
Cardiovascular endurance
The secret to ascending any trail lies in building your cardiovascular endurance. You can begin by jogging every day. Ideally, you should be able to jog 4 km in 20 minutes before the start of the trek. It takes time to be able to cover this distance in the given time. Start slow and increase your pace every day. Swimming, cycling and stair climbing without too many breaks in between can help too. Strength This is another area you should work on. You will need to build strength in your muscles and in your core body. You can do some squats to strengthen your leg muscles. Do around 3 sets of squats, with 8 squats in each set. Apart from this, you can add planks and crunches to your workout.
Flexibility
Another aspect that will help you trek comfortably is flexibility. For this, you can do some stretching exercises - stretch your hamstrings, quadriceps, hip flexors, lower back muscles and shoulders regularly. Carrying a backpack, however light, can become a strain after a while. These exercises will help you to be in good shape before the trek.
Working Out Indoors
If you can't go out and jog because of time and space constraints, here's a video you can use to work out indoors.
What To Pack For The Trek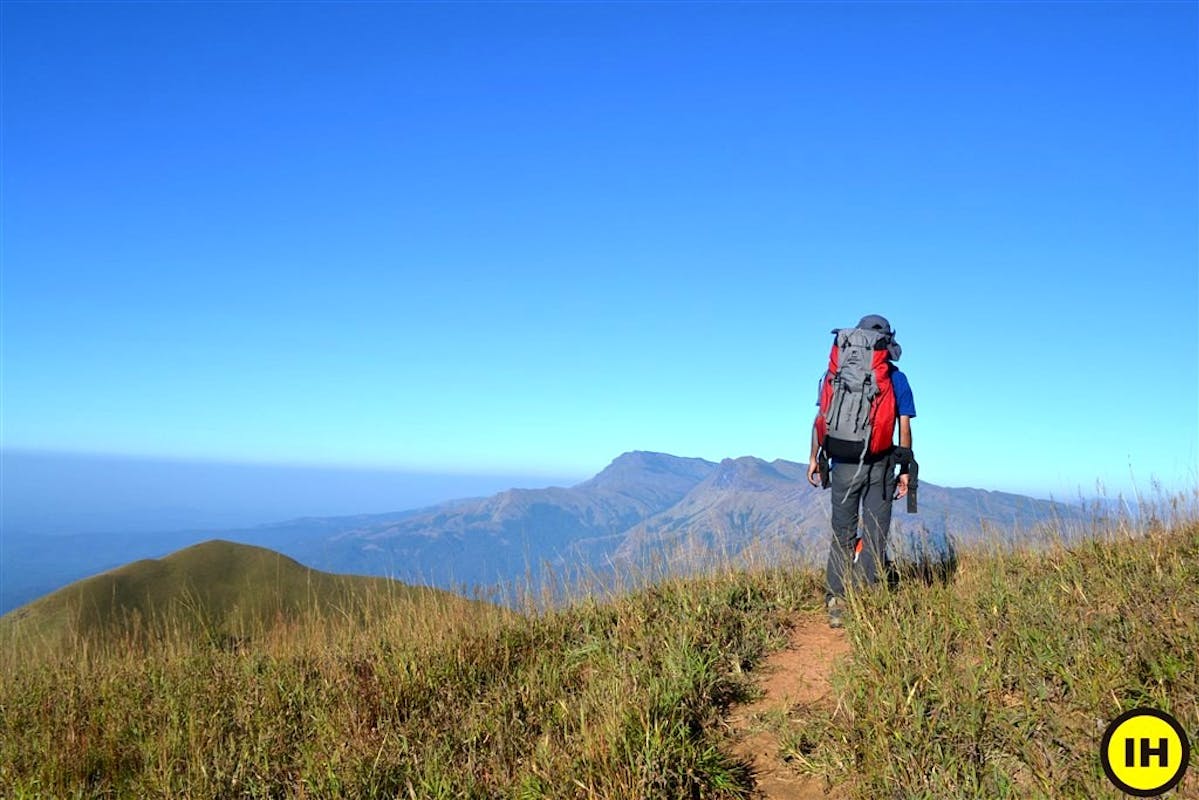 Trek backpack
No, stuffing it all in isn't the right way to do it. Packing a backpack correctly saves precious time that you might waste trying to find your things later. It is wise to spend some time on learning what really goes into packing a backpack.
What should I pack?
On a trek, you only get what you take. Something as simple as a forgotten matchbox can cripple your cooking plans throughout the trek. So, it's essential to prepare early and prepare well. To begin with, make a checklist. While shopping, remember this thumb rule - keep it light. "Every item needs to be light. This ensures that your backpack, on the whole, stays light," says Sandhya UC, co-founder of Indiahikes. Balancing out heavy items with light ones isn't going to have the same effect as having all light items. "Always opt for good quality, light items," says Sandhya.
How much should my bag weigh?
"Your backpack for a weekend trek should weigh between 8 and 10 kg," explains Arjun Majumdar, co-founder of Indiahikes, "To break it down, your tent should weigh around 2.5 kg, your sleeping bag, around 1.5 kg, and the ration, stove and clothes should constitute the other 5 kg." The best way to plan is by concentrating on the basic necessities – food, shelter and clothes. Gather only those things that you'll need to survive. Do not pack for 'if' situations. "That's one of the common mistakes that people make – packing for 'if situations'. It only adds to the baggage that you can do without on a trek," says Sandhya.
One good way to go about it is to prepare a list of absolute essentials. Start with the most essential and end with the least essential. That way, when you feel you are overshooting the limit, you can start eliminating from the bottom. Another tip is to be smart while packing clothes. Invest in light. wash and wear fabrics. "Replace a sweater with two t-shirts," adds Sandhya. Layering is the mantra when it comes to trekking. Refer to Sandhya's clothes list to pack smart.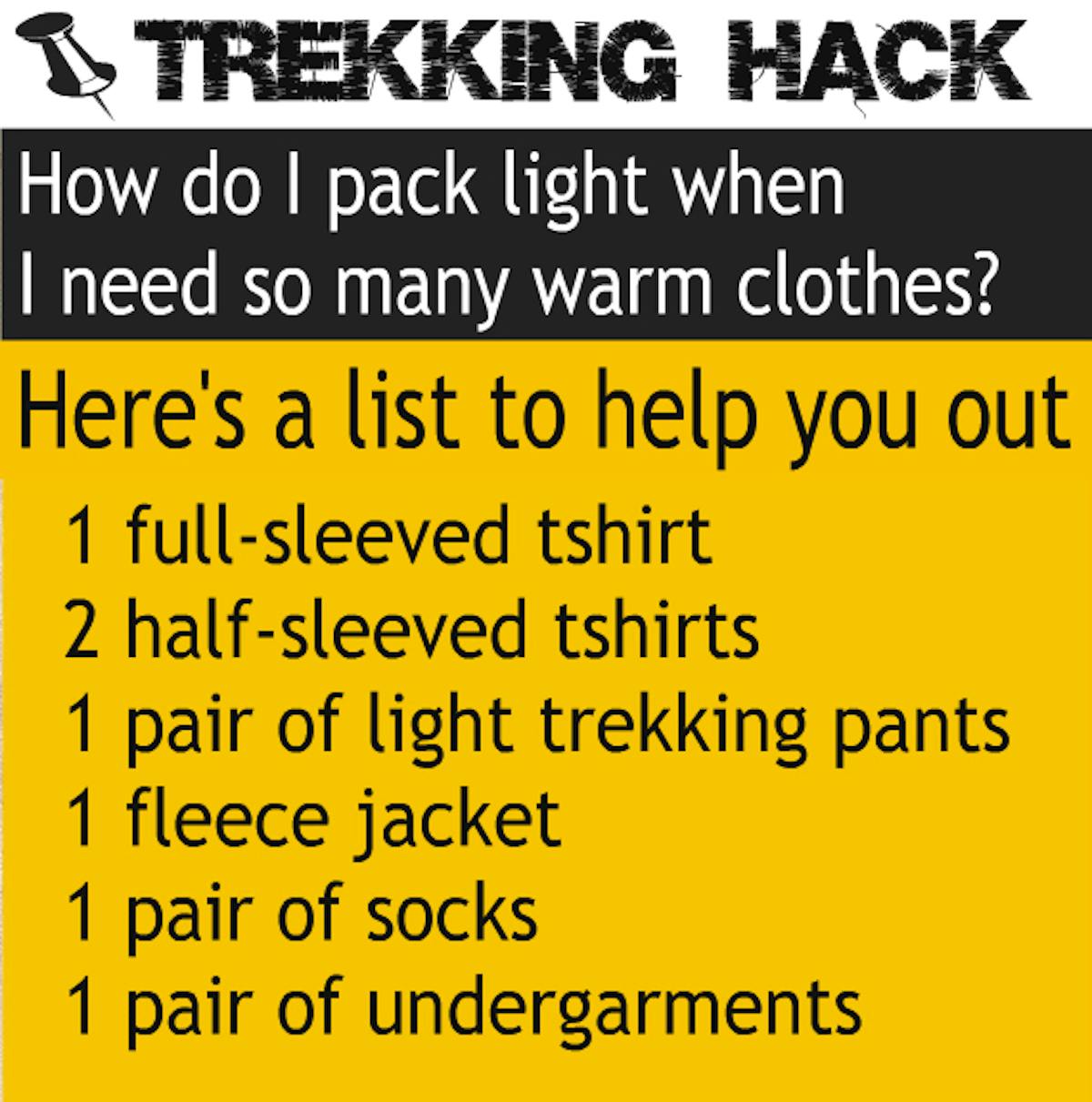 Trekking hack
How to pack
The thumb rule for this one is to eliminate air spaces. Make sure that everything is packed tightly, especially clothes and jackets, as they tend to take up maximum air space. Put in all the large items first. Then squeeze in the smaller ones in the gaps. This ensures minimum air space. A good way to pack clothes is by using the Ranger Roll method.
Where to pack
Bottom-Sleeping bag: Make this your base layer. Sleeping bags tend to be voluminous, but do not weigh much. They're perfect for the bottom of the bag. Tent: Just like the sleeping bag, even tents are voluminous and light. Keep the tent poles separately and place the fabric at the bottom of the backpack.
Middle-Heavy jacket: Roll up the jacket in a tight ball and place it in the middle of the backpack, close to your back. The middle region of the backpack should always have the heaviest items. You can store other things like rations or mini stoves in the middle. Other clothes: Roll other clothes and place them in the remaining space, to fill air gaps.
Top-Water: Water, although heavy, needs to be easily accessible. So put it in the top most region of your backpack. Medicine box: This is another component that you wouldn't want to be scavenging for when in need. Poncho: It could rain at any time in the mountains. So, ponchos should be accessible easily. Also, having a waterproof poncho at the top of the backpack provides additional waterproofing to items in the bag.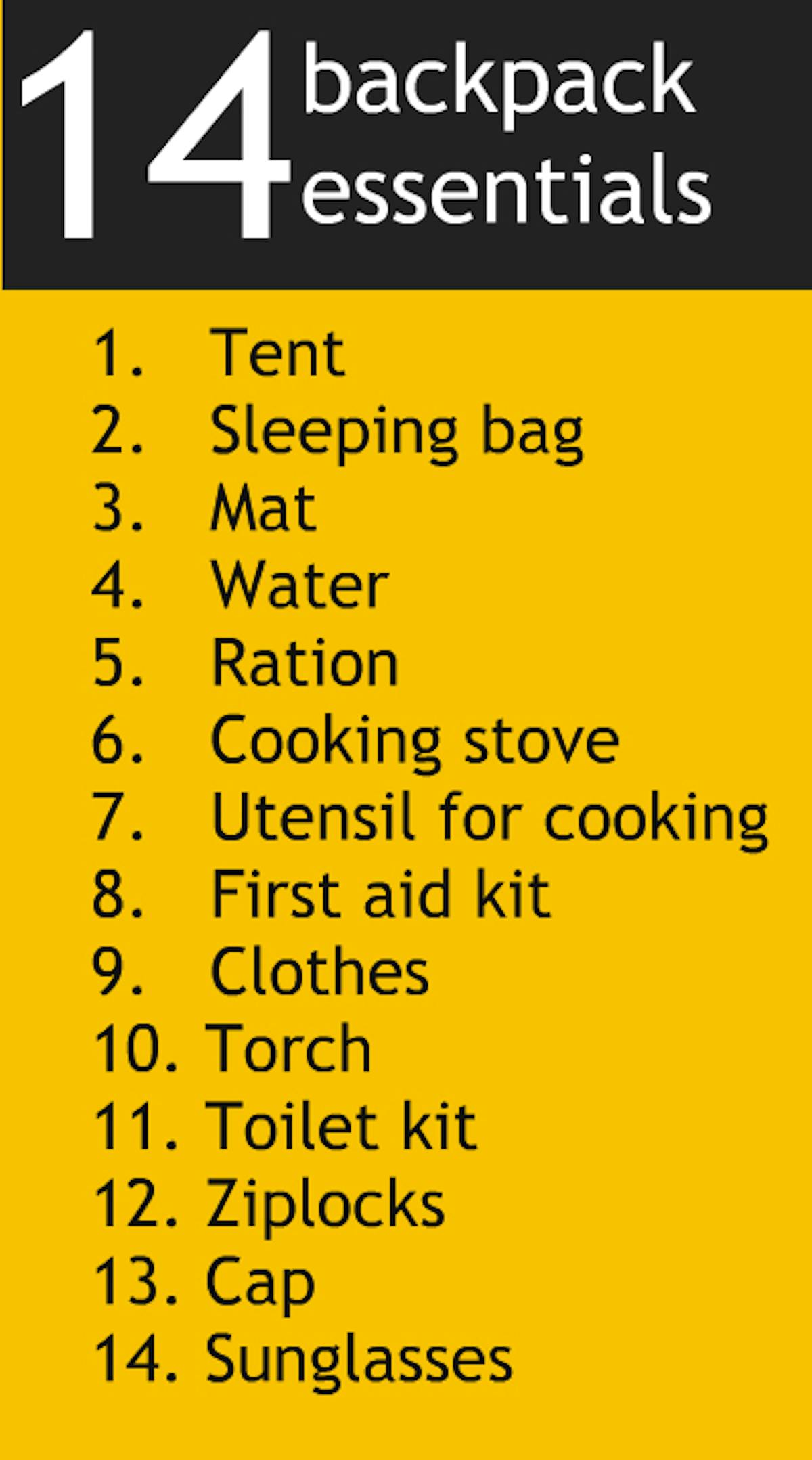 Trek backpack essentials
Trek Contribution             
Author: Sushubhan Roy