Can You Help Us With Photographs Of This Trek?
We are looking to enrich this documentation with more photos. Pictures go a long way in explaining the trail, more than words ever can. If you have done this trek, can you share your photos with us? We will include them on this page, with due credit to you. Click here to contribute.
The Complete Guide to Savandurga Trek
Savandurga trek follows a trail to the top of Asia's largest monolith hill.
Located 60 km away from Bengaluru in the Savandurga state forest, this trail is famous for its challenging climb and amazing views of Magadi, Manchabele and Thippagondanahalli reservoirs and Arkavathi river.
"Karigudda" (Black hill) and "Biligudda" (White hill) make the Savandurga hill cluster.
Savandurga fort was the secondary capital of the Magadi rulers such as Kempegowda and from 1638 to 1728, it was occupied by Dalavayi Devaraja of Mysore.
It is also called as 'Savinadurga' or the Fort of Death, because of the steep incline and defense structure.
Savandurga has two temples at the base. Savandi Veerabhadraswamy temple and Sree Lakshmi Narasimhaswamy temple. They attract devotees from many parts of Karnataka.
These temples date back to 1340 AD and are believed to have been built by the Hoysala rulers.
Savandurga hill is off Magadi road and is easily accessible via buses, cars or two wheelers and this makes Savandurga an ideal all weather trek near Bangalore.
Table of Contents:
What To Watch Out For
Trail Information
GPX File And Route Map Of The Trek
Best Time To Do Savandurga Trek
How To Reach Savandurga
Difficult Sections On The Trek
How To Get Fit For The Trek
Things To Take On Savandurga Trek
Permission, Water Sources And Other Finer Details About Savandurga Trek
Nearby Places To Visit After The Trek
What To Watch Out For
The huge monolith hill is one of the largest in Asia
The entire structure is formed by one huge rock. The first sight of the hill makes you wonder about its formation.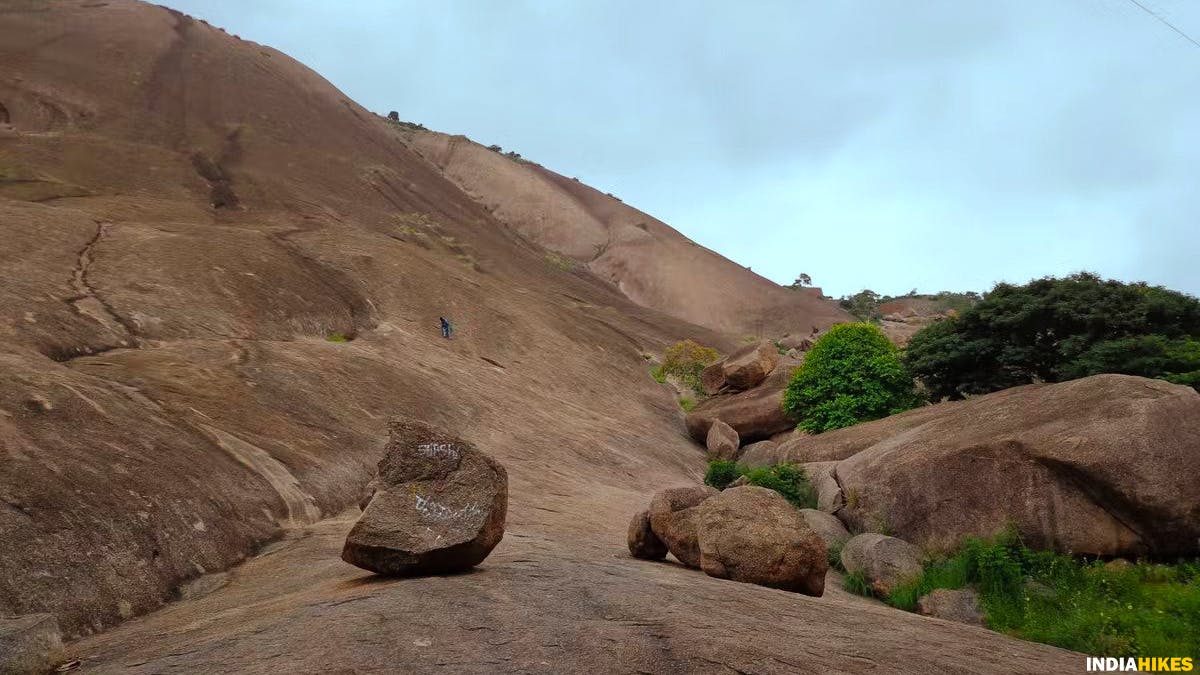 The rock structure is unusual to this part of Karnataka. Picture by Suhas Saya
Stunning views of the surrounding reservoirs and forests
The forests and reservoirs stay with you for the entire trek. All it takes is a head turn to get the panoramic views of nature.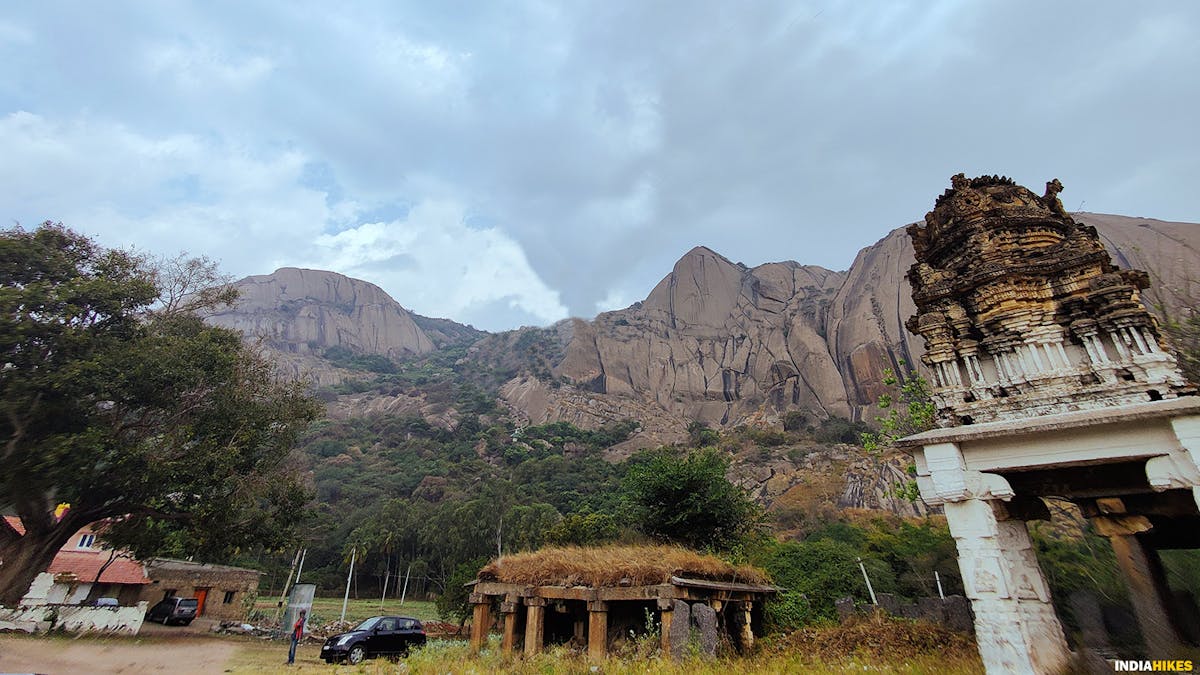 View of Savandurga from the base. Picture by Vindhya R
A unique mix of rocky, muddy and forest trails with caves that surprise you
Since the hill is completely rocky, you would not have imagined walking amidst forests and caves. This is where Savandurga holds a surprise!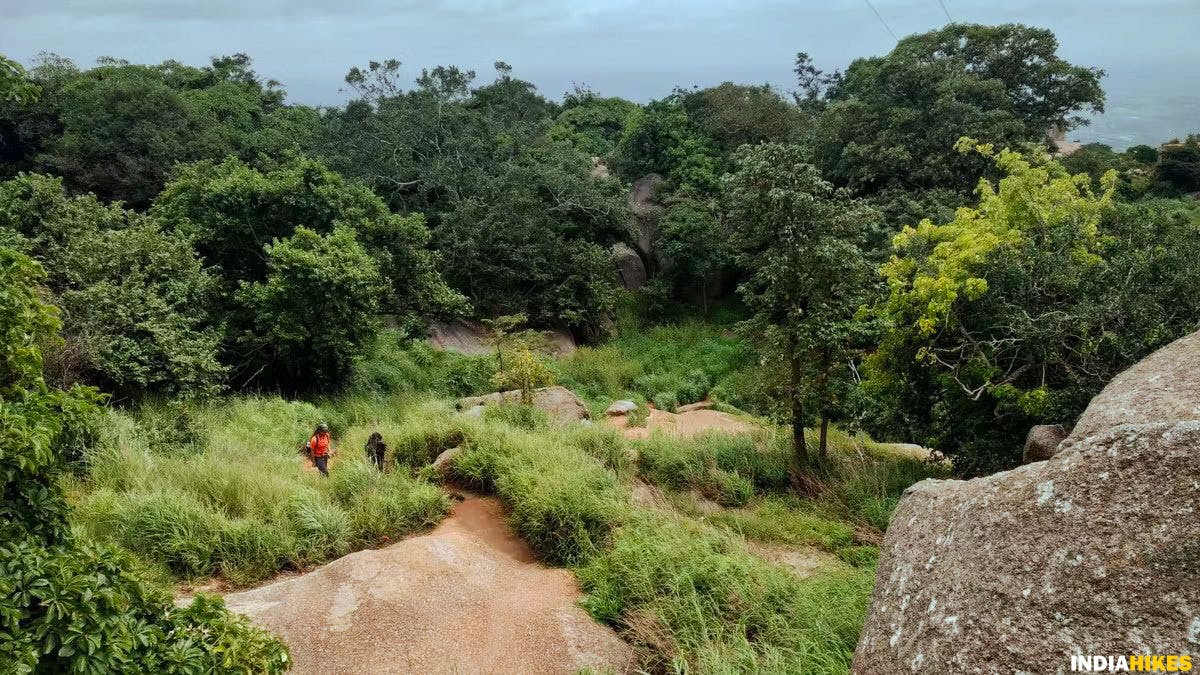 The trail turns from completely rocky to forest-like with deep caves. Picture by Saurabh Sawant
Trail Information
The Savandurga trek can be completed by following two separate trails - "Karigudda" (Black hill) and "Biligudda" (White hill). Only Biligudda trail is accessible to general public as it is not permitted by the Forest Department to trek through the Karigudda trail.
The Biligudda trail originates near the Sri Lakshmi Narasimhaswamy temple which is approximately 60 kms from Bengaluru city.
Trek Distance: 260 metres
Trek Duration: 10-15 minutes
GPS coordinates of Sri Lakshmi Narasimhaswamy temple: 12°54'58.2"n 77°17'53.6"e
GPS coordinates of Rocky Section: 12°55'07.8"n 77°17'59.6"e
The Sri Lakshmi Narasimhaswamy Temple located at the base of the monolith hill or Savandurga hill is a bustling temple teeming with devotees. The trail towards the summit begins behind the temple and in the South East direction.
There is a pavement which leads to the trail (it is an approximately 200-300 metre walk). The route is relatively easy to find as tourists and trekkers will be seen walking on the trail.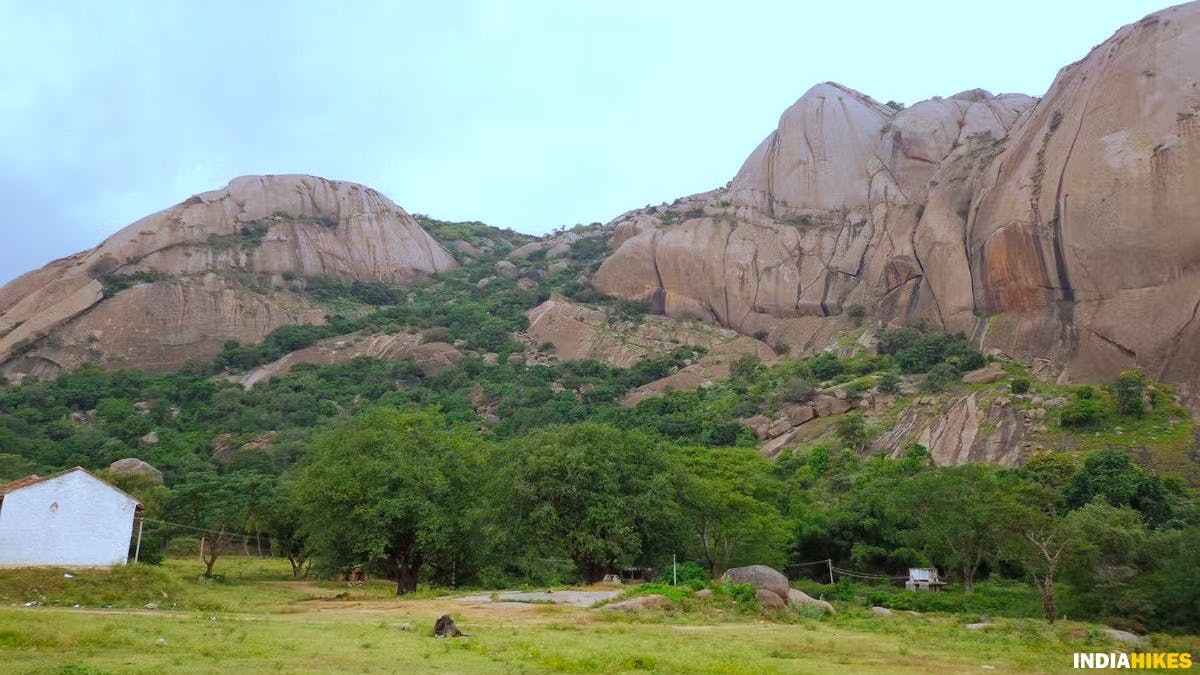 Both Karigudda (on the left) and Biligudda (on the right) are visible as you walk to the start point of the trek. Picture by Suhas Saya
The initial trail follows a mud path through some foliage. This section is a light ascent till you reach the base of the hill.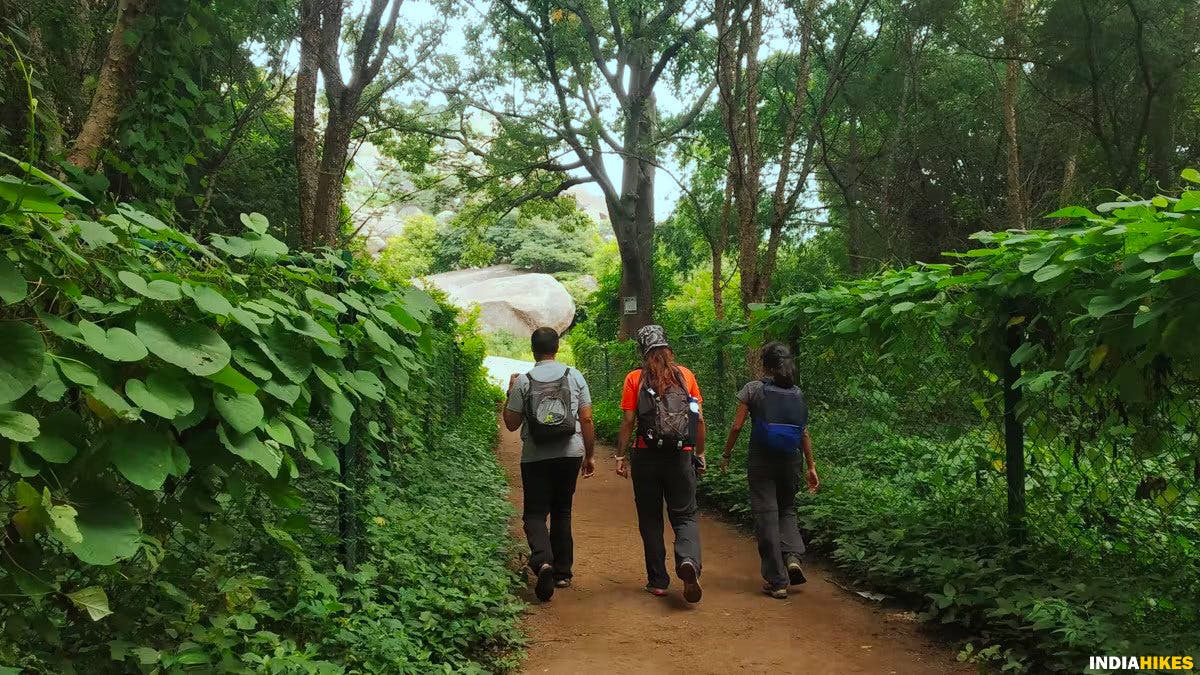 Members of the documentation team walk towards the rocky section. Picture by Saurabh Sawant
The rocky section or the base of the hill marks the end of the first section. It should take you approximately 10 to 15 minutes to reach the base of the hill.
Trek Distance: 370 metres
Trek Duration: 20-25 minutes
GPS coordinates of Rocky section: 12°55'07.8"n, 77°17'59.6"e
GPS coordinates of Fort Wall I: 12°55'15.58"n, 77°17'54.33"e
The second section begins as you step onto the hill and start walking up towards the summit.
| Tip: It's recommended to start this section early in the day as once the sun gets overhead, the rock heats up and it can become quite challenging to walk in the heat, especially during the summer months.
As you start walking up the rock, you'll get to see a lot more greenery and glimpses of the Manchanabele reservoir. This section is a little steep and does require trekkers to be in good shape. It is a good 400-500 metre ascent and should take at-least 20-25 minutes if you're walking at a good pace.
The trail is not very easy to spot, so be on the lookout for markings on the rocks and boulders to ensure you are on the right track.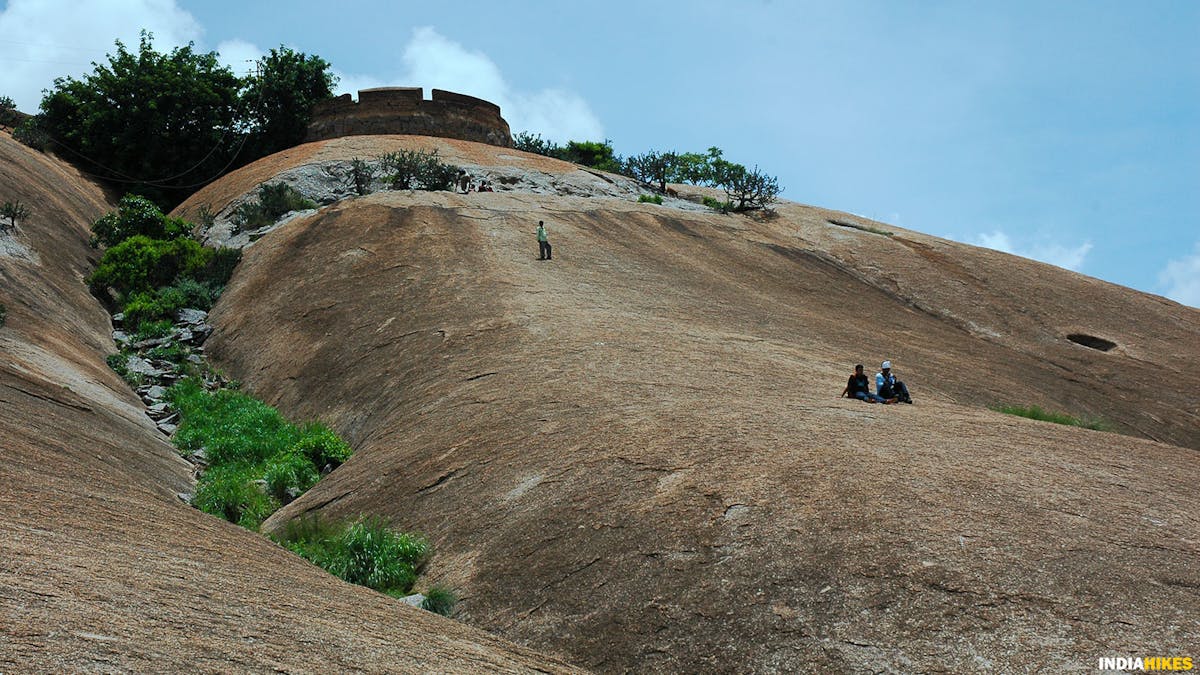 The steep ascend to reach the Fort wall. Picture by Rajendra G Kumar
Once you reach the ancient fort wall, you've completed the second section of the trek.
Tip: Follow the electric lines/lighting poles. They act as a route/trail guide on the trek till you reach the muddy trails on the top.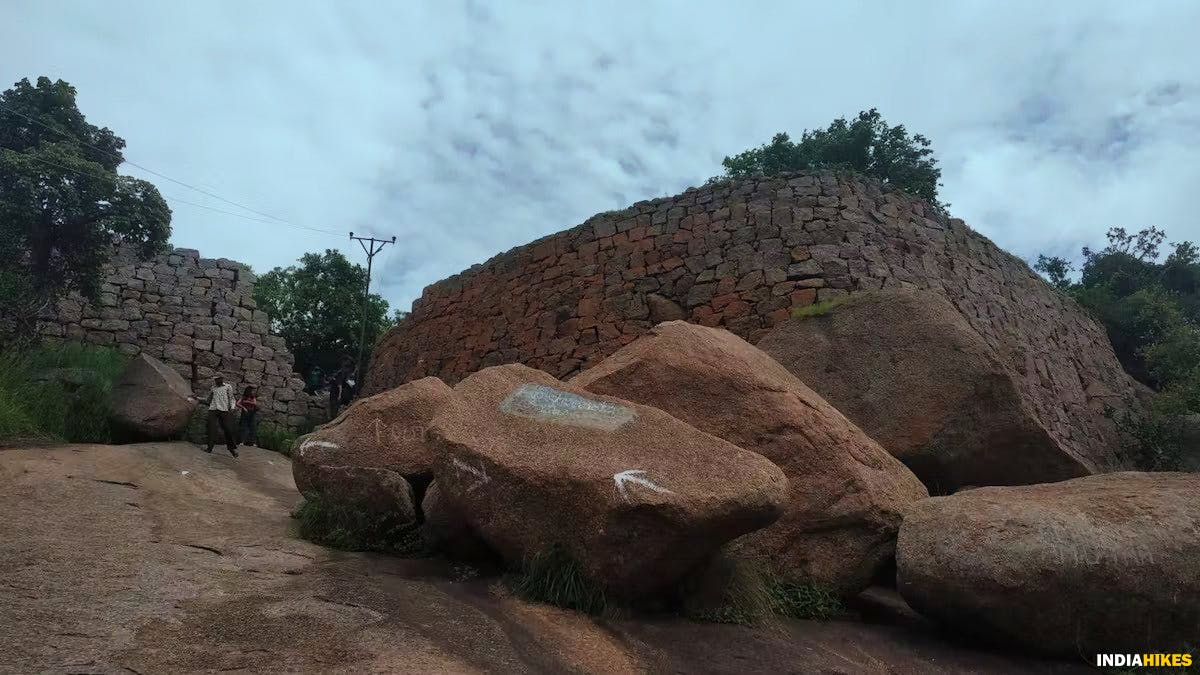 The Fort wall, which is also the first rest point. Picture by Saurabh Sawant
This is a great place to take a break and catch your breath and obviously turn around and enjoy the lush green expanse below.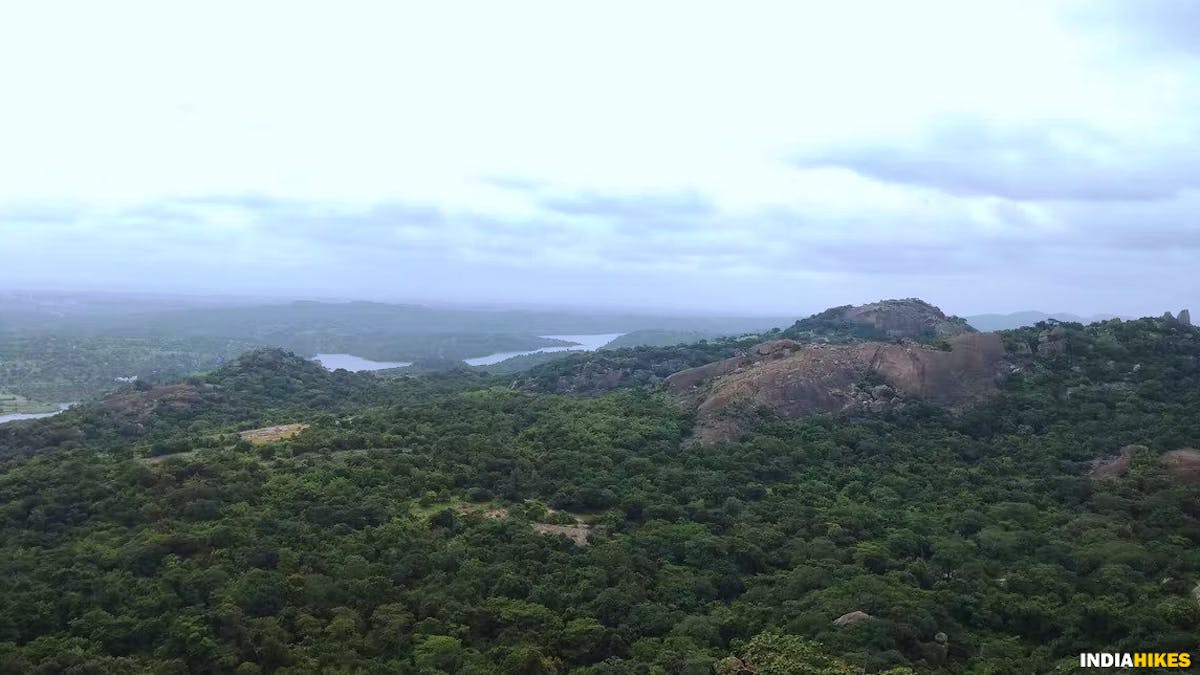 Lush green forests of Savandurga and Manchanabele reservoir as seen from afar. Picture by Saurabh Sawant
Trek distance: 1.36 km
Trek duration: 80-90 minutes
GPS coordinates of fort wall i: 12°55'15.58"n, 77°17'54.33"e
GPS coordinates of fort wall ii: 12°55'27.20"n, 77°17'50.17"e
GPS coordinates of Nandi temple: 12°55'10.07"n, 77°17'31.72"e
From here the trail becomes a lot more steeper. It is at-least an hour long walk up to the second fort wall.
Sneha Yadav, our Social Media Manage/former Experrience Coodrinator at Indiahikes says:
"There are footprint-like inscriptions in the rock itself which can be used to walk up the hill".
These indentations in the rock were probably carved in from the time of Dalavayi Devaraja or before and they are extremely useful in case the trekker is experiencing fatigue or is unable to find a strong grip on the rock.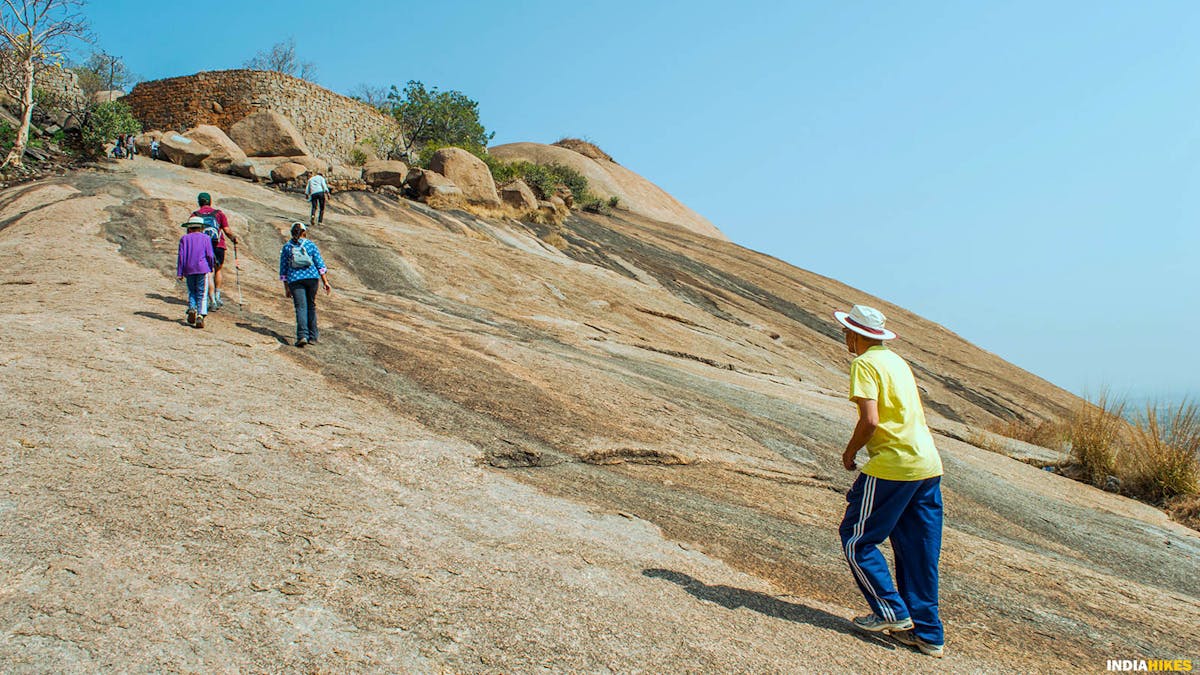 These steps are extremely useful when you're down as the gradient is quite steep. Picture by Bhajish
As the trail is primarily on granite rock, the shoes you wear should have a really good trip. It's also important for the shoes to be flexible, which is why we recommend wearing running or walking shoes with good grip over the more rigid trekking shoes (which are generally preferred for the Himalayan treks).
Suhas Saya, Head of the Documentation and Experience Coordinators team at Indiahikes says:
"I prefer walking up this trek barefoot as it gives me the maximum grip, but I definitely won't recommend that during the summer months as the rock radiates a lot of heat and there are chances of bruising your soles."
In this section, you will also get to see a lot of ponds (not actually ponds but rainwater which has accumulated in the depressions of the hill). And a few tanks which were probably used to store rain water by those occupying the fort.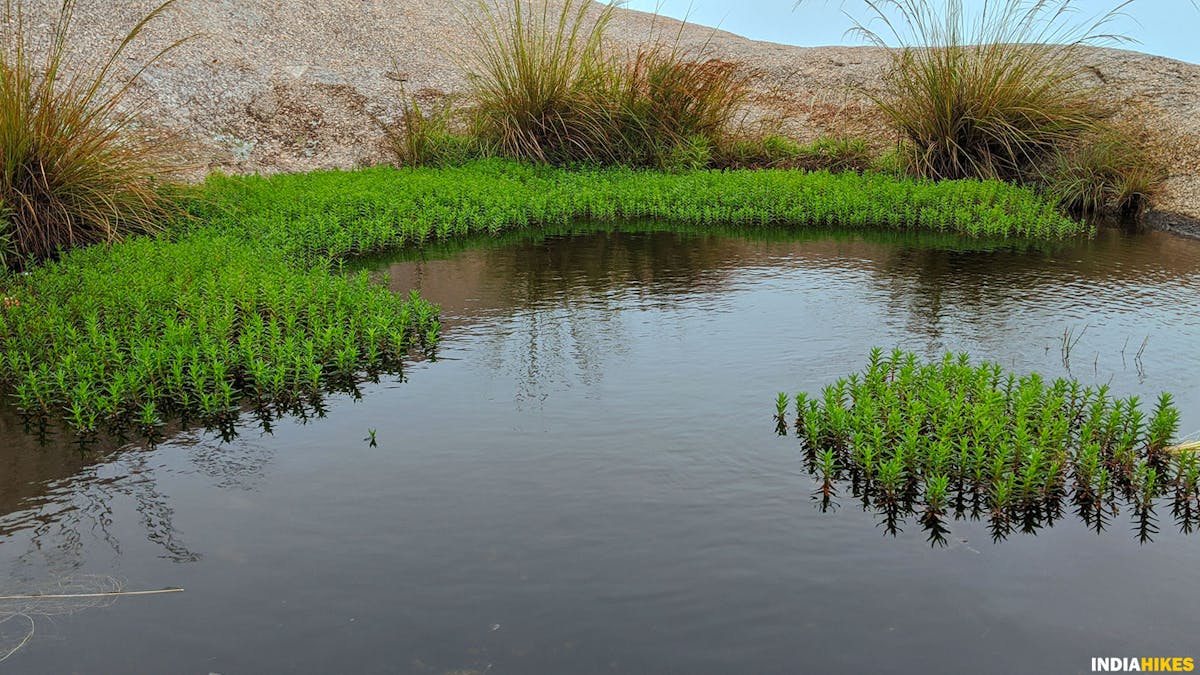 Natural water tanks used to store rain water in the olden days. Picture by Nehal Shah
A few minutes after you reach the second fort wall, you get a respite from the rocky trail. The trail flattens out as you proceed towards the forest section.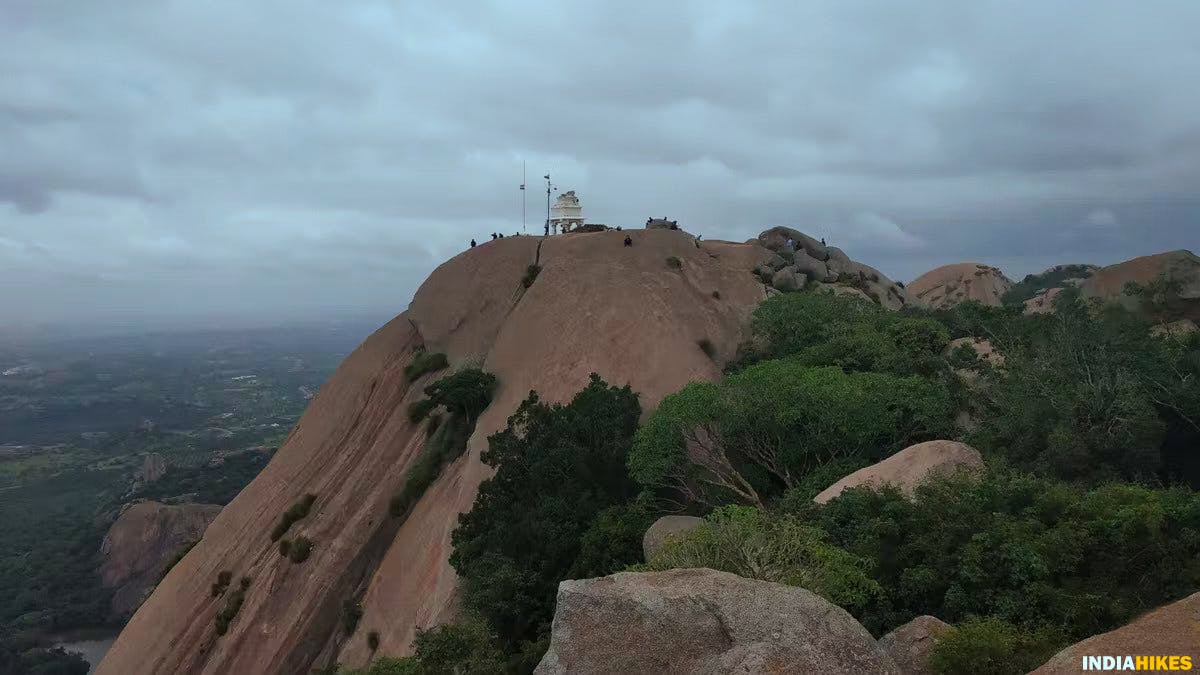 Notice Nandi temple far ahead. Picture by Saurabh Sawant
The trail now transitions into a rocky cave structure and then into a muddy trail right until you reach the top. However, you'll enjoy this section as it is a lot less taxing on your calves and there is a certain buzz to walking through caves, trees and roots.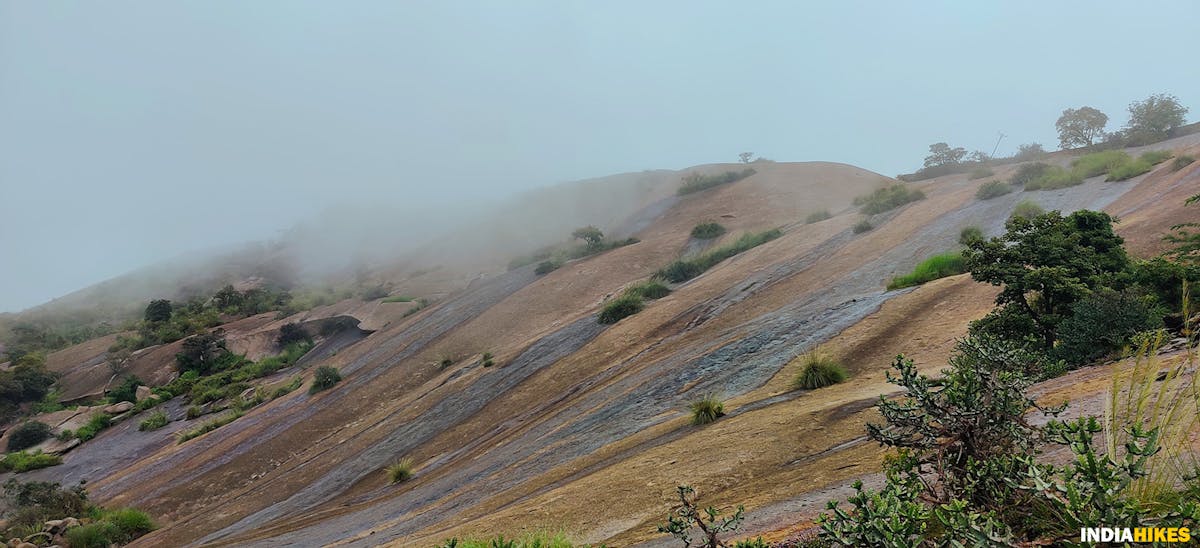 Clouds cover the mountains as you near the summit. Picture by Nehal Shah
This part is a little tricky as the trail is uneven and in case you miss the markings, you might get off the trail. Also, there are parts where you'll have to hop and climb over boulders, which does require a good grip.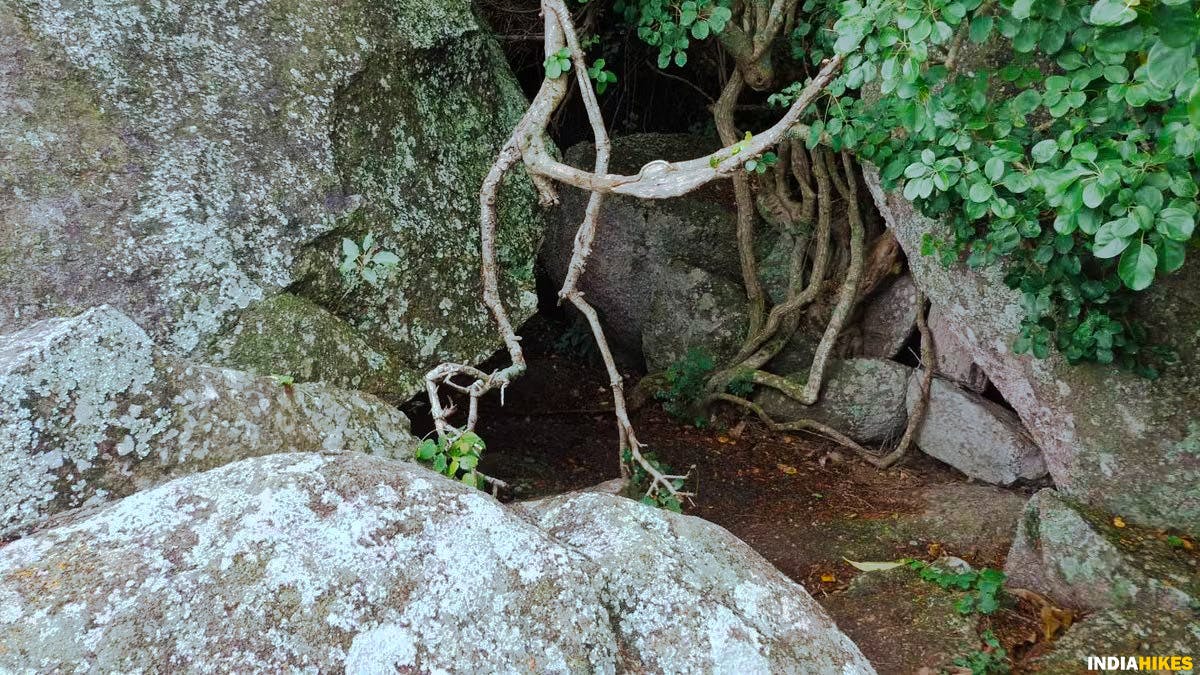 One of the many caves found on the trail. Nobody knows how deep and wide they are. Picture by Suhas Saya
Once you are across the boulder farm (the point where you hop and jump over boulders), you soon reach the top. Now all you have to do is walk towards the Nandi temple and breathe in the wonderful view.
This marks the beginning of the easy section of the trek. It's a relatively straight walk towards the temple. It should take you around 10-15 minutes maximum to reach the temple and the end of the trail.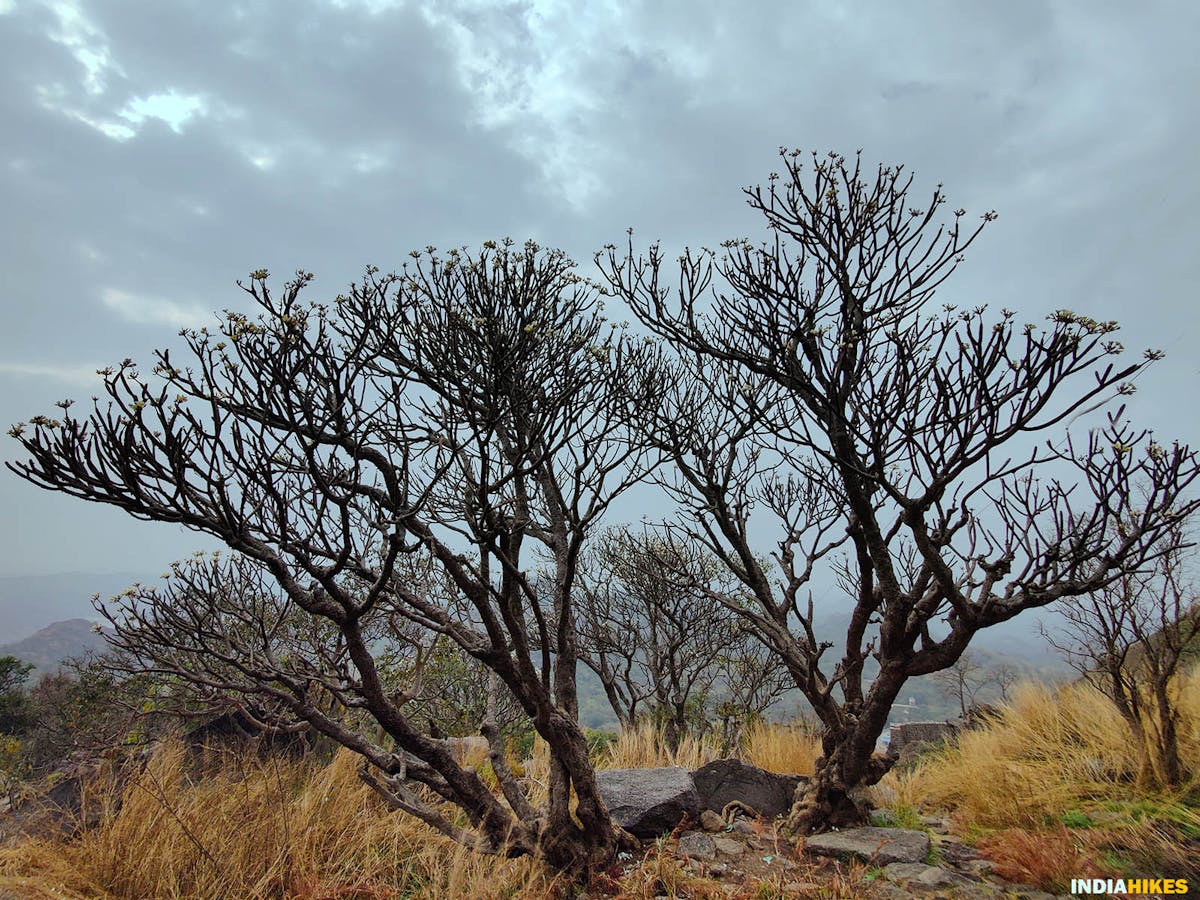 Tree on the trail. Picture by Vindhya R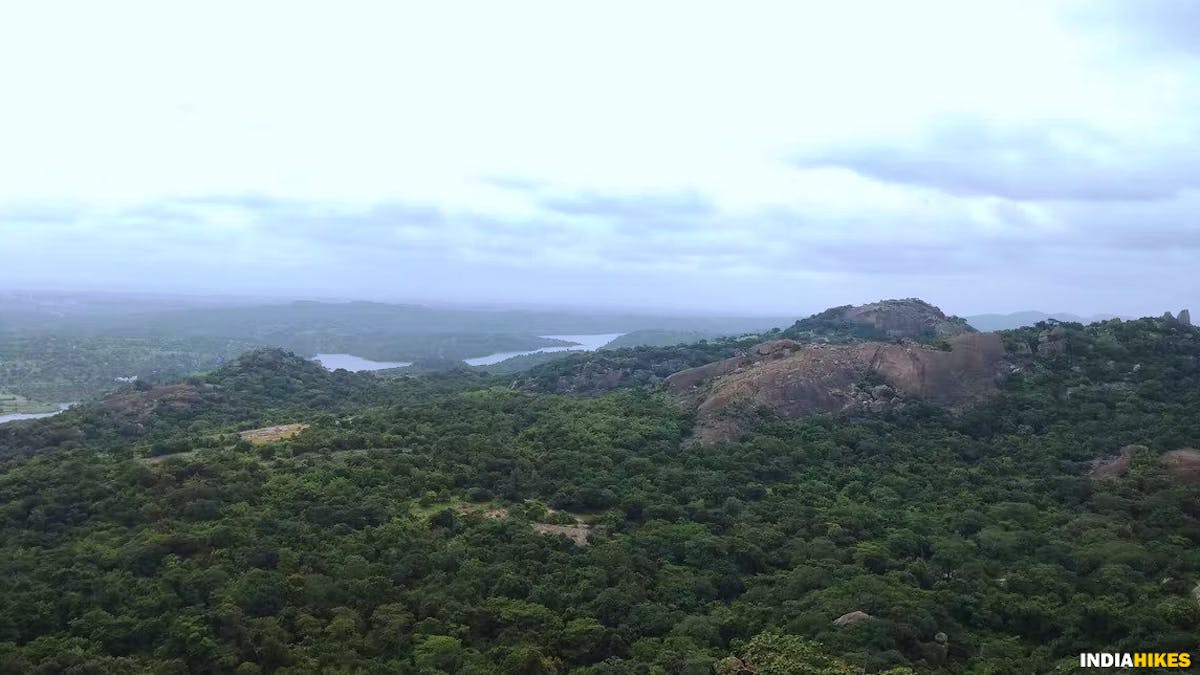 Lush green forest & Machanabele reservoir. Picture by Bhajish
The entire journey from the Sri Lakshmi Narasimhaswamy Temple to the Nandi temple should take around 2 to 3 hours maximum.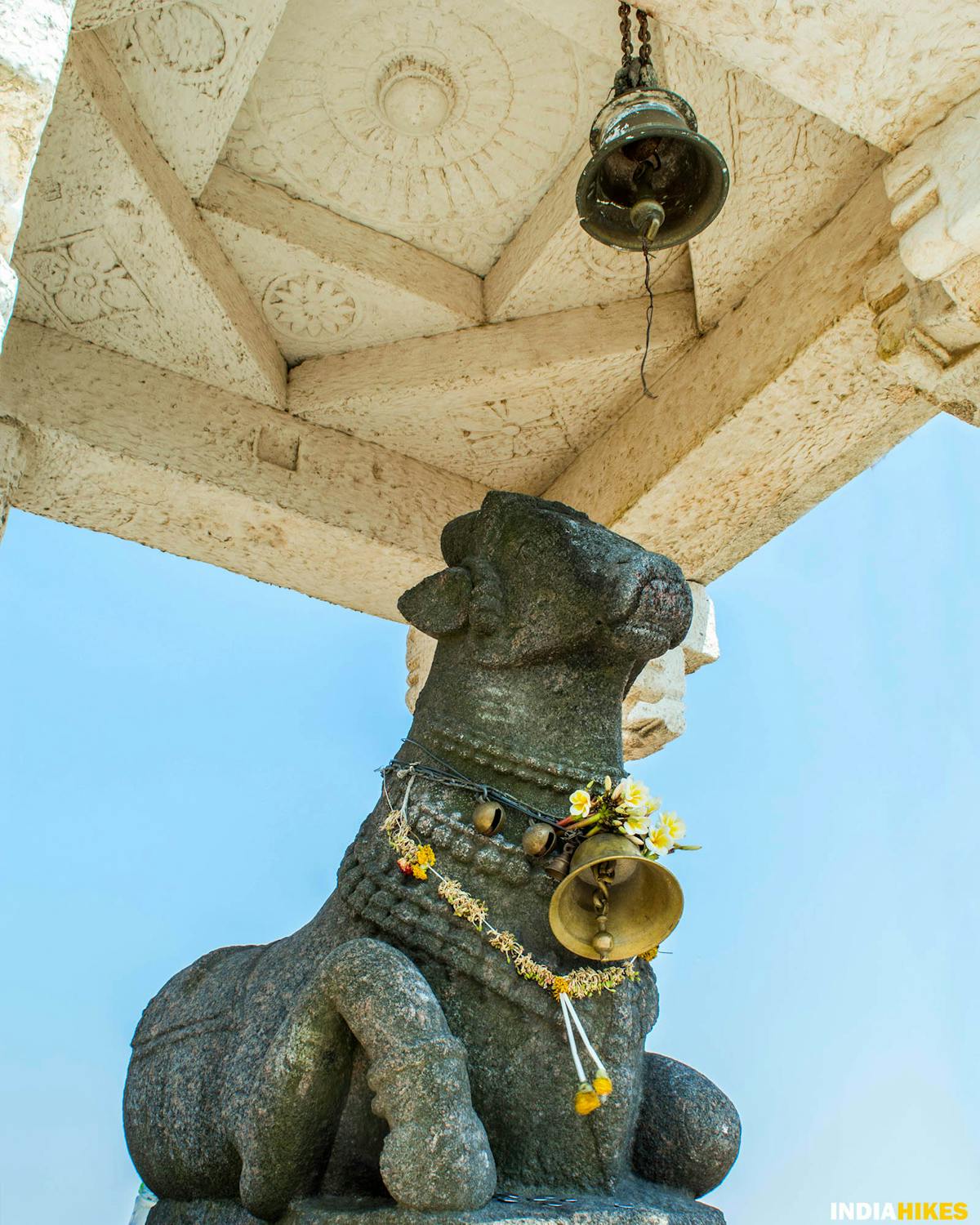 The Nandi statue at the temple appears to be watching over the Savandurga hill. Picture by Bhajish
The journey is extremely rewarding as the view from the top is spectacular. You can see the lush green forests and parts of the Manchanabele and Thippagondanahalli reservoirs and in the horizon glimpses of the villages of Ramanagara and Magadi.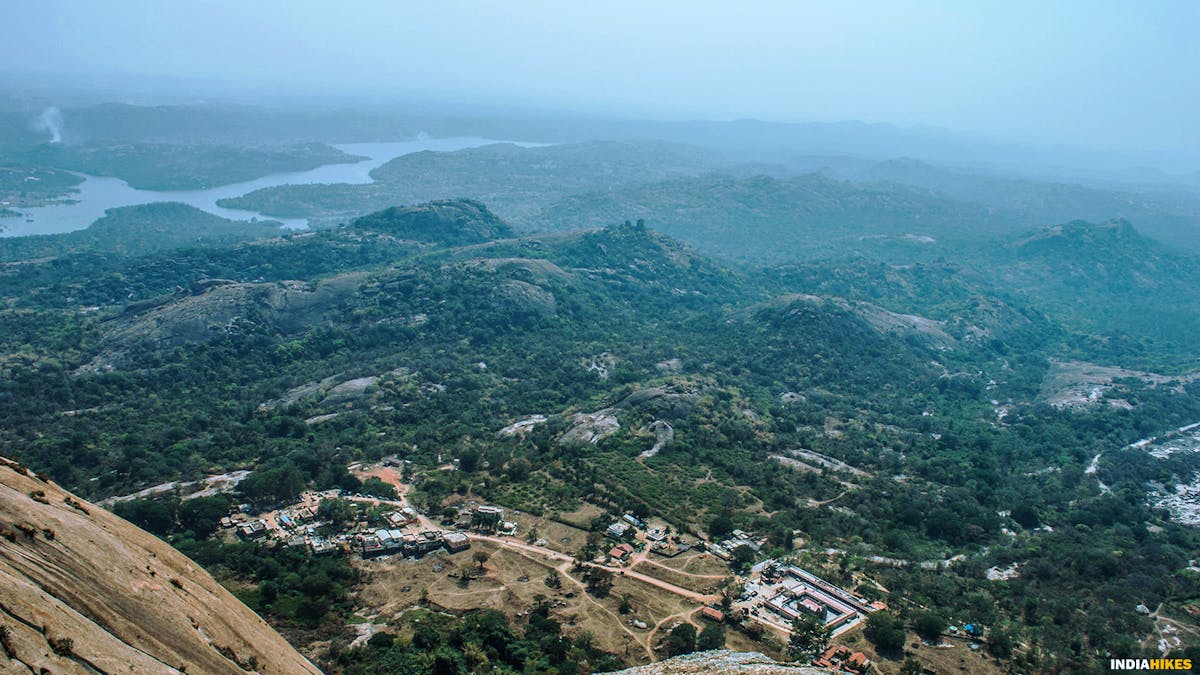 Panoramic view of the Savandurga state forest, reservoirs, towns and villages of Magadi from Savandurga summit. Picture by Bhajish
Make sure to spend at least 30 mins on the top, taking in 360° view of the surrounding hills and reflecting on your journey till the top and do not forget to have your packed lunch or snack!
Try to be quiet and close your eyes for five minutes. Observe the sounds of nature and feel your body getting comfortable and relaxed, preparing itself to descend down the same way you came up. It is a beautiful way to spend time at the summit.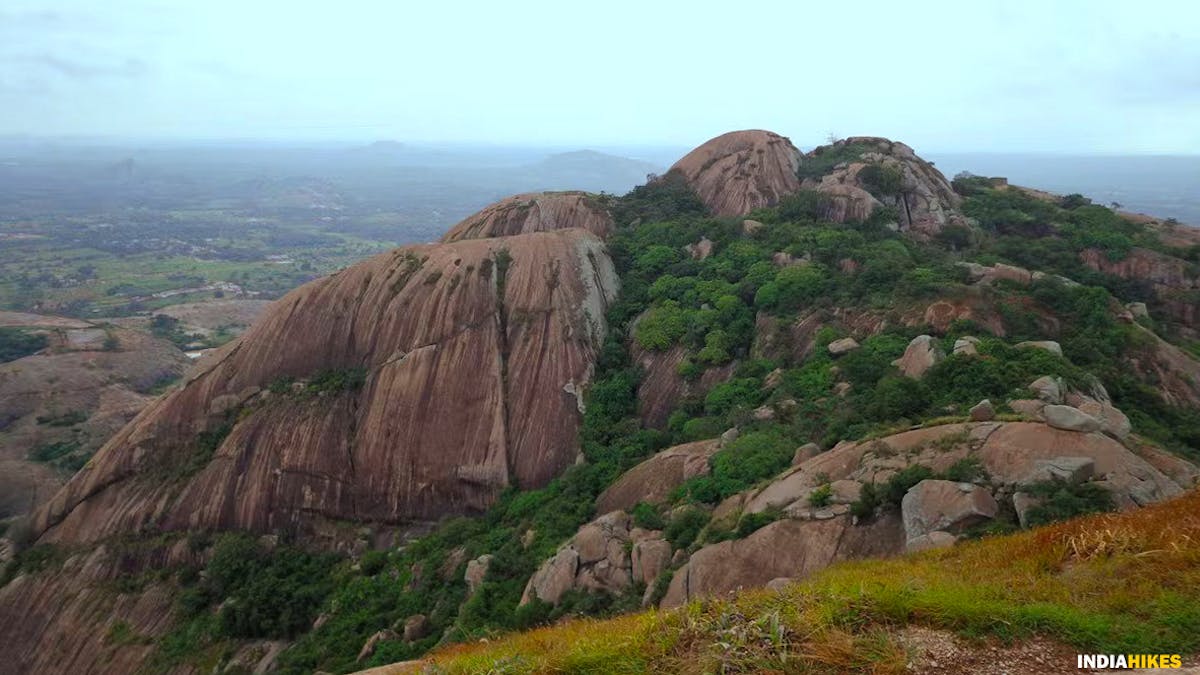 Karigudda as seen from the Savandurga summit. Picture by Suhas Saya
The most challenging aspect of this trek is the descent. Since the hill is steep and is made of a single rock, walking down requires patience and awareness. Slipping and falling while descending can lead to serious injury, therefore it is important for trekkers to walk down slowly and carefully.
Use the indentations in the rock to assist you while going down in case your shoes are slipping.
The journey back down will take you about 2 hours from the summit.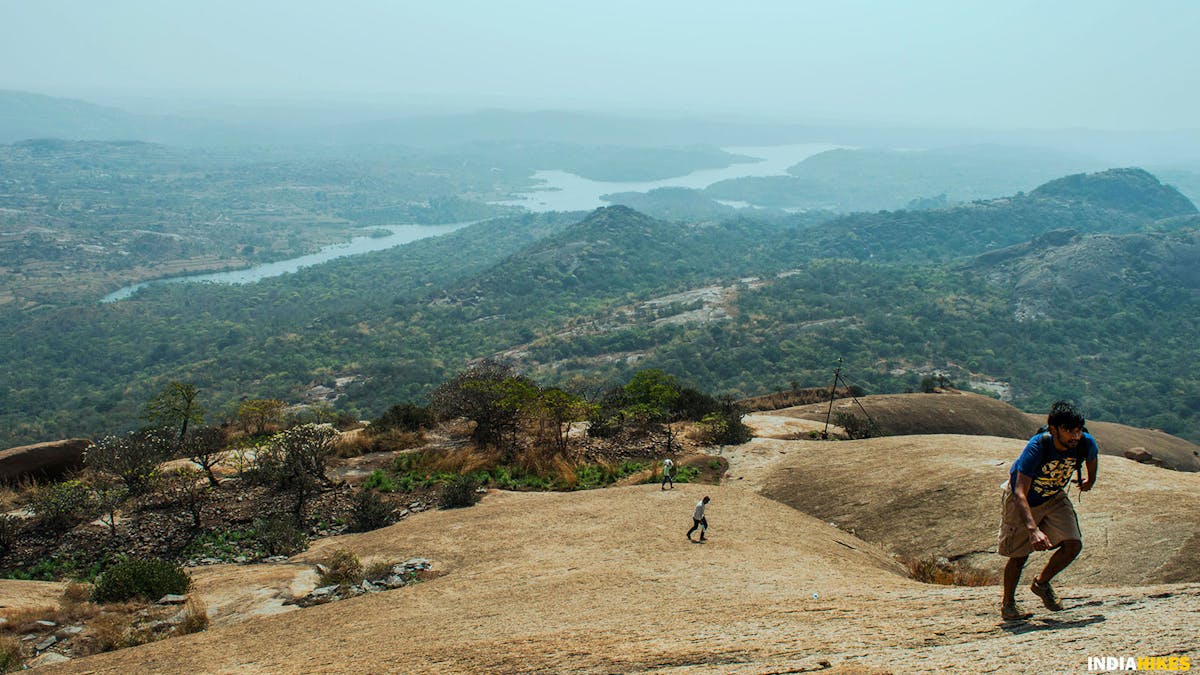 Descend cautiously with the help of rock inscriptions. Picture by Bhajish
It is also important to mix it up while walking downhill to ensure you don't over-stress your muscles. Take shorter strides and longer strides, up on your toes and down on back on your heels, whatever it takes to minimize muscle tension in particular areas. Also we advise you to take short hydration breaks especially during the summer months.
In the monsoons, you have to be extra careful as the water will be running down the slopes, leading to extremely slippery slopes.
Route Map Of Savandurga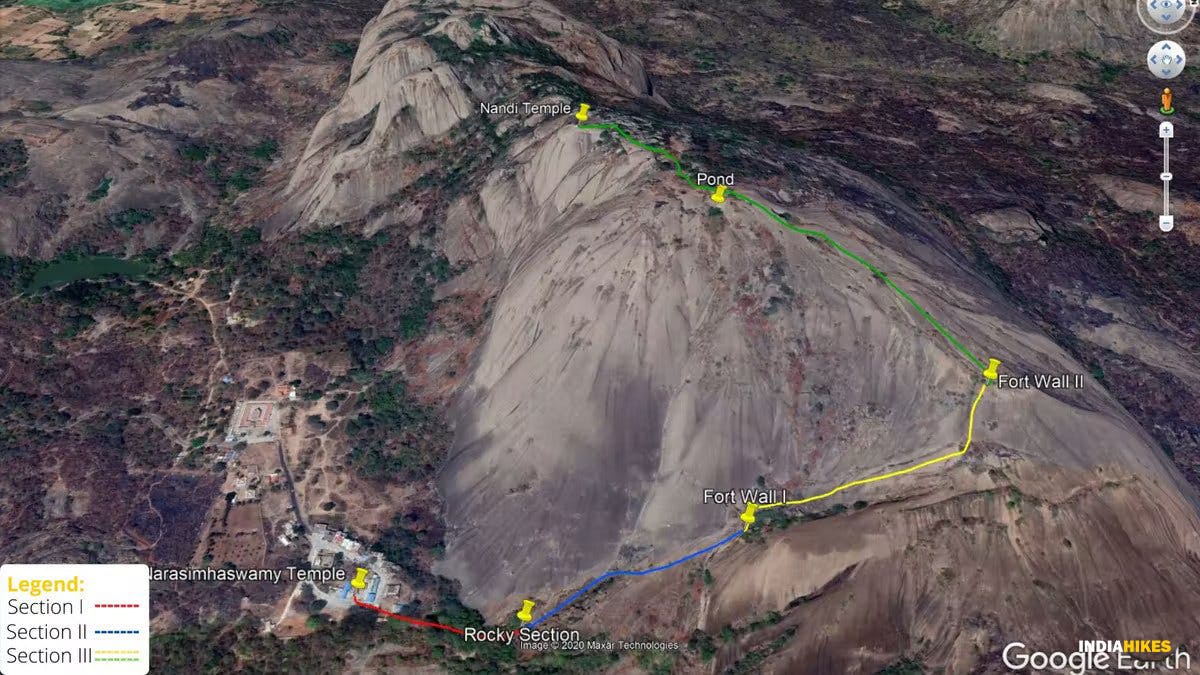 Route Map of Savandurga Trek. Screenshot on Google Earth Pro
In case you want to read more on how to use this gpx file, go through our detailed guide here.

Best Time To Do The Savandurga Trek
The best season or time to do the Savandurga Trek would be between the end of September to February.
During the summer season, the rocks radiate a lot of heat which becomes unbearable on the trail. Slippery rocks in monsoons make it difficult to grip the surface and this becomes dangerous on the steep sections which demand a really good grip. Hence, we do not recommend doing this trek in summer and peak monsoon months.

How To Reach Savandurga
• Reaching Savandurga By Your Vehicle From Bangalore
Savandurga is in the town of Magadi. The journey is a scenic one that takes you through the lush green countryside.
If you are planning on reaching Savandurga using your own vehicle, use this link to help set up navigation in Google Maps.
If you do not have access to Google maps, here is how to reach Savandurga:
There are two routes you can take to reach Savandurga from Bangalore.
1. From Mysore Road, take the right turn at the signal towards Dodda Aladamara Road just after Decathlon on your left and Rajarajeshwari Dental College on your right.
A visit to Dodda Aladamara (Big Banyan Tree) is a must, either before or after your trek. The Banyan Tree here is over 400 years old and it makes you marvel at the gigantic structure of the tree.
In about 16 kilometres, after crossing Manchanbele Bridge, take a right on to Savandurga-Manchalabele Road.
After 4 kilometres, take a right on to Savandurga Road.
This route is 50 kilometres long, but not that scenic compared to the other one.
2. Take the Outer Ring Road from Nayandahalli and turn right on to Magadi Main Road at the T-junction.
Continue on Magadi Main Road for 40 kilometres and take a right turn at the junction on to Magadi-Ramanagara Road. In about 8 kilometres, turn left on to Savandurga Road.
The route is almost 63 kilometres long, but it is worth it! You will not get to see the rural and greenet side of Bangalore if you are taking the first option.
• Reaching Savandurga By Public Transport System
From the Bangalore, the most convenient way to reach Savandurga is as follows: 
1. Majestic Bus Stop ---> Magadi ---> Shared Auto or Bus to Sri Lakshmi Narasimhaswamy Temple
Shared autos are available every 15 minutes and costs Rs.20 per person. It is a reliable and fun way to travel with the locals as many visit the temple everyday.
Buses are available every 30 minutes and costs Rs.15 per person.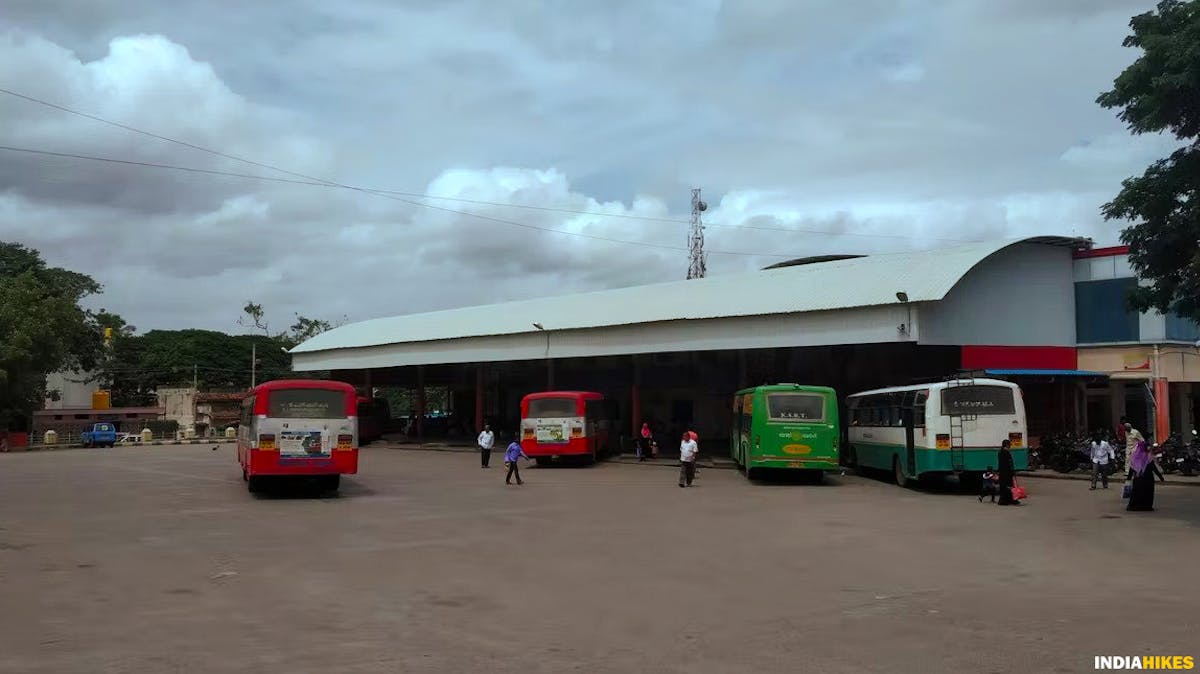 Magadi Bus Station. Picture by Saurabh Sawant
2. Majestic Bus Stop ---> KR Market - Bus no 241M*---> Sri Savandi Veerabhadraswamy Temple 
*Bus No. 241M to Savandurga. Tickets should cost Rs 42 per person. 
BMTC runs two trips daily from KR Market to Savandurga and from Savandurga to KR Market. Here is the timetable:
| | |
| --- | --- |
| K R Market to Savandurga | Savandurga to K R Market |
| First Bus starts at 5:57 AM | First Bus starts from 4:15 AM |
| Last Bus starts at 5:52 PM | Last Bus starts from 3:25 PM |
Source: https://bmtcbus.com/
Difficult Sections On Savandurga
There are no sections on the Savandurga trek that can be classified as difficult as such. However, a trekker must always anticipate and prepare for every eventuality.
Here are a few things you should keep an eye out for:
1. Slippery Slopes (Monsoon Specific):
As the trek is predominantly on granite rock with very little vegetation and soil, in the monsoons, the trail can become extremely slippery. As the water runs off the slopes of the hill, trekkers can easily lose footing, which can lead to serious injury. If trekking in the monsoons, trekkers should be very careful with their choice of footwear and should check weather charts so as to avoid days with anticipated heavy rains.
2. Rocks and Boulders:
There are multiple parts of the trek where trekkers will be required to scale small boulders or walk between large rocks. While this is an extremely enjoyable part of the trek, one needs to be careful. Slipping or falling from a boulder can lead to serious injury and trekkers must exercise caution while navigating these sections.
3. Descent:
The Savandurga trail is known to be an easy to moderate one. This is because of the skill required while descending. Since the trail is primarily on steep granite rock, one can easily lose their grip and slip while descending. The descent is quite challenging and for this very reason we recommend trekkers to descend slowly one step at a time. While descending do enjoy the beautiful view, but also keep an eye on the trail so as to avoid injuries!
How To Get Fit For Savandurga Trek
The Savandurga trek is classified as an Easy-Moderate grade trek. From Sri Savandi Veerabhadra Swamy Temple at 2,736 feet, you will gain approximately 1,286 feet in altitude. Though the altitude gain is not much, the continuous ascent can be quite demanding for people who lead a sedentary lifestyle.
Training yourself for a low-altitude Easy-Moderate grade trek.
Here's a guide to help you get fit for the trek in 4 weeks.
➤ Cardiovascular endurance
In case you're just starting with a fitness routine, start slow and increase your pace everyday in the following manner –
Target completing a brisk walk of 5 km in 45 minutes when you begin.
Gradually increase your pace by walking 5 km, 4 times a week.
As you become more comfortable, introduce jogging in your routine. 
Progressively increase the distance you jog in a workout until you can complete 5 km in 40 mins.
If you prefer cycling over running, target covering 15 km in 60 minutes when you begin.
Progressively increase your pace to cover 18 km in one hour.
➤  Strength training
This is an important area you need to work on. 
Strength training is equally important to trek comfortably. Work on your glutes, calves and knees. Additionally, work on strengthening your core.
You must strengthen your core muscles. For strengthening your core muscles, holding a plank and it's variations (elbow, side planks) are the best exercises to go about doing it.
Also try these exercises for strength-
Target 4 sets of squats with 20 in each set
– Squats (Mix it up with sumo squats)
– Lunges (Forward, backward and lateral lunges)
– Planks
➤ Flexibility
Flexibility determines the amount of movement your bones can make in any direction around joints such as shoulders, elbows, hips and knees. 
It is an aspect that will help you trek comfortably. Carrying a backpack, however light, can become a strain. Stretching your hamstrings, quadriceps, hip flexors and lower back muscles regularly, promotes relaxation in the tissues reducing the strain on your back.
If you can't go out and jog because of time and space constraints, here's a video you can use to work out indoors.
Things To Take On The Savandurga Trek
Basic First Aid kit*
Identity Card
Cap/ Scarf/ Bandana & Sunglasses
Water (Minimum two litres)
Lemon and salt OR Electrolyte Powder/Drink (Electral/Gatorade/Glucon D, etc.)
High-calorie snacks (Nuts & dry fruits, home-baked cake, etc.)
Multi-Tool/ Swiss Army Knife
Safety Pins, Rubber bands & Whistle (Useful in emergencies.)
Quick Dry T-shirts are preferable over cotton tees.
Sunscreen (SPF 50+)
Headlamp / Torch
Optional: Camera.
*First aid kitFirst aid kit:
Scissors
Band aids (Regular & Waterproof)
Analgesic spray (Relispray, Volini, etc.)
Antiseptic Liquid (Savlon, Dettol etc.)
Antiseptic powder (Povidone-Iodine based powders like Cipladine, Savlon, etc.)
Cotton roll & Bandage
Crepe Bandage
1 inch wide medical tape (paper or cloth.)
Micropore tape
Tablet for motion sickness (Avomine), Acidity (Gelusil, Digene, etc.).
Mild pain relief tablet (Crocin)
| Note: Always consult a doctor before taking any medicine.
Frequently Asked Questions 
❖ Can I do this trek if I have never been on a trek before?
Yes and No. A person who follows an active lifestyle, can consider Savandurga for their first trek. For people who lead a relatively sedentary lifestyle, we recommend a slightly less strenous trek like Brahmagiri or Skandagiri.
❖ Can I trek Savandurga at night?
No. You cannot trek to Savandurga at night.
However, if you want to experience one of the most spectacular sunrises on a trek filled with colours, we recommend you reach the base by 5 AM and start your trek. This way, you will see the sun rising on the East as you traverse from East to West.
| Tip: Carry a headlamp or a torch if you are trekking at 5 AM as there will not be enough light.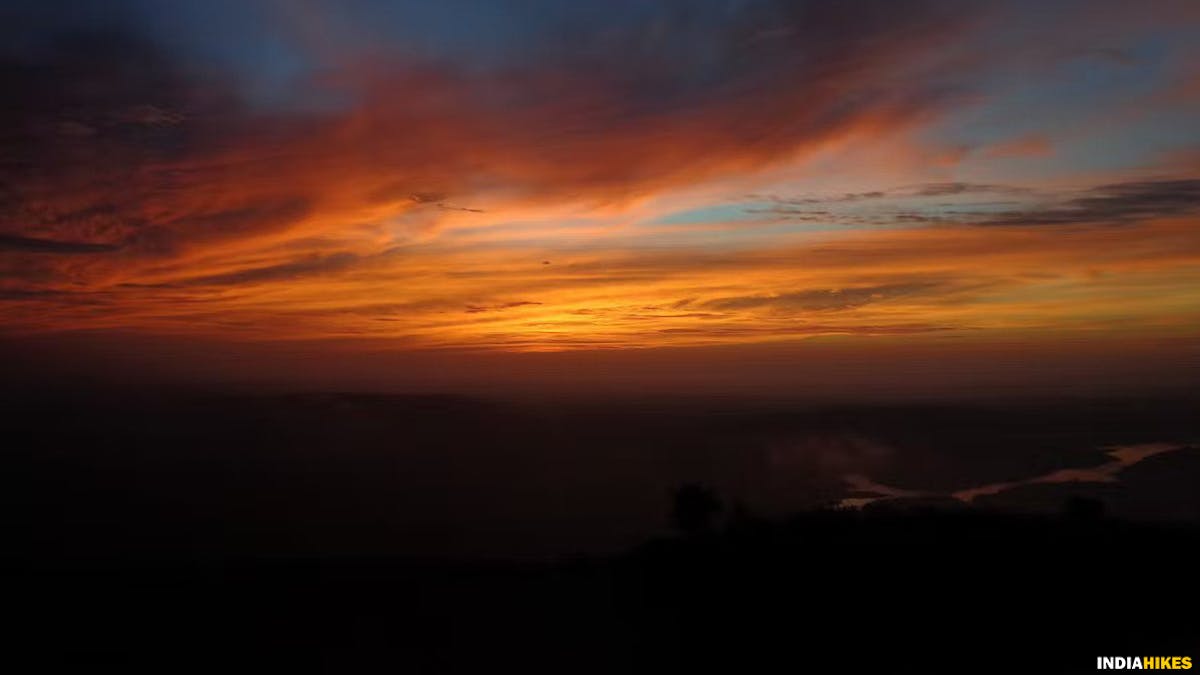 One of the most beautiful sunrises we have witnessed is on the Savandurga trek. Picture by Suhas Saya
❖ Do I need to obtain permission for trekking to Savandurga?
Yes. There was a time in between when Karnataka Ecotourism had bought a system requiring permission and it was quickly removed due to some conflicts with locals. Recently from April 2023, this rule is put into mandate again. You need to take permission currently to trek. Here is the link to register and obtain permission.
❖ Where can I get food and water during the trek?
There are no restaurants at the base of the trek or in the nearby village, except for stalls which sell snacks. You have to pack your food from Bangalore if you plan to have a proper meal during the trek.
There are a few water tanks near the base and water can be filled at the snack stalls. The water available here is non-purified groundwater. We recommend carrying a minimum of 2 litres of water from your home if you are allergic to groundwater.
❖ Whom do I contact in case of an emergency?
• Hospital: The closest hospital is Sri Dharmasthala Manjunatha Hospital which is 13 kms away in Magadi. You can reach them on 080 27746162 for assistance.
• Police station: The police station closest to Savandurga is the Magadi Police Station (Contact: 080-27745224, 9480802852).
• ERSS: For any kind of emergency help, you can contact the Pan-India Emergency Response Support System (ERSS) number- 112. 
❖ What about the mobile network and connectivity on the Savandurga trek?
Mobile Network
You will get mobile network for almost all major operators like Airtel, Vodafone, Jio etc., only till the base. On the trail, you will get the network only in pockets.
Nearest ATM

Savandurga is a small pilgrimage village and you'll be hard pressed to find an ATM nearby.

In fact, Magadi is the nearest city where you'll find operational ATMs.

So ensure you carry enough cash with you before starting for the trek.
❖ Do I need a guide to trek Savandurga?
The trail is well marked and very easy to follow. We do not recommend a guide for this trek.
❖ Where can I park my vehicle at Savandurga?
There is plenty of space to park your vehicles around the temple and at the base of the trek.
Nearby Places to visit after Savandurga Trek
➤Dodda Alada Mara - A 400-year-old Banyan Tree that holds a lot of importance among locals and in the history books.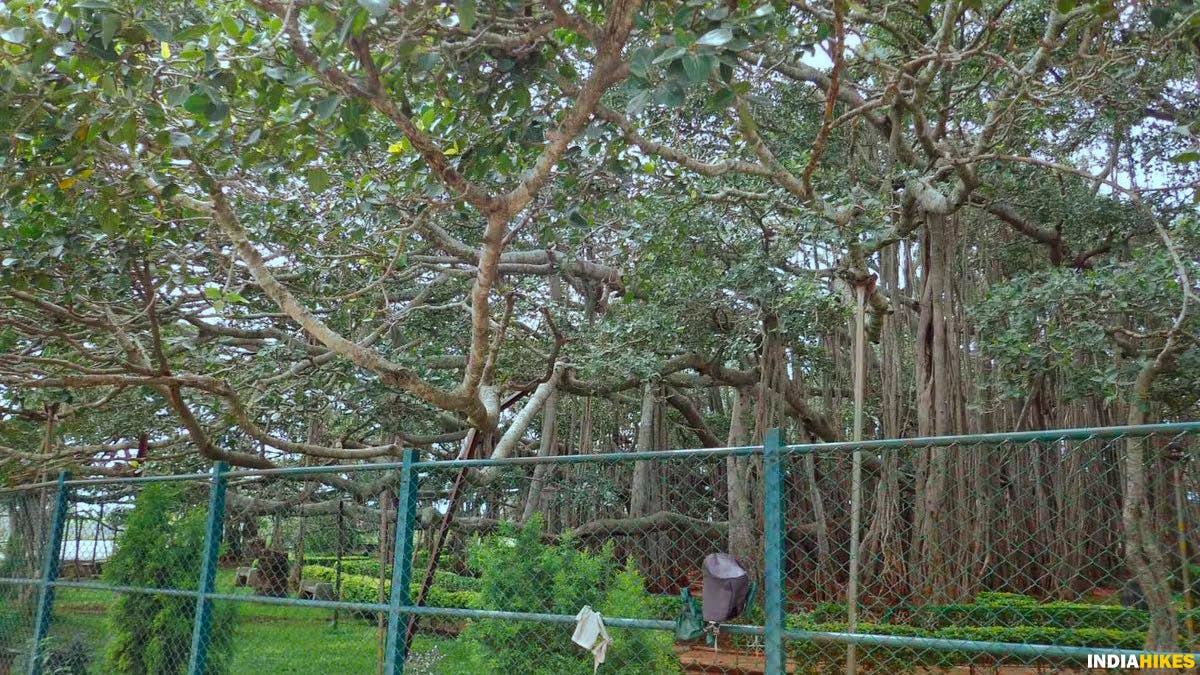 Dodda Alada Mara from the outside. Picture by Suhas Saya
➤ Manchanabele Dam - Manchanabele dam supplies water to the entire town of Magadi. It makes for a good visit after your trek to see the backwaters of Arkavathi river up close.
➤ Thippagondanahalli Reservoir - Also known as Chamarajasagar is located at the confluence of rivers Arkavathi and Kumudavathi.
➤ Trek Contribtion
Trek Documented by: Gautam Singh, Nayana Jambhe, Saurabh Sawant, and Sneha Yadav
Pictures Contributed By: Saurabh Sawant, Suhas Saya, Bhajish,Vindhya R, Rajendra kumar, Nehal Shah
Photos Edited by Sneha.G.Iyer
GPX File Opt in
We go to great lengths to ensure you have a safe trek. So here's a GPX file of the trail to help you navigate without getting lost.