Can You Help Us With Photographs Of This Trek?
We are looking to enrich this documentation with more photos. Pictures go a long way in explaining the trail, more than words ever can. If you have done this trek, can you share your photos with us? We will include them on this page, with due credit to you. Click here to contribute.
The Complete Guide to Siddhgad-Bhimashankar Trek
In summer you can also halt at the machan on the way and if lucky get to see wildlife. You also come across a gigantic waterfall near Kondwal village. Apart from leopards and tigers Bhimashankar forest sanctuary is also famous for Maharashtra's state animal, the Indian giant squirrel or 'Shekru'. The beauty of this range is mesmerizing.
RaBorwadi – 30 mins from Borwadi village is Kotwal Smarak, which is dedicated to two freedom fighters Bhai Kotwal & Hiraji Patil who were shot dead at this place by a Britisher on 2nd Jan 1943.
Siddhgad – Nothing much has been mentioned about Shivaji Maharaj and Siddhgad. But this fort was in Swarajya till the year 1690. The cave on the fort looks 1000 years old. It was taken by the British in 1818. Siddhgad was at a difficult location and cannons fired by Britishers could not reach Siddhgad hence cannons were brought up to Damdamia plateau slightly higher than Siddhgad via Pune – Bhimashankar route. Cannon shells were then fired to destroy Siddhgad in the year 1819. The villagers mention that these cannons are still there in the dense forests of Damdamia.
Bhimashankar – One of the 12 Jyotirlingas is situated in the north of Pune, by the banks of the river Bhima. Bhimashankar is a paradise destination for pilgrims, trekkers, nature lovers, jungle lovers and bird spectators due to the Wildlife sanctuary.
➤ Short Itinerary
Siddhgad – Bhimashankar is a range trek, they are linked and offer beautiful landscapes throughout. A truly exhilarating trek, marked by dense forests, amazing waterfalls, thick fog curtained ways and gurgling streams.
The lush green landscapes especially in the monsoons make this long and arduous trek very soothing. You can halt at Kondwal, a sleepy village, and resume the hike the next day or directly go to Bhimashankar.
➤ Trail Information
The Siddhgad-Bhimashankar trail is a 2-day exhilarating trek, marked by dense forests, amazing waterfalls, thick fog curtained ways and gurgling streams.
Day 1: Borwadi (1000 ft) – Siddhgad wadi (2172 ft) – Kondwal village (3165 ft)
It is going to be a long day today so you need to start early. Reach Borwadi village. You need to cross the village and start walking in the direction of Siddhgad. Facing Siddhgad you will see the trail moves towards the right from the village, crossing the fields.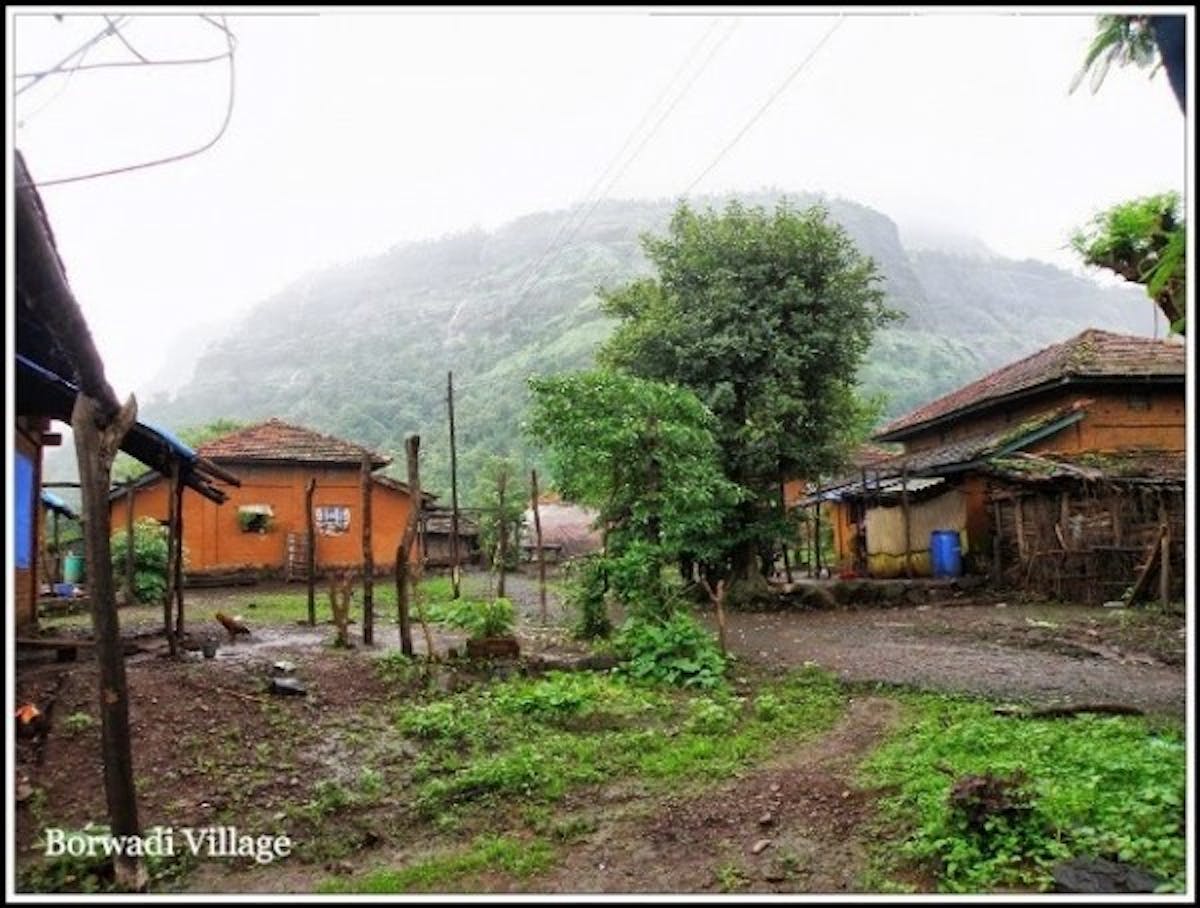 Image from Indiahikes Archive
Continue walking keeping the fields to the right. After 5 minutes you will notice the overhead wires, and electric wire poles. Pass through the wires and continue on the trail that climbs up the ridge gradually. Another 5 minutes into the hike and you will notice a small stream to your right. You will see the trail gradually climbs up and passes through dense forest. In summer you will see trees laden with mangoes that belong to the forest department and hence you can enjoy mangoes all through the way. After 20 – 25 minutes you will see small rocks along the muddy trail. You are now nearing the rock wall of Siddhgad. It takes around 45 – 50 minutes to reach this place. You will also see several waterfalls on the rock wall flowing from atop on a rainy day.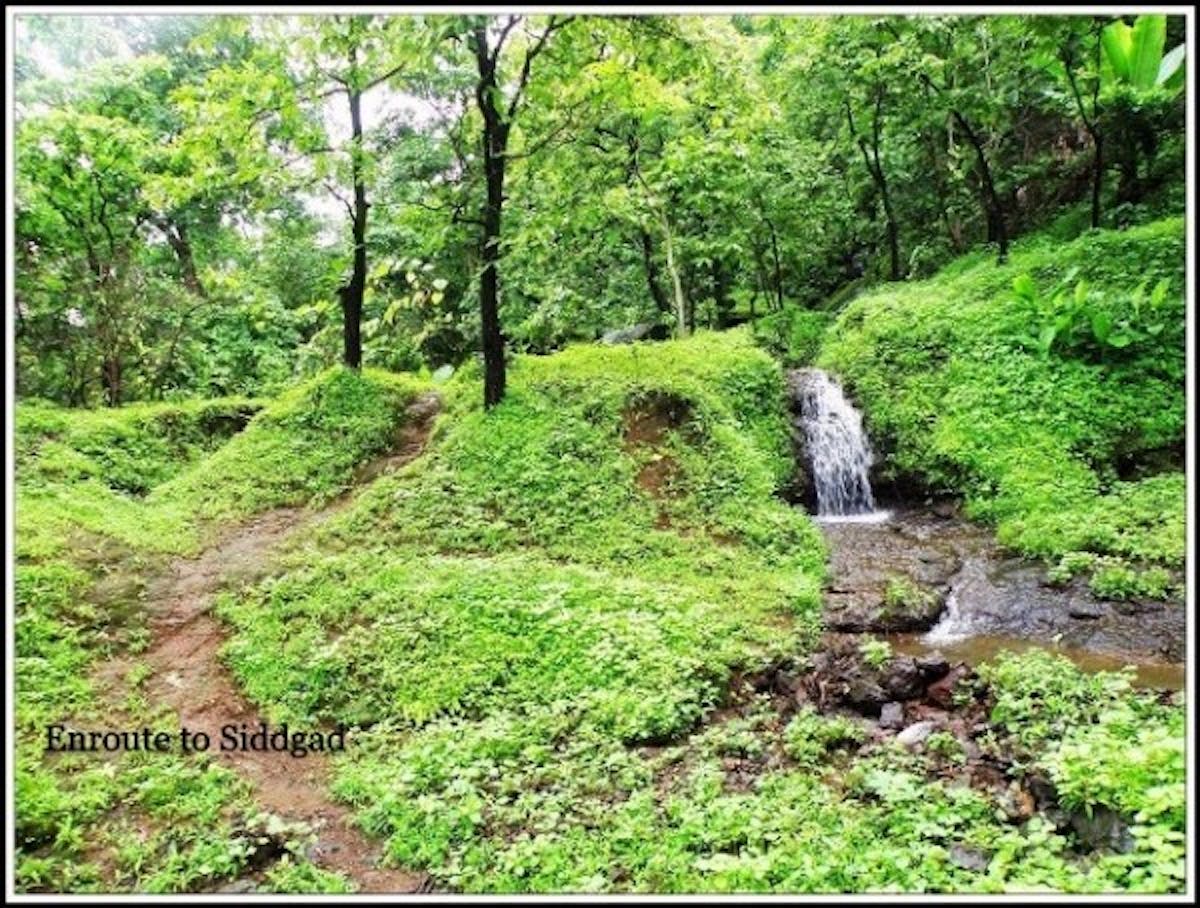 Image from Indiahikes Archive
On a clear day you can see Jamburde dam behind and Padar Gad and Bhimashankar towards your right. Keeping the Siddhgad wall towards your right continue moving ahead parallel to the wall. Within 5 -10 minutes you come across a 5-10 ft rock patch. You need to be careful as the rock can be slippery in monsoons.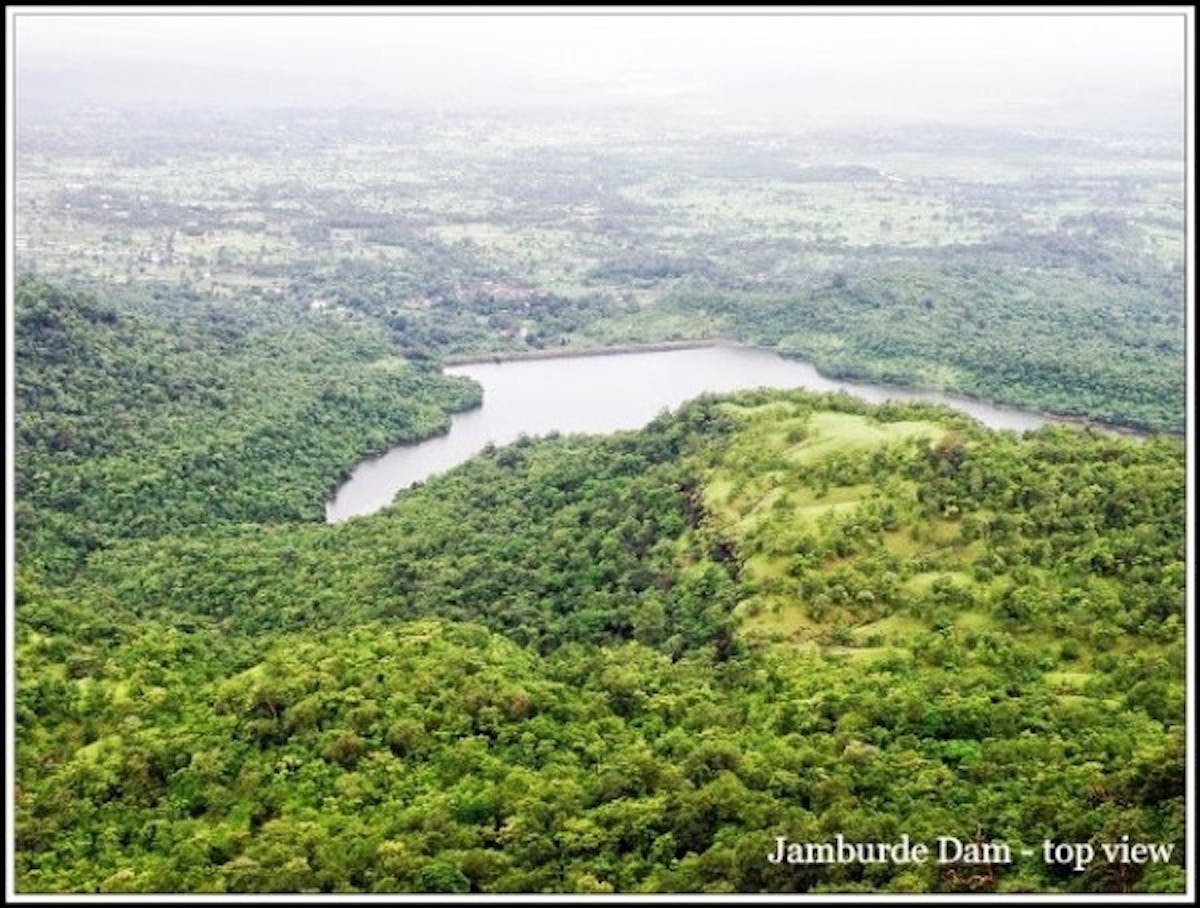 Image from Indiahikes Archive
You will see the trail now climbs up parallel to the Siddhgad wall. Move ahead keeping the wall towards your right. After a few minutes you will see stairs cut in the rock to make the climb easier. It takes an hour to reach this place from Borwadi.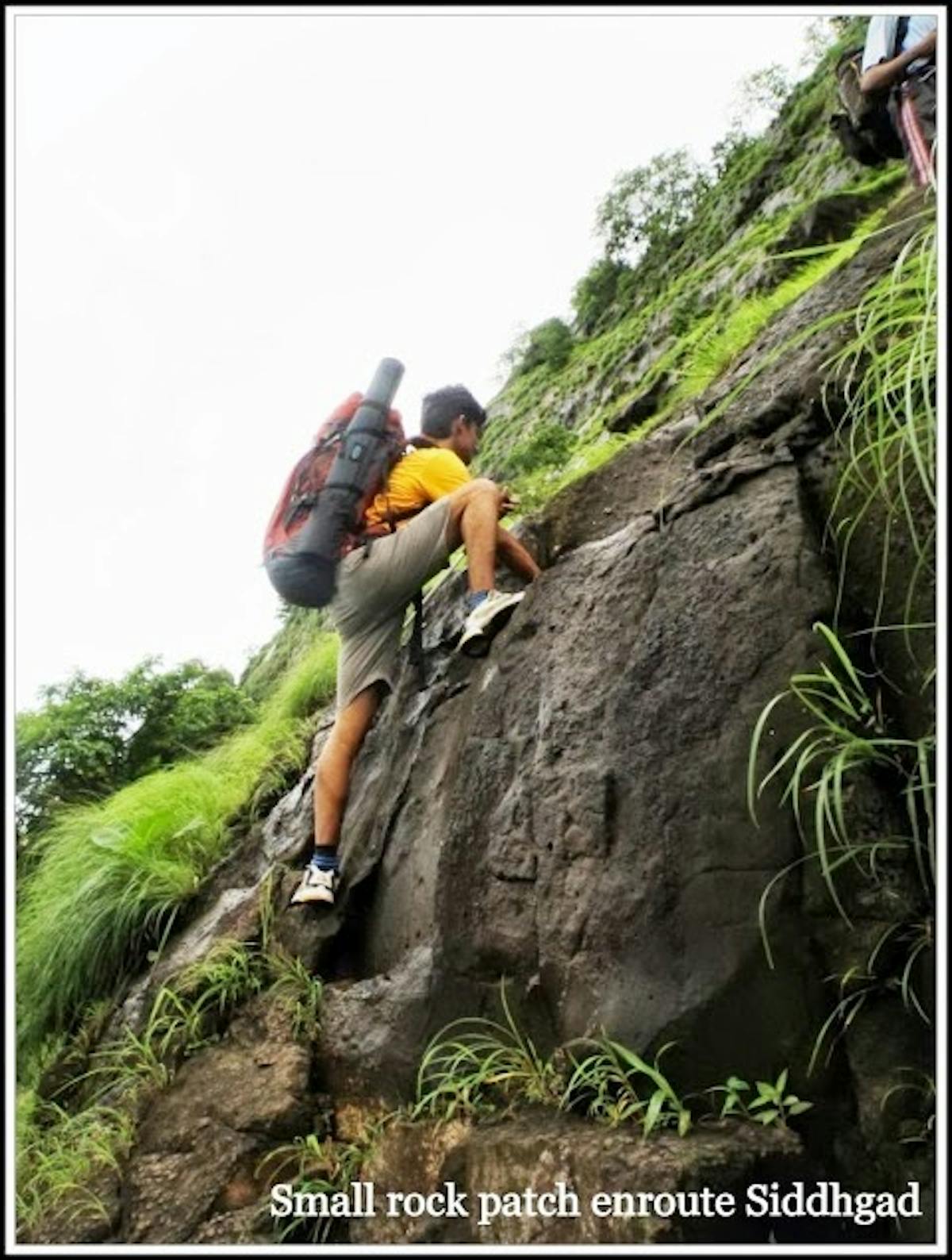 Move ahead keeping Siddhgad to your right. You will come across a plateau with green fields.  Continue ahead on the plateau keeping Siddhgad to your right and valley towards your left. You can also see Gorakhgad fort at a distance towards your left. In around 15 – 20 minutes you will reach Siddhgad wadi. You also have a well just before the wadi a little off route to the left. You can fill in the water here. This is the only source of water in the summer. It takes around 1 – 1.5 hours to reach Siddhgad wadi from Borwadi village. Siddhgad wadi is a small village with a small school, some houses and a temple.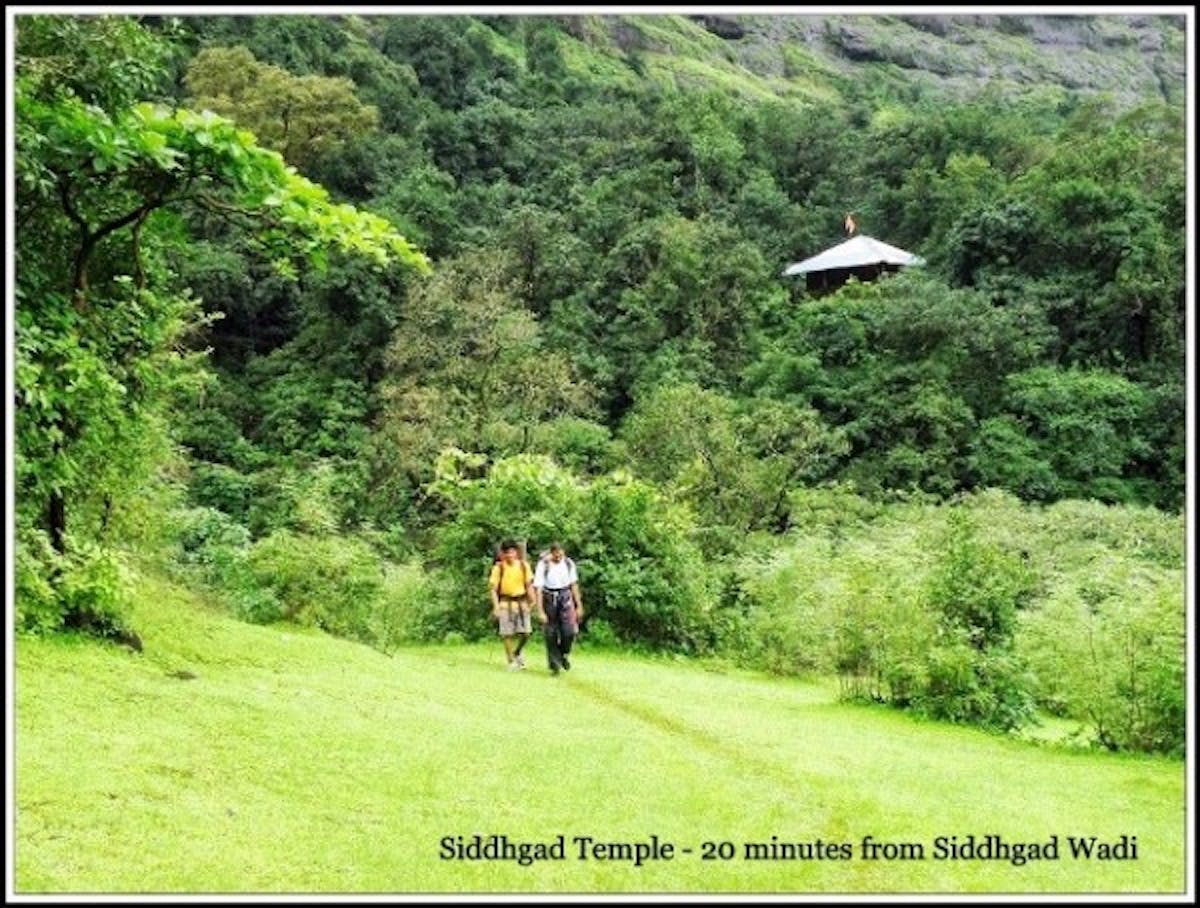 Image from Indiahikes Archive
Continue ahead from Siddhgad wadi keeping the fort towards your right and within 15 – 20 minutes you will reach a small ancient Devi temple located in dense trees. The red flag of the temple can be seen from far. Proceed ahead straight and you will come across the fort gates.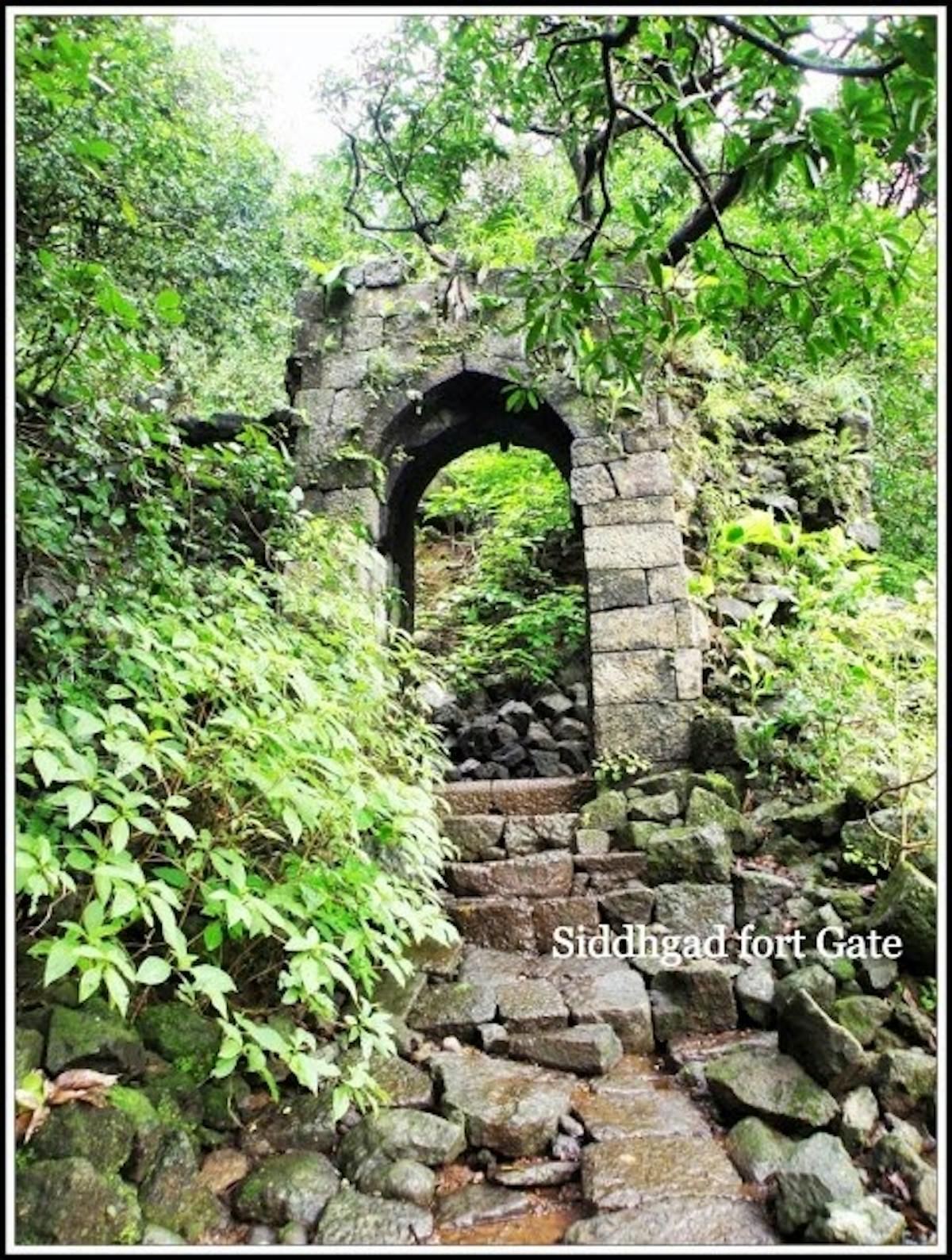 Image from Indiahikes Archive
You come across a huge plateau just after the fort gate, which has some ancient stone structures and carvings. You will also see several waterfalls on the wall emerging from the plateau right in front. You will also see a pinnacle towards your right.
Keeping Siddhachi Lingi (Siddhgad pinnacle) to your right go round to the other side. Within a distance of 5 -10 minutes, you will come across several streams on the way. Within 20 – 25 minutes you reach a gully climbing up on the right. The trail that goes straight ahead goes to Sakhar Machi in the northeast. To go to Bhimashankar you need to take a U-turn and climb upwards in the gully to your right. It takes approximately 45 minutes to an hour to reach this point from Siddhgad wadi.
Continue to climb up the gully. The gully passes through a thick forest. Another 20 – 25 minutes of ascent and you can come across a clearing from where you get a clear view of the villages below. The trail further passes through bushes 4-5 feet in height. It takes around 45 minutes to reach the top of the col. You also come across a beautiful waterfall at the top of the col.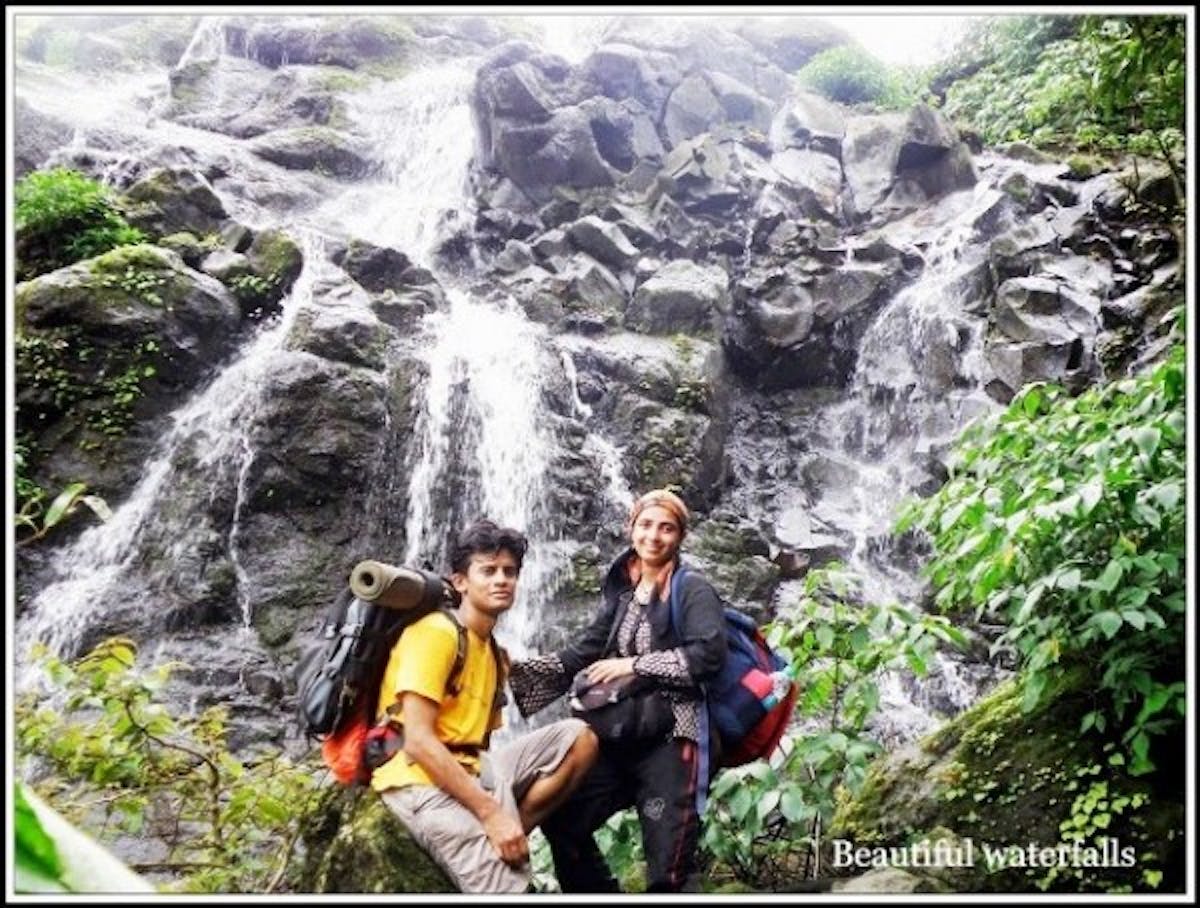 Image from Indiahikes Archive
You can also see Jamburde dam, Narvili village from the top. To the right of the col stands the Damdamia mountain. Continue walking through the dense forest and streams for 30 minutes and you come across the trail coming from Ahupe. The trail after the col is mainly uniform with no ups and downs. The forest between Ahupe and Bhimashankar is an evergreen forest and called as bhatti-che-raan.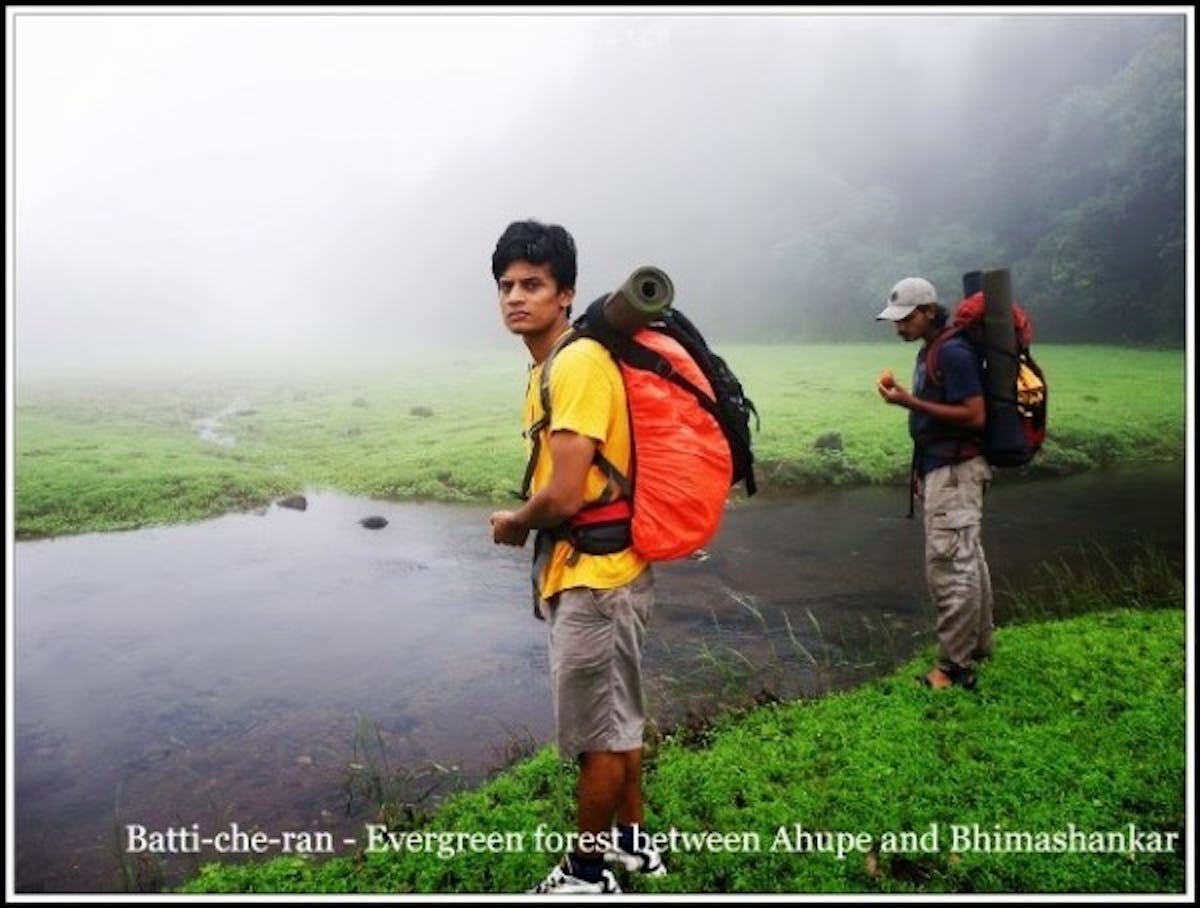 Image from Indiahikes Archive
It is very easy to lose your way here, so you need to be very sure of the directions and the route map. Left on the trail will take you to Ahupe and right to Bhimashankar. Take right and continue on the trail for a few minutes till you come across a stream. Cross the stream. Continue on the trail for 20 – 30 minutes till you come across a man-made small lake with a watchtower made by the forest department (Bhimashankar Sanctuary). Ideally, the watchtower can be seen from a distance but in monsoon, it is hardly visible in the fog. The trail from here gets broader as you see the cart route right up to the Kondwal village. It takes around 1.5 – 2 hours to reach Kondwal village from here. You can stay in the school/temple here or proceed to Bhimashankar which is another 3 hour of hike from here.
Day 2: Kondwal village (3165 ft) – Bhimashankar (3297 ft) 
You need to start early today as it is going to be a long day today as well. Fill in your water bottles as you may not find potable water ahead. Most of the water is muddy during the monsoons. After a few minutes, you come across a river bridge. You can hear the gushing sound of the river. The water mostly flows over the bridge during the monsoons. After 15 – 20 minutes you come across a beautiful waterfall. The waterfall is gigantic and cannot be captured in a single frame. A very scenic waterfall that can be just captured in the memories. The road now enters into the dense forest. You can see the road gradually climbs up and down. Continue on the tar road. You will see the road gently wind towards the right and after a few minutes, it winds towards the left.  There is also a trail that passes through the sanctuary if one wishes to avoid the tar road. However, it is advisable to follow the tar road as the trail is less frequented and one can easily get lost in the profuse wilderness.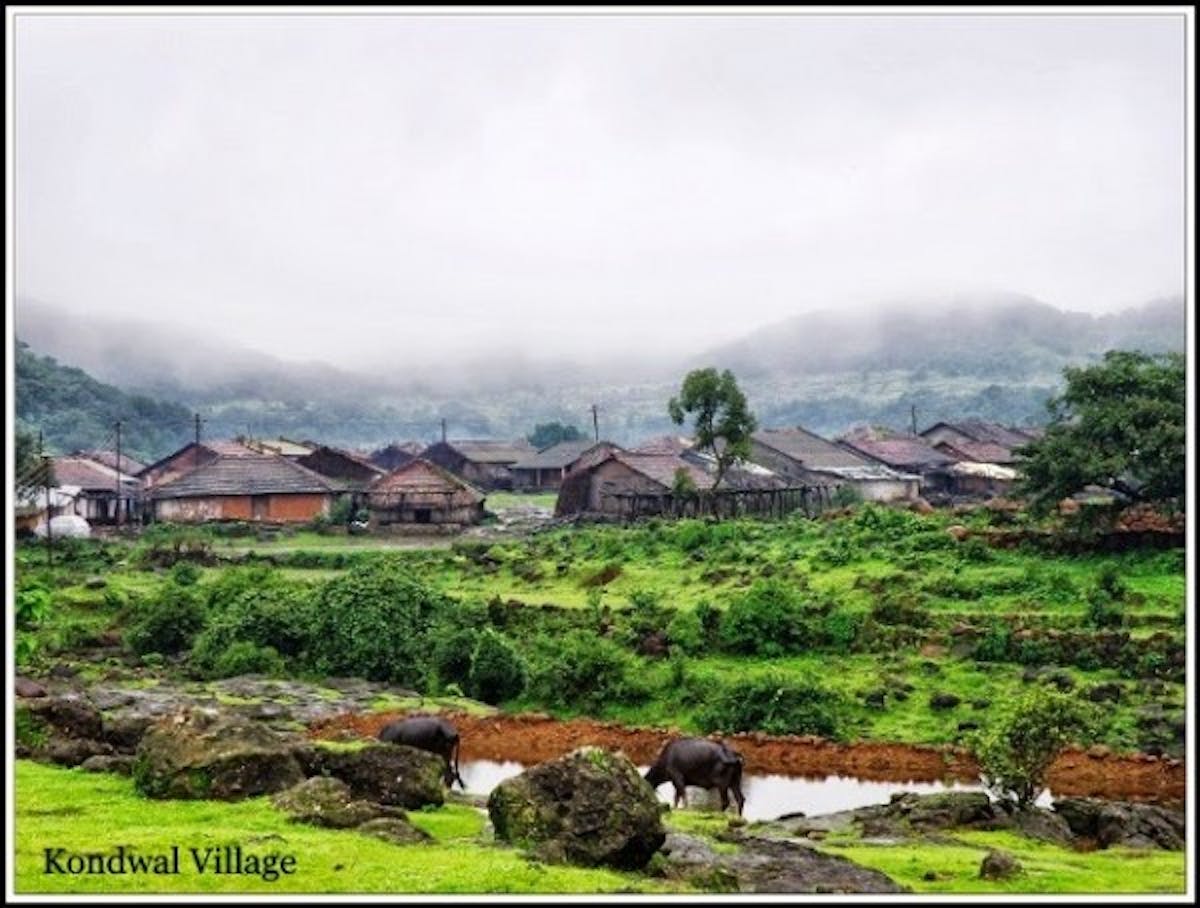 Image from Indiahikes Archive
After 30 – 45 minutes you come across an opening on the left side of the road. Continue on the tar road till you come across fields on left side of the road. You also come across a river flowing on the right side of the road.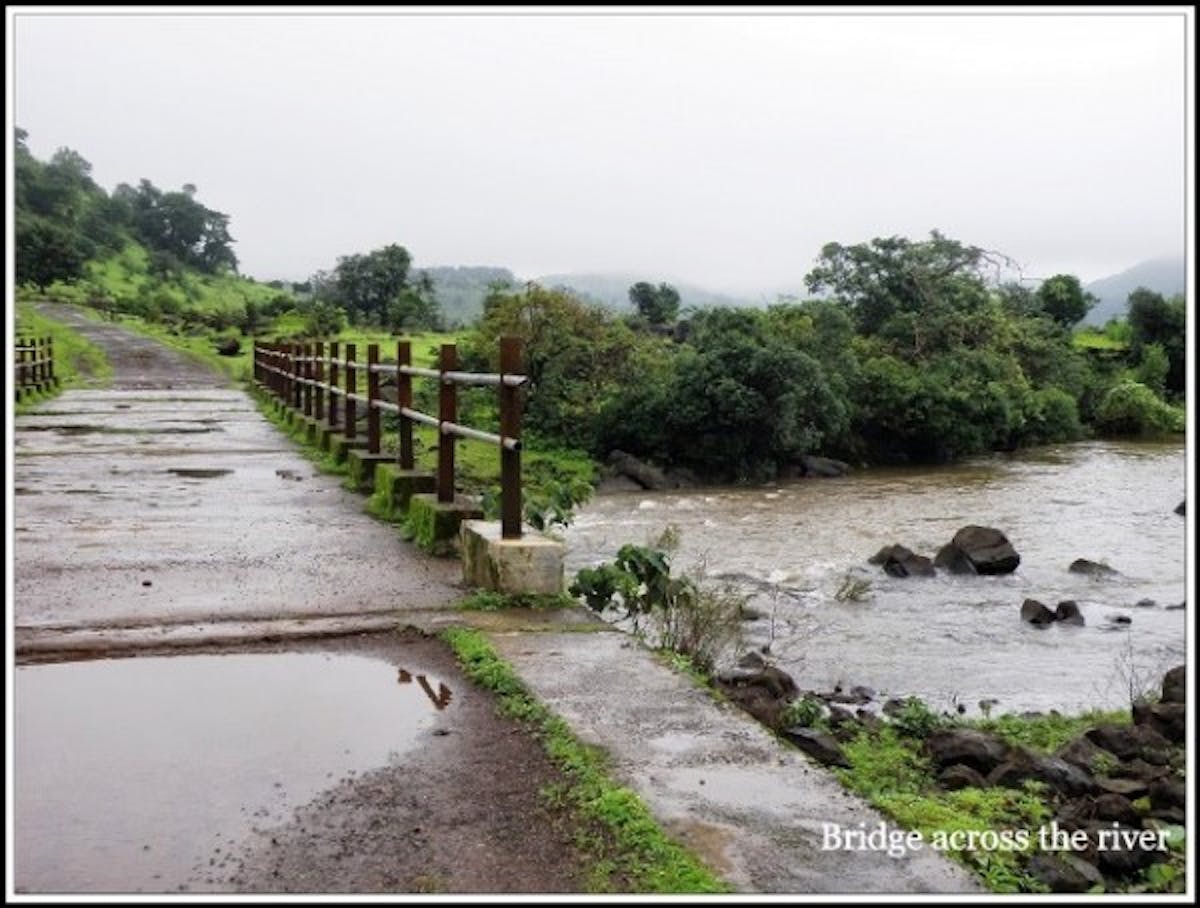 Image from Indiahikes Archive
The road again passes through dense forests. Another 30 minutes and you reach Bhimashankar phata. This is the most boring part of the trek, the walk on the tar road. You will see a perpendicular road which is the Manchar – Bhimashankar road. Towards the left is Nigdale village and towards the right is Bhimashankar. It takes 1.5 – 2 hours to reach this point from Kondwal village. Nigdale village is just 3 km from Bhimashankar. Take the right from here. The road gently climbs up and has several windings on the way. If lucky you can get a ride up to Bhimashankar as several ST buses and taxis ply on this route. The road goes uphill and you need to be very careful on this road, because of the speeding vehicles and very poor visibility due to the fog. After around 30 – 45 minutes you come across Bhimashankar Bus Station on the right.
A little ahead on the right you see a plateau and the pathway going down the hill takes you to Khandas. Continue straight to reach the Bhimashankar temple. You have several small hotels/shops where you can have quick lunch/snacks/tea. It takes around 2.5 – 3 hours to reach Bhimashankar from Kondwal village. The trail is mainly through tar roads but passes through dense forest, scenic waterfall and streams flowing by the roadside. You rarely find any vehicle plying between Bhimashankar Phata and Kondwal village. If lucky you can see Shekru and other exotic animals and birds.
After the darshan, you can have lunch and then proceed back to Mumbai / Pune. From Bhimashankar you can either take a bus to Pune or Kalyan or the other option is to trek down until Khandas. This is one of the favourite one-day treks and is frequented by trekkers. You can visit Nagpahani and Gupt Bhimashankar as well. From Bhimashankar, you can reach Khandas via the Shidi ghat or Ganesh Ghat route. The distance is about 10 – 12 km and takes around 2.5 – 3.5 hours. The routes are wonderful and adventurous. From Khandas one can get a shared vehicle till Karjat which is 14 km away. From Karjat one can travel by train.
➤ What to Take on Your Trek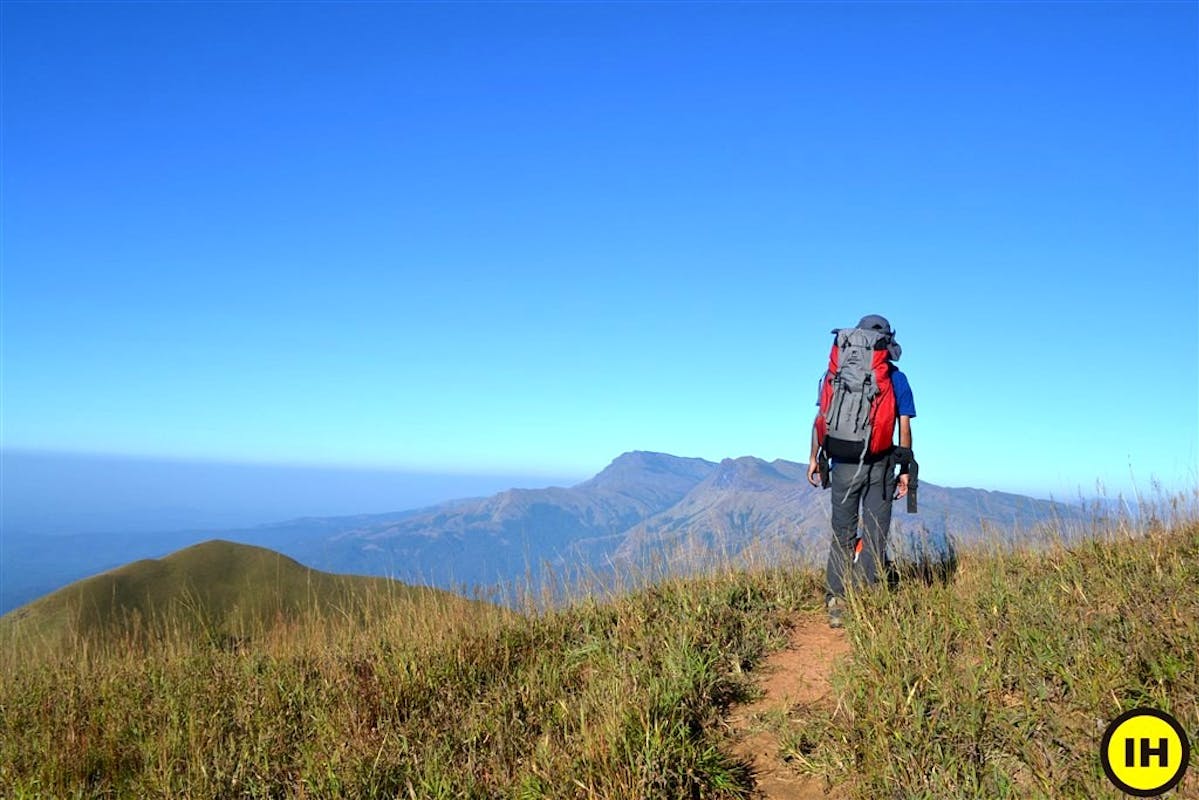 No, stuffing it all in isn't the right way to do it Packing a backpack correctly saves precious time that you might waste trying to find your things later. It is wise to spend some time learning what goes into packing a backpack.
What should I pack? On a trek, you only get what you take. Something as simple as a forgotten matchbox can cripple your cooking plans throughout the trek. So, it's essential to prepare early and prepare well. To begin with, make a checklist. While shopping, remember this thumb rule – keep it light. "Every item needs to be light. This ensures that your backpack, on the whole, stays light," says Sandhya UC, co-founder of Indiahikes. Balancing out heavy items with light ones isn't going to have the same effect as having all light items. "Always opt for good quality, light items," says Sandhya.
How much should my bag weigh?
"Your backpack for a weekend trek should weigh between 8 and 10 kg," explains Arjun Majumdar, co-founder of Indiahikes, "To break it down, your tent should weigh around 2.5 kg, your sleeping bag, around 1.5 kg, and the ration, stove and clothes should constitute the other 5 kg." The best way to plan is by concentrating on the necessities – food, shelter and clothes. Gather only those things that you'll need to survive. Do not pack for 'if' situations. "That's one of the common mistakes that people make – packing for 'if situations. It only adds to the baggage that you can do without on a trek," says Sandhya.
Trekking hack
One good way to go about it is to prepare a list of absolute essentials. Start with the most essential and end with the least essential. That way, when you feel you are overshooting the limit, you can start eliminating from the bottom. Another tip is to be smart while packing clothes. Invest in light. wash and wear fabrics. "Replace a sweater with two t-shirts," adds Sandhya. Layering is the mantra when it comes to trekking. Refer to Sandhya's clothes list to pack smart.
How to pack The thumb rule for this one is to eliminate air spaces. Make sure that everything is packed tightly, especially clothes and jackets, as they tend to take up maximum air space. Put in all the large items first. Then squeeze in the smaller ones in the gaps. This ensures minimum air space. A good way to pack clothes is by using the Ranger Roll method.
Where to pack Bottom Sleeping bag: Make this your base layer. Sleeping bags tend to be voluminous, but do not weigh much. They're perfect for the bottom of the bag. Tent: Just like the sleeping bag, even tents are voluminous and light. Keep the tent poles separately and place the fabric at the bottom of the backpack. Middle Heavy jacket: Roll up the jacket in a tight ball and place it in the middle of the backpack, close to your back. The middle region of the backpack should always have the heaviest items. You can store other things like rations or mini stoves in the middle. Other clothes: Roll other clothes and place them in the remaining space, to fill air gaps.
Backpack essentials
Top Water: Water, although heavy, needs to be easily accessible. So put it in the topmost region of your backpack. Medicine box: This is another component that you wouldn't want to be scavenging for when in need. Poncho: It could rain at any time in the mountains. So, ponchos should be accessible easily. Also, having a waterproof poncho at the top of the backpack provides additional waterproofing to items in the bag.
➤ How to Get Fit for Your Trek
Cardiovascular endurance
The secret to ascending any trail lies in building your cardiovascular endurance. You can begin by jogging every day. Ideally, you should be able to jog 4 km in 20 minutes before the start of the trek. It takes time to be able to cover this distance in the given time. Start slow and increase your pace every day. Swimming, cycling and stair climbing without too many breaks in between can help too. Strength This is another area you should work on. You will need to build strength in your muscles and your core body. You can do some squats to strengthen your leg muscles. Do around 3 sets of squats, with 8 squats in each set. Apart from this, you can add planks and crunches to your workout.
Flexibility
Another aspect that will help you trek comfortably is flexibility. For this, you can do some stretching exercises – stretch your hamstrings, quadriceps, hip flexors, lower back muscles and shoulders regularly. Carrying a backpack, however, light can become a strain after a while. These exercises will help you to be in good shape before the trek. Working out indoors
➤ Trek Contribution
Trek penned down by Vinita Chhatwani