Can You Help Us With Photographs Of This Trek?
We are looking to enrich this documentation with more photos. Pictures go a long way in explaining the trail, more than words ever can. If you have done this trek, can you share your photos with us? We will include them on this page, with due credit to you. Click here to contribute.
The Complete Guide to Sunderdhunga Trek
➤ Highlights
Sunderdhunga trek is a neighbour of the more famous Pindari and Kafni glacier treks. This is considered to be the most beautiful trek of the three.
Sunderdhunga trek follows river Sunderdhunga upstream from Khati village until its origin. The trail makes its way through thick forests which are home to many animals. It goes through remote, almost bordering exotic, villages, glaciers and pristine alpine meadows. Packing more variety in each kilometre than any other trek, Sunderdhunga is surely a trek that offers a multitude of natural shows.
Folklore:
It's said that a man washing his blanket in the river found a beautiful stone, presumably gold. The name Sunderdhunga, literally meaning valley of beautiful stones, is attributed by the locals to that anecdote passed orally down generations. The authenticity of that lore is anyone's guess but the inspiration behind that is for anyone to see. 
Author: Sandhya UC
Sunderdhunga valley trek, a neighbour of the more famous Pindari and Kafni glacier treks, is considered to be the most beautiful trek of the three.
Sunderdhunga trek follows river Sunderdhunga upstream from Khati until its origin, making way through thick forests home to many animals; remote, almost bordering on exotic, villages; glaciers and pristine alpine meadows.
Packing more variety in each kilometre than any other trek, Sunderdhunga is surely a trek that offers a multitude of natural shows. 
➤ Short Itinerary
Day 1: Drive from Bageshwar to Kharkiya via Bhrarai and Loharkhet. Trek to Khati (7,216 ft); 5 hours drive + 1.5 hours trek
Day 2: Khati (7,216 ft) to Jatoli (8,036 ft); 5-6 hours, 8 km
Day 3: Jatoli (8,036 ft) to Kathaliya (10,660 ft); 7-8 hours, 13 km
Day 4: Kathaliya (10,660 ft) – Maiktoli Base camp (12,628 ft) – Kathaliya (10.660 ft); 8 km
Day 5: Kathaliya (10,660 ft) – Baluni Top (12,513 ft); 7 km
Day 6: Kathaliya (10,660 ft) – Jaitoli (8,036 ft); 8 km
Day 7: Jaitoli to Kharkiya via Khati. Drive to Bageshwar
If you are running short on time, you can trek to Jatoli on Day 1 and return straight to Khati from Kathaliya on the way back. If you plan to go to Jatoli on Day 1, make sure you start very early in the morning from Bageshwar.
Accommodation on the trek: You can stay at guest houses at Khati and Jatoli. They typically charge Rs.500-Rs.800 for a room with 2-3 beds. Accommodation at Kathaliya can be at the shepherd's hut there or in tents.
Food: Buy all your supplies at Bageshwar. You will need to arrange these only for the days that you spend at Kathaliya. Fresh food is available at the guest houses in Khati and Jatoli.
➤ Trail Information
Day 1: Drive from Bageshwar to Kharkiya via Bharari & Loharkhet. Trek from Kharkiya to Khati
Altitude: 7,216 ft (Khati)
Time takes: 4-5 hours drive + 1.5 hours trek (5 km)
Trek gradient: Easy. Mostly descending trail
Water sources: Streams along the way
Bageshwar is the base for all the treks in this region – Sunderdhunga, Pindari and Kafni. This is the last big town you will find on your way to the trek. Buy all your supplies here.
Shared jeeps are available from Bageshwar to Khati. A seat for 1 person usually costs Rs.1,200 – Rs.1,500. If you wish to hire your vehicle, be prepared to shell out Rs.20 per km.
The aptly named Pindari Road connects Bageshwar to smaller towns such as Kapkot, Bharari, Saung and beyond. Take this road to reach Kharkiya, the last road head before the start of the trek.
The beautiful drive takes you through the heart of Kumaon. The road runs along the Saryu river, offering glimpses of rural life. Once you reach Saung, the road ascends steeply to Chaurasthal, providing a panoramic view of the Saryu valley. You will find a few tea stalls here.
You will pass Loharkhet on the way to Kharkhiya. If you have an additional day, you can begin your trek here. Go up to Dhakuri top and trek to Khati the following day.
The route via Kharkiya to Khati is more straightforward. The road at Kharkiya intersects the Dhakuri-Khati trek route.
Kharkiya is a small village, which has gained prominence due to its proximity to the trekking trails around. You will find a few dhabas here in case you wish to eat before starting the trek.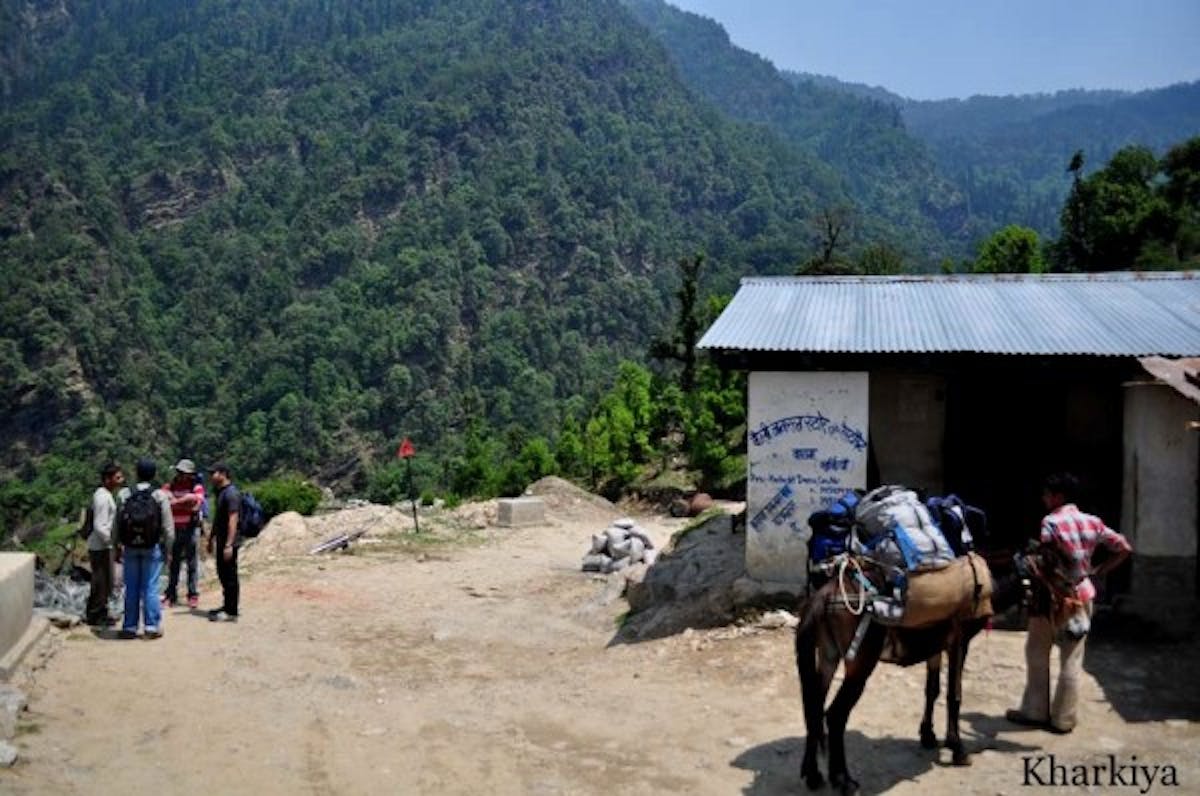 Image from Indiahikes Archive
Untouched forest of Buransh (Rhododendron), Baanj and Kharsu (varieties of high altitude Oaks) greet you at Kharkiya. Just a couple of yards down the trail and you see the first water stream, one of the many more to come. The 5 km trail follows a well laid out path. It cuts across beautiful forests. Although very deep into the Kumaon hills, you are still close to civilisation. As you proceed down the trails, you will come across groups of Kumaoni women, humming cheerfully as they pack bundles of grass. Shepherds walking with their cattle are another indication of villages close by.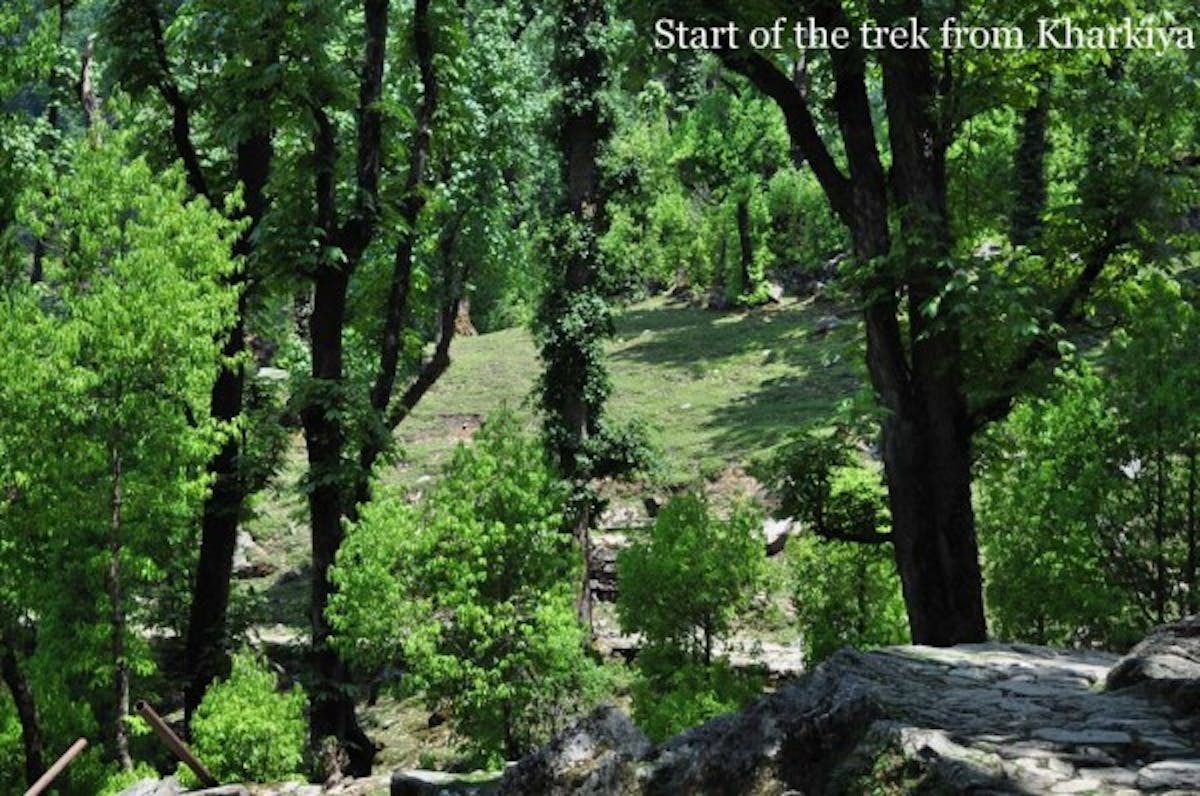 Image from Indiahikes Archive
The first village you get on the trail is Dau. This is around 4 km from Kharkiya. It has just about a handful of households. You get your first view of Khati village from here. Proceed on this trail for another kilometre to reach Khati.
Khati is a fairly large village, with around 60 households. The number of lodges in Khati is evidence of the popularity of this village with trekkers. You can either stay in one of the lodges before Khati or stay in the village.
The private guest houses in Khati charge Rs.500-600 for a room with 2-3 beds. You don't need to book rooms here in advance. They also provide fresh, hot meals. You will also find KMVN and PWD guest houses here – these need to be booked in advance.
If you're running short on time, you can also trek to Jatoli today. To do this, ensure you start early from Bageshwar so that you reach Jatoli before it gets dark.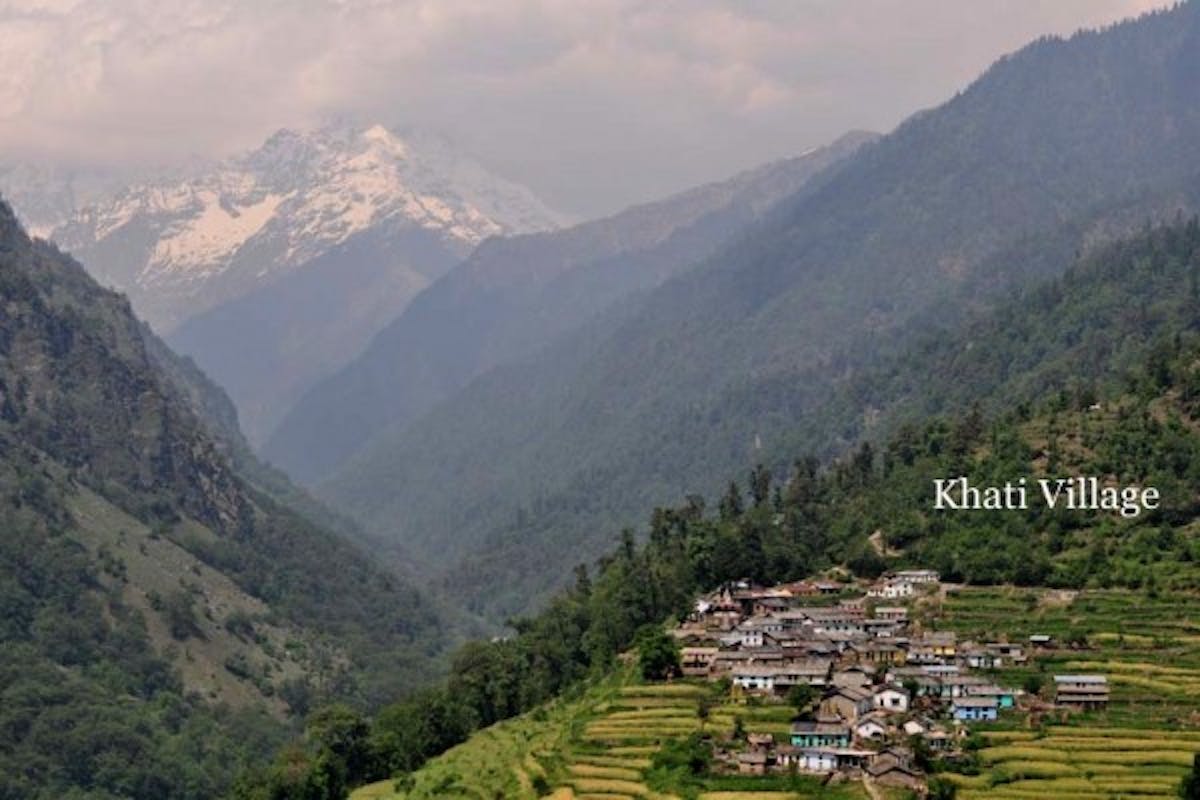 Image from Indiahikes Archive
Day 2: Khati to Jatoli
Altitude: 7,216 ft to 8,036 ft
Time took: 5-6 hours, 8 km
Trek gradient: Easy. Initial flat walk followed by descent for about 1.5 km. Gradually ascending trail from here followed by a series of easy descents and ascents.
Water sources: River along the trail
Mornings at Khati get chilly due to its proximity to the peaks. Make sure you're dressed warmly.
The trail bifurcates at Khati, one leading to Sunderdhunga and the other to the more famous and frequented route of Pindari and Kafni. To go to Sunderdhunga, take the trail that cuts right through the heart of the village. Pretty village houses with characteristic architecture line the trail. Camera shy kids watch you with amusement as walk past their verandah. You will spot some kids helping their mothers remove the husk from grains in a tiring manual process, while others frolic around in the cool, summer morning.
A primary health care centre signals the end of the village. Once you're out of Khati, the trail descends into a thick forest. The sound of the river flowing below becomes more pronounced with each step.
You will soon reach a narrow bridge. Pindar river thunders on your right. A slightly subdued Ghat Gad flows on the left. A short descent brings you to Pindar in all its glory.
Pindar famously has no dam built on it. Locals proudly but inaccurately attribute this to its might and rapid flow. A conversation on Pindar will invariably elicit anecdotes from locals on how a bridge in Maliyadhaud was washed away by the river or how a local was swept away by its flow. A rustic looking bridge presents you with a perfect vantage point to view Pindar. This is the only time you sight this river on the trail.
After a short walk from the Pindar Bridge, you get your first view of the Sunderdhunga river. This will be your constant companion on the trail. One of the good things about a valley trek is that you get to walk along the river until it is reduced to a meagre stream. Spot the confluence of Sunderdhunga river and Pindar which makes its way to Garhwal as Pindar.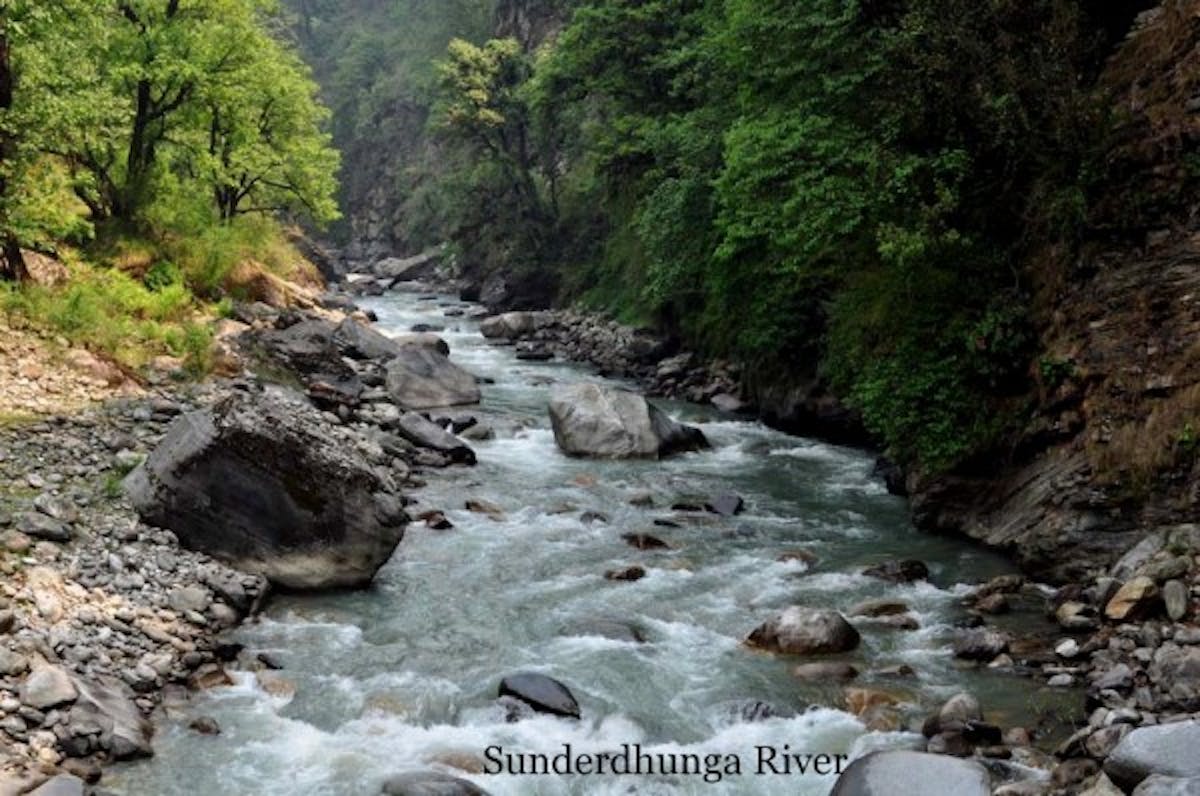 Image from Indiahikes Archive
From this point, the trail begins to ascend. The trail rises above the river into the narrow valley. 2 km from Khati, you get a small village named Ritang. This consists of a handful of houses built amidst thick forest.
The trail follows a comfortable incline for half a km. Here, a man-made structure breaks the monotony of the route. An out of use spillway is now used as a pathway. You will have to negotiate your way around castles' droppings on this stretch. The river flows down below the trail. You will soon reach another wooden bridge.
From here, the trail alternates between gradual ascents and descents to Jatoli. You do not gain much altitude today. The forest is pristine, with lush green undergrowth. A well laid out path makes for an unforgettable walk. You get ample opportunities to soak in the forest views and make the most of this beautiful trail.
Village Jatoli presents itself across a small stream. You'll spot a beautiful 'ghat' on this stream. A ghat is a traditional village mill that uses the energy of the water to grind grains. Jatoli follows the ancient system where the mill owner keeps a part of the grains for himself.
The actual village is a few steps ahead. It is straight out of a textbook on rural India – you will see women working deftly on stepped farms, groups of elderly people huddling around, children watching you with perplexed expressions, and a small school at the top of the village. Almost all the houses here are traditionally built with low ceilings and mud plaster.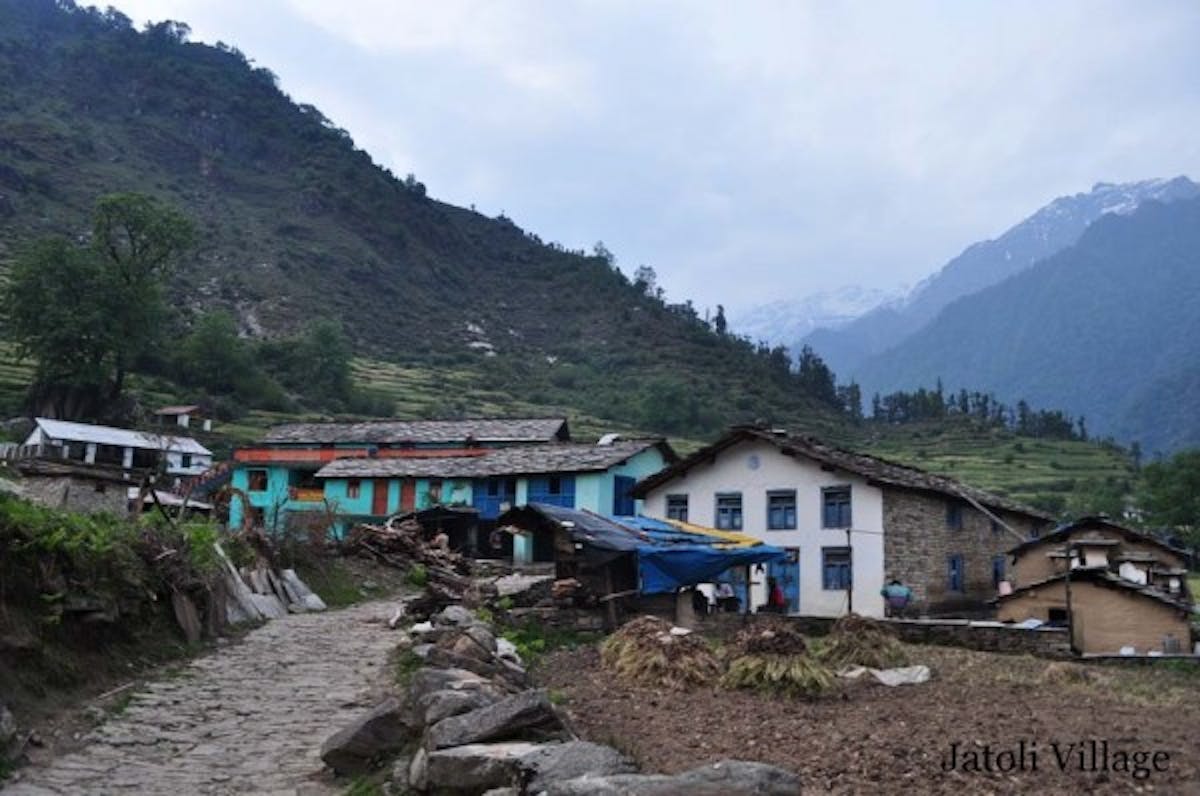 Image from Indiahikes Archives
The first building you reach is a hotel, hinting at the importance of tourism to the local economy. You get plenty of opportunities to learn about the local lifestyle. Shy villagers quickly open up to share their experiences and listen to yours. Since Jatoli is close to the peaks than Khati, expect lower temperatures here. Enjoy views of the village and snow-capped mountains as evening sets in.
Day 3: Jatoli to Kathaliya
Altitude: 8,036 ft to 10,660 ft
Time taken: 8 hours, 13 km
Trek gradient: Moderate-Difficult. Starts with a steep ascent. Levels off for a short distance followed by a series of steep ascents and short, gradual descents. The last 3 km are a steady ascent.
Water sources: Streams and small waterfalls along the trail.
On Day 3, the trail gets more challenging, the terrain more rugged and the distance, much greater. As you walk out of Jatoli, you leave the last signs of civilization behind. The trail now takes you deep into the beautiful Sunderdhunga valley.
The trail rises steeply over Jatoli village, leaving behind the last of the village buildings. The steep ascent lasts only about half a kilometre. From the top, treat yourself to a splendid view of the village below. From here, the trail turns into a thick forest. The only sign of the river here is the thunderous sound you hear from down below.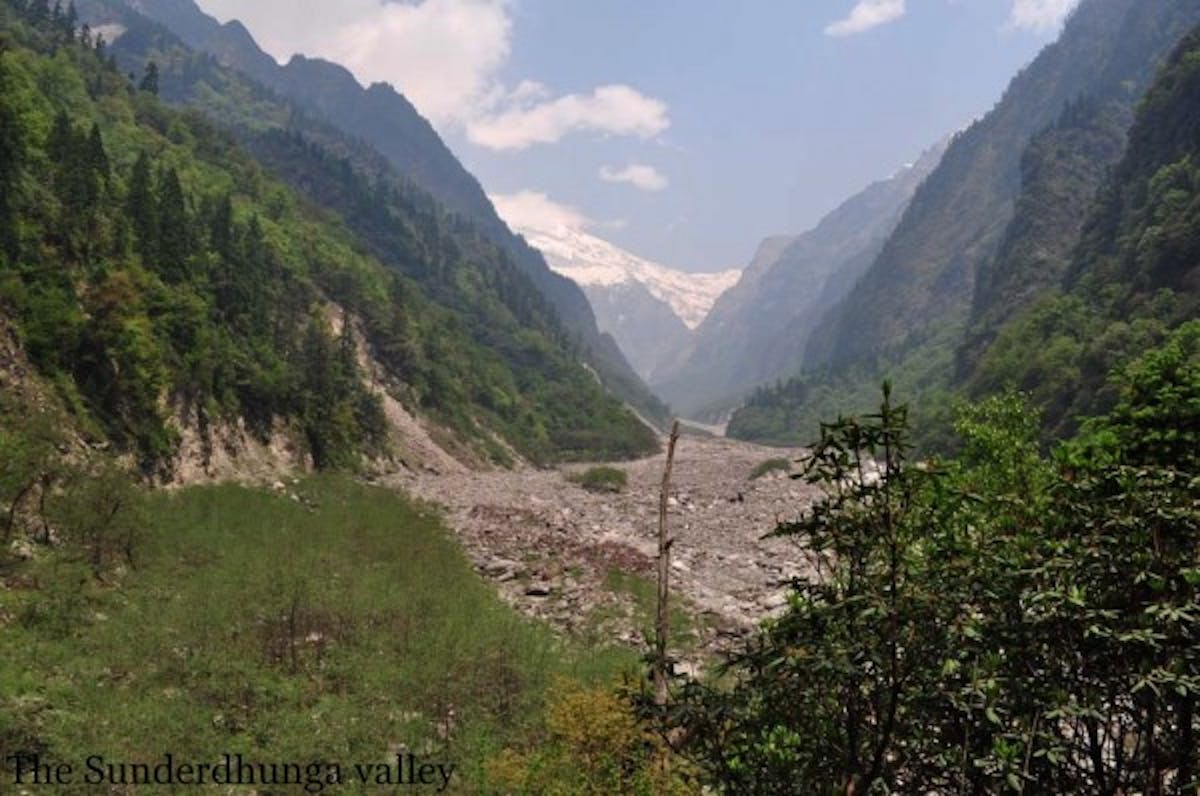 Image from Indiahikes Archive
The trail is more challenging today as the uphill parts are steeper and longer. Also, the constantly increasing altitude starts to take its toll. There are numerous streams and small waterfalls en route to replenish your water supply. The constituents of the forest remain surprisingly constant since day 1, with plenty of oaks and rhododendron. This forest is home to many animals – trekkers and villagers have often reported bear sightings. Other dwellers include Kakad, a variety of dear with a characteristic cry, smaller species of deer, and a wide variety of birds. One small furry companion is a little less shy and can be seen along the trail. Locally called meed, this is a tail-less rodent.
The first ascent and subsequent descent in the forest are easily managed. It leads to the first bridge of the day. What catches your breath is the thunderous waterfall that it is built across. Its roars can be heard much before you sight it. Take a break here and feel the little droplets showering on you.
After the bridge, the trail turns steeper. The trail is no longer paved. Apart from the level of difficulty, there is little or no difference in the scenery or the nature of the trail. The major change in terrain occurs after 6 km from Jatoli.
The valley suddenly opens up to present the first clear view of part of Panwali Dwar and Maiktoli ridges. The peaks are still elusive. The trail now leaves the edges of the mountains and follows the river. It's bouldery from here, along the river. A large expanse of way forward is visible.
Go cautiously now as the loose rocks can make the trail tricky. The path is not marked. Make sure you follow the river uphill. As the valley narrows, the trail again hugs the mountain edge and rises gently above the river.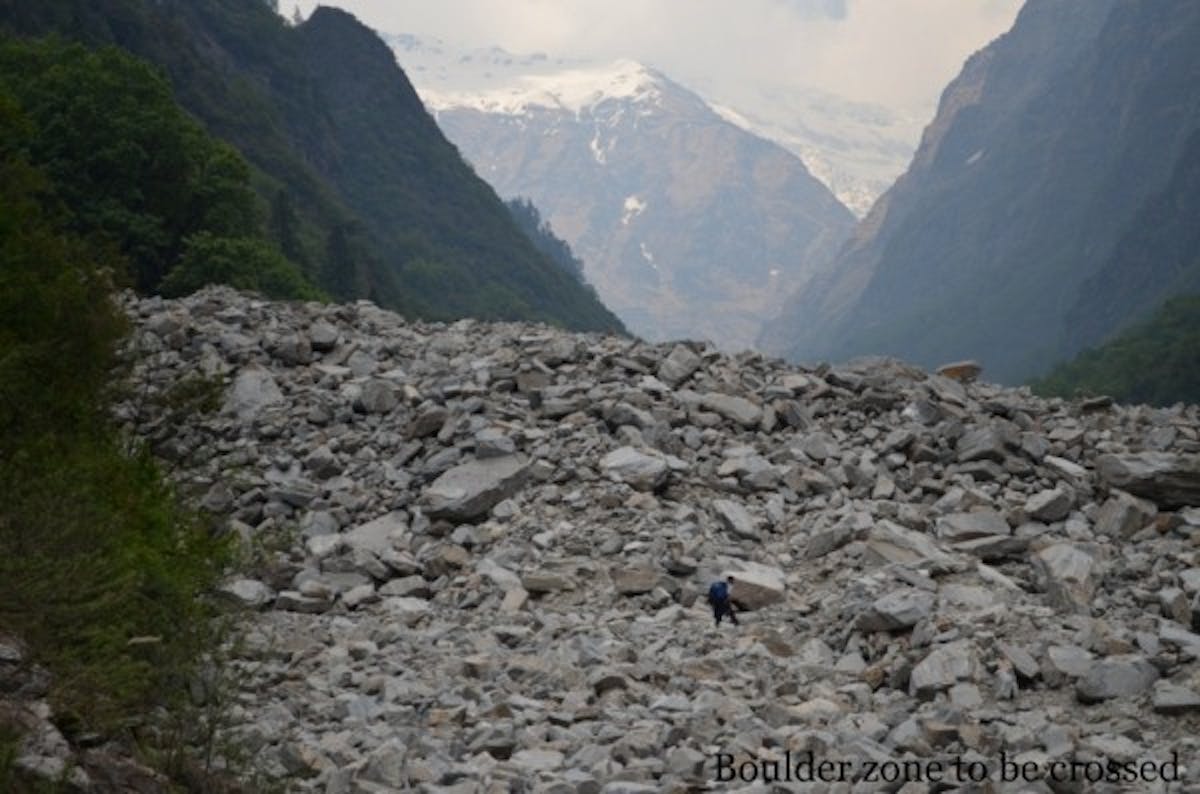 Image from Indiahikes Archive
This stretch throws another tricky section to be traversed. Subject to the time of year you are trekking, there is a large seasonal glacier around 1 km ahead of the boulder zone. The hardened ice makes firm footing difficult and poses quite a challenge. The river flowing underneath the huge layer of ice makes for a remarkable view.
Right after the glacier, the trail makes its way through a waterfall. This is one of the many reasons why the route from Jatoli onwards is not deemed fit for ponies. Slippery wet surfaces always require attention, even more so if you are carrying a heavy rucksack. This is no exception and the picturesque waterfall is sure to provide some shaky moments of its own.
The narrowing valley suggests that the destination is near. The thinner flow of the river suggests that you're getting closer to its source. The trail now rises steeply for some distance. A point directly opposite the campsite is visible from here and gives some idea of the distance to be traversed. The remaining 3-4 km of the 13 km long trail is a steady ascent. The route cuts through various shrubs. Trees begin to make way for smaller vegetation as we approach the end of the tree line.
Spot a shepherd's hut on the other side of the river. The valley comes to an end at a dominating ridge that stands right in front. Two streams flow from either side of the ridge making a natural Y. On the right-hand side of the ridge rests Panwali Dwar, with only some parts visible. Maiktoli, one of the more beautiful peaks and highest in the vicinity looms over another ridge on the left, with only the characteristic peak visible and the massif below obscured.
The shepherd's hut makes for cosy accommodation. The place is surrounded by snow-clad peaks on three sides and is pretty cold. You also have the option to pitch tents since this is a meadow and there is enough flat ground available. A breed of mountain goat, called Kathli in the local dialect, gives the place its unique name. It is understandable why, as numerous herds can be found scattered in the mountains around. The only inhabitants here are a handful of seasonal shepherds. The confluence of two streams makes Sunderdhunga Gad a breathtaking sight. This is a perfect place to get some well-earned rest.
Day 4:  Kathaliya to Maiktoli Base Camp and return
Altitude: 10,660 ft to 12,628 ft and back to 10,660 ft
Time taken: 5-6 hours, 8 km
Trek gradient: Difficult. Constantly ascending trail to Maiktoli Base camp
Water sources: Streams along the trail for the first hour, till you reach the glacier zone.
The ridge of the Panwali Dwar range stands majestically in the direction of today's destination: Maiktoli Base Camp. Maiktoli Peak, bathed in the golden hue of early morning sun stands on the left. The trail takes you down to the river first, crossing it over a huge boulder acting as a natural bridge. The terrain is lush green, making it a natural choice for shepherds. Baluni top is visible from the river rising almost vertically from the valley.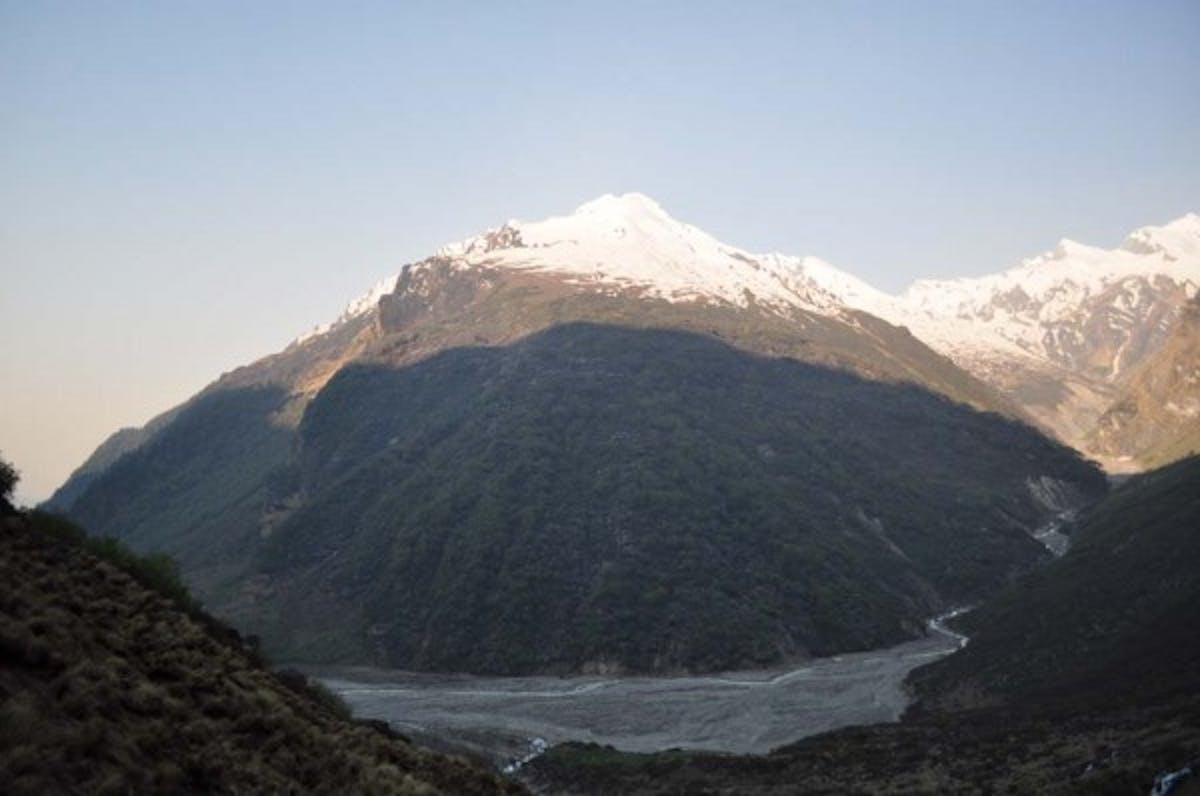 Image from Indiahikes Archive
The trail from the river ascends continuously. It follows a narrow path between two ridges. The only vegetation you see is small shrubs. The narrow path follows a stream uphill. The incline is steep for about half a km. It gradually decreases to a more comfortable level and continues this way for some distance.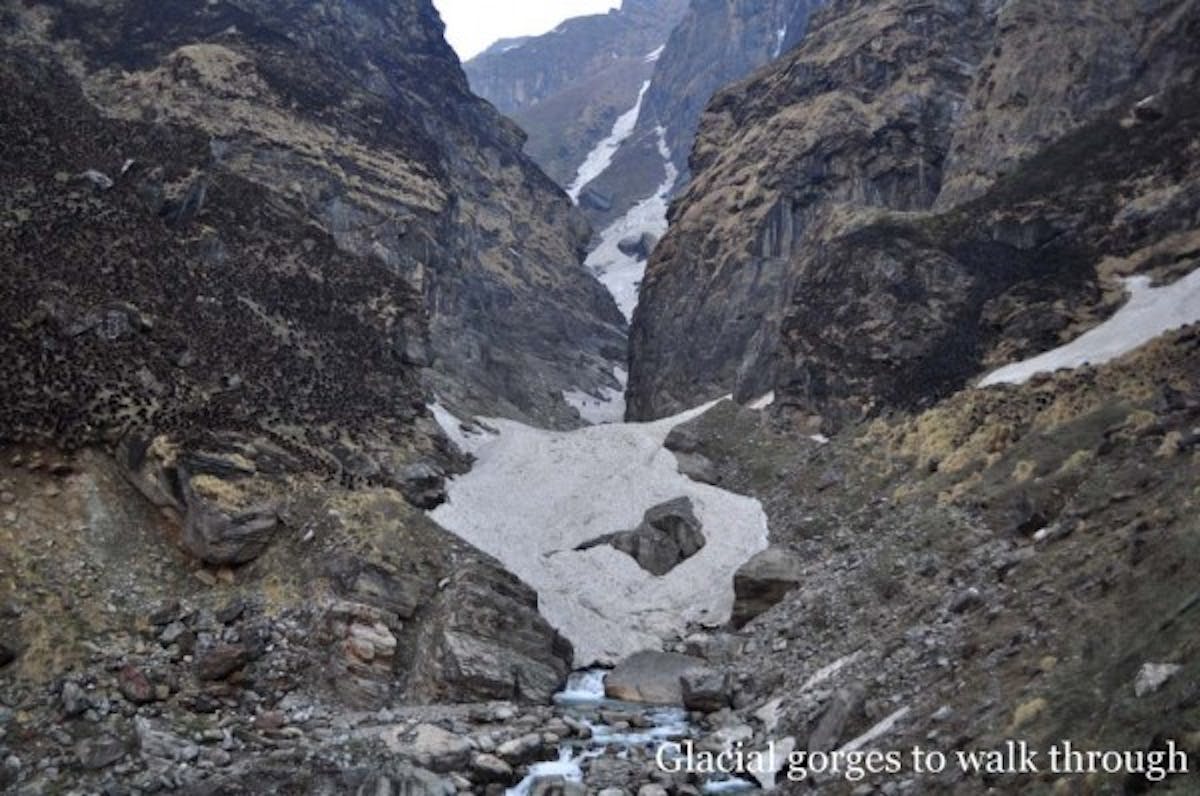 Image from Indiahikes Archive
You soon see a glacier zone looming ahead of you. The trail becomes challenging here. A look at the route ahead causes a rush of adrenaline – a very narrow gorge completely laden with hardened glacial ice at a steep incline. This part of the trek is rendered far more challenging by hard snow, which, once the rains set, is completely washed away.
The first of the two tricky sections is less challenging. The trail cuts perpendicular to the stream, making traverse easier albeit slow. This also looks and feels easier as there is plenty of ground to arrest a fall. This section can be tackled without the use of ropes; an ice axe, however, is essential. Especially for inexperienced trekkers who will require steps to be cut on the surface.
The second stretch, separated by the first one by a flat area, is trickier. It starts with some very loose mud and pebbles at a very difficult angle. Although not too long, this stretch requires cautious traversing. Right after this, the surface is again that of ice and snow. The incline is steeper than the last one. The trail does not go uphill but cuts the incline on the slope with a drop on the right side. There is no obstacle to arresting a fall, which makes it more terrifying. Inexperienced trekkers will require ropes to assist in the climb. The river can be heard roaring below the layer of ice and is also visible in some places, exposed due to broken layers. After a relatively clear area, the trail goes straight uphill. The path is through the ice for about 200 m. It is very steep, forcing the use of hands or ice axe at points.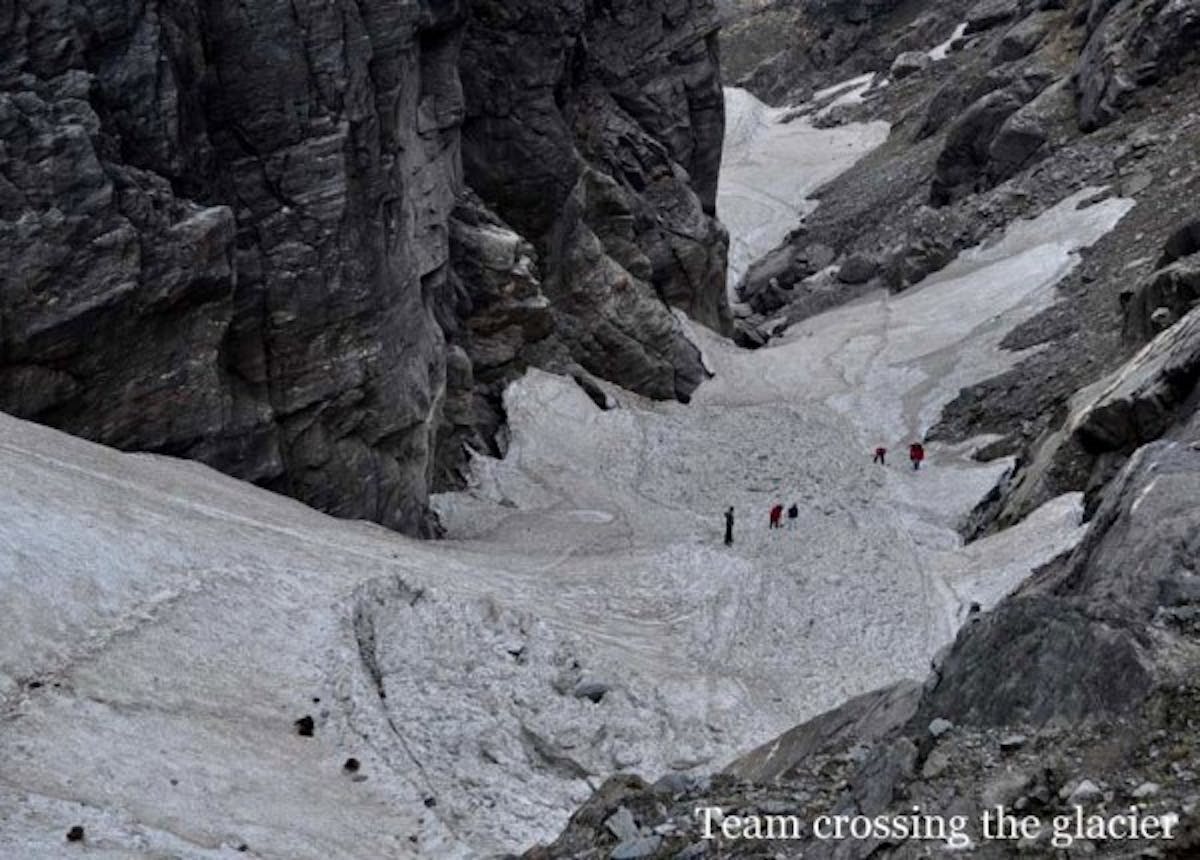 Image from Indiahikes Archive
The path beyond the glacier zone is equally challenging. It leads through loose mud along a steep incline. Up to this point, both Maiktoli and Panwali Dwar remain elusive. The incline comes to a welcome end after a short distance. As a reward, Panwali Dwar presents itself unobstructed and shimmering in the sunlight. The trail is majestic from thereon. Short ascents and descents on grass present no difficulty. Panwali Dwar is visible with its characteristic sheer drops. These can be seen even from far off places like Kausani, Chokori and Mukteshwar.
With each step, more of the massif begins to appear. Simultaneously, Maiktoli's silken slopes start dominating the horizon on the left. The same pattern continues for about 1-1.5 km. After the last obstacle, the vast expanse of the valley is thrown open. With peaks rising from 3 sides of the bed of the valley and you standing on the 4th side, a fine sense of achievement sets in. Layers of ice and snow flowing in from all the peaks meet, creating a large field of ice and snow with gentle slopes.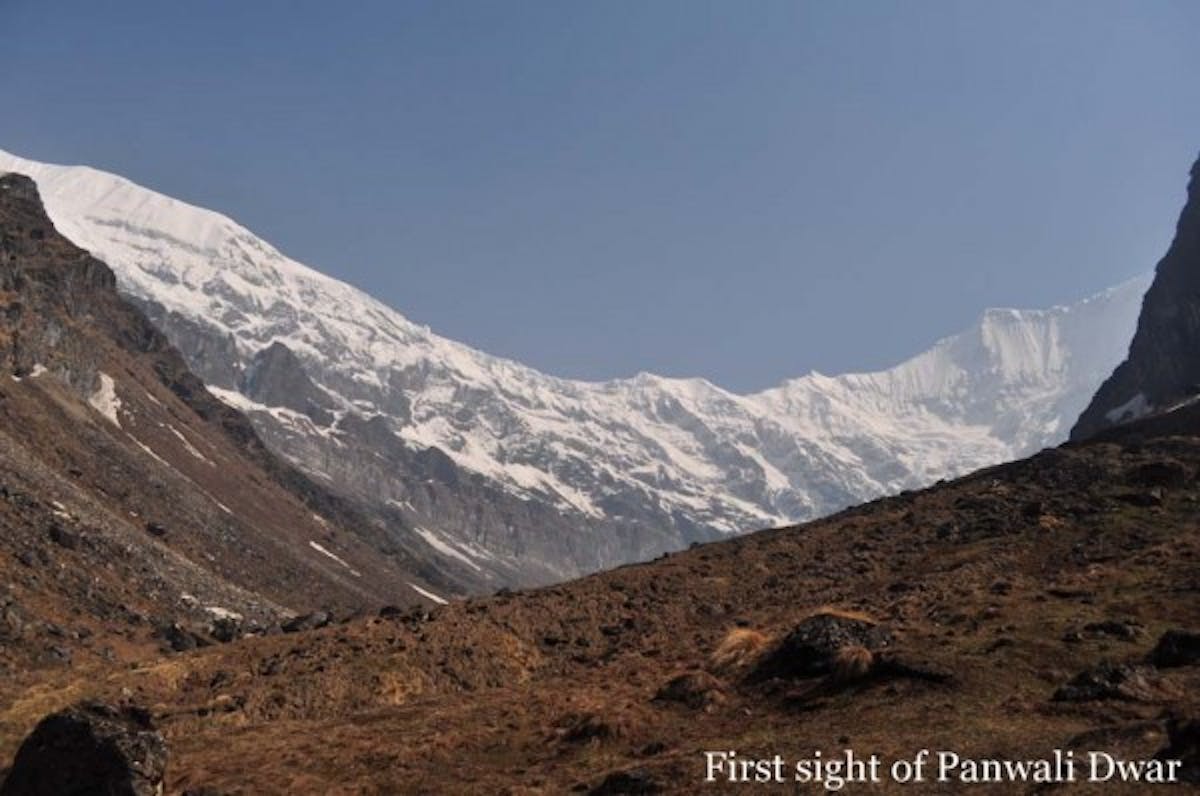 Image from Indiahikes Archive
This large field is Maiktoli base camp, bounded by Maiktoli on left, Panwali Dwar on front and an unnamed peak on the right. For those with an urge to view the Panwali Dwar massif right from the bottom, two small hummocks at the end of the field provide perfect vantage points. They are deceptively far and look much smaller than they actually are as they are dwarfed by the mighty stature of Panwali Dwar.
The surface is solid ice and at places completely covered by mud. A part of the Sunderdhunga river flows underneath and gives frequent appearances through cracks. The path up to hummock is uniform with the only incline starting at the base of the small hill. The path to the top is not marked and you need to climb uphill guided by commonsense. The deceptively small hill looks imposing from the bottom and requires determined effort.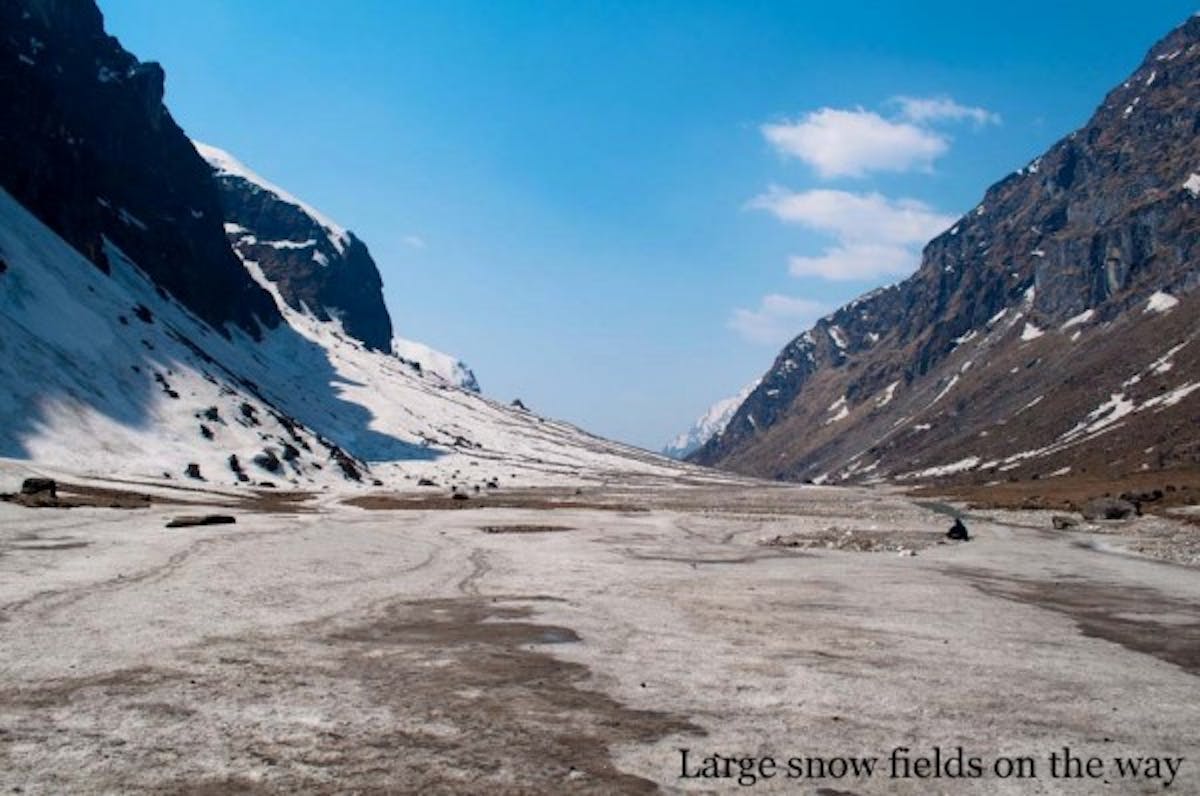 Image from Indiahikes Archive
Be assured of handsome views once you climb the hummock! For any mountain lover, this sight is pure ecstasy, with the whole massif of the mountain visible – rising from valley to the peak. This point is the highest point for the day and invariably provides the best views. A large glacier flowing down from the flanks of Maiktoli meets the eyes on the left side, with only a part of Peak now visible. Bound by two of the famous peaks of Kumaon Himalaya, the sense of physical and psychological remoteness is humbling, yet exhilarating.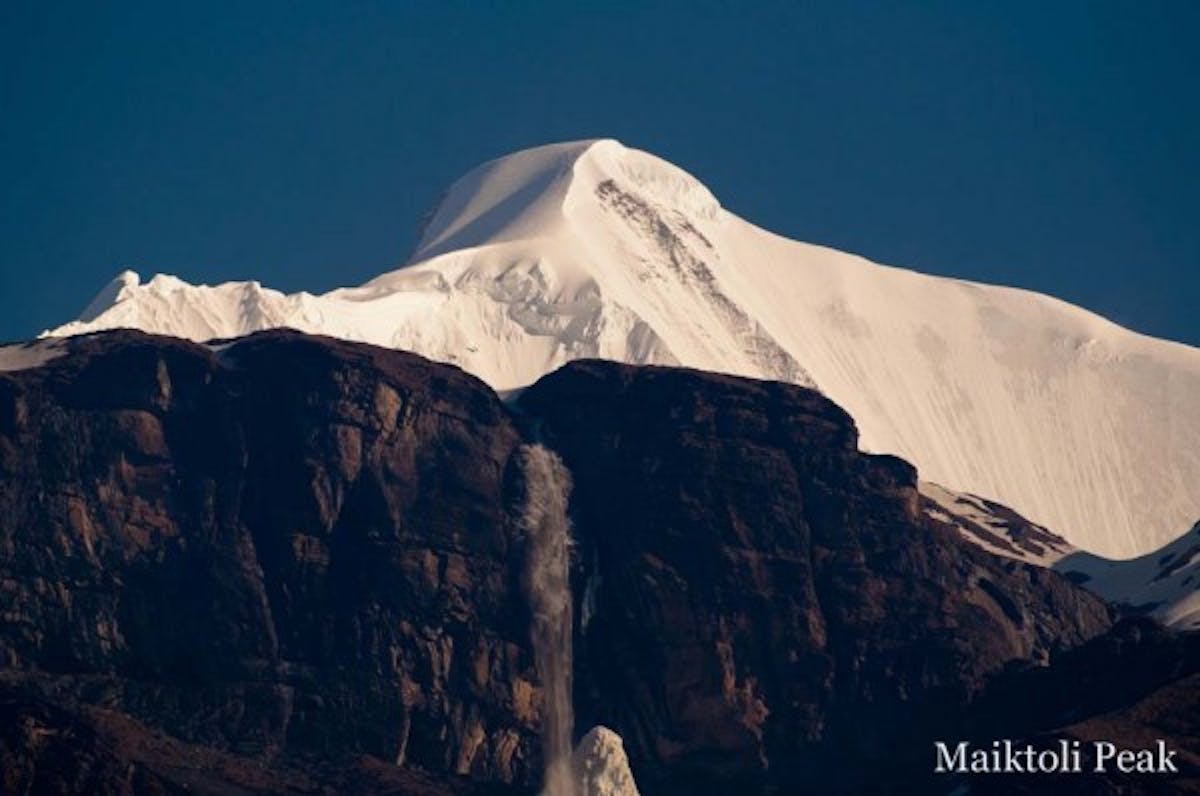 Image from Indiahikes Archive
The path back to Kathaliya is back down the same path. The trek downhill is relatively quick. However, the risky glacier sections pose a greater challenge while descending. The only respite is the added softness of the snow with the midday sun up, giving you surer footing. The glacial zones require steps to be cut using an ice axe, at least for inexperienced trekkers.
The most challenging part downhill is the loose, mud zone between the two glacial zones. With almost no flat patches, each step needs to be measured and placed with utmost care. The daunting slide on the left, with no obstacles, leads to the ice-cold and rapid glacial stream. Once this is crossed, the remaining path is a breeze.
Don't be surprised to find locals scanning the precarious edges. The race to find Yarsa Gambo, a local herb known colloquially as Kida Jadi owing to its appearance as an insect, is a mad gold rush. The recently discovered medicinal value of the herb, used as an aphrodisiac, has rendered this erstwhile useless herb a treasure. Come the season, locals flock to higher reaches here and excruciatingly comb the area for the herb. Selling at quite a price, this is a lucrative business option for locals.
Kathaliya, like most parts of this trek, is home to many Himalayan birds. Many different varieties can be found near the water bodies or in small shrubs.
Day 5: Kathaliya to Baluni Top and back
Altitude: 10,660 ft to 12,513 ft and back to 10,660 ft
Time taken: 5-6 hours, 7 km
Trek gradient: Difficult. Steep ascent for the first 2 km followed by a gradual ascent to Baluni Top.
Water sources: One source, is around 2 km from Kathaliya. Refill all your water bottles here.
The best place to view beautiful Maiktoli peaks is Baluni Top and not Maiktoli Base camp. The peak, washed in early morning sun rays shows more of it with each step and reveals its characteristic slopes near the top. Apart from Maiktoli, Baluni Top also affords views of some other peaks, the Tent peak being the most prominent and easily recognizable.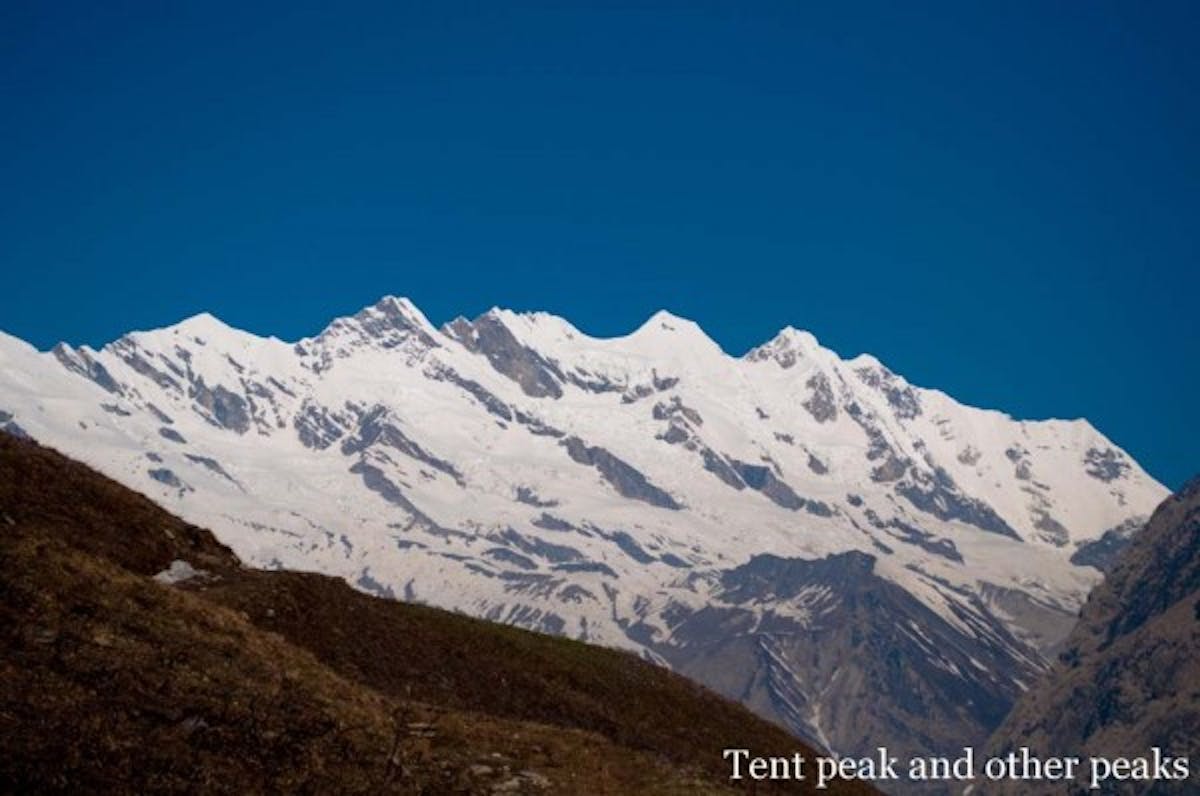 Image from Indiahikes Archive
The trail starts right from the shepherd's hut at Kathaliya. The top visible from the previous day's trail is the same mountain on which Kathaliya sits pretty at the bottom. The rise is sheer and so is the trail, with the most difficult incline yet.
The trail is not well laid and cuts through small trees and shrubs. A small clearing amidst thick vegetation is all that indicates a path. The altitude gain is sudden. In a short while, the Kathaliya campsite looks distant. You get a beautiful view of Maiktoli from here, with a big waterfall in the foreground.
Water sources are scarce in this particular stretch with only one source enroute at around 2 km away. The incline decreases and the tree line is left behind after this point. The path thereafter is through a beautiful Bugyal with sheer drops leading straight to the bed of the valley.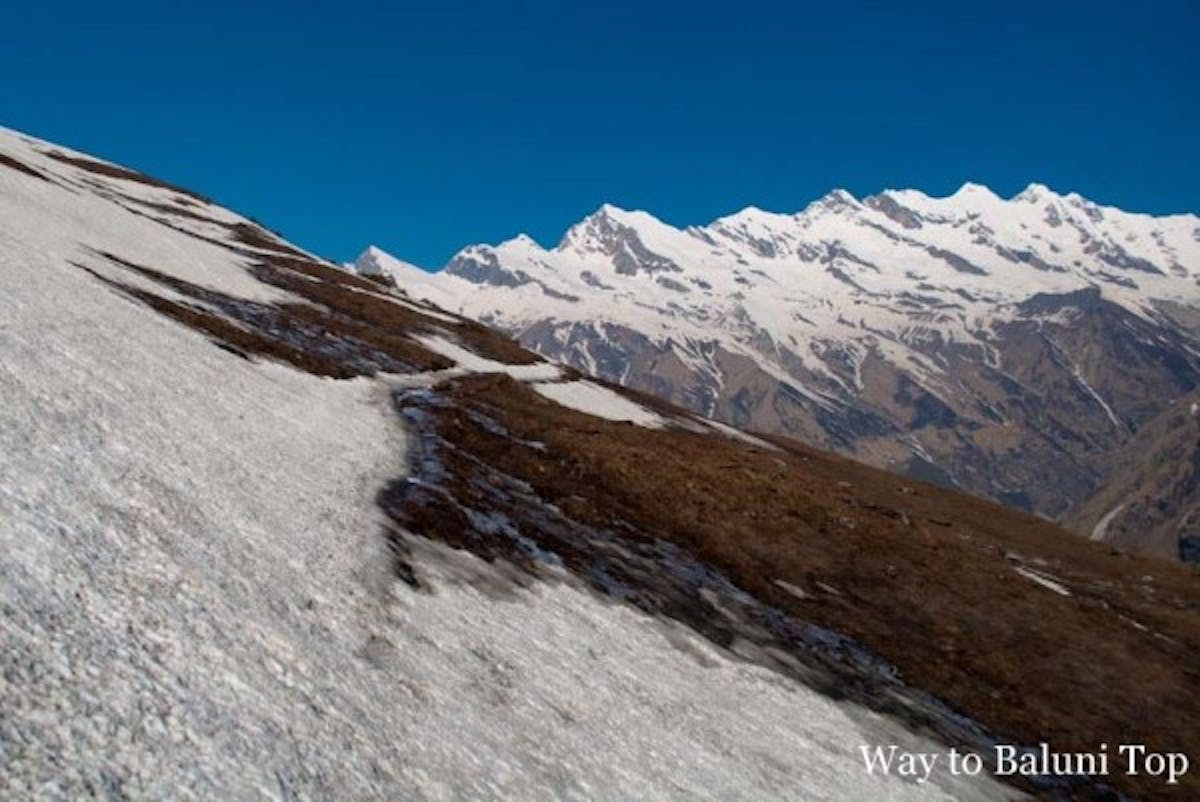 Image from Indiahikes Archive
Views of mountains become more pronounced as you ascend. Once you reach the top, you get an almost 300 degrees view of the peaks around. A clear area before you reach the top here provides a great vantage point for viewing Maiktoli. The mighty mountain appears to be only a stone's throw away.
Maiktoli is considered to be one of the most beautiful peaks in the Indian Himalayas. It's not difficult to see why when it presents itself unobstructed from the Baluni top. A steep incline on one side and a gradual silken slope on the other, form an important part of the Kumaun Himalayan panorama. Having viewed it from such arresting proximity gives a truly special feeling.
Panwali Dwar is on your right and Tent peak and Sukhram is on the left.
The actual top is still some distance away – this is only accessible when there's less snow. Depending on the season and amount of snowfall in the past winter, there can be no snow at all to a lot of snow at the top. This determines the highest point achieved. The point 3.5 km away from Kathaliya is usually the endpoint for most treks. The difference in view is not significant from here and from the top and risks increase with snow as the drops are very steep.
Camping at Baluni top is not advisable. There is very limited flat land available to pitch tents. The place is very windy and there are no water sources around.
The same path leads to Devikund, some distance away which is part of another Trek namely DeviKund-NagKund-Pataki pass. This route forms a loop and brings you back to Jatoli. You should attempt this only when the snow has completely cleared. You will also need a guide to complete this stretch of the trek. This would require at least one additional day in your itinerary.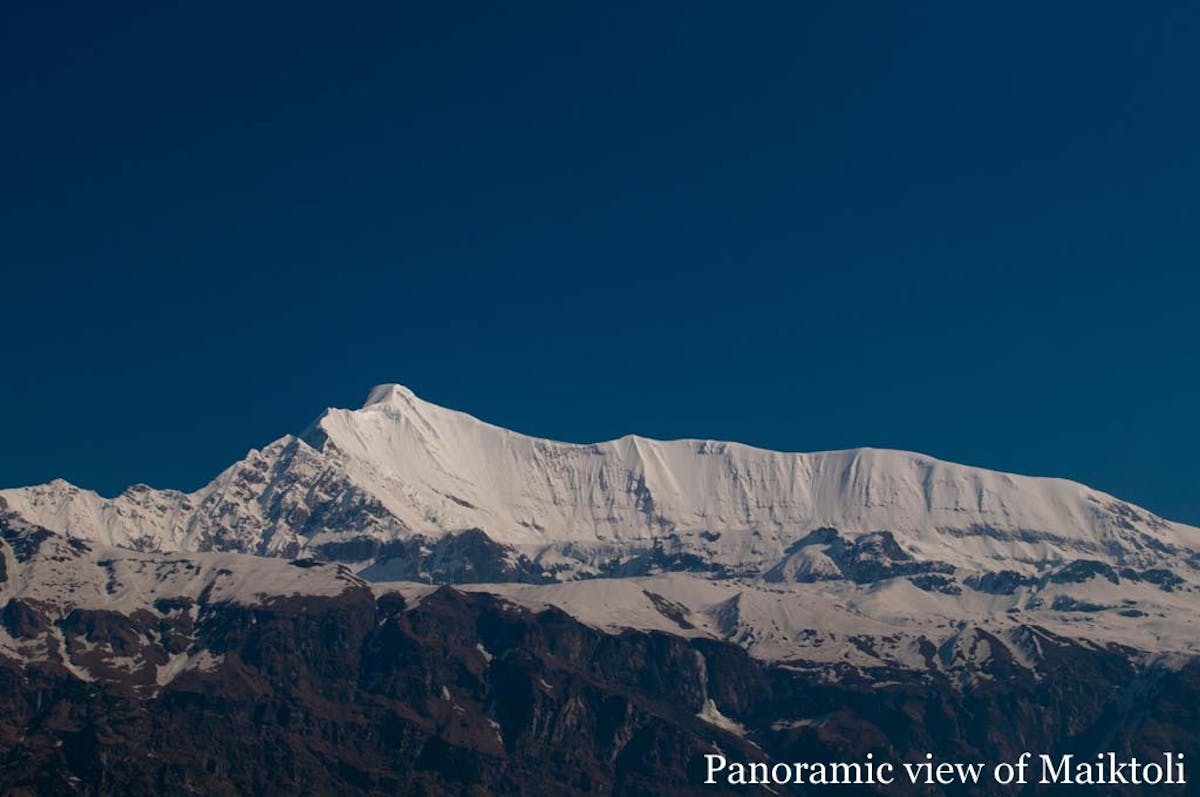 Image from Indiahikes Archive
The way back to Kathaliya is down the same path. It takes significantly less time on the return leg. The trekking for the day concludes early, giving time to indulge in photography, bird watching or just soaking in great views.
Day 6: Kathliya to Jatoli
Altitude: 10,660 ft to 8,036 ft
Time took: 4-5 hours, 13 km
Trek gradient: Moderate. Descending to Jatoli
Water sources: River and streams along the trail
Descend to Jatoli on the same route as earlier. You can either cover this at a leisurely pace. If you're in a hurry, you can also trek back to Khati or Kharkiya.
Day 7: Return to Bageshwar
Option 1: Trek from Jatoli to Kharkiya. Return to Bageshwar via Loharkhet
Option 2: Trek from Jatoli to Supi via Khati (8 km + 8 km). Return to Bageshwar from Supi.
Time took: 2 hours to reach Khati. 3 hours to reach Supi. 2 hours to reach Kharkiya.
If you go with option 1, the return route is the same as the one you took to get to Jatoli and Khati.
Option 2 is a longer route but has its advantages. The route from Khati to Supi is very scenic. You also escape the back-breaking jeep drive from Supi to Loharkhet.
➤ How to Get Fit 
This is by far the easiest day of the trek. The trail from Jatoli to Khati is all descending. This stretch can be completed in 2 hours.
If you decide to head towards Supi, take the trail that goes via Pangu Top. You ascend for the first 4 km of this trail. After Pangu top, the trail descends to Supi. You trek through a beautiful forest. On a clear day, the views from the top are fantastic. The trail is well laid and fairly straightforward.
Cardiovascular endurance
This trek requires a good amount of endurance. You can begin by jogging everyday. Start jogging at a slow pace and then keep increasing your pace day by day. Make sure you are able to jog 4 km in 20 minutes before the start of the trek. It takes time to be able to cover this distance in the given time. Swimming, cycling and stair climbing without too many breaks in between can help too.
Strength
This is another area you should work on. There is a lot of trekking distance that you will cover carrying your backpacks and trekking along with your backpack is not a very easy task. You have to walk on uneven terrain during the trek. It could be taxing for your legs. For this, strengthening your legs will help. You can do some squats to strengthen them. Do around 3 sets of squats, with 8 squats in each set.
Flexibility
Another aspect that will help you trek comfortably is flexibility. For this, you can do some stretching exercises – stretch your hamstrings, quadriceps, hip flexors, lower back muscles and shoulders regularly. On your trek, it is important that you arrive on the slopes with your muscles relaxed. Carrying a backpack, however light, can become a strain after a while. These exercises will help you to be in good shape before the trek.
Working out indoors
If you can't go out and jog because of time and space constraints, here's a video you can use to work out indoors.
➤ What to Take on Your Trek
Bare necessities
Trekking shoes: The trek distance is long and you will have to walk for long distances which needs you to have comfortable trekking shoes. You can watch this video to learn to choose the right trekking shoes.
Backpack (40-60 litres): A backpack with sturdy straps and a supporting frame. Rain cover for the backpack is essential.
The Miyar Valley Dun trek happens round the year except for monsoons so make sure you have the proper clothing as per the season demands so you can keep yourself protected during the trek.
Clothes
Three (Five in Winter) Warm Layers: You will be trekking and camping at high altitudes. So make sure you have the apt clothes for the climatic conditions. It will be cold at the higher altitudes so make sure you have at least three layers of warm clothes to protect yourself.
Two trek pants: One pair of pants should suffice for this trek. But you can carry one spare pair in case the first one gets wet. Wear one pair and carry one pair.
Two collared t-shirts: Carry light, full sleeved t-shirts that prevent sunburns on the neck and arms. Again, wear one and carry one.
Thermals (Optional): Those who are more susceptible to cold can carry thermals to wear at night.
Accessories
Sunglasses: Sunglasses are to prevent snow blindness. There might be snow in Har Ki Dun Valley or from Kalkatiyadhaar (depending on the season you are going in), so carry a pair of sunglasses.
Suncap: The sun is harsher at high altitudes so wear a sun cap to protect your face and neck.
Synthetic hand gloves: One pair of fleece or woollen hand gloves. One pair of waterproof/resistant, windproof gloves.
Balaclava: You may use woollen scarves instead as well.
Socks (2 pairs): Apart from two sports socks, you can take a pair of woollen socks for the night.
Headlamp/LED torch: Mandatory
Trekking pole: Watch this video to understand why you need a trekking pole.
Others
Daypack (20 litres): If you are offloading your backpack, you will need a smaller backpack to carry water, a medical kit and some light snacks.
Toiletries (Sunscreen, moisturiser, light towel, lip balm, toilet paper, toothbrush, toothpaste)
Cutlery: Carry a spoon, coffee mug and a lunch box. We insist on trekkers getting their cutlery for hygiene reasons.
Two water bottles: 1 litre each
Plastic covers: While packing, use plastic bags to compartmentalise things and carry a few extra plastic bags for wet clothes.
Mandatory Personal Medical Kit
Diamox – 10 tablets (to prevent AMS)
Crocin – 6 tablets (fever)
Avomine – 4 tablets (motion sickness)
Avil 25mg – 4 tablets (allergies)
Combiflam – 4 tablets (Pain killer)
Disprin – 6 tablets (headache)
Norflox TZ & Lomofen– 6 tablets each (diarrhoea)
Digene – 10 tablets (acidity)
Omez/ Rantadine – 10 tablets (antacids)
Crepe bandage – 3 to 5 meters
Gauze – 1 small roll
Band-aid – 10 strips
Cotton – 1 small roll
ORS – 10 packets
Betadine or any antiseptic cream
Moov spray (aches, & sprains)
➤ How to Plan Your Travel
The trek begins at Khati. To get here, take a shared or private cab from Bageshwar to Kharkiya. A seat in a shared jeep should cost you Rs.1,500-Rs.2,000. The route to Kharkiya is via Loharkhet. Khati is an easy 5 km trek from Kharkiya.
The alternative is to start the trek from Loharkhet and reach Khati via the Dhakuri top.