Can You Help Us With Photographs Of This Trek?
We are looking to enrich this documentation with more photos. Pictures go a long way in explaining the trail, more than words ever can. If you have done this trek, can you share your photos with us? We will include them on this page, with due credit to you.Click here to contribute.
The Complete Guide To Pindari Glacier Trek
Pindari Glacier Trek is one trek where Zero is the epitome of success. The trail to the Pindari Glacier is like a full-course meal for trekkers.  For starters, there are level walks through peaceful rhododendron forests, where exotic birds thrive. Next, one has to traverse varied mountain ridges, spider-walls and stream crossings. The appetizing dessert comes in the form of the Pindari Glacier at Zero Point, whose unearthly beauty at 12,300 feet will fill you up with boundless joy. The best part of it? This trek is perfectly suited for families, including children.
History of explorations in Pindari Valley
Ancient trade routes flourished in the Pindari and Milam Valley, linking it to Tibet for centuries. Back in 1830, GW Traill, the first Deputy Commissioner of Kumaon, explored a shorter route to Martoli in Milam Valley from Pindari Glacier.
This route was through the Pindari ice-fall, crossing a Col named Traill's Pass (17,700 feet). This was followed by a series of explorations by Schlagintweits (1850), Ruttledge (1926), Japanese Mt. Nanda Kot Expedition team (1936), Osmaston and the surveyors (1938), Arnold Heim (1937) and S.S Khera (1941).
Pindari is not the longest or largest glacier in the Himalayas. However, you will seldom find the easy approach to the huge ice-fall section elsewhere.
➤ Short Itinerary
The one trek where Zero is the epitome of success
The trail to the Pindari Glacier is like a full-course meal for trekkers. For starters, there are level walks through peaceful rhododendron forests, where exotic birds thrive. Next, one has to traverse varied mountain ridges, spider-walls and stream crossings.
The appetising dessert comes in the form of the Pindari Glacier at Zero Point, whose unearthly beauty at 12,300 feet will fill you up with boundless joy. The best part of it? This trek is perfectly suited for families, including children.
➤ Detailed Trail Information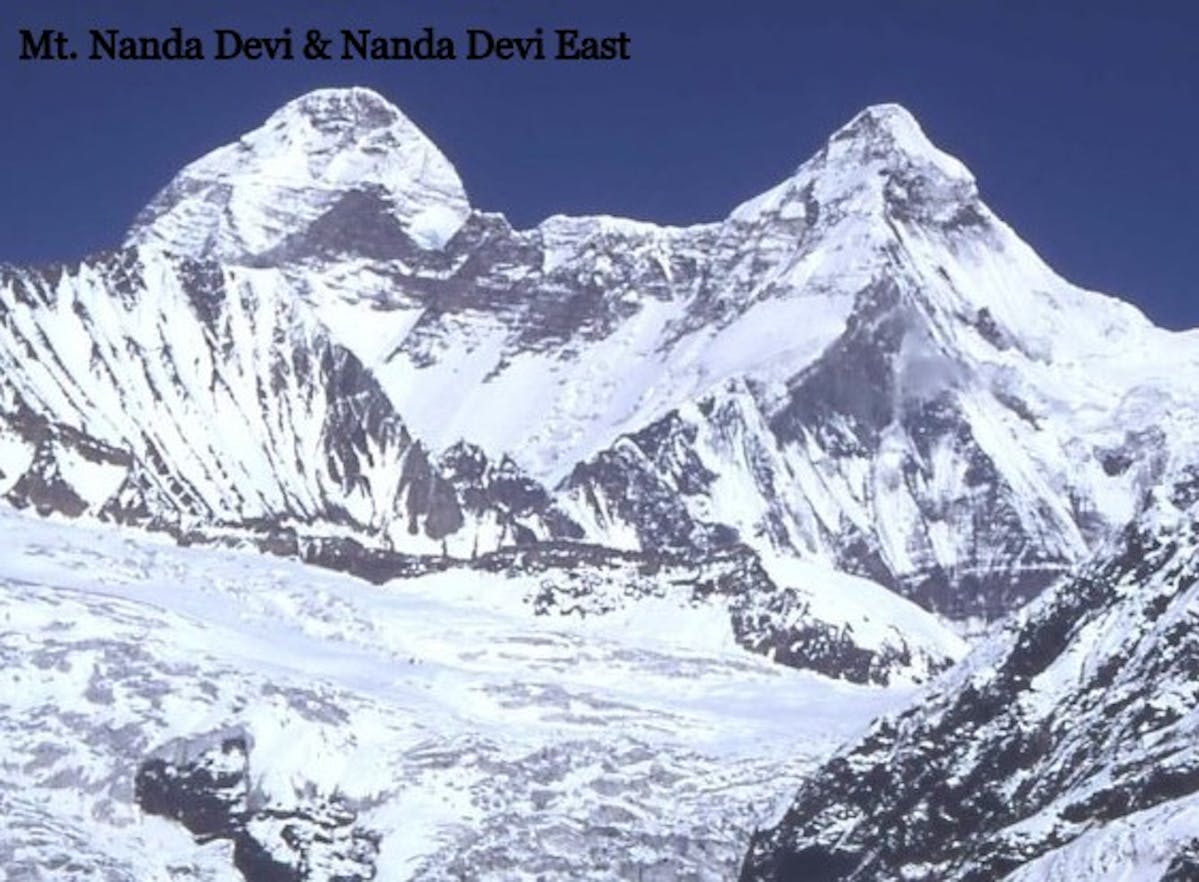 Mt. Nanda Devi & Nandi Devi East
Day 1: Loharkhet to Khati via Kharkiya
Altitude: 5,502 ft to 7,355 ft
Time took: 3 hour Jeep drive, 1-hour trek
Distance: 3-4 km 
Coordinates: Loharkhet GPS Coordinates: N 30°02.316, E 079 °56.939 Kharkiya GPS Coordinates: N 30°05.638, E 079 °55.120 Khati GPS Coordinates: N 30°06.783, E 079 °56.442
Thanks to an off-trail motor-able road from Loharkhet to Kharkiya, one does not need to trek to Khati via Dhakuri. The road journey winds through a series of scissor bends and is painfully slow due to bad conditions of the road, especially during monsoons. Kharkiya is the last village on the road head. It intersects a trekking trail to Khati and Jatoli village. There are a few local dhabas here and you will find basic items for purchase from a store in the vicinity. Looking up towards the back of the village, you can see a trail meandering up all the way to the Dhakuri campsite. Cross over the topmost Col and one can descend down to Loharkhet.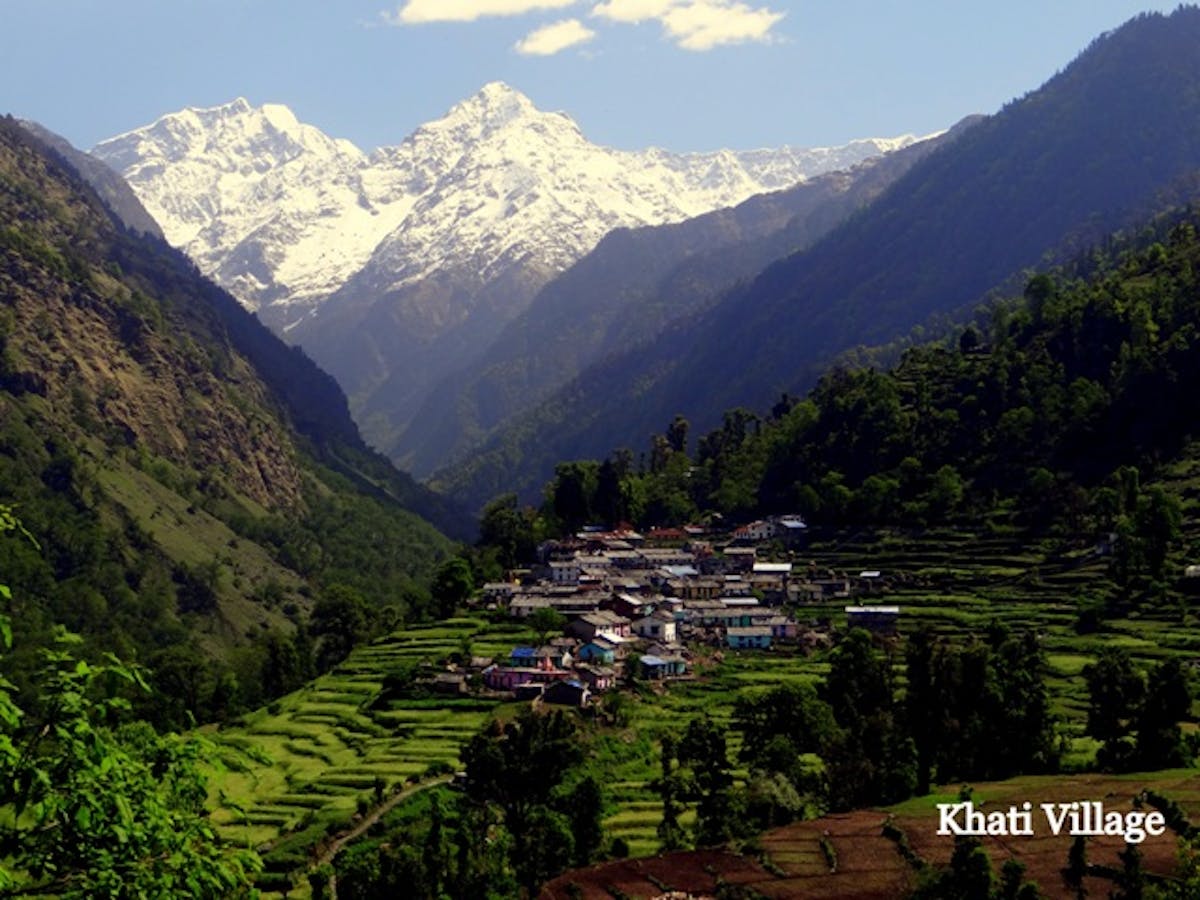 Khati Village
Cross the first scissor-bend of the motor-able road at Kharkiya. Look towards your right for a well-laid trail descending down towards Khati village. The trail has a beautiful mixture of rhododendrons and oak trees. Follow the trail that descends to a bridge over a stream. The trail from here to the second bridge is five minutes' level walk.
The forest here is dense and you get respite from the afternoon sun. There are a few steep sections in the forest trail. Around 15-20 minutes into the hike, you leave the forest behind. Spot a hut next to a beautiful field. From here, you can see Kharkiya village behind you and in front a clear view of the trail to Khati. Pindari and Sunderdhunga valley are not visible yet. This is a good spot to take a small break. Follow the trail that goes down the ridge.
After 10 minutes, there is a small level walk section. Look for a Tourist View Hut in the distance above you. It takes another 10-15 minutes to reach this spot. The trail has a steep ascent till Jakoni Village, which is another 20 minutes away. The trail has 3 scissor-bend sections and is very steep. As you reach Jakoni Village, you get a stunning view of Sunderdhunga Valley (towards your left) and Pindar Valley (towards your right). Jakoni is at 7,470 feet. There are a few dhabas here. This is also your second water point of the day. After resting for a while, follow the level trail ahead towards Pindar Valley, until you see the third bridge.
Cross the bridge and climb up to a forest ridge until Khati Village is visible in front of you. Khati Village is the base for backpackers. It is a fairly large village compared to others in the valley and is the last inhabited village on the way to Pindari Glacier. Looming behind the village are some stunning peaks, namely, Nandabaner (6,236 m), Nandakot (6,861 m) and Laspadhura (5,913 m). 
Apart from KMVN and PWD guest houses, Khati also has a plethora of private guesthouses. A new KMVN Guest House has been set up a kilometre ahead from Khati on the trail to Dwali. There is no electricity in Khati and locals rely on solar energy. Only BSNL mobile signal works here for a few hours a day.
Day 2: Khati to Dwali  
Altitude: 7,355 ft to 8,566 ft 
Time taken: 6-7 hours 
Distance: 13 km 
Coordinates: Dwali GPS Coordinates: N 30°10.647, E 079 °59.690
From Khati to Dwali, what used to be a refreshing trek, has become quite a mess after a natural calamity struck the region in 2013. The trail from Khati to Dwali has six major bends. The trail, however, is fractured and non-existent at many points. Many kilometre-long trails have caved in due to landslides. One has to take an alternative route by climbing down and trekking next to the river-side moraines of Pindari and then climb back up to join the broken trail. This might bring down your spirit a bit, as it is the lowest altitude moraine trek you will get to do in the Himalayas.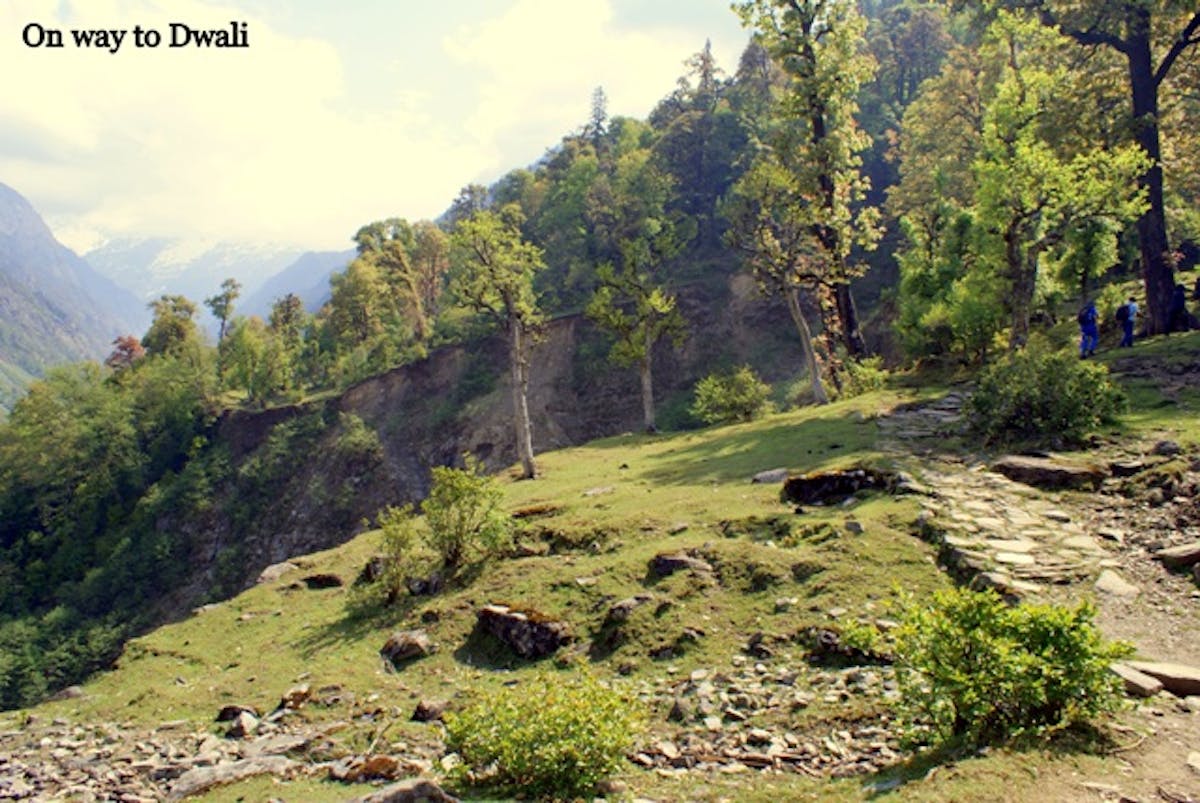 On the way to Dwali
The weather in Pindar Valley is very unpredictable. If you want to avoid rain, start trekking early in the morning. Even on clear days, one can expect to see a few heavy spells of rainfall after 10 or 11 am.
Start by taking the trail that ascends up from Old PWD Guest House towards Dwali. The initial 20 minutes of the hike is a slog over a very steep section. Behind you, you can see the whole of Khati village. After 15 minutes, the gradient of the ascent gradually reduces. You will pass by a stream. This is your first water point for the day.
Follow the trail that passes by KMVN Guest Lodges, towards your left. From here, the trail ascends towards a wooden bridge. This is the new trail, taken to cross over the first landslide zone. Once you cross over, the trail becomes narrow and descends rapidly as you re-enter the forest cover. Down towards your left is the Pindar River raging through. The trail now has a sharp descent. After 15 minutes of downhill walk, the trail will level out. Walk for about five minutes and look for the second landslide section.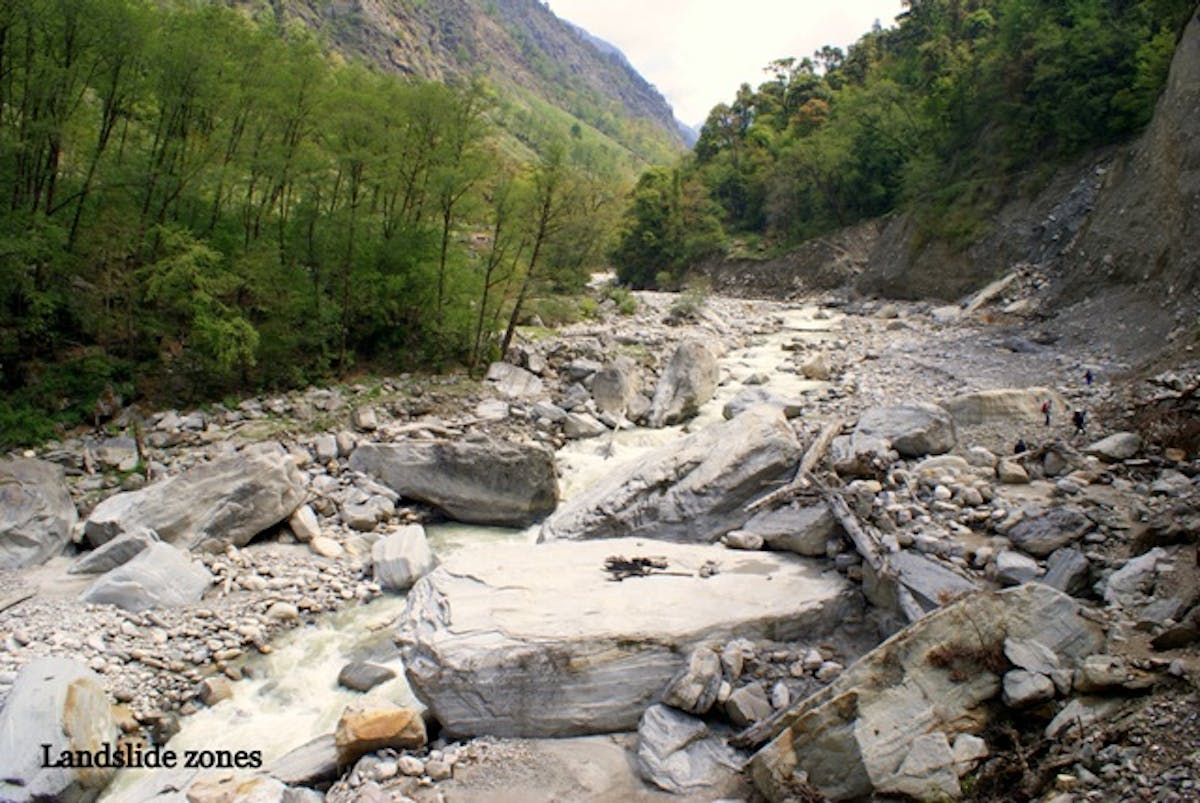 Landslide Zones
The trail ahead is broken. So take a left turn and climb down towards the bank of Pindar River. The descent is through a slippery section so be cautious. Once you are next to the river, look for a way through the boulders to cross the landslide zone. Once you have crossed this section, look for a temporary trail winding up from the same ridge that you came down. This is a slippery and steep climb, which will reconnect you to the old trail to Dwali.
Once you rejoin the old trail, proceed straight ahead inside the forest ridge. After 10 minutes of level walk, you will find yourself facing a third landslide zone. Leave the old Dwali trail and take a left and climb down next to the riverbank. You now have to cross a long section of broken bends and mountain ridge. Walk along the bank on the moraine and cross two mountain bends towards your right. This will take around 20 to 25 minutes to traverse. The trail has been marked by stones. Look for the trail exiting the moraine zone and getting you back up to the old Dwali trail. 
Pindari river
A swift 15-minute walk will bring you to your fourth landslide zone. Descend to the river bed from your left. Walk along the river bed. In front, you will see some shepherd huts. One can set up an emergency campsite here if required. Proceed straight to the huts and take the marked trail going up to the ridge ahead of you. The ridge walk is a short one through the forest and after five minutes of trekking, you will reach a spot from where you can see the fifth landslide zone below. Climb down to the river bed and prepare yourself for the longest moraine detour of the trek. This section is the hardest part with huge boulders to traverse. You will have to cross as many as four scissor bends and a distance of about 3 – 4 km on this stretch.
There is a point where you climb up the dense ridge towards your right. It is advisable to take help here from a reliable guide. Locating this section is tricky and the trail is hidden. Trekkers who miss this spot and proceed straight ahead will find themselves stuck next to the river bank with no logical trail to follow. Keep in mind that the old Dwali trail is towards the right side of the ridge above you. So if you find yourself stuck with no route ahead, climb the forest ridge towards your right until you cross a properly laid trail.
The climb is approximately 60 meters and is strenuous. Once you re-connect with the old Dwali trail, walk for 15 minutes till you reach an uphill section. The uphill trail is around 2 km long. The final section of the old Dwali trail is broken at this sixth and final landslide zone. You need to climb down 80 meters back to the river bed below you. The descent is through an unstable section of loose gravel and boulders. Extreme precaution needs to be made while descending.  The soil is loose and at many points, you may cause small unstable boulders to roll down. Once at the river bed, walk on the moraine zone until you reach the river crossing section. Dwali is across the river, with a very prominent PWD Guest House.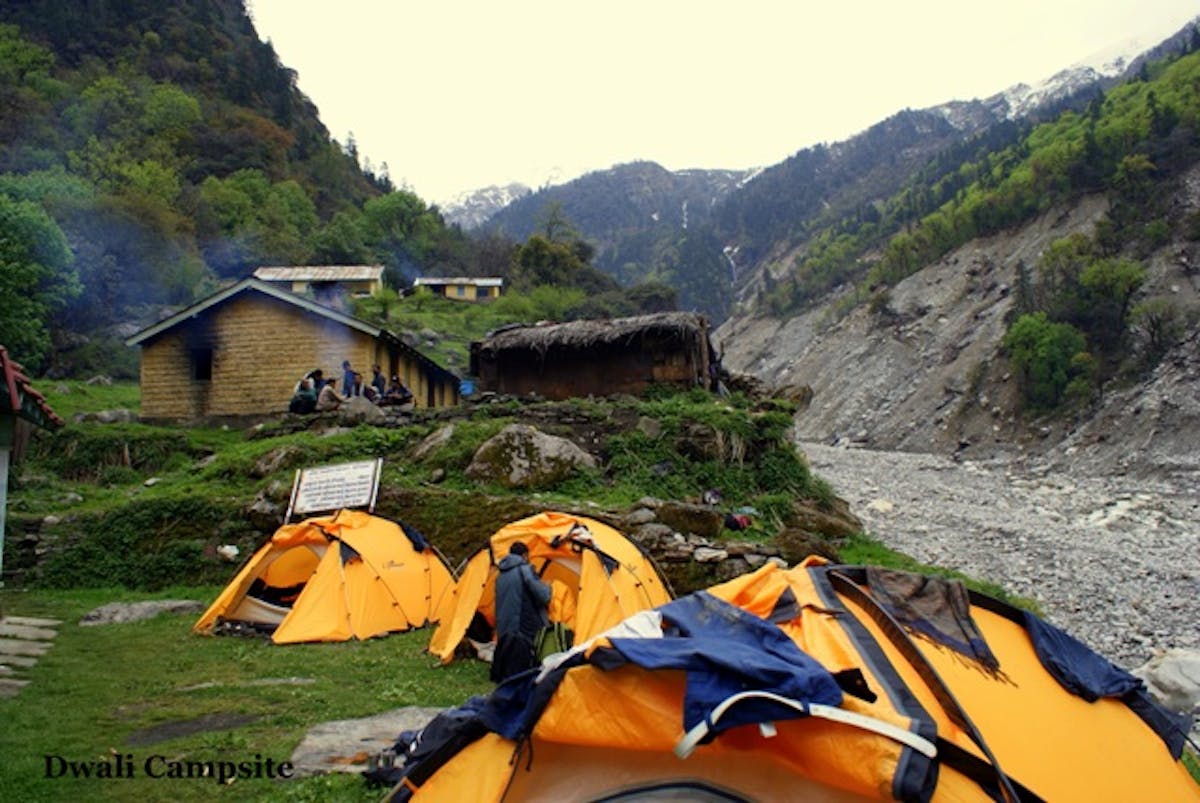 Dwali Campsite
Towards the left of Dwali lies Pindar Valley and towards the right is Kafni Valley. Dwali is located next to the confluence of rivers from Pindari and Kafni. The magnitude of the destruction caused by a cloud burst is evident. The old Dwali trail is barely existent; the bridge is broken and the banks of Dwali washed away in multiple sections. There is a small camping ground next to PWD Guest House for pitching tents. Drinking water is available behind the PWD Guest House on the starting point of Phurkiya trail. 
Day 3: Dwali to Phurkiya 
Altitude: 8,566 ft to 10,465 ft 
Distance: 5 km 
Time taken: 3 hours
Coordinates: 
Phurkiya GPS Coordinates: N 30°12.970, E 079 °59.878
Today's is a short trek, but has considerable altitude gain of over 1,900 feet. The trek from Dwali to Phurkiya with an overnight camp at Phurkiya is highly recommended for acclimatisation purpose. Taking the trail towards the backside of PWD Guest House leads to the inner Pindar Valley. From here, the trail ascends gradually through beautiful rhododendron and oak forest.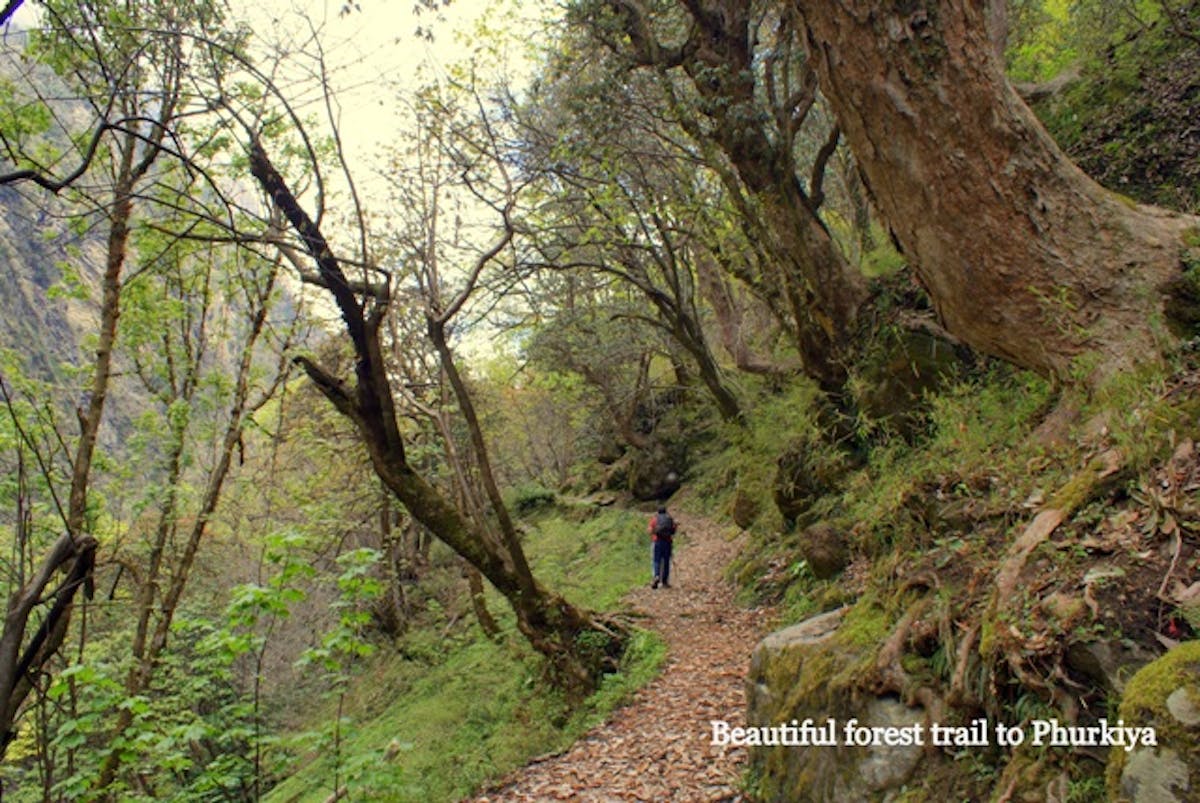 Beautiful forest trail to Phurkiya
There are a total of five streams crossing your path for the day. Expect the last few streams to be completely frozen in late April and early May. The first stream is a small one, which is a good drinking point. It takes around 15 – 20 minutes to reach this stream crossing. Once crossed, the trail has a series of forested switchbacks as you gain altitude. Observe Pindar River flowing below you in a narrow gorge. On a clear day, you can see Mt. Nanda Khat and the pinnacle of Nanda Devi East in front of you.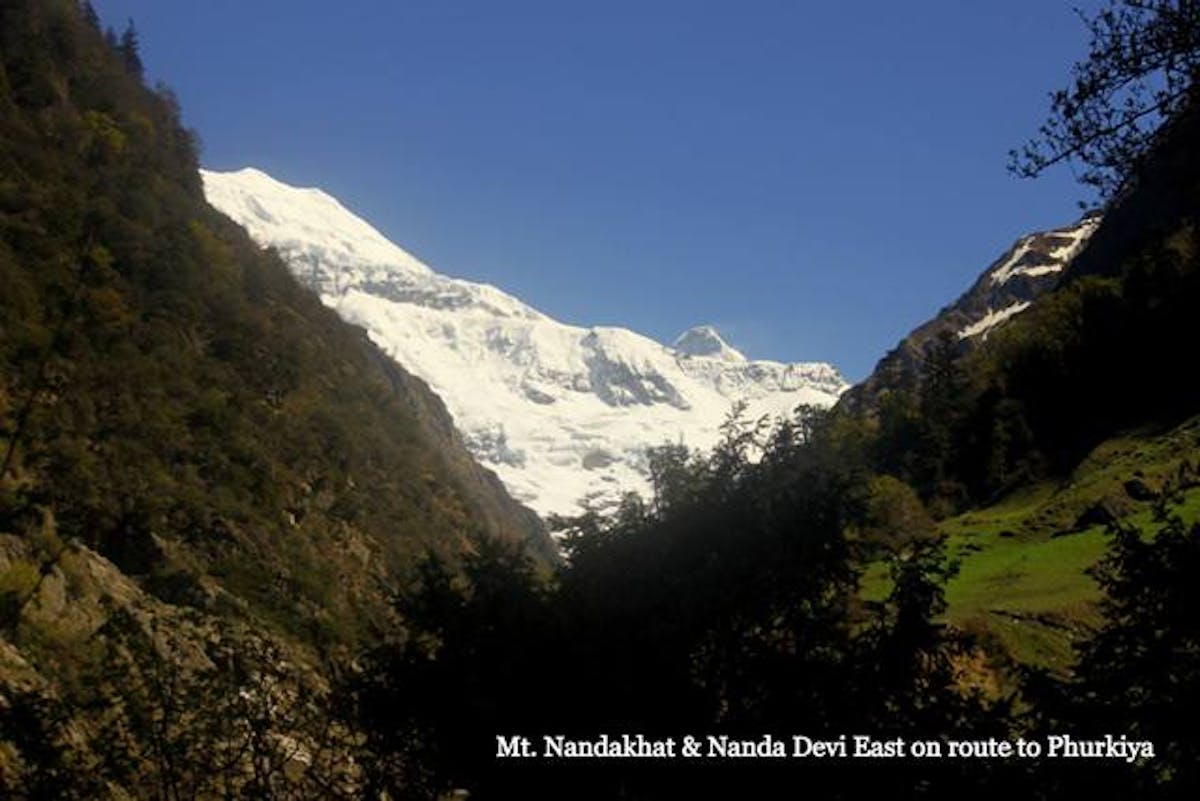 Mt. Nandakhat & Nanda Devi East en route to Phukriya
At a distance, you can see a small green meadow, which looks very inviting. It takes 30 minutes to reach this spot. This is a good vantage point for photography. There are glacial formations on the stream that's gushing down to join the river. Across the river, one can find a few Himalayan Ibex grazing near mountain walls with lovely cascading waterfalls.
The trek now is along the long stretch of grassland. Cross another glacial stream section and enter the second, more scenic meadow. At the top of the meadow is a picturesque rhododendron forest. It takes about 20 minutes to reach there.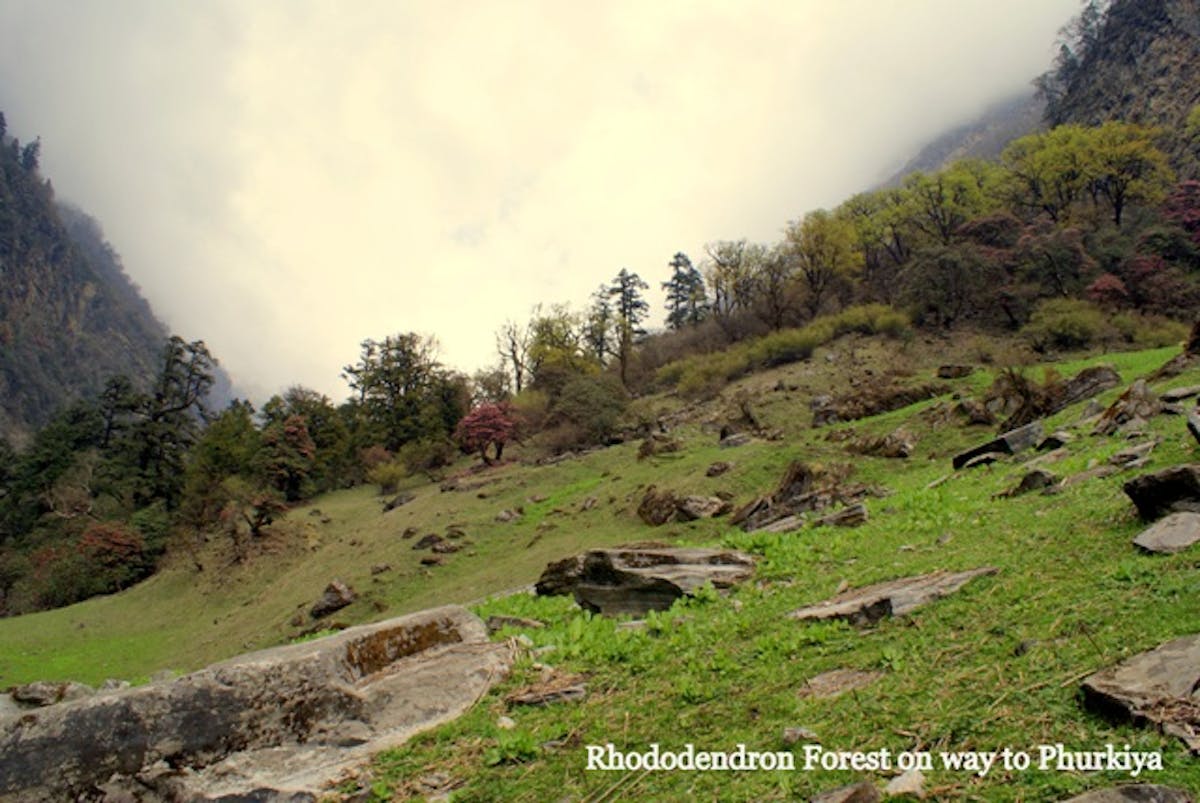 Rhododendron Forest en route to Phukriya
As you enter the forest, there are a few small landslide-prone sections that you have to cross. There is no alternative path; you have to cross over the fragmented trail. Look out for a tricky spider-wall section. You will need to assist each other to cross this section, which has really tiny footholds.  You can place a rope here for safety if need be. 
Notice that all these fragmented trails are at the spot where a stream is running down. These spots look extremely vulnerable to further fragmentation and collapse. These sections take around 30 to 45 minutes to traverse safely.
Now, there are two final stream crossings that are basically hard snow and scree. In April and early May, expect these sections to be covered in hard snow. You will have to make footholds here with the help of an ice axe. Microspikes or crampons can be very useful here. Remaining on the true left of the river, look for KMVN and PWD huts in front of you. 
You have finally reached Phurkiya. You can pitch your tents on the right side of your trail on an abandoned slope. There is a small dhaba, where you can get food and tea, provided the caretaker has provisions. From here, you can catch a breathtaking view of Nanda Khat Peak. 
Day 4: Phurkiya to Zero Point and back to Phurkiya 
Altitude: 10,465 ft and 12,300 ft 
Time taken: 7 hours 
Distance: 16 km 
The trek to Pindari Glacier goes till Zero Point. Going ahead from Pindari Glacier requires special permits and peak expedition-like preparedness (Traill's Pass – Milam expedition*). Today's trek is a beautiful walk to the inner realm of Pindar Valley. Start the trek very early in the morning to get good views and to avoid bad weather. The weather at Pindari Glacier can fluctuate in a matter of minutes. Ideally, you want to be at Zero Point by not later than 9 am. It takes 3 – 4 hours to reach Zero Point from Phurkiya. So plan your day accordingly.  
Mt. Nandakhat from Phukriya
Leave Phurkiya campsite and take the trail from the left side of the huge rock behind KMVN hut. After around 15 minutes of an uphill hike, you reach your first stream crossing. Depending upon the time of the year, you will find the stream in different forms. The glacial stream is entirely a hard chunk of snow block. Walk across it to reach the base of the first meadow.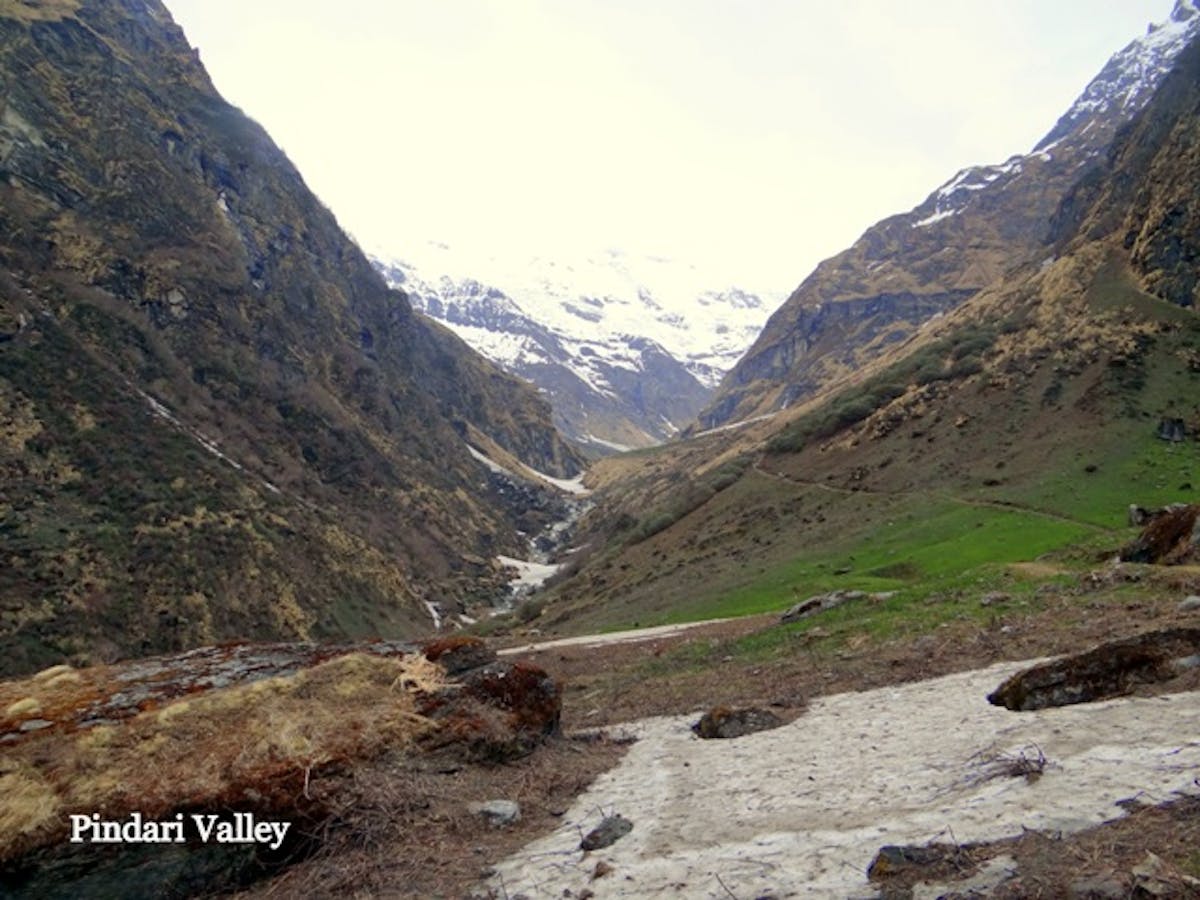 Pindari Valley
From here, you can see the trail surging ahead from the left side of the valley. In front, Mt. Nandakhat (6,545 meters) is clearly visible. The Pindar River flows in the gorge below, on your left side. After 20 minutes of following a well-laid trail, you will cross by a rock-fall section. Pass this sensitive zone with caution and keep a lookout for any rock falling from above.  The patches of hard snow on the trail start to become more visible now. They can also be very slippery. Use your crampons here to get better traction.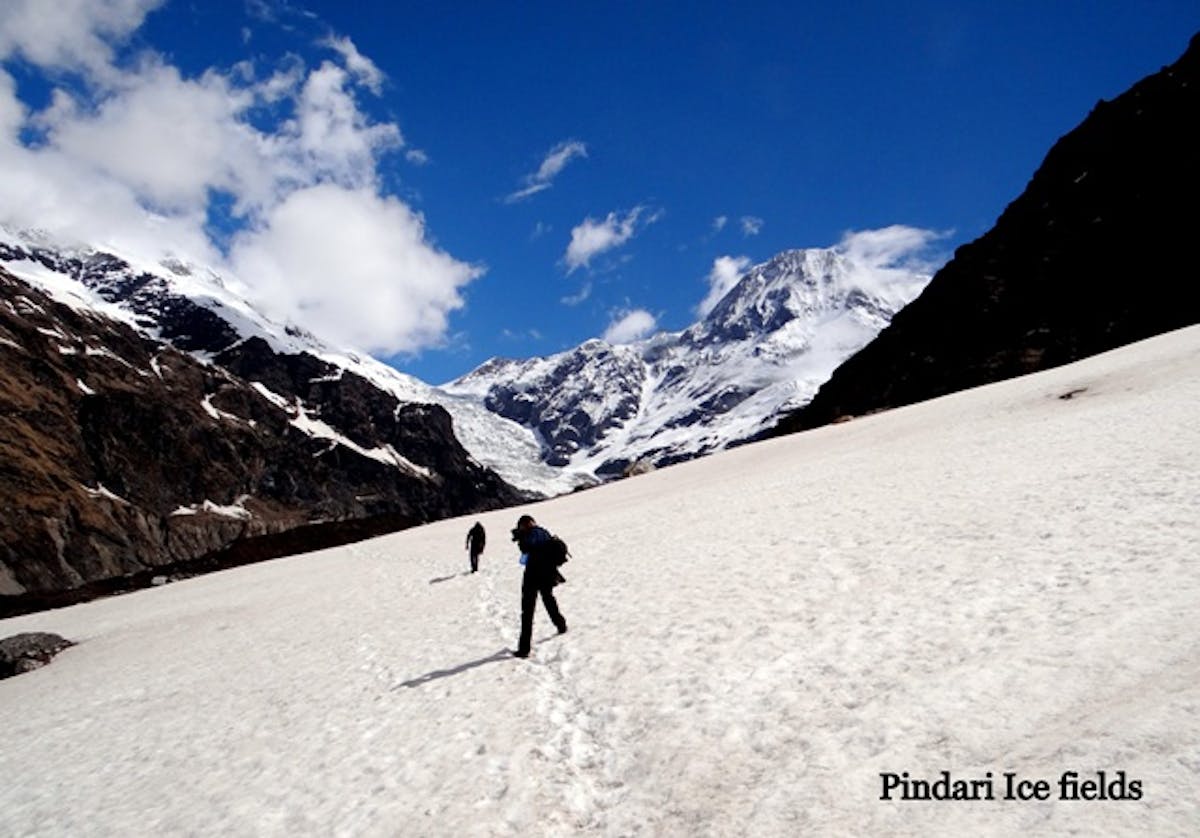 Pindari Ice Fields
After 20 minutes, you will come across a series of broken trails. One of the sections here is completely broken with very little space for your foot placing. There are also a few spider-wall sections. Towards your left, across the river, observe a prominent snow-capped peak. This is Mt. Bauljuri (5,922 meters). After crossing these tricky sections, proceed towards the valley, which now turns towards your right. Leaving behind the greenery, you now enter the snow ridge of upper Pindar Valley.

This is a long trail. From June onwards, the snow will melt and the trail will be easier to trek on. Pindari Glacier is still not visible and is behind the snow ridge that you can see straight ahead. It takes about 30 – 40 minutes to reach the top of the ridge. The ascent is gradual. You will pass by multiple small rivulets and they are excellent water points.
Once on top of the ridge, you will get the first view of Pindari Glacier at the far left. Towards the right, a huge humpback snow-capped peak, Changuch (6,322 meters), looms into view. 
Below these peaks, the Pindari ice-field is entirely covered with snow. The walk from here to Pindari Baba's hut is an hour's trek away. You will cross over as many as three ice fields. The snow here is overwhelming in April and early May and slows you down. Look for a temple and a hut towards your left side ahead. This is the home of the famous Pindari Baba, Dharmanandji.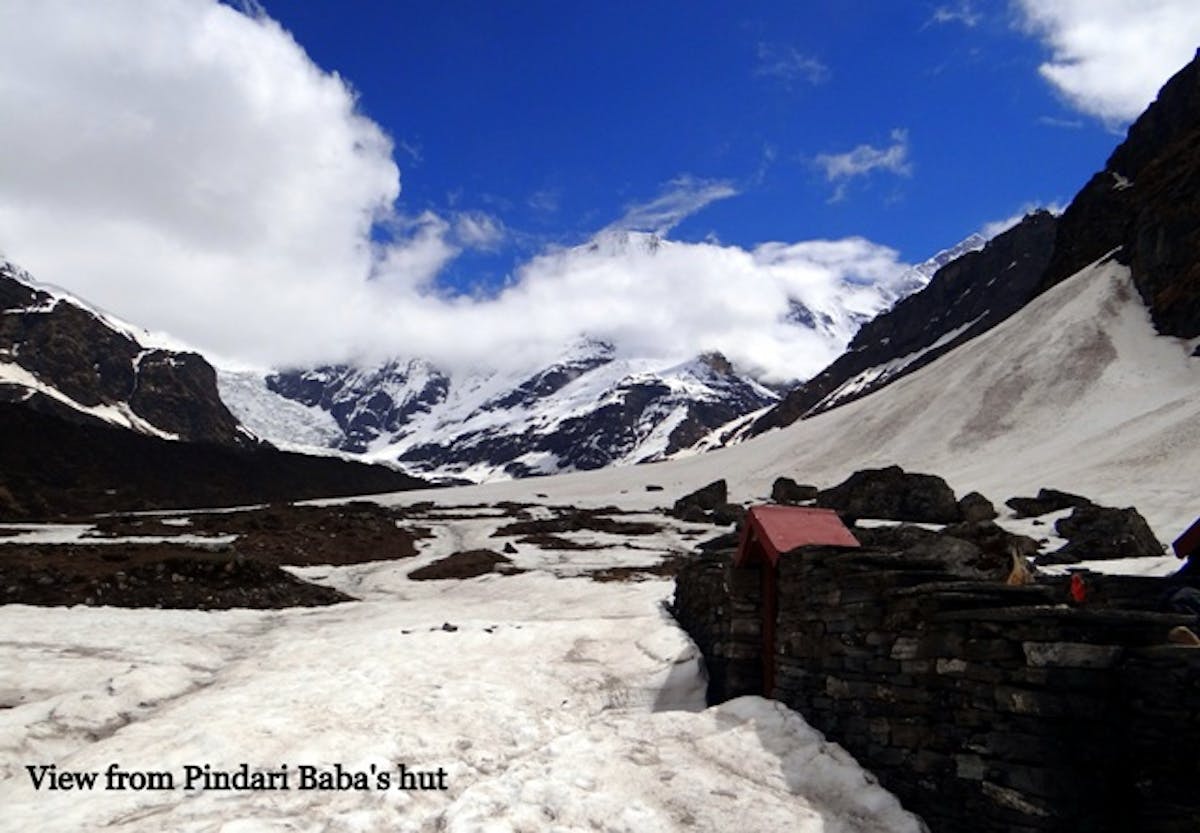 View from Pindari Baba's hut
Zero Point is another 40 minutes ahead. Take the trail straight ahead from Pindari Baba's hut till you reach a moraine ridge towards your left. Cross over and climb till you reach a vantage point with a board stating, "You have reached Zero Point."  
Pindari Glacier is towards your left. The Glacier is 5 km long. The snout is about 6 metres high and 3 metres wide. The amphitheatre-like view from here is impressive. You are surrounded by beautiful high-rise snow-capped mountains from three sides. Looking towards the right of Changuch is Mt. Nandakot (6,861 metres).
The trail back to Phurkiya is the same route taken to reach Zero Point. The return can be done swiftly in two hours' time.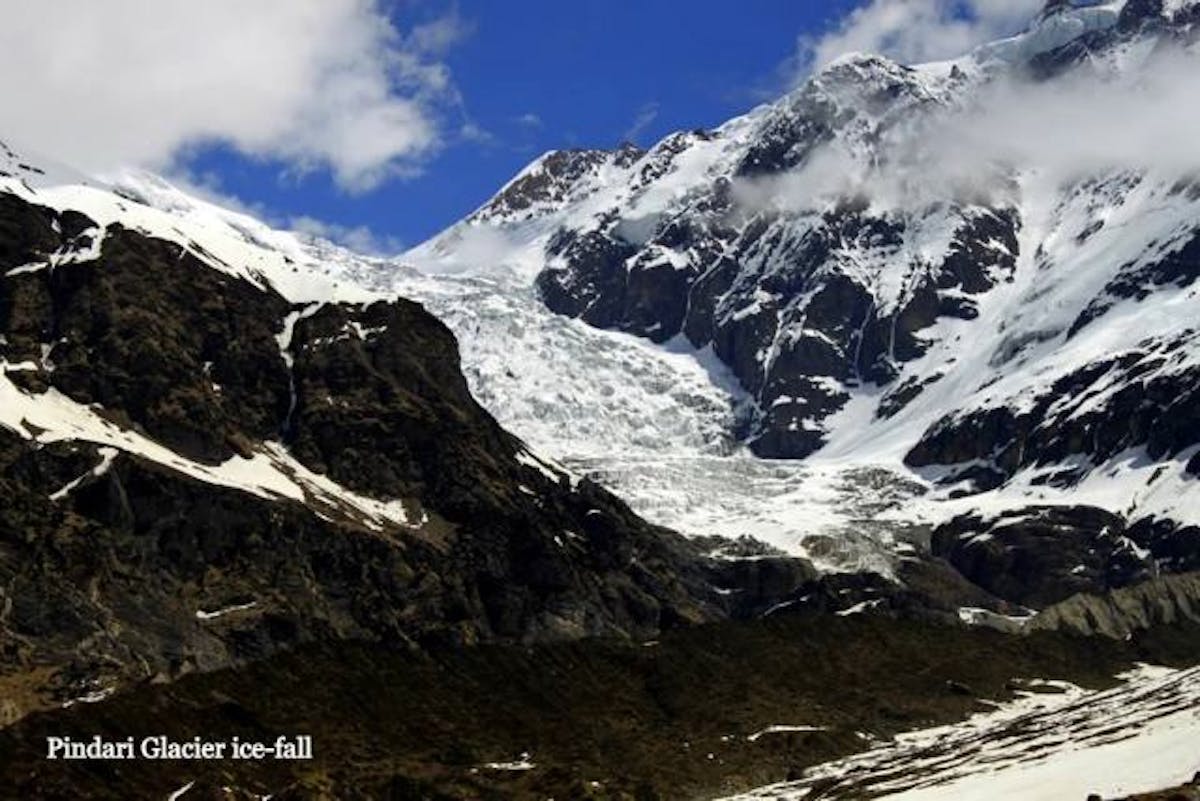 Pindari Glacier Ice-Fall
Note: I.H. Team was only able to reach Pindari Baba's hut and could not reach Zero Point due to bad weather. You can also trek back to Dwali from Zero Point and camp there.
Day 5: Phurkiya to Khati via Dwali 
Altitude: 10,465 ft to 7,355 ft 
Time taken: 7-8 hours 
Distance: 18 km
Broken Moraine as seen from Dwali Campsite
After successfully reaching Pindari Glacier, it is time to head back. Take the trail back to Khati via Dwali. The descent from Phurkiya to Dwali can be done swiftly in 1 – 2 hours. From Dwali to Khati, follow the same route passing the six major landslide zones. It takes around 4 – 5 hours to complete this stretch. 
Day 6: Khati to Kharkiya– 4 km (approx), 45 – 60 minutes trek. Jeep drive from Kharkiya to Kathgodam via Bageshwar
Altitude: 7,355 ft to 7,395 ft 
Time taken: 45-60 minutes trek 
Distance: 4 km 
Start early in the morning if you plan on reaching Kathgodam by evening. Trek from Khati to Kharkiya and reach the road-head. Board pre-arranged jeeps for a drop to Bageshwar. You may have to break the journey and take another mode of transportation from Bageshwar for Kathgodam. Local jeeps only ply from Kharkiya to Bageshwar, unless a direct drop is arranged on request.
➤ How To Get Fit For The Trek
The Pindari Glacier Trek is classified as a trek of moderate difficulty. You trek up to an altitude of 12000 feet. You have to make sure your lungs are strong for this.
Cardiovascular endurance
On the Pindari, apart from huge altitude gains and possibility of rain, the trail is tricky and risky. Hence, this requires a good amount of endurance. You can begin by jogging everyday.  Start jogging at a slow pace and then keep increasing your pace day by day. Make sure you are able to jog 4 km in 20 minutes before the start of the trek. It takes time to be able to cover this distance in the given time. Swimming, cycling and stair climbing without too many breaks in between can help too.
Strength
This is another area you should work on. There is a lot of trekking distance that you will cover in high altitude carrying your backpacks.  You have to walk on uneven terrain during the trek. It could be taxing for your legs. For this, strengthening your legs will help. You can do some squats to strengthen them. Do around 3 sets of squats, with 8 squats in each set.
Flexibility
Another aspect that will help you trek comfortably is flexibility. For this, you can do some stretching exercises – stretch your hamstrings, quadriceps, hip flexors, lower back muscles and shoulders regularly. On your trek, it is important that you arrive on the slopes with your muscles relaxed. Carrying a backpack, however light, can become a strain after a while. These exercises will help you to be in good shape before the trek.
Working out indoors
If you can't go out and jog because of time and space constraints, here's a video you can use to work out indoors.
➤ What To Pack For The Trek
The Pindari Glacier Trek is conducted during the monsoon months, so it is highly likely you'll encounter rain/snowfall on your trek. Ensure you carry a poncho to have a comfortable trek.
Bare Necessities:
Trekking shoes: Carry trekking shoes and not sports shoes. The trail will be slippery at several places and will require shoes with good grip and ankle support. You can watch this video to learn to choose the right trekking shoes.
Backpack (40-60 litres): A backpack with sturdy straps and a supporting frame. Rain cover for backpack is essential.
Daypack (20 litres): As this is a crossover trek, you would only need a daypack if you are offloading your backpack.
Clothes
Three layers of warm clothes: Carry two sweaters, and a padded jacket. If you are more susceptible to feeling cold, add another layer.
Three trek pants: Carry light cotton trek pants. One of your pants can be tights that you can wear as an inner layer while trekking, especially on the Pass day.
Three collared t-shirts: Carry light, full sleeved t-shirts that prevent sun burns on the neck and arms. If you're too cold, you can wear two tshirts together for more insulation.
Thermals: Carry thermals (top and bottom) to keep yourself warm at night. Keep your thermals fresh and don't wear them while trekking.
Accessories
Sunglasses: Sunglasses are mandotory. In June, there will be abundant snow on Hampta Pass, and you would need it to protect yourself from snow blindness.
Suncap: At high altitude, the sun is extra harsh, as the UV rays don't get filtered. So carry a suncap to protect yourself.
Synthetic hand gloves: Avoid woollen gloves as they will get wet if you touch snow. You can add a fleece glove as an inner layer, and wear two gloves on each hand if you're more susceptible to cold.
Balaclava: You'll need this to cover your head, as most of the heat escapes from your head.
Socks (2 pairs) and a pair of woollen socks: Apart from two sports socks, you can take a pair of woollen socks for the night.
Headlamp/LED torch: Mandatory
Trekking pole: Watch this video to understand why you need a trekking pole.
Others
Toiletries (Sunscreen, moisturiser, light towel, lip balm, toilet paper, toothbrush, toothpaste)
Cutlery: Carry a spoon, coffee mug and a lunch box. We insist on trekkers getting their own cutlery for hygiene reasons.
Two water bottles: 1 litre each
Plastic covers: While packing, use plastic bags to compartmentalise things and carry few extra plastic bags for wet clothes.
Mandatory Personal Medical Kit 
Diamox – 10 tablets (to prevent AMS)
Crocin – 6 tablets (fever)
Avomine – 4 tablets (motion sickness)
Avil 25mg – 4 tablets (allergies)
Combiflam – 4 tablets (Pain killer)
Disprin – 6 tablets (headache)
Norflox TZ & Lomofen– 6 tablets each (diarrhea)
Digene – 10 tablets (acidity)
Omez/ Rantadine – 10 tablets (antacids)
Crepe bandage – 3 to 5 meters
Gauze – 1 small roll
Band aid – 10 strips
Cotton – 1 small roll
ORS – 10 packets
Betadine or any antiseptic cream
Moov spray (aches, & sprains)
Mandatory Documents
Please carry the below documents. Document two and three need to be downloaded (PDF), filled in, signed and handed over to the trek leader at the base camp.
Original and photocopy of government photo identity card- (driving license, voters ID, etc.)
Medical Certificate and Disclaimer (to be filled by the trekker) – Download PDF
Medical certificate (to be filled by a doctor) – Download PDF
➤ An alternative Indiahikes trek you can do:
Arjun Majumdar, Founder
Pindari Glacier is a beautiful trek– but the rewards, we notice, are too little in span of 6 days. If you are not too sure of doing a trek on your own, we have alternatives you can try.
Our founder Arjun Majumdar thinks Kuari Pass would make a good alternative. "For treks in the Kumaon region, you need to get close to the Tibet border for big mountain views. Garhwal, that way, has greater mountain views because of how the ranges move towards Himachal Pradesh. Kuari Pass would give you the great mountain views, the meadows and the rhododendron forests on the trail"
➤ Trek Contribution
About Author: VAIBHAV CHAUHAN
Vaibhav works with Indiahikes as a Writer & Chief Explorer. He is an avid traveller with a passion for trekking in Indian Himalayas. With his roots in Shimla district of Himachal Pradesh, the love for the mountains is in his blood. When not travelling he likes to spend time interacting with like-minded trek enthusiasts and read books on travel and mountaineering.