Can You Help Us With Photographs Of This Trek?
We are looking to enrich this documentation with more photos. Pictures go a long way in explaining the trail, more than words ever can. If you have done this trek, can you share your photos with us? We will include them on this page, with due credit to you. Click here to contribute.
The Complete Guide to Triund Trek
Triund trek is one of the most popular treks to go over a weekend from Delhi and Chandigarh. It is perhaps the easiest Himalayan trek to do on your own. 
With breathtaking views of the Kangra valley and the snow-covered Dhauladhar ranges, it is also very picturesque. 
Triund is the ideal destination for those seeking a hassle-free taste of trekking in the Himalayas. The trek can easily be done over a weekend.
The trail to Triund is short but steep. The steep climb is well-compensated by refreshing walks amongst rhododendron and oak trees. There are also various songbirds in the forests along the trail which make it a birdwatcher's delight.
Considering it's an easy trek and with the effortless accessibility from Dharamshala or McLeod Ganj, there are a large number of trekkers who go this trek, making it difficult to enjoy the serenity of the place and can get crowded on top during the weekends or holiday season. It is better to experience the beauty of this trek during the weekdays. 
The town of McLeod Ganj (also known as little Lhasa) also provides for a grand opportunity to experience the vibrant Tibetan culture.
➤ Table Of Contents
Just like you, we love trekking! And this is a trek we've documented in great detail to help you do it on your own. Drop-in comments at the end of the page if you need any help! You will get all the information required to do the Triund trek on your own.
To navigate through the documentation easily, use this section of table of contents:
What to Watch out for
Trail Information
GPX File for the Triund Trek
Best Season to do Triund trek
How to Reach Triund Trek
Is Triund Trek Difficult
How to get Fit for the Trek
Temperatures on the Triund Trek
What to Carry for Triund Trek
Permission, Water Sources and other finer details about the Triund Trek
Nearby Places to Visit after the Triund Trek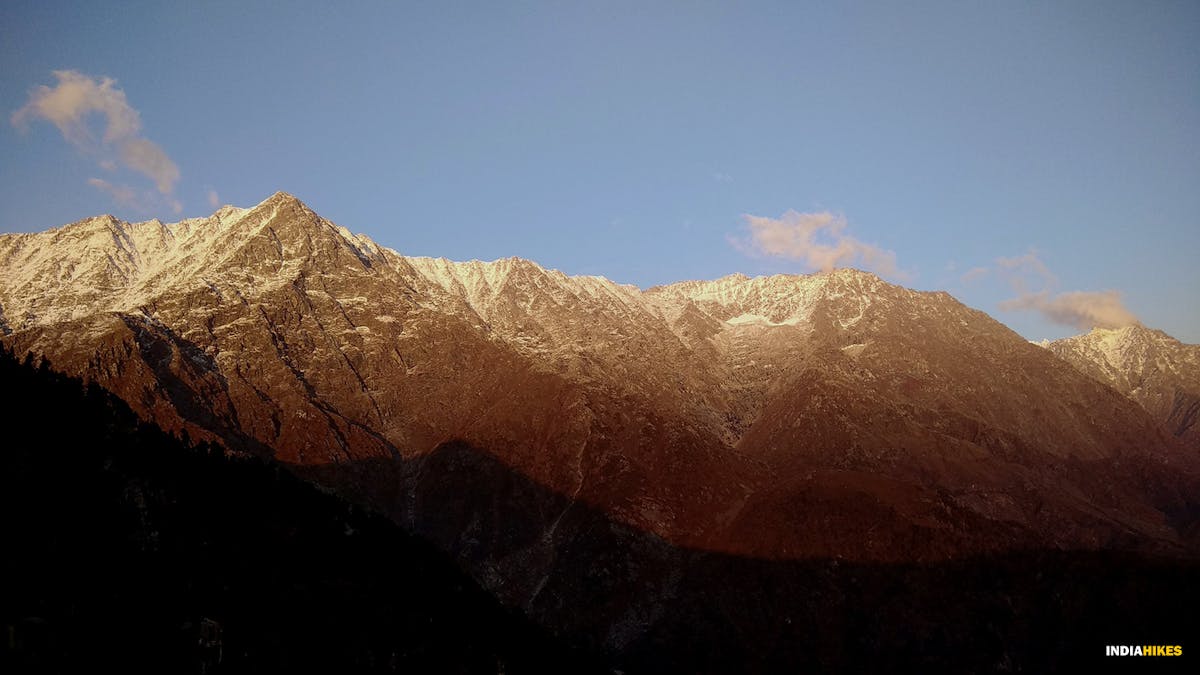 Sunkissed Peaks of Dhauladhars. Picture by Shreyasi
➤ What To Watch Out For
1. The View of the Mighty Dhauladhar Range and other peaks from the trek
The trek offers some of the best views with the very little climb. You don't have to go deep into a valley like the region of Manali or climb for multiple days to get some amazing views.
You get to see the Moon Peak, Rifle Horn, Arthur's seat, and the mighty Dhauladhar range clearly visible right when you start the trek.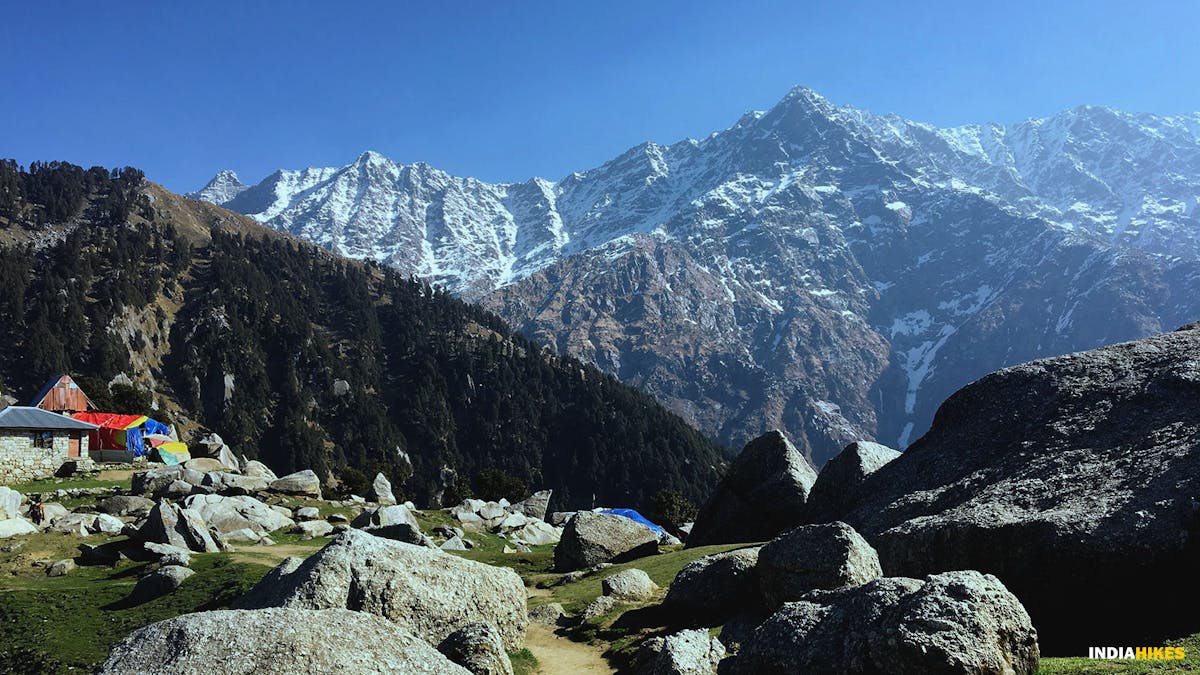 View of Dhauladhar Range from the campsite. Picture by Soudipan Maity
2. Trekking in the beautiful pine forests of Himachal Pradesh
Although trekking through the forest section is small on this trek, it takes you through a lovely forest segment that you will remember the trek for.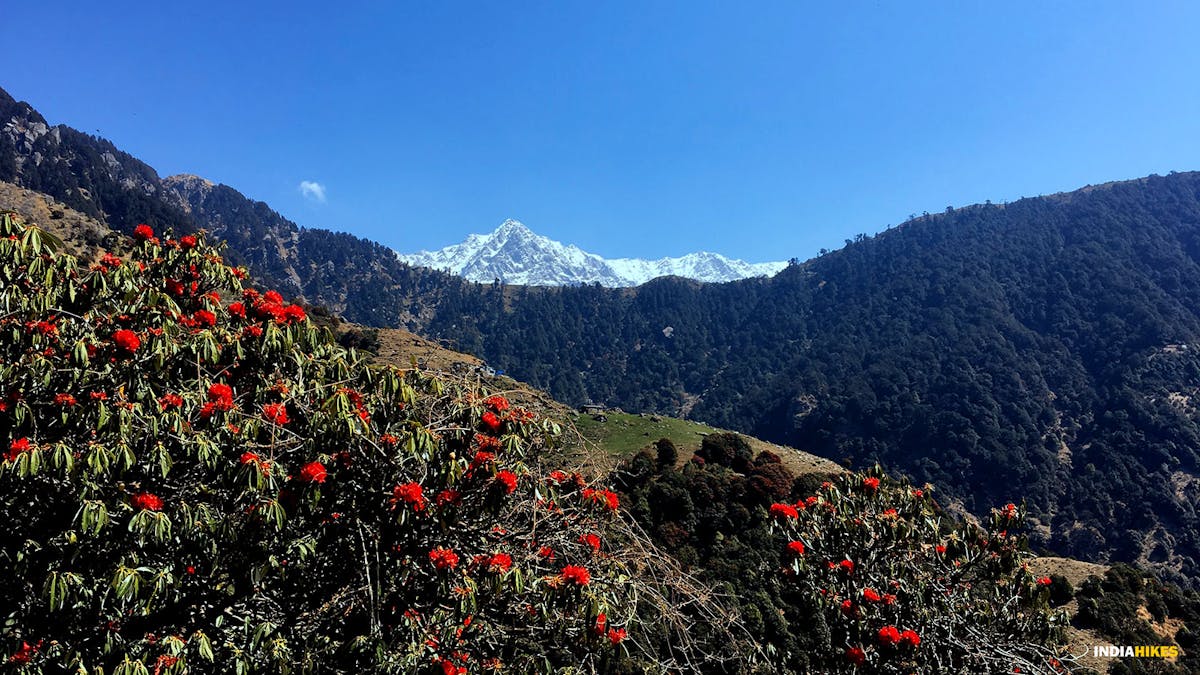 Beautiful red Rhododendrons amongst the Pinewood. Picture by Ragja Palakkadavath
The trek takes you through rhododendrons, pine, and coniferous trees. Trekking through the forest and the grand opening of the ridge at the end of the tree line is a sight to experience.
3. The Stunning Sunset from Triund Trek
The sunset is perhaps the main highlight of the Triund trek and what makes all trekkers stay overnight, camp at the ridge. Look behind and you have the sun setting with some golden lights hitting these mountain ranges.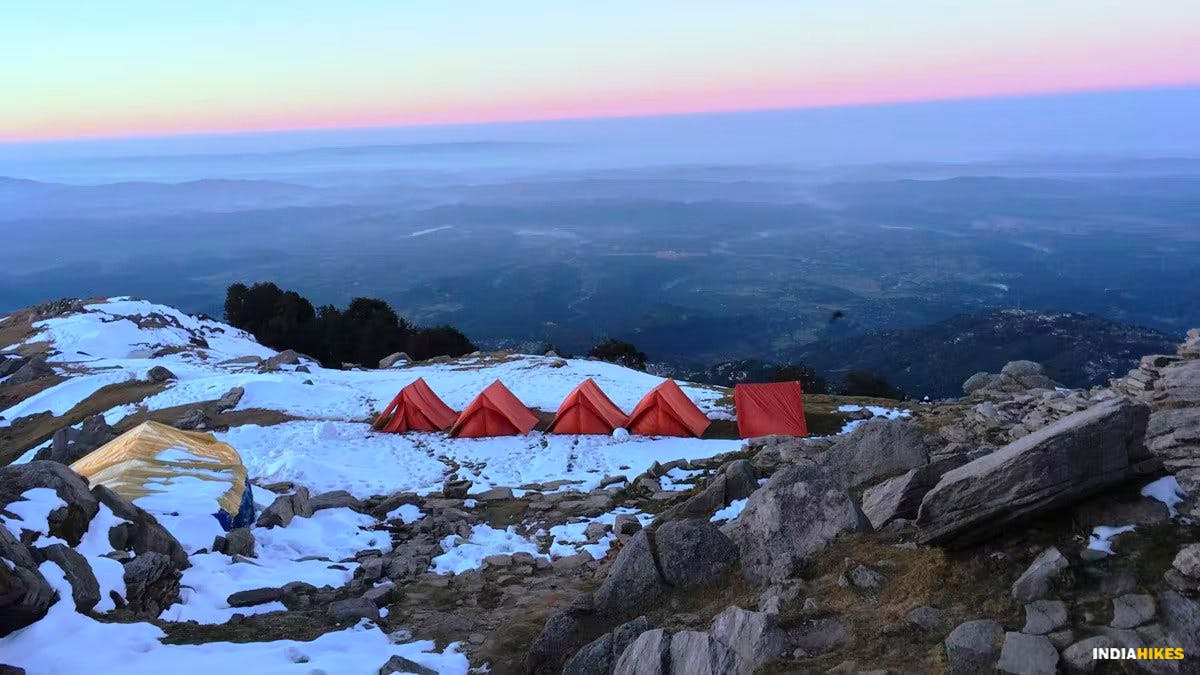 Breathtaking view of Kangra valley during sunset. Picture by Yashas Garg
4. Home to more explorations and treks
Triund trek is actually not the last place on the trek, unlike other summit treks. There is much more to offer for trekking enthusiasts. If you want to explore more and have experience of trekking in the Himalayas, then Triund just acts like a gateway to many more adventures. 
There are many places to explore like going all the way to the snow line, the Lakha Cave, and for more experienced trekkers over multiple days, going to Indrahar Pass.
➤ Trail Information
Dharamkot is your base to start the trek of Triund. You can also start the trek from McLeodganj itself, or from two other villages close by- Bhagsu and Gallu. The trail from Dharamkot however is arguably the nicer one as it climbs through a thick crown of pine forests.
The trek has been divided into two days in the trek documentation.
Trek Distance: 5.45 km
Trek Duration: 4 hours
GPS Coordinates of Dharamkot: 32°14'55.98"N, 76°19'31.55"E
GPS Coordinates of Triund Campsite: 32° 15' 42.084''N, 76° 21' 15.732''E
Start the trek as early as possible. The first half of the trek up faces the sun and the sun in the mountains can be very harsh later in the day.
Get to the water tank near the government primary school at Dharamkot. Next to the water tank, there is a trail that climbs up through a forest. Walk up along this trail for about half an hour to get to the Galu temple clearing. There's a small tea shop here, just below the shrine.
From here, one trail goes south-west into the forest to the village of Naddi. Another forest trail goes north-west to the stream that descends from Laka. The main trail to Triund continues straight past the small shrine.
Tip: There is an option of taking a cab all the way from McLeod Ganj to Gallu Devi temple. For a vehicle, you will be charged for Rs 500 once you reach the Gallu Devi temple, you will see the trekking trail with the forest checkpoint. There are no charges to be paid. However, your id card is important and your details will be logged into a book.
Your backpack will also be checked for the amount of plastic you are carrying and will be checked again while you return back. Ensure you carry them back and trek responsibly.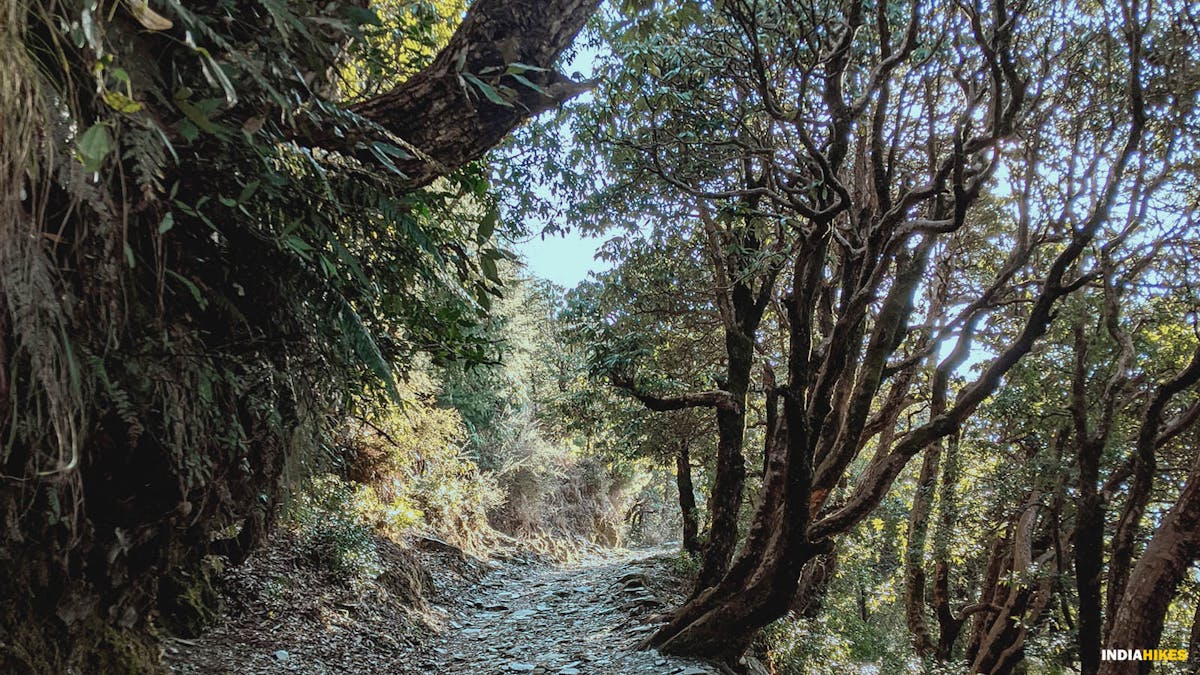 Initial Trail through the forest. Picture by Sindhu
The trail is a gently rising one, through dense oak forests and traverses the steep side of the Laka ridge. As you move ahead the trail is a deep gully that traverses a steep section and emerges on a rocky spur.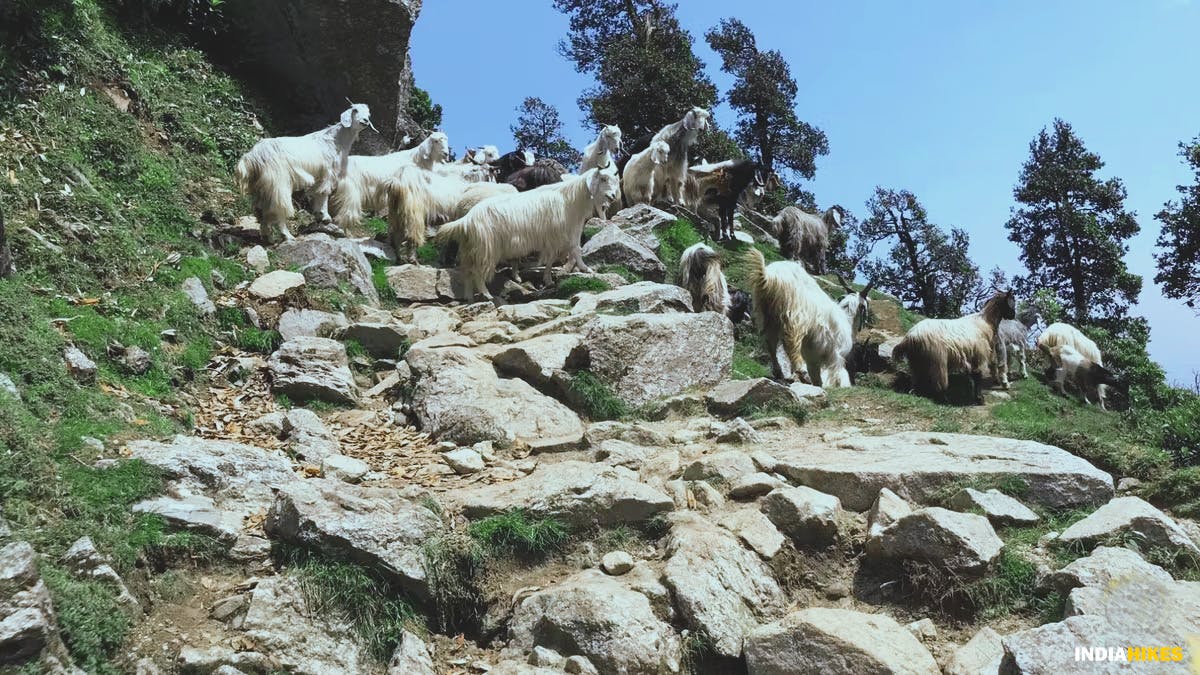 The initial trail on the Triund Trek. Picture by Mayank Kalra
The main Dhauladhar range comes into view here with the pyramidal peak of Mun appearing larger than life. This entire stretch is perfect for birdwatchers, as these forests are home to various kinds of songbirds.
You also have the railings at multiple places on the trek along with a few dhabas/cafés serving tea and packaged food on the trek. There are about 22 bends on the trek or the climb.
At around the halfway point you reach magic view café. From here the trail gets steeper.
The trail continues through a series of switchbacks and climbs to the Triund ridge through dense thickets of rhododendron and oak trees.
The last couple of switchbacks bring you out of the rhododendrons and out onto the Triund ridge. It's an open grassy ridge that stretches a good kilometer to the south before plunging into the Kangra valley.
There are plenty of places to camp here, you could even get some provisions at the tea shops here.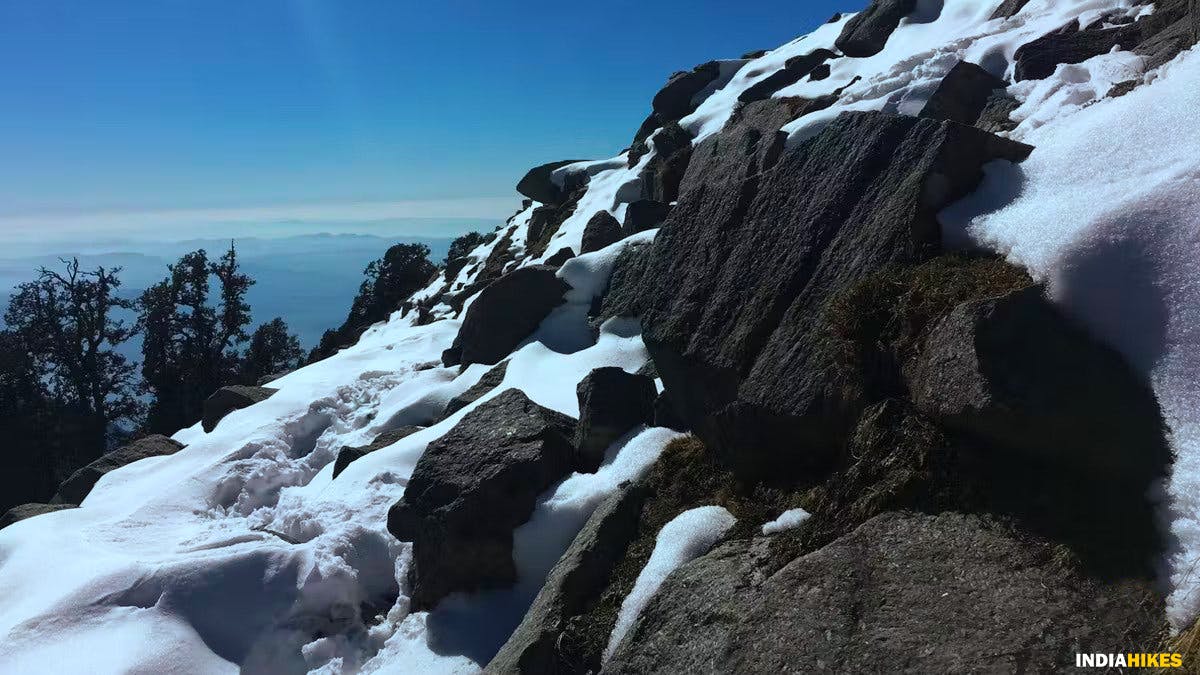 During winter, watch out when the trail gets covered with snow. Picture by Yashas Garg
Water is scarce and is available close to 1 km before Triund. It is highly advisable to carry your own supply of drinking water up here.
During the trekking season, there are many dhabas at Triund where you can get a cooked meal and refreshments. Instead of buying any packaged food, it is better to pack food from Dharamkot which won't get spoilt. You can stay overnight at the forest rest house at Triund, by doing an advance booking at Dharamshala. The accommodation here is reasonable, costing around Rs 600 to Rs 800 for a room.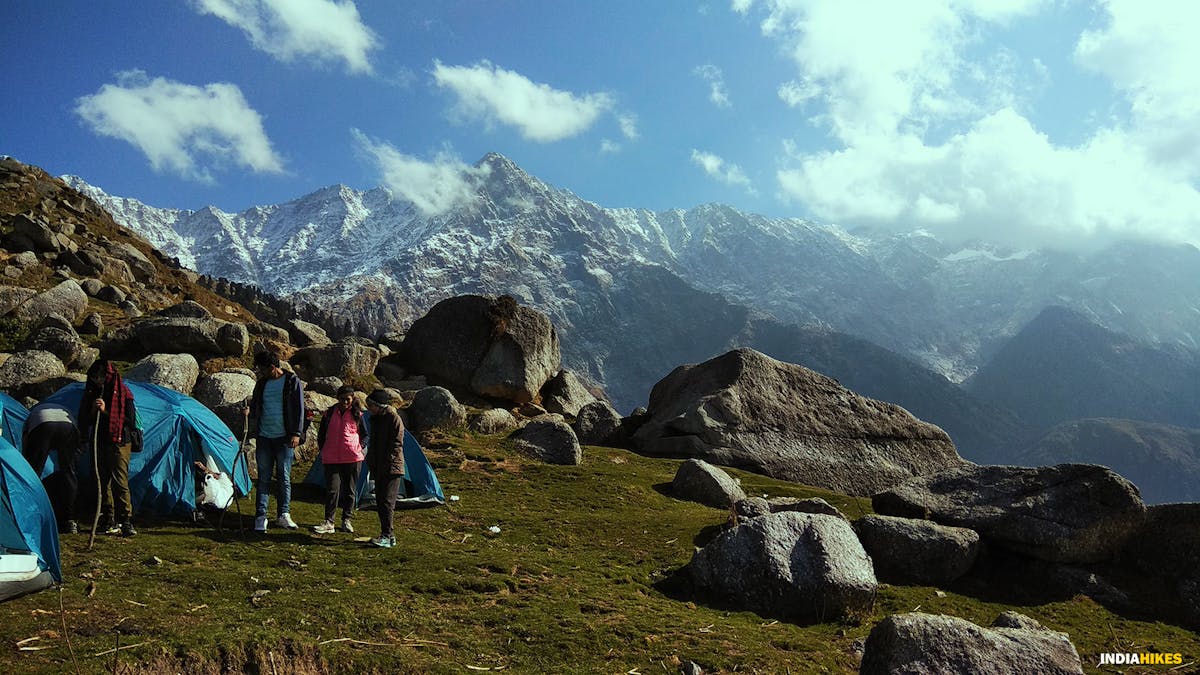 Dhauladhars add to the beauty of the campsite. Picture by Yashas Garg
You can also rent tents at Triund (around Rs 600 for a two-man tent, with sleeping bags). keep in mind that on busy weekends, such as around public holidays, the tented accommodation at Triund may get booked out.
Trek Distance: 5.45 km
Trek Duration: 2-3 hours
GPS Coordinates of Triund Campsite: 32° 15' 42.084''N, 76° 21' 15.732''E
GPS Coordinates of Dharamkot: 32° 14' 55.176'' N, 76° 19' 31.836'' E
Wake up early to catch the incredible views of the sun rising from behind the peaks to your east. It is a beautiful sight as the sun lights up the Kangra valley.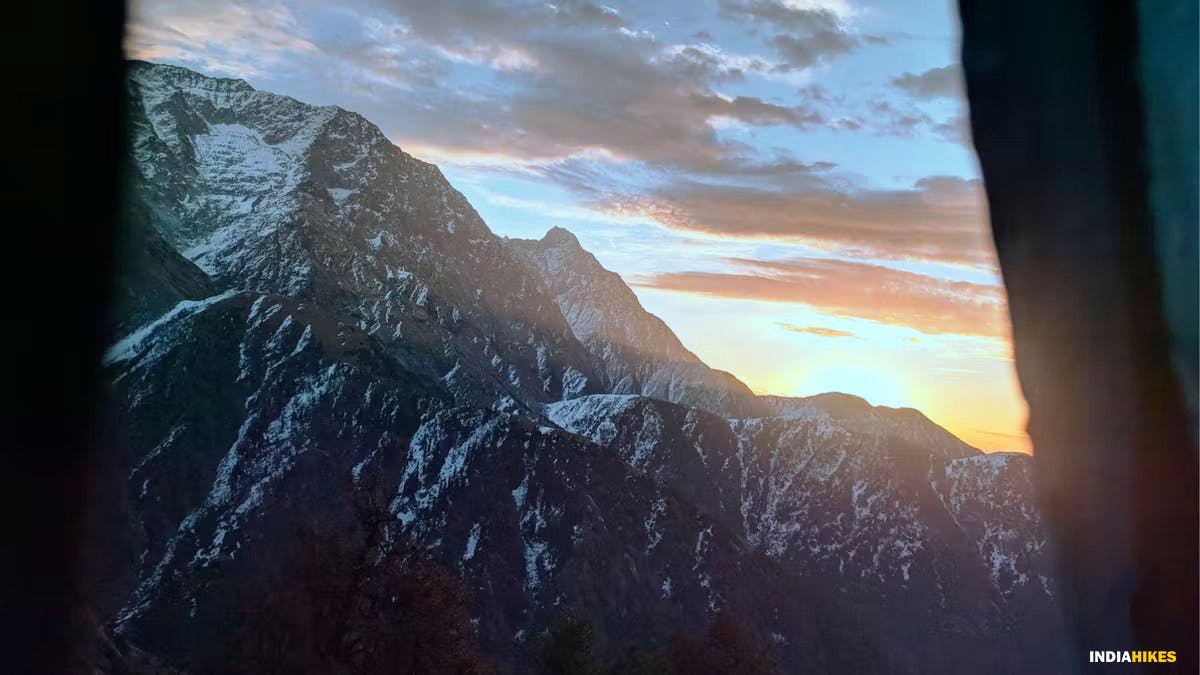 The view of sunrise seen from the tent at Triund. Picture by Nikhil Mannan
If you are short on time you can also head back to Dharamkot on Day 1 itself, making the round trip to Triund in a single day. You'll miss out on the lovely views of the evening and morning sky from Triund, but it is possible to return before it gets dark provided you start early.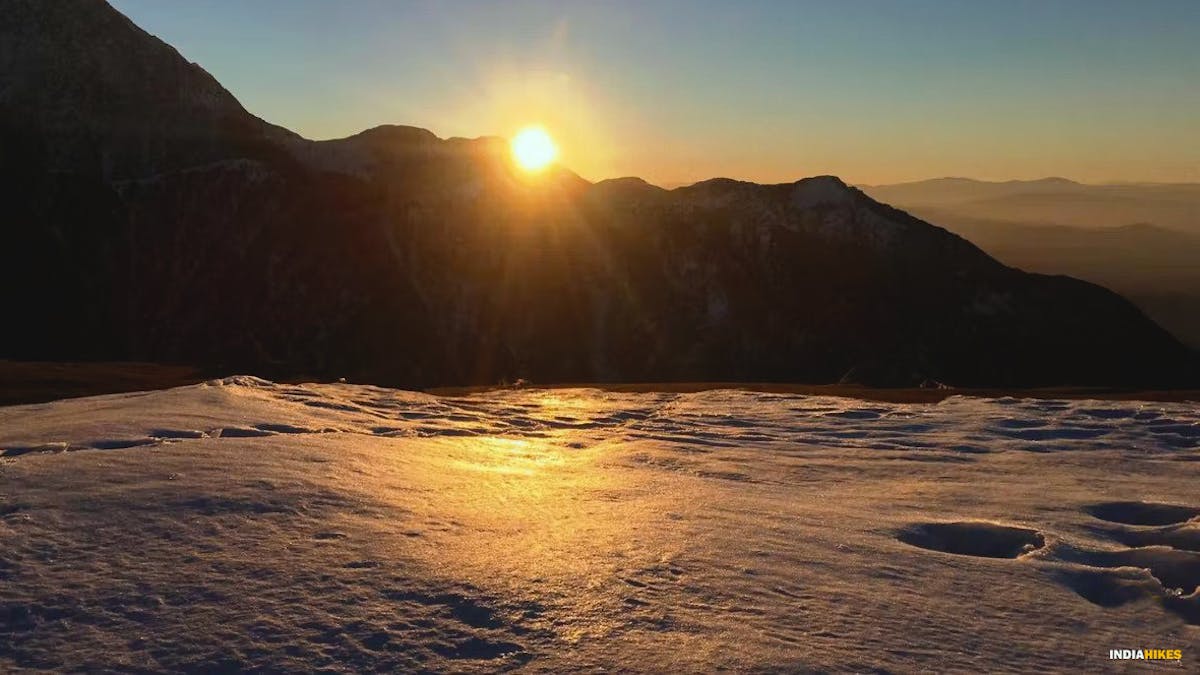 Sun rays glistening on the winter snow. Picture by Yashas Garg
Descend by retracing your steps along the path you came up with. Coming down should take a lot less time than it took to climb up. It's a short day so enjoy the walk and stop by at the cafes enroute.
Conversely, if you have the time you can ascend further from Triund to Lahesh cave via Laka. Lahesh cave serves as the base camp for the climb to Indrahar pass (14,250 ft).
There is a tea house at Laka, but you will have to carry your own supplies if venturing further. It is possible to go up to Lahesh cave and descend back to Dharamkot the same day. 
➤ Route Map of the Triund Trek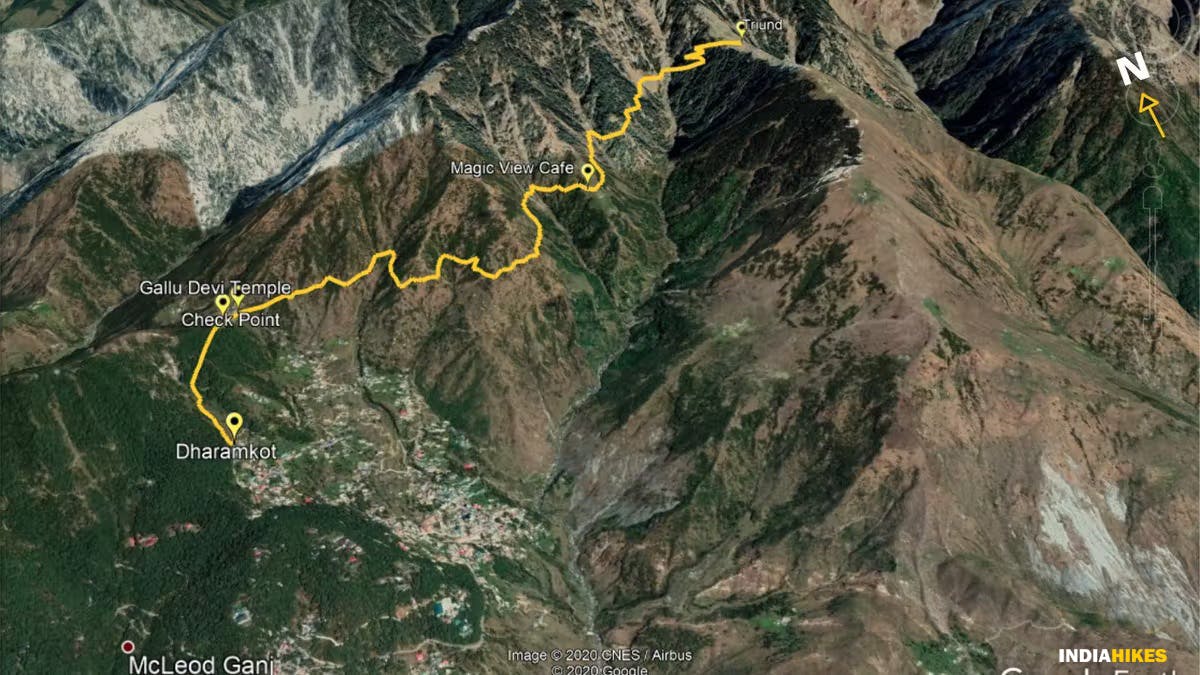 Trail Map of Triund Trek. Source: Google Earth. Picture Courtesy Suhas Saya
➤ Best Season To Do The Triund Trek
Apart from the monsoon seasons of July, August, and the peak winters of January, February, Triund trek can be done around the year.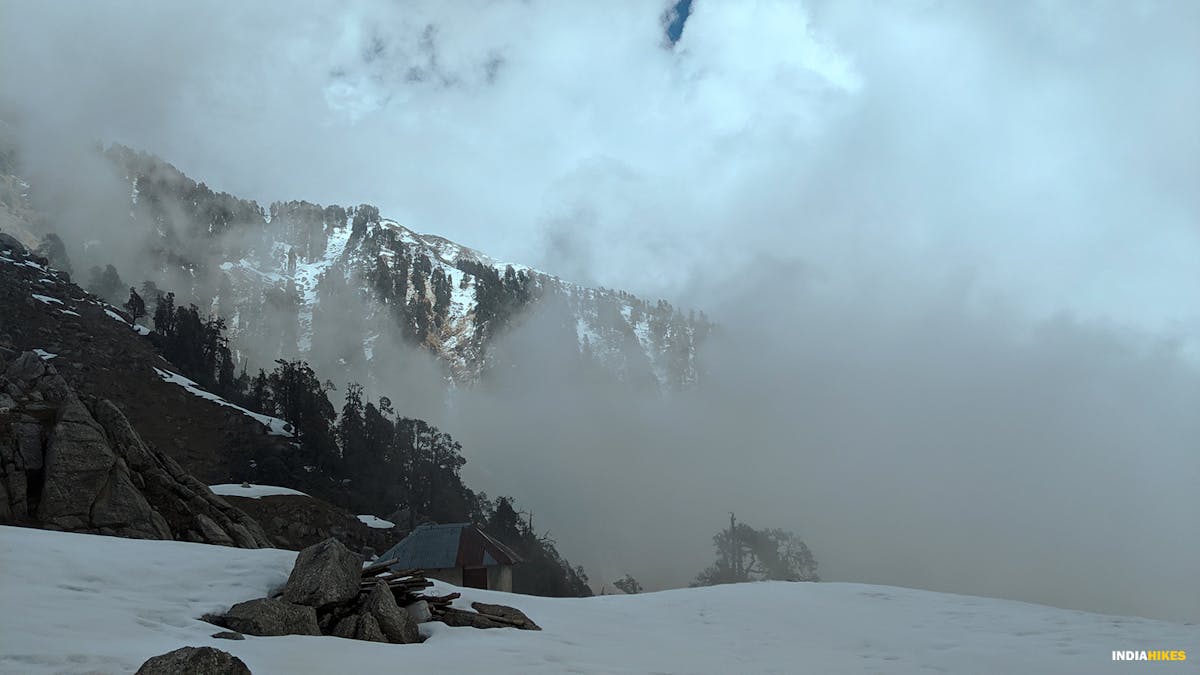 Picturesque winter setting on the Triund trek.
The spring and summer months of March to June have the best weather conditions to trek in. With one extra warm layer of clothing, the trek is perfect for trekking and to escape from the harsh weather conditions of April, May.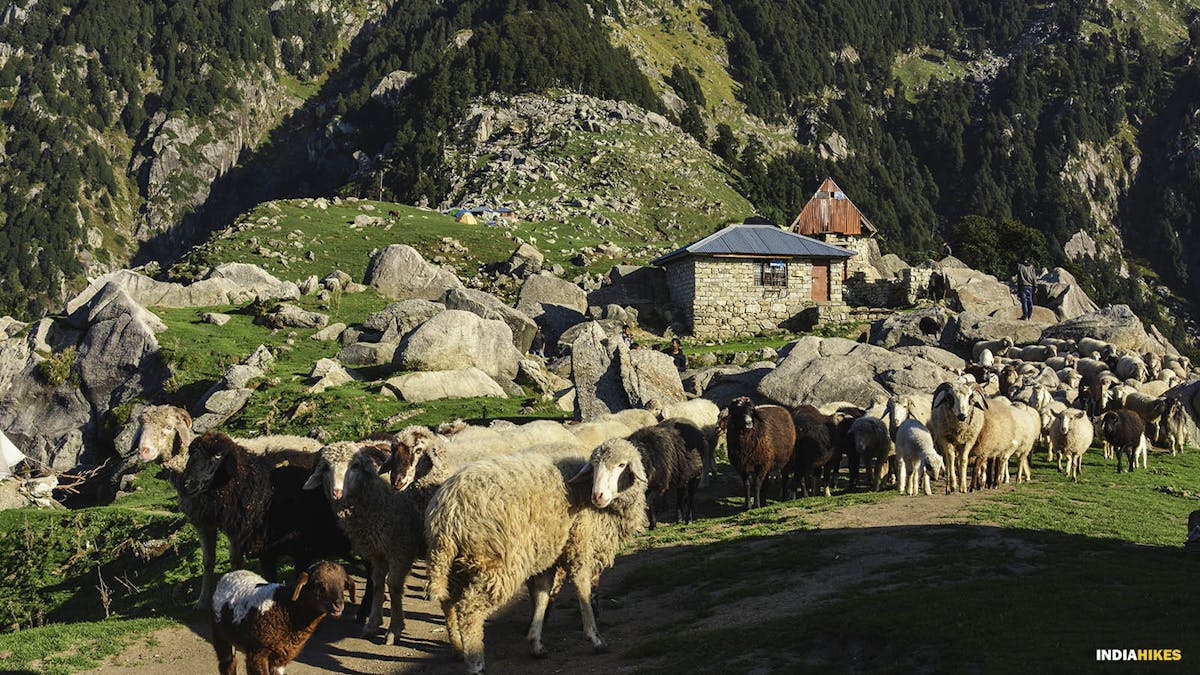 Just a regular day in Triund. Picture by Soudipan Maity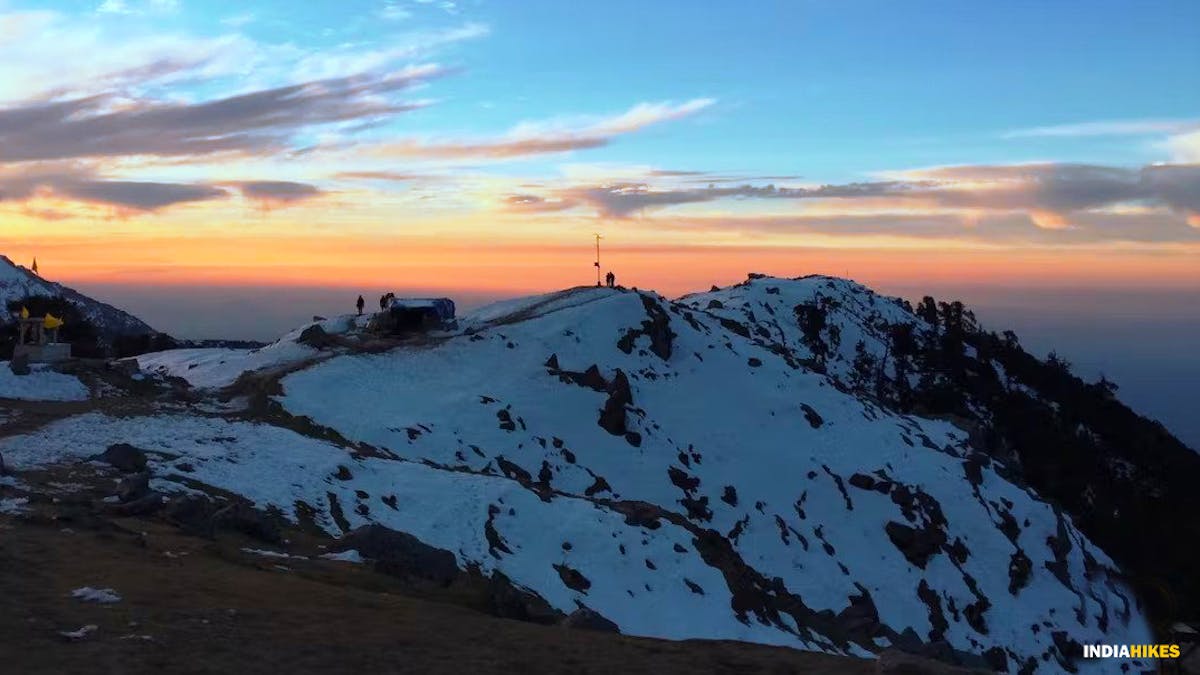 The first snowfall at Triund in December. Picture by Hitesh
Post-monsoon season is best for the clearest views for the mountain peaks from the trek. In December, you can expect the first spell of snowfall on the trek.
➤ How To Reach the Triund Trek
The base camp for the trek is Dharamkot, a little village near McLeod Ganj. Dharamkot is just 2 km from McLeod Ganj and is a short 25-minute walk from the bus stand.
You can also hire taxis or autos from McLeod Ganj which would be of 8 km.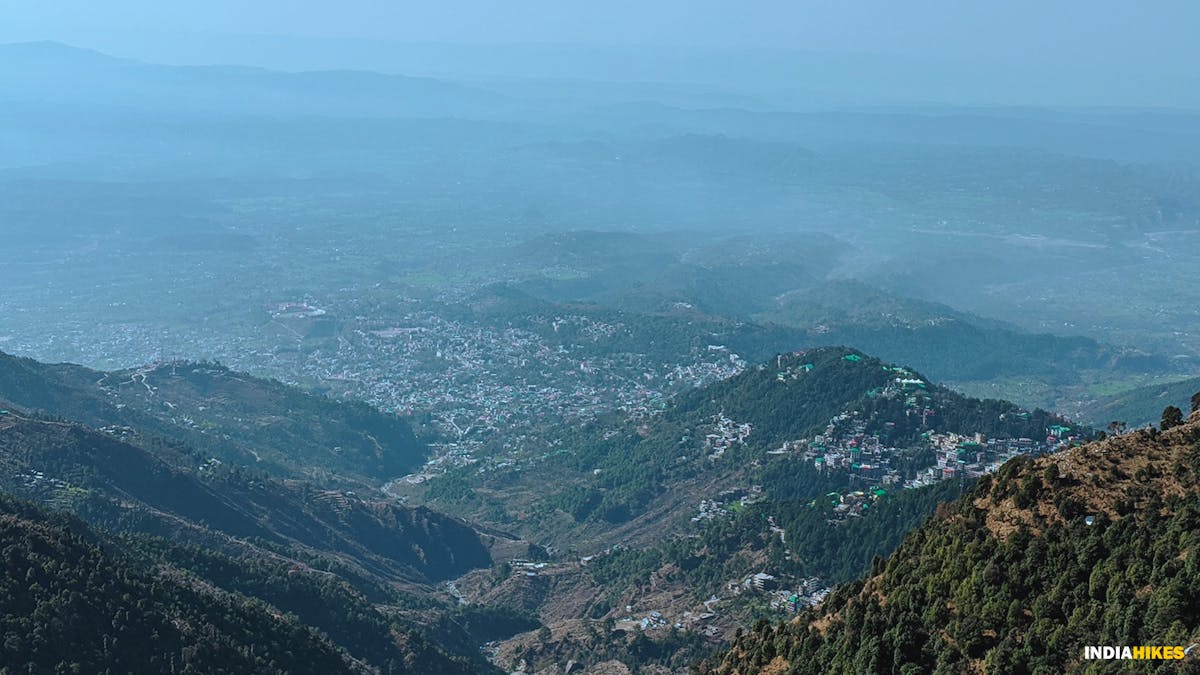 Kangra valley can be seen below. Picture by Sindhu
Reaching Triund by Public Transport System from Delhi
The best way to reach from Delhi is to take an overnight bus to McLeod Ganj. Buses going to Dharmashala will drop you at the main square of McLeod Ganj.
There are two options for buses from Delhi. There are buses from either Majnu Ka Tila (officially called New Aruna Nagar colony) in the north district of Delhi or from ISBT Kashmiri gate to Dharamshala.
To reach Majnu Ka Tila, you need to go to Vishwa Vidyalaya metro station on the yellow line. Take an auto from the metro station which will cost about Rs 50 to reach Majnu Ka Tila.
There are private buses directly to Dharamshala leaving during the late evening, starting from 6 pm. It takes about 10 to 11 hours to reach McLeod Ganj.
The second option is to take the bus from ISBT Kashmir gate.
Buses usually cost about Rs 600 to Rs 800 for a non-AC one and about Rs 1200 to 1500 for an ACbus. You can book your tickets online from HRTC which are your most reliable buses.
Reaching Triund by Public Transport System from Chandigarh
If you are traveling from Chandigarh, you get direct buses from Chandigarh ISBT to McLeod Ganj. 
You get overnight buses from Chandigarh ISBT (sector 43). the cost will be Rs 600 to 800 for a Volvo bus. It takes about 6 hours to reach McLeod Ganj from Chandigarh. 
You can book the bus online from redbus or HRTC.
Nearest International and Domestic Airport
New Delhi International Airport - 175 km
Kangra/Gaggal, domestic airport - 21 km
Patankot, domestic airport - 96 km
➤ Is Triund Trek Difficut
Triund trek is perhaps one of the easiest treks to do in the Himalayas and can be done on your own if you are going from the trail starting from the Gallu Devi temple.  
There are no difficult sections as such but note down a few things to keep in mind while trekking.
Trekking on the sections where rocks, boulders can be slippery. Make sure you wear proper trekking shoes and carry trekking poles on the trek.
If you are trekking from the alternative route of the Bagsu waterfalls, you need to be careful about sections that are steeper and very slippery. This is not a popular route which first-time trekkers take.
➤ How To Get Fit For Triund trek
Triund trek is classified as an Easy grade trek. Though the trek is easy, there is a good altitude gain of 3,000 feet. The continuous ascent can be quite demanding for people who lead a sedentary lifestyle.
Here's a guide to help you get fit for an Easy trek in 4 weeks.
Cardiovascular Endurance
In case you're just starting with a fitness routine, start slow and increase your pace every day in the following manner:
Target completing a brisk walk of 5 km in 50 minutes when you begin.
Gradually increase your pace by walking 5 km, 3 times a week.
As you become more comfortable, introduce jogging in your routine. 
Progressively increase the distance you jog in a workout until you can complete 5 km in 45 mins.
If you prefer cycling over running, target covering 12 km in 60 minutes when you begin.
Progressively increase your pace to cover 15 km in one hour.
Strength Training
This is an important area you need to work on. 
Strength training is equally important to trek comfortably. Work on your glutes, calves, and knees. Additionally, work on strengthening your core.
You must strengthen your core muscles. for strengthening your core muscles, holding a plank and it's variations (elbow, side planks) are the best exercises to go about doing it.
Also, try these exercises for strength - target 4 sets of squats with 20 in each set.
Squats (Mix it up with sumo squats)
Lunges (Forward, backward and lateral lunges)
Planks
Flexibility
Flexibility determines the amount of movement your bones can make in any direction around joints such as shoulders, elbows, hips, and knees. 
It is an aspect that will help you trek comfortably. carrying a backpack, however, light can become a strain. stretching your hamstrings, quadriceps, hip flexors, and lower back muscles regularly promote relaxation in the tissues reducing the strain on your back.
If you can't go out and jog because of time and space constraints, here's a video you can use to work out indoors.
➤ Temperatures On Triund Trek
Depending on the season you are going to trek, the temperatures will vary. 
If you are trekking during the summer season, you can expect the day temperatures to be around 16 to 25 degrees. During the night, it can drop to 7 to 10 degrees.
Post-monsoon and the months approaching winters (september to december), you can expect the temperatures to start dropping. The day temperatures will be fairly pleasant at about 14 to 18 degrees. at night time, it can drop to 1 to 5 degrees.
➤ What Should I Carry for Triund Trek?
If you are going to camp on your own at Triund, then ensure you are carrying a good tent with you. along with the tent, have a sleeping bag that withstands 0 degrees, a liner for hygiene, and also light foam mat.
Carry a small shovel to dig a cat hole and to cover after in case you need to defecate. You don't have any washroom or toilet facilities on the Triund trek.
If you are not camping on the Triund trek, here is the list of things to take with you.
Bare necessities
Trekking shoes: The trek distance is long and you will have to walk for long distances which needs you to have comfortable trekking shoes. Watch this video to learn to choose the right trekking shoes.
Backpack (40-60 litres): A backpack with sturdy straps and a supporting frame. Rain cover for backpack is essential.
Clothes
Two trek pants: One pair of pants should suffice for this trek. But you can carry one spare pair in case the first one gets wet. Wear one pair and carry one pair. Denim/jeans and shorts are not suitable for trekking.
Two collared t-shirts: Carry light, full sleeved T-shirts that prevent sunburns on the neck and arms. A common mistake that trekkers make is not changing their T-shirts often enough. Regardless of how cold it is, the body tends to sweat a lot. Trekkers who don't change to fresh clothes after reaching the campsite fall ill due to wet clothes and are often unable to complete their trek. 
Thermals (Optional): Carry thermals to wear at night because the temperature drops and can get chilly at the top.
Accessories
Sunglasses: Sunglasses are to prevent snow blindness. 
Sun cap: The sun is more harsh at high altitudes so wear a cap to protect your face and neck.
Hand gloves: One pair of fleece or woolen hand gloves. One pair of water proof/resistant, windproof gloves is also a good choice to have. 
Balaclava: You may use woolen scarves instead as well.
Socks (1 pair): Apart from one extra sports socks, take a pair of woolen socks for the night.
Headlamp/LED torch: Mandatory
Trekking pole: Watch this video to understand why you need a trekking pole.
Others
Toiletries: Sunscreen, moisturizer, light towel, lip balm, toilet paper, toothbrush, toothpaste, hand sanitiser. Do not carry wet wipes since these are not biodegradable. Use toilet paper instead.
Sanitary waste: Make sure you bring your used sanitary napkins back to the city with you. Carry a zip lock bag to put used napkins. Bring this ziplock bag back with you to the city and do not dispose of sanitary napkins in the mountains.
Cutlery: Carry a spoon, coffee mug, and a lunch box. 
Two water bottles: 1 litre each
Plastic covers: While packing, use plastic bags to compartmentalise things and carry a few extra plastic bags for wet clothes.
Mandatory Personal Medical Kit
Crocin- 10 tablets
Avomine (optional, in case of motion sickness)- 1 Strip
Combiflam- Half Strip
Muscle relaxant - Half Strip
Digene- Half Strip
Avil- 1 strip
ORS- 6 packs
Knee Cap (If you are prone to a knee injury)
Here's a quick checklist to help you pack for the trek -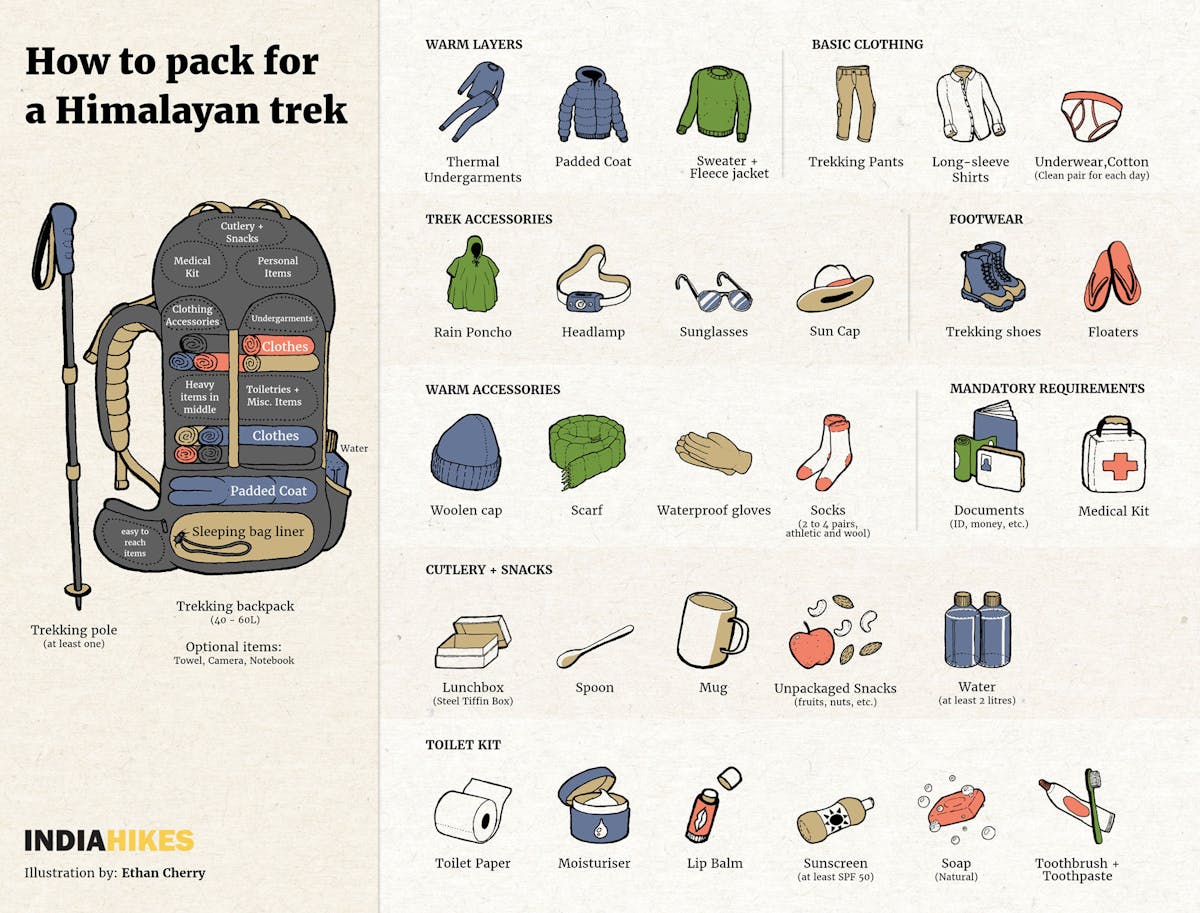 Here's a quick info-graphic to give you an overview of everything you need in your backpack.
Useful articles before you shop for gear
How much should you spend on trekking gear
How to reduce the cost of your Himalayan trek
➤ Frequently Asked Questions About Triund Trek

1. Do I need permission for the Triund Trek?
No prior permission is required for the Triund trek. However, there is a forest checkpoint when you are about to start the trek from the Gallu mandir temple. a valid ID card is necessary. There is no entry fee as such.
Your backpack and ID will be checked by the forest officer before starting the trek.
Ensure you are trekking with the responsibility of keeping things clean in the mountains and do not throw any waste in the mountains. Bring back your waste with you to the cities. even better if you leave the mountains in a better condition than you find them in. 
Alcohol is not allowed on the trek. Do not carry on the trek. 
Note: After 2 pm, you are not allowed to go on the trek from this forest checkpoint. 
2. Is camping allowed on the Triund Trek?
Yes. The camping is allowed on the Triund trek.
You can also rent tents at Triund (around Rs 600 for a two-man tent, with sleeping bags). Keep in mind that on busy weekends, such as around public holidays, the tented accommodation at Triund may get booked out.
3. What are the Stay Options near Triund Trek?
There are a couple of options to stay on top of the ridge. 
You can either rent a tent on the top or stay at the forest guesthouse that can be pre-booked from the Himachal tourism website.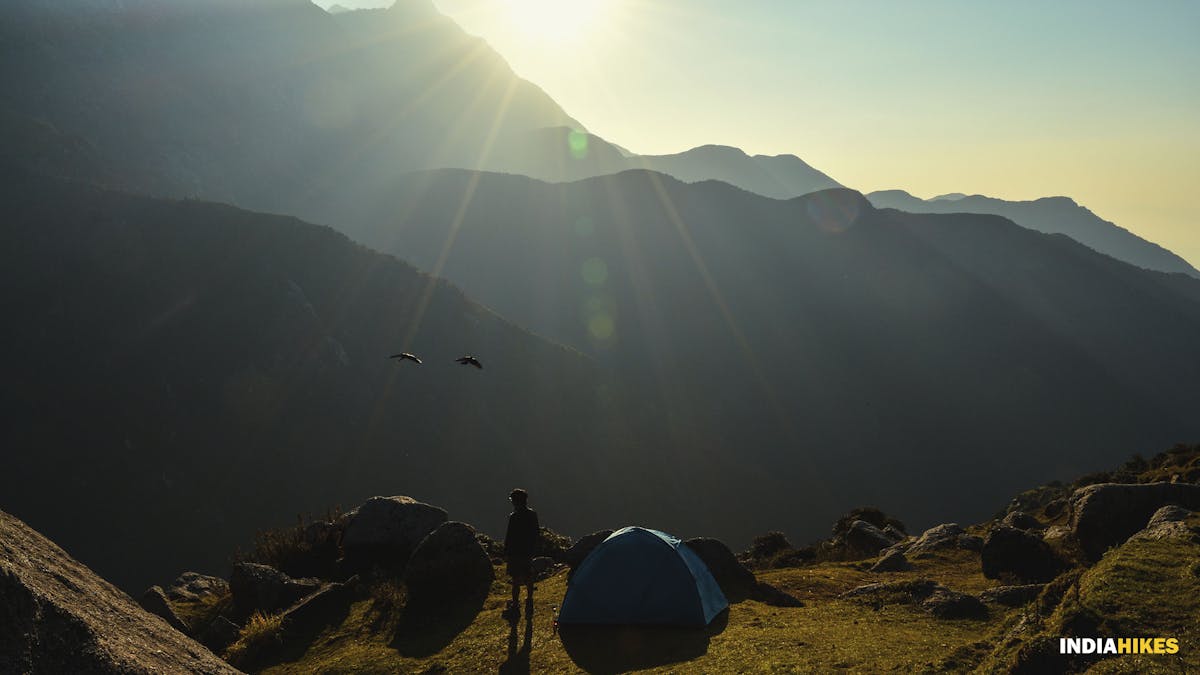 A lone camper. Picture by Soudipan Maity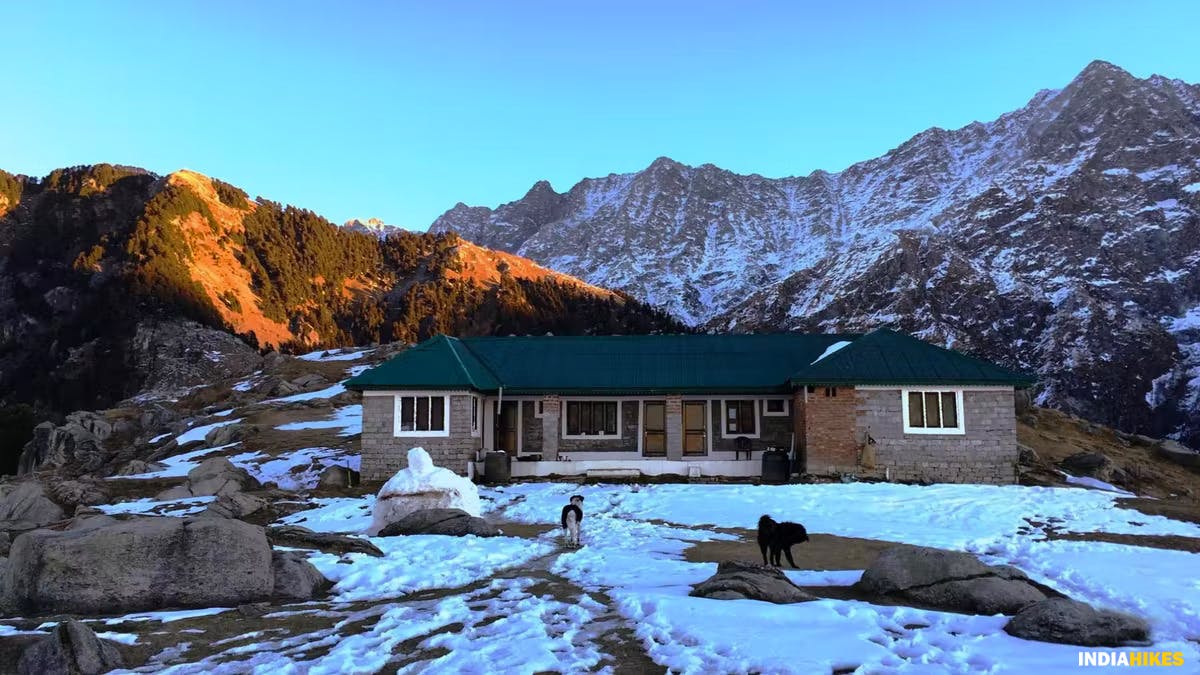 Forest Guesthouse. Picture by Yashas Garg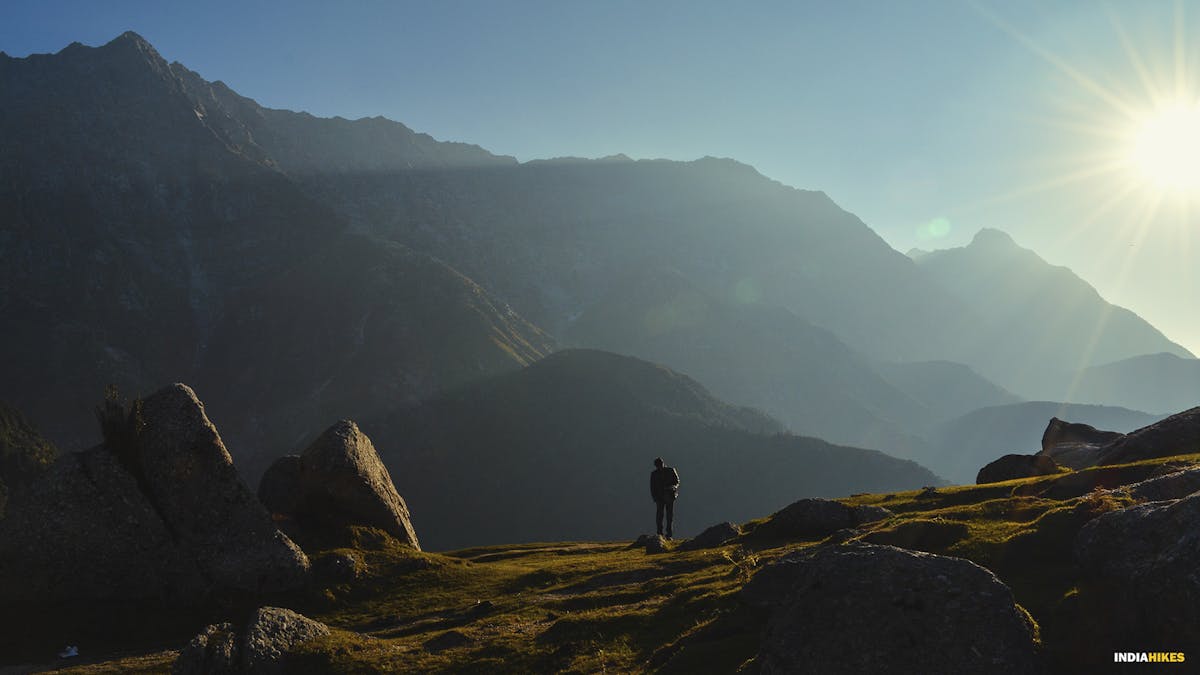 Sunrise from Triund. Picture by Soudipan Maity
A 2 man tent will cost you around Rs 600 while the guesthouse will be Rs 800
Alternatively, you can carry your own tent and pitch your tent on the top. Ensure you carry a good sleeping bag that can withstand temperatures up to 0 degrees.
If you are planning to stay near Dharamkot, there are many Oyo rooms and private lodges. It is better to actually even think of staying near the Gallu Devi temple. We have a reliable person who owns a guesthouse near the Gallu Devi temple. This is his contact information - Ashok Ji - +91 9418007249
4. Is there any food and water sources available on the Triund trek?
Triund trek has the luxury of food on the trail. There are quite a few cafes en-route to the top. tea and snacks will be available. However, a better practice is to carry some food from the base in your tiffin box. Some loose dry fruits, channa are the best snacks to carry on a trek. 
For water sources, you have the base point of the Gallu Devi temple where you can fill in your water bottles. Carry at least 2 liters of water with you before you start for the trek.
Green Tip: Buying water bottles from the cafe also increases the waste generated. If you are not comfortable with having water from the stream or the waterfalls, carry purification tablets or a life straw bottle to purify the water.
Emergency contacts for Triund Trek
Hospital:  The closest hospital will be at McLeod Ganj which is 5 km away from your base of Dharamkot.
You can contact either the Delek hospital (0189 222 2053) founded by the members of the Tibetian community. For a government hospital, private health care is accessible from the main square of McLeod Ganj
Police station: The closest police station is again at McLeod Ganj
ERSS: For any kind of emergency help, you can contact the Pan-India Emergency Response Support System (ERSS) number- 112
ATMs and Networks on the trek
ATMs: There are a few ATMs at McLeod Ganj that are your most reliable point to withdraw cash. You find SBI and HDFC ATM machines here
Mobile networks: The network is very sketchy on the trek. You find intermittent signals for Jio and Vodafone while trekking and on some rocks near the temple. You don't get any network coverage on the top.
➤ Places To Visit After the Triund Trek
1. Dharamshala - The popular city of Dharamshala sees tourists from all facets. Covered with dense coniferous forest, it is the district headquarters of the Kangra valley. Exploring Dharamshala will take you one full day. There are monasteries, tea gardens, and the International Cricket stadium one can visit. Also known for His Holiness the Dalai Lama's Main Temple, the place has a strong Tibetian settlement.
2. Bagsu Waterfall and Temple - If you have time after the trek, exploring to the Bagsu Waterfall is also a strong recommendation. To dip your feet in this chilled waters is an exciting thing after the trek. The waterfall is situated just after one kilometer of the Bagsunag Temple.
3. Bir billing or Palampur - If you are going in your own vehicle, then visiting these two hills towns of Bir billing or Palampur is a must. Bir is known for its paragliding. Also home to a Tibetan refugee settlement with several Buddhist monasteries and a large stupa while Palampur is known for tea gardens, waterfalls, birdlife and views of the Dhauladhar range.
➤ Alternative Indiahikes treks you can try
If you are not too sure of doing a trek on your own, we have alternatives you can try.
But if you're a first-time trekker, the process of organizing a trek by yourself might get a bit overwhelming. If you want to trek with your family or friend then you might not want the hassle of doing it. In such cases, we have a couple of great treks for you.
At the same time, the trail to Triund has become popular and a bit too crowded. Therefore if you're looking for a peaceful walk in the woods, Triund, unfortunately, is not that.
If you have a couple of days more in hand, Beas Kund is a great option. The starting point of the trek is Solang, just an hour's drive from Manali. That makes it very easy to access. If you're a beginner, it is the perfect trek with great views of the biggest mountains of Manali. Moreover, you get to stand right at the base of the Pir Panjal range.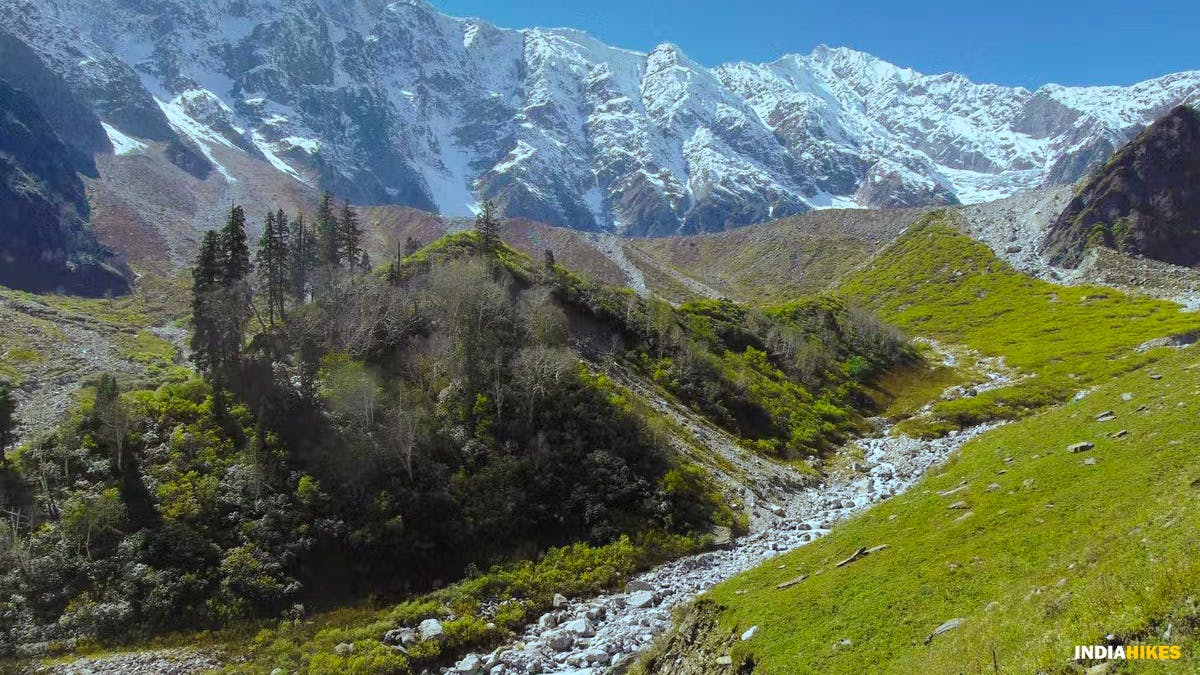 View of Hanuman Tibba on the way. Picture from IndiaHikes archives
Read more about Beas Kund trek here.
If you don't have as much time though, the Sainj valley trek is just perfect for the weekend.
Surrounded by giant pine and fir trees, Sainj valley is a hidden treasure in Himachal Pradesh. The thick forests through which the trail winds are a bird watcher's paradise.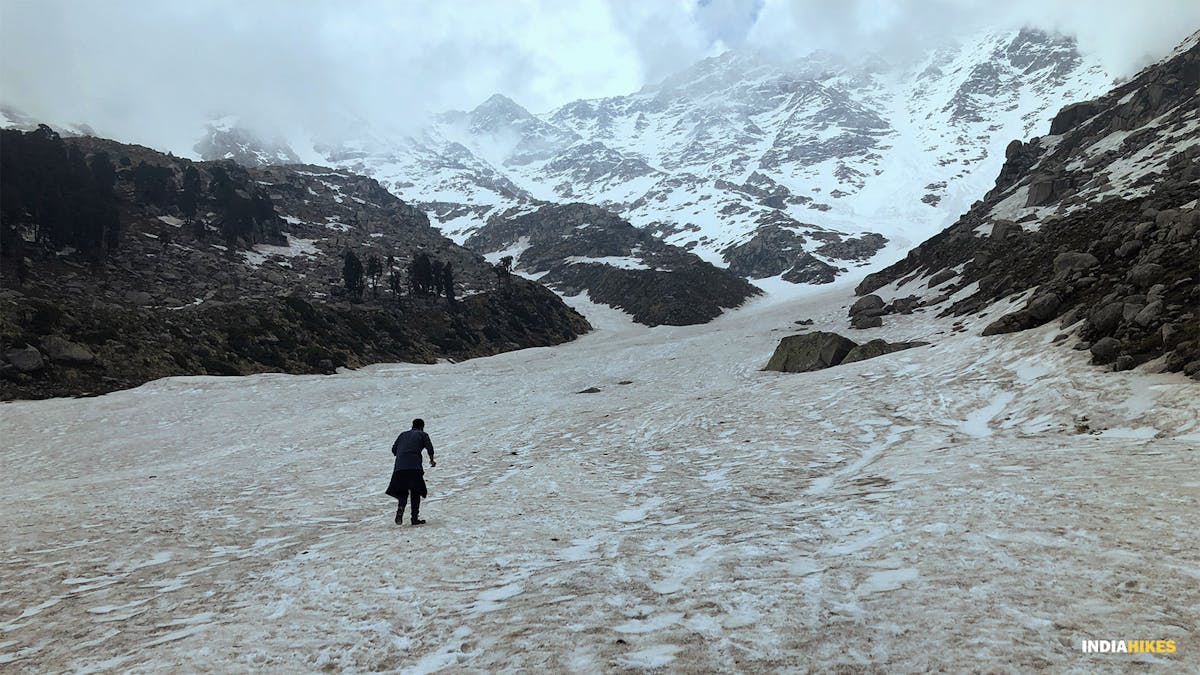 Hike to Laka Glacier can give you an adventurous experience. Picture by Rahul Sen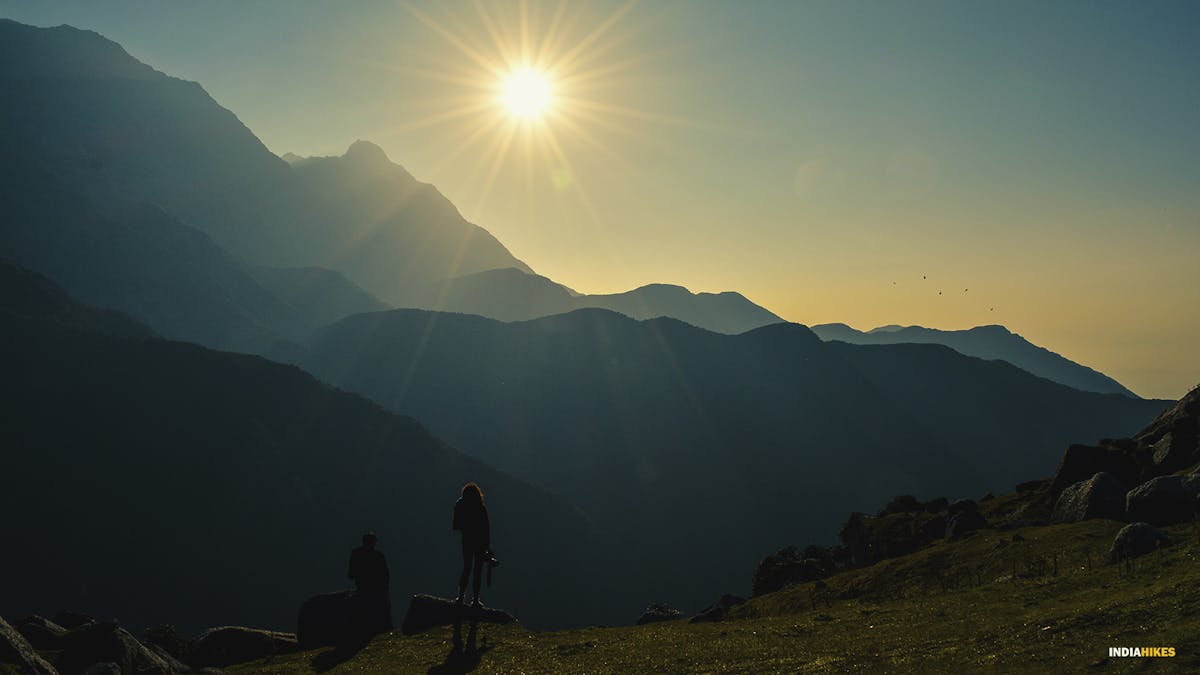 An ocean of peaks far beyond. Picture by Soudipan Maity
The dense forests on this trek are filled with pine, fir, spruce, and a variety of other trees. Pundrik lake, covered by tall grasses runs for 400 meters and is surrounded by forests on three sides.
Read more about Sainj valley here
➤ Trek Contribution
Author: Alok Tiwari and Suhas Saya with inputs from Dushyant Sharma, Vaibhav Chauhan, Bibek Bhattcharya, Hiramani Kashyap.
Special thanks to Hitesh, Yashas Garg, Nikhil Mannan, Mayank Kalra, Sidharth Jain, Atul Verma, Soudipan Maity, Shreyasi and Ragja Palakkadavath for the pictures of the trek.
Photos sourced & Edited by Sneha.G.Iyer
GPX File Opt in
We go to great lengths to ensure you have a safe trek. So here's a GPX file of the trail to help you navigate without getting lost.