Can You Help Us With Photographs Of This Trek?
We are looking to enrich this documentation with more photos. Pictures go a long way in explaining the trail, more than words ever can. If you have done this trek, can you share your photos with us? We will include them on this page, with due credit to you. Click here to contribute.
The Complete Guide to Visapur Fort Trek
Bhaje village trail
Altitude: 3,556 ft
Time taken: 2.5 - 3 hours each way
Water sources:  None. Carry at least 2 litres of water
Terrain type: Rocky, forest trail
Trek gradient: Moderate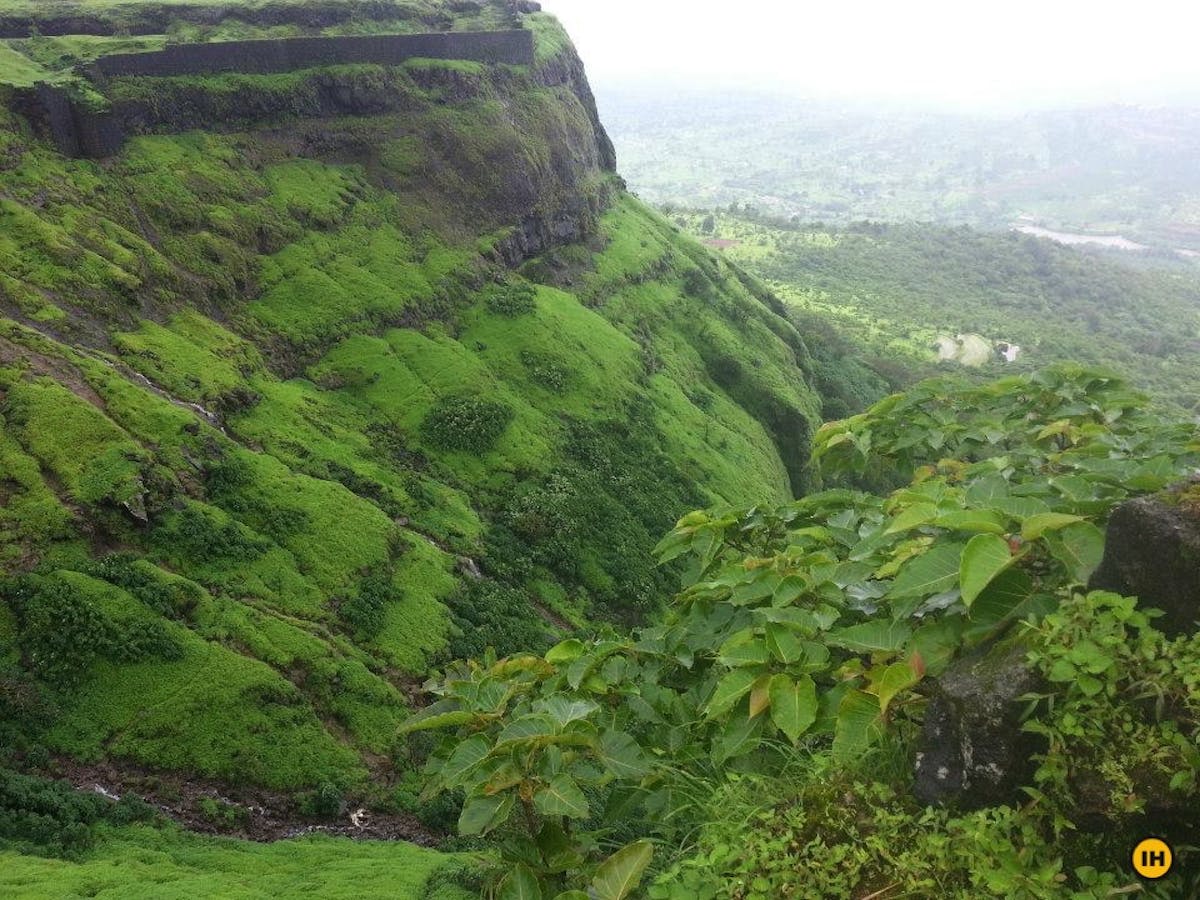 Wall of the Visapur fort. PC: Mugdha Bhusari
This trek begins from Bhaje village. Follow the mud trail out of the village. This is mostly a flat walk. The fort walls are clearly visible from the trail.
After 4 km, the trail splits. The one to the left goes to Visapur and the one to the right leads to Lohagad. Take the trail to the left.  From here, the trail begins to ascend gradually. You'll notice arrows marking the path through the forest - follow these till you reach a hut. A stone placed here acts as a marker - it has the image of a horse painted in orange. Turn left here.
The trail through waterfalls (in monsoon) begins behind the green overgrowth at this turn. You will find water gushing down the stones as you trek up. In summer, this part of the trail will have dry rocks. The trail here is shaded with tall trees.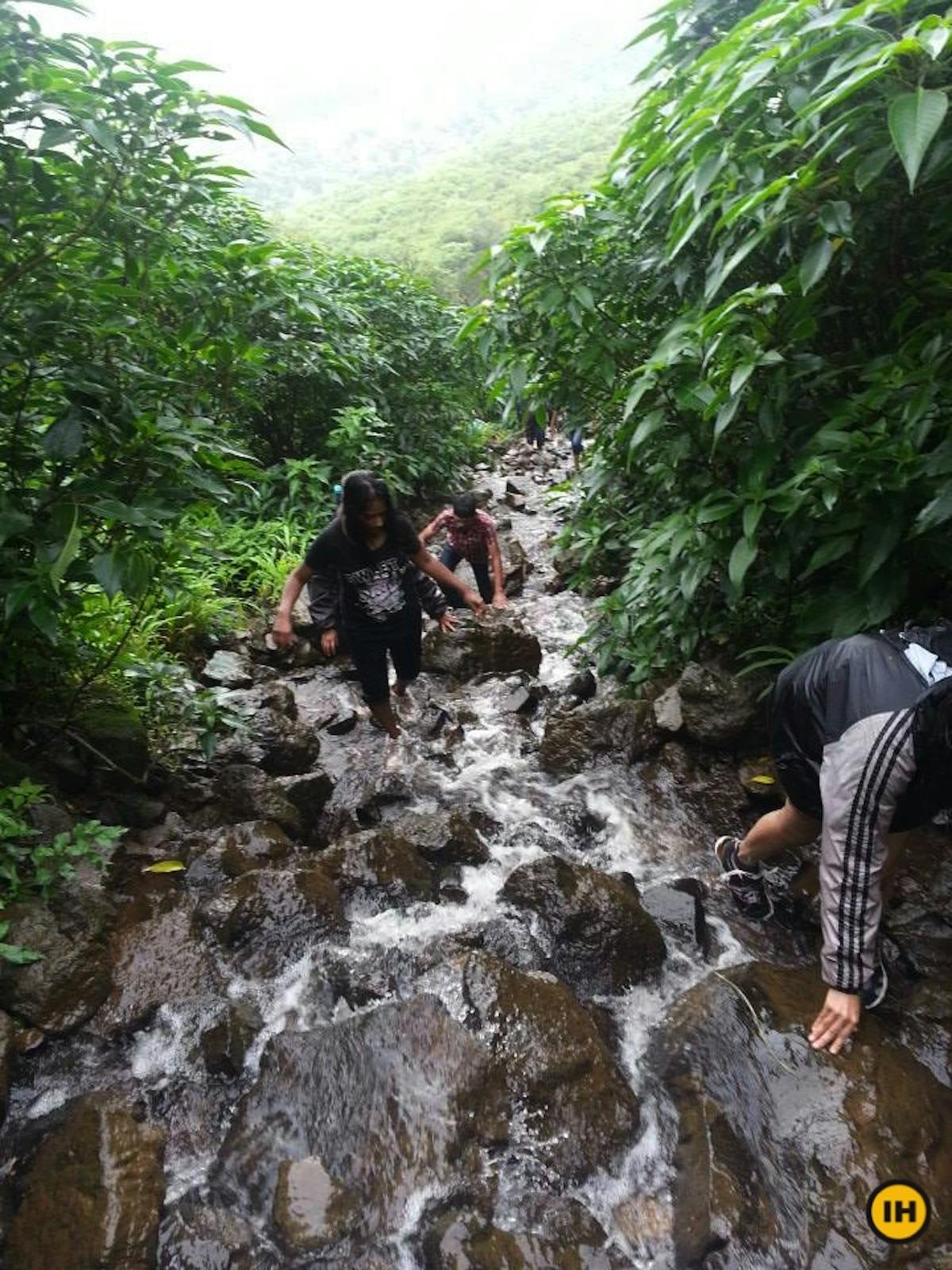 The waterfall trail in monsoon. PC: Mugdha Bhusari
Continue on this trail for 30-40 minutes and you will reach the plateau on top. This is covered with lush greenery and moss in monsoon and is barren in other months.
Explore the plateau to find small water tanks in caves and large water storage tanks, the flag, canon and bastion, Hanuman temple, various buildings (wadas), grinders used for construction and other remains of the fort. Also catchviews of Lohagad, Tikona and Tung Forts, and the expressway. Walk on the inner edge of the fortification wall.
Descent is down the same path.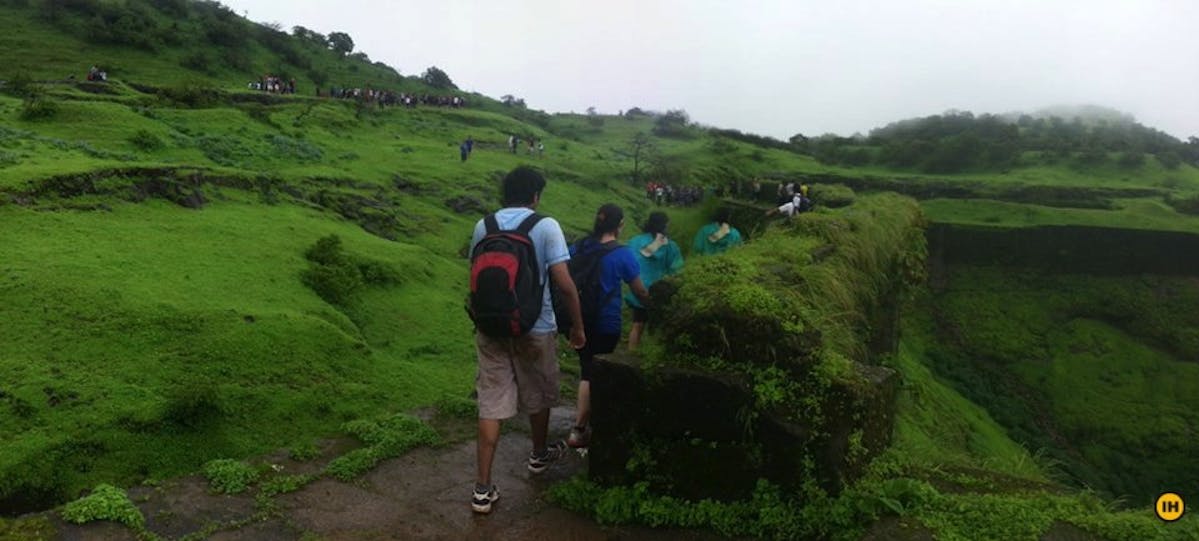 Walking along the fort walls on the plateau at the top. PC: Mugdha Bhusari
Patan village trail
Patan village is close to Lonavla. This route to reach Visapur is a little tricky. But for those who wish to do it on their own, keep certain landmarks in mind. First, when starting out from Patan village, keep the village to your left. You will see a number of trails here, so ask for help. Locals are approachable and will readily show directions.
This trail initially goes through a small forest and then comes to a dried up waterfall - if you are trekking post monsoon. Stick to this waterfall for the rest of the route. After 15-20 minutes comes a bifurcation. The trail to right goes to Visapur, and the one to the left goes to Lohgad. Take the one to the right.
After hiking for close to 40 minutes on this trail, you will come across a broken staircase. This staircase leads up to one of the entrances of the fort.
The total time you will take to reach the fort from Patan village should be 2 hours.
Highlights
A lonely trail to the ruins of Visapur
Visapur Fort was built between 1713-1720 CE by Balaji Vishwanath, the first Peshwa of the Maratha Empire. In 1818, Visapur was attacked and occupied. Considering the strategic importance of Visapur, both the north (Konkan) and the south (Deccan) gateways were blown up. Except for a few huts, nothing was left standing.
Do this trek for the waterfall trail in monsoon and views from the plateau on top.
This is an easy, monsoon trek close to the Mumbai-Pune express highway
How to Reach the Base of the Trek
How to reach Bhaje
Drive down on Mumbai-Pune Expressway towards Lonavala; take the second exit of for Lonavala on the expressway. Head towards Malavali station and then down to Bhaje village. There is a pay and park service here.
Alternately take the NH48 and take the exit after Jain temple and JAVC campus. Continue straight to reach Malavali station. Then head straight further to Bhaje village.
Bus: Take an Asiad or ST bus from Dadar station and get down at the Malavali station. Use a share auto (costing Rs 40 per person) or walk the 2.5 kms down.
Train: Board the Intercity Train from Dadar at 7 am. (Ensure you book (ticket can be bought a day prior, no need to reserve days in advance)  a ticket. A General ticket from Dadar to Lonavala costs Rs 60.
Get off at Lonavala station. Here you have two options:
Rickshaw: Hire a rickshaw from Lonavala station to Malavali station (a distance of 12 km) at Rs 150 for three seats. If you want to continue till Bhaje village (another 4 km) in the same rickshaw, negotiate rates accordingly.
Local train: Board the local train which runs between Pune to Lonavala every hour. Tickets will cost cost Rs. 5 and you will reach Malavali station (first stop after Lonavala) in 5 minutes.
Detailed route from Pune
Road (Most convenient option):
Own vehicle: Drive towards Lonavala on NH48 and exit the highway at Karla towards Malavali station. Head towards Malavali station and then down to Bhaje village. There is a pay and park service here.
Alternately, drive down the Pune Mumbai Expressway and take the exit for Lonavala. Drive down straight further for Malavali station and further to Bhaje village.
Bus: Take an Asiad or ST bus from Swargate at Pune and get down at malavali station. Use a share auto (costing Rs 40 per person) or walk the 2.5 kms down.
Local train: Take the local train to Lonavala which runs every hour. Tickets cost no more than Rs 10 costRs 5 and you will reach Malavali station in 5 minutes. Use a share auto (costing Rs 40 per person) or walk the 2.5 kms down.
Avoid: Visapur is one of the famous treks in Mumbai - Pune regions and gets crowded during weekends.
Frequently Asked Questions
Handy Tip: Avoid weekend if you wish to stay away from crowds.
This is a day trek. However, it is possible to camp on the plateau at the top if you carry sufficient water.
Food: there's none available beyond Bhaje. Maharashtrian food (poha, misal, vada pav) and tea, coffee are available at Bhaje.
Documentation inputs by Latika Payak, Mugdha Bhusari and Pritesh Kulkarni
Latest Updates
Join the 'Women Only' trek to Kedarkantha!
CONTEST ALERT: February 2023 Photo Contest Open!
Weekend Treks Announced from February to June 2023!
Trekkers Enjoy Fresh Snowfall On Brahmatal Trek
Adventure Therapy Trek Announced for 2023
Why Jan-Feb '23 treks are better than '22
Finally, A Film That Does Justice To The Dayara Bugyal Trek