Moderate - Difficult | Level 1



Moderate - Difficult | Level 1
Khopra Ridge Trek
An Off-beat Nepal Trek that Takes You Close to 22 Big Mountains
For many decades now, the Annapurna Base Camp and Everest Base Camp treks have been the bucket list treks for most trekking. If you think about trekking in Nepal, these are the two treks that come to mind.
But there's another trek, very close to Annapurna Base Camp and much more rewarding, and that's the Khopra Ridge Trek. Why is it more rewarding?
You see 22 big mountains from the Khopra Ridge.
Out of which 2 are amongst the 14 highest mountains in the world – Mt Dhaulagiri I (7th highest)! and Mt Annapurna I (10th highest). But that's not the full picture. You see the Annapurna massif at an arm's distance (even closer than on the ABC trek). You see the Mt Machapuchare as glorious as ever. You see Mt Nilgiri North and South. There's Mt Himchuli, Mt Ganga Purna, it's endless!
Let's not forget Mt Dhaulagiri. It is right in front of you!
Quick Itinerary
A route map of the Khopra Ridge trek
Reach Pokhara from Kathmandu
You will reach Pokhara on your own by either taking a bus or flying in from Kathmandu. You are expected to reach by 4 pm. You will meet the rest of the team at Hotel Paradise Inn. Your stay at Hotel Paradise Inn is taken care of by Indiahikes. You don't need to pay extra for this.
Please note: We will only be serving dinner at Hotel Paradise after trekkers arrive post 4 pm.
Drive from Pokhara to Kimsee. Trek to Ghandruk
Drive Distance: 56 km | Trek Duration: 2.5 hours | Altitude Gain: 2,760 ft to 5,440 ft
Trek Distance: 3.7 km | Trek Duration: 2 hours | Altitude Gain: 5,440 ft to 6,561 ft
Transport will be arranged by Indiahikes, but the trekkers will have to share the cost. Approx Rs 2,500 INR per person including both the drives to the base camp.
Trek from Ghandruk to Tadapani
Trek Distance: 6.4 km | Trek Duration: 4.5 hours | Altitude Gain: 6,561 ft to 8,705 ft
Trek from Tadapani to Dobato
Trek Distance: 6.2 km | Trek Duration: 6.5 hours | Altitude Gain: 8,705 ft to 11,225 ft
Trek from Dobato to Chhistibang via Muldai Top
Trek Distance: 9.2 km | Trek Duration: 6-7 hours | Altitude Gain & Loss: 11,220 ft to 9,678 ft via 11,811 ft
Trek from Chhistibang to Khopra Ridge
Trek Distance: 3.5 km | Trek Duration: 3 hours | Altitude Gain: 9,678 to 11,975 ft
Trek from Khopra Ridge to Khayar Lake, and back to Khopra Ridge
Trek Distance: 16 km | Trek Duration: 8-9 hours | Altitude Gain and Loss: 11,975 ft to 15,300 ft, and back to 11,975 ft
Trek from Khopra Ridge to Paudwar via Gorge Point
Trek Distance: 8.5 km | Trek Duration: 6.5 hours | Altitude Loss: 11,975 ft to 6,561 ft via
Trek from Paudwar to Tatopani | Drive from Tatopani to Pokhra
Trek Distance: 4.7 km | Trek Duration: 3 hours | Altitude Gain: 6,561 ft to 3,871 ft
Bus Drive Distance: 110 km | Drive Duration: 5 hours
You will reach Pokhra by 7pm.
Please note: The distance between campsites may vary by 100 meters depending the weather conditions and the route you take. The altitude may also vary by 100 feet for similar reasons.
IMPORTANT POINTS
- It is mandatory for trekkers to carry a copy of their photo ID for entry at forest check posts on the trek.
- At the base camp, your stay will be arranged in lodges.
- On the trek, you will be staying in tea houses.
- We do not have a cloakroom facility at Pokhara. Do not carry any excess luggage on the trek.
- We wont be providing accommodation on the last day at Pokhra.
A route map of the Khopra Ridge trek
PRO-TIPS
Onward Travel
If you're planning to reach Pokhara, take a bus instead of a flight from Kathmandu on Day 0 of your trek. Buses are a lot more reliable than flights that usually get cancelled in case there is a weather fluctuation.
Return Travel
While returning, you will reach Pokhara between 6.00 - 7.00 PM. Plan your travel any time after 9.00 PM from Pokhara.
Khopra Ridge is Best Discovered Through Pictures
What I Like About the Khopra Ridge Trek
What I Like About the Khopra Ridge Trek
Know Your Trek
We have always wanted trekkers to be well-informed before they go on a Himalayan trek. Knowledge is the difference between a safe trek and a dangerous one. It's also the difference between a wholesome experience and a superficial experience.
Use this section to learn about the Khopra Ridge trek. It has in-depth information about each day of the trek, what to expect, and how you need to prepare for it. Many years of expertise have gone into this content. Trekkers find that extremely useful.
We recommend jogging as the best routine to get fit for a trek. It works on the same muscles that you use while trekking — your calves, glutes and hamstrings. It helps increase your stamina day by day. It is also an easy routine that does not require any equipment or tools. 
Fitness target
To do this trek comfortably, you must be able to cover 5 km in under 35 minutes. This is the minimum fitness required for this trek.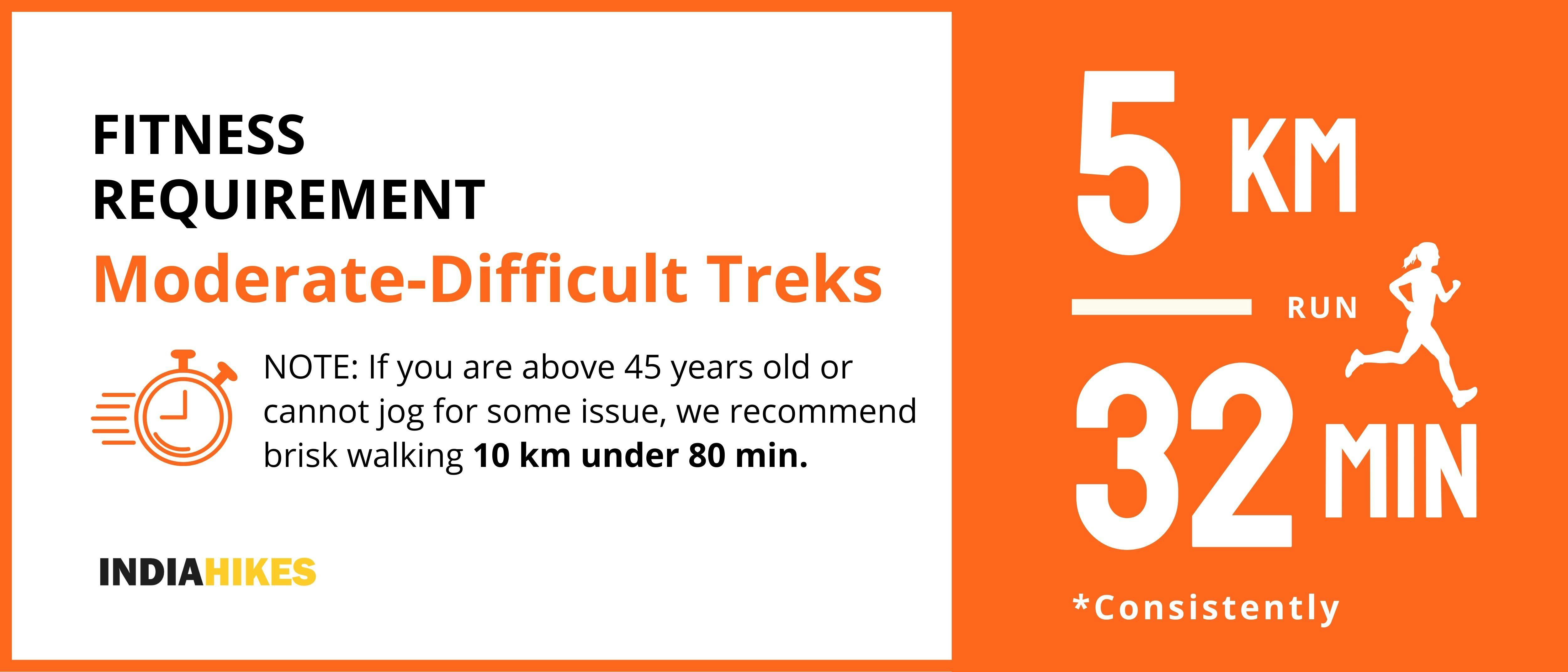 How to achieve this fitness? 
Start jogging at least 4 days a week 
If you cannot run 5 km immediately, start with 2 km and increase to 5 km over 2-3 weeks.
Once you're able to run 5 km, increase your pace day by day. 
Gradually increase your pace and bring it down to 5 km in less than 32 mins.
You must be able to run 5 km in 32 mins consistently for at least 2 weeks before the trek. 
This trek requires at least 6-8 weeks of preparation. The longer, the better. So plan your trek soon and start preparing. 
Here's a complete guide to get you trek fit.
Strength training tips
How to get Fitness Approval from the Indiahikes team
Every trekker needs fitness approval from the Indiahikes team 20 days before the trek date. Without this, you will not be allowed on the trek. 
What to upload? 
A minimum of 3 screenshots of your runs/jogs/walks/cycling 
Monthly summary of your routine
Why fitness matters: 
Every high-altitude trek comes with a set of challenges. Steep ascents and descents, uneven terrain, snow walks, stream crossings, pass crossings, and summit climb. Even the easiest of treks have some of these challenges if not all of them. Without fitness, trekkers struggle, get injured easily, lag behind, or simply fail to complete the trek. 
At Indiahikes, we take pride in the fact that our trekkers are among the fittest in the country. Those who do not meet the fitness requirements are often sent back. Our philosophy is that trekking and fitness go hand in hand. Without fitness, there's no trekking.
Things Nobody Tells You About Khopra Ridge
Did you know you are trekking on the Annapurna Circuit trail when you trek to Khopra Ridge?
Khopra Ridge is an extension of the Annapurna Base Camp trek. It also falls in the line of the Annapurna Circuit. From Khopra Ridge, you go to Dobato and then to the Muldhai viewpoint. Kagbeni is a very rarely visited extension of the Annapurna Circuit.
Khopra Ridge gives a glimpse of doing Annapurna Circuit. It takes you to Kagbeni village which is one of the most beautiful villages in Nepal.
You have heard of Khayar Lake, but there is one more lake called the Hidden Lake, at the base of Annapurna South. This is frequented by the locals. You must not miss this lake when you are on the Khopra Ridge trek.
Do you know about the indigenous people of Nepal?
The ruler of the Shah dynasty, Dravya Shah started the Gorkha Kingdom in the 16th Century, and they began ruling the lands in and around Nepal.
It is said that the ruler did not have wealth. But he convinced his people that he will give them a share of the land upon conquering. And hence he began assembling his army.
The result was that everyone was fighting for themselves, and not for the king. This enabled them to expand the Gorkha kingdom rapidly.
This trait of the Gorkhas makes them one of the most fearless warriors in history. Fighting for the land and fearlessness is imbibed in their upbringing.
Other Treks Like Khopra Ridge
Pin Bhaba Pass
The Grandest Crossover Trek in Our Country
Moderate-Difficult | Level 3
Goechala Trek
The Best Trek in India for Big Mountains Views
Moderate-Difficult | Level 1
Buran Ghati Trek
A Grand Buffet Of India's Greatest Treks
Sign up for our much loved Weekly Mailer
We have terrific trekking tips, trek updates and trek talks to look forward to