Trekking Shoes Guide: How To Choose, Types, Budget, Maintenance
Share this story
Trekking shoes help you complete a trek as much as your willpower. While it's a must to work on mental and physical strength every time you plan a trek, a robust pair of shoes can work wonders on every trek. All you have to do is do a little maintenance after choosing the right pair for all your trekking needs.
A good pair—be it Quechua trekking shoes or shoes from Woodland—can feel like an extension of your feet. Similarly, an ill-fitting pair with a thoughtless design can slow you down and even halt your trek. So, how do you choose the best trekking shoes in India?
Different shoes are suitable for different kinds of treks. Does that mean snow trekking shoes can only be used on snow? Not really. The best trekking shoes are versatile. They work well in all kinds of weather conditions.
This brings us to the next question: which are the best trekking shoes for men and women in India? And how do you make this choice?
Many trekkers write to us asking about what trekking boots to buy. And because this is a crucial choice, we have put together a complete guide that covers all topics, right from how to buy trekking shoes, the best mountain trekking shoes available in India and how to maintain them.
So, if you're looking for information on trekking shoes, search no more. This guide contains everything you need to know about how to choose the best.
How To Choose The Best Trekking Shoes in India
There is no dearth of options in the trekking shoes women or trekking boots men sections of a Decathlon, Woodland or any other sports store. If you choose to shop online, the options are infinite. However, a plethora of options can sometimes lead to confusion. 
Don't worry. We are here to help. Below are five factors that will help you choose the right pair of trekking shoes.
1. Check for good grip in the trekking shoe
The best way to recognise a trekking shoe with good grip is to look at the grooves. They will be deep. A shoe with good grip will have mud, slush and dirt getting stuck in its grooves. That's a sign of deep grooves that are gripping the mud. Make sure your shoes have deep grooves and good grip.
2. Look for softness and flexibility in the shoe sole
You will be walking on different kinds of terrain, and your shoes need to adapt to it. A soft and flexible sole is great at doing this. But how do you check for that?
Take a hard, metallic object, say a key and just tap on the sole. Listen to the noise it makes. A soft sole makes a dull sound. If you hear a sharp sound, know that it's too hard, and such a sole will not work on a trek. 
3. Go for ankle support in the trekking shoe
A lot of walking-hiking shoes come with a lot of flexibility and good grip. But what they lack is ankle support. In the Himalayas, you will be walking on rough terrain. You will be climbing up and down, and your ankle is prone to twisting at unusual angles. And that's when your trek can end. And you don't really want that to happen. To prevent this, you need good ankle support and make sure your trekking shoes provide good ankle support.
4. Choose the right fit
Always test the shoes for the right fit and prefer the most breathable hiking shoes. Ideally, you should buy trekking shoes one size larger than your normal size. Without the extra space, you'd develop shoe bites due to the constant rubbing of the toe against the shoe wall, and it gives you extra room for your woolen socks (especially for the winter treks).
A shoe that is a size larger than your normal size will protect you from shoe bites and give your feet enough space to breathe.
5. Water resistance is crucial
A Himalayan trek or a monsoon trek in the Ghats requires water-resistant shoes. This is because trekkers will be trekking through snow, rain, water bodies or other regions where their feet can get wet. If your shoe is not water-resistant, chances are that you will develop shoe bites or some form of callus due to wet feet. Additionally, it's uncomfortable to trek long distances in wet socks and flooded shoes.
Therefore, it's best to buy shoes that are water-resistant (remember, you want water-resistant shoes and not waterproof trekking shoes).
An added layer of leather or resin will really help. It ensures that when you step into a puddle for 3–4 seconds, your shoe does not get wet or water doesn't seep in. So, water resistance is important.
Note: Make sure it's not waterproof because your feet won't be able to breathe in waterproof trekking shoes. And it will get sweaty and stinky. There's a chance your trek mates will not let you inside the tent if your feet are stinking 🙂
Also, wear your shoes for about two weeks or so to break them in.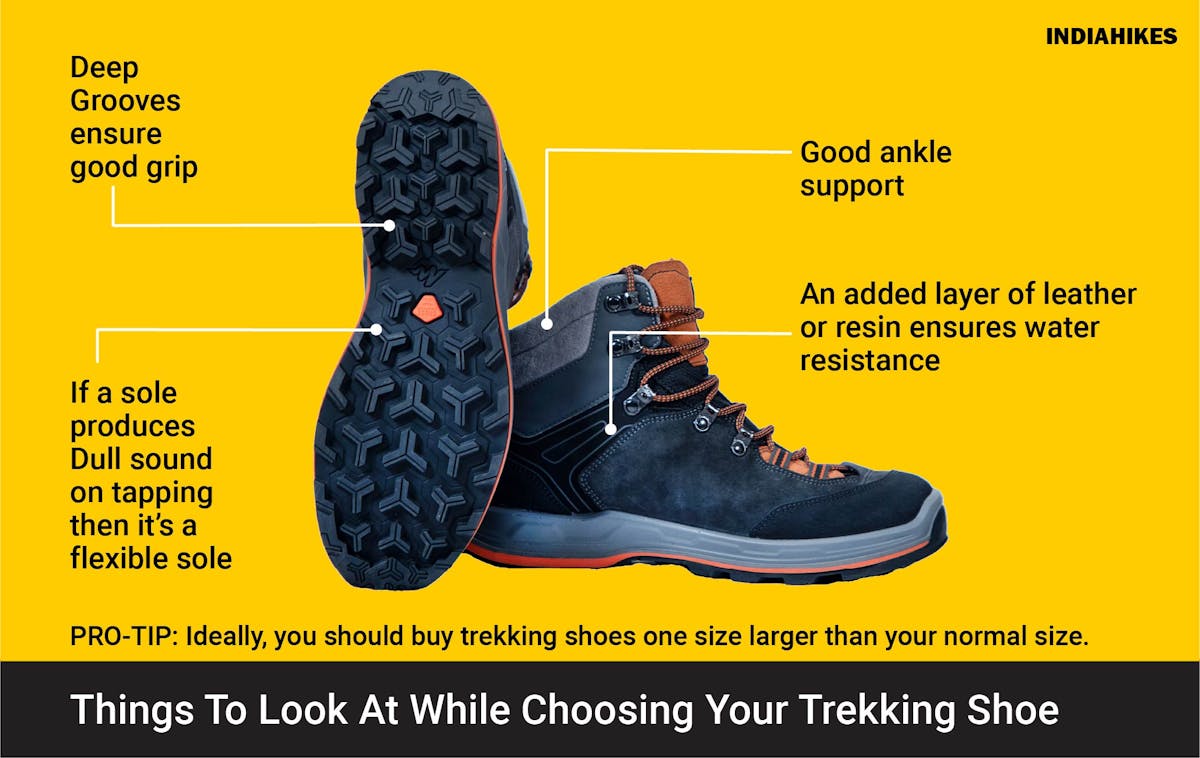 Things to Look at While Choosing your Trekking Shoe
Types Of Trekking Shoes
There are various types of trekking shoes. Some are meant for short hikes, while others are suitable for treks and expeditions. Similarly, there are trekking shoes for female trekkers and some specifically meant for men, based on size, design and colours.
1. Hiking shoes
These are similar to sports shoes but with a stronger grip. They are also more robust.
Where are they used:
These are lightweight shoes that have flexible soles. They are ideal for short treks when you don't have to carry heavy loads on your back. You may use them for the following treks:
Treks in warm weather
Treks on dry terrain (not suitable for rainy season)
Features to watch out for:
Light and flexible soles
Snug fit
Average grip
Easy to wear and remove
Recommended brands:
Some of the popular and recommended hiking shoe brands are Forclaz Fresh, Arpenaz Flex series, Salomon, Woodland and Weinbrenner low ankle series. You can also find plenty of options in the Decathlon hiking shoes section on their website and in stores.
2. Trekking shoes
Trekking boots or shoes are a grade above hiking shoes. They are usually shoes with good ankle support.
Where are they used:
These shoes are made for trekking in various seasons and on different gradients. They are ideal for:
Longer treks, usually week-long treks
Treks that involve carrying 7kg+ backpacks
Good for trekking in snow and rain
Moderately water-resistant
Features to watch out for:
Water resistance: The upper part of the trek boots is usually made of leather, suede or a synthetic material like Gore-tex (GTX) or Nova Dry.
Deep grooves: This ensures a strong grip.
Ankle support: This saves you from painful ankle twists on uneven trails. But this also makes it heavier. And you need to get used to wearing it—break it in—a couple of weeks before your trek starts.
Recommended brands:
Some of the popular and recommended brands are Forclaz, Quechua, and Salomon. They are generally priced between Rs. 3000 and Rs. 8000. Decathlon trekking shoes are most popular and preferred by experienced trekking enthusiasts, while some prefer Woodland trekking shoes.
3. Mountaineering boots
These are also called expedition boots. They aren't required on usual treks or for any of the treks that Indiahikes is presently running.
Where are they used:
Mountaineering boots are needed on ice, rocks, crevasses and glaciers. They are crafted to grip these lofty surfaces.
Features to watch out for:
Thick soles with aggressive out-soles
Robust fabric on the outside
In-sole padding to cushion the foot
Ankle support
Supports crampons
Recommended brands:
These boots are more expensive, with prices starting at upwards of Rs. 10,000. One of the most popular and recommended expedition boots is the Salomon Quest 4D 3 GTX. Other brands can be considered as well, but they are not easily available in India.
4. Trekking shoes for women
Trekking shoes women sections on various websites and sports stores offer shoes that are specifically designed for women's feet.
Where are they used:
The heel-to-ball length, as well as the width of the in-step and heel, is larger in the best trekking shoes for men. So, shoe companies began designing slimmer shoes that cater specifically to women's feet.
Features to watch out for:
Slimmer shape
Special material at the in-sole and mid-sole for Q-angle
Snug-fit
Recommended brands: 
Some great shoes in this category are the Trek 100 and MH100 for women by Decathlon. Apart from that, you may opt for the Merrell Women's Moab 2 Mid Ventilator and the Salomon X ULTRA 3 GTX W. You can also check out other Salomon trekking shoes for women on their website.
List Of Best Trekking Shoes In India
To narrow down the best trekking shoes from the infinite options available on the market, Indiahikes conducted an Instagram Survey.
Trekker's Choice: Top 3 Trekking Shoes Recommended By Trekkers
Talking about the top choice, a representative of Decathlon trekking shoes confirmed that the Forclaz Trek 100 is their highest-selling product, and now they are aiming to come out with a new variant.
"We are introducing Trek 100 Textile boots in India. It is a beginner trekker's boots focused mostly on the comfort of the trekker and is eco-friendly, which is made up of 100% natural rubber outsole. It also has 100% recycled outer and black lining is dope dyed, reducing water consumption and CO2 emission during the process."
And coming to a variety close to the fifth option—Salomon Quest 4 Gore Tex—we think it is great for seasoned trekkers. The model has been upgraded over the years.
Also Read: Salomon Quest 4D 2 GTX: All-Terrain Hiking Shoes for Seasoned Trekkers
Top 5 Budget-Friendly, Affordable Trekking Shoes In India Under INR 4,000
Here's a list of trekking shoes that our trekkers swear by! We know because we conducted a survey and listed the top trekking shoes that showed up in the responses. But before we get to the list, here are two things you must keep in mind:
These are the shoes recommended by trekkers after at least one trek experience.
Most of these shoes are perfectly suited for local treks and easy-moderate Himalayan treks like Kedarkantha and Dayara Bugyal. But for a very long, difficult Himalayan trek, I would choose wisely from these.
Shoes that are affordable and budget-friendly.
Also Read: Forclaz 500 High / Trek 100: Excellent Hiking Shoes For Rough Himalayan Terrain
The list at a glance:
They're perfectly fine for trekking in the Western Ghats, though. They have ankle support and are pretty sturdy. But they don't have any water resistance. So, you cannot use them for trekking in snow or rain. They are good shoes for light and mostly dry hikes.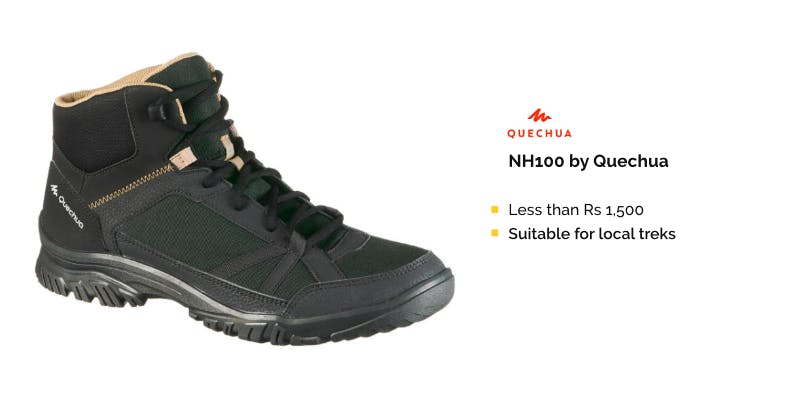 Trekking Shoes Review: "Pros: (1) High quality build. (2) Abuse friendly, can take rough usage with a lot of ease. (2) Good traction/grip. (3) Pocket friendly price. (4) Comfortable wear. Cons: (1) Not water resistant. (2) Not suitable slippery ice-trek trails." – Zulfi
This is a grade higher than the NH100 because it is water-resistant. It can last up to 2 hours in water as it has a water-resistant coating and a water-proof membrane. It is one of the best waterproof trekking shoes for men.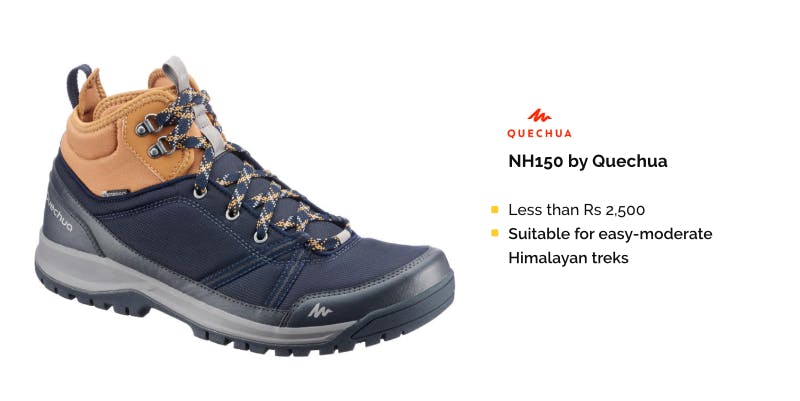 It has a good cross-contact sole with mid-ankle support. This one is suitable even for Himalayan treks, but not for very difficult terrain like Pin Bhaba Pass or Kanamo Peak.
Trekking Shoes Review: "The shoes are comfortable, dry off easily and provide great grip even on wet, slippery stones. Great shoes for the given price point." – Vashisht
This is another shoe that is branded as Quechua hiking shoes. It falls within a good budget and ticks all the right boxes—the sole has good grip, it has ankle support, a flexible sole and water resistance.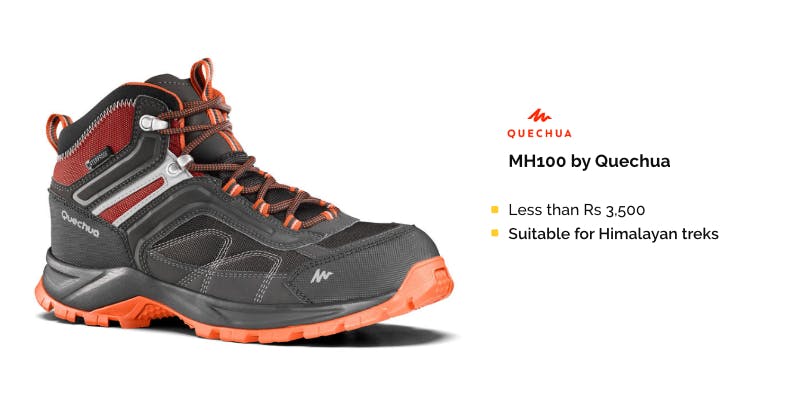 For most of our easy, moderate and even moderate-difficult Himalayan treks, like Rupin Pass, these shoes will work. They are slightly on the higher end of budget trekking shoes, though, costing around Rs. 3,500.
Trekking Shoes Review: "I have used the shoes on several Sahyadri treks in winter and rainy as well and also used them at Buran Ghati in snow as well. It's been almost a year since I bought it, and these shoes are in great condition. They are helpful in all kind of terrain, also they are zero maintenance, and easily washable." – Raj Shah
Surprisingly, you can find plenty of "budget" Wildcraft trekking shoes in its stores and online. They are never known to "budget" anything. And there is a loophole too.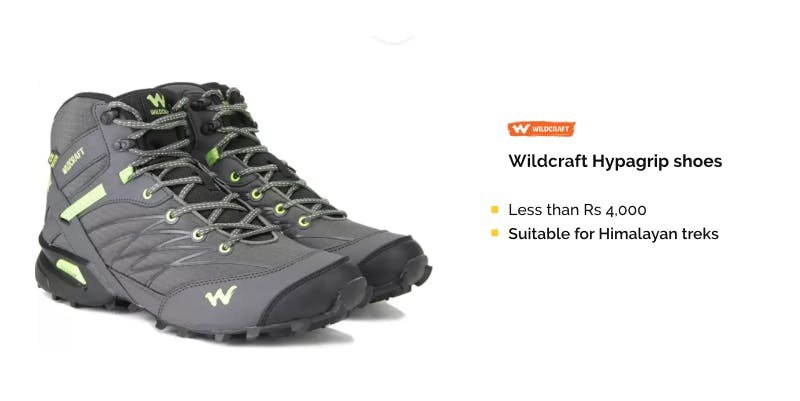 These shoes cost Rs. 2,500 on portals like Flipkart, but they are well over that (~ Rs 4,000) on the official site. You are never going to get a nice pair of trekking shoes under 1000. So, getting this at a budget price depends on your luck.
The shoes, on the other hand, are pretty decent for Himalayan treks. They score high in the traction department. But certain reviews suggest the water resistance is very basic. So, we wouldn't recommend it for a monsoon trek. If you're an occasional trekker, these shoes would suit you. On its website, one can find useful options for Wildcraft waterproof shoes and Wildcraft hiking shoes.
Trekking Shoes Review: "It worked pretty well during my Sandakphu trek! But I cant say whether it will last long or not as I used that only for one trek and also haven't used it in snow." - Utpal Gogoi
These shoes are as sturdy and durable as any trekking shoe, but they have the same issue as most Woodland shoes: they are heavier than other brands' trekking shoes and also don't work well in the rain. And at around Rs. 3,500, they aren't too budget friendly.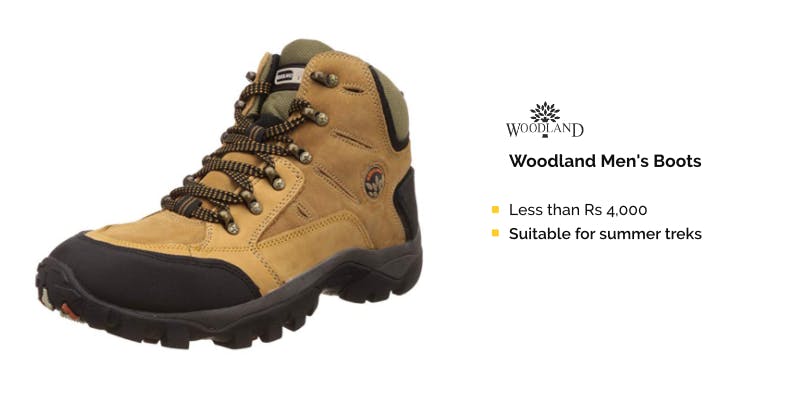 But this review brought it under the spotlight.
Trekking Shoes Review: "Contrary to popular opinion about woodland shoes, I found these shoes to be an excellent fit, utility and buy and they are affordable too. These shoes give an excellent grip on snow, gravel and boulders..they are lightweight, have good ankle support and are pretty durable as well..I have been using them for the last three years, though I have done only about 6 treks, I have used them extensively for my workouts including running." – Abhishek Vaddadi
Also Read: Forclaz 500 Warm: Pocket-friendly Hiking Shoes for all Weather Conditions
| Note: If you have used any of these budget trekking shoes or other than the ones recommended above, share your experience here:

Top 5 Budget Friendly Affordable Trekking Shoes In India Under INR 4,000
How To Clean And Maintain Your Trekking Shoes
Buying trekking shoes is expensive. So if you buy a pair, make sure to maintain them well. Here are five things you must do to keep your trekking shoes in good shape after a gruelling trek:
Cleaning
Drying
Treating
Repairing
Storing
1. How to clean your trekking shoes:
The thumb rule is to clean your trekking shoes every time you return from a trek.
Don't leave them dirty. The accumulation of mud and grime on the upper fabric of the trekking shoes adversely affects the waterproofing. This reduces the breathable nature of your boot. So, always clean your shoes after a trek to remove dirt residues.
Also Read: 8 Hacks to Maintain Your Personal Hygiene on a Trek
Steps to clean your trekking shoes:
You need a soft brush (an old toothbrush works well) or sponge and lukewarm water.
Before cleaning the uppers, bang the soles of your shoes against each other in order to get rid of any remaining dust and mud.
Then, lightly soak the brush in water and clean the exteriors to remove all dirt stains.
Use lukewarm water and a soft toothbrush to scrub out the outer dirt from trekking shoes.
2. How to keep your trekking shoes dry:
It's evident that you need to dry your shoes after cleaning them. But even if you skip cleaning, you still should not skip drying your shoes.
Trekking shoes get exposed to a lot of moisture, like sweat and rain. So, it's necessary to dry your shoes before storing them, even if you bought them from the Decathlon trekking shoes waterproof section. Storing damp or wet shoes causes mould growth, which can affect the quality of their breathability. So, let your trekking shoes air dry for at least 24 hours.
Also Read: 10 Tips to Trek Like a Pro During Monsoon
Steps to dry your trekking shoes:
Remove the insole and undo the laces so that the shoes can breathe and dry faster. 
Leave the shoes to dry at room temperature. 
Don't expose the shoes to a direct source of heat like fire, dryers, blow dryers or direct sun because this could crack them up and damage the waterproofing. It may lead to discolouration and weakening of adhesives as well, or premature ageing in leather shoes. 
Instead, leave your shoes under a fan to dry.

3. Waterproofing your trekking shoes:
With usage, a lot of shoes lose their waterproofing ability. This feature is restored using sprays that aid water in slipping off easily without entering the shoe. After cleaning and drying, you may treat your shoes with re-waterproofing sprays to maintain their water resistance. You will find re-waterproofing sprays and greases in all major online stores or market sports stores.
Also Read: Why Trekking During Monsoon is Not a Bad Idea
Note: None of the treatments promise fool-proof water-resistance.
How to use re-waterproofing sprays on trekking shoes:
The treatment is required only once or twice a year.
Follow the standard application rules for such sprays. 
Spray the product evenly all over your shoe. Pay more attention to the seam and joint areas, since most of the water enters from here. 
Leave them for a full day to dry and absorb the spray. Caution: Don't try to increase the speed of drying by using an external heat source (hairdryers, sun, etc.).
How to use re-waterproofing grease on trekking shoes:
This product is specifically applied to leather boots to prevent premature ageing and cracking of the leather by making it water repellent.
Contrary to popular belief, it does not diminish the shoe's breathability. It can also be used on membrane-type shoes. You may follow the above steps. But instead of spraying, apply the grease using a cloth.
4. Repairing:
Inspect your trekking shoes after you get back from the trek. Check for any loose stitches or a torn inner sole. And get it repaired before your next trek.
A damaged trekking shoe can lead to blisters and a loss of balance on a trek. So, do not take this risk and keep your trekking shoes in good shape.
5. How to store your trekking shoes:
Keep the following pointers in mind:
Always make sure that your shoes are perfectly dry before storing them. 
Store them in a dry and well-ventilated area out of direct sunlight. 
If you do not plan to use them for a long period of time, stuff them with newspaper so that they keep their shape. You can also put dehumidifiers like teabags and silica gels in the shoe odour-free.
Bonus Tip: Here's a video on the topic that is often overlooked by most trekkers, How to tie your shoelaces so that they don't come off?
Conclusion
Trekking shoes can indeed make or break your trek. This is why we put together this extensive guide of information collected over the years.
Now, you need not repeat the cliched mistakes while selecting a trekking shoe.
If you have any questions, thoughts, or recommendations on the best trekking boots, snow hiking shoes, budget shoes for trekking, which trekking shoe to purchase, or how to take care of your trekking shoes, please drop them in the comments below, and someone from the Indiahikes team will address them.
FAQs:
1. What is the difference between hiking and trekking shoes? 
Hiking shoes are lightweight and meant for short hikes. They are not as durable as trekking sneakers or shoes and work well on less demanding terrain. So, what are trekking shoes? These shoes are meant for trekking and are thus manufactured using sturdy materials. These shoes are designed in such a manner that they provide maximum support on difficult terrain.
2. What are the best trekking shoes for men?
While Wildcraft trekking shoes are as good as brands available in Decathlon's store and website, one must check factors like shoe grip, flexibility, ankle support, comfortable fit, and water resistance. Our abovementioned guide on how to choose the right trekking shoes will be of great help.
3. What are the best trekking shoes for women?
The best trekking shoes for women must have a slimmer structure in comparison to the ones for men. It should comfortably fit women's feet. Most sports stores have a dedicated trekking boots women section. Try at your convenience and choose the most suitable pair for your trek.
Related Videos
Quechua NH150 Trekking Shoes Review
4 Tips To Choose Trekking Shoes
Sign up for our much loved Weekly Mailer
We have terrific trekking tips, trek updates and trek talks to look forward to