Contact Lens Or Spectacles - What Should You Wear On A Trek?
Share this story
A common point of concern for bespectacled trekkers is whether they should wear contact lenses or spectacles on a Himalayan trek. While both the options have their advantages, they don't come free of drawbacks.
In this article, we take a look at things to consider when trekking with contact lenses as well as eye glasses and which one of the two should you go for.
Contact Lenses Offer Best Vision
Contact lenses are the way to go if you are looking for the clearest vision during a trek. You can easily wear regular sunglasses on top of them when the sun gets too harsh or when you're walking in the snow.
The biggest drawback of using contact lenses on a trek is the often compromised standard of hygiene while you are out in the wild.
There are a few things that you must consider before doing a trek with contact lenses:
1. Hands are always dirty while trekking – Lenses need to be worn and taken off every day. You need clean hands for this. But getting dirty is a part of being outdoors and in the wilderness, personal hygiene is often not the first priority. You'll need to ensure that you have facilities on each day of the trek to get the grime and dirt off your hands and under your nails. (Also, remember to cut your nails before starting a trek!)
2. Must not forget to carry spare lenses/ spectacles – In case you are going to trek with lenses, carry a set of spare contact lenses or spectacles. You will need a backup in case you lose a lens of if your lens solution freezes.
3. Lens cleaning solution freezes – The lens cleaning solution is made up of mostly water with  some additives. This means that it tends to freeze in negative degree temperatures. This is an issue that a few of our trekkers have faced. You must learn how to keep it from freezing, especially if you're going on a winter trek.  
4. Changing lenses in the dark, without a mirror – Chances are that you may not have a mirror on the trek. You will have be confident enough to wear your lenses without using a mirror. Moreover, when it's sundown, the only source of light would be your headlamp.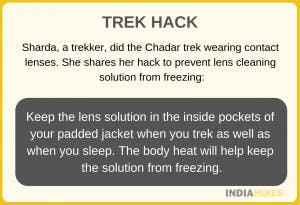 Spectacles Are More Versatile
On the other side of the rink are spectacles. The biggest benefit of using spectacles on a trek is the ease of use. The only things you need to carry for your spectacles are a hard spectacle case and a wiping cloth.
If you are going to wear spectacles to your trek, keep the following points in mind:
1. Get full frame glasses. These are much sturdier than half-frame or frameless glasses and will be able to endure any falls during the trek.
2. Use spectacles that have nose grip attached to the frame. Do not use spectacles with the adjustable plastic nose pads as these tend to become very uncomfortable on long treks.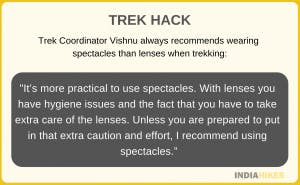 Some trekkers are more comfortable using lenses and some won't have it any other way except the spectacles way. While you get clearer vision wearing contact lenses, you will have to take extra care with hygiene. On the other hand, though spectacles are easy to use, you will have to deal with sweat, dust and fogging.
Our suggestion is that if you are a first-time trekker, begin with spectacles. As you gain more trek experience, you can experiment using contact lenses. In the end, it all comes down to personal preference and what you will be comfortable with in an outdoor setting.
What you should do now
1. If you want to read about how to protect yourself from sun burns on high altitude trek: Head over to this page.
2. If you want to work with us: Head over to our careers page. We have lots of positions open. We also have lots of applications coming in. The sooner you apply, the better.
3. If you ended up here by chance and were actually looking for treks to do: Then head over to our upcoming treks page. You'll find all our Himalayan treks there.
4. If you want to see the 13 best treks of India: Then get our free guide here.
Sign up for our much loved Weekly Mailer
We have terrific trekking tips, trek updates and trek talks to look forward to