Mount Kilimanjaro Trek
Trek to the Roof of Africa
Kilimanjaro needs no introduction. It gives you the unique experience of standing on top of the highest free-standing mountain in the world.
At Indiahikes we are taking the Machame route to the top. This route has the right mix of adventure and dramatic changes in scenery.
It is hard to comprehend the changes in scenery that happen over 6 days. You are looking at the free-standing mountain standing out of the plains on Day 1. You trek through cultivated fields, rain forests, moorlands, and suddenly alpine deserts full of rock and scree. Beyond that arctic snowfields and glaciers. It is too dramatic, frankly.
On this trek, you have a strong local Tanzanian flavour added to your Indiahikes Experience as well. Our local partners are residents of the villages that surround the mountain. They are going to fill you with stories, culture, and food of the region. 
"This trek must be done not only to experience the Kilimanjaro trek but also to experience the wilderness and culture of Africa. Even before and after the trek, you get to witness one of the most unique wildlife landscapes in the world," says Arjun Majumdar, founder, and CEO of Indiahikes. "You must spend time in the Serengeti National Park or the wonder of Ngorongoro crater. If time permits, visit some of the old towns. The beaches of Tanzania have crystal clear waters as well!" adds Arjun.
The best part is that it is one of the seven summits that does not require technical expertise or any mountaineering knowledge. On the other hand, we admit it's challenging. You climb to 19,341 ft and trek 60 km in 6 days. Being supremely fit is a basic criterion to do this trek.
Quick Itinerary
A route map of the Kilimanjaro trek
Meet the team at Moshi
Arrive at Kilimanjaro International Airport, and leave for Hotel Leopard in Moshi. Your pick-up from the airport costs extra which you have to pay the driver directly. The accommodation on Day 1 is included in the trek fee.
Note: You will meet our team in the evening. Be ready for the briefing by the trek leader and mountain guides on this day. It is better to reach Moshi a day prior to Day 1. This ensures you have enough time to rest before starting on the trek the next day.
Drive from Hotel Leopard to Machame Gate. Trek to Machame Camp
Drive Distance: 31 km | Duration: 55 minutes | Trek Distance: 10 km | Duration: 7 hours | Altitude Gain: 5,950 ft to 9,902 ft
The drive from Moshi to the Machame Gate takes about an hour. The process for permits takes about an hour for a group of 15 trekkers.
Trek from Machame Camp to Shira 2 Camp
Trek Distance: 5 km | Duration: 6 hours | Altitude Gain: 9,860 ft to 12,570 ft
Trek from Shira 2 Camp to Barranco Camp via Lava Tower
Trek Distance: 9.50 km | Duration: 8 hours | Altitude Gain and Loss: 12,570 ft to 13,060 ft via 15,160 ft
Trek from Barranco Camp to Barafu Camp via Karanga Camp
Trek Distance: 8 km | Duration: 10 hours | Altitude Gain: 13,060 ft to 15,330 ft via 13,195 ft
Trek from Barafu Camp to Mweka Camp via Uhuru Peak
Trek Distance: 16.50 km | Duration: 14 hours | Altitude Gain and Loss: 15,330 ft to 10,090 ft via 19,341 ft
Trek from Mweka Camp to Mweka Village. Drive back to Hotel Leopard in Moshi
Trek Distance: 10 km | Duration: 4 hours | Altitude Loss: 10,090 ft to 5,380 ft
Drive Distance: 24 km | Duration: 1 hour
Our vehicle will pick you up at Mweka Village to drive you back to Hotel Leopard in Moshi.
Depart from Hotel Leopard in Moshi to Kilimanjaro International Airport
Today is the day you bid adieu to Tanzania and head back to the airport. If you plan to explore Tanzania further, our local coordinator will help you plan you're itinerary after Day 8.
Please note: The distance between campsites may vary by 100 meters depending the weather conditions and the route you take. The altitude may also vary by 100 feet for similar reasons.
IMPORTANT POINTS
➤ Mandatory Documents required: It is mandatory for trekkers to carry original documents (Passport, Visa, Covid Vaccination Certificate) for entry inside the Kilimanjaro National Park. Keep a watch on the Visa site for any changes in the law on things to be carried inside the state. Along with this, you need to carry the medical certificate and disclaimer form for the trek.
➤Stay facility: In Moshi, your stay will be arranged in a hotel. On the trek, you will be staying 2 in a tent
➤Cloakroom facility for excess luggage: You may leave behind the luggage that you won't need on the trek at your hotel, near the reception. There will not be any specific cloakroom facility with lockers.
A route map of the Kilimanjaro trek
PRO-TIPS
Book flexible flight tickets
You are going on an International trek, where there are several unpredictable factors. It's best to book flexible flight tickets, which you can reschedule if required. These are available for a small added cost with most travel companies.
Alternative Flying Options for Indians
If the flight cost to Kilimanjaro International Airport (JRO), Tanzania is on the higher side, you can think of an alternative journey to take. Fly to Nairobi from Ahmedabad and then take a bus to Moshi.
After a lot of research, we have concluded that flying to Nairobi from Ahmedabad or Mumbai will cut your travel costs by half. From Nairobi, you need to take a 7-hour bus to Moshi.
This option can be cheaper as compared to flying directly to Kilimanjaro International Airport (JRO) from any of the metro cities in India.
However, you'll need to have a Visa for Kenya as well as Tanzania in this case. So calculate the cost including this and then decide.
Applying for Visa
Getting a Visa for Tanzania is very simple. You can apply for the E-Visa Immigration Online portal. Once filled, it takes about 7-10 days to get the approval. Also, Tanzanian immigration officials allow you to get your Tanzanian visa on arrival (VOA) for Indians.
What We Love About the Kilimanjaro Trek
Know Your Trek
We have always wanted trekkers to be well-informed before they go on a high altitude trek. Knowledge is the difference between a safe trek and a dangerous one. It's also the difference between a wholesome experience and a superficial experience.
Use this section to learn about the Kilimanjaro trek. It has in-depth information about each day of the trek, what to expect, and how you need to prepare for it. Many years of expertise have gone into this content. Trekkers find that extremely useful.
We recommend jogging as the best routine to get fit for a trek. It works on the same muscles that you use while trekking — your calves, glutes and hamstrings. It helps increase your stamina day by day. It is also an easy routine that does not require any equipment or tools.
Fitness target: 
To do this trek comfortably, you must be able to cover 10 km in under 60 minutes. This is the minimum fitness required for this trek.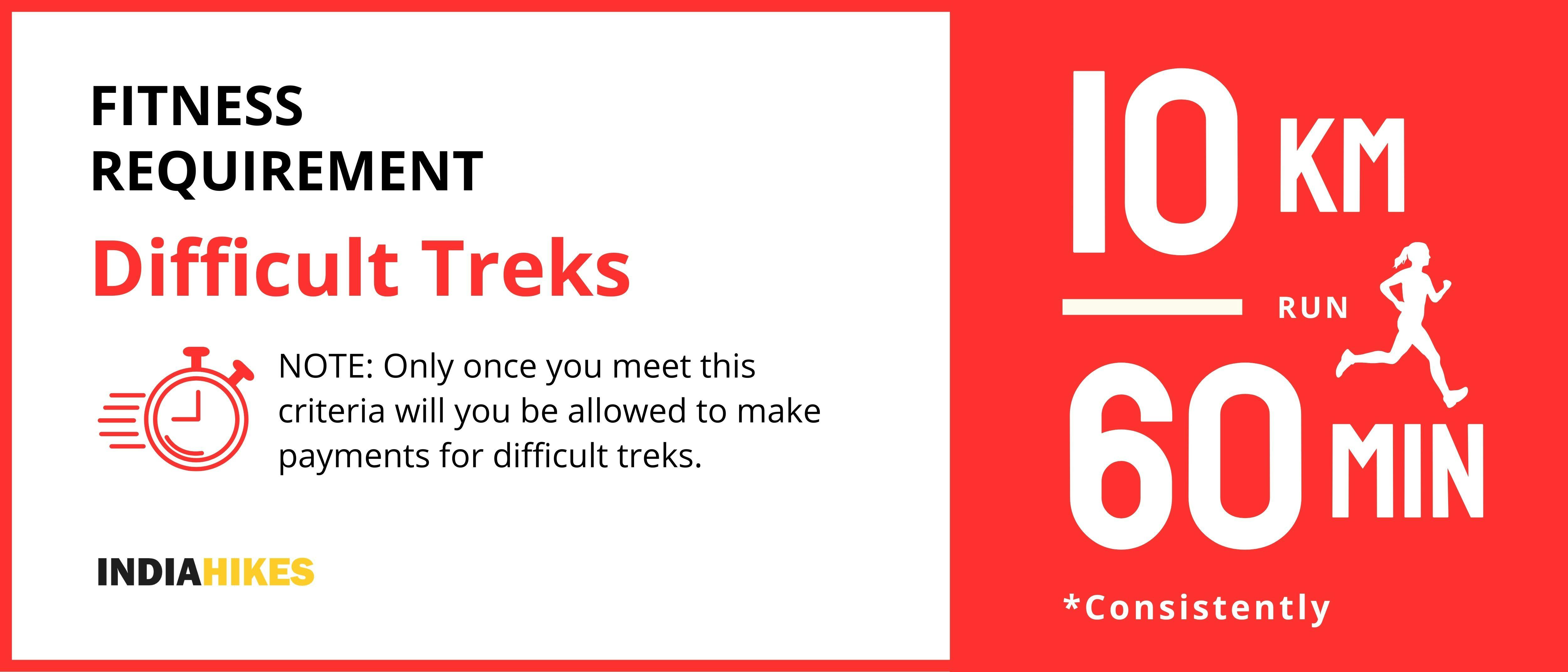 How to achieve this fitness? 
Start jogging at least 4 days a week 
If you cannot run 10 km immediately, start with 2 km and increase to 5 km over 2-3 weeks.
Once you're able to run 10 km, increase your pace day by day. 
Gradually increase your pace and bring it down to 10 km in less than 60 mins.
You must be able to run 10 km in 60 mins consistently for at least 2 weeks before the trek. 
This trek requires at least 6-8 weeks of preparation. The longer, the better. So plan your trek soon and start preparing. 
Here's a complete guide to get you trek fit.
Strength training tips:
How to get Fitness Approval from the Indiahikes team:
Every trekker needs fitness approval from the Indiahikes team 20 days before the trek date. Without this, you will not be allowed on the trek. 
What to upload? 
A minimum of 3 screenshots of your runs/jogs/walks/cycling 
Monthly summary of your routine
Why fitness matters: 
Every high-altitude trek comes with a set of challenges. Steep ascents and descents, uneven terrain, snow walks, stream crossings, pass crossings, and summit climb. Even the easiest of treks have some of these challenges if not all of them. Without fitness, trekkers struggle, get injured easily, lag behind, or simply fail to complete the trek. 
At Indiahikes, we take pride in the fact that our trekkers are among the fittest in the country. Those who do not meet the fitness requirements are often sent back. Our philosophy is that trekking and fitness go hand in hand. Without fitness, there's no trekking. 
Why Trekking With Indiahikes Is Different
People have always told us that trekking with us is different. That it is not just about the trek.
In fact, our trekkers go as far as to tell us that it is a life-changing experience. They feel a renewed sense of confidence, they feel more inclined towards sustainable living, and they even feel independent enough to trek on their own. As our founder, Arjun Majumdar, says, "It's almost like seeing two different people before and after the trek."
This is what makes trekking with Indiahikes different. The experience is designed in such a way that it has a deep impact on trekkers. Our Trek Leaders are trained in experience facilitation, to ensure that trekkers take the best out of being in the outdoors. This is why trekkers love trekking with Indiahikes.
Leaving mountains better than we find them
At Indiahikes, we focus on bringing in new practices that can reduce our impact on the environment.  This is done through constant R&D.  Once these new practices are implemented we focus on achieving the results consistently on all our treks. You will see this as part of our G6 practices. 
Golden 1: Green Sweep - Clean the trail of visible litter.  We have collected more than 1,00,000 kgs of waste since 2016.
Golden 2: Segregation At Source - Segregate all waste collected so that we do not add all this waste to the landfill.  We have diverted 50% of the waste from landfill through segregation
Golden 3: Food Composting - All our kitchen waste is composted into useful humus for the mountain soil.  All food waste is either eaten by mules or composted at source.
Golden 4: Biotoilets - All our human waste is composted at source through our specially designed dry toilet pits. 
Golden 5: Water efficient dispenser  - We have reduced our waste used per trekker by 70% through specially designed water dispenser systems.
Golden 6: Save energy - We use solar panels for our energy use at our campsites.  We are also in the process of redesigning our stove and menu to reduce the amount of gas used on our treks.
Do not be surprised to see a few of these elements of Eco Bags and the process of Segregation coming up on the trails of Kilimanjaro Trek because of our presence.
Our trekkers are a big part of us keeping our promise to leave the mountains better than we found them. 
Indiahikes trekkers do not carry anything that can harm the environment - be it wet wipes, or any packaged food on the trek.  In fact they practice a zero waste trek.
Indiahikes trekkers do not buy any packaged food in the dhabas on the trek - they do not take part in feeding the demand for packaged food 
Indiahikes trekkers clean the trails of waste using the eco bag as part of the Green Sweep Initiattive 
Indiaihikes trekkers carry their own backpack on the trek. They do not offload unless absolutely necessary
Indiahikes trekkers do not pee/poop near any water source 
Indiahikes trekkers do not stray away from the marked trail
Trekkers who sign up with us pledge to follow these practices.  When you sign up with us, you do too.
Everything you do on a trek creates an impact. The trail you trek on, the water you use, the waste you generate, how you poop, how you cook, what you eat — everything has an impact. The higher the impact, the greater the damage to the environment. 
Yet, when done sustainably, trekking is one of the most environment-friendly sports.
When you trek with Indiahikes, you trek to leave the mountains better than we found them.  This is part of our Green Trails promise.
Kilimanjaro Videos
Listen to what trekkers have to share about Kilimanjaro Trek
Know how to manage your Money
The best thing when travelling is to have a Forex Card from your bank if you are travelling abroad. It works very similarly to a Debit Card and you can withdraw the local currency with minimal charges.
Also, it is better to withdraw one big chunk instead of multiple withdrawals from the ATMs.
Most of the expenses will be done in Tanzanian Shilling (TSH). Right from the stay, travel, food, souvenirs and major local expenditure will take place using this currency. Between 1,00,000 TSH to 1,50,000 TSH is good for a two-day budget to stay, food and expenditure.
If you are planning to travel post your trek to a Safari, then USD will work.
Nearby Places to Visit after your Kilimanjaro Trek
Tanzania offers multiple options if you are planning to travel post your trek.
1. Materuni Waterfalls: Materuni waterfalls, also known as Nambe (meaning 'first-born' in Swahili) waterfalls are located just 15 km from Moshi. It is named so because it is the first waterfall that drops down from the slopes of Kilimanjaro. This is good for a day visit and also for getting a short experience into the coffee culture and trying out the local cuisine.
2. Chemka (Kikuletwa) Hotsprings: After a hard trek like Kilimanjaro, dipping into the hot springs just an hour away from Moshi is rejuvenating! This hidden gem in Moshi has crystal clear water. You can see the bottom of this natural pool just by standing on the ladder.
3. Safaris inside National Parks: There are more than 16 national parks in Tanzania. Home to the Great Migration, Serengeti is one of the famous national parks to go on Safaris. This 15,000 sq km park is full of wildlife. Wildebeest, Lions, Cheetahs, and Leopards call Serengeti their home.
Prior reservation is necessary to visit most of these national parks.
If you find Serengeti to be expensive, then going at least to the Ngorongoro crater is something we would recommend. It is almost like watching National Geographic or Animal Planet Live.
4. Lake Chala: Lake Chala or Challa is a crater lake bordering Tanzania and Kenya. It is 50 km away from Moshi. It is a 4-kilometre-wide lake with a depth of more than 300 ft. The lake is fed by the underground springs from Mount Kilimanjaro.
5. Zanzibar Archipelago: Zanzibar is an archipelago in Tanzania, off the coast of East Africa. The white sand beaches and many islands are perfect to relax after your trek.
Reaching Serengeti is a long journey of about 480 km. Likewise, you'll have to travel 600 km from Moshi to reach Zanzibar.
So consider these options if you're planning to stay in Tanzania for at least 3-4 days or more after your trek.
Must Have Food in Tanzania
With meat being a high consumption in the country, a lot of people ask about the options for Vegetarians.
The good thing is there is plenty of options for Vegetarians and even Vegans to enjoy. A lot of these dishes are very similar to Indian dishes and seem very familiar, almost like our cousins. Many of the vegetables and fruits are common to our land.
Here are some of the local veg food that you must try:
Maharagwe (Rice with kidney beans in Coconut milk, similar to our Rajma Chawal)
Ugali (Stiff maize flour porridge, similar to Upma)
Chips Mayai (French Fries with Egg/Omelette)
A few words to know
We have put together a few Swahili words and phrases that are fun to learn. Try interacting with the locals with these:
Jambo – Hello
Jina langu ni… – My name is...
Habari yako? – How are you?
Powa - All good
Tafadhali – Please
Asante – Thank you
Choo – Toilet
Nimechoka – I'm tired
Kitamu! – Tasty!
Habari Za Asubuhi (Pronounced as Asuboy) - Good morning
Lala Salama – Good night
Kwa heri – Goodbye (to one person)
Kwa herini – Goodbye (to more than one person)
Available Dates
Introducing "Small Groups" at lower costs:
We are organising a small group on August 22nd, where only 6 trekkers will be accommodated. Our local guides of Kilimanjaro will lead this group.
Other Treks Like Mount Kilimanjaro
Warwan Valley Trek
The Most Adventurous Trek in Kashmir
Bali Pass Trek
A Grand Pass Crossing High on Adventure
PANGARCHULLA PEAK TREK
A Challenging Summit Climb High on Adventure
Sign up for our much loved Weekly Mailer
We have terrific trekking tips, trek updates and trek talks to look forward to