A Guide To Start Your Trek Fitness Preparation
Share this story
At Indiahikes, we take fitness extremely seriously. It is part of our core values. Everyone who works at Indiahikes, be it on the slopes, or in the offices, lives an active life of fitness. We expect the same from our trekkers.
You must be aware of the fitness policy at Indiahikes. Depending on the difficulty level of the trek, each trek has a fitness requirement that you must meet.
I am going to guide you through your runs as part of your high altitude trek preparation. But before I begin, it is only right that I tell you a bit about myself, and my running journey.
At the age of 22, I was a Type 2 Diabetic. I weighed over a 100 kg, and had no control over what I put in my mouth. In 2016, when I was 25 years old, my very concerned boss advised me to visit  Lalbagh. I lived very close by so I began to go to Lalbagh for walks and runs. That was the turning point. I was completely taken in by the beauty, nature, and peace at Lalbagh. It was such a bliss to take a walk there. Right in the heart of Bengaluru city, a paradise in green. 
It was then that I decided to make some positive changes in my life. I began to research and understand the nitty gritties of running. I started with brisk walks and short jogs. At first it was hard, but I kept myself motivated. 
It is now 2019, and I am no longer 22 years old, but neither do I weigh 100 kg. I have lost over 35 kg, my blood sugar level remains normal without any medication. Moreover, running has also made me watch what I eat.
Today I have run over 4,500 kilometers, participated in 30 half-marathons, and two full marathons. All this has been possible only because of continuous practice, discipline and self-respect.
In this article, I want to share my learning over the past 3 years. And a 4-week running guide to get you started.
| Focus on your warm-up and running form
Just like any other sport, you must begin to run slow and steady. 
Two things that you must keep in mind while starting out is your running form and technique. I found videos from Vo2maxProductions extremely helpful in working on my running form and technique. 
Another important thing most runners neglect is a proper warm up before the run, and a cool down stretch after the run. The pre-run warm-up should include dynamic stretching. This means that each stretch should not be held for more than 2 seconds, and the stretches should mimic the running movements so that your body activates the muscles used while running. Your post run cool down should include static stretching. This means holding each stretch for at least 20-30 seconds. I found StrengthRunning and The Run Experience of great help. 
| Tip: It helps to set aside days for cross training. This includes exercises which focus on strengthening your whole body through lifting weights, or using only body weight. They also include cycling and swimming. This helps you gain muscles, and exercise a wide array of muscles. Your muscles need to be strong and healthy to take all that pounding they go through while running. 
Personally, I have noticed that cross training helps a lot in improving endurance, stamina, and just a person's overall fitness. It also adds variety into your workout. And if you are not much of a runner, mixing it up makes things fun. 🙂
| What makes a good training schedule
A typical running schedule must consist of easy runs, speed work like intervals, fartleks, tempo runs, a cross training day, and long run day, and a day of rest. Here's what each of these are –
1. Easy Runs
During easy runs you should not be pushing your body in any manner. As the name suggests, it should be easy. Make sure you are breathing in a rhythm. Here's what I follow during my easy run, 3-3, or 3-2. This means inhale for 3 steps, exhale for 3 steps, or inhale for 3 steps, and exhale for 2 steps.
You should also be able to speak a full sentence without breaking, or gasping for breath. If you use a Heart Rate Monitor, the beats per minute should not go beyond 60% of your maximum heart rate.
2. Intervals
Intervals are a form of speed workouts wherein you run a set distance (say 400 meters) as fast as you can, for a specific number of times (say 6 times). The challenge is to decrease the time taken to cover 400 meters in each repetition. 
A good way to begin is to run 400 meters as fast as you can, and then rest for a minute. Repeat this 4 times.
Rest time should not be reduced. Rest time of 1 minute should be completely utilized to get your heart rate down.
3. Fartleks
These are similar to intervals, and are a form of speed workout. Instead of resting for 1 minute between each interval, you do an easy run/jog for a specific distance.
You begin by setting a distance. For example, if you are doing a 5 km run here's how you can divide your run –
1 km easy run/warm up
1 km of running hard. You must really push yourself.
0.5 km of relaxed slow running. Catch your breath here.
1.5 km of running hard again. You will feel the burn. Keep pushing.
Finish up by doing a 1 km easy run again.
Fartleks are a sure-shot way of building endurance and stamina. This helps increase your lactate threshold. Your body will produce less lactic acid while you train hard.
4. Tempo Runs
Tempo runs are a true test of your endurance. In this workout, you run for a relatively longer distance at a faster pace. The challenge is to maintain the pace throughout the run.You should not be running at an all out effort. Instead you should be running at 75% of your maximum effort. Simply put, tempo runs must be comfortably hard. You should be confident that you can run faster, but at the same time, do not get tempted to run slower towards the end. That is the real challenge.
5. Long Runs
As the name suggests this workout is all about running long. This usually means more than 10 km at an easy pace.The goal here is to complete the distance, and not to run hard or fast. Pace yourself well, and start off slow. You can walk and take short breaks to re-hydrate in between.
Personally, I think these long runs have been great times of introspection for me. Not only about my running and fitness, but my personal goals as well. I've even got breakthrough ideas for work!
Learn to enjoy these runs, and you will never want to stop.
| A training plan that works
Here are two four-week running plans for beginners and intermediate runners. I've tried and tested both of these routines, and have shared them widely among friends and colleagues as well. 
Beginner Friendly Routine:
This routine is designed assuming that you are able to run 2 km comfortably.
If you are not there yet, start by jogging and walking a few hundred meters. It helps to start in a park. Each day you can increase your walk/jog by a round or two.
Once you're ready, this is what you should follow.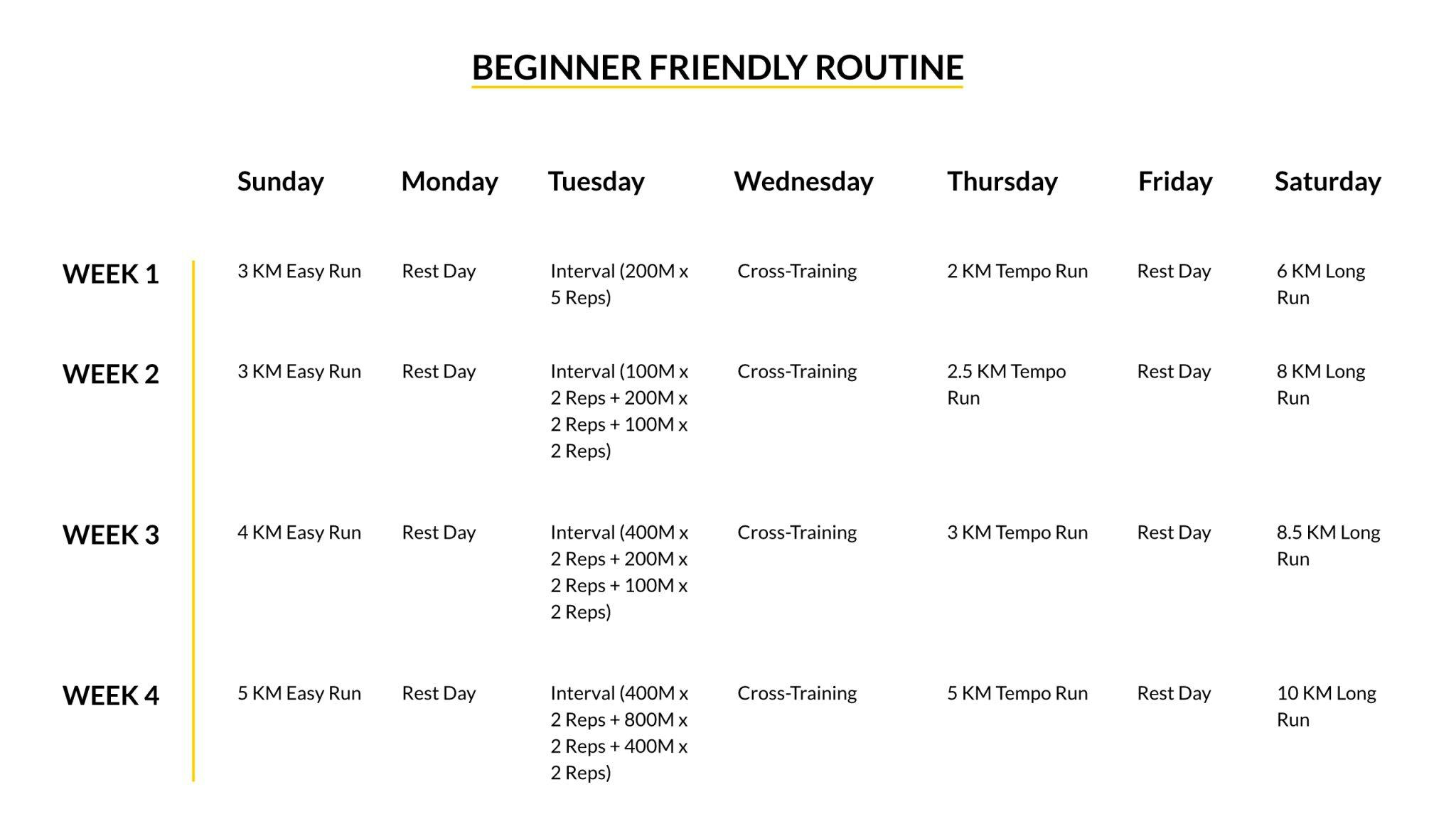 Intermediate Friendly Routine:
The next routine is designed for trekkers who can run 5-7 km comfortably. This is also for those who have signed up for a moderate-difficult, or a difficult level trek.
If you are not here yet, follow the beginners 4 week plan.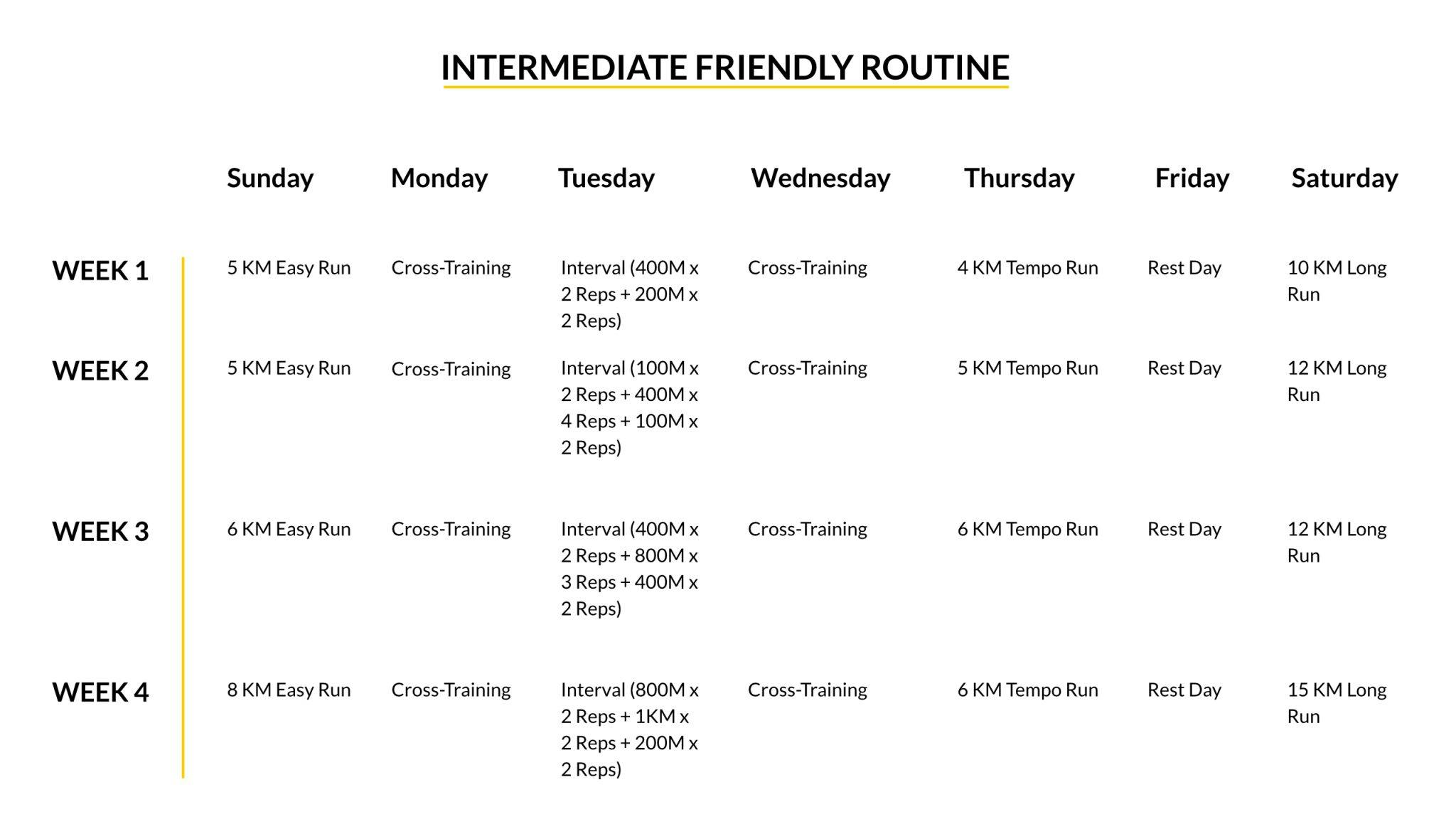 Once you have completed the four-week plan, make changes to the time table as per your requirement.
| What running equipment do I need to get started?
Honestly, all you need to run is your own two feet. Running is the most basic trait of human beings. I agree that there are fancy gears, and expensive running shoes in the market right now. But for a beginner, any pair of running shoes work. High quality running shoes are an expensive investment. Buy them only if you are serious about running and are consistent.
Here are some recommendations for beginners running shoes. Decathlon has a great variety of beginners' running shoes. The Kalenji shoes are especially good if you are just starting out, or if this is your first pair of running shoes. The entry level shoes cost between Rs. 1500 to Rs. 2700.
If you are already running, and plan to run longer distances, invest in a good pair of shoes. The Nike Air Zoom Pegasus is a personal favourite. You can also buy Asics Gel Nimbus series. These are all over Rs.10,000.
If you are pronating, I suggest buying the Asics Gel Kayano/GT Series because Asics are the best when it comes to stability shoes.
Other brands like Brooks, Mizuno, Hoka One One, Saucony, ON have some good shoes. Do your homework, research well,  and buy the shoes which fit your needs the best only after trying them out at a retail store near you.
Quick tips
1. Warm-up and cool down well.
And on a parting note, remember, consistency is key 🙂
If you have any questions, or would like to share your fitness plan or journey with me, please comment below. I would love to hear from you.
Related Videos
How to get fit for a trek
5 Strength Training Exercises To Combine With Cardio
How To Get Fit For A High Altitude Trek - For Children
Sign up for our much loved Weekly Mailer
We have terrific trekking tips, trek updates and trek talks to look forward to