Difficulty
?
Easy-Moderate treks have even trails and a gentle gradient. No more than 5-6 days long. They do not go to very high altitudes and have easy exits from most campsites.
Easy-Moderate
Maximum Altitude
12,516 ft
Pickup point
Live Free Hostel, Rishikesh
---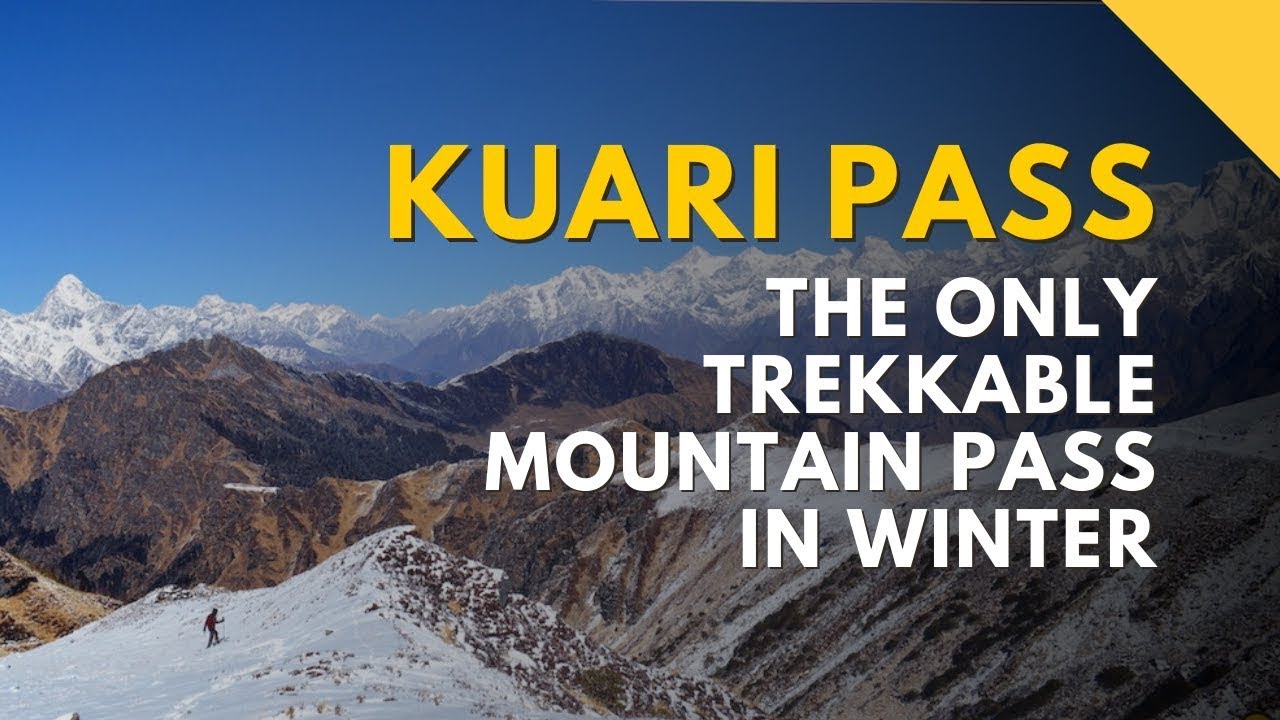 The Only Trekkable Mountain Pass in Winter
Irrespective of you being a seasoned trekker or a beginner the Kuari Pass is a trek you need to do. It is a must-do for the views of some of India's most celebrated mountains – Mt Nanda Devi (25,673 feet) and Mt. Dronagiri (23,182 feet) – in any season.
In winter, there is an added attraction. While most other mountain passes in the Himalayas lie buried in snow, Kuari Pass is only trekkable mountain pass in winter. Even though you don't cross the pass in a traditional way, you trek all the way to the pass, enough to see the stunning views from atop.
On another note, snow is an experience on its own on this trek. The snowy floor in the perfectly crafted forests, snow flakes settled on the Oak leaves above a white carpet takes you instantly to the land which would be Santa Claus's envy.
To begin with, Kuari Pass is a 4-day trek (6 days when you include the travel days from Rishikesh).  The trek starts from Tapoban, a small village near Joshimath in the Garhwal Region of Uttarakhand.  It is situated in the Nanda Devi National Park.
Kuari Pass is an easy-moderate trek, which makes it easy enough for someone starting out in the Himalayas.
Use these pointers to navigate through this extensive trek guide:
(If you still have doubts, drop them in the comments section at the bottom of the page. We'll have our best experts respond to your questions.)
---
What I Like About Kuari Pass Trek
➤

The rare view of Mt Nanda Devi
Nanda Devi is not a mountain you see easily. There are hardly any treks from where you see Nanda Devi. One example is the summit of Chandrashila from where you do spot Mt Nanda Devi, but it's too far. From the Kuari Pass trek, you see Mt. Nanda Devi standing right in front of you. This is the classic side of Mt. Nanda Devi. As far as I know, you see this side only from the Joshimath region.
What I really like about Kuari Pass trek is that it offers easy access to this spectacular view. You see Mt. Nanda Devi from Auli to Gorson Bugyal. After you cross the Gorson Bugyal, the view disappears.
This view of Nanda Devi is one top reason why I would do the Kuari Pass trek. 
Not only Nanda Devi, you see other big mountains also, like Dronagiri mountains. In fact, Dronagiri and Mt. Nanda Devi stand side by side. You see Neelkanth, Chaukhamba, Hathi Ghoda all pretty close. 
➤

The picturesque oak forests 
Lovely oak forests of Kuari Pass is the second reason why I like this trek. These forests are typical in the Uttarakhand region, but you find them only in certain treks like Roopkund, Brahmatal, and Dayara Bugyal. 
Compared to the rest, I like the oak forest of Kuari Pass the best. This is simply because oak forests on this trek are placed so beautifully. These oak forests come in a section where the climb is not very steep. So, you have an easy walk through the oak forest. 
It's magical to see oak forests in snowfall. Usually, our mind conjures up images of pine forest in snowfall. But here, the experience is different. 
As snow falls through the oak forests, it's almost like you see bows being formed on the trees. It feels like only the red balls are missing now to complete the look. 
Apart from the look, Kuari Pass trek has an interesting landscape with oak forests merging into meadows. Unlike the steep forest sections on Roopkund and Brahmatal trek, here it is gradual. So it's like a flattish oak forest walk where you can appreciate the beauty. And this section is not very long. You come across it on Day 3 and Day 4 of the trek for around one and a half and two hours. 
This, especially with snow and oak forest combination, makes for a very beautiful experience. 
➤

The unforgettable walks in the meadows
Next big reason to do the Kuari Pass trek is the Gorson Bugyal. Once you cross the tree line, the Gorson Bugyal stretches in front of you. It's not like Ali Bugyal. But the setting of this bugyal lingers in your mind long after you are back from the trek. 
As you step into Gorson Bugyal, on one side you have the grand Dronagiri and Nanda Devi.  And then, on the other side, you have these green meadows stretched in front of you. 
The pretty Gorson Bugyal is one part of it. The other part is Chitrakantha. This is a meadow-y ridge at 12,000 feet. To walk on this ridge is also an experience to cherish.
What's great is that the meadows of Kuari Pass are extremely beautiful in any season. If you go in early autumn, it's lush green. In late autumn it is golden, and it is also extremely beautiful. And winter offers a stark, white setting. 
In all settings, the meadows and the mountain views in contrast are very beautiful. 
Through and through it's a meadow. You start with Auli which is a meadow. Then again Gorson Bugyal, then Tali forest, and then Chitrakantha. 
It is a legendary trail. You have the Lord Curzon trail passing through it. Kuari Pass is an old trek. 
What I Don't Like About Kuari Pass Trek
I actually wish the Kuari Pass trek had started from the Auli side. Now, the trek starts from Karchhi and ends at Auli. I wish it was the other way round. 
I'll tell you why. When you trek to Kuari Pass from Karchhi side, all the spectacular mountain views are behind you. I miss having these views in front of me. You get this when you do the trek from Auli. But that route is not very practical. 
From Auli, you tend to gain altitude too quickly while reaching the next campsite at Chitrakantha. And, availability of water here is also a challenge. 
Due to these reasons, it's better to begin the trek from the Karchhi side. But I wish it was the other way round. 
---
Best Time to do the Kuari Pass Trek
Kuari Pass trek is accessible for 10 months of the year except July and August (the peak rainy and the peak winter months in Uttarakhand).
The 8 months cover four different seasons:
Spring – March and April
Summer – May and June
Autumn – Mid September to November
Winter – December-January
Each of these seasons have something very different to offer in terms of terrain, difficulty and weather. 
In a nutshell, let us tell you about the subtle differences you will see in the different seasons of the year. This should help you plan your trek better.
Season
What You will get to Experience
Kuari Pass in Spring (Mid-March and April)
– Residual snow
– Beautiful summit climb
– Colorful forest and lush green meadows
– Warm mornings and cold evenings

Kuari Pass in Summer (May and June)
– No snow
– The Gorson Bugyal is beautifully green during this time of the year
– Green forest and golden meadows
– Hot mornings and cold evenings
– Mild rainfall by end of May

Kuari Pass in Autumn (September, October and November)
– No snow
– Beautiful summit climb
– Crisp views from the summit
– Colorful forest and meadows
– Meadows turn golden as we progress towards winter
– Mild mornings and very cold evenings
– Mild rainfall until end of September

Kuari Pass in Winter (December-January)
– Fresh Snow and snowfall in the end of December
– Beautiful snow covered forest and grasslands
– The forest walk turns magical during this time
– Mildly cold mornings and extremely cold post sundown

Kuari Pass in March and April
Kuari Pass in March and April marks the arrival of Spring.  Spring is marked by melting snow, colorful meadows and forests.  The weather is milder than the harsh winter cold.  You will find snow beyond the upper altitudes of the trek.  It is also the season of flowers.  You will see meadows flowering and Rhodos blooming during this time.
In a nutshell, spring gives you the best of both worlds — the perfect weather to trek in, the time to see the fresh blooms and the still present snow to give an experience of trekking in the snow.
Kuari Pass in May and June
As the season proceeds to summer, mornings become bright and sunny. Temperatures are warm during the day in May. It gets cold after sun-down, but the cold is not as harsh as the other months. This change in weather marks the end of the flowering season on Kuari Pass trek.
Summer deepens into June and you may get occasional summer rains. But these are just the pre-showers. Monsoon arrives on the trek only in July, turning the trek lush green.
The trek is less crowded in May and June as many trekkers opt for treks climbing higher altitudes. So it is a great time to trek if you are looking to enjoy the trek in more isolation.
Kuari Pass in September, October and November
Monsoon months are idle for Kuari Pass, but the trek comes alive right after the rains. The meadows and the forests are fresh and alive during the months of September and continue to be so in October as well.
The air is crisp and the views of Dronagiri, Nanda Devi are strikingly clear. Trekking by these two mountains towering and guiding your each step all along the way is an unparalleled experience.
The trek does get cold as we proceed towards November. The feeling of incoming winter sets in during November. The views and the terrain still remains crisp and beautiful for the trekker.
Kuari Pass in December-January
Kuari Pass is a beautiful trek to do in winter. From late December, you can expect snow on the trek.
In December, what stays on a trekker's mind is the walk through the beautiful forests of this trek, camping in the snow and walking through the snow covered Gorson Bugyal with the views of Nanda Devi towering throughout the entire trek.
Campsites surrounded by the forests covered in the snow make you feel like you are in a fairy tale setting. You will find this setting only in the heart of winter.
---
Weather and Temperature on the Kuari Pass Trek

The weather you experience on Kuari Pass is very similar to what you will experience on most of our Uttarakhand treks. What you need to keep in mind is – there are clear distinctions between the seasons and there are 5 distinct seasons during the year:

Spring – March and April 
Summer – May and June
Monsoon – July till Mid September
Autumn – Mid September to November 
Winter – December to February

Kuari Pass in Spring

Spring is all about the flowers contrasting with the melting snow on the higher altitudes and the carpeted meadows and forest in the lower altitudes. The sun will be brighter, the days start to get longer and the nights much less colder. There won't be fresh snowfall.

Day temperatures will be around 15-18 °C while night temperatures tend to be around 0-5 °C.

Choose this time if you are looking to experience a good mix of foliage and snow.

Kuari Pass in Summer

During summer, you will experience bright sunny days and mildly colder nights.  So, if you are looking to trek around comfortable temperatures, this is the right time.

Day temperatures will be around 18-24 °C while night temperatures tend to be around 3-8 °C.

By the end of summer, do expect mild rains to start. The rains usually start from the afternoons and go till the evening. This will mark the beginning of the monsoon season.

Kuari Pass in Monsoon

The Monsoon season is hard to trek as this is the time there is the danger of incessant rain and lightning — two main hazards to watch out for.

Hence, we recommend that you skip this trek during monsoon. If you are looking to trek during July till mid-September then check out our monsoon treks here. This is the time Kashmir (Kashmir Great Lakes, Tarsar Marsar) and Himachal (Hampta Pass, Bhrigu Lake, Beas Kund, Pin Bhaba Pass) open up and they will surely take you to another world.

Kuari Pass in Autumn

This is an ideal time to trek if you are looking for crisp views of the mountain. This season also rings in the colour. Meadows are golden brown.

In this season, you must also keep in mind that we are moving towards winter. The days get shorter and the nights start to get much colder. You can expect morning temperatures around 10-15 °C and night temperatures to drop to zero.

Kuari Pass in Winter

The winter season is marked by fresh snowfall, high snow and cold days and extremely cold nights. The snowfall starts usually towards the end of December and continues until Mid February.

You can expect day temperatures to average around 8-10 °C while night temperatures to drop below zero.  Some days it even goes below -5 °C. You may find this season quite cold to trek in especially in the higher campsites.  But you can tackle a winter trek with the right gear.  With additional layering from top to bottom, you have high chances of enjoying the trek in the winter snow.

For anyone interested in experiencing snow, this is the time to plan your trek.

| Note: Heavy snowfall may block the trail for 2-3 days in a stretch during peak winters. If you are planning a trek during these months, be ready for flexibility in days or route.

Temperature Chart

Click on the chart to see average temperatures on the Kuari Pass trek

Rainfall Chart

Click on the Chart to see the Average Rainfall at Kuari Pass
---
How Difficult is Kuari Pass?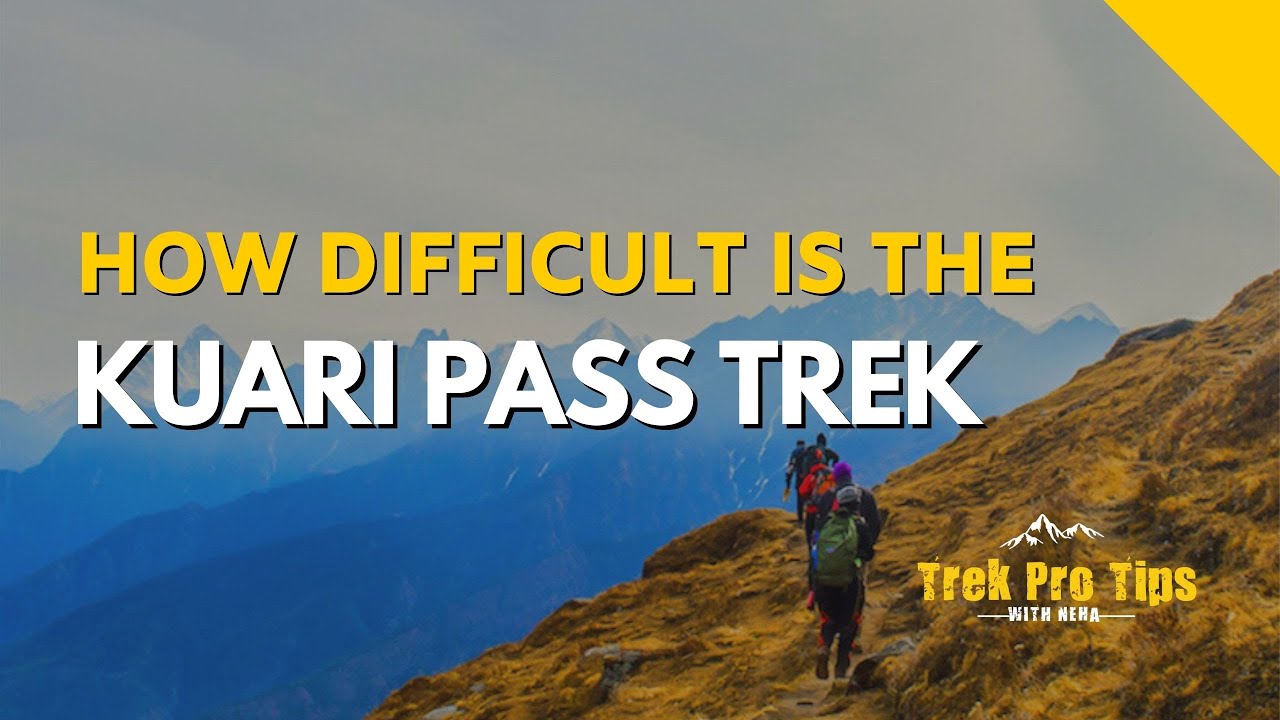 Kuari Pass is categorized as an easy-moderate trek, more towards the moderate side.  At Indiahikes, we classify a trek as easy-moderate if it fits the following criteria: 
– The ascent is gradual and evened out
– The trek is 5-6 days long
– The altitude reached is within 14,000 ft
– The trek has easy and multiple exit points 
We feel that Kuari Pass addresses all of these criteria really well. It climbs to an altitude of 5,500-6,000 ft within 3 days.  The ascent is gradual and steady. Of course, there are certain steep sections spread out, but when well-prepared are easy to tackle.
Also, every day of the trek, you climb for a maximum of 4 hours (except on the summit day which in general tends to be longer).
Next, the trek reaches a maximum altitude of 12,500 ft.  Hence, it is extremely well-suited for beginners and trekkers who are looking to not do a demanding trek.
What raises the difficulty level to easy-moderate? 
Although it is marked as an easy-moderate trek, we believe that this trek leans towards the moderate side of the difficulty scale. The aspect of trek that makes it move towards the moderate side are three things:
1. The ascent of about 3,000 ft on the first day of the trek.  On the first day of the trek you climb about 3,000 ft in a stretch of 4 km.  It is steep and given that you cover a larger altitude range on the very first day, can make you more prone to AMS.
2. Another aspect of the trek that pushes it towards the moderate end of the difficulty is the stretch from Tali campsite and Gorson Bugyal when you trek on a overhanging narrow trail for about 1 km overlooking the Dhak valley. Especially around winter or rainy days, this stretch can get tricky.
3. The trail from Padiyar to Gorson Tali campsite is easy to lose your way on, on a foggy or misty day. This again makes the trek rank a bit higher on the difficulty scale.
Having said all of this, we want to stress this again: the trek is as easy as your preparations go.  Even the easiest of treks can turn into a difficult one if you are not physically and gear wise prepared for the trek.  So, do follow the preparation details provided here with care.
---
Is Kuari Pass Trek Safe?
Kuari Pass is a safe trek to do.  At Indiahikes we determine safety on a variety of factors — most important of which includes terrain, altitude and weather.
Safety on Kuari Pass — Terrain wise
When it comes to terrain, Kuari Pass can be considered as highly safe.  The entire route is marked with 
– Well marked trails
– Well trodden routes
– Gradual ascents
– Well placed campsites (important when considering AMS)
– Easy and multiple exit points
The only section that requires a lot of attention from the trekkers and the trek organisation is the overhanging trail from Tali Campsite to Gorson Bugyal.  This stretch is marked by narrow trail with a lot of undulations.  This can get tricky to navigate on hazy days, when there is snow or when there is a lot of snowfall.
We recommend that you traverse this stretch slowly.  Ensure that you get a good footing with each step you take on this stretch.  Also walk along a single lane one behind the other and do not overtake each other during this stretch.  With these precautions, this stretch should be easy to tackle.
Safety on Kuari Pass — Altitude wise
In this trek, you are climbing around 6,300 ft in the first three days and reaching a maximum altitude of 12,500 ft.  Naturally, you can get hit with AMS.
Few aspects of the trek that helps mitigate AMS: 
– Except for the first day, every day's trek and campsites are placed well within a normal altitude gain for each day. With a steady pace, the chances of getting AMS is less.
– The second day is shorter in length and altitude gain. This gives you ample opportunity to rest and acclimatize before the long summit day.
– The third day, you lose a lot of height. This helps recover from most AMS symptoms that might occur on the summit day.
However, there are still chances of getting hit by AMS.
On this trek, you are prone to get initial symptoms of AMS on the first day of the trek given that you climb about 3,000 ft on the first day. To minimize the risk, climb at a steady pace, hydrate regularly and give yourself ample rest once you reach the campsite.
Even after taking all of these precautions, you can still get AMS.  Most trekkers usually present with the starting symptoms of AMS — usually headache or tiredness mixed with perhaps lack of appetite or sleep. The immediate step to take would be to start on a curative course of Diamox which is 250 mg every 12 hours followed by ample rest.
The earlier you treat these symptoms, the higher are the chances of recovering and completing the trek.
If you present with symptoms that persist more than 12 hours, descend to the base camp immediately.
As you climb higher and proceed beyond 11,000 ft, there are chances of HAPE/ HACE to occur as well. In our history of running this trek, we have never had a trekker present with HAPE/HACE. 
But nevertheless, it is better to be prepared and mindful of the symptoms. Read and learn more about HAPE/HACE and how to tackle it here:
Safety on Kuari Pass — Weather wise
The trek is safe for all the 8 months of the year it is open.  The trek gets inaccessible when snow level goes high.  It is for that reason the trek is closed during January and February.  In December when snow falls, gaiters and microspikes can help provide the necessary safety for the trekkers to do the trek successfully.  Hence, having this in your winter kit is absolutely necessary.
The trek also gets extremely cold in the winter and can result in cold related injuries.  But this can be tackled with the right winter gear, right technique of layering and good insulation techniques.
Exit points on the trek
Kuari Pass has multiple trails that reach the Pass, but at Indiahikes, we have documented and follow the two trails that mark the onward and the descent route of the trek. Both of these routes mark the exit points for our trek.  Depending on where you are in the trek, when evacuation is necessary, you can exit from the nearest exit point.
In general, if you are in the valley where Khullara and Chitrakantha/Tali campsites are located, you can exit from Dhak.  While if you are have crossed the overhanging section of the trail and on the Gorson Bugyal side, then exit from Auli.
Nearest hospitals to the trek
For mild medical issues, the closest medical assistance can be found in Joshimath.  This includes simple fracture, sprain, etc:
Joshimath
2009 Field Hospital
Joshimath, Chamoli – 246443
Ph: 8765949852
Chamoli 
District Hospital
Gopeshwar, Chamoli – 246424
However, for major medical emergencies, the nearest hospital is in Srinagar or Dehradun — which is almost 8-9 hours away from the base camp of the trek.
---
How to Reach Kuari Pass?
Kuari Pass starts from Karchhi village. This is around 3 kms from your basecamp – Tapoban (7 kms from Dhak). When you are doing the Kuari Pass trek, your goal is to reach Tapoban by the evening before your trek starts.  That is the Day 1 of Indiahikes' itinerary.
Reaching Tapoban from your home usually involves three/four stretches of journey depending on your mode of transportation. 
Flight/Train from your home town to Delhi 

Bus/Train/Flight to Dehradun 

Shared Cab or Bus journey to Joshimath

Shared Cab to Tapoban
For some, the first and the second stages can merge when you find a direct flight to Dehradun airport.
Now, let us see each of these stages in more detail:
Flight/Train from your home town to Delhi
The first stage of travel is from your hometown to Delhi.  For many, the easiest way is to take a flight to Delhi.  This would mean that you start your travel a day before the first day (Day 1) of the trek itinerary.  The travel time increases when you choose a train.
We recommend that you reach Delhi the morning before so that you can take a bus/train/flight to Dehradun and reach Rishikesh by the night.
Bus/Train/Flight to Rishikesh
Once you reach Delhi, the next step is to reach Rishikesh.  There are multiple ways to do this stretch of the trip.
1. Bus
You can find buses to Rishikesh directly from Kashmere Gate ISBT.  There are buses available almost every hour.  Another way you can do this journey is to take a bus to Haridwar and then take a connecting bus to Rishikesh (they are 21 km apart and buses are available from Haridwar until 9 PM).
At Kashmere Gate ISBT, you will find options for normal buses as well as Volvo buses.  The Volvo buses would need advance booking especially during peak season of travel. We advice that you pre-book your seats from https://www.utconline.uk.gov.in/utccounter/ if you are more than 2 people travelling.
We recommend that you plan your travel in a way that you reach Rishikesh comfortably by night.
2. Train
If you are taking a train from Delhi, then your nearest railway station is Haridwar.  Take the afternoon Jan Shatabdi train to Haridwar. It leaves Delhi at 3.30 PM — you will reach Haridwar by 7.30 PM.  The train is usually on time you can actually make the bus journey to Rishikesh the same night. You will find the connecting bus to Rishikesh from Haridwar right opposite the railway station.
3. Flight
Another option and a much more efficient way of traveling to Rishikesh would be to take a flight to Dehradun's Jolly Grant airport either from Delhi or from your hometown directly.
From Dehradun airport, Rishikesh is just 20 km. In fact, Jolly Grant airport is closer to Rishikesh than Dehradun city. It will take you 30-45 minutes to reach Rishikesh by cab.
For the 20 km stretch, it will cost you between  Rs.800-1,000. Another option would be to walk outside the airport gate and take an electric rickshaw till Jolly Grant Bus Stand (this will cost you Rs.150 for 4 people).  From there you can take any bus or taxi traveling from Dehradun to Rishikesh (this will cost you about Rs.20 per person).  This is the cheapest way to reach Rishikesh from the airport.
At Rishikesh
Rishikesh being a popular tourist destination has plenty of hotels and hostels for you to stay. We prefer the hostel experience at Indiahikes. There are plenty of them available at the booking.com website for you to book.
In fact, the Rishikesh hotel/hostel standards are far better than Haridwar because of the number of tourists that come there. Book your hostel or hotel online. It saves you the hassle of walking in and finding out.
When you reach Rishikesh, get some rest. You will need a good night's rest before the long journey the next day. It is a 272 km long journey to Tapoban. It will take you 12 hours to reach.
Shared Cab or Bus journey to Joshimath
The next stretch of the journey from Rishikesh to Joshimath, is a long one. The journey is by road, 256 km. It will take you a good 9-10 hours until you reach Joshimath.
We strongly recommend that you leave Rishikesh early by 5 AM. When you are trekking with Indiahikes, we arrange our pick up from Rishikesh around this time.
You can either book a shared cab of your own or take a bus. You will find the shared cabs to Joshimath from Chandrabhaga Pull. You will have to pay about Rs.500-600 for the ride till Joshimath.
If you are one or two people, we strongly recommend that you take the bus. There are three buses that go to Joshimath. They all start from Rishikesh Bus Stand.
The timings of the buses are: 
– 4:00 AM to Badrinath
– 4:30 AM to Pandukeswar
– 6:00 AM to Joshimath
If you miss these buses, then you can break your journey till Rudraprayag or Karanprayag on one day, take rest and then continue the journey on the next day.
Views on this journey

The route you will be taking is this: 

Rishikesh – Srinagar – Rudraprayag- Karnaprayag- Joshimath

This route has some of the most stunning views. Our recommendation is that you try and grab a seat on the left side of the vehicle for the best views. Few things to watch out on the way:

1. First off — you will be going via the Badrinath highway along the Alaknanda river. So you will see the panch prayags — the five sacred river confluences: Devprayag, Rudra, Karna, Nanda, Vishnu. The confluences are beautiful — you must ask your driver to take a pit stop at these spots to see the mixing of the bright turquoise waters with a warm green. You will notice temples near some of the confluences. Look out for the changes in culture.

2. The last 3-4 hours of the journey is what you should look out for, i.e., post Karnaprayag it gets really interesting — the whole scene changes, civilization thins down, vegetation changes, mountains become taller and you might see the snow clad peaks if it is a clear day — it is a visual treat! So if you want to take a nap, do it before you reach Karnaprayag! Because from Karnaprayag, all the dust and grind goes away. You are in the pure mountainous scene.
Shared Cab to Tapoban (near Dhak)
Once you reach Joshimath, find a place to stay for the evening. If you are traveling on your own, it is better to rest at Joshimath and then travel to Tapoban the next day and start the trek right away. Joshimath has lots of places to stay and have food.
The next morning take a shared cab to Tapoban. You may find many shared cabs to Tapoban from Joshimath Main Bazaar taxi stand. Request the can person to extend your trip to Tapoban as there won't be other vehicles going towards Tapoban. From Dhak, Tapoban is approximately 4 kms away.
Note: Shared cabs going to Dhak village will cost you about Rs.30 for the trip. The shared cab will drop you at a hairpin bend where a lot of dhabas are present. Between two dhabas, a road takes you to Dhak village. The route to Dhak village takes about 1.5-2 km.
From there you start the trek.
---
What to Pack for the Kuari Pass Trek?
Before you start shopping and packing for the high-altitude Kuari Pass trek, watch this video to get a clear idea about what you need to take along.
Complete Video Playlist: How To Pack For Kuari Pass Trek
---
Mandatory documents to carry on Kuari Pass Trek
Carry an Original and photocopy of government photo identity card. Anything such as a driver's license, Aadhar card, a passport will do.
You will need to submit your identification to the forest department. Without these, you will not be allowed to trek.
| Tip: Keep important documents in a clear plastic cover and slide them into the inner pocket at the back of your backpack to prevent them from getting wet.
If you have registered with Indiahikes, you also need to carry the Disclaimer Certificate and the Medical Certificate.
For an exhaustive list of things to carry, click here.
---
Frequently Asked Questions About Kuari Pass
1. 

How long is the Kuari Pass Trek?
The total distance covered during the Kuari pass trek on the Dhak-Kuari Pass-Auli trail is 21.5 km.
One of the best things about the Kuari pass trek is the flexibility it has in terms of itinerary and trails. If you approach the trek from Dhak as your starting point, you can reach Khullara campsite by two different trails, with Guling and Akhrotghetta as the distinct campsites.
At the pass, you can choose to descend back down to Tapoban or take another beautiful trail to Auli. If you do the latter, then you again have an option to camp at exquisite locations like Chitrakantha or Tali on the way down!
---
2.

What is the height of Kuari Pass?
Kuari Pass trek reaches a maximum altitude/height of 12,516 ft.
From Karchhi, the trek climbs a height/altitude of more or less 5,600 ft during the length of this trek. You steadily climb up the first three days of the trek till the summit. After Tali the trail climbs up till Gorson Bugyal and then climbs down to Auli. Please check the detailed itinerary to understand the trek in more detail.
---
3.

Will there be any mobile phone network on the trek?
Network and connectivity is sparse on Kuari Pass. But there are a few locations where you can rely on a good network for communication.
You will find good network connection along with internet connectivity at Joshimath, Dhak village and Guling. Vodafone, Jio, Airtel and BSNL are the networks prominent on this part of Uttarakhand.
Although there is no internet reception at Khullara campsite, you will get good network connectivity towards the edge facing the valley.
At Tali (beyond the lake facing the valley) and at Auli, you will get good network and internet connectivity.
---
4.

Where will I find ATMs on the trek?
The last ATM en route to the base camp is in Joshimath. Joshimath being a big town in Uttarakhand, it has a good network of ATMs throughout the entire town.  A google search will reveal the nearest one to your location.
---
5.

Will there be electricity at the campsites/on the trek?
Joshimath is the last point that is electrically connected. Given that Joshimath is a big town in Uttarakhand, the infrastructure is pretty good.
However, once you start the trek, you will not have electricity until you reach Auli.  Hence, we strongly encourage you to bring additional batteries for your cameras and a power bank with more than 10,000 mAh to last you the entire trek.
Protip Beware that the power from your batteries will drain faster in the cold temperatures of this region.  So, put the batteries in a small pouch and keep it inside your sleeping bag to keep them warm during the night.
---
6.

Is there a cloak room facility on the Kuari Pass trek?
On Kuari Pass trek, you have the opportunity to drop your luggage at the base camp for the duration of the trek.
At the end of the trek, the cloak room belongings will be brought back to you.
Please ensure that you do not leave valuable belongings in our cloak room facility. If you do, inform our staff so that they can take the necessary precautions to keep them safe.
<!–- -–>
Short Itinerary
Day 1: Drive from Rishikesh to Tapoban Base camp. Pick up will be at 6.00 am. 
Driving time: 8 hours
Transport from Live Free Hostel, Rishikesh will be arranged by Indiahikes. It costs Rs. 7500 per Bolero (5-6 seater), and Rs. 10500 per Tempo Traveller (12-13 seater) for the transport one way. This amount is shared by trekkers.
Day 2: Drive from Tapoban to Karchi and Trek from Karchi to Akhrotghetta
Trek distance: 2.75 km | Duration: 3-4 hours
Altitude gain: 7,313 ft to 9,265 ft
Day 3: Akhrotghetta to Khullara 
Trek Distance: 2.5 km | Duration: 3-4 hours
Altitude gain: 9,265 ft to 11,014 ft
Day 4: Khullara to Tali via Kuari Pass
Trek distance: 7.65 km | Duration: 8 hours
Altitude gain and loss: 11,014 ft to 12,598 ft and down to 10,889 ft
Day 5: Tali to Auli 
Trek distance: 8.10 km | Duration: 6 hours
Altitude loss: 10,889 ft to 9,390 ft
Day 6: Drive back from Auli to Rishikesh
The transport costs Rs 7,000 per Bolero (5-6 seater) and Rs 10,000 per Tempo Traveller (12-13 seater). You are expected to reach Rishikesh by 7.00 PM.
Important note:
It is mandatory for trekkers to carry a copy of their photo id for entry at forest check posts on the trek.
The Trek
Day 1 (Pick-up Day): Rishikesh to Tapoban
The Kuari Pass trek begins at Karchhi. This is around 7 kms from the basecamp, Tapoban (3 kms from Dhak). The drive from Rishikesh to Tapoban is a beautiful one. The route is along tributaries of Ganga. The road goes along hugging the mountain side and you see the forests and valleys of Garhwal below you.
Altitude: 6,900 ft
Time Taken: 8-10 hour drive from Rishikesh
Day 2: Drive from Tapoban to Karchhi, then trek to Akhrotghetta
Altitude: 6,900 ft (2,103 m) to 9,396 ft (2,864 m)
Time taken: 5-6 hours trek from Karchhi to Guling
Trek gradient: Moderate. Continuous ascent – steep for the first 20 minutes followed by 45 minutes gradual ascent. Steep again for 60-70 minutes followed by a mix of gradual and steep ascents for 1.5-2 hours
Water sources: Carry 2 litres of water. There is one water source around 2.5 hours into the trek, after you have crossed Upper Tugasi village.
The trek begins with an ascending, dirt trail that leads away from the main road, towards Tugasi village. This is the trail going inside the village. You will reach a T point where you need to take a sharp left. The trail goes through a series of level walks and gradual ascents along farms. The mountain ridge here is barren with few or no presence of snow-fall in winter season. Look out below for Dhauli-Ganga River forging its way past Vishnugad-Tapovan Hydro Power Station. The trail is well defined and meanders along the mountain ridge with a series of steep and gradual ascents. Observe a rain shelter at a distance ahead on the trail. This shelter is the first landmark of the trek before reaching Kharchi Village. This takes around 20 minutes to reach.
At the rain shelter, the trail turns sharply to the right and you'll have the valley to your left. You can see it curving around the mountains up ahead. The trail for the next 45 minutes ascends gradually, with a few switch backs in between. It leads you to Lower Tugasi. You will find multiple trails leading out of Lower Tugasi. Take the one that goes past the two water based flour mills and turns steeply to the left.
This trail climbs rapidly to Upper Tugasi through several switch backs. You will pass a lot of cultivated land here – wheat fields, poppy, cultivated flowers. You will also see streams that feed the flour mills below. Avoid drinking from these since the water is not clean. You will reach Upper Tugasi in 30-40 minutes.
From Upper Tugasi, the trail continues to climb steeply. The fields are behind you now, but the trail is still populated by villages at regular intervals. Dronagiri stands out prominently among the mountains all the time you're on this trail. It'll take you about 30 minutes to cross the last settlement. The water source that you find after the last hut is safe for refilling your water bottles.
It will take 1.5 – 2 hours to reach Guling from here. The trail is a mix of steep and moderate climbs. Around 15 minutes before Guling, the first oaks appear and you are soon inside a mixed forest. The trail takes you around the same valley that you saw when you started from the rain shelter. But this keeps getting narrower as you gain altitude. The Guling campsite is inside the forest.
Look back as you approach Guling. Hathi and Ghora parvat make their first appearance here.
Day 3: Akhrotgetta to Khullara
Altitude: 9,396 ft (2,864 m) to 11,125 ft (3,391 m)
Time taken: 3-4 hours
Trek gradient: Moderate. Moderate ascent all the way to Khullara
Water sources: You can refill your water bottles from streams along the trail.
The trail today ascends all the way to Khullara but it's not as steep as the previous day. Within 40 minutes of starting from Guling, you reach the first clearing. You will be surrounded by oak forests on all sides. Continue on the trail leading into the forest. You will reach the second clearing after about an hour. All this time, you will cross small streams along the trail. The water in them is clean and you can drink it.
Throughout the day, you see Dronagiri to the left, slightly at the back. You will also get glimpses of the Hathi Ghoda peaks. The peek-a-boo that the mountains play through the forests makes for very enchanting sights.
The Khullara campsite is located in a clearing.
Day 4: Khullara to Chitrakantha/Tali via Kuari Pass
Altitude: 11,100 ft (3,352 m) to 11,503 ft (3,506 m) via 12,516 ft (3,815 m)
Time taken: 8 hours
Trek gradient: Moderate. Steep climb for 1-1.5 hours followed by a moderate ascent for 1.5 hours. Slight descent for about 40 minutes to Kuari Pass. Descent for about 1.5 hours followed by 1 hour ascent easing off into a moderate descent for about 2 hours.
Water sources: You can refill your water bottles from streams along the trail.
The trail from Khullara begins to climb steeply out of the tree line. In 1-1.5 hours you reach a ridge, which is a part of Lord Curzon's trail. From here 360 degree views of the Himalayas open up before you. On one side you see Chaukhamba, Neelkanth, Dronagiri, Nilgiri and Hathi Ghoda peaks. Straight ahead of you are Trishul and parts of Nanda Devi. Continue on this trail to reach the upper grasslands of Kuari Pass.
From the ridge, trek up to Kuari top. This is a moderate climb with a few switch backs. It will take you 40 minutes to reach the top. A gradually descending trail from here will bring you to Kuari Pass in about 40 minutes.
From Kuari Pass, retrace your way back to the ridge. Once you reach the ridge, walk along ahead instead of turning towards Khullara. An hour's moderate climb will bring you to Jhandi top, which is on top of the ridge. The views from Jhandi top are even better that what you get at Kuari Pass.
From Jhandi Top, start descending towards the Chitrakantha meadows. This is a forest trail and the mountains get hidden behind the tall trees. You will reach Chitrakantha in 1-1.5 hours. From Chitrakantha, you get 180 degree views of the mountains. Dronagiri is again very prominent here.
The trail from Chitrakantha to Tali dives deep into the forest. You are surrounded by oaks, pines and rhododendrons. The forest is so dense that hardly any sunlight reaches in. The Tali forest camp is around 40 minutes ahead on this trail. The campsite is located right in the middle of the forest, with a stream flowing close by. You are surround by tall trees on all sides.
Day 5: Chitrakantha/Tali to Auli
Altitude: 11,503 ft (3,506 m) to 8,790 ft (2,679 m)
Time taken: 4-5 hours
Trek gradient: Moderate. Gradual ascent for about 40 minutes followed by a 20 minutes steep climb. Around 45 minutes of gradual ascent which eases off into a descending trail for about 3 hours.
Water sources: You can refill your water bottles at Padiyar and once you enter Auli.
Begin the trek today with a moderate climb to Tali lake. This should take you around 40 minutes. At Tali lake, you're above the tree line so you start getting mountain views again.
A 20 minutes steep climb from Tali lake brings you to an overhanging trail which cuts through a cliff. Continue on this trail. You can spot Lower and Upper Tugasi villages way below in the valley and also see rhododendron forests form above. After about 40 minutes of moderate ascent, the overhanging trail ends abruptly at Gorson Bugyal.
At Gorson Bugyal, the trail turns sharply to the left. Wide mountain views open up to the right and behind you. You will trek across the entire length of Gorson Bugyal, which gives you enough time to savour the views. This is a lovely, descending walk. In 2-2.5 hours you will reach Padiyar. From here, the trail enters an oak forest. Within 15 minutes you reach Padiyar temple. You can take a break here if you wish.
From Padiyar temple, the trail continues to descend. Upper Auli, which is the end of the ski lift (number 10), appears in 10-15 minutes. Auli is 1,000 ft below this. You will reach after gradually descending through the meadows for 1-1.5 hours. The trail in this section is quite populated.
Day 6: Drive from Auli to Rishikesh
Please note, the Kuari Pass trek has issues related to availability of water in the natural water sources. Campsites may vary at times depending on availability of water.
Plan Your Travel for the Kuari Pass Trek
It is great to see you going on the Kuari Pass Trek. While it is a great trek to do, you need to get your travel plan worked out perfectly. Here is a step-by-step guide on what to do next. Use this guide and nothing else to plan your travel.  
Here's a quick view on how to plan your travel. 
Day 0: Book your air/train ticket to Delhi or Dehradun. If Dehradun, proceed to Rishikesh. If Delhi, book night bus to Rishikesh. For those who have registered with Indiahikes, the pick-up will be from Live Free Hostel on Laxman Jhula Road in Rishikesh. 
Day 1 (Pick-up Day): Rishikesh to Tapoban where you stay for the night. Karchhi (3 km from Tapoban) drive. It is a 9-10 hour drive from Rishikesh. Tapoban is the basecamp for your trek. 
We organise transport to Tapovan from Live Free Hostel, Rishikesh. Our vehicles leave at 6:00 am sharp. It costs Rs 6,000 per vehicle (shared between 5-6 trekkers).
Day 2: Drive from Tapovan to Karchhi. Trek begins from Karchhi (6,900 ft) to Akhrotghetta (9,832 ft);  5-6 hours, 4 km
Day 3: Trek Akhrotghetta (9,832 ft) to Khullara (11,100 ft) 2.5 km, 3-4 hours
Day 4: Trek Khullara (11,100 ft)  to Chitrakantha/Tali (11,031) via Kuari Pass (12,516 ft); 7 km, 8 hours
Day 5: Trek  Chitrakantha/Tali (11,031 ft) to Auli (8,625 ft); 8 km, 4-5 hours. 
Day 6 (Drive-back Day): Drive from Auli to Live Free Hostel, Rishikesh. Start at 9.00 am for the drive.
Note:
While getting to Tapoban, we recommend you arrive a day earlier and stay at Rishikesh (Day Minus One). Staying at Rishikesh gives you a well deserved rest for the night. Plus some bonus sightseeing.

On your return from the trek you get off at Rishikesh.

You reach Rishikesh between 7.00 and 8.00 pm. 
The transport costs Rs 6,000 per Bolero (5-6 seater) and Rs 9,000 per Tempo Traveller (12-13 seater).
.You can take a late night bus from Rishikesh/ Haridwar to Delhi on Day 6      as well. You will reach Delhi early in the morning around 5:00 to 6:00 am. 
Your travel route to the Tapoban  basecamp passes through Rishikesh, Devprayag, Srinagar, Rudraprayag.
2. Planning your onward flight/train booking
If you are travelling from Bengaluru, Chennai, Pune, Mumbai or any other city, book your 
air tickets for Day Minus One, which is the day before Day 1 on the itinerary. If your trek start day is 25 August, book your air tickets for 24 August to either Delhi/Dehradun. 
There are two options for your flight booking.
Option 1: Fly directly to Dehradun.
We recommend this. It gives you an added rest day at Rishikesh. Most metros are directly connected to Dehradun. However, if the cost of the flight ticket to Dehradun is too high, book to Delhi and connect to Rishikesh by bus.

Tip: Dehradun Airport in Jolly Grant is closer to Rishikesh than Dehradun. It is 20 km from Rishikesh and 35 km from Dehradun.  
The Dehradun airport is somewhat inconvenient when it comes to city connectivity (either to Rishikesh or Dehradun). Airport buses that ply between Rishikesh to Dehradun via airport run every hour. In our experience, the hour can stretch to even 1½ hours. 
Taxis are available from the airport (plenty). Prepaid taxis are available (look for the pre-paid taxi counter just out of the conveyor belt at the arrivals). You can also flag down a taxi (bargain a bit) with taxis outside the airport. Airport taxis are exorbitant. They usually charge between Rs 800 to Rs 1,000 to Rishikesh. 
Usually most passengers take taxis from the airport. Try to hook up with co-passengers on the flight for your taxi ride to Rishikesh or Dehradun. 
Pro Tip: If you want to save real money try to catch an auto just outside the airport terminal complex. They usually come there to drop passengers off. Autos are not allowed to enter the airport complex. They charge approximately Rs 300 to Rishikesh. 
If autos are not available, walk for further 1.5 km to get to the Rishikesh Dehradun highway. From the highway you can flag down regular town buses or shared autos (shared autos are called Vikrams). Bus fare is about Rs 30 to Rishikesh. Shared autos charge about Rs 20. 
Option 2: Flying to Delhi.
Flying to Delhi may be a lot cheaper than getting to Dehradun. Make sure to book a flight that reaches Delhi by 8.00 pm. You must arrive in Delhi on Day Zero and not on Day 1.
Note: If you notice the difference in air ticket prices between Delhi and Dehradun less than Rs 1000 then book directly to Dehradun. The rest and shorter travel time is worth the difference.  
Next, book yourself in a UPSRTC bus to Rishikesh. They are fully AC volvo buses that leave between 21.00 to 23.00 hrs from ISBT Kashmiri Gate and get to Rishikesh between 3:00 to 5:00 am in the morning. 
At Rishikesh, wait for Indiahikes pickup at 6.00 am. Contact your driver by 5:30 am. The number of your transport coordinator will be shared with you a week prior to your departure.
3. Planning your return flight/train booking
Next, if your onward flight departs from Delhi, then book flight tickets for Day 7 or Day 8. Depending on the day you leave Rishikesh. 
Sometimes trekkers worry if they can book an early morning flight out of Delhi on Day 7. Yes, you can. But book flights that depart only after 8 am. Do not book any flight between 6.00 and 8 am. You may not reach Delhi in time. 
How to get to Delhi on time for an early morning flight. 
If your flight is early, say between 8.00 and 9.00 am, then there are two options. 
Train: Take the Nanda Devi Express from Haridwar (12402) that leaves Haridwar slightly past midnight (00.17 hrs) to get to Hazrat Nizamuddin Railway Station at 4.50 in the morning. From Hazrat Nizamuddin you get airport buses from outside the station as well as taxis. For Metro train walk down to the Hazrat Nizamuddin metro station, take a metro to Durgabai Deshmukh South Campus, get off and connect to Dhaula Kuan Airport line metro station (there are convenient travelater belts over a skywalk). From Dhaula Kuan you get metro train to the airport. 
Note: Earlier Nanda Devi express would arrive at New Delhi railway station. From 26 August 2019, it has been extended up to Kota. It no longer goes to New Delhi railway station. Instead it goes to Hazrat Nizamuddin railway station. The train number has changed from 12206 to 12402.    
Bus: The other option is to take a bus from Rishikesh. It is about 5½ – 6 hrs journey to Delhi. From Rishikesh add another hour to the journey. So if you take a bus that leaves around 9.00 pm, then expect to reach Delhi at around 3.00 am (ISBT Kashmiri Gate). A bus that leaves at 10 pm will reach Delhi around 4.00 am. AC Volvo buses are the fastest, so opt for them. Non AC buses can take up to 7-8 hrs for the journey. 
From Kashmiri Gate ISBT you get Airport buses or taxis.
Note: Metro trains in Delhi do not start before 5.00 am.  
If you are taking a flight out of Dehradun
If you are taking a flight out of Dehradun then book yourself on Day 7. Most metros are now well connected by Dehradun by flight.
4. Planning your hotel/stay
Hotel options at Rishikesh
➤ Hostel Live Free
Hostel Live Free is situated on the prominent Laxman Jhula Road in Rishikesh. It offers decent accommodation options in dorms and also in private rooms. 
Contact number: 099990 20248
Book online: Book online through Booking.com or Trip Advisor
Location: https://goo.gl/maps/9H8Xakmt8p2TpYFS6
➤ Zostel, Rishikesh
Zostel is a modern backpackers hostel, excellent for women travelling alone. It has basic amenities such as bunk beds, towels, good bathroom. Entire premises is quite hygienic. Bathrooms are shared. Average cost Rs 400 – 800 per bed. Rooms start at about Rs 1,200
Book Online: https://www.zostel.com/
Location: https://goo.gl/maps/ugqLXUBcbgxnFt638
SK International which is next to Zostel is another good option. It has clean rooms with good amenities. Charges are about Rs 1,000 – Rs 1,200 per night.
Phone: 013-524-42943.
Location: https://goo.gl/maps/3nWu58ynjFyNn6on8
Shiv Shakti Hostel is another good, decent option at similar price range to Zostel. This is a hostel like Zostel. They also have rooms.
Location: https://goo.gl/maps/qLs5wAThyyP8cmfR8
Hotel options at Haridwar
Bedhubs is a good bunk bed stay in Haridwar — which is rare amongst the Dharamshalas and Ashrams of Haridwar. It is quite close to the heart of the action at Haridwar, approximately 500 m from Har Ki Pauri, Ram Ghat. Charges are around Rs 800 -1,000.
Phone: 01334 224 567.
Location: https://g.page/bedhubs?share
Hotel Radiant near the Haridwar railway station has decent spacious rooms. Room rates are around Rs 750 for a non AC room and Rs 1,050 for an AC room.
Contact person – Nitin Sharma – 9557155557.
Location: https://goo.gl/maps/1AdiMiTtnAeGfF4Y8
Hotel Rahi, a government owned GMVN property is fairly decent. Spacious but old building. Almost opposite the Haridwar railway station, just past the bus stop. Prices start at around Rs 700 for a room.
Phone: +91-135-2431793
Location: https://goo.gl/maps/bH25Zp8Di9SE3p757
Hotel options at Dehradun
Hotel Drona, which is a government property owned by the GMVN is decent. It is an old, but a large and spacious property. It is about 1.5 kms from Dehradun railway station. Rooms start at Rs 750. Phone: +91-135-2746847. Book online http://gmvnl.in/newgmvn/online_reservation/ Location: https://goo.gl/maps/sjWSkGhe5LfAN8wDA
MyRoom252 is a new backpackers facility in Dehradun. Modern, colourful and clean. Bunk beds start at Rs 300. Rooms are available too. It is not too far from the Dehradun Railway station. Shared autos (which are called Vikrams) can get you there.
For online booking: http://www.myroom252.com/.
Phone: 086308 81083. Location: https://goo.gl/maps/p5xkbMyUF4X5VHwx9
Nomads House is another new backpackers hostel in Dehradun. The atmosphere is good. The place neat and clean. Indiahikes trek leaders love Nomads House. It is about 10 mins from the Dehradun railway station. Bunk beds start at Rs 400, rooms start at Rs 800. Shared autos are easily available to get to Nomads House. Phone: 9760596464
Location: https://g.page/NomadsHouse?share
What if you miss the Indiahikes pickup? Getting to Tapoban on your own.
If you miss the Indiahikes pick up from Rishikesh. Here is how you can get to Tapoban base camp on your own. 
If you are at Haridwar, take a bus to Rishikesh as quickly as you can. A bus generally leaves every 15 mins from Haridwar to Rishikesh.
From Rishikesh take the first available bus to Joshimath. Buses leave at 5:00 am to 6:30 am. Last bus would leave by 7:00 am. From Rishikesh you will find State roadways buses to Joshimath. 
Joshimath is about 9 hours by bus from Rishikesh. On the way the bus passes Devprayag and Srinagar (the Uttarakhand Srinagar, not the Kashmir one).
At Joshimath, from the main market shared taxis leave for Dhak every half an hour. The last taxi is at 5.00 pm. After 5 pm vehicles are scarce, you'll have to book a private taxi.
It takes about half an hour to get to Dhak. It is 13-14 kms from Joshimath. So it is almost there. 
Tip: While this bus hopping may sound cumbersome, we do it regularly at Indiahikes. They are a fun and a good way to know the real Uttarakhand. You also get to meet very interesting local people. So while no one wants to miss a pick up, don't be too disheartened if it happens. You may just experience one of your best travel moments!      
How to get fit for the Kuari Pass Trek
The Kuari Pass trek is classified as a trek of Easy-Moderate difficulty. You start from an altitude of 6,900 ft at Dhak and reach a highest point of 12,516 ft at Kuari Pass top. You gain around 5,616ft over three days of trekking. 
Cardiovascular endurance
This trek requires a good amount of cardiovascular endurance. You can begin by jogging everyday. Start jogging at a slow pace and then keep increasing your pace day by day. In order to be prepared for high altitude trek, you should have a combination of distance and speed targets.
Here's a fitness routine that works:

–>Target completing 5 km in 45 minutes when you begin.
–>Gradually increase your pace by running 4 times a week and bring it down to 5 km in less than 40 mins.
–>If you are 45 years old and above and are comfortable with long distance walking than jogging, then before you go on the trek, you should be able to walk at least 10 km at a stretch. Target completing this in 90 minutes.
If jogging is fine for you, your target should be completing 5 km in 50 minutes initially, and 5 km in less than 45 minutes before you go on the trek.
–>If you are somebody who prefers cycling over running, your target must be to cover 22 km in 60 minutes.

Strength – Target 3 sets of squats with 15 in each set

This is another area you should work on. Carrying your backpack and ascending will require core body strength and also strong legs. For this, add squats to your routine. Start with 3 sets of squats, with 8 squats in each set and work towards reaching your target in 3 weeks.

Flexibility
Another aspect that will help you trek comfortably is flexibility. For this, you can do some stretching exercises – stretch your hamstrings, quadriceps, hip flexors, lower back muscles and shoulders regularly. These exercises will help you to be in good shape before the trek.

Here's a guide to help you get fit for the trek.

Working out indoors
If you can't go out and jog because of time and space constraints, here's a video you can use to work out indoors.
What to take on the Kuari Pass trek
Things to get for the Kuari Pass Trek
Kuari Pass is a high altitude trek with snow. You'll need enough warm layers and accessories to keep you warm and help you trek comfortably. So pay careful attention to this entire section. 
First,

The Essentials

. You cannot do the trek without these.
1. Trekking Shoes
Kuari Pass requires trekking shoes that are sturdy, have good grip, have ankle support and can handle snow. Here is a quick video on how to choose your trekking shoes.

| Buying Tip: The Trek series and MH series are good options by Decathlon. They are tried and tested. There really isn't any necessity to buy the higher priced models. Here is a list of other budget shoes that trekkers are using.
| Rental: We have the Trek series and the MH series by Decathlon available on rent from the Indiahikes store. They are already broken into and in good condition. Rental shoes are not dirty or unhygienic. This is how they are kept clean. Rent here.
2. Backpack
For a trek like Kuari Pass, you need a 50-60 litre backpack. Make sure your backpack has good hip support, shoulder support and quick access pockets. Here is a guide on how to choose a backpack.
| Buying Tip: Wildcraft, Decathlon and Adventure Worx usually make good backpacks. While Wildcraft has more expensive ones, the other two brands have budget-friendly backpacks to choose from. 
| Rental: The 48 litre backpack by Adventure Worx is available on rent from the Indiahikes store. They are custom-made for our Himalayan treks. Rent them if you don't have a backpack. Rent here.
3. Clothes
Wearing layers is the mantra in the mountains. Layers give you maximum protection from all elements. And when the weather changes in the mountains (as it happens every few hours), you take take off or put on layers as required. 
Base layer: 3 T-shirts
Wear one T-shirt and carry two. Carry full sleeve dry-fit T-shirts (preferably collared). These prevent your arms and neck from getting sunburnt. In the rarified air on the trek, especially at high altitudes, UV rays can burn you in no time.
Dry-fit T-shirts quickly dry your sweat, they are easy to wash and in case of a rainy day, they dry quicker. Round neck T-shirts are ok, but collared ones are better.
| Cotton or Synthetic? As Indians, we love cotton. Down in the plains when the heat is a blistering 40°C it makes sense to wear cotton. But it takes a long time to dry when it gets wet. In the mountains, where it is cooler, synthetic is what you wear. They wick sweat rapidly and keep you dry. (But they do tend to smell quickly, so carry a roll-on deodorant with you.)
| Buying tip: You can get dry-fit T-shirts from Decathlon. Also, stores like Reliance Trends, Max have dry-fit T-shirts. They don't usually cost much.
| Pro Tip: If you are extra susceptible to cold, you could get a set of thermal inners. In our experience, wearing two T-shirts over another works as a better thermal. And they save you weight and space, since you're already carrying them. 
4 Insulation layers
For the Kuari pass trek, you will need at least 4 warm layers.
You will need 1 pair of inner thermals,  light fleece layers, 1  light sweater and 1  padded jacket. Do not get your grandma stitched sweaters, which can be very heavy. You need sweaters and fleece jackets that can fold into compact rolls.
For your outer later, a padded jacket serves the purpose here. You don't really need a water resistant material. But you need an outer padded jacket that keeps the wind and cold out. Ensure your padded jacket has a hood as well.
| Do you need a down/feather jacket? Not really. A regular padded/shell jacket will do. This video here will help you to learn more about the difference.
| Note: Down/feather jackets are really not available these days. Many jackets masquerade as down/feather jackets. They are essentially fine polyester-filled jackets. They mimic the function of a down jacket but are usually expensive.  
| Rental: Padded jackets made by Fort Collins are available on rent at the Indiahikes store. They are custom made for Indiahikes and trekkers find them terrific, even in winter. Rent here.
Two trek pants
Two pairs of trek pants should suffice for this trek. Wear one pair and carry one just in case it rains. Trek pants with zippered cut offs at the thighs are very suitable for treks. Also, choose quick-dry pants over cotton. They dry up soon in case of small stream crossings / rain.
| Buying tip: Go for pants with zippered pockets. They come in handy to keep your phone, handkerchief or pocket snacks.
| Track pants or trek pants? Stretchable track pants make a good backup and can double up as your thermal bottoms. But track pants are not trek pants — so don't use them as your main outerwear. Keep them only as a backup. 
Mandatory Accessories, without these too you won't be able to do the trek.
These accessories are mandatory. Don't go to Kuari Pass without them. Trekkers generally put off purchasing / borrowing the accessories for the last minute. We suggest the opposite. Start gathering these accessories first. 
1. Sunglasses
Sunglasses are to prevent snow blindness. On a trek like Kuari pass, expect to walk on long stretches of snow. A small overexposure to direct sunlight on snow can lead to snow blindness (about a half hour's exposure). That's because fallen snow is like thousands of mirrors that reflect direct UV rays. So you need sunglasses with UV protection. 
| Wearing tip: Wear sunglasses if the trekking day is bright and sunny (on open sections, meadows). On a snowy section you must absolutely never take off your sunglasses until the section has been fully crossed.
| Buying Tip: Try getting sunglasses that wrap around instead of those that have openings on the side. Even peripheral UV ray exposure is not a good idea.  
| If you wear spectacles: If you wear spectacles, you can get oversized sunglasses that you wear over your regular glasses (available at Decathlon). If that is cumbersome, photochromic lenses work equally well. Here's a quick guide on managing sunglasses with spectacles.
| Contact lens users: If you use contact lenses, you can use them on the trek too. The lens solution will not freeze. You will also not face any problems in changing your lens in your tent. Just carry enough cleaning solution with you to clean your fingers well. Wear your sunglasses over your contact lens. Read this article for more guidance on managing contact lenses on treks.
 2. Suncap
A sun cap is mandatory. Trekking without a sun cap can lead to headaches, sun strokes, quick dehydration and a sharp drop in trekking performance. 
| Tip: In the mountains, the general rule is to keep your head covered at all times. During the day a sun cap protects you from the harsh rays of the sun (it is doubly stronger with naked UV rays). A sun cap keeps your body temperature in balance. In the evening/early morning, the reverse is true. Your head loses your body heat quickly. A woolen cap prevents heat from dissipating from your head.
| Pro Tip: Sun caps with flaps are a blessing for trekkers. They cut out almost all UV leaks. They prevent sun burns in every possible way. They are a lot more effective than sunscreen lotion. A wide brimmed sports hat also helps to prevent sunburn in a big way. 
3. Synthetic hand gloves
On a trek like Kuari Pass, you want the gloves to keep you warm. Get synthetic hand gloves that have waterproofing on the outside and a padded lining on the inside. If you find the combination difficult to get (not likely), wear a tight fitting fleece hand glove inside a synthetic hand glove. Hand gloves are mandatory on this trek.   
4. Woollen cap or Balaclava
Ensure these cover your ears. In the cold mountains, you lose maximum heat from your head, not from your hands, feet or the rest of your body. Which is why you need to keep your head protected, especially when the sun is down. Early mornings, late evenings, a cold trekking day are when you must use your woollen cap.
Your ears are sensitive too, so a woollen head cap that covers your ears is absolutely essential. A balaclava is a modern version of the woolen cap. It covers your ears, neck and parts of your face as well. Do not get a woollen cap that only covers your head. 
5. Socks (3 pairs)
Apart from two pairs of sports socks, take a pair of woollen socks. Sports socks give you cushioning plus warmth. Again the mantra is to wear synthetic socks or at least a synthetic blend. Cotton socks soak in water and sweat. They are very hard to dry.
As for woollen socks, they help you to keep warm and snug in the night. If you cannot get woolen socks, wearing two sports socks serves the purpose as well. 
6. Headlamp
Trekkers are often confused about whether they need to get a headlamp or a handheld torch. You need to get a headlamp because it leaves your hands free to do other activities. On the Kuari pass trek you'll need your hands free to wash dishes, pitch tents and hold your trek poles. 
| Buying tip: Ensure your headlamp covers a wider area and is not too focused as a single beam. On a trek, your headlamp must help you see around you as much as ahead of you.
7. Trekking pole (a pair)
Trekking poles give you stability and balance. They reduce your energy consumption by almost 40%. On the Kuari pass trek there are steep ascents and descents. A pair of trekking poles will make the difference between a comfortable and a strenuous trek. In India we tend to use a single trekking pole. However, two trekking poles give you greater stability and balance. They also increase your walking pace.
| Rental: Imported side-locking trekking poles are available on rent on the Indiahikes store. Rent here.
8. Rainwear
On a trek, the weather can change quickly. A bright sunny day can turn into a downpour in a matter of minutes. Carry a poncho or a rain jacket to tackle this. A poncho is a big rain cover with openings for your arms and your head. It is extremely effective because it covers both you and your backpack. It is extremely light and weighs next to nothing. 
| Pro tip: Rain jackets are more streamlined and less cumbersome but weigh more. Rain pants are really not required. Dry fit trek pants dry quickly even if soaking wet.  
| Rental: High grade ponchos are available on rent on the Indiahikes store. Rent here.
9. Rain cover for your backpack
Backpacks are your life. You carry all your dry clothes, your warm gear in your backpack. It is important that your backpack stays dry at all times. Modern backpacks usually come with built in rain-covers. If your back pack does not have a rain-cover, ensure you get a rain cover by either (a) buying a rain cover (b) or cutting a large plastic sheet to the size of your backpack. You can roll the plastic sheet around your backpack and keep it in place with a string or elastic.  
| Pro tip: It's good practice to compartmentalise your clothes, accessories and other things in plastic covers inside your backpack. That way, even if it rains and your backpack gets wet, your things are water-proof inside the backpack.
10. Daypack (20-30 ltrs, optional)
Some trekkers opt to offload their bags to a mule on the Kuari pass trek. While we do not encourage this practice, in case you opt for offloading, then carrying a daypack is mandatory. In your daypack you carry essentials like water bottles, rainwear, emergency medicines, headlamp, some snacks and a warm layer. Your main backpack that carries most of your equipment is accessible only at the campsites. 
A daypack is a smaller backpack that is usually of 20-30 ltr capacity. Laptop bags are not daypacks. Do not get them. 
Other mandatory requirements
1. A toilet kit
Keep your toilet kit light. Carry just the basics — toothbrush, toothpaste, small soap, toilet tissue roll, a small moisturiser, lip balm, and a roll-on deodorant. You will not be able to have a bath on the trek, so don't overload on soaps and shampoos.
| Pro tip: Carry miniature-sized items. You will not need more than that. If you're travelling in a group, share one toothpaste for all.
| Pro tip: Avoid getting large toilet rolls. The smallest size roll is more than enough for a trek like Kuari pass. 
| For women: If you are likely to have your periods on your trek date, don't worry about it. You can use your pads, tampons or menstrual cups on the trek. There will be toilet tents where you can get changed. Make sure you carry ziplock bags to bring back your menstrual waste. Don't leave behind any waste in the mountains. Watch this video to learn how to dispose your sanitary waste.
2. Cutlery
Carry a lunch box, a mug and a spoon. Your lunch box must be leak proof. You are expected to wash your own cutlery. Trekkers often expect Indiahikes to wash their cutlery. When you allow Indiahikes to wash your cutlery, your cutlery becomes part of a mass washing system. You immediately invite germs, bacteria to settle on your cutlery. Incidence of stomach disorders rises exponentially.  
| Pro tip: Carry stainless steel cutlery. Avoid fancy high grade plastic cutlery. Stainless steel cutlery is infinitely easier to wash in cold water. Grease is easier to remove and hygiene is at the highest. 
| Two 1 litre bottles or a 2 litre hydration pack: Kuari pass has many hours of trekking everyday (approximately 6 hours). You need to carry two one litre water bottles to keep yourself hydrated over the distance. If you are used to a hydration pack, then that is ok too. If one among the two bottles is a lightweight thermos, then that helps you to store warm water on a really cold day or for late evenings and early mornings.   
| Rental: You could rent lightweight thermos flasks from the Indiahikes store. Rent here.
3. Plastic covers
Carry 3-4 old plastic covers to keep your used clothes. You could use them even for wet clothes. Re-use old plastic bags for this and do not buy new ones.
Personal Medical Kit
Carry these medicines with you, easily accessible at all times. Do not take any medicine unless you have consulted your trek leader. 
Diamox

(1 Strip): Be on a course of a half tablet Diamox starting from Delhi every 12 hours (125 mg). Carry on the medication until you descend down to Yamunotri. Being on a preventive course of Diamox greatly reduces the chances of Acute Mountain Sickness on the Kuari pass

 trek.    

Dolo 650

(5 tablets): This is a paracetamol. It helps to tackle fever, mild pain

Avomine

(4 tablets): Carry this especially if you are prone to motion sickness. Pop one half hour before the start of your road journey.

Combiflam

(5 tablets): Take a combiflam if you get a sudden twist of the leg or a muscle strain. It is a pain reliever. It also contains paracetamol. 

Digene

(4 tablets): Take it if you feel the food that you've taken is undigested. Alert your trek leader immediately. It could be a sign of AMS. 

ORS

(6 packs): Consume a pack of ORS water at least once a day, usually mid day when you are in the middle of your trek. It replenishes essential salts lost while trekking. 

Tip

: It also makes cold water easier to drink.

Knee Brace

(optional)

:

Carry this if you are prone to knee injury or have known issues of knee pain.
Our trek leaders carry a high altitude medical kit with them which also consist of Life Saving Drugs. If there is an emergency our trek leaders know how to tackle it. Meanwhile, contact your trek leader before consuming any of these medicines listed here.
| Pro tip: We find that these medicines by trekkers are rarely used. But you cannot do away with them. At the end of the trek please donate unused medicines to your trek leader. Some of these medicines get distributed to villages on the trek and some are added to the Indiahikes medical kit.   
Mandatory Documents to carry
These are documents required for legal purposes by Indiahikes and the forest department. Without any of these, you will not be allowed to trek.
Original and photocopy of government photo identity card.

Anything such as a driver's license, Aadhar card, passport will do. This is required by the forest department for your identification.  

Disclaimer certificate.

This is a legal requirement. Download the PDF, read carefully and sign it. This must be handed over to your Trek Leader during registration at the base camp –

Download PDF

Medical certificate.

There are two sections in this. The first part must be filled by a practising doctor. The second part must be filled by you. Without the medical certificate the forest department will not issue permissions for your trek. It is also a requirement by Indiahikes –

Download PDF
| Pro tip: Keep important documents in a clear plastic cover and slide them into the inner pocket at the back of your backpack. This keeps them from getting wet. 
Here's a guide to help you pack for the trek – 
What are the risks on the Kuari Pass Trek?
The Kuari Pass trek is a Easy-Moderate, high altitude trek. With every high altitude trek comes the risk of altitude sickness. At Indiahikes, we pay utmost importance to safety of trekkers. While we do our bit to ensure a trekker's life is safe, we also expect any trekker who is enrolling with us to know what could go wrong, and if it does, how to tackle it.
What Indiahikes does to ensure your safety:
Our philosophy is simple. We ingrain safety aspects in the people we work with, in the processes that we follow and in the equipment we carry. All our trek leaders are trained repeatedly on safety issues and protocols. Most issues are resolved with their intervention.
But we strongly advocate the statement, "Prevention is better than cure." Right from the time you decide to register for a trek till the last day of the trek, these safety procedures will be running in the background. We have listed a few of them below.
1. Fitness criteria before registration
A high altitude trek is not to be taken casually. Over years of organising high altitude treks, we have found that safety issues thrive amongst those who are unfit and unprepared for the trek. So we have introduced an eligibility criteria for the Kuari Pass trek. Anyone who wants to register for the Kuari Pass trek has to meet the fitness requirements, with the ideal BMI. The BMI and fitness regime will require proof.
2. Breaking the ascent at Gorson Bugyal
The general rule to follow for acclimatisation is not to have your camps have more than 1,000 ft of altitude gain each day. This becomes a difficult rule to follow in Indian Himalayas when the mountains climb so quickly.
In Kuari Pass, the trek starts with a daunting 2,500 ft ascent from Auli's ski lift (around 8,800 ft) to the fringe of Gorson Bugyal (10,500 ft). We break the ascent at the beginning of Gorson Bugyal to allow natural acclimatisation instead of going all the way up to Talli or further to Chitrakantha. It is imperative you don't climb further than Gorson Bugyal.
3.Monitoring health on a trek
On the Kuari Pass trek, your Trek Leader will be monitoring two aspects thrice a day.
Your Blood Pressure levels will be checked once a day.
This will help us ensure that your body is acclimatising as required. Any abnormal reading will be paid special attention to and action will be taken immediately.
Every trekker will be given a Health Card at the beginning of the trek. The Health Card is issued to monitor the trekker's daily health. It contains details of what symptoms he should look out for and what action he should take during emergencies. These Health Cards will be taken back at the end of the trek.
4. High Altitude Medical Kit
Your trek leader will also be carrying a full-fledged high altitude medical kit. This will include basic medicines and specific medicines catering to altitude sickness – Diamox, Dexamethasone (tablets and injections) and Nifedipine. Your Trek Leader will also be carrying a portable oxygen cylinder throughout the trek.
5. High Altitude Trek Equipment
Kuari Pass will have a lot of snow in December.  People often slip and fall on snowy or icy terrain. Individuals who travel to altitude may have noticed that even the smallest cut or wound takes longer to heal the higher the altitude. Reasons for this are increasing stress hormones and lower overall oxygen delivery to the tissues. Wounds tend to get infected more easily as well. Keeping your wounds clean and covered will prevent infection.
Often applying a triple antibiotic ointment regularly will keep the wound from overly drying and aid in healing. Wound healing becomes an issue only at very high altitudes, over 14,000 ft or so.
To avoid falling/slipping on snowy terrain, Indiahikes will provide you with micro-spikes to attach to your shoes. This will give you good traction on hard snow. To avoid snow from entering your shoes, Indiahikes will provide you with gaiters that you can put on over your shoes.
All our sleeping bags and tents are custom-made for high altitude. If it is cold outside, it will be around 10 degrees warmer inside the tent. The sleeping bags can withstand temperatures up to -10 degree Celsius.
6. Being hydrated and well nourished on the trek
You need to drink a minimum of 4 litres of water every day during the trek to ensure that you're well hydrated. De-hydration on a trek can make you lose energy very quickly and intensify the effects of AMS. Your trek leader will brief you about the amount of water that you need to carry with you at the start of each day as well as water sources on the trail.
We provide trekkers with nutritious meals to ensure that they are energized to complete the trail each day. Apart from this, snacks or packed lunch is provided wherever the trail before a meal break is likely to be long. Make sure that you do not skip any meal as this can lead to serious health emergencies on high altitudes.
With all these processes and equipment in place, you can be rest assured that you will have a safe trek with Indiahikes.
Nevertheless, you will need to be cautious and report the slightest of symptoms to your trek leader as soon as you feel them.
What you need to know if you're going on the Kuari Pass trek
If you have registered for this trek, then here is some information that you must know in order to have a safe trek. At Indiahikes, we believe that as long as you are well-informed and well-prepared, you can survive easily at high altitude.
First thing you should know is that Kuari Pass is a High Altitude trek. It climbs up to an altitude of 12,500 ft. So it comes with its fair share of risks – altitude sickness,cold, and and daunting ascents.
Acute Mountain Sickness (AMS)
AMS is one of the biggest dangers on a high altitude trek . AMS occurs when your body isn't acclimatising to its surroundings. It can accelerate very rapidly, so it is important to identify the symptoms as soon as you see them. Since Kuari Pass is largely an open meadow trek, it can get very cold and windy. If your body is not able to tackle the cold, it could accelerate any symptom of AMS you were already having. Before you read further, watch this video to understand the symptoms of AMS.
Where on the Kuari Pass trek is AMS likely to affect you
Over a year of conducting Kuari Pass trek, we have noticed there are two camps on Kuari Pass trek where AMS is most likely to affect you. One is the Chitrakantha camp on Day 3. Although we have broken the first day's ascent at Gorson Bugyal to allow your body to acclimatise naturally, Chitrakantha is still a camp where you have to watch for signs of altitude sickness. It is important you recognise your symptoms early.
We cannot stress enough on how important it is for you to communicate any symptom to your Trek Leader. Only then will he be able to take steps at the right time.
The next is Khullara – the camp after the Kuari Pass assault. This happens when your body has not acclimatised to the altitude of Kuari Pass. Most trekkers take this camp lightly, believing the highest altitude they could have reached is behind them. So don't let your guard down, keep an eye out for any symptoms.  
What to do if you feel symptoms of AMS
If you feel any symptoms of AMS on the trek, you must report to the Trek Leader immediately. Do not wait till the end of the day's trek. Do not try to handle it yourself either. Our Trek Leaders are well-trained and experienced to handle any cases and they will be the decision makers in any such cases.
Watch the video below to understand how to treat and prevent AMS. The information in this video is rare to find. With this knowledge, you can probably save your own life or another's trekkers life.
As a first step, your trek leader will run you through the Triple One Test – One Disprin, One litre of water and One hour of rest. If you're suffering from dehydration, this will solve the problem and you will be fine in one hour. If the symptoms don't go away, then he'll begin to treat you for AMS, perhaps with a course of Diamox. If you're already on a course of Diamox, your trek leader is likely to increase the dosage.
The increased dosage of Diamox usually takes care of the Acute Mountain Sickness. If you're not at your 100% at the end of Day, then again, report to your Trek Leader. He will make you descend to Tapoban or Auli – depending on which side of the pass you are on. Descent is the most effective cure for AMS.
Do NOT attribute your symptoms to anything other than AMS. If you have a bad stomach, suspect AMS. At high altitude, AMS is the first thing that should be suspected and treated.
If Diamox alone doesn't work, he might administer Dex or Nifedipine, or perhaps oxygen, depending on the circumstances.
While AMS can be treated with medicines for the most part, the symptoms must be recognised before it can go to advanced stages – High Altitude Pulmonary Edema (HAPE) and High Altitude Cerebral Edema (HACE).
HAPE and HACE are critical conditions that can be fatal within hours. And they can occur without AMS preceding them. So it's doubly important to recognise any symptoms and nip them in the bud.
Exit points on Kuari Pass trek
Kuari Pass has easy exit points. Every exit point on this trek is a rapid descent so you lose all the altitude you gained. From Chitrakantha, you can descend all the way down to Auli. From Khullara, you can descend to Tapoban. Joshimath, the nearest town,  is a 45 minute drive from Tapoban.  
Closest hospital
Joshimath has the closest hospital. Joshimath is a 45 minute drive from Tapoban and an hour's drive from Auli.
Why you should personally know about the risks and precautions of high altitude treks
If ever you find yourself alone at high altitude, either while trekking independently or with another organisation, there are some life-saving steps you can take. Firstly, you should be able to recognise symptoms of altitude sickness. So acquaint yourself with the symptoms.
Secondly, there might be instances when you have to administer medicines to yourself or to a fellow trekker.
There are three life-saving medicines that you should always carry on you – Diamox, Dexamethasone and Nifedipine.
If you are trekking independently then you need to know when exactly to administer these medicines and in what dosage.
The video below will help you understand what medicines to administer when and how much. Sandhya UC, partner at Indiahikes, explains in detail about HAPE and HACE. Here, you can learn about the advanced symptoms are and how to tackle them.
It is a

myth

that fit and experienced people are not affected by Acute Mountain Sickness
If you're of the opinion that fit people don't get AMS, please get rid of that notion right away. AMS can affect anyone without paying heed to their fitness and prior experience at high altitude! Altitude sickness does not distinguish between a first timer and an experienced trekker.
1. Cancellation 30 days before the starting date of the trek — Get your full trek fee back in an Indiahikes Trek Voucher OR get a monetary refund with 15% cancellation charges.
2. Cancellation between 30 days and 20 days before the starting date of the trek — Get 80% of the trek fee in an Indiahikes Trek Voucher OR get a monetary refund with 50% cancellation charges.
3. Cancellation less than 20 days before the starting date of the trek — No monetary refund, get 50% of your fees in an Indiahikes Trek Voucher
Important note 1: The Trek Insurance amount is not refundable if the trek is cancelled during the last 6 days before the start of the trek. In all other cases, the Trek Insurance amount is refunded along with the trek fee.
Important note 2: This cancellation policy is applicable to all Indiahikes treks, including our international treks.
|
In the rare event that we cancel a trek, this is the policy we follow:
We almost never cancel our treks. But in case we cancel a trek because of natural calamities (snowstorms, thunderstorms, floods, landslides, earthquakes) or unexpected political unrest, curfews, local riots, or government orders, Indiahikes will issue a voucher for the full amount of your trek fee (minus the trek insurance). You can redeem the Trek Voucher on any of our treks over the next one year.
Your trek fee includes:
Accommodation –  Stay is included from Day 1 to Day 5 (Tapoban to Auli). You will be staying in Guest house at Auli and camping on remaining days of the trek.
Meals – All meals from dinner at Tapoban on Day 1 to breakfast at Auli on Day 6 are included. We provide simple, nutritious vegetarian food on all days of the trek.
Camping charges – All trekking permits and forest camping charges are included.
Trekking equipment – High-quality tents, sleeping bags, ice axes, ropes, microspikes, gaiters etc. as required.
Safety equipment – First aid, medical kit, oxygen cylinders, stretchers etc.
Your trek fee does not include:
Transport to and from the base camp – We will arrange shared taxis for trekkers to pick you up from Rishikesh and drop you back. This will cost approx. Rs. 6500 per 5-6 seater vehicle one way. You will have to share this cost with the other trekkers
Food during transit to and from the base camp
Backpack offloading charges – Rs. 1000+ 5% GST for the entire trek. The backpack cannot weigh more than 9 kg. Suitcases/strollers/duffel bags will not be allowed.
Anything apart from inclusions
Fitness Policy
A high altitude trek in the Himalayas requires considerable fitness. Your body needs to train itself to process more work with lower levels of oxygen. Therefore, on treks, cardiovascular training is critically important.The trek has long climbs and steep descents on a daily basis. As a measure of your fitness, we require you to be able to run at least 5 km in 40 minutes by the time your trek starts. If you are 45 years or above, try to cover 5 km in 47 minutes. This is a minimum, mandatory requirement.
If you prefer cycling over running, then try to cover 22 km in 60 minutes.
Unable to do so can make your trek difficult.
In addition, preparation of trek needs to include strength and flexibility training. Registering for the trek is an understanding that you will undertake the mandated fitness training and upload the fitness screenshots on your dashboard. Trekkers who have not adequately prepared may be asked to discontinue the trek at any point.
Indiahikes has the right to reject trekkers who do not meet our eligibility requirement at the base camp.
Backpack Offloading
Indiahikes expects all trekkers to carry their own backpacks. All common gear will be carried by the support team. If for some reason a trekker is unable to carry his or her backpack, he/she can offload the same by paying an additional charge.
Backpack offloading charges – Rs 1,000 plus GST of 5% for the entire trek. You can opt for offloading directly your dashboard after your payment is done for the trek.
Partial offloading is not allowed. The backpack cannot weigh more than 9 kg. No suitcases/strolleys/duffel bags will be allowed.
Online offloading in advance is possible up to three days prior to the trek start date.
Discount Policy
Discount for a group of 10 and above
If there is a group size of 10 trekkers and above, then we will waive off the trek fee charges for one person.
Note - There is no discount available if the group size is 9 or less than that.
You can register the entire group and send us an email. If the group is registering individually, then the primary participant needs to send an email to the Trek Coordinator with the list of trekkers from the same group.
If you want to make the payment individually, then individual registrations have to be done.
This will be the case for a group of 10 trekkers. So if you have a group of 20 trekkers, then we will waive off the charges for 2 trekkers.
Repeat Trekker Policy
At Indiahikes, we believe that the mountains hold all the aces. The weather could play spoilsport, the altitude could mess with a trekker, the unpredictability of nature itself could turn against him. Whatever the reason might be, it is never nice to turn away from a trek midway.
Is there an option to offload my backpack on this trek?
Yes, there is an option to offload your backpack (have a mule carry it for you). This will cost Rs 1,000 + 5% GST for the entire trek if you inform us in advance. The offloaded bag should not weigh more than 9 kg. Strolleys, duffel bags, suitcases etc. are not allowed. Online offloading in advance is possible up to five days prior to the trek start date. You can opt for this from your dashboard directly.
Is there a mobile network on this trek? Are there any electricity charging points on this trek?
Where is the pickup point for the trek?
Zostel, Rishikesh is the pickup point for the trek. The pickup time is 6.00 am
Will I get snow on this trek?
You find snow around end of April at the higher camp sites. Post this, you won't have snow on this trek.
What are washroom/toilet facilities like on the trek?
The guest houses at Auli will have concrete toilets. On the other days, toilet tents will be set up along each campsite. A toilet tent will have a deep pit, where one can answer nature's call. There will be a mound of soil and a shovel to cover it up. These are dry toilets, where you'll have to use toilet paper. There will be a room freshener as well. It's the most hygienic and convenient way to answer nature's call in the wild. Please use plain toilet paper and do not use wet wipes since these are not bio-degradable.
Here is what trekkers have to say about their experience at Kuari Pass Trek
"I do not remember jumping out of my bed with so much to look forward to at 05:30 am in the recent past. And there we were, all of us, not carrying our mountains any more but climbing them", Nishant Jadhav writes about his experience on the Kuari Pass Trek.
Read full blog
Available dates
What the colours mean

Registration is on.

The group is full, but cancellations are likely to happen. We have 5 waitlist slots for every group. You may register for the group. Waitlist slots confirmation chances are high if booked more than 30 days in advance.

Indicates the number of slots available in a group.

Indicates the group is full. No further slots are likely.
Dates not suiting you? Click here to see other similar treks.