5 Reasons Why You Must Do The Gidara Bugyal Trek
Share this story
Gidara Bugyal is a high altitude alpine meadow touching 13,900 ft. in the heart of the Uttarakhand. The trek goes through some of the most pristine and untouched grasslands in the Himalayas.
Difficulty: Moderate
Duration:
Max. altitude:
Pickup point:
Base Camp:
Min. Age:
Best time to visit:
Interesting thing is, meadows of Gidara Bugyal have always been talked about with a sense of mystery and wonder. Seasoned trekkers have a spark in their eyes and a sense of awe in their voice when they talk about it. In this article, I will tell you whydo.
Let me start from the very beginning of my journey to Gidara Bugyal.
On 21
st
September 2019, I was pleasantly surprised to get an opportunity to lead the one and only batch of the newly explored Gidara Bugyal trek. What I saw and experienced made me instantly fall in love with this trek. Now, I recommend this trek to all.
And, here are 5 reasons why I think you must do the Gidara Bugyal trek:
1. Gidara Meadows – The Largest High Alpine Meadow
The meadows at Gidara are unlike any other. They are undulated, with no steep ascent or descent. In comparison, other meadow treks such as the Dayara Bugyal Trek, or the Ali Bedni Trek, have a considerable amount of ascent and descent. 
But at Gidara, the meadows are a flat stretch of green. It is like a green carpet as far as your eyes can see. There are no treelines, instead, the meadow is flanked by the massive Gangotri Massif. You don't have to exert yourself to trek on these meadows.
I cannot describe the feeling of standing on these meadows and trekking over them. I felt humble and small. The meadows are truly larger than life. I would even go as far as to say that Gidara is the only trek that comes close to matching the undisputed beauty of the Kashmir Great Lakes Trek.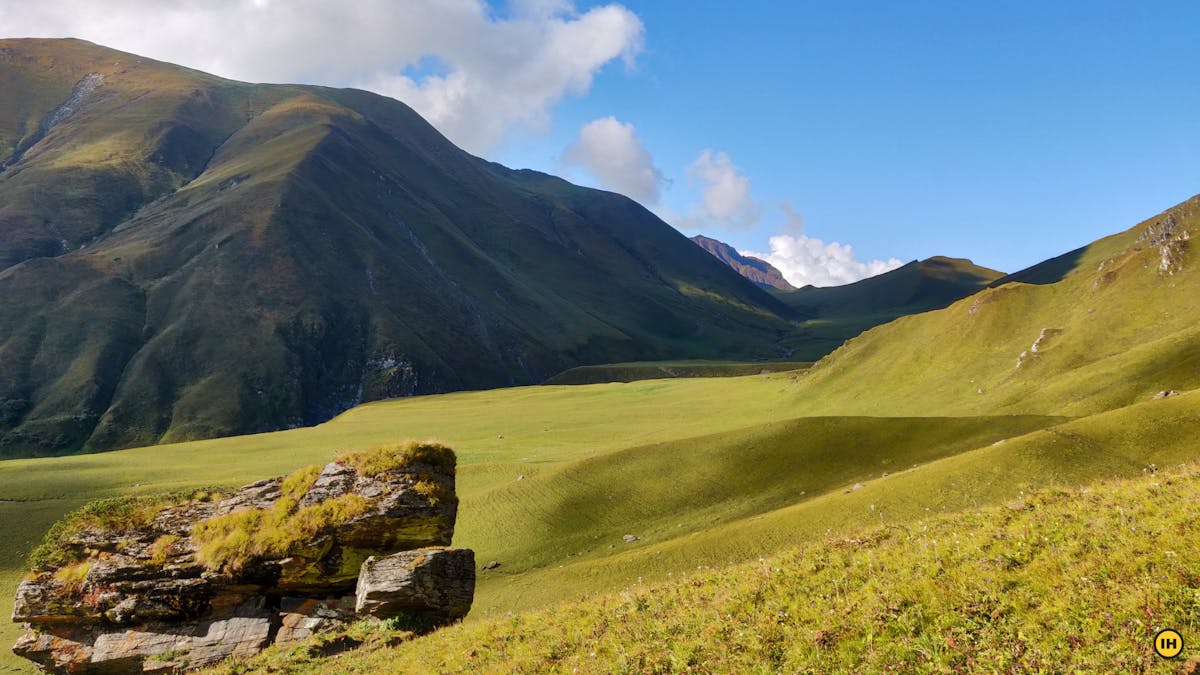 The expansive Gidara meadows
2. The Ultimate Ridge Ascent For Summit And The Rare Brahma Kamal!
Gidara Bugyal trek is rare because it has a double ridge walk! Here, above 13,200ft., the world is completely different.
Clouds rush into the meadows, just as you are on the ridge to Gidara Top. I don't think you get to experience this on any other ridge walk in our country.
Brahma Kamal grows only above 13,000 ft. On this trek, the ridge is at 13,900 ft, and it is just perfect for this rare flower to bloom.
Further, this is a double ridge walk. You trek on a ridge to approach the summit from the Gidara end and then descend on the other side.
The ridge walk up to the summit is about 1.5 hours long and the descend on the other side also takes 1.5 hours. Ridge walks lasting for 3 hours is extremely rare in a Himalayan trek.
The unforgettable part about it is the beautiful views of the valley you get to see on either side.
I absolutely love this ridge section. The views make me forget about how tired I am, I feel rejuvenated. And I have seen this happen to my trekkers as well.
On the ridge walk, you get to see the Greater Himalayas in close proximity. This isn't visible from any other trek.
Amidst this explosion of meadow views, a ridge walk, and stunning views, is also the royal
They grow only at altitudes above 13,000 ft. On this trek, the ridge is 13,900 ft, just perfect for the flowers to bloom.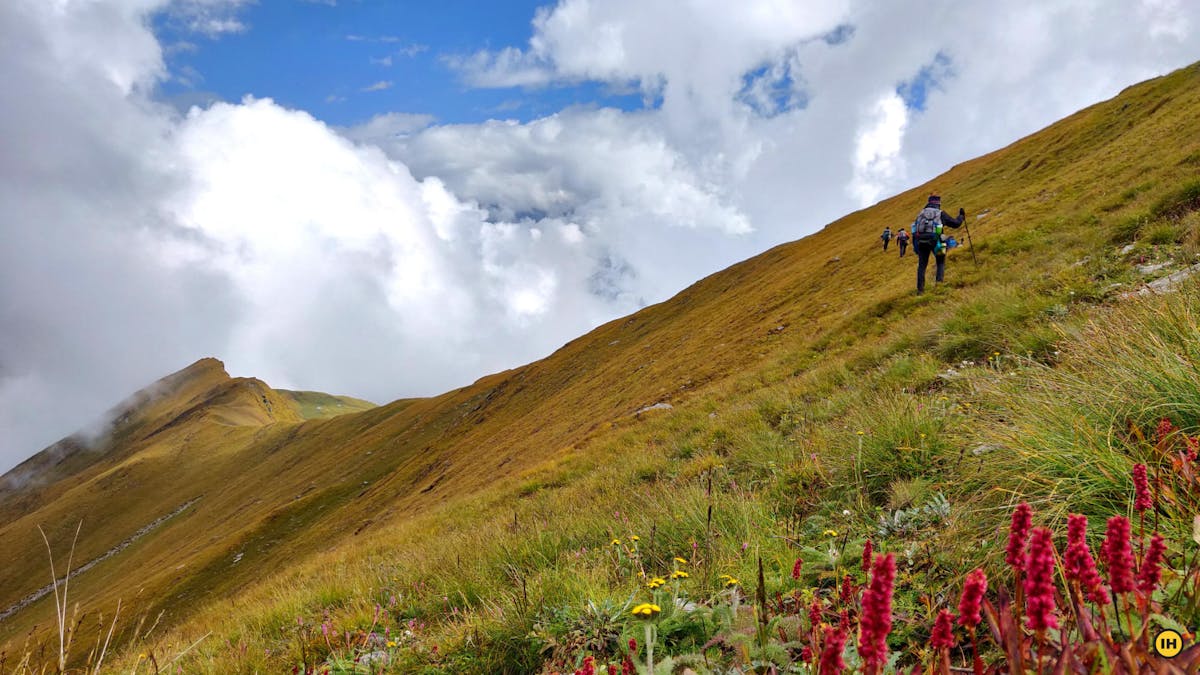 Flowers on the trail towards the ridge PC: Nitesh Kumar
3. Close Up Views Of Gangotri Massif And Yamnotri Range
Right from Day 1 on the trek, as you reach Bhangeli, you witness the Gangotri range and Mt. Srikanth unfolding in front of you.
From the first campsite Rikoda, you can see the entire range. In the evening, trek a little farther from your campsite to look at the bigger picture. You will get a stunning view of your campsite, with the Gangotri Massif in the backdrop.
At your next campsite, Dokrani, you get to see Gangotri I, III, Jaonli, Mt. Srikanth, and Draupadi Ka Danda right from your tent.
On the pre-summit day, you trek towards Thalotiya. You will feel like it is your summit day. You trek on the beautiful Dokrani Bugyal all the way to Dokrani top.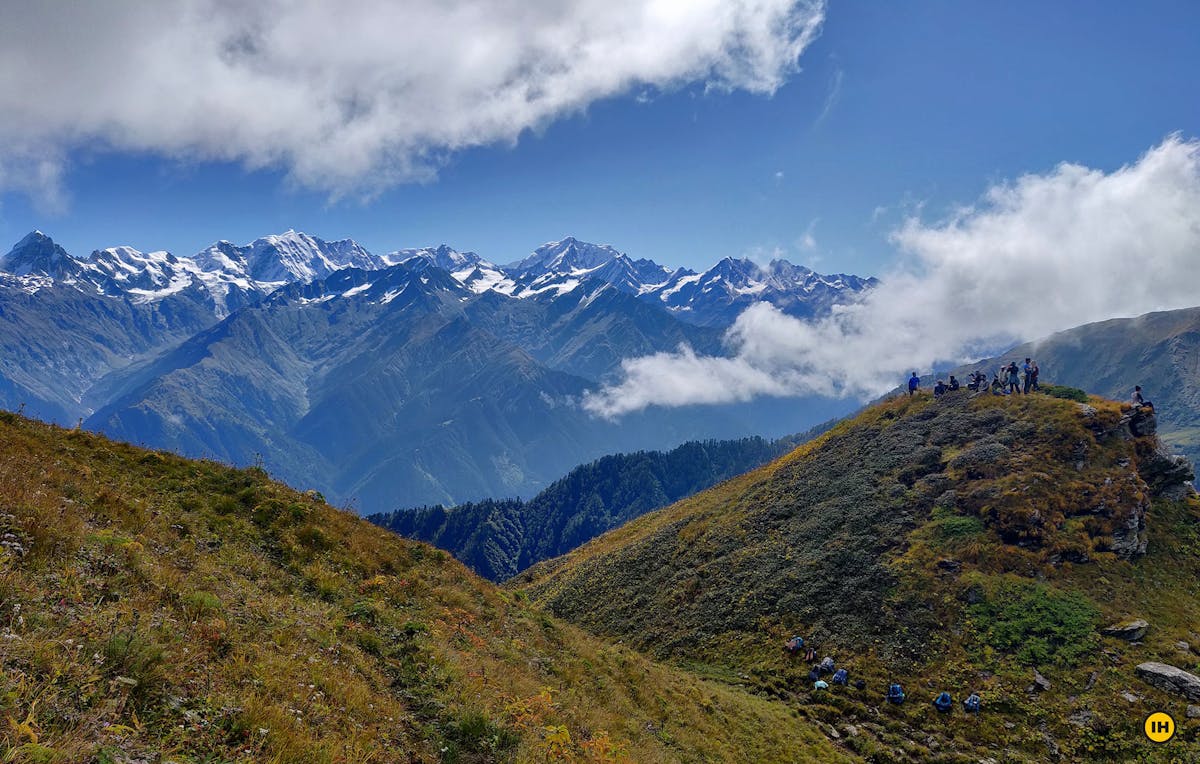 A grand view on the pre-summit day from Dokrani Top. Picture by Nitesh Kumar
At Dokrani Top, take a moment to sit on the grass and admire the Gangotri Massif that rests right in front of you.
I have seen trekkers teary-eyed and in awe because of this view. You also get to see Mt. Bandarpooch and Mt Kalanag.
I have seen trekkers teary-eyed and in awe because of this view.
When I reached the end of Gidara, facing westward, the mountains ended. I could see the beautiful Dodital valley ahead. This view is something I will never forget. 
The valley runs towards the Dodital valley, which is accessible from Sangam Chatti. This also joins the Mukta Top Trek. Dodital has been a popular pilgrim spot. The whole valley range just comes to life from the Gidara end.
Though locals descend from this route to Dodital; looking at the terrain, I only wish if I was a superhero. That terrain looks nearly impossible!
There are broken mountains, with sharp and beautiful edges. And they are in so many colours – deep red, orange, dark green, brown, grey, and more.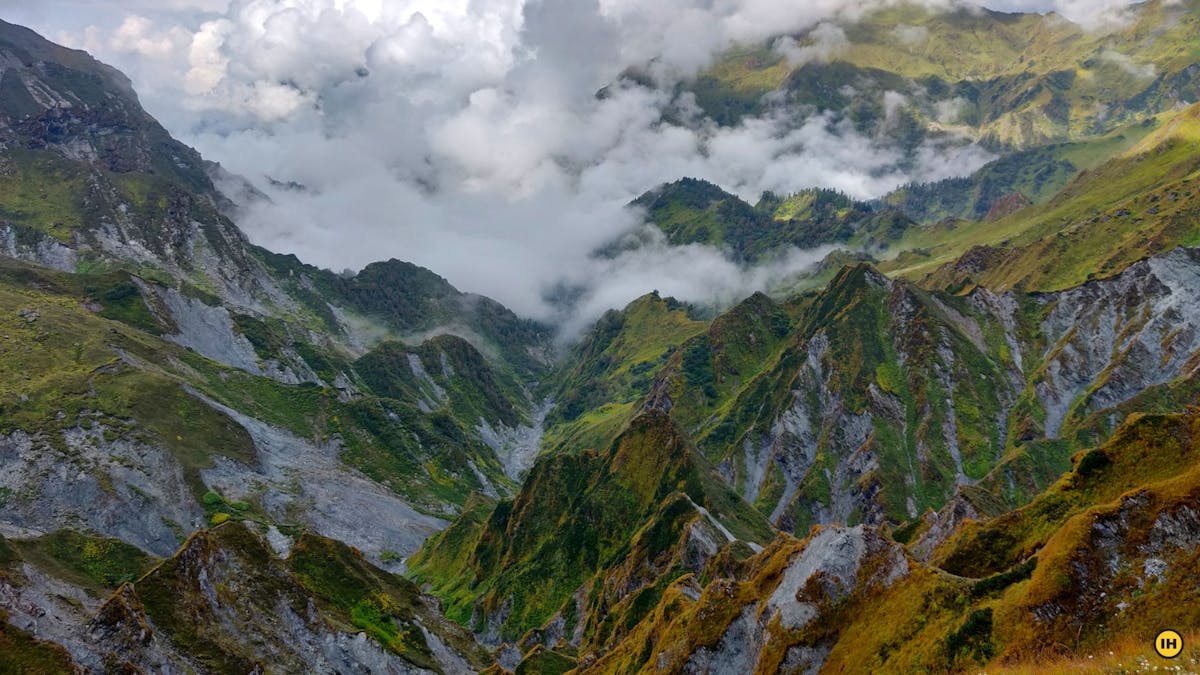 The view from Gidara end. PC: Nitesh Kumar
4. A Completely Secluded Trail
Right from the base camp Bhangeli, this trek makes you feel special and lucky to be there. Bhangeli has its own rare species of flora and fauna. It is the ideal ancient Himalayan village with backroads soon turning into trekking trails that go deep into the wilderness.
You will find yourself trekking through pristine untouched forest sections, later surrounded by a valley, and trekking on a ridge as well. And all of this, with only your trek mates.
On most of my other treks, I encounter other trekking groups and several villagers. But it was completely different here. I discovered on the third and fourth day of the trek that there was no laid trail. We were trekking through the unending alpine lands, surrounded by mountains, in quiet isolation.
I noticed my trekkers enjoying this rarity. Some were in awe, simply looking at the view. Some were deep in thought. This trek was having a deep impact on them.
I feel this trek is perfect for trekkers who love to trek off the beaten path, who enjoy trekking in the quiet, where all you can hear is the wind rushing over the expansive landscape.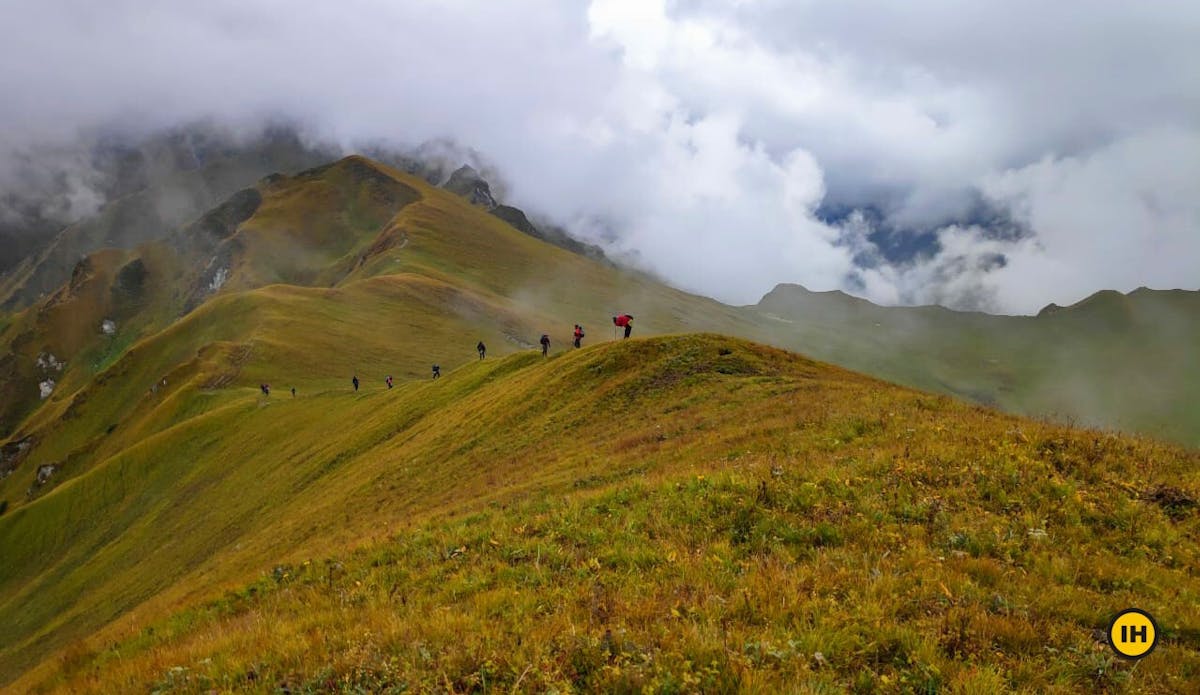 One of the most beautiful ridge walks in the Himalayas. Picture by Nitesh Kumar
5. The Best Campsites In The Himalayas
When you approach a campsite on most Himalayan treks, you notice a thinning or a clearing. But this is not the case with Gidara Bugyal Trek. Here, campsites are right in the middle of the wilderness. You see, there are simply no plain spots on this dense trek. 
In fact, let me give you a quick sneak peek – one campsite is just at the top of the forest section, another on a riverbank, one in between the mountain valley, and one on a mountain slope. And, another beauty about Gidara Bugyal Trek is that you never repeat a campsite. 
My favourite campsite on this trek is the Thalotiya campsite. It sits right below a small valley, at the bottom of the spur on the river bed. There is barely enough space to pitch 5 tents!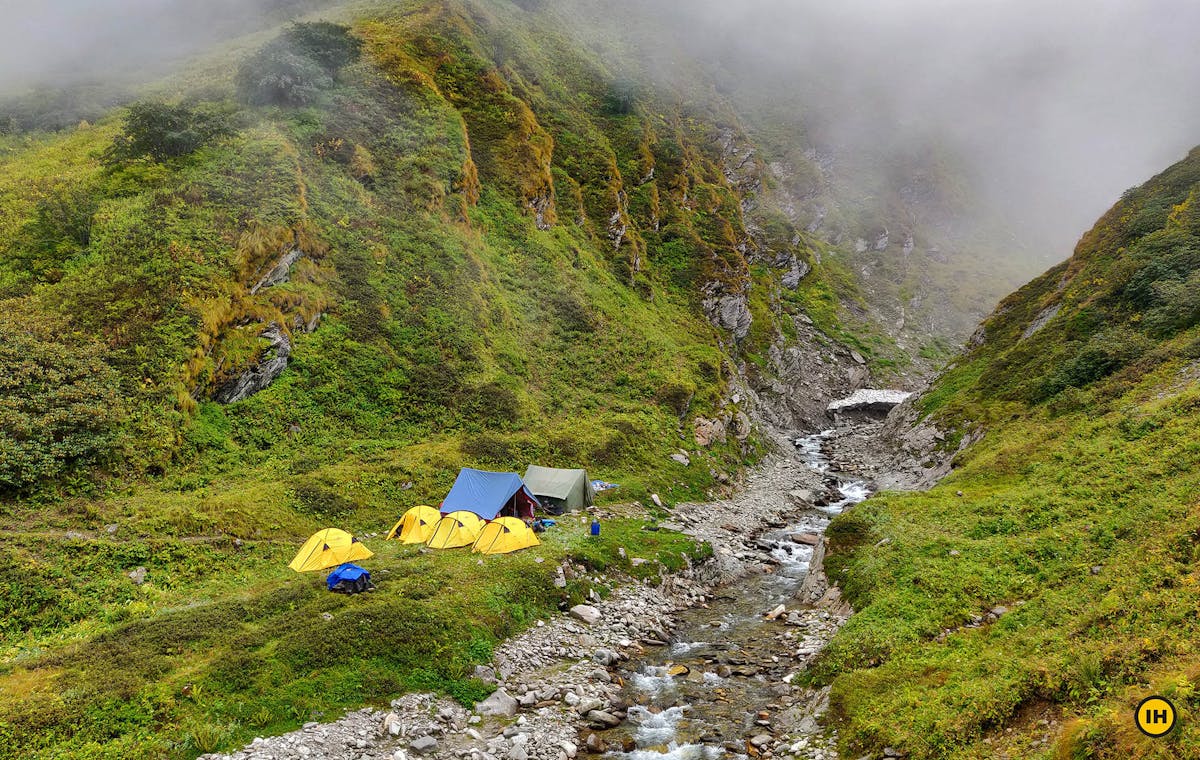 A view of the stunning Thalotiya campsit. Picture by Nitesh Kumar
In the end, I want to say that my favourite sections on the Gidara Bugyal Trek would be the trek from Dokrani to Gidara end. And, I love the ridge ascent to the summit too. You must watch out for them.
After leading the exploratory batch to Gidara, I'm waiting for another chance to go on this trek. And if you are looking for a trek to choose, go for the Gidara Bugyal Trek, it is like no other trek I have seen. 
If you've already been on this trek, tell me – how was it? I would love to hear about your experiences in the comments!
Sign up for our much loved Weekly Mailer
We have terrific trekking tips, trek updates and trek talks to look forward to