6 Significant Highlights of 2021 in The Trekking World
Share this story
Over the past week, we have been reflecting on how the year 2021 was for all of us at Indiahikes. Looking back, 2021 was one of the most decisive years for Indiahikes. In an organisation's history, there are one or two years that are extremely significant. We take big strides, make fundamental changes. In 2021, we did that many times over. Which is why 2021 is a year that will stick in our memory and in our hearts. 
I thought I'll share these reflections with you, because for us, you are as much a part of Indiahikes as we are. You are part of the ups and downs we face, the highlights and the low points. So I think you'll find these reflections very insightful. 
1. In 2021, we rewrote the vision of Indiahikes to Everyone Must Trek. 
My first point may surprise you, because right from the time Indiahikes started, our vision has never changed. We have always wanted everyone to trek, which is what led to the creation of Indiahikes in 2008. In fact our name "Indiahikes" reflected our thoughts that we wanted India to hike. Yet, we had never defined it well or articulated it. 
In our inability to define our vision, we would tell everyone that we wanted to "Define the future of trekking." It did justify all the futuristic work we did, but at the same time, it was a complex thought for people to understand. 
So one of the biggest highlights of 2021 was that we rewrote our vision. We changed our vision to a simple "Everyone Must Trek". This is what we believed in, this is what we wanted to do. 
This rewriting of our vision brought about a shift in how people perceive Indiahikes. First, it changed how those within the organisation understood the vision and spoke about it. Not just our Trek Leaders, cooks and guides, even the distant muleman suddenly seemed to understand the vision and speak about it like his own. It has brought about a tremendous sense of love, pride and ownership in the organisation. 
This has further had a ripple effect, touching our trekkers' lives. They are returning home with a stronger trek experience. Once they're back from their treks, they feel differently about themselves. They feel so close to our vision that they even try to take it forward within their circles.
We have never seen such a profound impact within or outside the organisation before, which is why this is one of our most significant highlights of 2021.
2. We defined the Indiahikes Experience. 
For a long time, the concept of an Indiahikes Experience remained abstract. Trekkers would trek with us and leave with a feeling that was beyond explanation, beyond words. Over a decade we have been designing our treks so that trekkers go home with not just wonderful memories of the mountains and adventure; but with a profound change in themselves. This was the Indiahikes Experience.
Yet, for anyone to understand this, especially our trekkers, it was very abstract. 
Finally in 2021, we actually defined what it was — an amalgamation of our 4 pillars coming together. Towards the end of the year, our filmmaker, Mayur Srivatsav, gave us a beautiful picture of the Indiahikes Experience through this film. 
The most profound impact of the Indiahikes experience has been on our trekkers. Not only are they going back home with a strong sense of transformation, they are learning new skills that are making them safer, more sustainable and more confident trekkers.
3. In 2021, we started building Indiahikes campuses. We built campuses at Sari, Raithal and Kotgaon.
For over a decade, Indiahikes has been running treks out of lodges/hotels at the base village of the trek. These were our basecamps.
But creating a unique Indiahikes experience at these basecamps was very difficult. In many of these basecamps we did not have the right atmosphere. We were in cramped confined spaces. Trekkers spend more time inside the rooms than in mingling with each other.
We did not like this. We saw trekking differently. We wanted our trekkers to become part of a larger trekking community. We wanted our basecamp to resemble this community — a space for everyone to come together and interact. We wanted our trekkers to become a team even before they started on a trek. We had seen in our experience that when trekkers trek as a team, the experience is altogether different. 
Which is why, in 2021 we decided to build campuses near our base villages. We started with Sari (Deoriatal trek), followed by Kotgaon (Har-Ki-Dun, Kedarkantha trek), and then Raithal (Dayara Bugyal trek). You may even have visited these campuses. 
The significance of our campus is three fold. (1) It brings trekkers together as a community. (2) It also helps bring our team together with a very strong sense of ownership. It has a tremendous impact on the team's morale working there. (3) Finally, we can give better facilities to our own team members. The campuses can create a home away from home.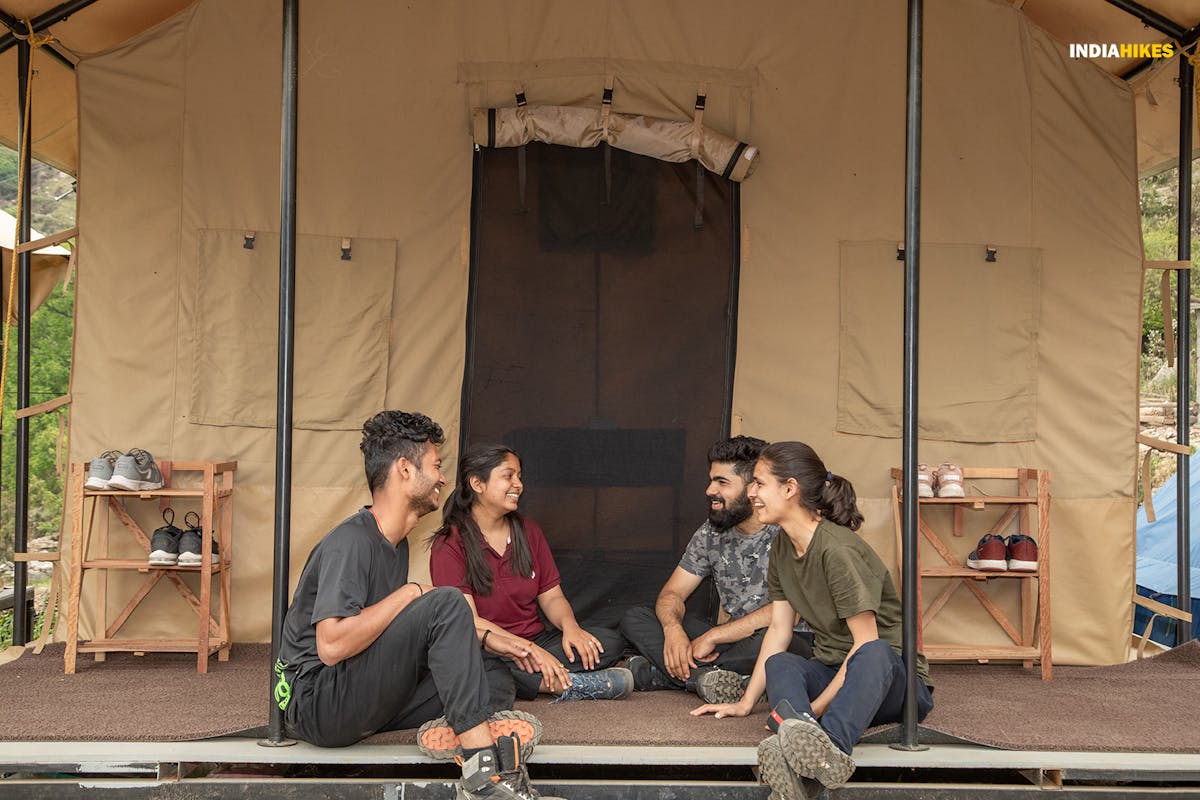 We have built the Indiahikes campus to create a sense of community at our base camps. Trekkers have ample space to gather and have conversations inside and outside their accommodations. It's a home outside their homes. Featured here: Our Trek Leaders sharing stories together at our Sari campus. Picture by Jothiranjan
4. We introduced DIY Trekking in 2021. 
DIY trekking is not new (DIY stands for Do-It-Yourself). Most of the world treks DIY style. Yet, hardly a handful of people in India take it up. Because there is a problem trekking DIY in India. Trekking trails are not clearly marked out. There aren't any boards or signs on trekking trails. On the other hand, navigation on a trail, especially in the Himalayas can be fraught with dangers. 
In addition, lightweight trekking gear (tents, sleeping bags), easy-to-make trekking food, and portable cooking gear are impossible to get in our country. Only the diehard can seek them out (spending enormous amounts on it). 
We wanted to change this. We wanted trekkers in our country to be able to trek DIY. So for the entire part of 2021, our DIY team started gathering GPS files of important treks in our country. They started to mark points on the files for anyone to follow. No one would get lost if they followed the GPS trails of these treks. Plus they built easy tutorials to guide trekkers on how to use these modern navigation tools. 
Then our Research Team started working with our manufacturers to design new lightweight tents, sleeping bags and food kits. (More on that in the next point.) 
We ran pilot groups. Some of them worked well, some did not. Yet, by the end of 2021, we were ready to launch DIY trekking with our navigation, camping, and food kits. Our first few trekkers went out on their own DIY treks in the last days of December. They came back absolutely thrilled with the experience. 
5. In 2021, our Research and Development department became independent.
In 2021 we took another big stride, which we believe can change the future of trekking. We created a Research and Development team at Indiahikes, which would make innovation a fundamental part of Indiahikes.  
There are 3-4 important leaps we were able to make thanks to the R&D team. 
We introduced new lightweight sleeping bags. Our Hillman sleeping bag used to weigh 3 kilos. Our R&D team along with our manufacturers experimented over many months to bring down the weight of our sleeping bags, without compromising on their efficiency of -10°C. After much experimentation the weight has come down to almost 1.4 kilos. This has a huge significance. It fosters DIY trekking, which benefits trekkers to a large extent. 
We made new lightweight DIY tents. Earlier our Hillman tents weighed 5 kilos. Again with a lot of research our manufacturers and R&D team have got the weight of our tents down to just 2.5 kilos. This has also been a game-changer. Now with equal performance in adverse weather conditions, we have lighter tents. 
We introduced pre-mixed food, which has brought about an extraordinary change in the food experience. In 2021 we started focusing strongly on food. The research and development of premixed food brought about three things. (1) Standardization of taste and consistency in food across all slopes. (2) It has enabled DIY treks and made it possible (3) Most importantly, it has given cooks at Indiahikes more time. This has helped them look beyond cooking and focus on a higher level of trek experience. 
Internally, there are innumerable other innovations that the R&D team has brought about — our offloading kits make luggage management more efficient and easier on the mules. 
Our cooking stoves have undergone changes to become more energy efficient. 
Our new segregation sacks and water contraption systems are a wonderful way of waste management and water efficiency. Yet, this is only the beginning. 
Research and Development brings about innovation in trekking. This can change how trekking is done in the future.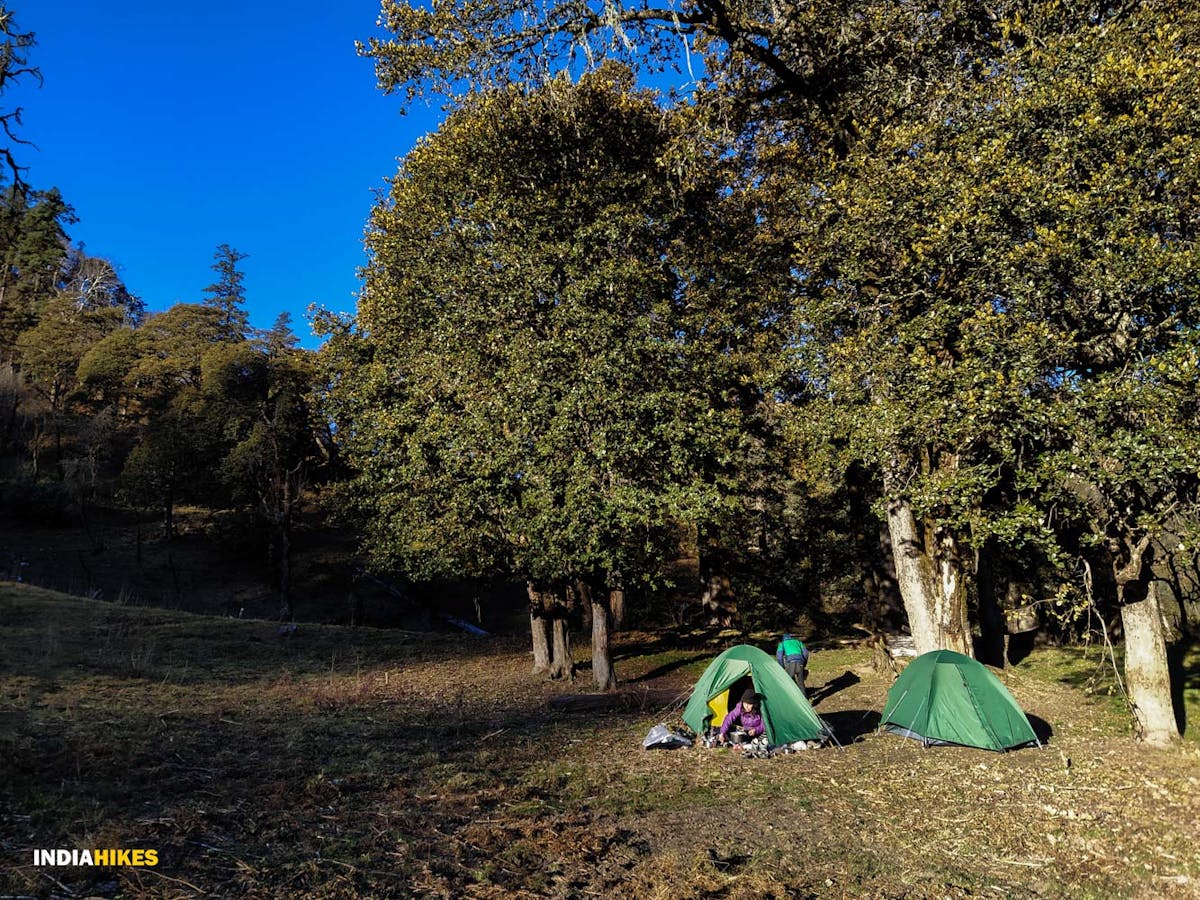 Our new lightweight Crosstrek Lite tents at the Rikoda campsite. Picture by Swathi Chatrapathy
6. The Indiahikes team grew nearly threefold in 2021. 
In 2020 during the pandemic, when most of the world thought we were closed down without work, the Indiahikes team was working harder than ever. Our treks had stopped, but our minds hadn't. We wanted to come out of the first lockdown as a renewed organisation — Indiahikes 2.0. I had written to you about it at that time. 
In 2021, all our hard work from 2020 paid off. We brought many new members into our team. 
Our team of Trek Leaders grew in number. Our team of guides and cooks have also grown in number, with all of them playing an active part in imparting an Indiahikes Experience to trekkers. 
We have formed an "Experience team" at Indiahikes, which takes care of the design and execution of the Indiahikes Experience. Our team of Experience Coordinators is larger. Our content team has specialised film makers, photographers, designers working together.
The new generation of team members is slowly beginning to take charge of the organisation, bringing in innovation and looking into how we design the Indiahikes trek experience. (See career opportunities here.)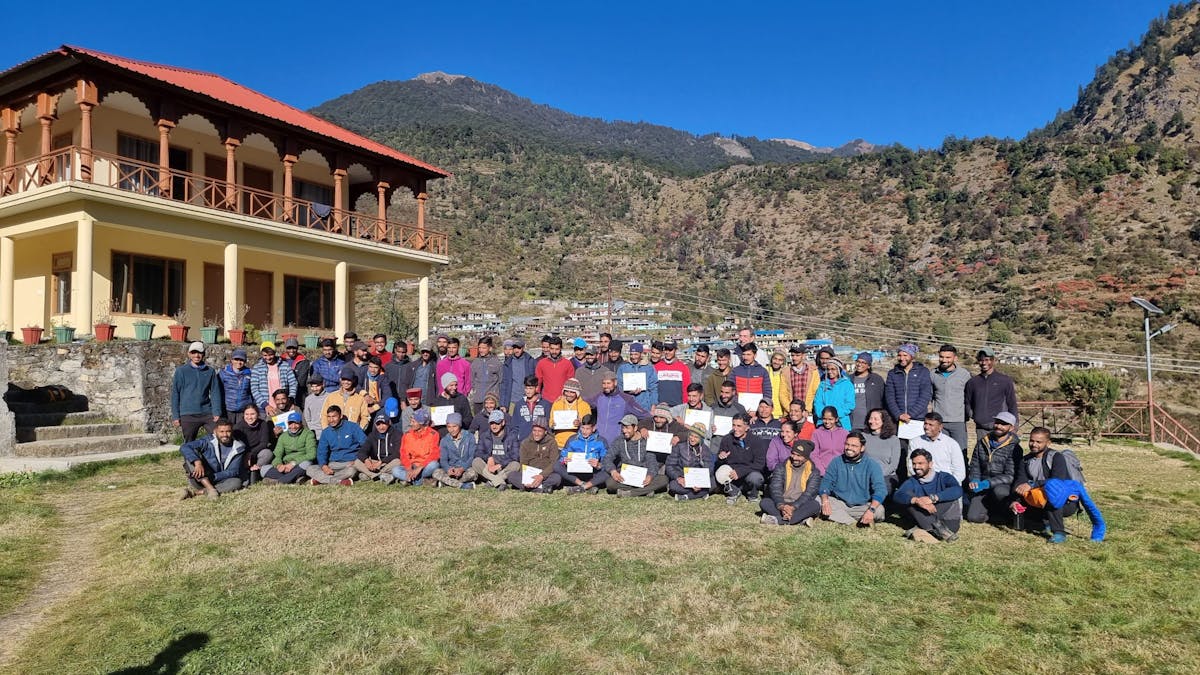 A part of the Indiahikes team, which has grown in leaps and bounds in the year 2021.
Looking ahead at 2022: 
We are looking forward to the year 2022 with a lot of optimism. 
It is true that we are starting the year with an Omicron variant that has left a question mark on our treks. But this is temporary. We believe we will be out of the worst of the third wave of Covid crisis by the end of February.  
A lot of the significant steps that we have taken in 2021 will bear fruit in 2022 — be it DIY trekking, our campuses at basecamps, new innovations in trekking or new routes to trek on. 
I hope you can be a part of our work forward in 2022, whether as a trekker, a team member or a well wisher. 🙂 
Happy New Year 2022!
Sign up for our much loved Weekly Mailer
We have terrific trekking tips, trek updates and trek talks to look forward to