6 Tips to Increase the Life of Your Backpack
Share this story
Trekking and mountaineering are expensive sports. In fact, the biggest cost factor is the good quality gear they require.
In my experience, good gear is important to have a problem-free trek. If you use sub-standard or damaged gear, you're more susceptible to injuries.
Most trekkers consider buying trek gear as an investment. This is the average price list of commonly required gear:
Backpack – Rs.4,000 – 5,000
Trekking shoes – Rs.5,000
Two Anti-shock Hiking Poles – Rs.4,000
Padded Jacket – Rs.2,500
Down Jacket – Rs.6,000
Like I said, quite expensive.
It's important to know how to maintain your expensive trekking gear. If done well, these items can last for a long time. You don't want to keep buying gear before every trek.
I have put together this series of articles on how to maintain your trek gear, to help you out.
Let's start with one of the most important ones — your backpack.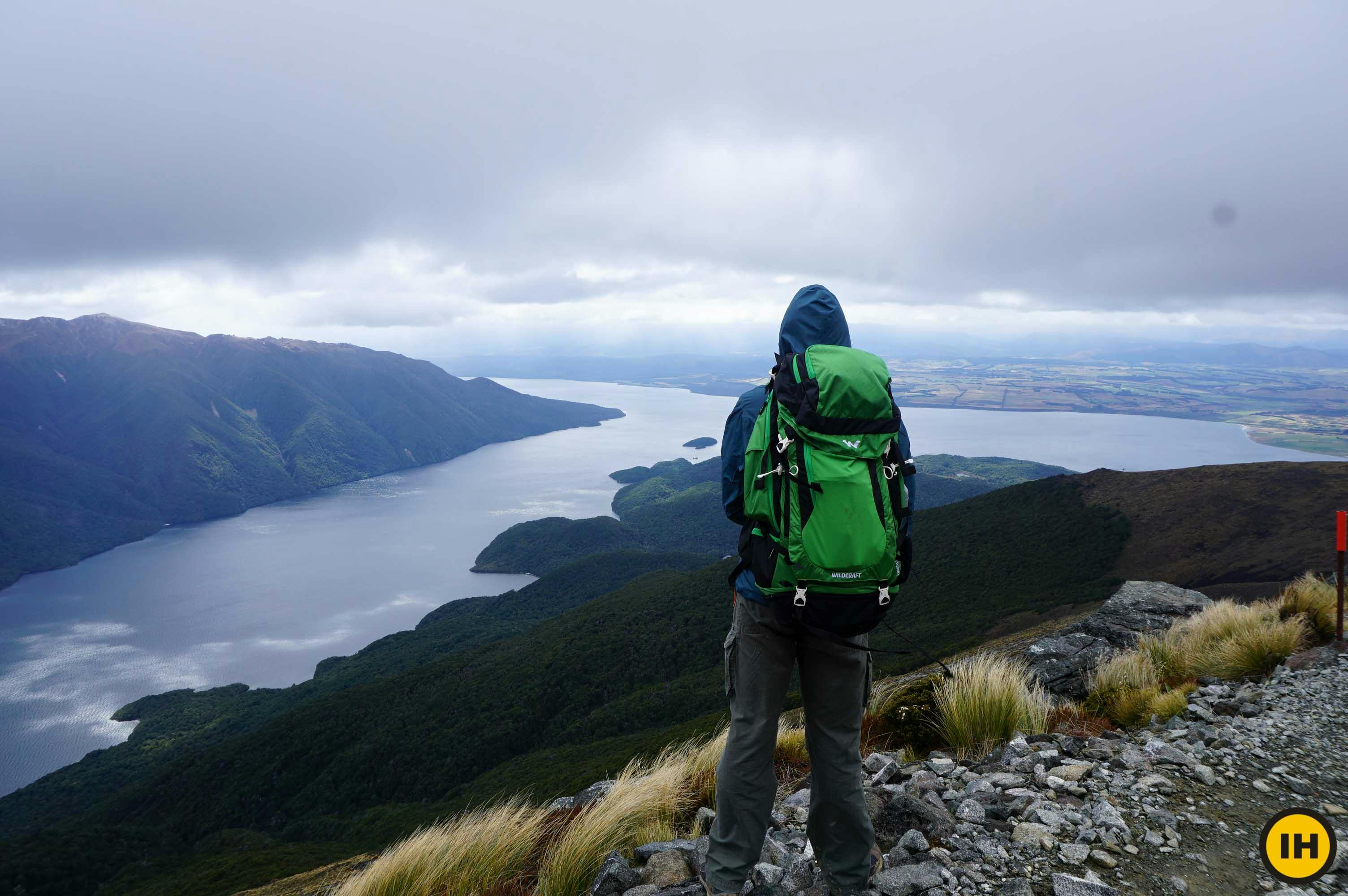 Your backpack is almost like your best friend during a trek. It carries all your belongings and protects them from rain and snow. It evenly distributes the load on your body to avoid stressing any muscles or joints. It literally has your back!
I always make sure to take good care of my backpack. I will share some simple hacks to increase the life of your backpack.
1. Store your backpack with the back-side up
The most important part of your backpack is its back-padding and shoulder belt. These two parts are in constant touch with your body. They absorb movement friction and shock.
Without good padding, you will experience severe shoulder ache when you wear your backpack. So these two parts need to be taken care of well.
I have seen a lot of trekkers keep their backpack the wrong way as soon as they reach the campsite. Exhausted from the day's trek, they are quick to remove the backpack and keep it with the back-padding side on the ground!

This will damage the back-padding. Stones scrape its texture. Dirt enters its porous surface making it harder to clean. There will also be more pressure with the weight pressing down on the padding.
The right way to keep a backpack is with its front face lying on the floor. Or if you want it standing, keep the front part leaning against the wall or tent.
When you get back home from your trek, store your backpack separately. I've noticed how many people keep it at the bottom of their wardrobe and forget all about it until their next trek. By which time it gets buried under a pile of clothes and other stuff. This will reduce the life of your backpack quickly!

2. Avoid offloading your backpack
The minute you offload your backpack, you lose control of how it is handled.
Porters or mules carry several bags at the same time. Inevitably, they end up carrying the bags in an inappropriate manner. They tie up several bags together using ropes, crushing many bags together.
This not good for your backpack.
I have seen mules bumping into rocks along the trail. They are completely oblivious to tree branches scratching away on the bags' surfaces. Even if porters cover all the bags with a sheet, they won't be able to keep an eye on it at all times. There will still be substantial damage.
Besides, by the sheer nature of tightly tying several bags together, the back-padding will be damaged irreversibly.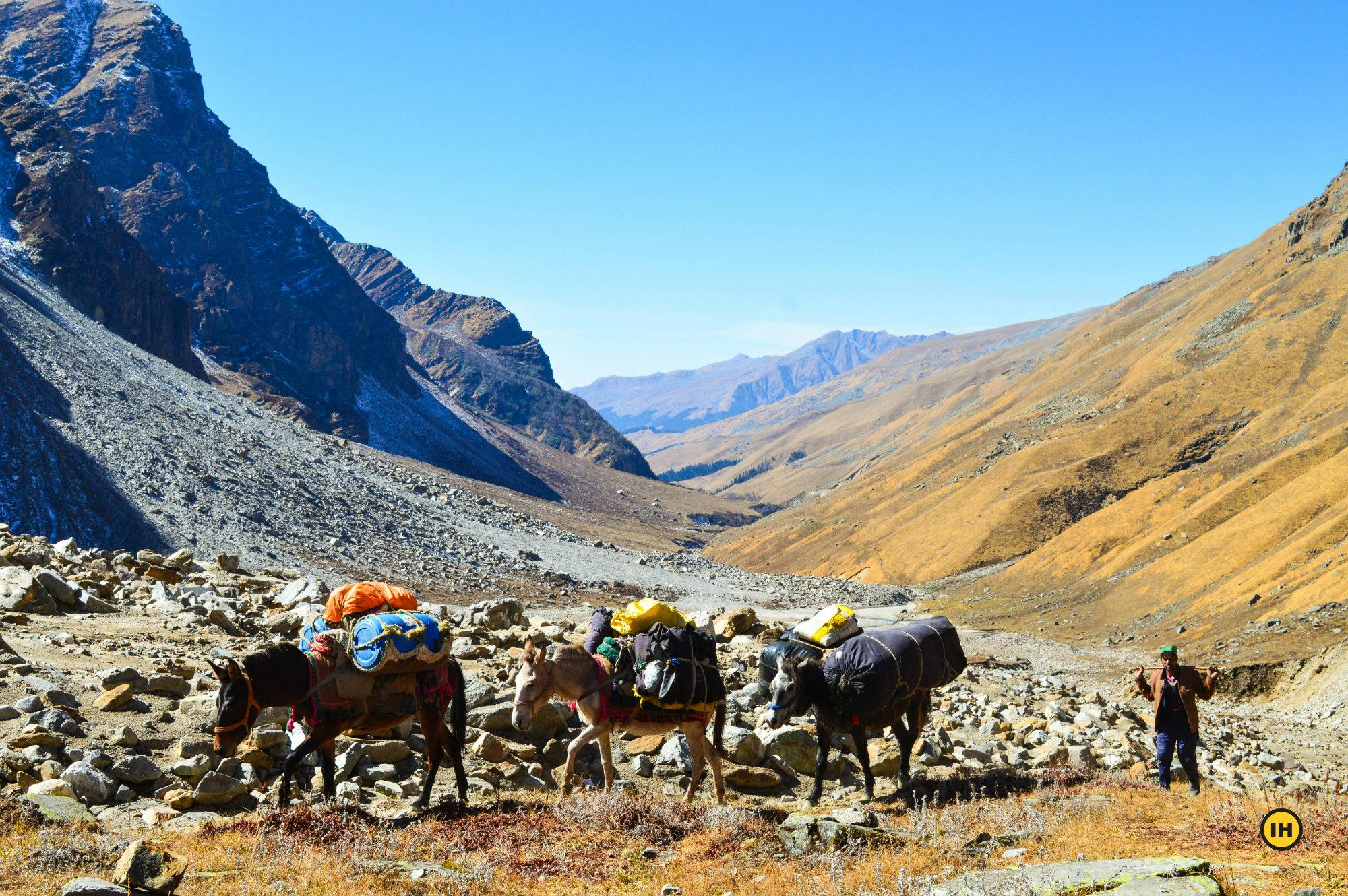 So instead of offloading, I strongly suggest you prepare yourself physically to carry your own backpack. While preparing for your trek, practise carrying your backpack and climbing stairs.
You can also read this article for tips on carrying your backpack easily.
3. Always use a rain cover, even when it's sunny
Put on a rain cover on your backpack every day of your trek. No matter what the weather  is — sunny, raining or snowing.
Every backpack has a water repellent layer. This layer will get damaged if it's exposed to direct sunlight over long duration of time.
Rain covers also provide additional protection against invasive branches and thorns in forest trails.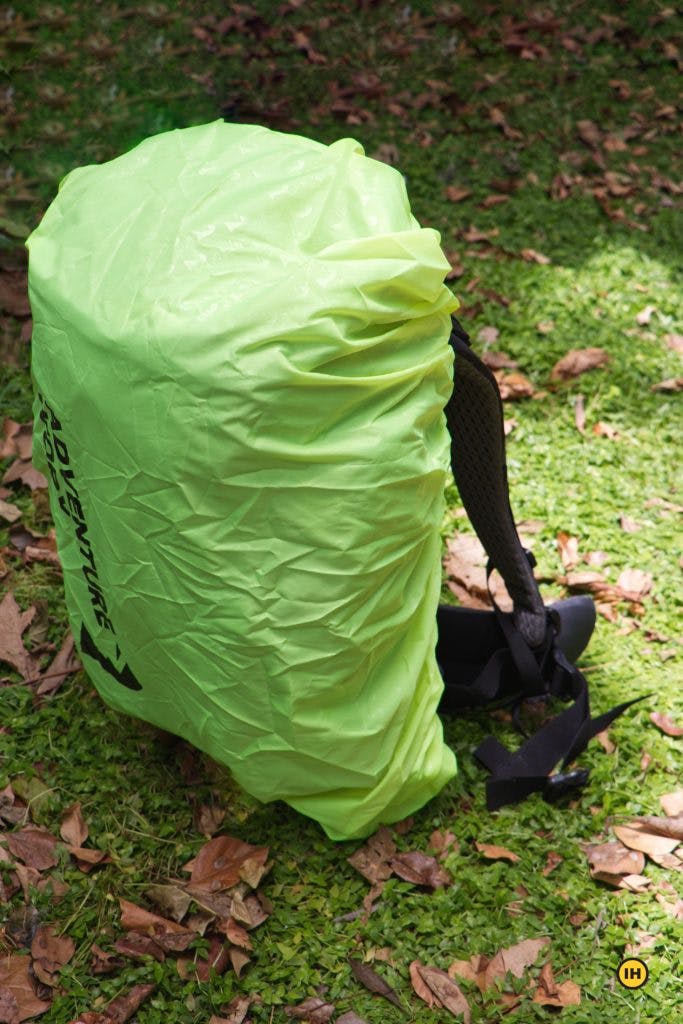 4. Use two rain covers during transport
I have seen that backpacks are more prone to damage during transport, than when on a trek.
When travelling by buses or cars, your backpacks are tied and loaded on top of the vehicle. Most mountain roads are dusty and bumpy. Imagine the damage this can do to your backpack padding!
I recommend you use two rain covers during transportation — one on the front, and one on the back to protect the padding. Otherwise the back padding may get dirty and tear easily.
5. Loosen or detach your shoulder strap when you store it
The curvature of your shoulder strap and hip strap is designed to snugly fit against your body. This makes it more comfortable to carry a heavy load for longer periods of time.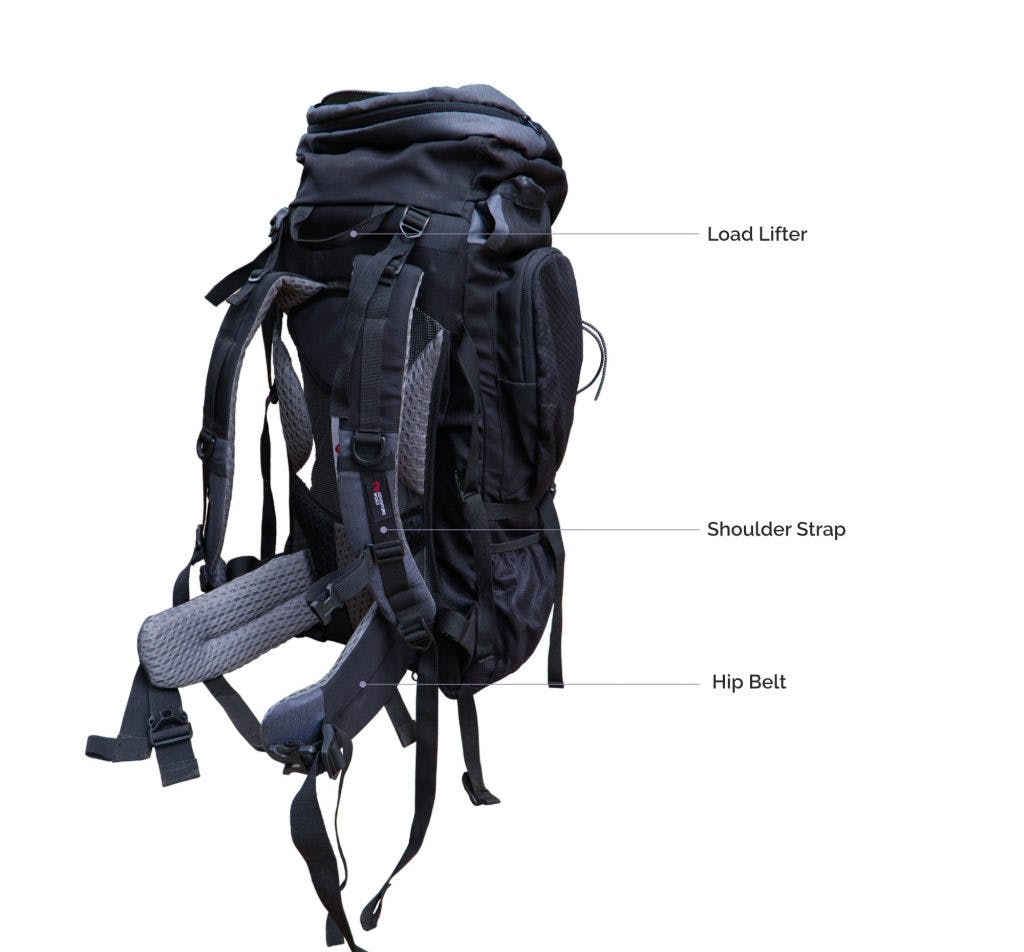 When you use your backpack for several days together, this curve gets strained. So the minute you get home, loosen the shoulder strap and hip strap. This ensures that the curve of the shoulder belt doesn't get damaged easily and lasts longer.
If you have a backpack with a detachable shoulder strap, you can remove it altogether.
6. Follow this procedure to clean your backpack
I suggest you gently clean your backpack after every trek. This reduces the buildup of dirt over time, which will be harder to clean.
– Before washing, remove the frames (if they are removable).
– Use a cotton or soft cloth for washing. Refrain from using a hard brush, or vigorous rubbing.
– Do not use hard detergents. This will damage its water repellent membrane.
I always use Nikwax Cleaners. These are specifically designed for cleaning waterproof mountaineering gear.  You can get it online for around Rs.1,700 – Rs.2,200. It's a worthy investment for cleaning all your gear.
After washing, dry it in direct sunlight. But don't leave it out for a long time lest it gets damaged. 2-3 hours should be enough.
Conclusion:
These are a few simple tips that can make your backpack last you several treks. If you know of any more ideas that have worked for you, do drop in a comment below.
Sign up for our much loved Weekly Mailer
We have terrific trekking tips, trek updates and trek talks to look forward to