A Complete Guide on How to Use GPX Files
Share this story
Trekkers often don't realise the importance of a GPX file on the trek. A GPX file can save your life on a trek or outdoors. A small simple file or a tracking device/app increases your safety on the trek and makes it imperative for anybody going on the trek. Even if you are going with a guide or an organisation, it is useful to have this knowledge.
Here is an in-depth guide to understanding GPX files. As an organisation that stands for trek information, we have the knowledge, practise, and wisdom of using GPX files on all our treks for more than a decade now.
Use these pointers to navigate and read through the guide.
Table of Contents
How to Use GPX Files on Your System
Types of GPX Files: Difference Between KML and KMZ Files
How to Navigate Using Your Phone
GPS Application Feature Overview
How to Follow the Route on a GPX File
Recommended System Settings
How to Record a Trail
Adding Waypoints
Frequently Asked Questions
As a bonus, we've also included links to a couple of stories and articles that you could read on how the GPX files have helped us on treks.

│Using GPX Files on Your System or Laptop
First of all, to open the file, you need to have Google Earth Pro downloaded to your system. Google Earth Pro can be downloaded free of charge here.
Without having the downloaded version, you won't be able to open these supporting files in a web browser.
I strongly recommend going through the file or the recorded path before going on the trek. You get a mental map of how the trail is.
Protip: If you are unable to see the track when you double-click on the file, open the Google Earth Pro application first and then drag, and drop it onto Google Earth Pro.
│Difference Between KML and KMZ Files
The most common formats of GPX files are either .kml or .kmz files. You will see these file formats used to represent geographical data such as latitude, longitude, altitude, tracks, waypoints and other details that help in tracking a location.
Both .kml and .kmz files can be opened in your Google Earth Pro and other GPS applications. These files were developed and came into existence just to be used in Google Earth.
KMZ files are zipped KML files. They combine images with the data on the .kml file to form a .kmz file. KMZ occupies a smaller file space and size as compared to KML. 
Protip: KML files can be read, uploaded and identified by many geo browsers. Applications and software like Google Earth, Google Maps and many other applications read .kml files much easier. However, this does not always hold true for .kmz
│How to Navigate Using GPX Files on Your Phone
You need to have an application downloaded on your phone to open either KML or KMZ files for a trek.
In this guide, we are taking the example of Gaia, a simple and straightforward app that we have been using for many years now. It's available free of cost on Google Play (Android Phones) and App Store (Apple Phones). Similar apps are also available on these platforms.
There are multiple applications that can be downloaded — Geotracker, Alltrails, Wikiloc and other popular apps work very similarly. Few of the features might vary from one app to another. But the basic concept remains the same.
Tip: If you find Gaia a bit complicated, Geotracker is a much simpler version of it.
│Application Feature Overview (Gaia GPS)
This section will give you an overview of the features found on the main screen.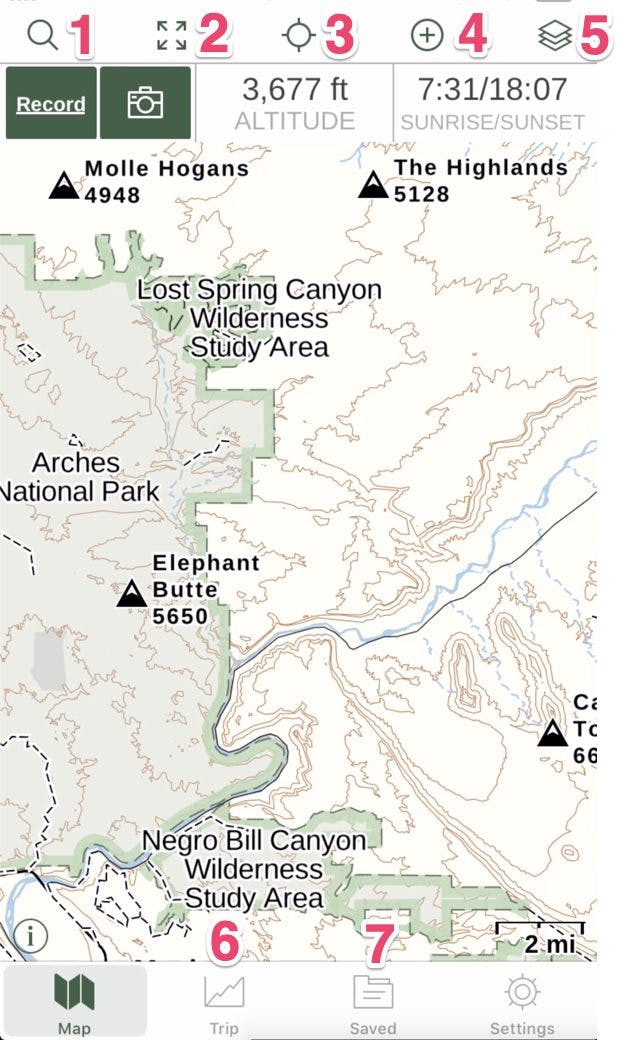 1. Search – Points of interest and prominent trails can be searched using this box. 
2. Full Screen Mode / Map Display Options – Tap to switch the main map into full screen mode. Or long press to toggle on/off the control bars, stats bar, compass, rotation lock, and lock screen.
3. Crosshair – Pinpoint to your current location.
4. Create – Record a track, create a waypoint or route.
5. Layers – Change the map displayed on the main screen. Only one map layer is available without premium subscription.
6. Trip – Shows information about current location/recording.
7. Saved – Find saved tracks, routes, waypoints and maps.
8. Settings – You can change the settings for recording, storing and display
│How to Follow the Route on a GPX File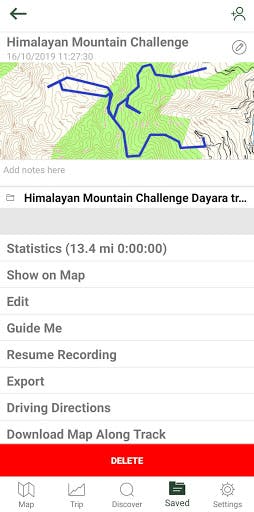 – Click on the 'plus' icon
– Select 'Import File' & choose the GPX file saved/downloaded on your phone
– Click on Saved tab
– Select 'Show on Map'
– Your displayed map would pan to the trek region.
Protip For displaying maps in regions without network connectivity, download maps for offline use (free for Android OS; subscription only service for iOS). Click on the file of that route from the saved tab and select 'Download map along track'.
When you are trekking solo or in a group and without a guide or an organisation, it is important to have a recorded file along with you. There are times when you might take a wrong turn on a trek.
Read this story on how an offline map helps you on the trek.
Recommended System Settings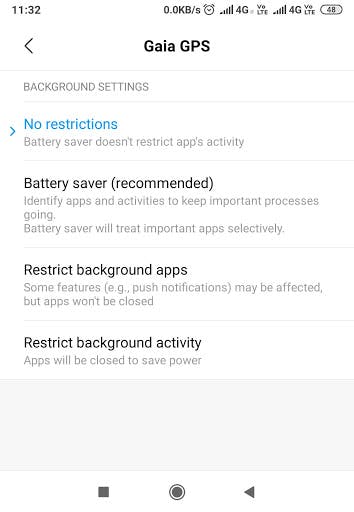 1. Turn on GPS/location service in your phone.
2. Turn off any battery saver app/feature before recording/following a trail using the Gaia GPS app.
3. If you must keep the battery saving feature on, add a battery usage exception to the GPS tracking app.
4. If you have access to the internet, open the GPS tracking app and zoom in to force-load the region's map. This will ensure that the base layer is accessible even without an internet connection.
│How to Record a Trail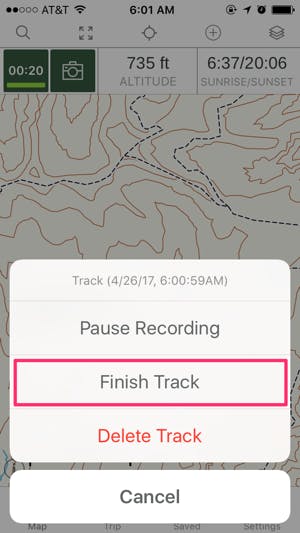 To record tracks on your phone, there are few options on the app — Record, Pause, Delete a Track:
– Tap "Record".
– The timer will start to indicate you are actively recording a track.
– When on the trail, you can add waypoints or markers to identify any landmarks helpful for a trekker. The next section talks about how to add waypoints in detail. 
– To finish recording, tap the track timer and then select "Finish Track".
– Name and Save the track.
Adding Waypoints
A waypoint is a location marker at a specific point that helps you navigate the trail.
– Landmarks – Any easily distinguishable feature like a solitary tree, hut or a temple.
– Viewpoints – Any point on the trail that offers fantastic views.
– Campsites – All possible locations that can serve as a campsite.
– Water Sources – Water sources like streams, rivers, waterfalls, lakes can be added as well. 
– Summit or Pass crossing 
– Rest points
To create a new waypoint at any time, tap the + icon in the top menu & click on "Add Waypoint (My Location)". This anchors a waypoint at your current GPS location.
│Frequently Asked Questions (FAQs)
1. The app crashes while recording a trail. What do I do?
Check if there are too many apps running in the background of your phone. On a trail, you'll most probably not have access to the internet. The phone might find it difficult to identify the location with many apps running. Close the ones you don't need and restart the app.
2. Is Gaia GPS the only app I can use?
No, Geotracker is another app you can use to follow a trail. We have extensively used most GPS-based apps. Geotracker and Gaia are the two worthy apps to have on your phone.
3. I don't have an internet connection. Can I still record/follow the trail on a GPS app?
Yes! All you need to do is turn on your GPS/Location option from the notification shade of your mobile phone and then open the GPS app you plan to use.
Start recording the trail and continue as usual. Once you are done with the trail section/day/trek, click on finish and then manually sync as soon as you re-establish internet connection.
Related Videos
Introducing Do It Yourself Treks by Indiahikes 
How 2 Women Did The Kedarkantha Trek Do-It-Yourself Style
What To Carry On Your Do-It-Yourself Trek 
3 Tips To Make Your Do-It-Yourself Trek Better 
Sign up for our much loved Weekly Mailer
We have terrific trekking tips, trek updates and trek talks to look forward to