Adventureworx WindBlock Lumi Jacket Review - A Warm, Tough Jacket For ...
Share this story
C hoosing a good outer jacket is very important on a high-altitude trek. In the past, I've tried various down and windproof jackets, but this time around I went for something different.
The team at Adventureworx sent us their WindBlock Lumi Jacket to test it out. It was around the same time that I was planning multiple exploratory treks and decided to give it a go. I went in the middle of April, when the snow was melting, but there was still a chill in the Himalayan air.
First Impression
At first glance, this seems like a jacket one can only wear during winter months in a city. It's a rather good-looking jacket – grey-Black on the outside and a vibrant blue on the inside; this jacket can surely make heads turn.
The texture is smooth and comfortable on the inside. It's rugged and tough on the outside. Exactly what you need with you for five long days!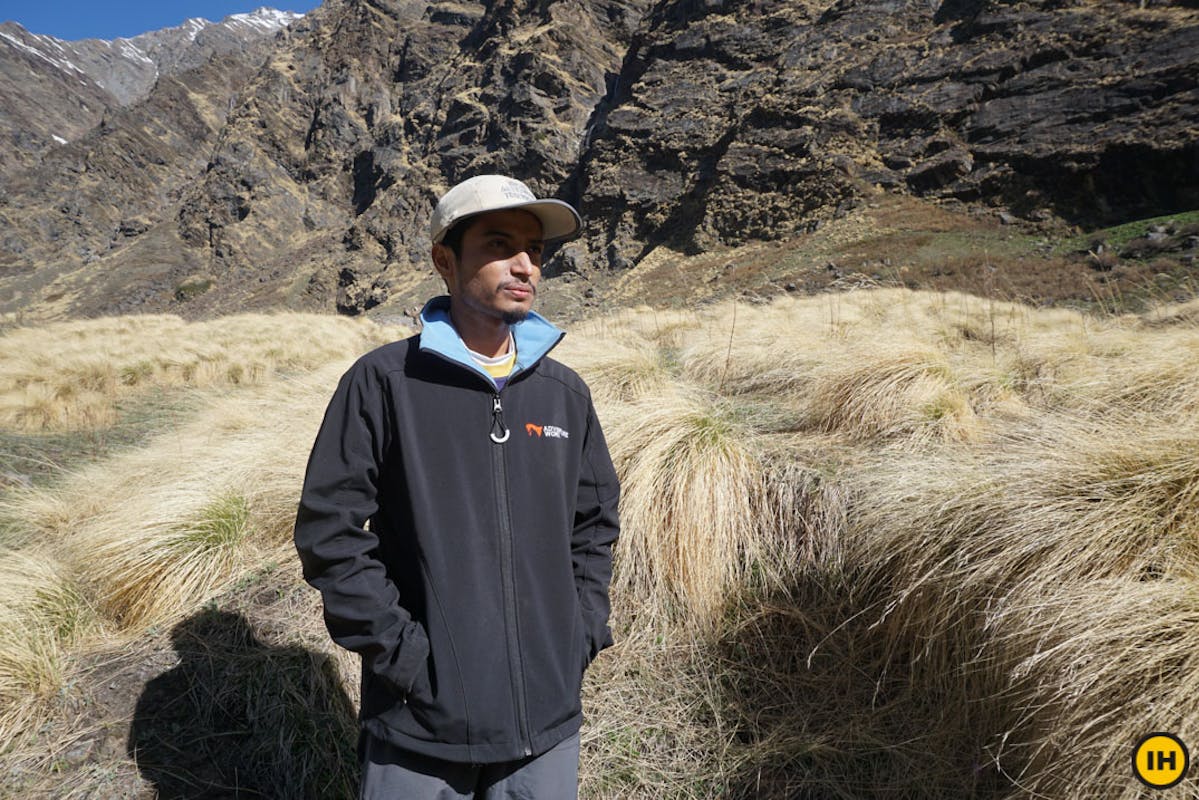 Adjustable sleeves and sturdy zips are major highlights of this jacket.
Warmth – The biggest plus point of the Windblock Lumi Jacket
For any trek, the most crucial feature in a jacket is the warmth. And I was very happy with the way this jacket performed.
One of my campsites at 13,540 ft was set up in the open meadows of a valley, surrounded by a cauldron of high mountains. Soon after sunset, the temperature started to drop. The freezing cold air flowing from the glaciers nearby dipped the temperatures to 2-3 degrees. I usually wear four layers in such conditions.
The high collar is also where WindBlock Lumi Jacket scores a big tick. However, this jacket doesn't have a hood.
Surprisingly with the WindBlock Lumi Jacket on, I had to just wear one full sleeve T-shirt inside. I didn't need any more layers. The fleece lining and the polyester fabric retained my body heat and I was very comfortable.
I've always preferred carrying a balaclava, so not having a hood was not a big issue for me.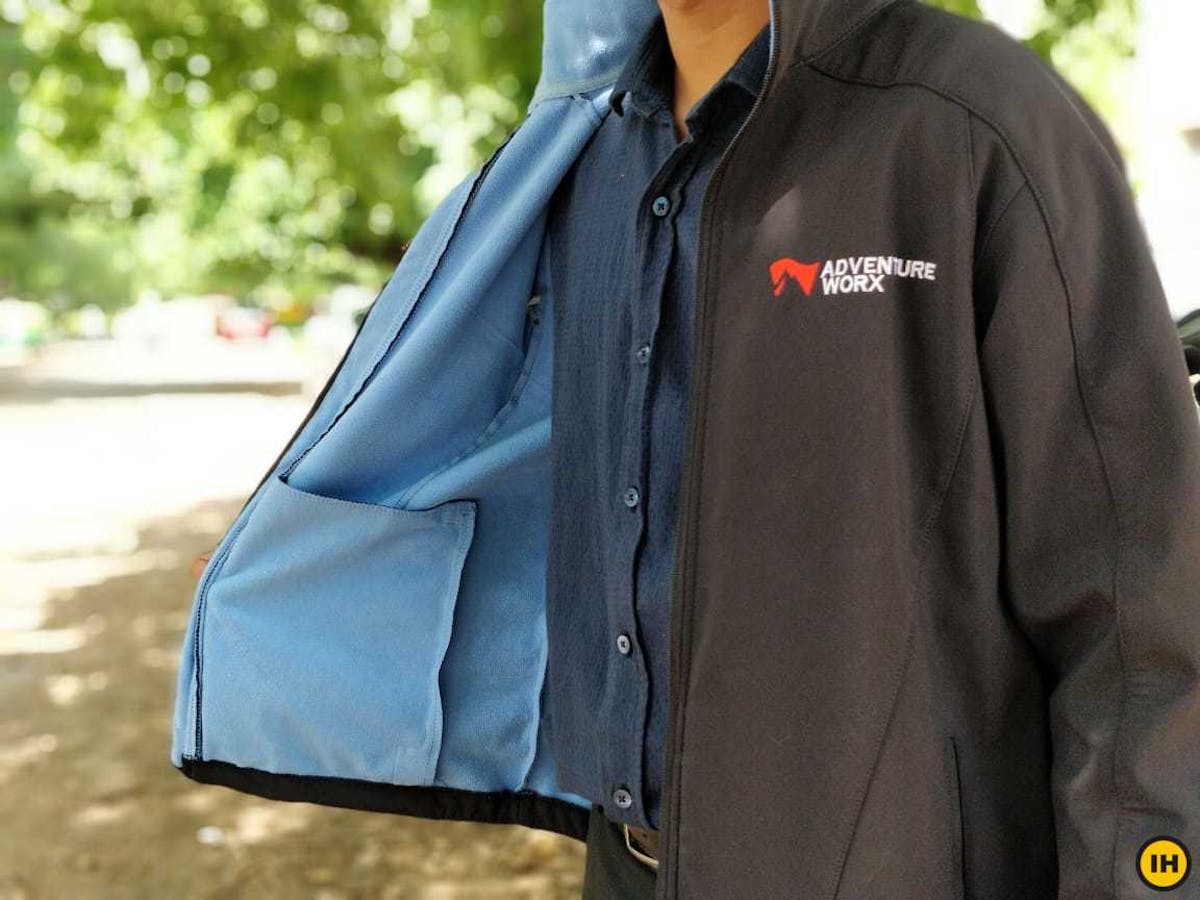 The inner layer of fleece complements the outer layer of polyester to give extra warmth.
Fit – Smart wear for trekkers
One of the main things I liked about this jacket is the fit. I find that most jackets are bulky and make trekkers look like boxes, especially if they have a small body type. This jacket was not bulky. It fit me just right. Don't get me wrong – it's not totally body hugging. You can use it as an outer layer easily. I wore 2 layers of T-shirts underneath and it was still a proper fit for my size 'S' jacket.
The flexibility it offers is wonderful. I didn't feel the jacket hindering any of my physical movements during the trek.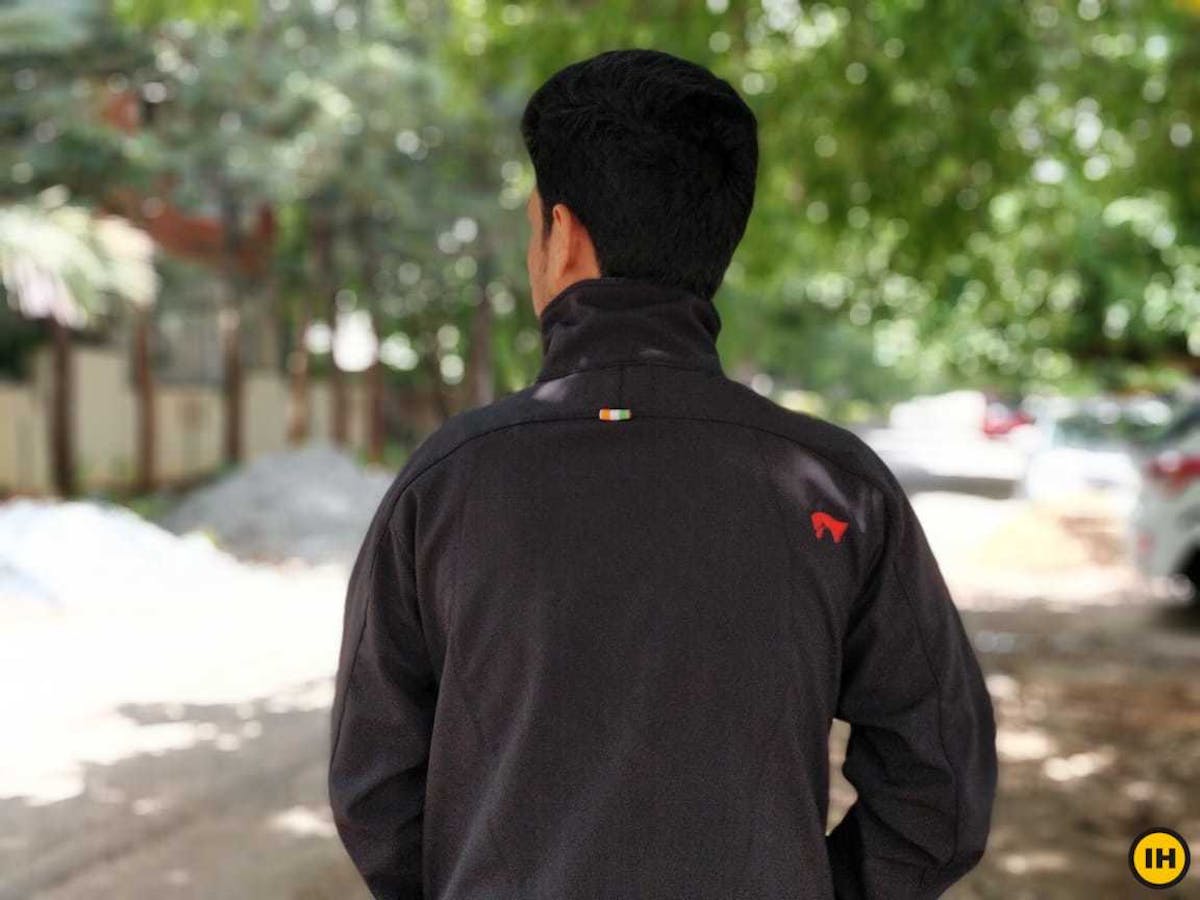 The jacket fit is quite good. This one is an 'S' size.
Pockets – Secure enough to keep valuables
On another note, I always prefer jackets which have deep pockets. Deep enough for me to keep my hands warm. And secure enough to keep a few ready-to-fetch valuables. The WindBlock Lumi Jacket comes with 2 A-line pockets, one on each side. These are big enough to keep your 6-inch smartphone. You can easily fit a point and shoot camera with its cover as well.
The sturdy big zips on the pockets are smooth and easy to use. I always kept my phone and an ID-Card safely secured and zipped inside them.
You can zip the jacket all the way to your chin and keep your neck and chest warm. I did not have to use my neck warmer on the trek at all.
Adjustable sleeves and High Collar
One of the biggest advantages is the adjustable sleeves. You can tighten the sleeves as and when you feel cold. A small velcro at the end can check the air supply that goes inside your jacket. This added feature is not present in most of the jackets that I have used.
I wore the jacket in Bangalore during the winter months before taking it to the mountains. The jacket was warm and useful there as well. The adjustable sleeves give you extra flexibility to use it in cities as well.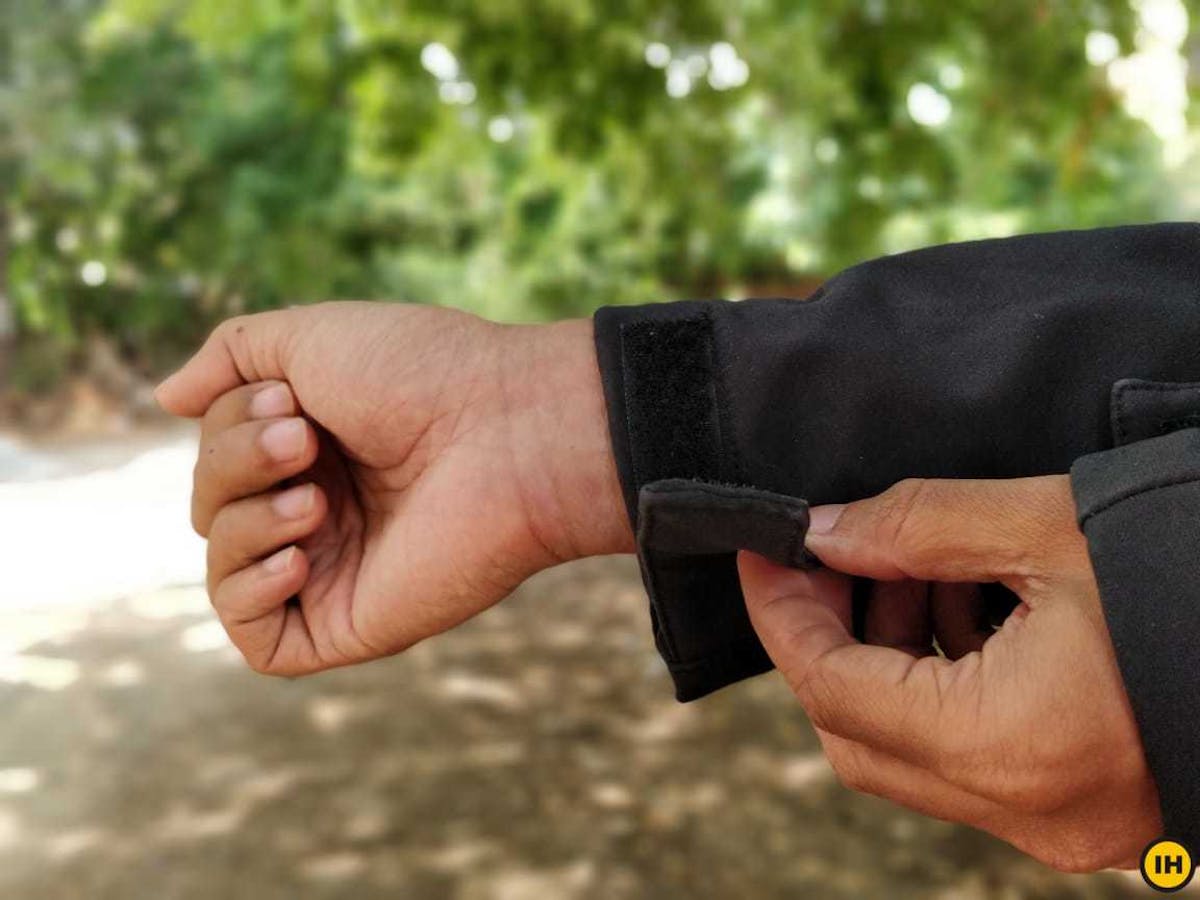 The Jacket comes with adjustable sleeves. This helps in controlling the air inflow.
Material and Weight of the Jacket
The inner layering has fleece with polyester fabric on the outside. It feels smooth on the inside and reliably tough on the outside — just what you need on a trek.
With these two padding materials, the jacket surprisingly weighs just about 570 g.
Packing and Layering
Packing the jacket can be a bit of a tussle. The double layers make it bulkier and hard to squeeze inside a packed backpack. Keep it at the very bottom of your backpack if you're planning to take it on a trek to give extra stability to your backpack.
Maintenance wise this sturdy jacket hardly needs any attention.
Wash and Maintenance – Easily done, no hassles
The jacket is machine washable. After 10 days of using the jacket, I washed it with good results. It dried quickly and the wash didn't seem to affect the material.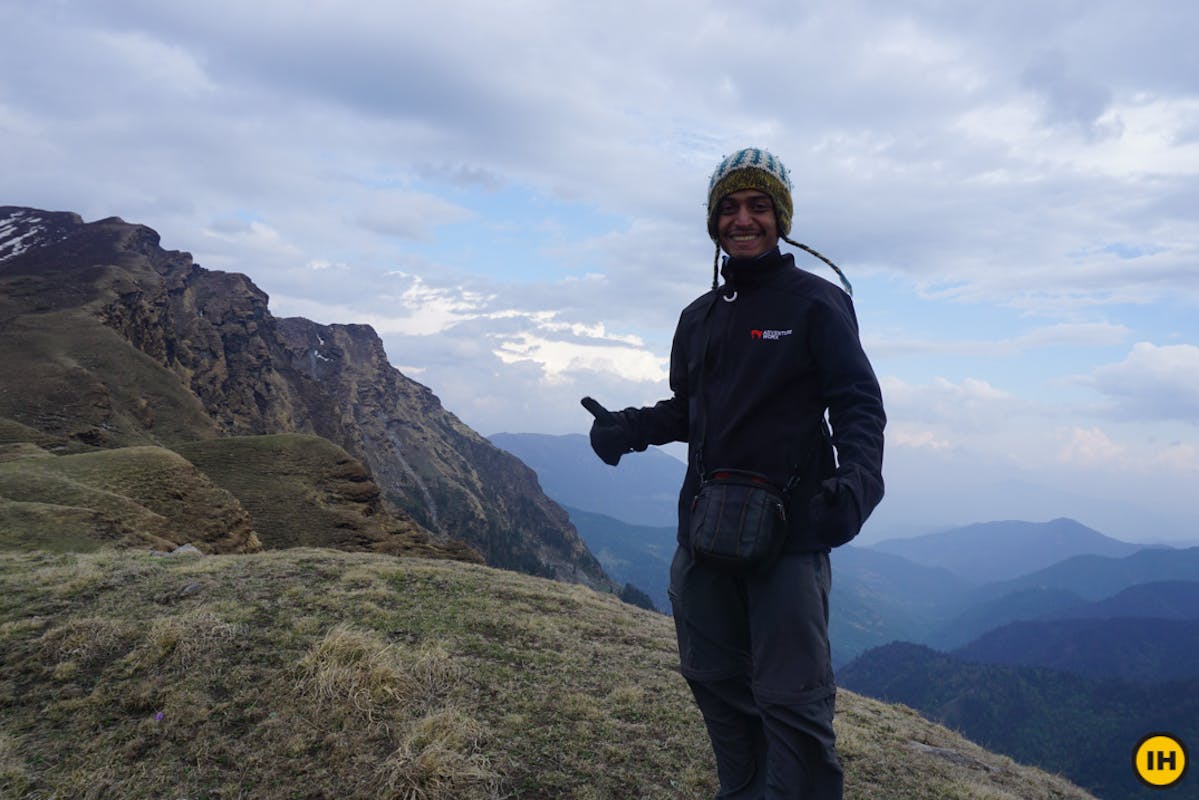 The jacket zips to the chin and protects your neck and chest against the cold, even at sub-zero temperatures.
Water Resistance
Due to the outer polyester layer, the jacket repels water but is not waterproof. You can wear it in a light drizzle, but not in a heavy rainfall. You will have to wear a poncho/ rain jacket above it.
Cost – Slightly upwards
The jacket is priced at Rs. 4,999 and comes with a one year warranty. Although the price is on the higher end when compared to other jackets, it scores at par when compared to the combined price of a fleece and windproof jacket.
Final Verdict
After using the Adventure Worx WindBlock Lumi jacket for 12 days on my high altitude trek, I really liked how it kept me warm. I would go with the final rating of 8 out of 10. If the jacket was lighter, it would have scored full points for sure.
If you think this jacket would suit you, click here to buy this jacket from their official website.
For all Indiahikes readers, there is a special 40% discount. Use coupon code 'ADVENTURE25' to avail this offer.
What you should do now
1. If you want to read more product reviews: Head to our Product Review page.
2. If you want to rent out gear for your next trek: Go to this page, now. We have limited stocks – the sooner you book, the better.
3. If you want to work with us: Head over to our careers page. We have lots of positions open.
4. If you ended up here by chance and were actually looking for treks to do: Then head over to our upcoming treks page. You'll find all our Himalayan treks there.
5. If you want to see the 13 best treks of India: Then get our free guide here.
Sign up for our much loved Weekly Mailer
We have terrific trekking tips, trek updates and trek talks to look forward to