7 Best Monsoon Treks in Karnataka That You Must Do
Share this story
As the spell of the monsoon season has swung in, it's raining in Bangalore almost everyday. Sitting here at the Bangalore office, looking at raindrops splashing on the road and witnessing the plants on our balcony happily dancing to the song of winds, I wonder what it must be like to be on a hillside now. The lush green grasslands beaming with tiny flowers, dreamy forest settings, moss covered tree trunks, gushing water streams - what a beautiful time to trek!
Thinking of a hillside, what better place to trek than western ghats during monsoon? In this article, we have curated seven best western ghats treks that you can do on your own this monsoon. Some of these trails are famous among trekkers and some are relatively less traversed. Nevertheless, all of these treks offer you the essence of monsoon season in their own way. And the best part is, these treks can be done in just a weekend!
Without further delay, let's dive into the details of these treks.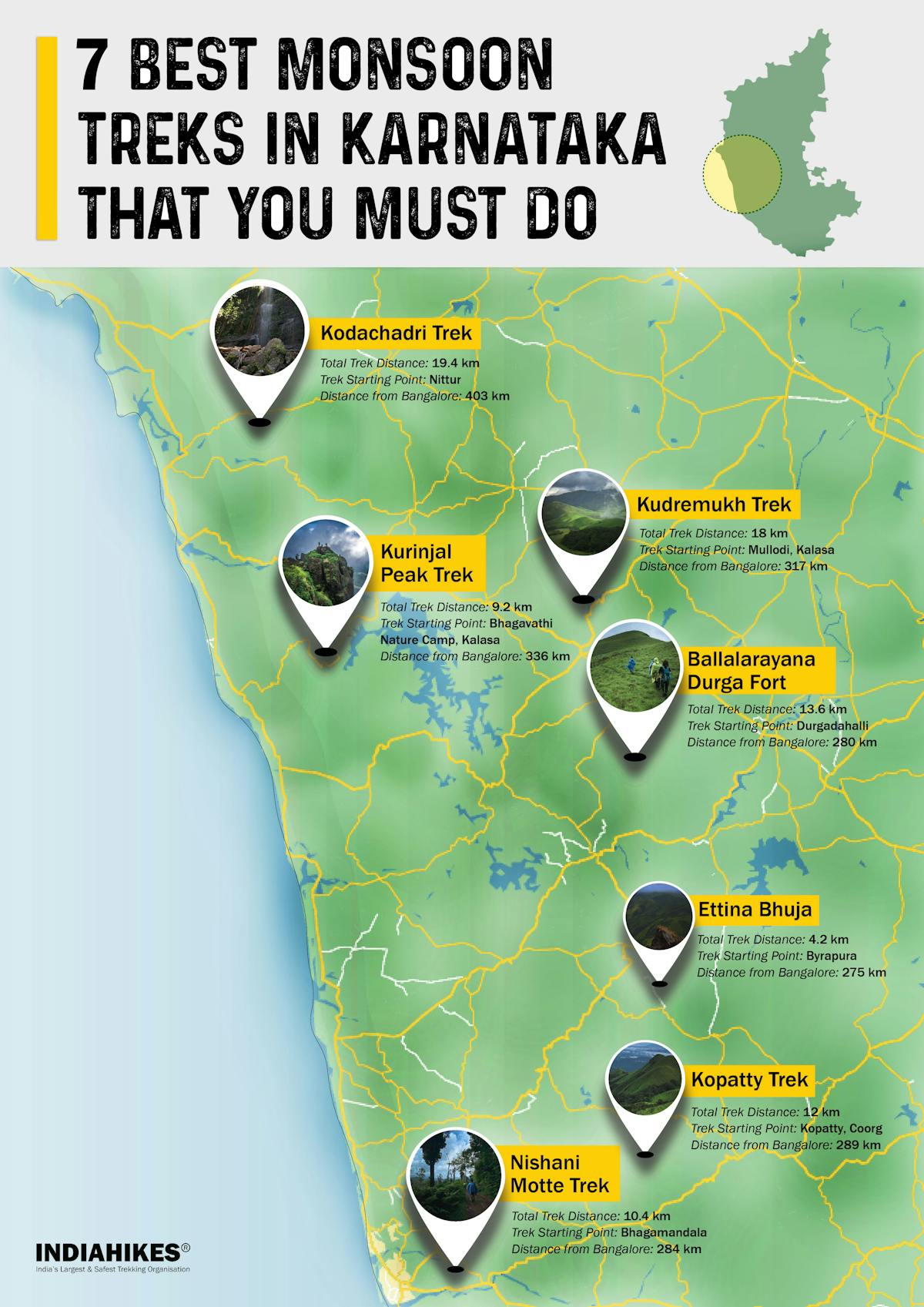 Map showing the relative location of the best monsoon treks in Karnataka. Infographic designed by Shivani Kulkarni
1. Kudremukh 
Total Trek Distance: 18 km
Trek Starting Point: Mullodi, Kalasa
Distance from Bangalore: 317 km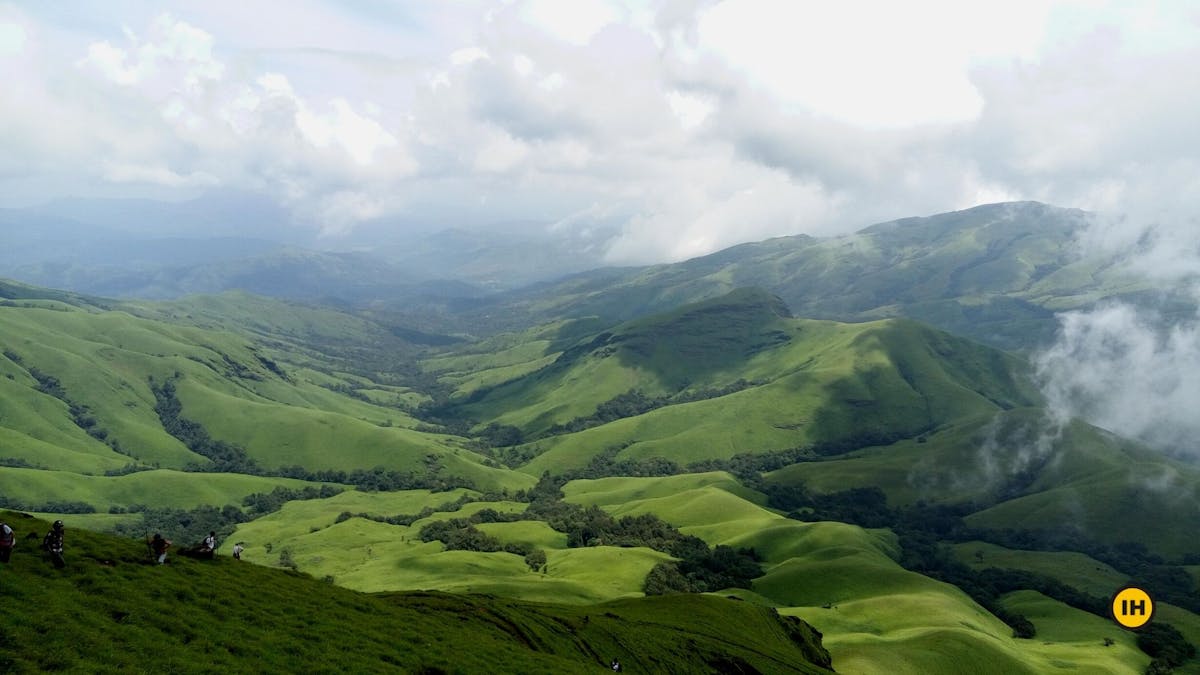 Rolling green hills of Kudremukh Range. Picture by Meghana Jambhe
Nestled in the heart of the western ghats in Chikmagalur district, Kudremukh is a perfect monsoon trek. It comes under the Kudremukh National Park which is the second-largest wildlife protected area in the western ghats. Situated at an altitude of 6,207 ft, Kudremukh is the 2nd highest peak of Karnataka after Mullayyangiri.
Trekking in the dense forests and lush green grasslands, adventurous stream crossings, rich variety of flora and fauna, and stunning view of rolling green hills from the peak are some of the things to expect from the Kudremukh trek.
2. Kurinjal Peak
Total Trek Distance: 9.2 km
Trek Starting Point: Bhagavathi Nature Camp, Kalasa Main Road
Distance from Bangalore: 336 km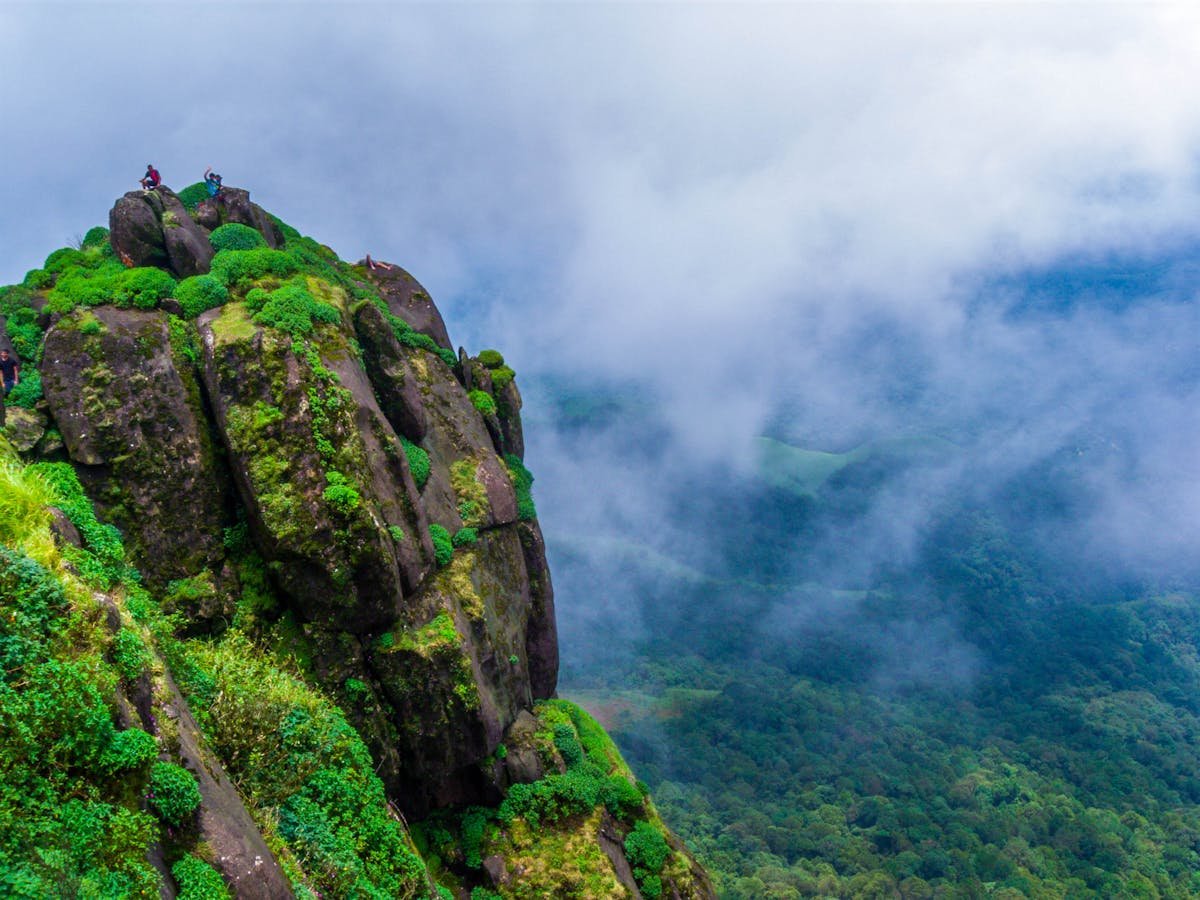 Imposing Kurinjal summit. Picture by Bhajish
Kurinjal Peak Trek is one of the lesser known treks in western ghats. Though Kurinjal is also situated in the Kudremukh National Park, with Kudremukh taking the spotlight, it continues to remain as one of the offbeat treks to do in western ghats. 
With half the total trek distance compared to Kudremukh, it is at par in terms with Kudremukh, in terms of adventure and experience of the whole trek. The trail passes through the tropical forest of Kudremukh National Park, multiple small streams and lush green meadows. Along with these, a steep climb to the summit is the best highlight of this trek.
3. Ballalarayana Durga - Bandaje Arbi
Total Trek Distance: 13.6 km
Trek Starting Point: Kalabhyraveshwara temple, Durgadahalli
Distance from Bangalore: 280 km
Trekking under the dense tree cover filled with scents of flora is a treat in the monsoon. Picture by Harikrishnan
Unknown to many, Ballalarayana Durga - Bandaje Falls trek is a combination of two treks -- Ballalarayana Durga and Bandaje Arbi. People often miss out on going to the snout of the Bandaje Arbi. Ballalarayana Durga trek lies in Chikmagalur, nestled in the Western Ghats of Karnataka. Chikmagalur is known for its coffee plantations and lush greenery. This trek adds a unique flavor to its landscape.
The Ballalarayana Durga trek holds an abandoned fort from the 17th century at its peak, and a gushing waterfall in the end. Watching the water falling from the snout to almost a 1,000 feet below is a sight that sets your hearts racing! And just for this view, the Ballarayana Durga - Bandaje Arbi trek is a must do.
4. Kopatty
Total Trek Distance: 12 km
Trek Starting Point: Kopatty, Coorg
Distance from Bangalore: 289 km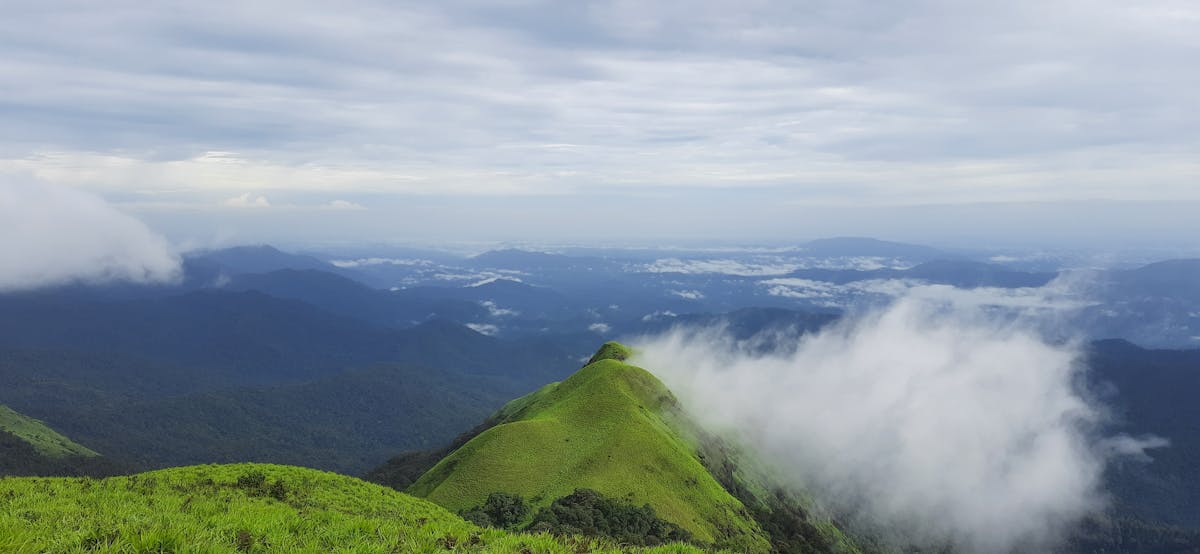 View from the Kopatty Top - one of the finest treks in Coorg. Picture by Indiahikes Team.
The Kopatty Trek is an ideal day trek in Coorg. The trail climbs past landscaped coffee plantations, snakes through deep forests and bursts out to the grassland, to top the summit in a span of 3 hours.
If there is any western ghats trek that has the best surprises combined with an exciting variety of flora and fauna, it has to be the Kopatty trek. It's a must do trek in the Coorg region.
5. Kodachadri
Total Trek Distance: 19.4 km
Trek Starting Point:  Nittur
Distance from Bangalore: 403 km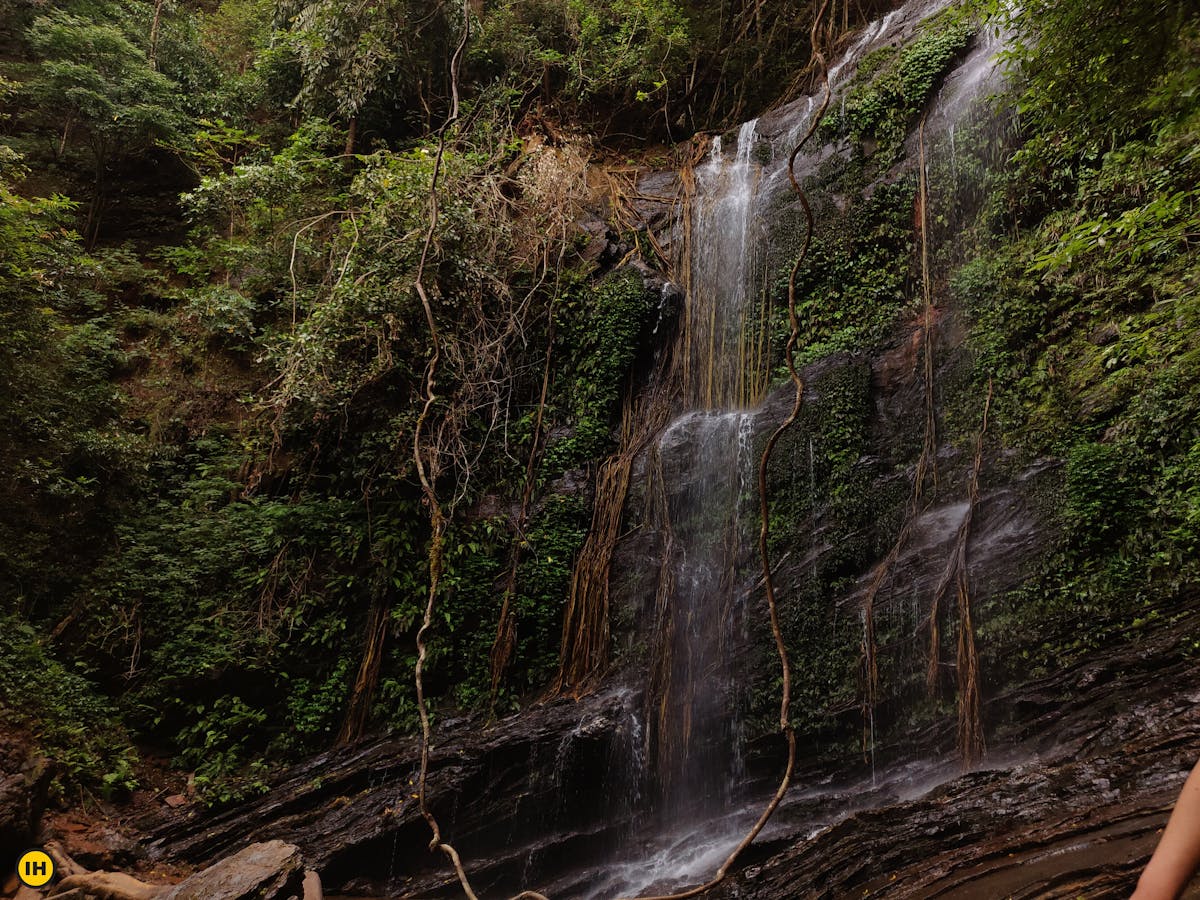 Beautiful Hidlumane Falls on the way to Koadchadri peak. Picture by Sumukha Gargesh
Kodachadri is one of the most spoken-about trekking trails in Karnataka. Located in the Shimoga District, Kodachadri lies in the heart of the Mookambika Wildlife Sanctuary.
Kodachadri Trek takes you through a quaint village setting with paddy fields, thick forests, marvelous grasslands, and a waterfall that will make you go weak on your knees. The rolling lush grasslands and hills surrounding the peak is a sight to behold.
Not just this, Kodachadri has a rich history that dates back to 7th AD. It's a rare western ghats trek that is not just about the views and adventure but also filled with many interesting tales of history and mythology. 
6. Ettina Bhuja
Trek Distance: 4.2 km
Trek Starting Point: Sri Nanya Bhairaveshwara temple, Byrapura
Distance from Bangalore: 275 km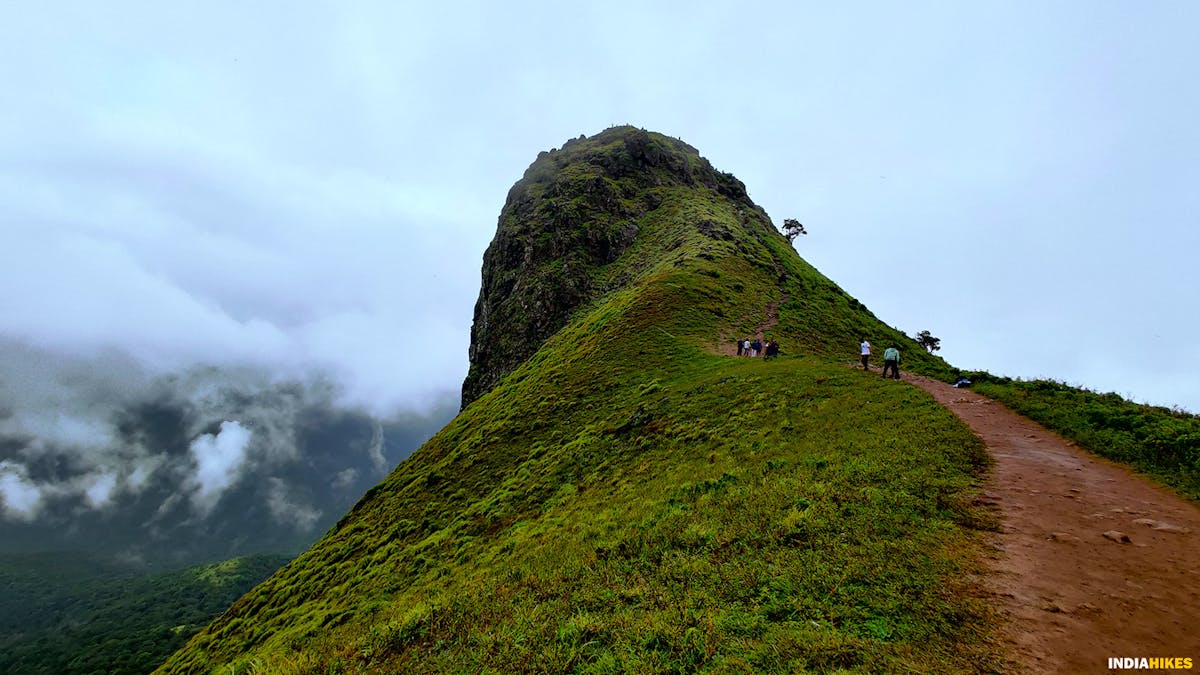 Ettina Bhuja summit seen as soon as you exit the forest section. Picture by Manasa N L
Ettina Bhuja is part of the Charmadi range at an altitude of 4,265 ft. It is situated in the Mudigere range of Chikmagalur district. Panoramic views of the Charmadi range and Shishila valley can be seen from the peak.
Ettina Bhuja is a right mixture of forest and grassland. Half of the trek is in the dense forest and the other half is in the open grassland that offers breathtaking views of the surroundings. The summit climb here is the most thrilling part of the whole trek.
7. Nishani Motte
Total Trek Distance: 10.4 km
Trek Starting Point: Bhagamandala
Distance from Bangalore: 284 km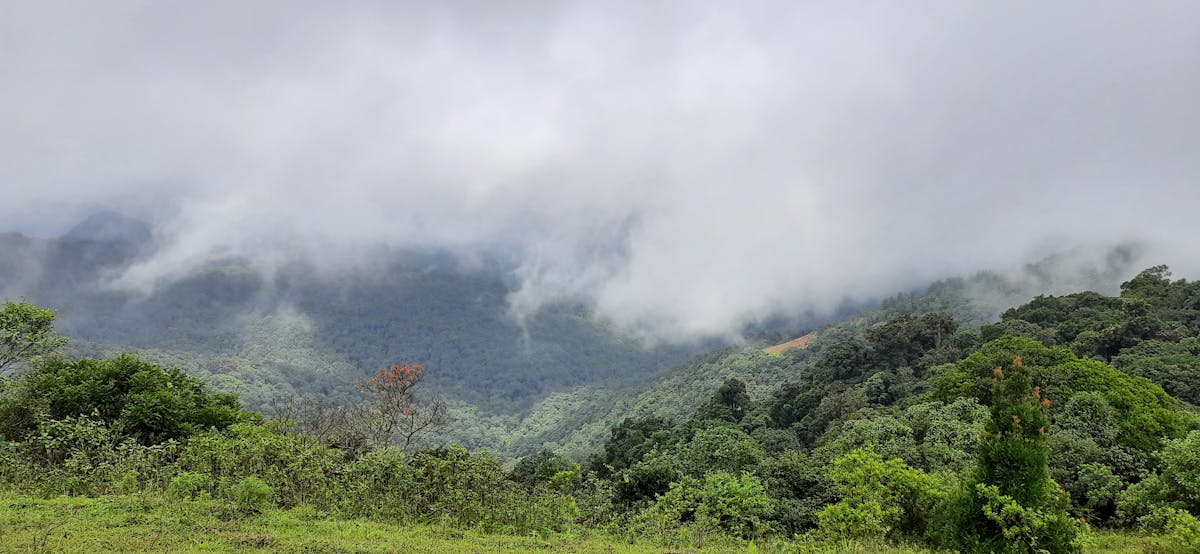 Breathtaking views as seen from one of the clearings on Nishani Motte trek. Picture by Indiahikes Team
Nishani Motte is one of the lesser known trails in Coorg. Starting out in rich shola forests and meadows, the trail follows an impressive ridge walk to the summit. The peak offers a spectacular view of the layers of the Brahmagiri range. 
This is a must do if you are looking for a less crowded, not frequented, pristine trail to trek in.
This brings us to the end of must-do monsoon treks in Karnataka. Having said that, trekking in the monsoon comes with its own challenges. So preparing yourself mentally and physically for a trek is vital, to be able to enjoy the whole experience.
With the pretty views, you will also have to deal with heavy rains and slippery sections. In order to better equip yourself for the trek, go through the packing checklist mentioned in the documentations of these treks. 
Leeches are an inevitable part of monsoon treks in western ghats. Go through this video on how to deal with leeches - https://www.youtube.com/watch?v=FhvfHraIdKM
With these tips, I hope you will be better prepared and get to experience some of these treks, this monsoon. Do let us know about your experience in the comments below.
If you are looking for treks near your city, you can check our Trek Library - https://indiahikes.com/do-it-yourself-treks
Finally, if you can help us document these treks further, or new treks that trekkers can do on their own, do apply to be a Remote Trek Documenter. 
It will greatly help us take DIY trekking forward in our country!
Sign up for our much loved Weekly Mailer
We have terrific trekking tips, trek updates and trek talks to look forward to