Top 4 Stunning Treks from Manali
Share this story
Top 4 Stunning Treks from Manali
Category
By Latika Payak
2023-06-07
Today, I want to start by sharing some great inside news — we're about to inaugurate our new Indiahikes campus in Manali! This is a lovely place inside apple orchards where trekkers can come for their stay, briefings, collect their rentals, and offload their extra luggage.
Arjun Majumdar, founder-CEO of Indiahikes, shares an insight about why the Manali Campus is so significant. 
"Manali is excessively commercialised. For a long time, the Indiahikes experience that we were so known for was being compromised. Also, our staff was finding it depressing to have prolonged stays in hotel rooms. 
"We now have our most beautiful campus, set in the middle of an apple orchard and bordering the jungle. We can literally start trekking out of our tents!"
"It has been late, but I believe it is going to be our most beautiful campus ever," he says.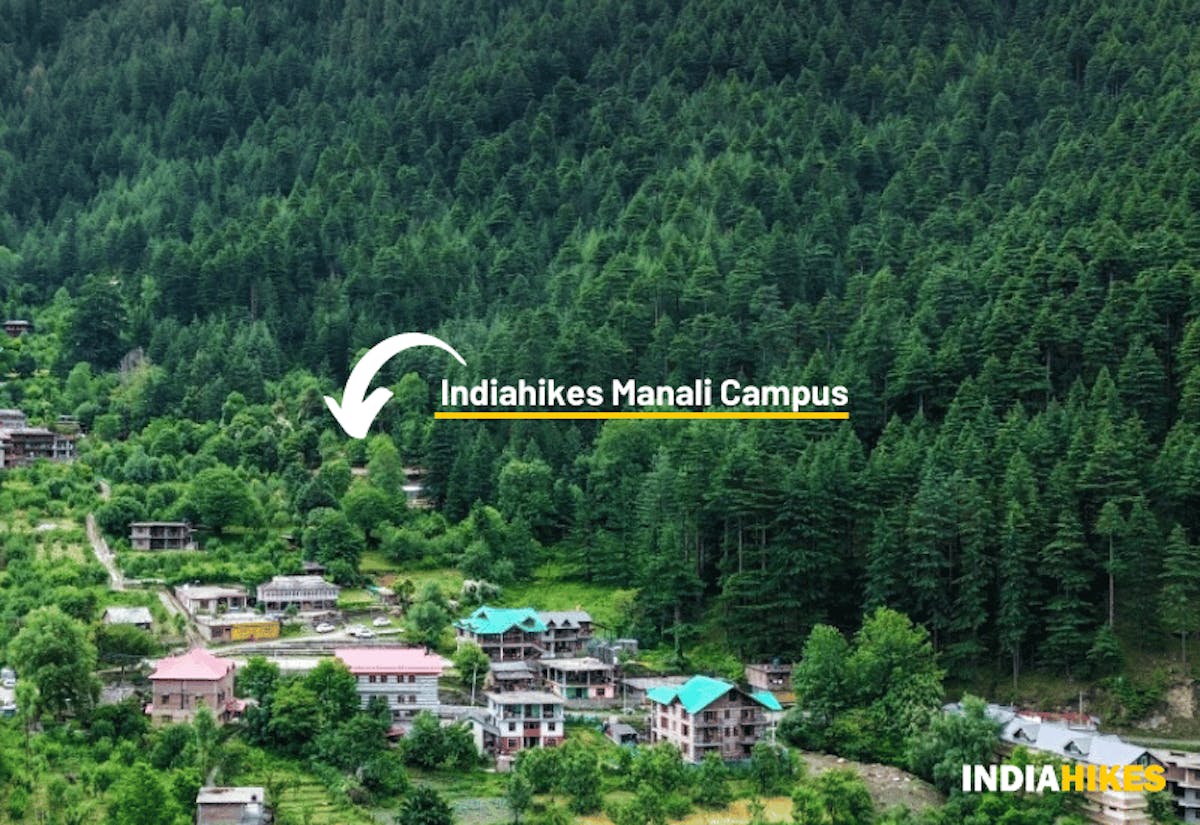 The arrow points to the location of our Manali campus in Sarsai village, in the middle of an apple orchard, bordering the jungle. Photo by Jothiranjan.
But this blog is not about our campus. I want to talk about four stunning treks that you can do out of Manali. 
I'll start with the most underrated gem. 
1. Chandrakhani Pass trek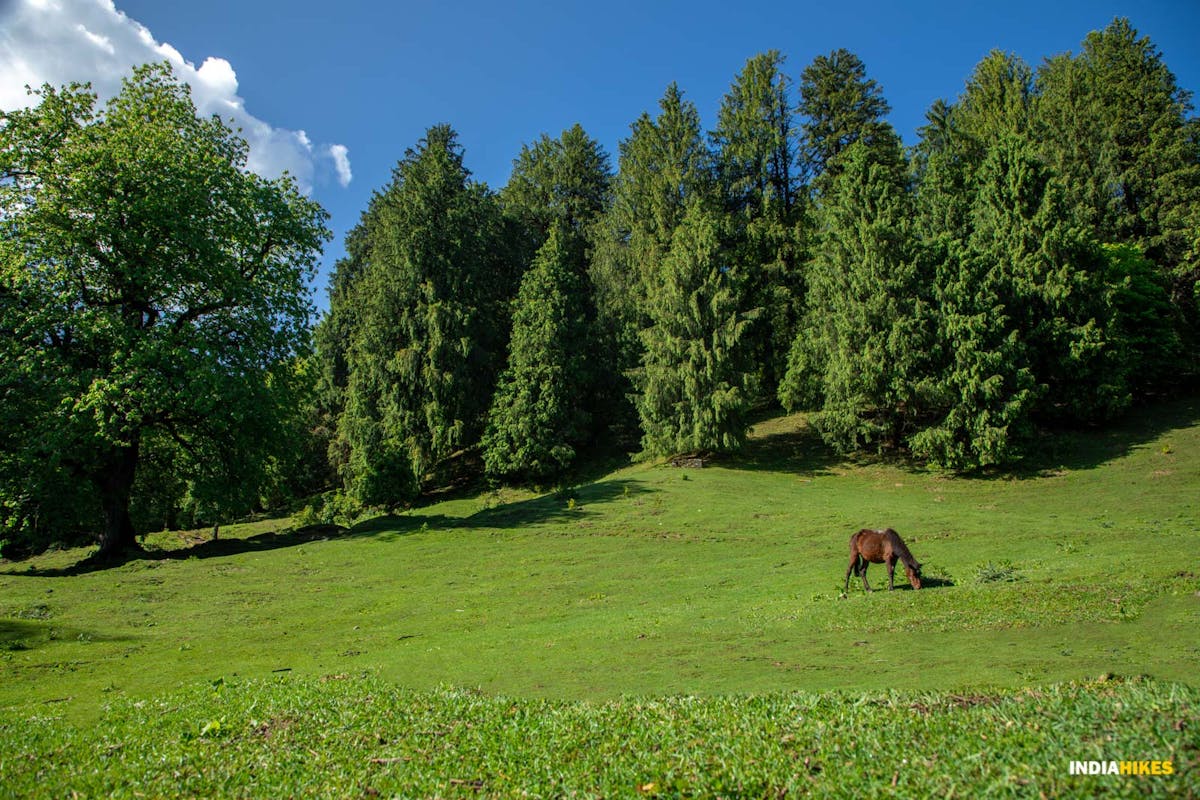 This is our greenest trek. The greenery changes all the time, making it a kaleidoscope of green that we rarely come across. Photo by Jothiranjan.
Difficulty: Moderate  (Level 2) | Duration: 5 days | Highest altitude: 12,185 ft
Chandrakhani Pass is not a new trek in Indian trekking circles. Along with the ancient stories of Naggar (where the trek starts) and the village with strange customs, Malana (where the trek ends), this route is well known. However, this trek is not trekked on much during the months of July and August, making it totally secluded.
While the other treks are crowded, the Chandrakhani Pass is a very secluded trek this season. It is easy on the legs as well. For those starting out on Himalayan trekking, this trek is an ideal one to start with.
The trek is also known for the beauty of its forests on either side. The forests are cool, dark, and offer a lot of variety. At times, you are under deodar trees; at others, you have maples over you, then oaks.
Once outside the tree line, you have a clear sky, and views of both the Pir Panjal and Dhauladhar ranges dominate the horizon. 
Finally, the ridge walk to the summit is rare. It's almost like walking on a cornice to the summit (in this case, the pass). The adventurous thrill of getting to the pass is high.
View the Chandrakhani Pass trek
2. Beas Kund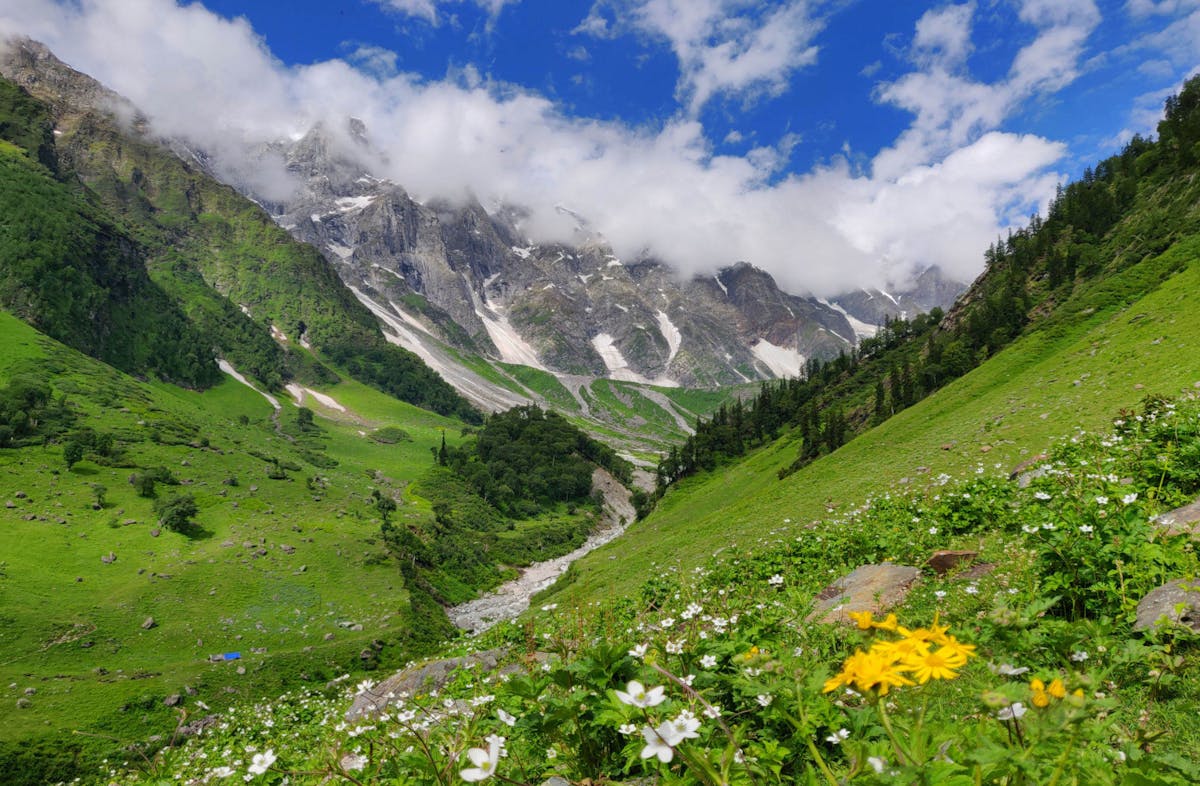 The luxuriant valley and flower beds of the Beas Kund trek. Photo by Nitesh Kumar. 
Difficulty: Moderate  (Level 1) | Duration: 4 days | Highest Altitude:  12,772 ft
Beas Kund has become a favourite among those who have done it. 
Among all our treks in Himachal Pradesh, it struck us how strongly our trek leaders were recommending the Beas Kund trek. They were smitten by the mountain views! 
"It gives you close, base-to-summit views of big mountains like Friendship Peak, Shitidhar, Ladakhi, and Hanuman Tibba. On a clear day, you'll also be able to spot Mt. Indrasen and Deo Tibba of the Pir Panjal range," Nitesh Kumar, one of our senior-most trek leaders and explorers, told me. These kinds of views are usually reserved for hardcore mountaineers after days of rigorous climbing. And here was Beas Kund, offering these views within 4 days of trekking. 
So if you have 4 days out of Manali, this is a trek you must choose. This trek is suitable for anyone with a good fitness level, whether you're a beginner or a seasoned trekker.
View the Beas Kund trek
3. Bhrigu Lake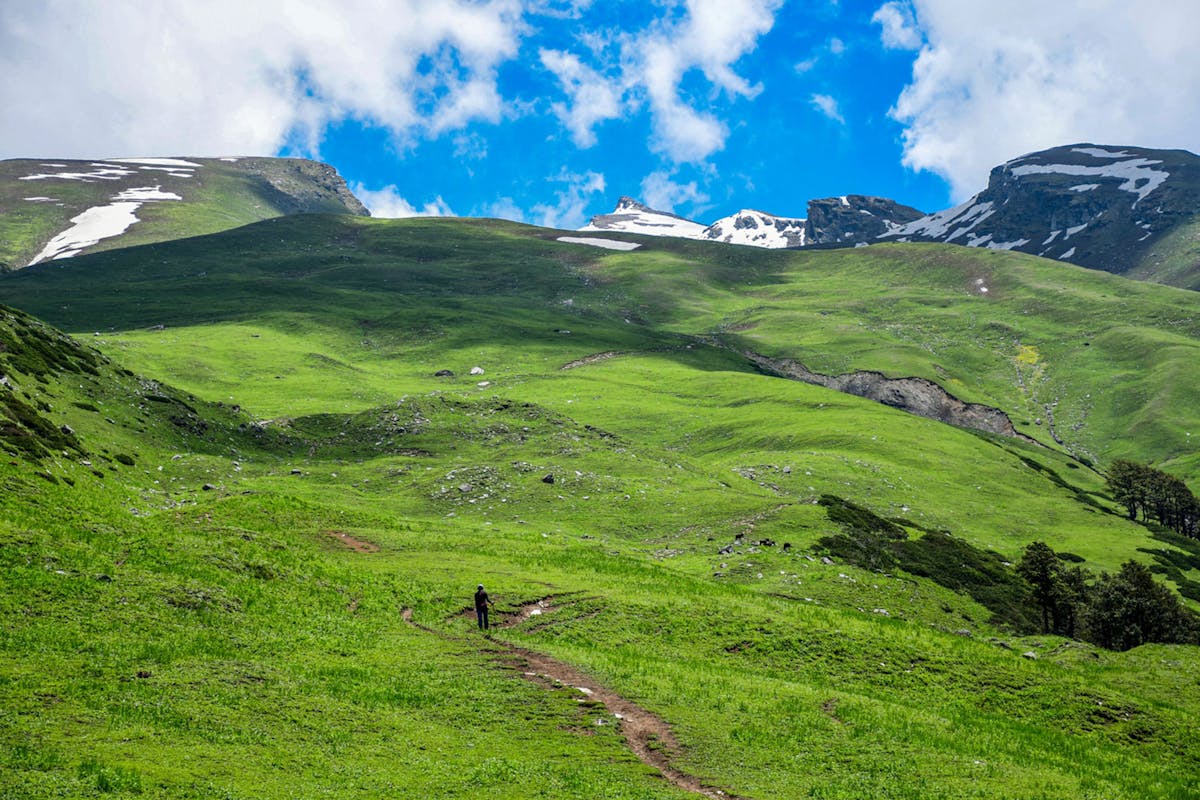 The astounding grasslands on the Bhrigu Lake trek. Photo by Gatreddi Avinash. 
Difficulty: Moderate (Level 2) | Duration: 4 days | Highest Altitude: 14,009 ft
This is the most misunderstood trek in Himachal. For one, most people think it is an easy trek. It is not. It is a steady climb all the way to 14,000 feet to reach Bhrigu Lake.
Secondly, most assume Bhrigu Lake is the attraction of the trek. While the setting of the lake is superb, it is the grasslands of the trek that will astound you. Every time our trek leaders do the trek, they fall more in love with it. The texture and colours of the grass change every few feet as you climb through them. 
The grasslands are fresh, green, and expansive, stretching as far as the eye can see! From these grassy knolls, we see the mountains of Pir Panjal and Dhauladhar dominating the skyline.
Stepping out on the other side of the lake, the Panduropa side of the slope is another treasure of green that stuns the eye. 
Finally, the Bhrigu Lake trek is beautiful and extremely adventurous to get there. Trekkers love the thrill of climbing to 14,000 feet above the lake. In the alpine section, you are likely to find a lot of snow patches, even until July.
View the Bhrigu Lake trek
4. Miyar Valley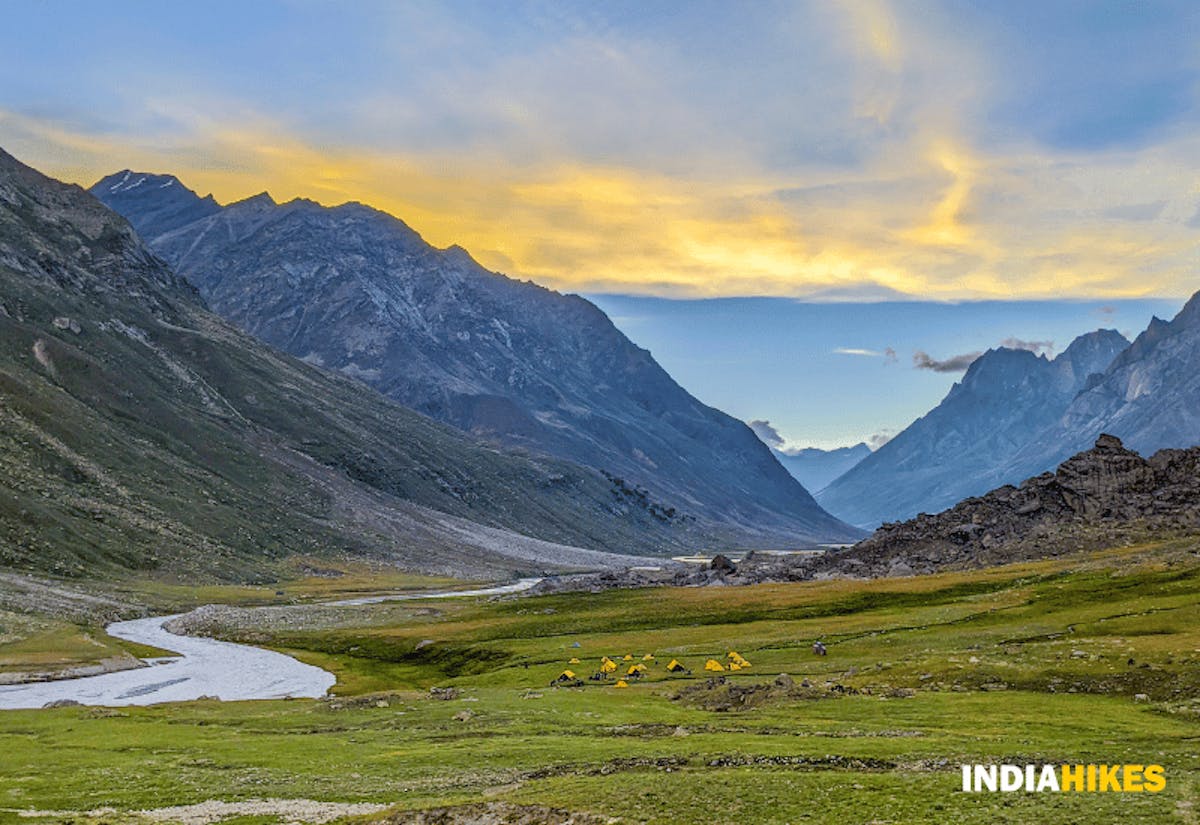 The striking colours of Miyar Valley. Photo by Tuhin Rao. 
Difficulty: Moderate (Level 3) | Duration: 8 days | Highest Altitude: 13,202 ft
If you have not trekked in Lahaul, then you have not experienced real trekking.
"Many people compare Lahaul to Spiti and Ladakh. But Lahaul is nothing like these regions. It's completely different, with barren landscapes interspersed with bursts of green and an abundance of colours. You'll find it hard to imagine that such an oasis can exist in the middle of a desert," says Arjun Majumdar, founder-CEO of Indiahikes, who was stunned to witness the beauty of Lahaul for the first time at the age of nine.
The location of the Miyar Valley trek makes it very special. It lies in the heart of Lahaul, between Zanskar and Chamba. 
The route to this valley alternates between remote mountain valleys, quaint villages, and flower beds dominated by the overwhelming presence of Himalayan orchids. The rugged terrain mixed with the greenery of Lahaul is a striking contrast. Added to that, the colours of Lahaul make the trek more verdant. 
But it is a slightly challenging trek. Every day, there are long distances to cover. So ensure you get extra fit for this trek.
View the Miyar Valley trek
Bonus Trek - Pin Bhaba Pass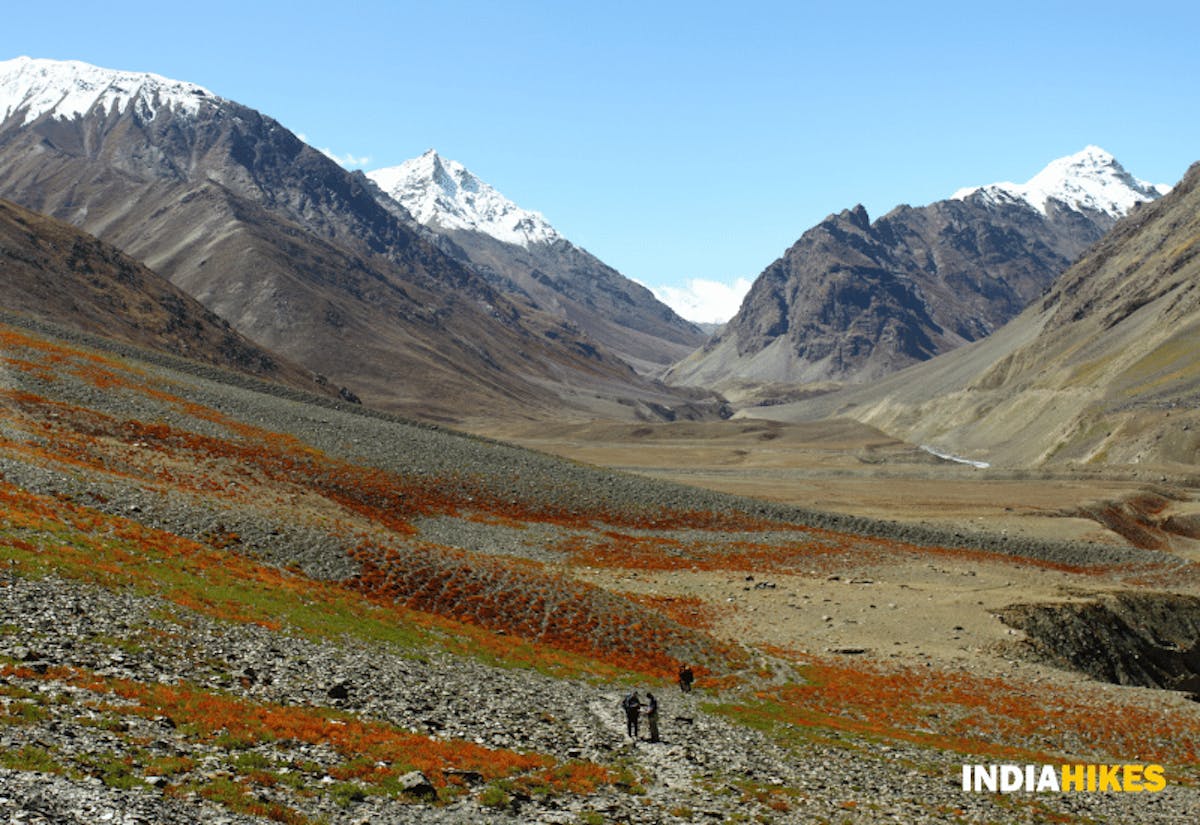 The stunning yet stark landscape of Pin Bhaba Pass trek. Photo by Dr Jitendra Tanna. 
Difficulty: Difficult (Level 1) | Duration: 9 days | Highest altitude: 16,105 ft
Here's a bonus trek that doesn't technically start from Manali. But it ends at Manali. You get to Manali after you cross a mountain pass from the green Kinnaur to the brown deserts of Spiti. 
Pin Bhaba Pass is hands down the most dramatic pass crossing trek on our list. That is a bold statement to make. Especially when we have so many pass crossing treks.
Here's a page from Arjun's diary, which he wrote on the Pin Bhaba trek. It makes for a very captivating reading, almost like events are unfolding before you: 
I remember it being early in the morning; the sun had just broken out in the valley below. The valley was awash with the colours of the early morning sun. The colours took me by surprise. The valley was a deep green; in the golden light, it was beginning to turn a lighter hue.
The higher hillsides, where some rare wild bushes grew, were bright orange. The white snow summits above them made for quite a contrast. At 15,000 ft, I was still climbing to the pass. It surprised me. From that altitude, I didn't expect to see such richness of colour.
An hour later, we were at the pass at 16,100 feet. On the other side, Spiti. I had not expected to see a valley that was pink in colour. But there it was, right in front of me, miles and miles of pink. How could the earth turn pink?
Even now, I cannot imagine how, in less than an hour, the lushness of green could change to the most unlikely colour of the earth — pink.
The rewards of doing the Pin Bhaba Pass trek are unparalleled. You need some trekking experience and good fitness to do the trek. It's a trek that will test your endurance and your mental grit as well.
View the Pin Bhaba Pass trek
That brings us to the end of the top treks to do right out of Manali.
These are best done in June, July, August, and September. 
June would have snow patches. July and August are lush green months, albeit with some 
monsoon showers. September is when the green valley transforms into a golden yellow. 
Many of our trek groups are already full, and I don't want you to miss out on trekking in Himachal, especially out of Manali. I hope this email serves as a timely reminder for you. 
If you have any questions, drop them in the comments below :) Our team will address them promptly.
Sign up for our much loved Weekly Mailer
We have terrific trekking tips, trek updates and trek talks to look forward to