Feeling Adventurous? 6 Magical Winter Treks in the Himalayas for Febru...
Share this story
While trekking in December started as early as 2010, trekking in the peak snow months of January and February opened only in 2017. 
We had some anxiety about the snow earlier. February snowfall can occasionally be too much! Over the years we understood that treks in February are not only feasible but also breathtakingly beautiful. There was no turning back after that. We opened up our favourite trails for trekkers in January and February. Last year we had our highest February numbers. 1,170 trekked in February.
As a mountain lover, if you're looking to start the year on a high, plan right away. It's already late for February. Many of the groups are getting filled.
What is special on February
Silent and snowy forests (absolutely no crowded trails)
Vast expanses of snow (a carpet of snow everywhere)
Frozen lakes 
Bright blue skies (the bluest skies are in February. As a result the mountain views are to die for)
Today I have put together a photo story of the treks. I don't have to tell you much. The photos do the talking.
Our Top 6 magical treks in February:
Difficulty: Easy – Moderate | Level 2
Location: Central Uttarakhand, Basecamp Sari, district Rudraprayag
Duration: 6 days (Including travel to and from the basecamp)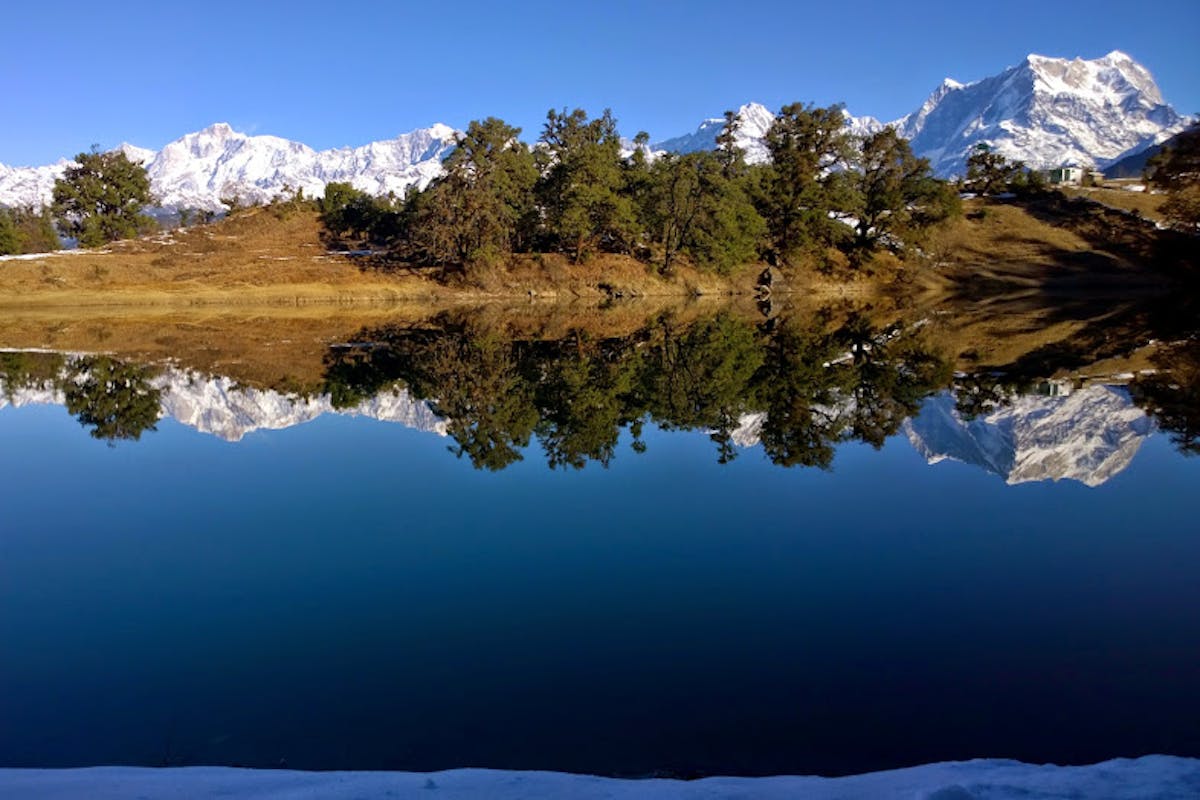 You must not miss the sight of Mt. Chaukhamba from Deoriatal. At 7,138 metres, Mt. Chaukhamba is one of the tallest mountains in India. It dominates the skyline at Deoriatal. Trekkers spend hours gazing at the mountain, so captivating is the image. Photo from Indiahikes Archive.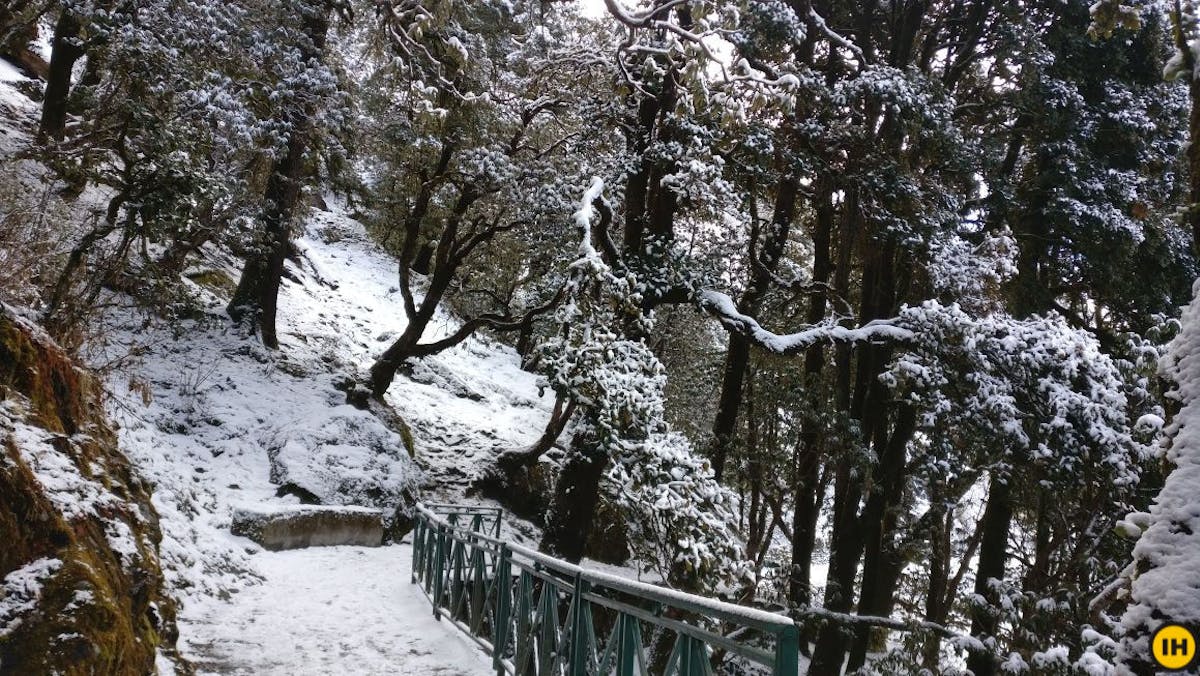 The Deoriatal Chandrashila trek is in the heart of the Kedarnath Wildlife Sanctuary, which is heavily forested. Here you see the trail, after a snowfall, going towards Tungnath. Photo by Chandrasekhar.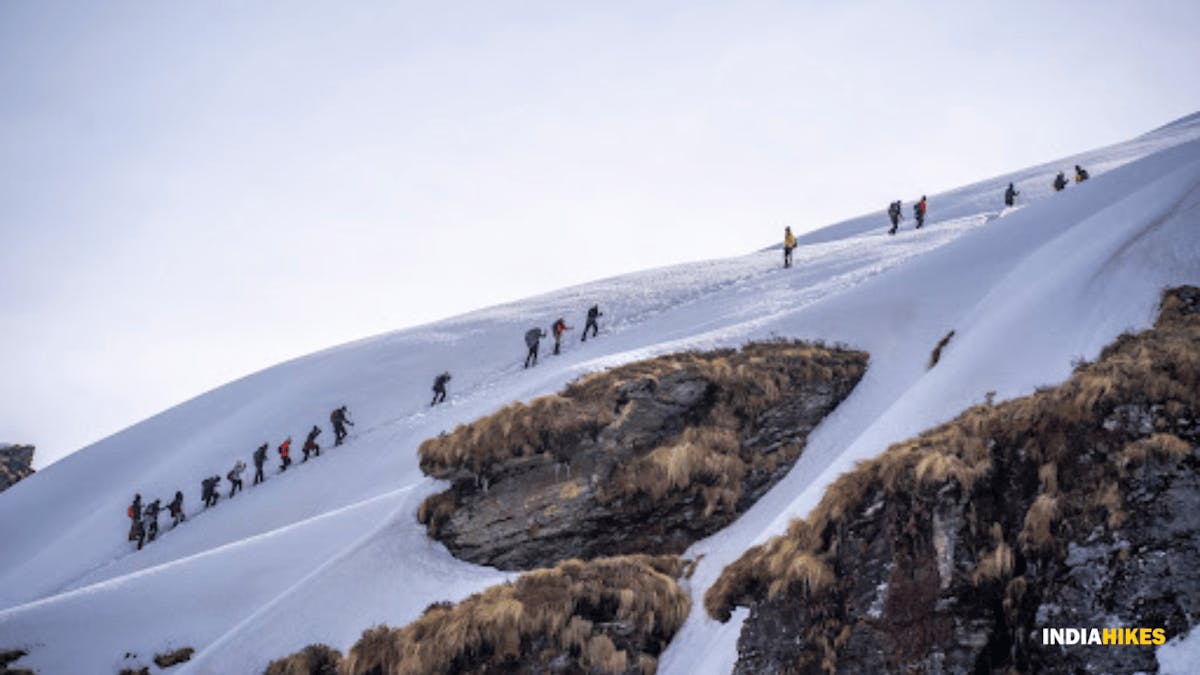 In contrast to the forested trail, the climb to Chandrashila is an open landscape. In winter, the entire face of the Chandrashila summit is covered in snow. Even without snow, the climb to the summit is very rewarding. The summit opens up the views of the entire Greater Himalayas. Photo from Prashant Bhat.
Explore Deoriatal – Chandrashila
Difficulty: Easy-Moderate | Level 3
Location: North Uttarakhand, Basecamp Tapoban, district Chamoli
Duration: 6 days (Including travel to and from the basecamp)
In this video you'll find our Indiahikes team fleshing out details about the trek that no one tells you about. It is these details that make Kuari Pass magical. These are rare insights.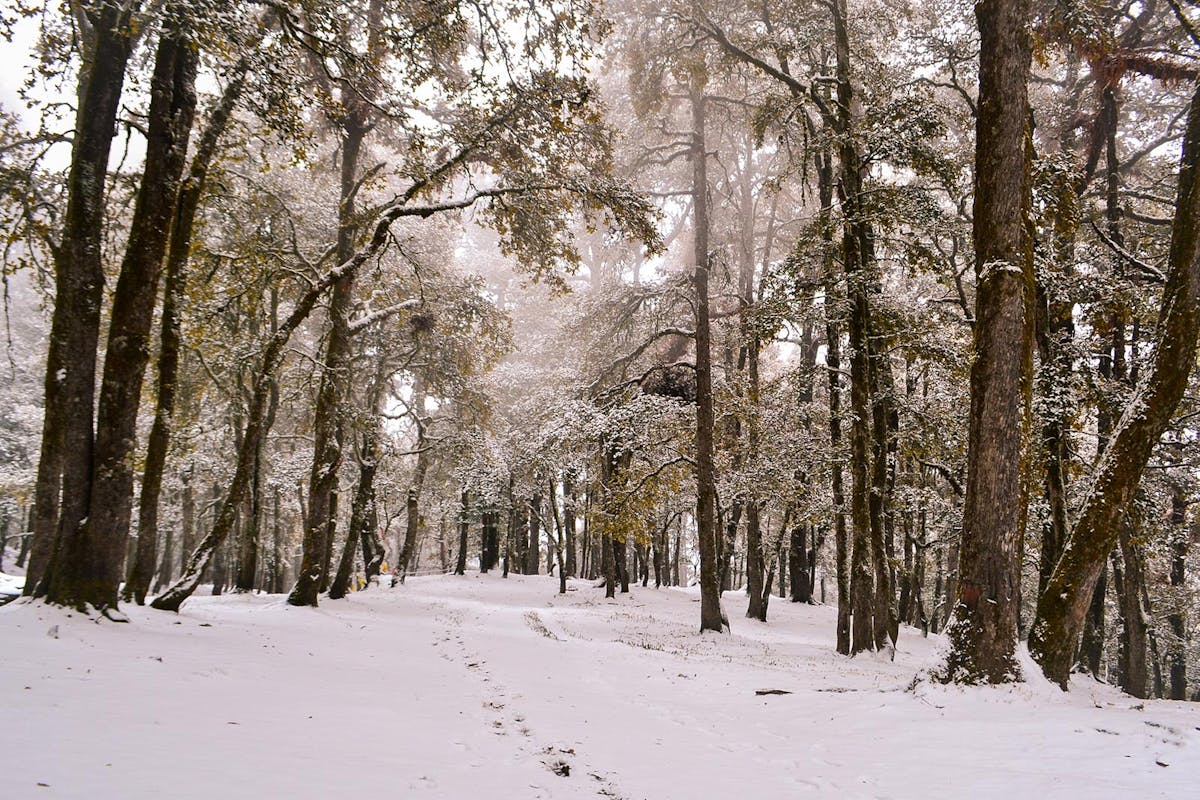 "On most other treks with great Oak forests like Roopkund, Dayara, and Brahmatal, you are focussed on just one thing — climbing up. Here the forest sections are undulating and gain altitude gently. You get to see and feel the forest. Oak forests generally have a very clean floor. Walking on a flat forest floor with only a brown carpet of leaves, under tall, ancient Oaks is one of the most memorable experiences I take back from Kuari Pass," says Sandhya UC, co-founder at Indiahikes. Photo by Sandhya UC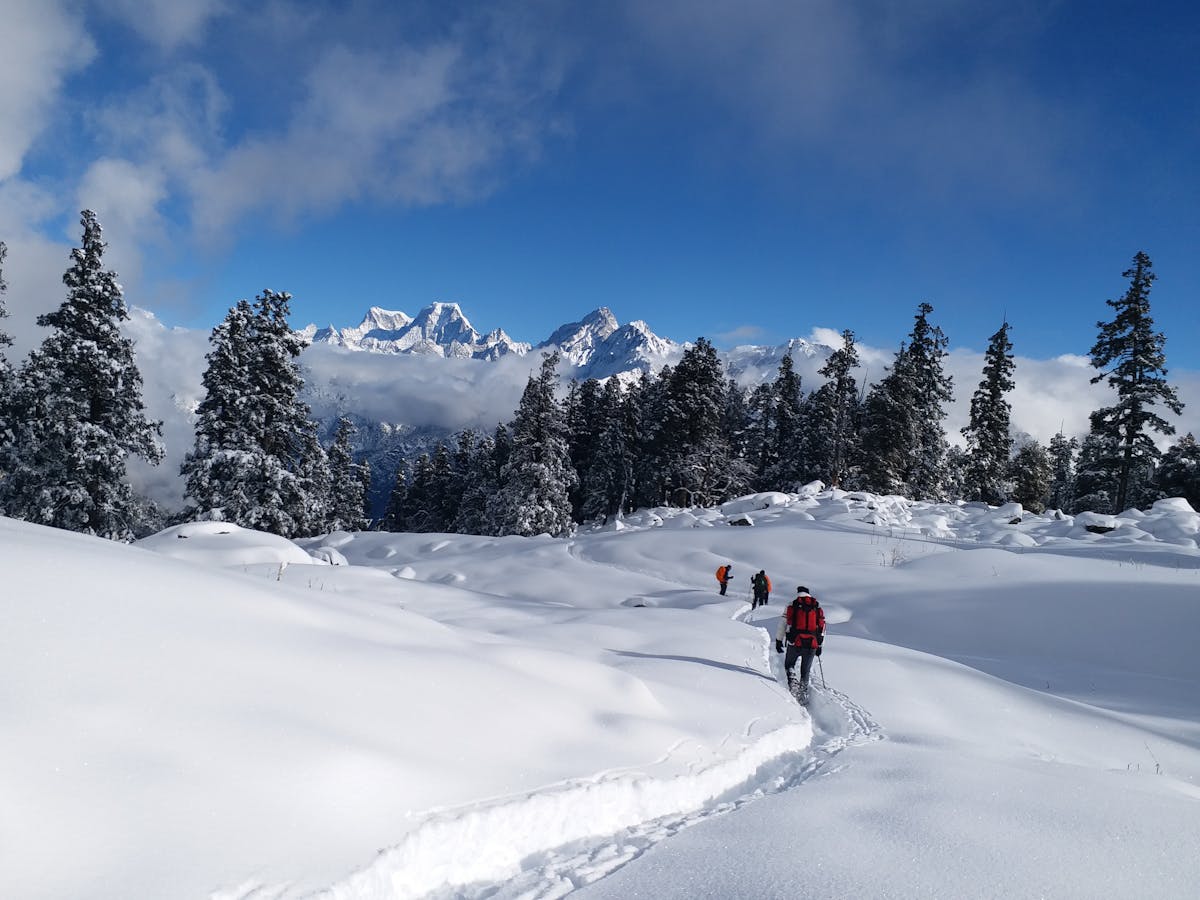 Kuari Pass also boasts one of the most commanding mountain views, especially from an easy-moderate trek in Uttarakhand. "It reminded me of views from the big treks like Goechala, even Gaumukh-Tapovan," says Dhaval Jajal, filmmaker at Indiahikes. "You see some of India's most celebrated mountains — Mt Nanda Devi (25,673 feet), Mt Kamet (25,446 ft), Mt Dronagiri (23,182 feet), Mt Hathi Parbat (22,070 ft), Mt Neelkanth (21,300 feet)  from this trek. Trekkers don't understand, you are looking at India's highest and the second highest summit, up close, together in one trek."  Photo by Anil Singh Bisht.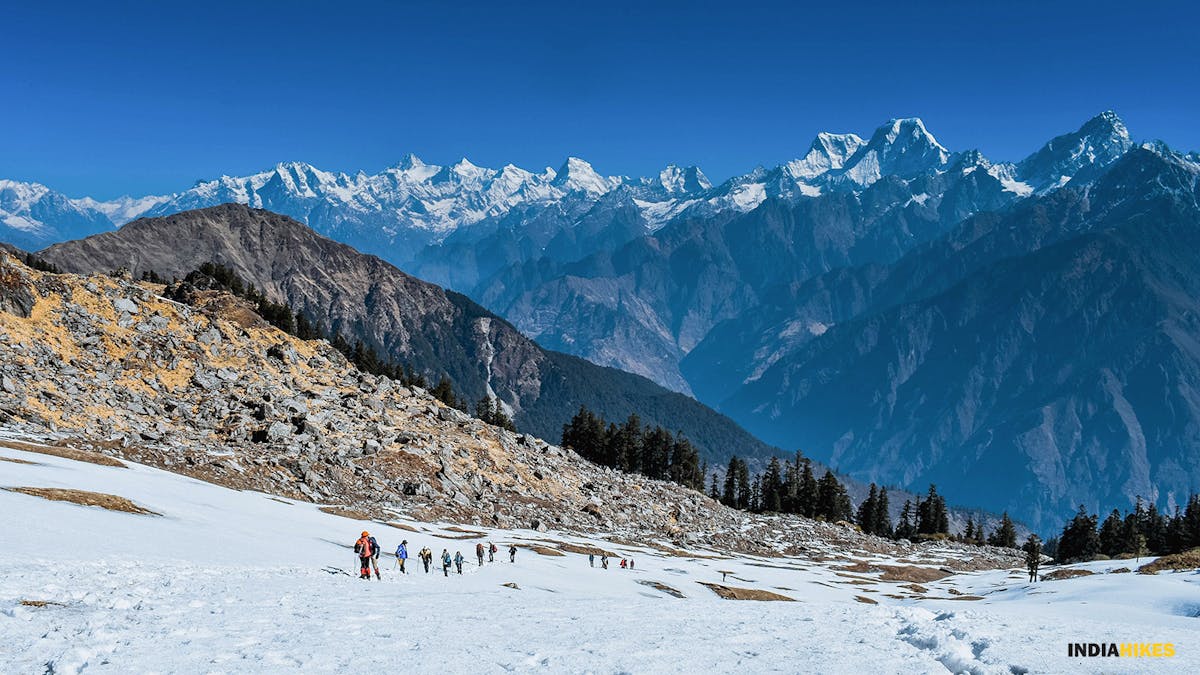 The entire range of Greater Himalayas rise behind you as you climb out of the tree line, onto the Khulara meadows. Photo by Valay Bhatt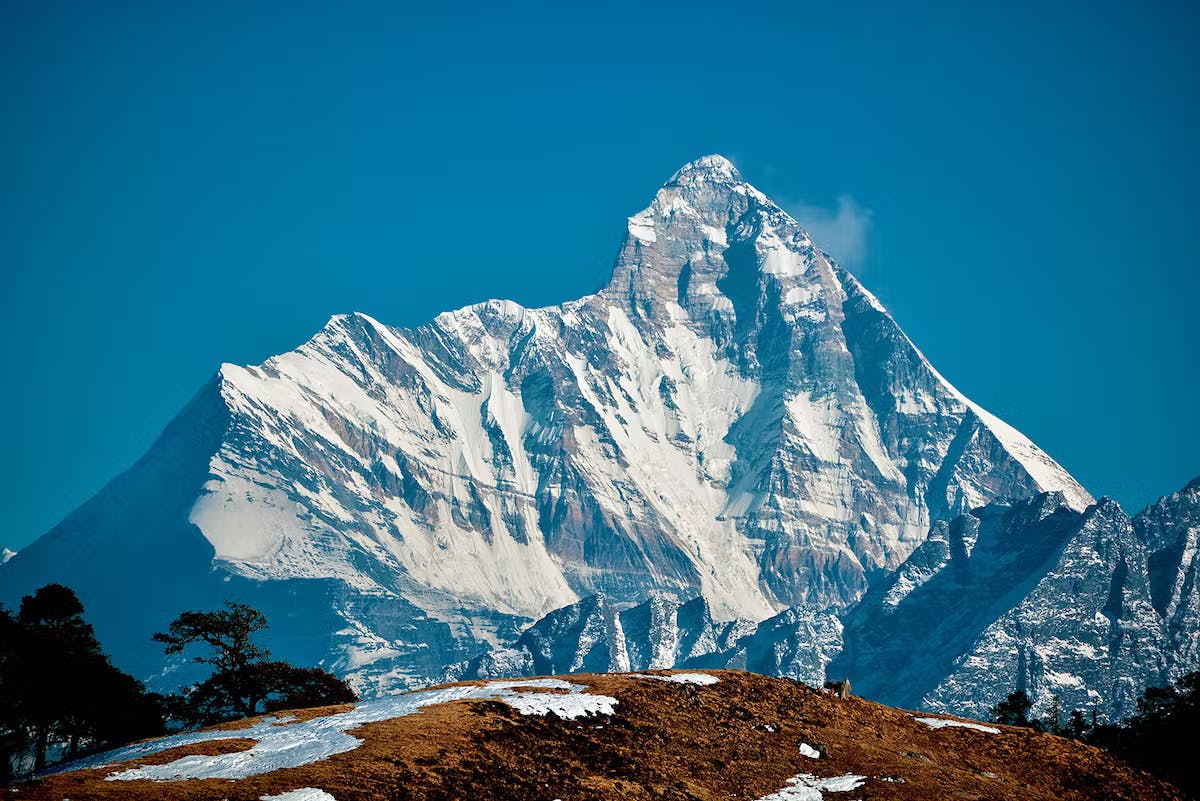 Mt. Nanda Devi is an elusive summit to see. But from Kuari Pass, you get an unbelievable view of this elusive mountain. "I had read so much about Mt. Nanda Devi. And finally, at Kuari Pass, there was Mt. Nanda Devi in its full glory! I had tears in my eyes," says Sandhya UC, Co-founder and COO of Indiahikes. In this photo, you see the commanding southwest face of Mt. Nanda Devi from Gorson Bugyal. Photo by Jothiranjan.
Difficulty: Easy – Moderate | Level 1
Location: North Uttarakhand, Basecamp Raithal, district Uttarkashi
Duration: 6 days (Including travel to and from the basecamp)
The film truly shows you that Dayara Bugyal is not just a trek. It goes much beyond that for all of us at Indiahikes.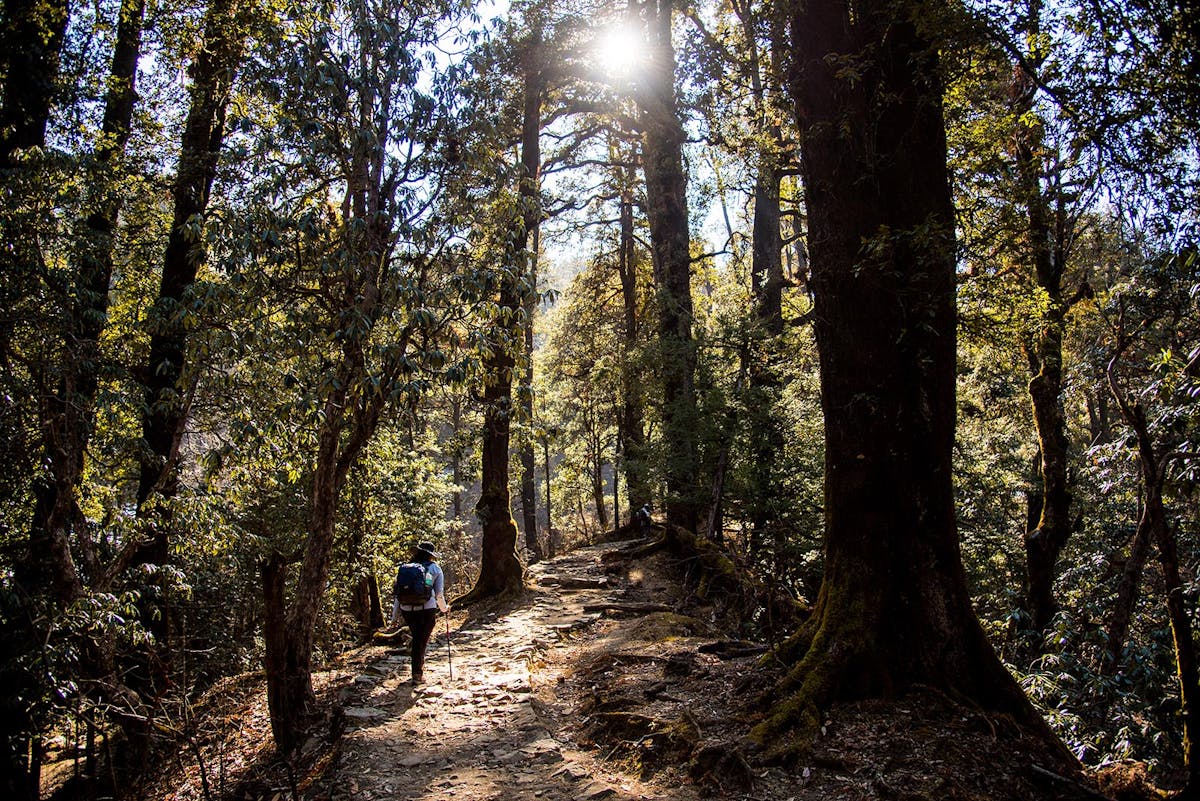 "Even if there is no snow, the angle at which light falls through, especially in the mornings, is extremely charming. Since you're headed in an easterly direction from Raithal to Gui, you're directly in the path of the slanting rays of the sun. It lights up the maple and oak leaves around you with tremendous colours," adds Izzat Yaganagi, Head of Experiential Learning at Indiahikes, who has been to Dayara Bugyal in winter multiple times.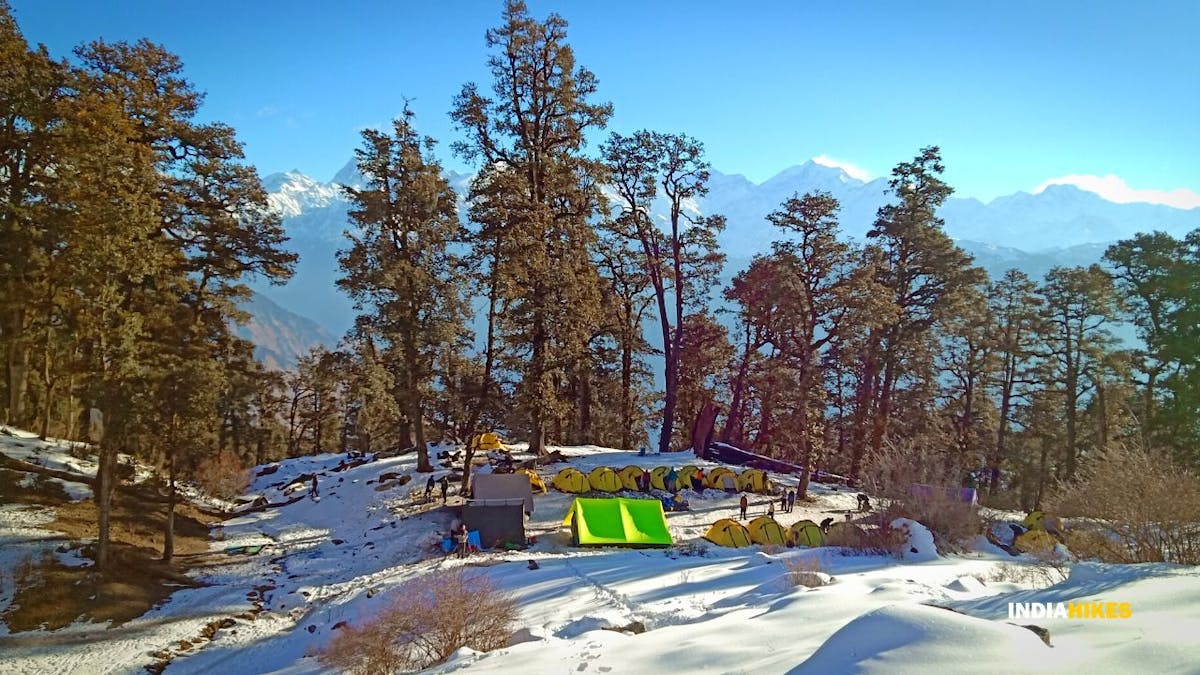 The forest is punctuated by pretty clearings. One such clearing is at Chilapada. We camp here just before climbing to the highest point on the Dayara Bugyal trek. Photo by Akshay Aralikatti.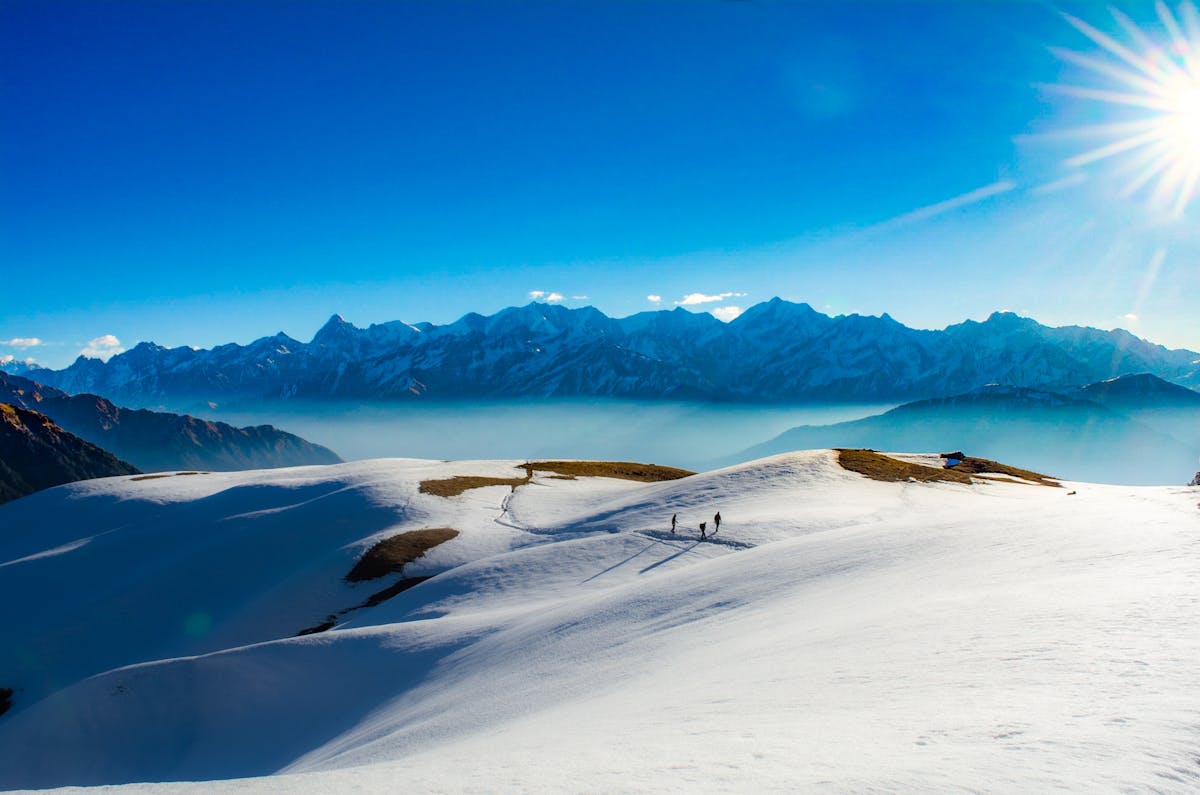 The entire meadow of Dayara Bugyal gets covered in a carpet of snow in the winter. It is the widest snow expanse among all our winter treks. This photo — with tiny trekkers — gives a perspective of the vast expanse of the landscape in winter. Photo by Isha Agarwal
Difficulty: Easy – Moderate | Level 2
Location: Central Uttarakhand, Basecamp Lohajung, district Chamoli
Duration: 6 days (Including travel to and from the basecamp)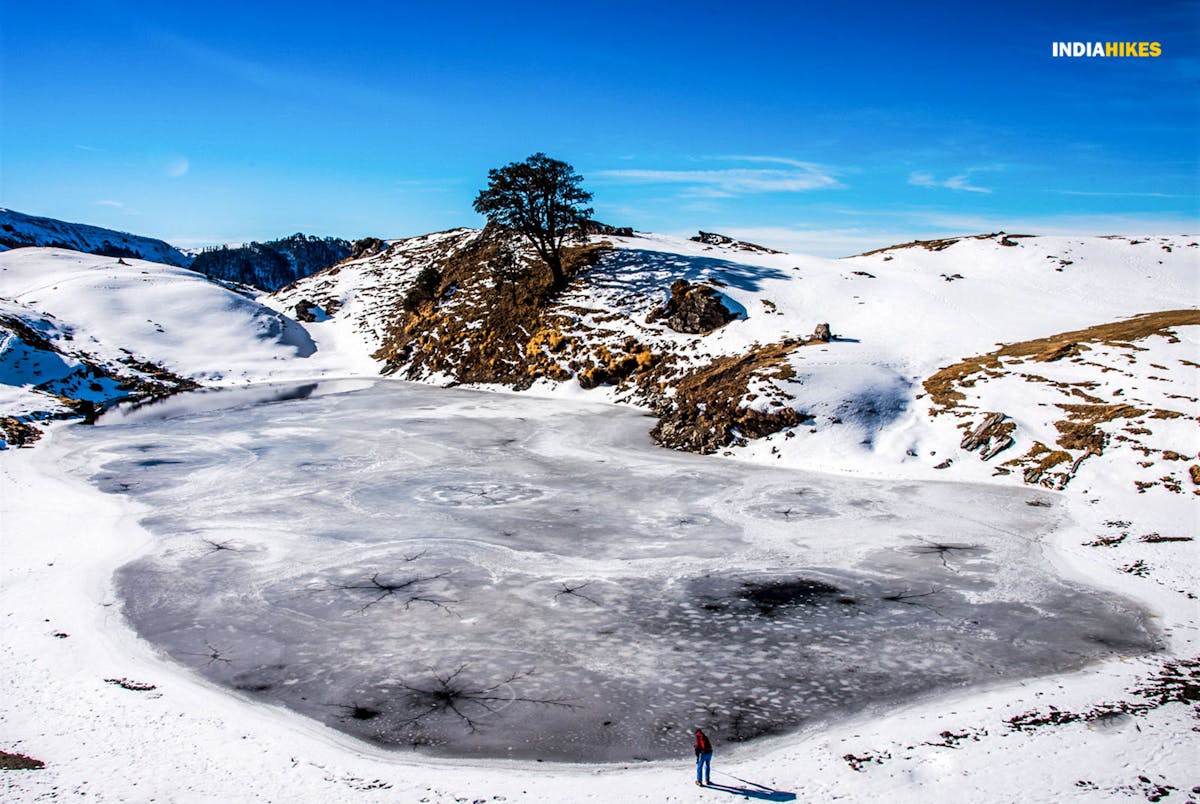 Getting to a high altitude lake in winter is a worthy prize for the effort. The combination of snow patches with the golden brown earth is a surprise waiting for trekkers. You don't see Brahmatal until you cross and hump and get to it. In reality, it is much larger than what the picture makes you think. Picture by Gajendra Kumar
Brahmatal is a trek with charming forest sections. Here, in the forests of oaks and rhododendrons, the trunks twist and turn in shapes and forms. The trunks are usually bare and smooth wooded. The trees are not too tall and form a nice canopy at the top. Here trekkers are near the forests close to Jhandi Top. Photo by Abhishek M
Our co-founder, Sandhya UC, has a fondness for the Brahmatal trek. On her trek when she stood on the summit, right in front of her were the breathtaking views of Mt. Trishul and Mt. Nanda Ghunti. "From this vantage point, I was also able to see the Roopkund trail laid out before me, as if from a bird's-eye view," she adds. In this photo you see trekkers walking on the Brahmatal ridge that leads to the vantage point. Photo by Vishwas Krishnamurti.
Difficulty: Easy – Moderate | Level 1
Location: North Uttarakhand, Basecamp Gaichawan Gaon, district Uttarkashi
Duration: 6 days (Including travel to and from the basecamp)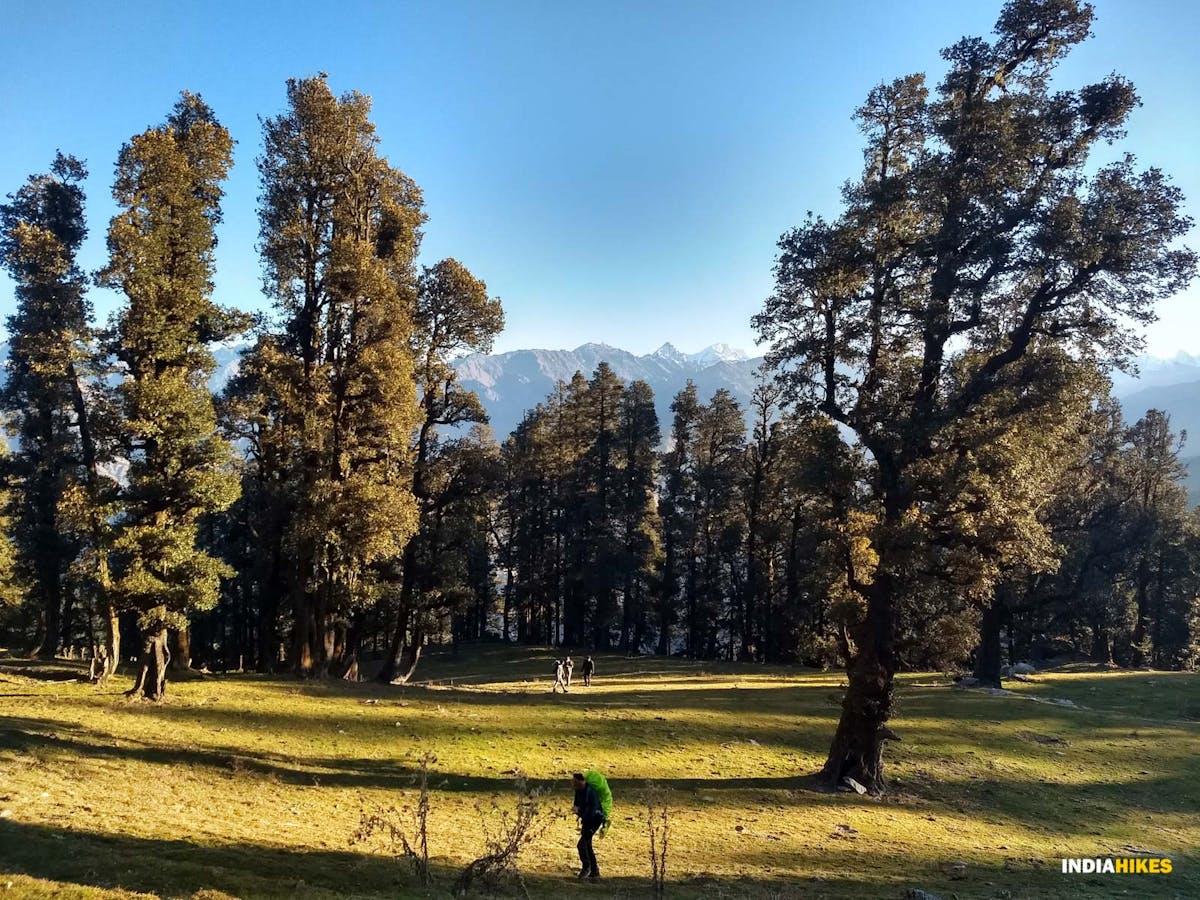 The forest of Kedarkantha, especially from the Gaichawan Gaon and Kotgaon sides is less frequented. Filled with oak, pines, deodar and rhododendrons, they are incredibly immersive. "The forests close to the summit are one of my favourite sections. The diversity, contrasting colours, and the density – all give a very surreal feel to this section," says Lakshmi Selvakumaran, Head of Experience at Indiahikes. Photo by Swathi Chatrapathy.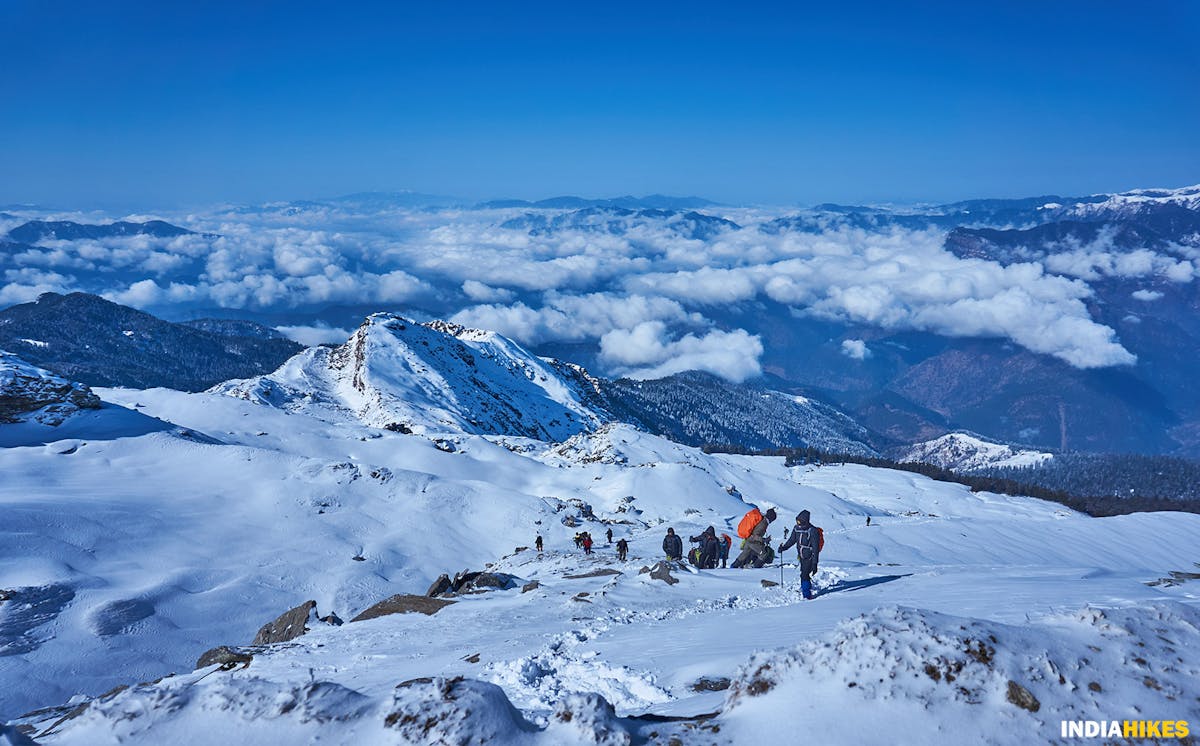 The summit climb of Kedarkantha is one of the big highlights of the trek. The view from the summit opens up a 360 panorama. You can see mountain ranges all the way to Himachal Pradesh. Photo by Abdul Raoof.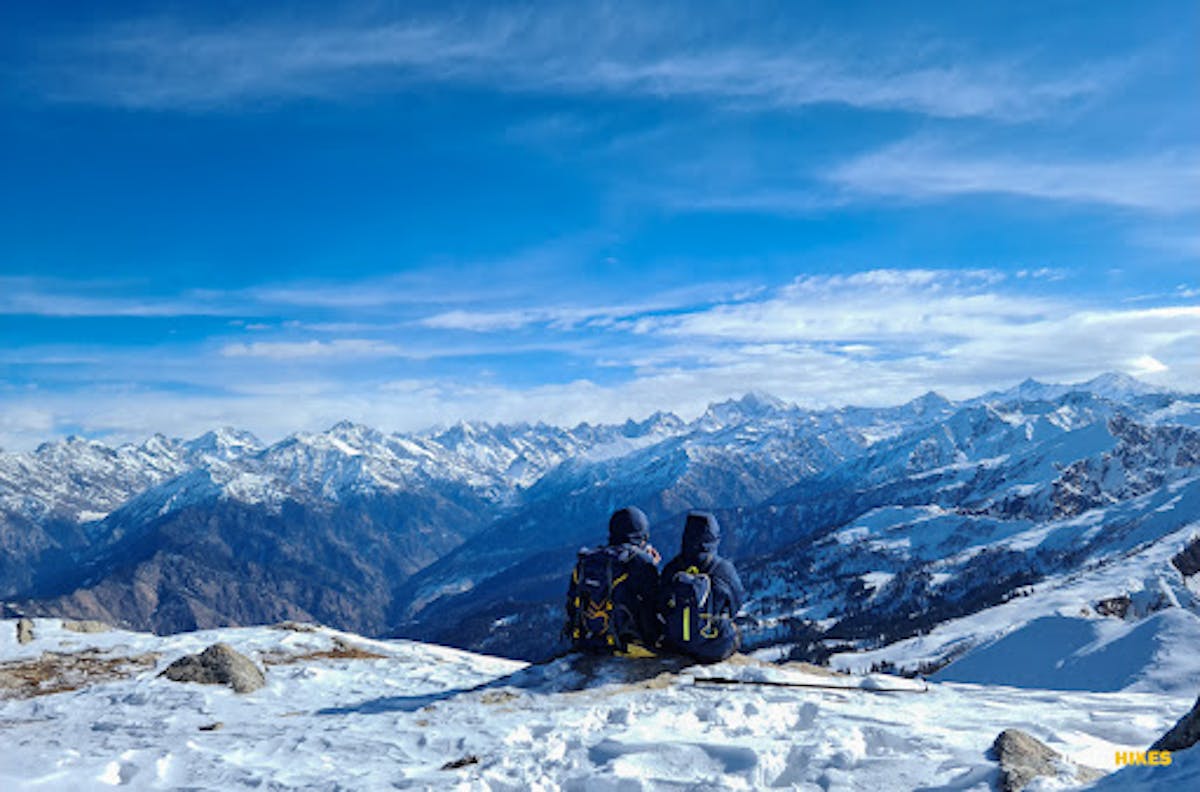 Kedarkantha is a proper summit adventure. ​​View from the top is unparalleled. You see the Chainsheel Pass, Rupin valley, and Har Ki Dun Valley. Mt Swargarohini also comes into view along with Mt Bandarpoonch and Mt Kalanag. Photo by Tilak Ram Rawat..
Difficulty: Moderate | Level 3
Location: Northern West Bengal, Basecamp Sepi, district Darjeeling
Duration: 7 days (Including travel to and from the basecamp)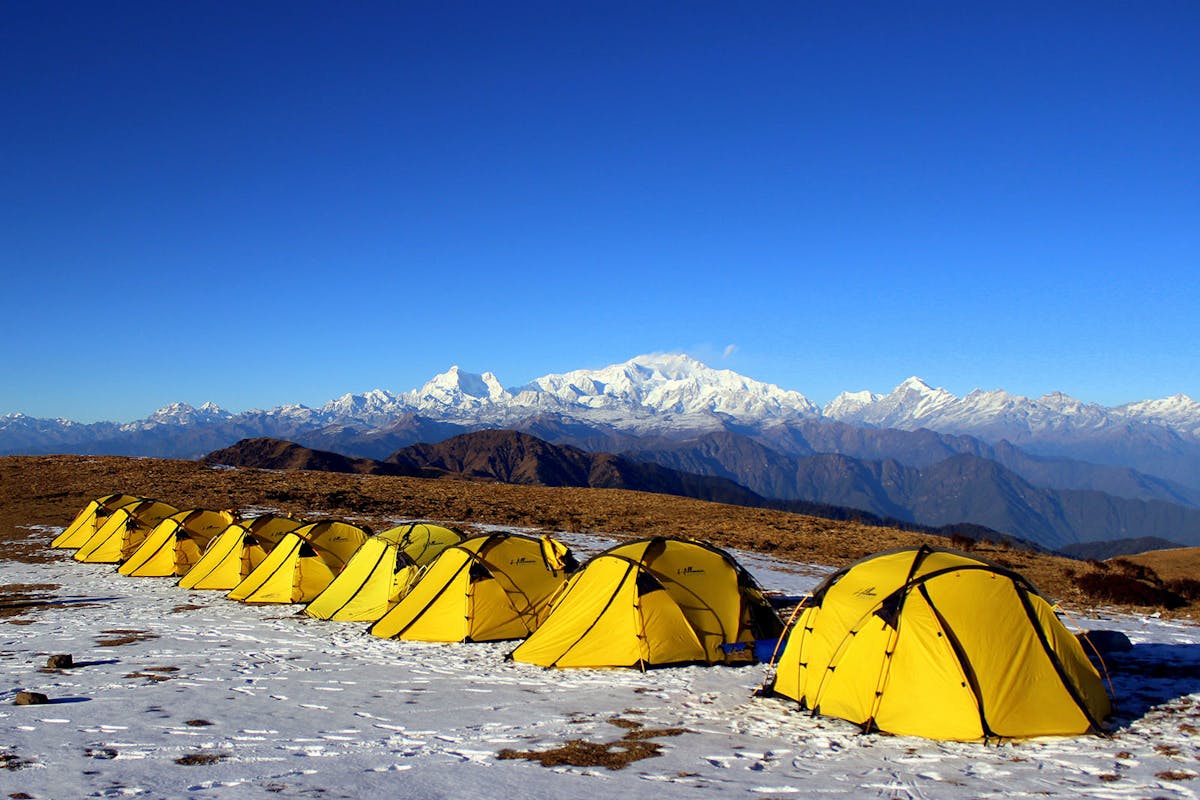 The Sleeping Buddha or the Kanchenjunga cluster is something you see right from the main trail at Sandakphu. For three hours of the trekking day, the Sleeping Buddha plays hide and seek. This is a stunning view of the Sleeping Buddha from our Samanden camp. Photo by Akash G Ratkal.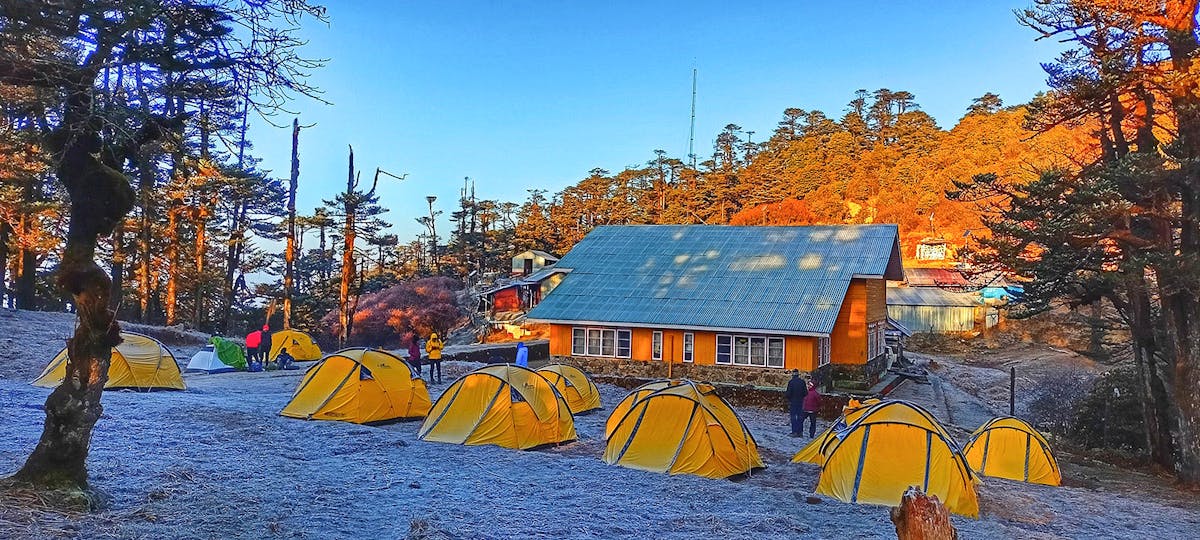 Sandakphu-Phalut trek skirts the border of India and Nepal. The constant flitting in and out of the Indo-Nepal border also makes this trek a unique cultural experience. The tea houses on the trek take you close to this unique culture of the region. Here's a tea house at Molley. You get to witness a unique Indo-Nepal lifestyle, cooking, and religion. Make sure to try out the bamboo shoot pickles at a tea house. Photo by Puneet Garg.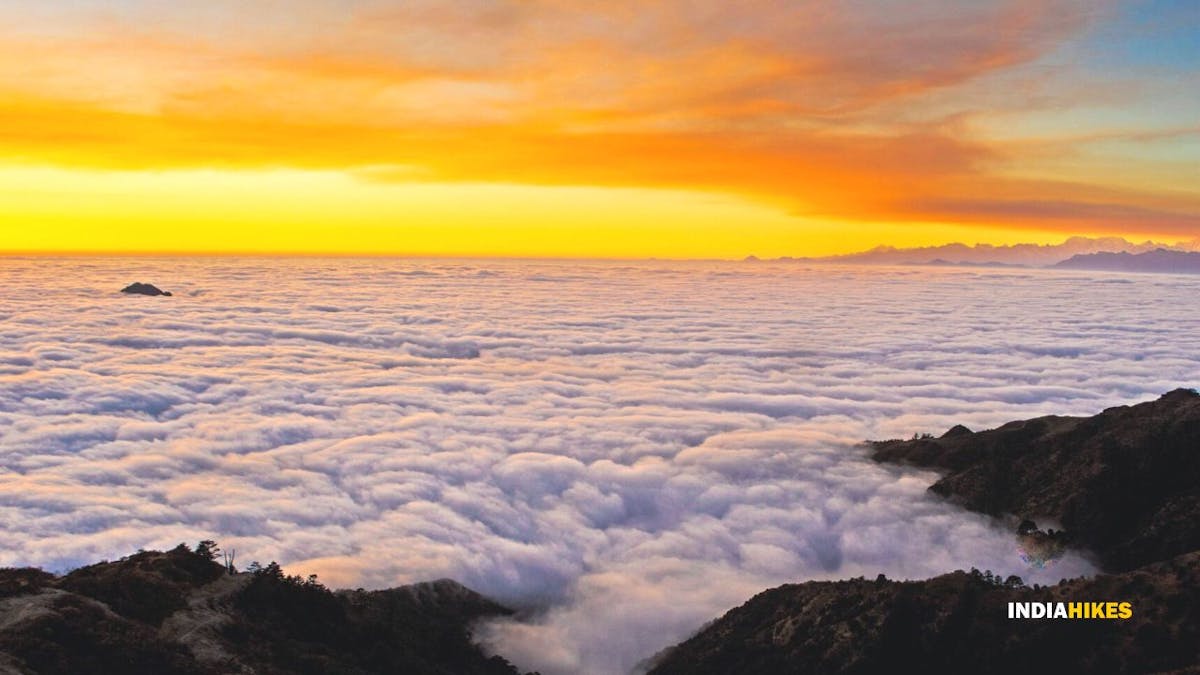 The 'sea of clouds' is a unique attraction of the Sandakphu trek. In a strange combination of nature, in the evenings a bank of clouds settles in the valleys around the Singalila ridge. In your vantage position above the clouds, watching the sun setting on them is an experience trekkers look forward to. This is best experienced from our Aahl camp. Photo by Geet Tryambake..
A last thought
This year, the winter snow is less. The winter is not going to last long and spring will be on us soon. If you are planning to experience the views that you saw in the photos, make your plans for February as soon as you can. After February such views will not be possible. 
If you need help deciding on a trek, write to us at info@indiahikes.com.
Sign up for our much loved Weekly Mailer
We have terrific trekking tips, trek updates and trek talks to look forward to