How To Budget Your Annapurna Base Camp Trek
Share this story
Nepal's trekking infrastructure makes it an attractive destination for independent trekkers. The trails are well laid and marked in most places. Almost all big treks have a network of tea houses, where you can stay and get fresh cooked meals. So, if you are fit and confident about directions, you can trek solo on a lot of trails, without a guide or a porter.
If you are planning a solo trek to Annapurna Base Camp, you need to plan your expenses carefully. The ease of access comes with the disadvantage of a lot of temptations, when it comes to food, beverages and facilities – usually at inflated costs.
This guide demystifies the expenses for this trek. We have broken down the expenses into these subheadings for each trek – travel, accommodation, food, drinking water, wifi and charging, SIM cards, guides/porters and trek permits.
Planning your travel
Trekkers usually begin their Annapurna Base Camp trek from Ghandruk, Birethanti or Nayapul. To get to either of these places, you need to first reach Pokhara. Pokhara is well-connected from Kathmandu by flight and bus.
A return flight ticket from Kathmandu to Pokhara costs INR 5,500 to INR 6,500.
Regular buses leave from Kathmandu at 15 minute intervals to Pokhara starting from 7.00 AM. Tourist buses cost between NPR 800-1200 (1 NPR is approximately equal to 0.62 Indian rupees) per person and a local minibus costs between 400-600 NPR per person. The duration of the drive is between 5-7 hours.
A private taxi from Pokhara to Ghandruk or Nayapul costs NPR 2,000 one way. If you make a group with other trekkers, this amount can be split amongst yourselves. There are also buses plying between Pokhara and Nayapul. These charge NPR 300 for a one way journey.
Tip: Take a bus from Kathmandu to Pokhara and further on to Nayapul/Ghandruk to bring down cost.
Accommodation
You stay in tea houses on the Annapurna Base Camp trek as well.
A room in a tea house on this trek costs NPR 300 – 350 per day. A bed in a double sharing room costs NPR 100 – 180 per day. On this trek as well, the tea house owners expect trekkers to have their meals at the same place.
Tip: Request the owner of the tea house from where you are starting to book a room for you at your next stop. Share a room to bring down the cost.
Food
Tea houses on the Annapurna Base Camp trail have elaborate menus with fixed pricing set by the Nepal tourism board. The prices increase as you go higher up on the trek. Here are some examples to give you an idea of the prices:
– Tea costs around NPR 80 – 100
– Porridge or muesli cost NPR 300-350
– Dal- bhaat meal costs NPR 400-550
– 1 banana costs NPR 40
– A bar of snickers costs NPR 500 at higher camps
Tip: Stick to dal-bhaat for you main meals. The food is wholesome and the servings are unlimited. Carry plenty of nuts and dry fruits to avoid having to buy overpriced snacks.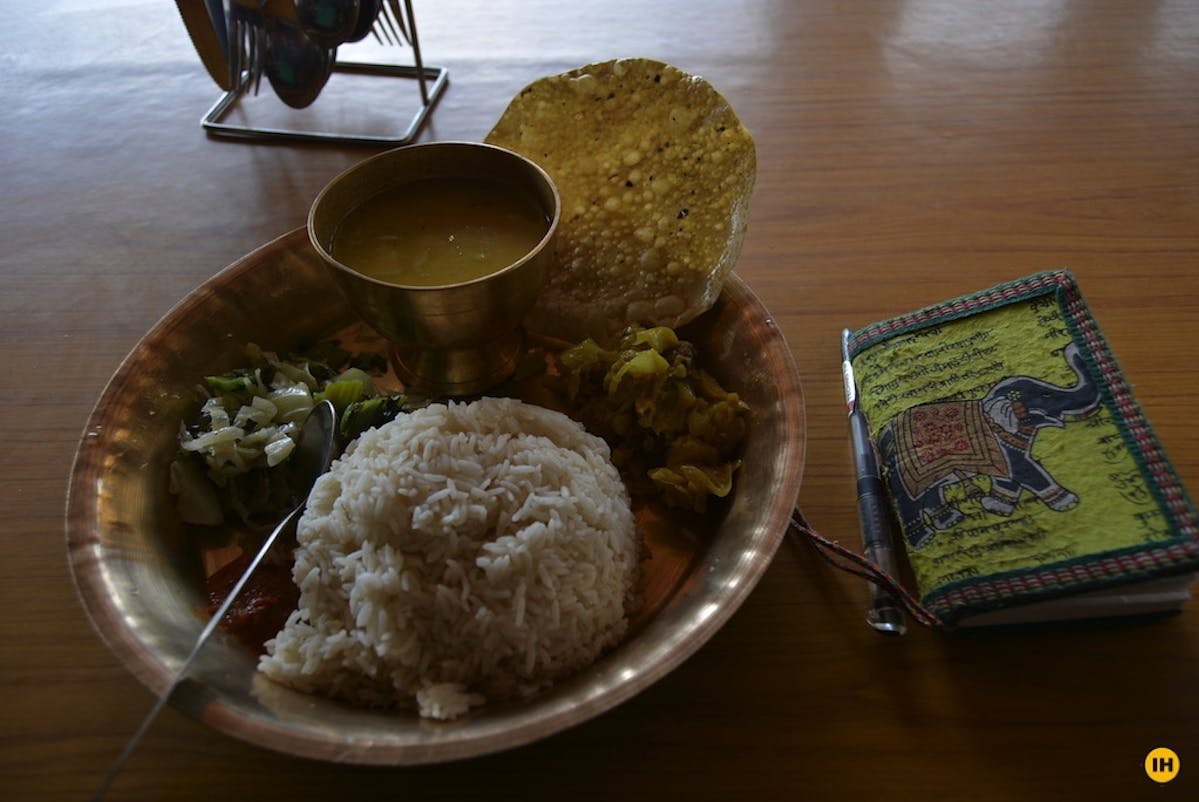 A typical Nepalese meal at a tea house on the Annapurna Base Camp. Picture by Lakshmi Selvakumaran
Drinking Water
Tea houses do not charge for filtered drinking water. RO water costs NPR 50 per litre.
Tip: Carry a metal water bottle and place it next to the fire place in the dining area at tea houses to get warm water at no additional cost.
Wifi and Charging
It is possible to use charging points on this trail. Tea houses charge NPR 100-300 for this, with the price increasing as you move higher. You can buy wifi at all tea houses. The cost ranges from NPR 200-300. The quality is not great.
SIM Cards
You can purchase a local NCell SIM card for NPR 500 and recharge it for making telephone calls. Around 30 minutes talk time to India will cost you around NPR 50. Network is available intermittently up to Bamboo. Trekkers usually reach Bamboo on the third or fourth day of their trek and they're back within network area after two days while returning from ABC.
Tip: The call costs less if you add 0124 to the Indian number that you dial.
Trek Permits
To enter the Annapurna Sanctuary Area and to trek, you need to register and pay an entry fee. This fee is NPR 1,000 for Indians and NPR 4,000 for International trekkers. This includes the fee to the National Trust for Nature conservation and for registering with the Trekker's Information Management System (TIMS).
If you choose to go with a guide, the guide will do the necessary paperwork. If not, you can get this registration done at Kathmandu, Pokhara, Nayapul check post or Birethanti checkpost. It takes around 15-20 minutes to get this done.
At Pokhara, you can get this in the Tourism office of Pokhara. If you are getting it at Nayapul or Birethanti, get down from the bus, get your permit and then push up to Ghandruk. You need 3 passport size photos and an ID document for this process. You will receive a TIMS card which you will have to carry with you on the trek.
Guide and Porter
It is possible to hire a guide and a porter before you begin the trek. You can hire them at Pokhara. Make sure you interview them before fixing up. It will cost you NPR 1,000 per day each for a porter and a guide.
Tip: It is really simple to do the ABC trek on your own, even if you are trekking in Nepal for the first time. You can avoid this cost entirely.
How much cash should you carry on the Annapurna Base Camp trek ?
Most places in bigger cities such as Kathmandu and Pokhara accept Visa and Mastercard credit and debit cards. However, once you begin your trek, you will have to make all payments in cash. Tea houses do not accept cards.
Indian and international debit cards work in Nepal in select ATMs. Visa, Visa Electron, Plus, MasterCard, Maestro and Cirrus international debit cards work at SBI ATMs. Plus, Visa, Cirrus and Union Pay debit cards work at Siddhartha Bank ATMs. SCT and Visa cards work at Everest Bank ATMs.
The charge for withdrawing cash varies depending the bank. Withdrawing money from an SBI Nepal ATM using an SBI debit card from India has a transaction fee of Rs.35. You can also use your credit card to withdraw money from ATMs. However, this is quite expensive as there is a charge of NPR 500 for every transaction. So, it is best you carry sufficient cash with you.
If you go with just basic requirements (see table below), you will need at least Rs 1,000 per day of the trek. Add around Rs 1,500 for travel to and from the base camp. If you factor in the charges for trek permit and additional cash for emergency use, you will need to take Rs 20,000 in cash with you. This amount will be higher if you decide to hire a guide or a porter so plan accordingly.
Keep in mind that in addition to this amount, you will also need to budget for at least 2 days of stay in Kathmandu. You will spend at least a day each here on your way to and return from Pokhara.
Estimated Cost per day: the bare necessities 
| | |
| --- | --- |
| Activity/Expense | Cost (in NPR) |
| Bed in a room | 150 |
| Morning Tea | 90 |
| Breakfast | 350 |
| Lunch | 500 |
| Dinner | 500 |
| Total | 1590 |
At current exchange rate, expect to spend at least Rs. 1,000 per day on the ABC trek, with basic food and accommodation.
We hope these budgeting tips come in handy when you plan your trek. Do comment below with some of your own tips that could help others.
Points in this article have been shared by Indiahikes Green Trails Head Lakshmi Selvakumaran, who explored the trek in April 2017 and Trek Coordinator Prathima Chhabria, who did the trek in November 2017.
The cover picture is the view from Annapurna Base Camp, taken by: Chaitan
What you should do now: 
1. If you want more information about this trek: Check our Annapurna Base Camp Trek page here with detailed information on trail routes, things to take, pictures and much more.
2. If you think this article might help your friends: Share it on Facebook, Twitter or LinkedIn.
3. If you want to work with us: Head over to our careers page. We have lots of positions open. We also have lots of applications coming in. So the sooner you apply, the better.
4. If you ended up here by chance and were actually looking for treks to do: Then head over to our upcoming treks page. You'll find all our Himalayan treks there.
Related Videos
Why Annapurna Base Camp Is One Of The Most Popular Treks In The World
Everest 3 Passes Trek In Nepal
5 Hard-Hitting Lessons From My Altitude Sickness Experience
Sign up for our much loved Weekly Mailer
We have terrific trekking tips, trek updates and trek talks to look forward to