How Indiahikes Takes Care Of Children's Safety On Day Treks
Share this story
Few things bring us more joy than seeing children on treks. It's been heartening to see a growing interest from schools in sending students on Day Treks with Indiahikes. Over the last nine years, we have had approximately 7,000 students trek with us.
Why Day Treks? 
Schools don't need to travel far or commit to a long expedition. All it takes is a short drive away from the city to reconnect with nature
Day treks make it easier for schools to incorporate trekking into their schedule without disrupting their regular routine
Day treks have the same benefits as those one might encounter on a multi-day trek. A rejuvenating walk that is a great form of exercise, team bonding, and learning experience all at once
How we ensure safety on day treks
Indiahikes prioritises safety above all else. We understand the concerns you may have about children venturing into the outdoors. Here are some of the ways we ensure safety on our day treks.
Highly-experienced team leaders
At the helm are experienced trek leaders who have led numerous Himalayan expeditions. This is a highly skilled team, passionate about sharing their love for the outdoors with everyone. They're knowledgeable, great with children, and a lot of fun to interact with!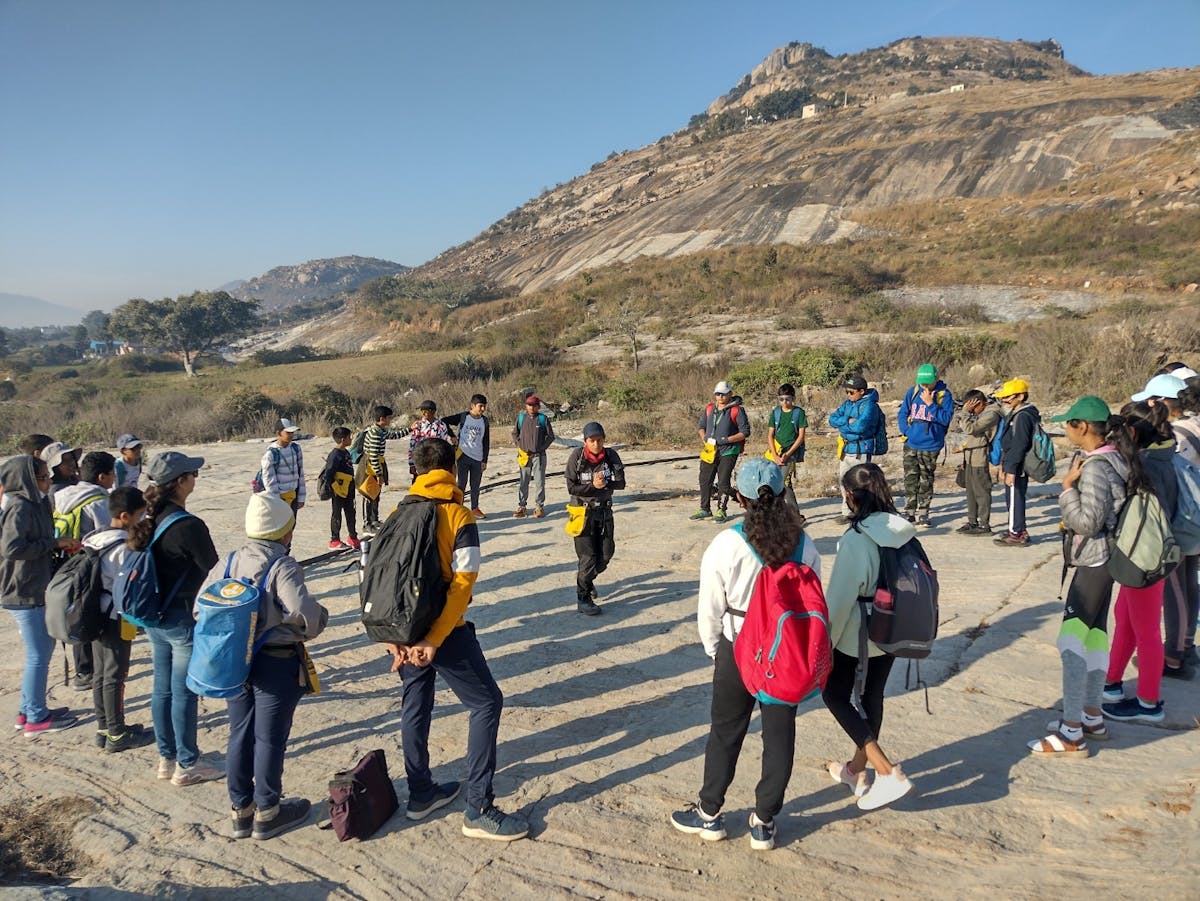 Our trek leader having a briefing session before the start of the trek. Picture by Prithvi R.
Our choice of treks
One of the concerns we hear from parents is the fear of their kids being stranded in the wilderness. We select trek locations that strike the right balance - close enough to civilisation to ensure connectivity and safety while offering an immersive outdoor experience away from the noise of the city. 
Day treks are designed to be relatively easy, making them perfect for anyone. The trails are well-defined and easily navigable, minimising the chances of mishaps occurring.
We identify pre-planned rest points on the trail to prevent overexertion. These points not only allow children to rest and recover but function as designated water breaks, ensuring they stay properly hydrated.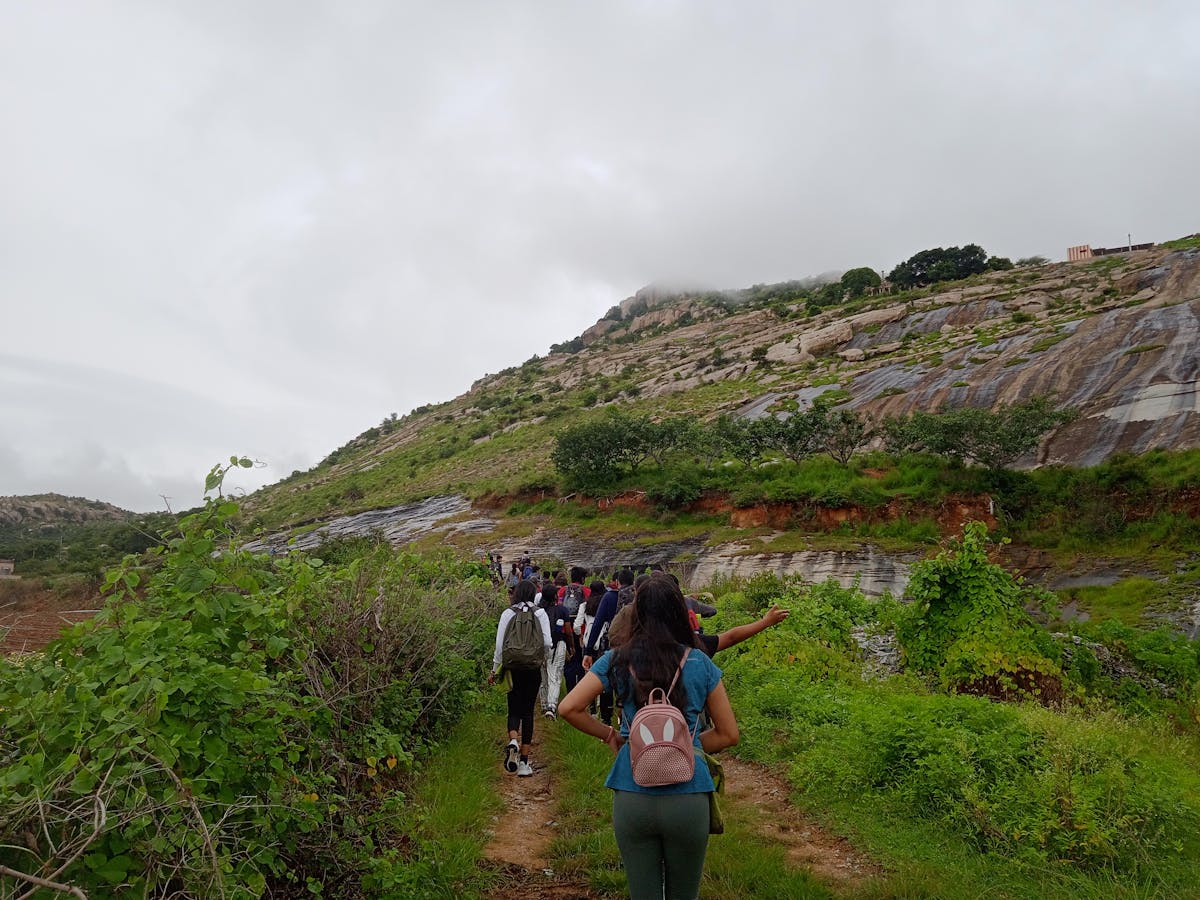 Students on the way to the summit of Harihara Betta - a short but beautiful trek in Chikkaballapur region. Picture by Suhas Saya.
An ideal team ratio
While planning, we have a meticulous approach to ensure the safety of everyone involved. One of our key priorities is maintaining a team ratio of 1:12, meaning we have enough team members to guide and look after the children. We aim to ensure ample supervision and support.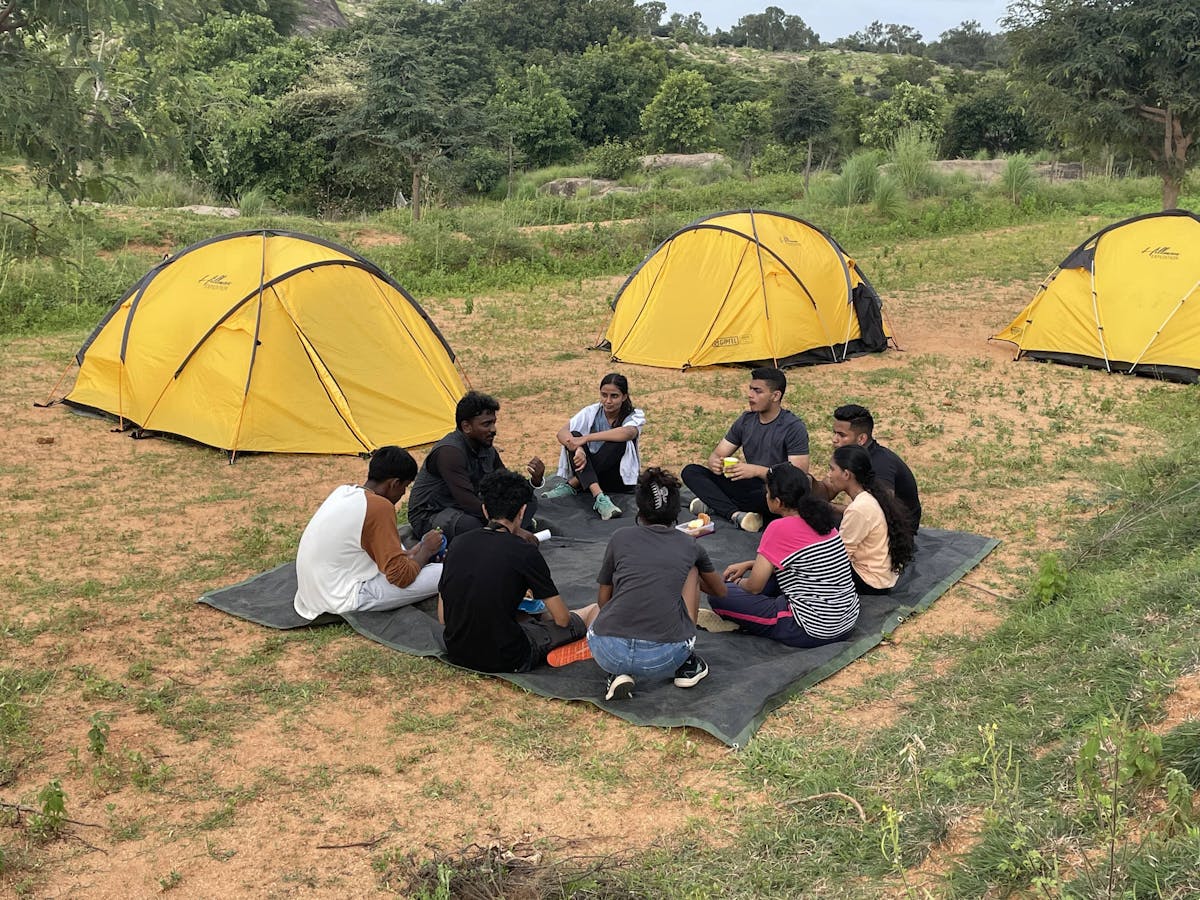 For every 8-12 students, we have one Indiahikes team member accompanying them. Picture by Ravi Rajan.
Close monitoring of the weather
We monitor weather conditions a day before and during the trek. In case of inclement weather, the team will always make the best call under the circumstances, with safety as a priority. 
Having said that, trekking in the rain is not a risk. We wholeheartedly encourage it! The world comes alive in special ways and takes on new hues during the rainy season. It's an experience worth having.
Unless it is a torrential downpour or poses a safety hazard, we continue the trek.  Here, we urge schools and parents to pack raincoats/ponchos for the children. It can be the difference between an enjoyable and highly uncomfortable trek.
Ropes for safety
We carry ropes as an extra safety measure. In situations where the trail becomes slippery due to rain, our trek leaders are equipped to fix ropes on certain sections to enhance safety while descending. While we've been fortunate to never need ropes on our day treks, we always have them on hand just in case.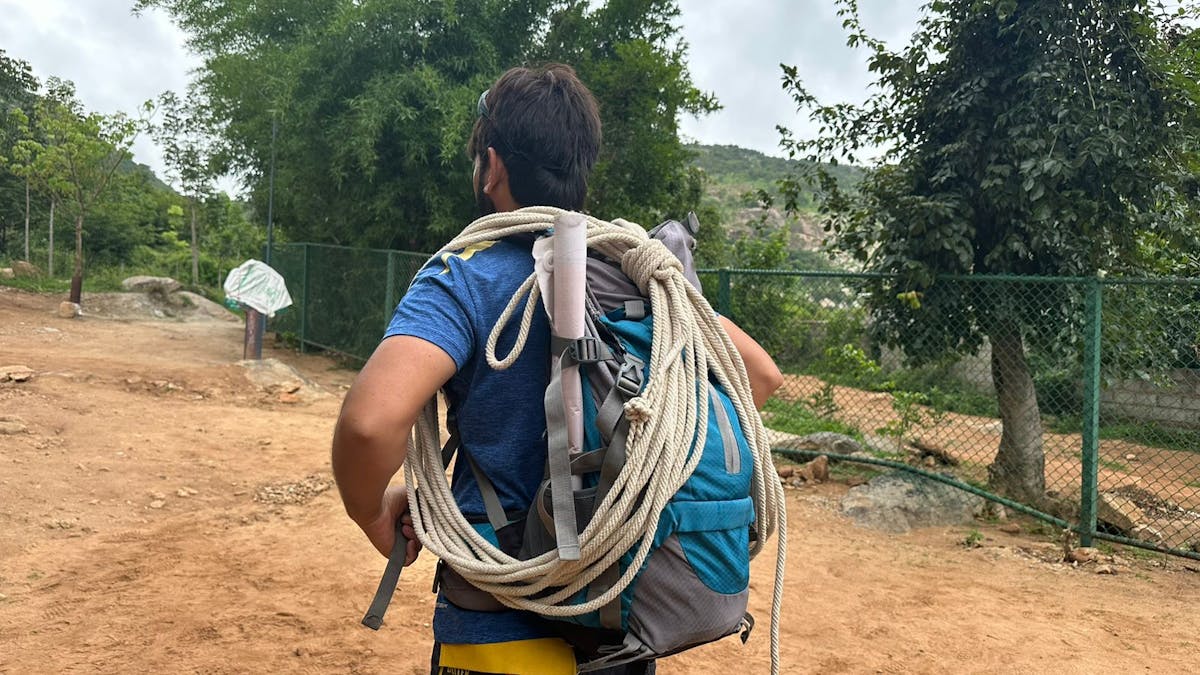 One of the rare used safety equipment on the one day hike, but we still ensure to keep it with us incase of extremely special scenario. Picture by Yukti Vadnerkar.
Communication is key
Our team members carry walkie-talkies, allowing them to stay connected and updated with each other. Whether it's the trek leader at the front or the sweeper at the back, everyone can stay informed about what's happening.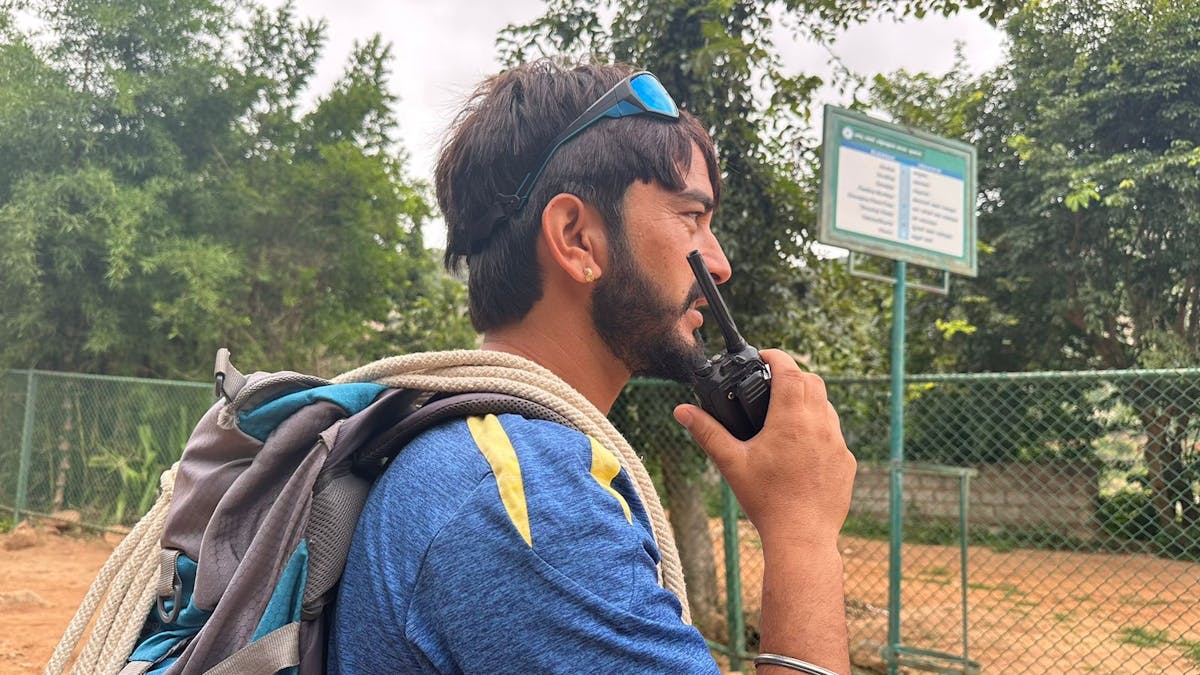 Walkie-talkies have been our hero on the treks, as it has always helped us stay connected with each other and carry the trek smoothly. Picture by Yukti Vadnerkar.
Multiple briefings, including much before the trek
Treks are doubly rewarding when everyone - teachers, kids, and the Indiahikes team - are on the same page. It's why we have multiple briefings throughout the journey. 
We kick things off with a briefing before the trek, either at the school premises or over video. A second briefing takes place when we reach base camp. Additionally, we conduct briefings at different sections along the trek to keep everyone updated. 
Another objective behind these briefings is to build a sense of ownership over the trek. While our team is ever vigilant, safety is a collective responsibility. We assign responsibilities within the team to ensure the kids are looking out for each other as well. 
GPX files for navigation
Our team knows the trails inside out. But in a situation where someone takes a wrong turn, the team has GPX files handy on their devices. GPX files contain saved data on routes and tracks, enhancing safety on any trek.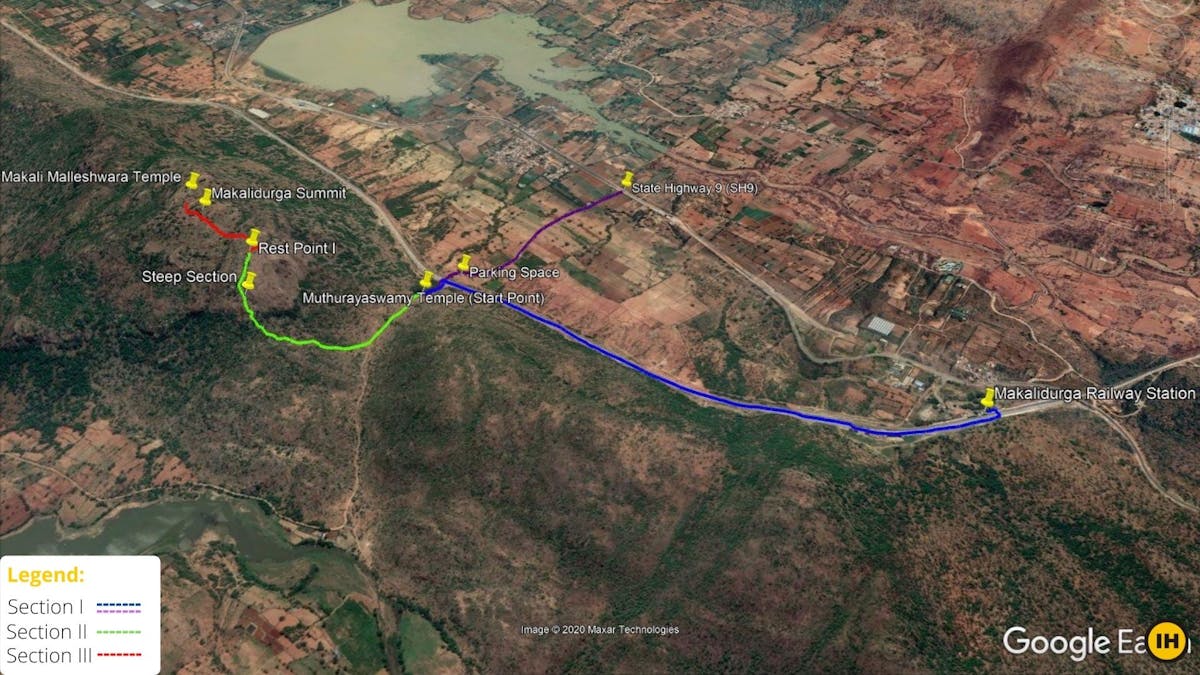 Our trek leaders are always equipped with the gpx file of the trail for safe navigation.
What happens in case of injuries
We take extra precautions and tread cautiously, particularly in sections where the paths are narrow. In case of a more serious sprain or ankle twist, the team is trained to tend to the injury and safely bring children back down to the base.
Minor falls and scrapes can happen anytime, even outside of trekking. Children are much tougher than we give them credit for! They dust themselves off and keep going in good spirits. 
Conclusion
Your students are in safe hands on an Indiahikes Day Trek. While concerns are natural, it's incredible to see children rise to the occasion when given the chance. They often surprise us with their resilience and adaptability – sometimes even giving the adults a run for their money while trekking.
When placed in a new environment, children have the opportunity to discover things they didn't know about themselves. 
We have so many students who have trekked with us, sharing how they doubted their ability to complete a trek - only to find themselves thoroughly enjoying the experience. It's truly heartwarming to witness their personal growth and the confidence they gain from trekking.
Related Videos
Happy Children's Day from Indiahikes!
What Happens on a Day Trek For Schools | Indiahikes
Important Things to Carry While Trekking - For Children
Sign up for our much loved Weekly Mailer
We have terrific trekking tips, trek updates and trek talks to look forward to