We've Opened A New Weekend Trek Near Dehradun!
Share this story
We've Opened A New Weekend Trek Near Dehradun!
Category News
By Swathi Chatrapathy
2018-12-06
We're back again with another new trek! This time, it's the Deoban weekend Himalayan trek near Chakrata, not too far from Dehradun.
If you've kept a tab on our website, you'll know that our team has been exploring multiple trails of late. We have opened a trail in a new state altogether — the terrific jungle trek in Chhattisgarh. Then the new Mukta Top trek near Uttarkashi.
But we have also not opened many others. Because not every trek lends itself to the criteria we have for treks: variety in scenery, a few highlights that are exclusive to that trek, camping grounds that make you feel good and a challenge for your legs.
That is why the Deoban trek is one of our best discoveries this year – See the trek details  here.
Our Trek Leader, Tanmay Bain, was stunned when he went on the trek. "You climb just for a few hours and there are nearly 55 Himalayan peaks at your eye level," he says.
And just as he says, if you stand at the Deoban summit, there are actually 55 peaks in the distance. Of course, you need an extremely clear day to see all 55 peaks, but if there aren't any clouds you'll see lots of them.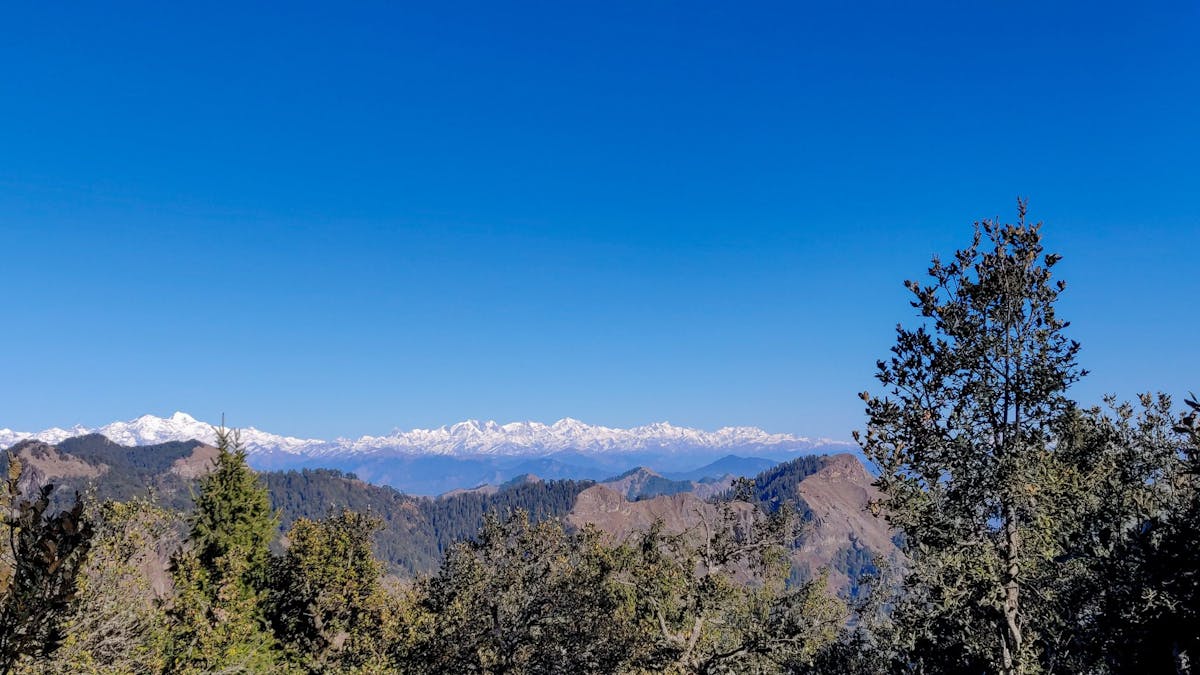 The view from the top of Deoban. You see Mt Bandarpoonch, Mt Srikanth and the Gangotri massif. Picture by Tanmay Bain
Highlights of the Deoban Weekend Trek
Mountain views
It's rare for any weekend trek to give you such brilliant views with such a short climb. Usually, it takes days of climbing to see so many peaks. But on the Deoban Trek, you see these peaks after climbing just around 8 km. And guess what, you'll even see Mt Nanda Devi, India's highest summit.
You also see Mt Trishul, Nanda Ghunti, Swargarohini, Bandarpoonch, Srikanth, the Gangotri range… Phew the list is really long! But I think this picture from Peakfinder will give you an idea.
I've also uploaded a page with all the mountains you can see on this trek.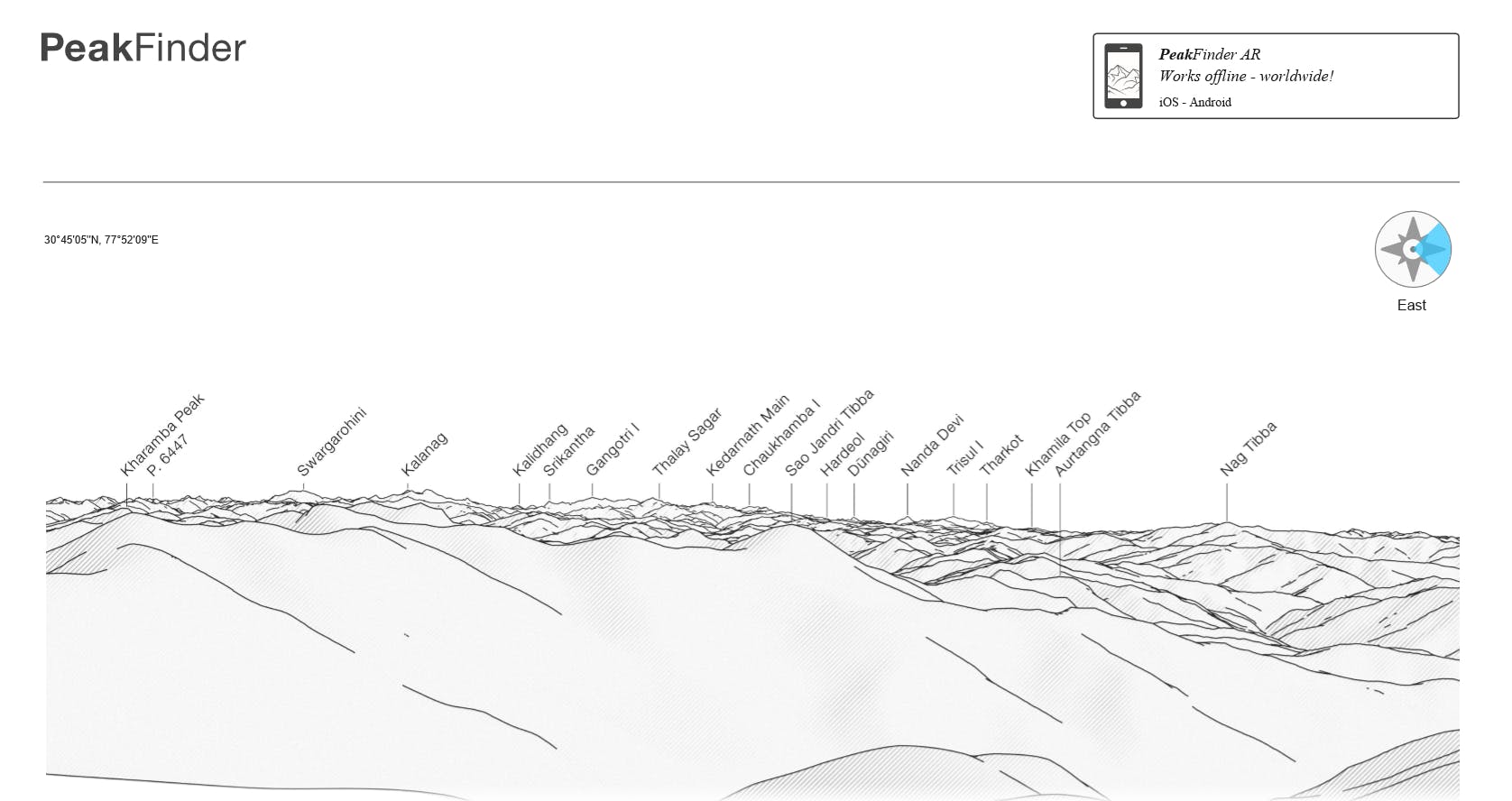 Lovely Deodar Forests and Clearings
But don't go there for just the mountain views. Our Trek Leaders are going gaga over the forests too. The trek gets its name from the forests itself. "Deo" refers to the ancient deodar trees of the region and "ban" means forest. The entire region has deep dark forests, that burst into sudden clearings. You actually camp in one of these clearings.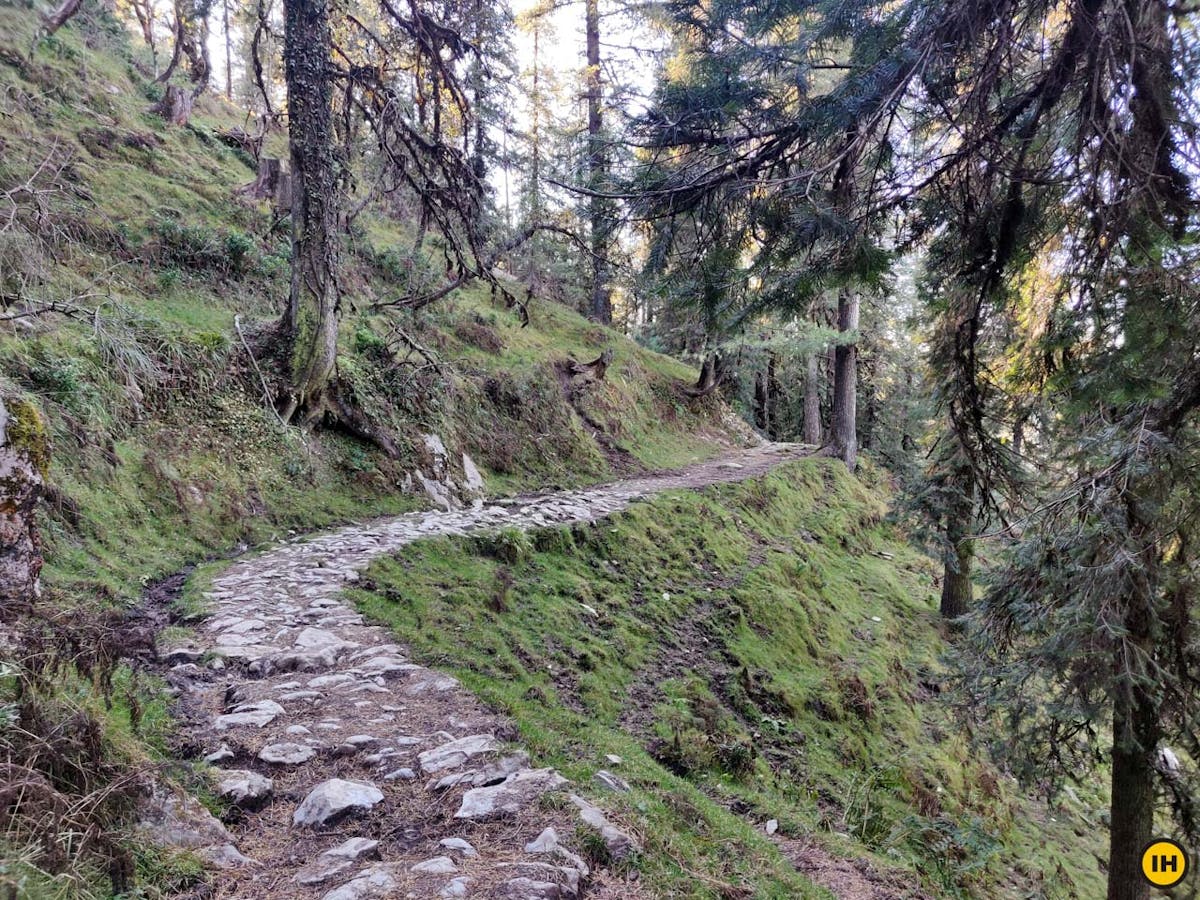 The silent forest trails of Deoban. Picture by Tanmay Bain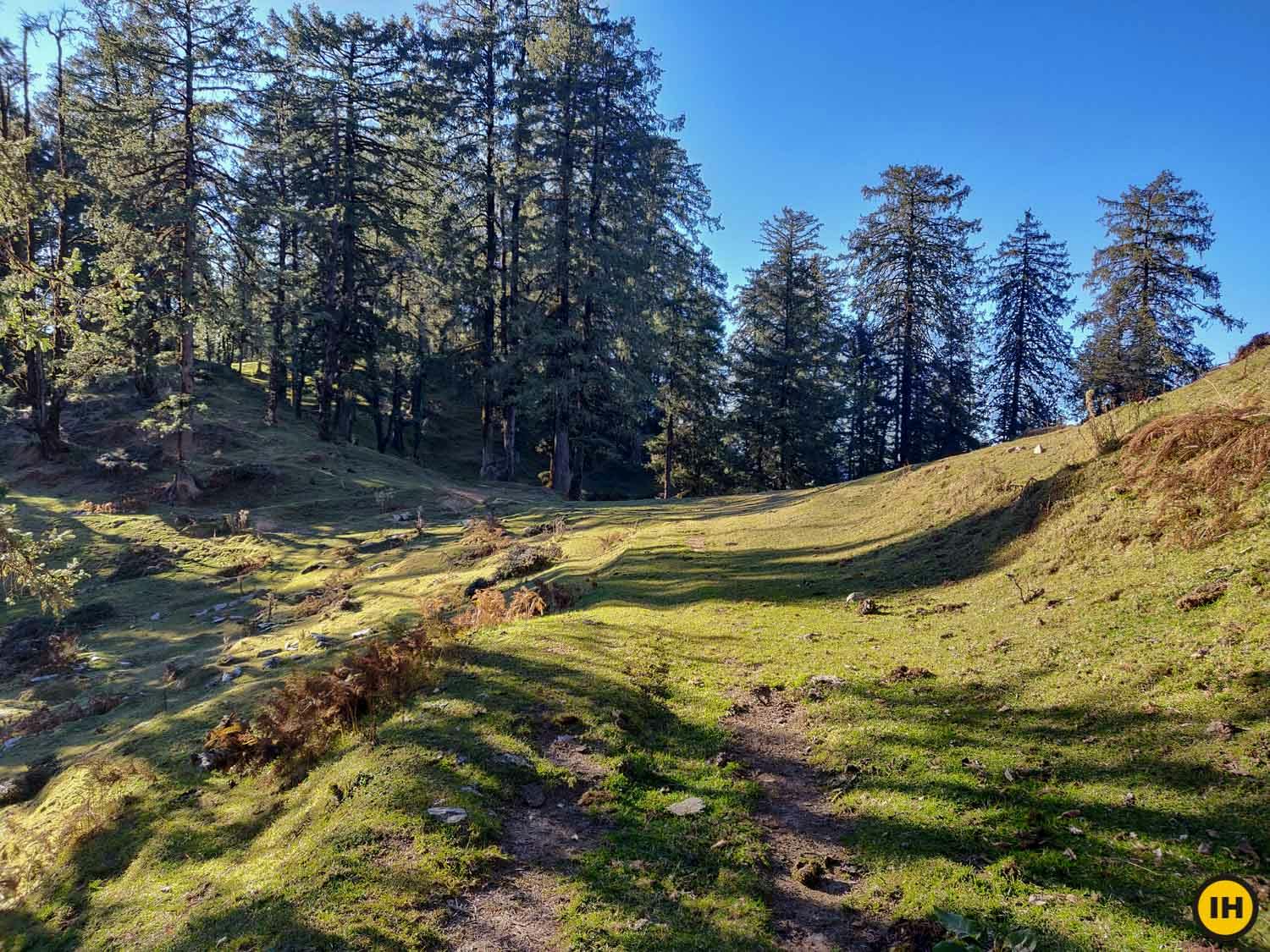 Easy accessibility from Dehradun
The Deoban Trek is very close to Chakrata (24 km away). Chakrata is one of those hill towns in India that still have the splendour of being hill towns, but thankfully don't attract noisy crowds.
But you know what's really exciting us? It is just 3 hours away from Dehradun. Which means less winding mountain roads to deal with. Not only is the road journey short, it is beautiful to boot!
What to Expect On The Trek
This is a 2 day trek. You start your drive from Dehradun on Day 1, drive to the base (Koti Kanasar) and trek to the campsite the same day.
You climb to the Deoban summit on Day 2 in the morning and come back down to the base. You'll reach Dehradun by 7 pm or 8 pm.
The trek is an easy-moderate one. You cover 19 km over two days. You need good fitness to do this trek.
There are not too many steep sections, but there are long distances.
The trek starts at 7004 ft and climbs to a highest altitude of 9279 ft.
Even though it's very close to Dehradun, it's going to be very cold. You will need at least 4 warm layers on this trek.
For the best mountain views, trek here in winter months of December, January and February.
When are we running the trek?
We have opened two dates in December. Unfortunately, we have just two dates as of now.
Our trek leaders are so caught up with our regular winter treks that we couldn't free them for more teams on this trek. I would advise early planning for this trek. I expect the groups to get full in a couple of days.
Watch the video below to know more about the trek
Meanwhile, we made a quick video with our founder about the trek. He gives you a wonderful overview of the trek and tells you what to expect.Watch it here.
So that's our happy announcement this week. If you have any questions about the Deoban trek, drop in a comment. We'll write back to you!
PS: If you're a landscape photographer and would like to cover the Deoban Weekend Trek as a photo trekker, then write to Hari, our Photo Editor, on hari@indiahikes.com. Send him 15 of your best landscape photographs. If you're selected, we'll sponsor your trek from Dehradun to Dehradun.
Sign up for our much loved Weekly Mailer
We have terrific trekking tips, trek updates and trek talks to look forward to