Forclaz 200 Women's Mountain Hiking Fleece Jacket Review - A Smart, Sn...
Share this story
Fleece jackets are an indispensable part of my trek and winter gear. So when I got the Forclaz 200 Hiking Fleece Jacket around mid December, I immediately switched from my old fleece to this new one.
Since winter was setting in, I started using it right here in Bangalore. A week later, I took it with me on the Dayara Bugyal trek, in Uttarakhand. Here's my take on it.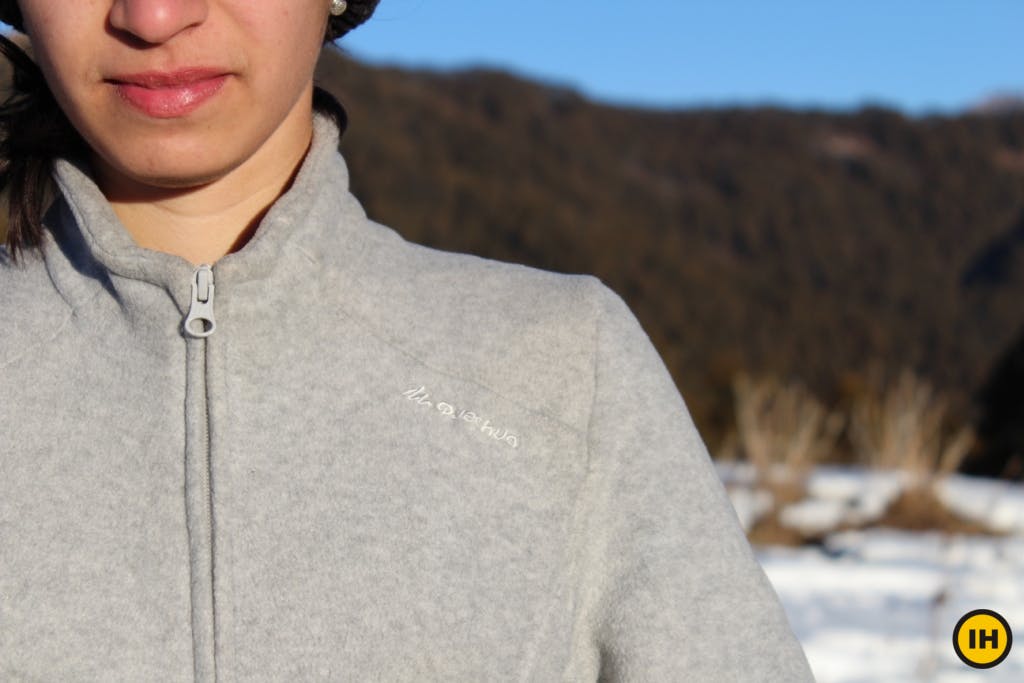 First Impression
When I first received the jacket I was a bit skeptical of how good a product it was. Considering I use my jackets well and often, I thought the grey colour was a bit too light. I thought it would get dirty quickly. Also, when I first tried it on, the shoulders seemed more squarish than what I normally wear. It was only after wearing it for a couple of days that I began to see the all good things the jacket had to offer.
Fit
I had picked size 'S' and it was the right choice. The fit is very smart. The squarish shoulders make one appear to have a more confident stance. The length is perfect, not too long, not too short. For example, it doesn't rise up if I bend. It isn't baggy or unshapely from any angle. The neck is a high collar design. This is very beneficial while trekking since your neck gets protection from the wind. Overall, I'd say it's snug and elegant. I looked and felt confident in it.
Zipper vs Pullover
I've used both kinds of fleece jackets and I prefer my hiking fleece to have a zipper. Imagine you're trekking and you feel the need to layer up or layer down. You wouldn't want to displace your headgear as you put on or take off your jacket. Having a zipper is much more convenient than having a pullover, especially while trekking.
Material
The jacket is a hundred percent polyester. It has all the best properties of polar fleece. It's made of warm, soft microfleece. It really is very soft to the touch. And at 265 grams it is super light. Just what one needs to keep a backpack from getting heavy.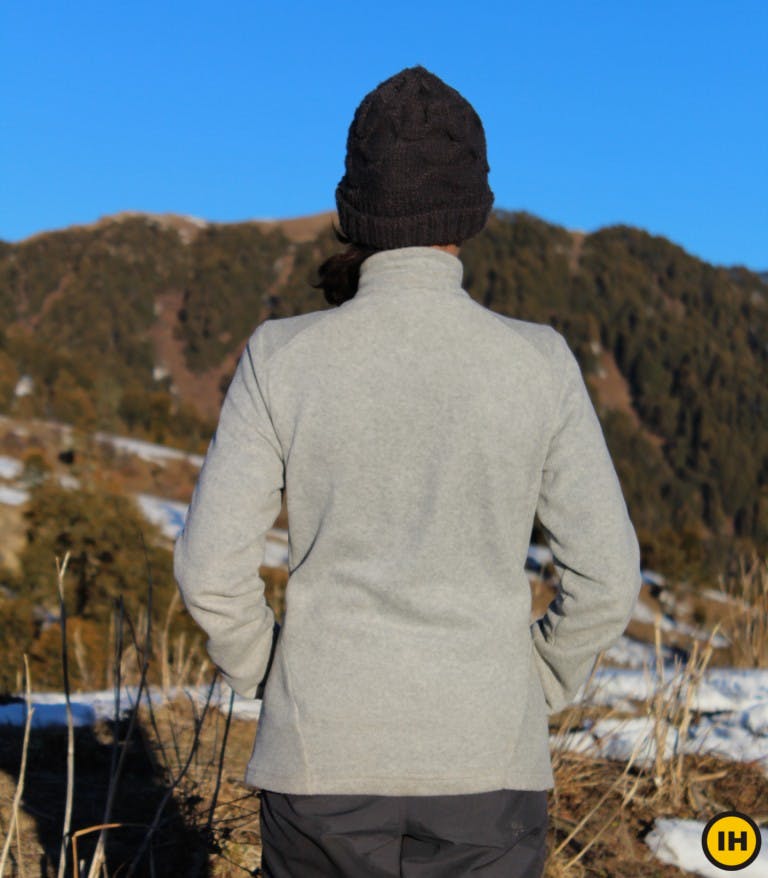 Colour
Light grey, black, purple, pink and blue. These are the colours Decathlon offers for this jacket. While I didn't initially think much of the grey, it grew on me. Contrary to what I'd thought, it didn't catch much dirt while trekking. Which is a big plus. Out of the five colours available, I think it's the most sophisticated. Also because the grey is a mottled grey while the other colours have some amount of print on them.
Warmth
I have owned and used other fleece jackets in the past. But I felt much warmer wearing this one. On chilly mornings in Bangalore, I felt a summery warmth when I wore it. On my trek, when I would normal wear 5 layers, I only wore 3, teamed with an X-Light down jacket again by Decathlon. I could easily say that this fleece combines the warmth of a regular fleece as well as a thin sweater.
Pockets
The jacket has outer zipped pockets and inner net pockets. It took me a while to discover the inner ones. Because the outer ones themselves are extremely comfortable. They're spacious enough for a big smartphone and a pen or two. What I like best is that they have easy-to-use zips. This proves to be very useful especially while trekking. There's no fear of anything falling out. The inner pockets are a bit smaller but are useful to keep maybe a tiny diary or some chocolates.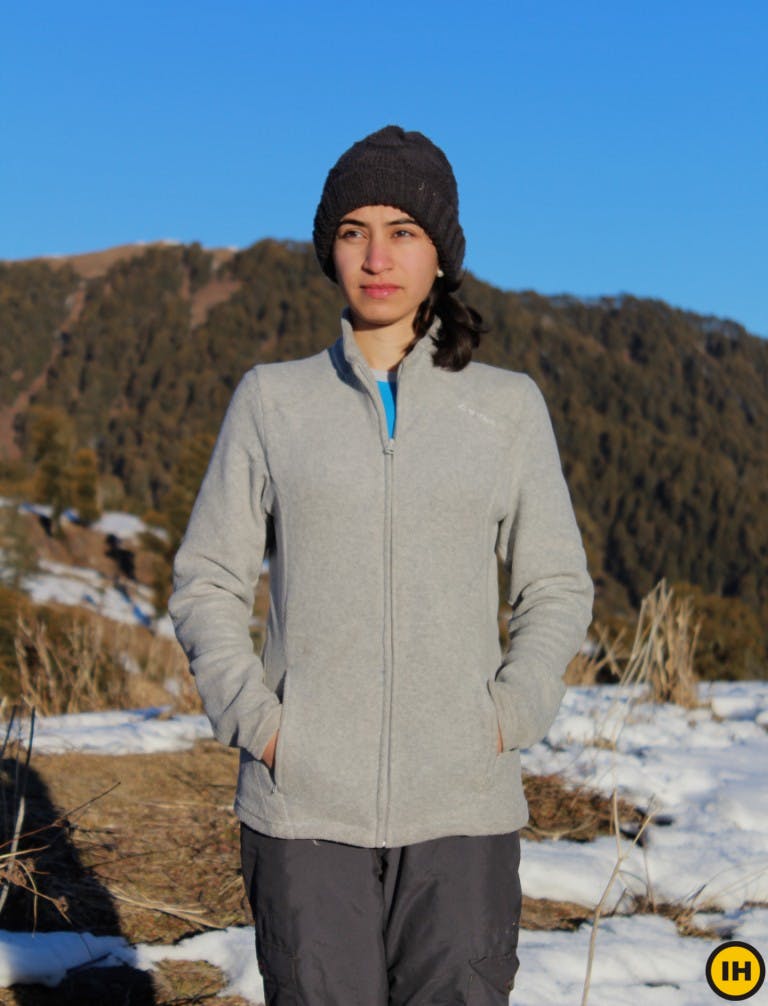 Wash & Maintenance
The jacket is machine washable. I've washed it once. It dried quickly and the wash didn't affect it. There were no bubbles rising as they do in many other fleece jackets.
Daily Use of the Jacket
I've used this jacket not just in the Himalayas but also in Bangalore. It keeps me warm and feels great. It's one of those jackets that you end up wearing everyday. It's comfort adds to its appeal immensely.
The Verdict
I've been using this jacket for a few months now. One of which was in extremely cold conditions in the Himalayas. I would give it a 5 on 5. It is definitely worth the Rs 999 you would spend on it.
What you should do now
1. If you want to join Indiahikes: Head over to our careers page. We have lots of positions open. We also have lots of applications coming in. So the sooner you apply, the better.
2. If you think your friends could benefit from this review: Share it on Facebook, Twitter or LinkedIn.
3. If you ended up here by chance and were actually looking for treks to do: Then head over to our upcoming treks page. You'll find all our Himalayan treks there.
4. If you want to see the 13 best treks of India: Then get our free guide here.
Sign up for our much loved Weekly Mailer
We have terrific trekking tips, trek updates and trek talks to look forward to