Forclaz 40 Air 2013 Backpack
Share this story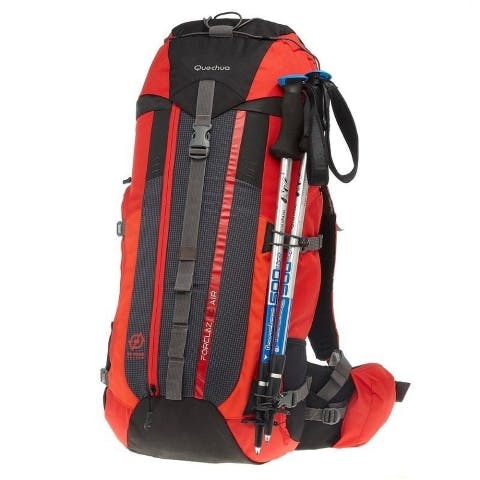 Having used the previous model of Air 40 series backpack, a few changes in the design of this new model came to our attention immediately. The design team from Quechua has streamlined the outer cornering of the backpack. It looks more neat and balanced.
They have worked on reducing the density of cushioning on the shoulder straps making it thinner than the previous model. The fabric also seems to weigh lesser. Overall, these tweaks have made the backpack a bit lighter.
Fast Access front zip
Weighing over 1.5 kg it is by no means a light backpack. There is a front zip option provides easy and fast access to your things. However, the U-shaped front zip design of the previous Air model was more practical and convenient.
Multiple Compartments
The backpack comes with a pocket for keeping a hydration pack. It also has a separate compartment to keep water bottles, mobile phone, trek poles and rain cover. The bag is designed for handling rough terrain. We are very happy with the bag in terms of its durability.
Comfortably Cushioned
Strap the bag over your shoulders and you'll notice how comfortable the backpack feels. The back-side mesh helps cool off your sweaty back as you trek. The load is well-distributed. Though the foam cushioning is less on the shoulder strap compared to the previous model, it feels equally comfortable. The hip belt is adjustable and locks in well. This distributes the weight evenly over both the shoulders. Though we do not recommend overloading backpacks, if need be, this bag can handle such situations as well.
Pros
All weather backpack for carrying load on a 1-3 day trek
Excellent air ventilation design
Value for money
Sturdy and reliable
Designed for short duration treks (weekend treks)
Cons
This backpack is heavy. Lighter backpack options are available. We recommend Forclaz 37 Speed & Deuter ACT LITE 40
Front zip design is not practical for accessing gear packed inside the bag
Final Verdict
Forclaz Air 40 backpack is an all-weather pack that will work well for weekend treks or treks for over 3 to 4 days. The strength of the backpack is its tough build and excellent air ventilation design. It comes with its own rain cover and is fairly priced. If you are looking for lighter backpacks, we recommend looking at Forclaz 37 Speed or Deuter 40 litre series backpacks.
Sign up for our much loved Weekly Mailer
We have terrific trekking tips, trek updates and trek talks to look forward to