How Difficult Is The Hampta Pass Trek?
Share this story
How Difficult Is The Hampta Pass Trek?
Category Trek Difficulty
By Aayush Jakhete
2022-09-27
Hampta Pass is one of the most popular treks in Himachal Pradesh. It is a dramatic pass crossing that takes you from Kullu to the Lahaul side. 
Every year, hundreds of trekkers plan to do this trek. They register many months in advance. 
However, Trekkers have many questions about the Hampta Pass trek -- How difficult is Hampta Pass? What is the weather like on Hampta Pass? How fit do I need to be for the Hampta Pass trek?
This blog tells you exactly what's difficult about the Hampta Pass trek, the weather, why it's rated as Moderate | Level 3 (Read more about our difficulty levels here)  and how you should prepare for it. This article will discuss the difficulty of the Hampta Pass trek. 
Many reasons come into play to grade a trek. 
1) Gradient 
2) Type of terrain
3) Exit points 
Based on these, the Hampta Pass trek is classified as a Moderate trek of Level 3. 
How Difficult is the Hampta Pass Trek?
The Hampta Pass trek is Moderate | Level 3 in difficulty. There are a few reasons for rating Hampta Trek as Moderate | Level 3. 
Rapid Altitude Gain
Lack of easy emergency exits
Small tricky sections
River crossings
Rapid Altitude Gain
The first reason is that it climbs a very high altitude quickly, i.e.14,000 feet. 
During the drive from Manali to Jobra, you gain an altitude of 3,000 ft. Later, in the next two days, you will reach 14000 ft. 
It's a rapid altitude change, and consequently, there are many cases of altitude sickness on this trek. Most of the time, we identify the symptoms initially and provide medication; however, that's not always possible. 
Lack of Easy Emergency Exits
Exiting is not easy on this trek, so once you get deep into the trek, especially from a place like Balu ka Ghera. You have to exit through the valley by trekking, as roads are not easily accessible. Therefore, the chances of AMS are high, so it's essential that you read about altitude sickness before you go on this trek. 
Small Tricky Sections
Tricky sections on Hampta Pass are another reason for rating this trek as Moderate | Level 3. After crossing the pass, you reach Lahaul, which has a desert-like and rocky terrain. It also has overhangs overlooking the river. 
River Crossings 
Before crossing passes, there are some river crossings and some overhangs. Our team will be fortifying these sections with ropes or stationing themselves there to help you cross them.
How Fit Do I Need to be for The Hampta Pass Trek?
Fitness plays a critical role in successfully finishing any trek. Even if you are a beginner, your fitness can smooth your experience. So ensure you get fit for at least a month and a half before the trek. 
To be fit for the Hampta Pass Trek, set a target of running 5 km in 35 mins for you to achieve, this will help you to do the trek comfortably. So, you will be able to trek without any issues if you achieve this target at least two weeks before your trek. Also, working on your core muscles, legs, and upper body is essential because you will carry your backpack while trekking uphill. So, add squats and planks to your fitness routine. 
Click to read about Fitness Preparation.
What is the weather and temperature on the Hampta Pass Trek?
Many trekkers ask about the weather and temperature of the Hampta Pass Trek -- is it going to be too rainy? Am I going to feel too cold? Is it going to snow on the trek?
Here's an interesting fact: Hampta Pass is actually one of our colder treks. This is because the entire trek is in a very narrow valley on both sides of the pass. Picture it as a tunnel with a lot of wind blowing through it. So you tend to feel much colder on the Hampta Pass trek compared to the Uttarakhand treks. 
Hampta Pass is a high-altitude pass crossing at 14,000 ft. The campsites on either side of the pass are also very high. So Balu ka Ghera and Shea Goru are about 12,000-12,500 ft. That's the height of Kedarkantha peak. 
This means both are alpine camps above the treeline. You are surrounded by rocks and snow patches. So these camps are a lot colder than the lower campsites.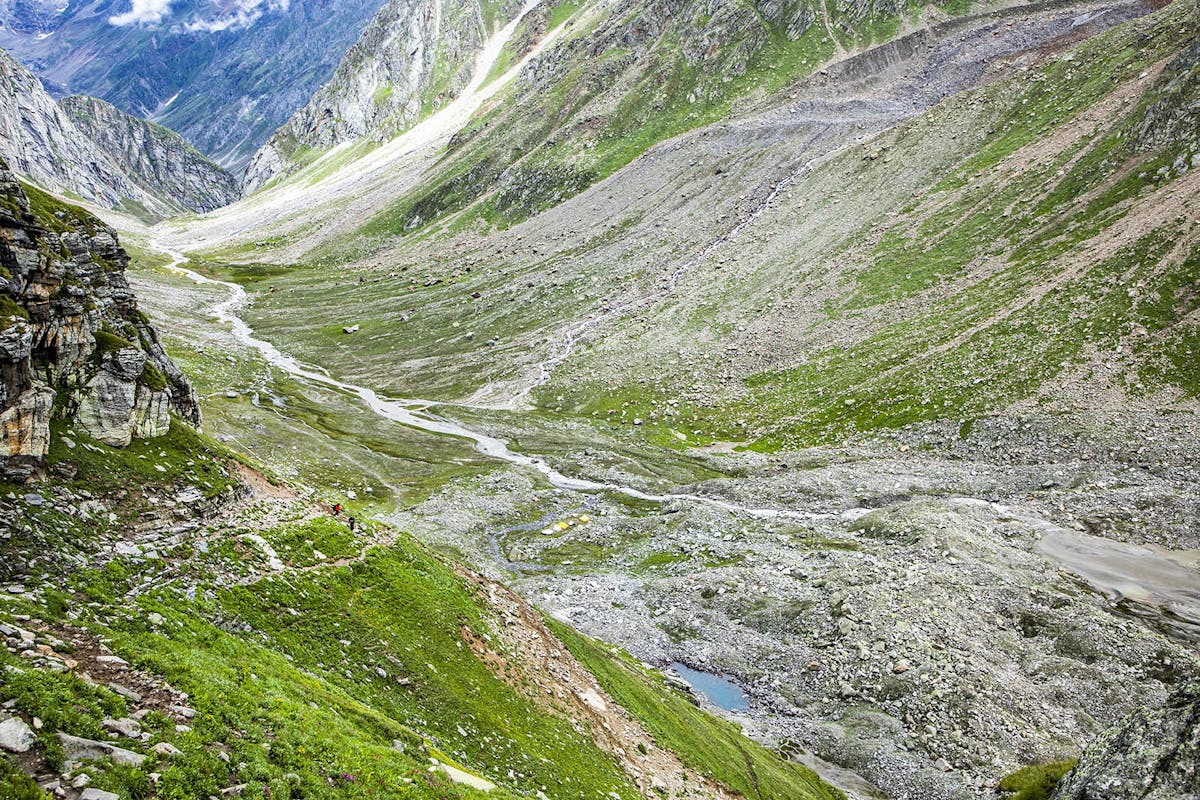 Expected Weather on the Hampta Pass Trek
Hampta Pass is done between June and September. June and September are colder months than July and August. 
You'll find a lot of snow in June, which makes the wind blowing through the valley colder. 
July and August are warmer as it's raining, and snow is washed away. You see multiple flowers blooming at this time.
September again gets cold as it marks the onset of winter. From September onwards temperature starts declining, almost 1-2 degrees every week! You might see the first snow coming in October's first week. 
Expected Temperature on the Hampta Pass Trek
On Hampta Pass, you can expect the temperature to be between 13-18 degrees Celsius during the day. It's comfortable weather. 
In the evening, the temperature drops. You can expect something between 8-13 degrees. 
Further, into the night, the temperature will drop to around 3-4 degrees at the lower campsites. At the higher camps, it can drop to sub-zero levels in June and September. 
If it's raining or snowing, the temperature will be lower.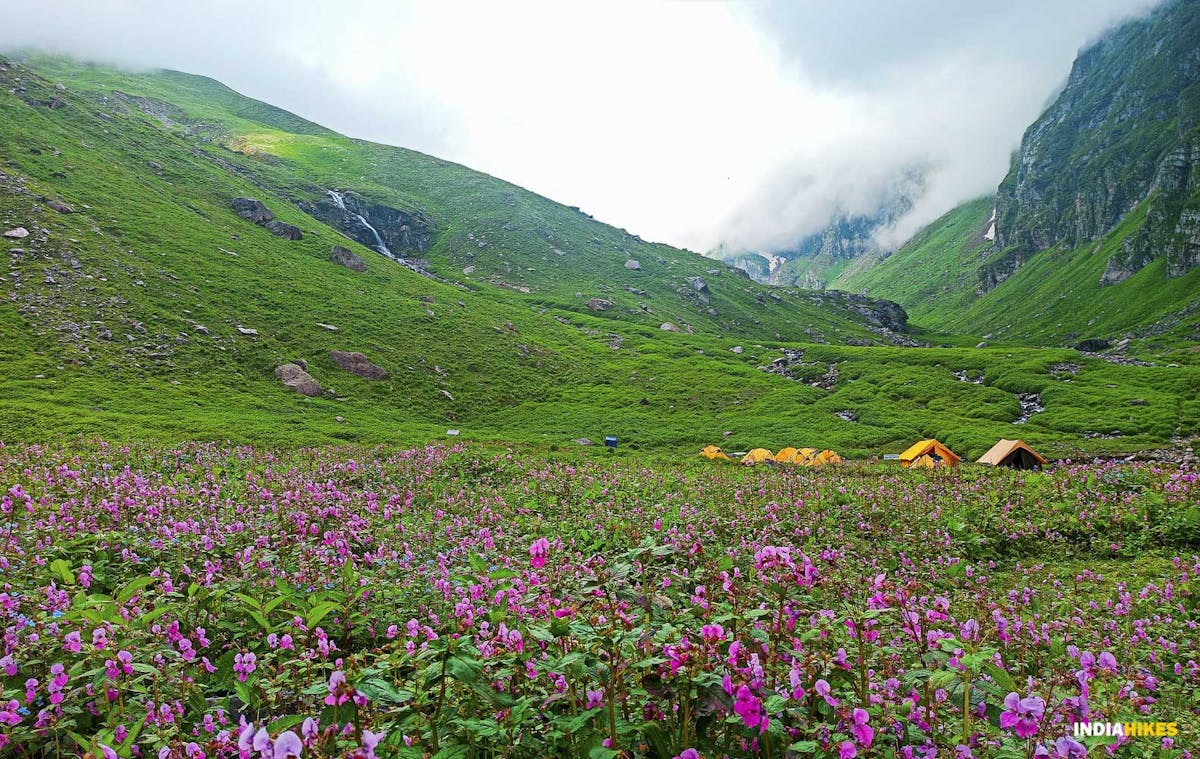 Will it rain on the Hampta Pass trek?
Truth is, yes, it is the monsoon, and it will rain on the Hampta Pass trek. But it doesn't rain every day. In fact, that rarely happens. And it also does not rain all day. It usually rains or drizzles only for a few hours, depending on local weather conditions. 
But do not worry about these. We suggest you always carry your rain gear with you. In case it rains heavily, our team will take a call on whether to be stationed at the same camp for an extra night or to proceed further or return. This doesn't often happen, but be prepared for it. We suggest keeping a buffer day in your itinerary to have an extra day for such situations. So, that's all you need to remember to prepare for the Hampta Pass trek. 
At this point, you must also understand that the Hampta Pass trek is proceeding towards the rain-shadow region of Lahaul.

Will there be snow on Hampta Pass?
Snow at Hampta Pass will be present almost until the end of July. The snow starts melting after the end of July. You will see snow patches there. If required, our team will give you microspikes and Gators to attach to your shoes to walk on the snow, so there is nothing to worry about.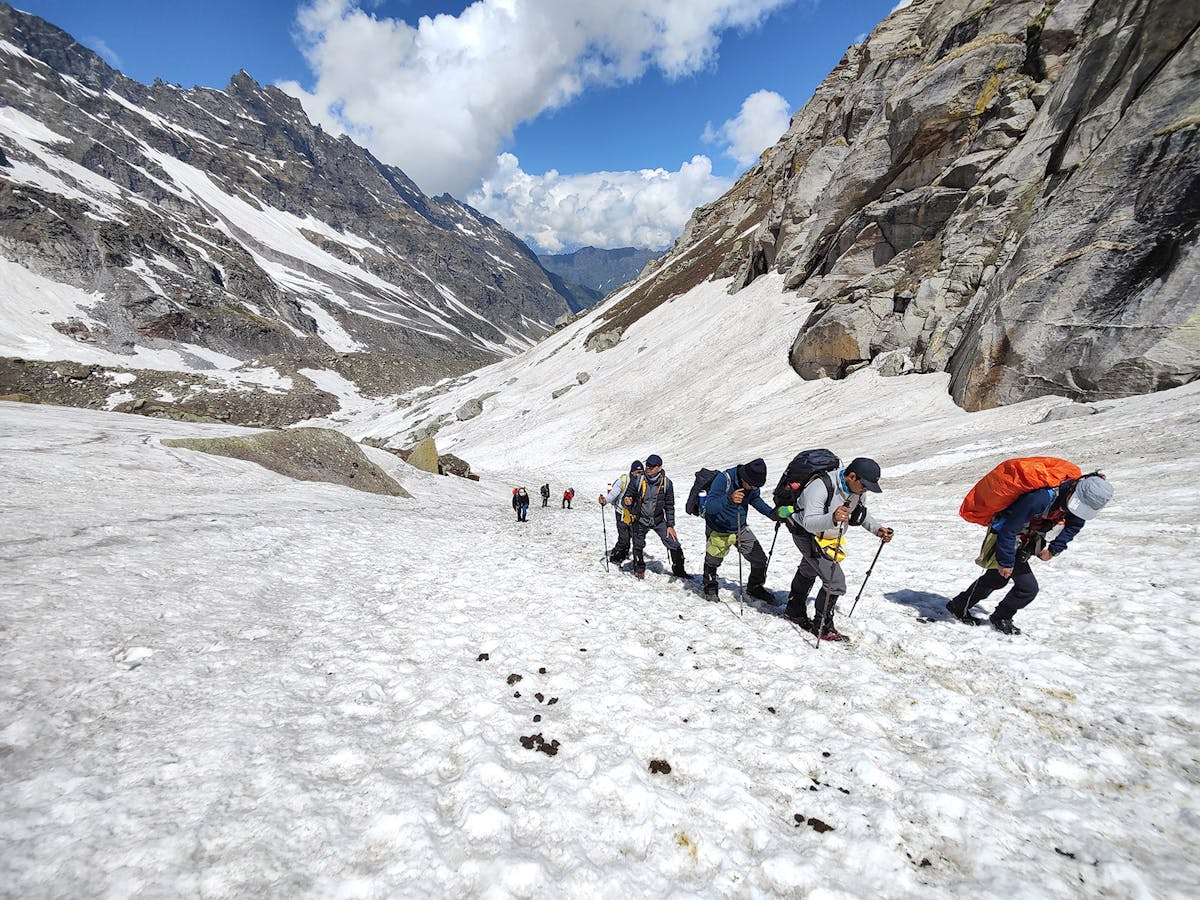 What is the Best Time to do the Hampta Pass Trek?
The best time to do the Hampta Pass is between June and September. Some people may even take you there in May. But it's not recommended in May as you'll find a lot of snow on the trail. Some people also plan for the trek in October. Although a beautiful month, you have a high chance of encountering the first snow in October. 
So June to September is a solid season to do the trek. And the trek goes through transitions throughout these months! A person who has trekked in June may not even recognise the trek in September. 
In June, you see a lot of snow in the valley of the Hampta Pass trek. You'll witness a good amount of snow till the beginning of July.
Then, you'll encounter rain throughout the season in July and August. It brings out the flowers and lush green on the trek. Hampta Pass is like the Valley of Flowers of Himachal Pradesh in August! So if you want to see flowers, that's when you should go.
In September, the rain decreases, but the colours are dramatic.
So choose a time depending on what you want to see on the trek. If you wish to see snow, then plan early in the season. If you want to see greenery, later in the season is a good time.
Conclusion
This brings us to the end of this article on the difficulty of the Hampta Pass trek. Although Hampta Pass is one of the most enjoyable and popular Himachal treks, it is a trek that will challenge you to its fullest. Make sure you prepare well for it mentally and physically.  
If you have any questions about hampta pass, head out and ask them on our community forum. This is a community space or trekkers to ask questions, seek advice, and share their thoughts, opinions and experiences. It is also a space for you to personally participate and help other trekkers with your expertise. 
Check out the forum and be a part of it!
Related Videos
How Difficult Is The Hampta Pass Trek | How To Prepare For It | Indiahikes
Hampta Pass Weather And Temperature | Hampta Pass In June, July, August, September | Indiahikes
Sign up for our much loved Weekly Mailer
We have terrific trekking tips, trek updates and trek talks to look forward to