How difficult is Har Ki Dun-Ruinsara Tal trek
Share this story
How difficult is Har Ki Dun-Ruinsara Tal trek
Category
The Har Ki Dun-Ruinsara Tal trek is nestled in the Govind Pashu Vihar National park situated in the Western range of the Garhwal Himalayas. This region is known for its biodiversity, rich flora, and fauna. The upper reaches of this national park are restricted to protect the snow leopards in India. 
But the Har Ki Dun-Ruinsara Tal trek is accessible. It's best to do this trek in spring, summer and autumn. In peak winters the trek is closed due to heavy snow in the valley. 
The trek moves alongside the Thamsa river into the Govind Pashu Vihar National Park. Photo by Gautam Doshi
How long is Har Ki Dun-Ruinsara Tal Trek
The Har Ki Dun-Ruinsara Tal trek is almost 64 km long. It takes you through two valleys — Har ki Dun and Ruinsara. This trek climbs to the maximum altitude of 11,850 ft when you trek through the Ruinsara Valley.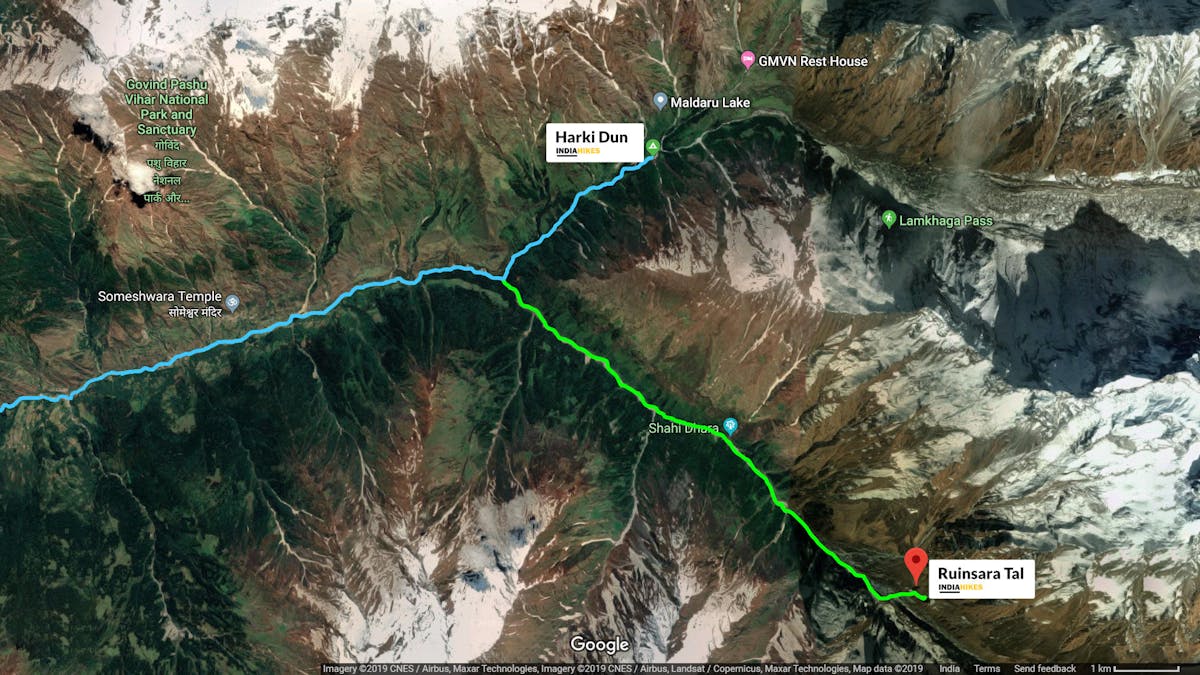 What's the difficulty rating for Har Ki Dun-Ruinsara Tal 
Har Ki dun- Ruinsara Valley Trek is a moderate trek level 3 on a difficulty level ranging from easy to difficult. 
You start from Kotgaon which is at an altitude of 6,455 ft. You reach a maximum altitude of 11,850 ft at Ruinsara Valley on day 6  (via Har Ki Dun at 11,700 ft on day 4). 
In terms of terrain, for the most part, it is an easy hike through the valley.
But there are 2 big reasons why we rate the trek as a moderate one. They are: 
– The long-distance you cover every day:  Expect to hike an average of 10 km a day
– The lack of multiple exits:  There is only one. The way into the valley is the only way out. So this makes evacuations a bit challenging. 
Having said that it is still a trek that can be done by fit first-timers.
You will need at least 4 weeks of solid preparation for this trek. You can begin preparation by going for brisk walks and then doing brisk jogs to improve your cardio. Your target should be to cover 5 km in 35 minutes comfortably by the start of the trek.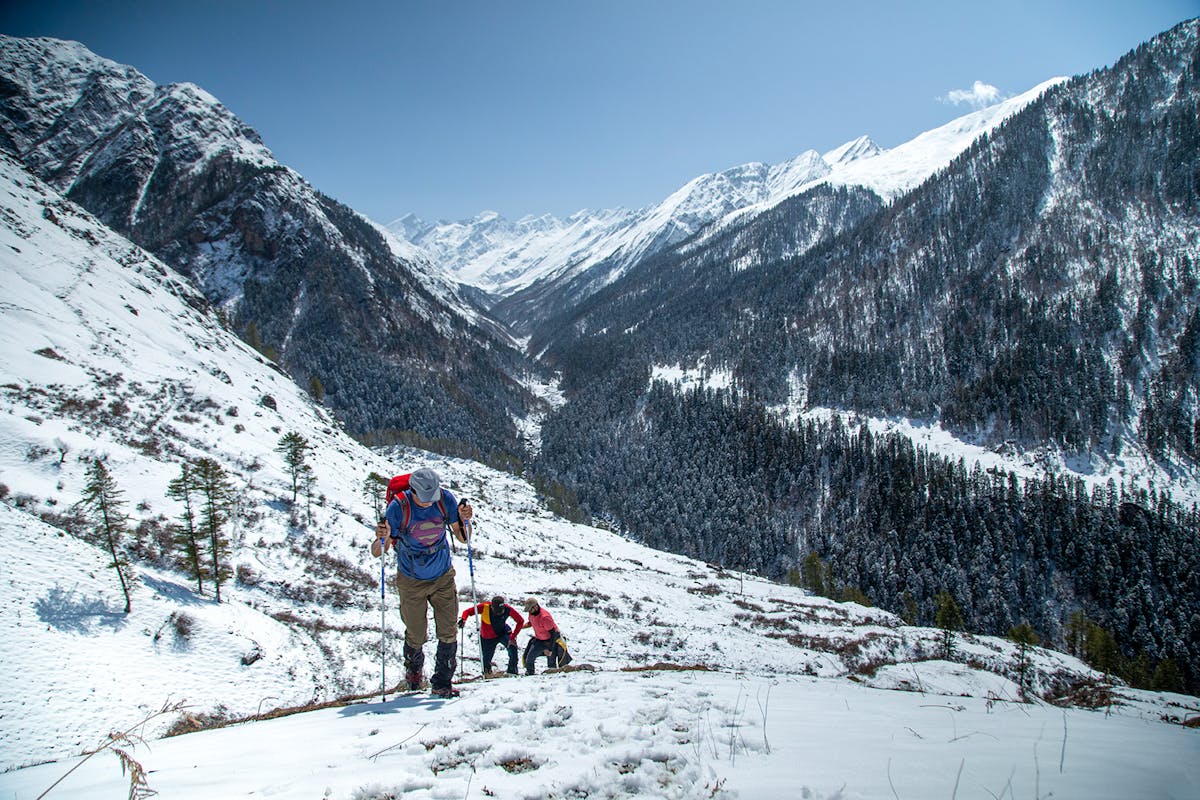 Trekking to Har Ki Dun-Ruinsara Tal in winter is a bit more challenging. The snow in the valley raises the difficulty of the trek. Photo by Jothiranjan
What are the difficult sections on Har ki Dun-Ruinsara Tal trek
The good news is that the Har Ki Dun – Ruinsara Valley trek does not have too many sections that pose a challenge in terms of terrain. The long distances covered on the trek might tire you, but there aren't many tricky areas on the trail that will test you too much.
Here are the only sections where you'll need to be extra cautious:
Overhangs above Ruinsara Gad while trekking towards Swarnadhara
There are several sections on the trail from Rainbasera to Swarnadhara, where you have to traverse overhangs above the fast-flowing Ruinsara river. These are narrow uneven trails. If you're trekking in a snowy season, you might have to navigate over steps cut across snow bridges. This could make you prone to slips and falls.
Safety Advice: Tread carefully on these sections. Avoid any form of distractions, especially talking to other trekkers. Do not look towards the valley. Do not hold the hands of other trekkers. Do not use mobile phones or cameras in these sections. Take short, firm steps to navigate these sections. Ideally, step on snow bridges only where their footholds.
River crossings with a rope and pulley system (if bridges have been washed off)
The entire Har Ki Dun – Ruinsara Valley trail is laid out along the length of the Thamsa river and the Ruinsara gad. There are hardly any sections where you're not accompanied by a river/stream.
This means you're constantly crossing rivers and streams on this trek. Most of the time, there are wooden / cement bridges that help you across.
But it is not uncommon to see wooden bridges washed off by the river. In such cases, you may have to get across the river with a rope and pulley system.
Conclusion
Although Har Ki Dun-Ruinsara Tal trek is long, and has the challenge of trekking long distances in a day, the trek is doable if your preparation is in place. For this trek, ensure you work well on your stamina. Make it a habit to go for long walks and runs. It will orient your body to long distances.
Despite its share of difficulties here's what makes Har Ki Dun - Ruinsara Tal special for us.
Sign up for our much loved Weekly Mailer
We have terrific trekking tips, trek updates and trek talks to look forward to