Asthma And High Altitude Trekking
Share this story
A lot of trekkers write to us asking if they can trek with asthma. If they can, where they should go and how they should go about it. If you're one of them, this article by Dr. Sreelakshmi T, is for you. Though she is a Trek Coordinator at Indiahikes, she is a qualified MBBS doctor and her passion lies both in medicine and trekking. This has everything you need to know regarding trekking with asthma, what you need to keep in mind, and some useful tips.
When I was in class 8 and 9, the very throes of my school-days, I battled severe asthma. I would find it difficult to run even 1 km without getting extremely short of breath. In fact, I once suffered an attack so severe that my parents thought I would not survive.
Thankfully, as is common among people who suffer from asthma as children, my attacks reduced significantly when I entered my late teens. Not only am I able to comfortably run 10 km now, I also trek extensively on long, tough terrains.
This year, I completed the Annapurna Circuit Trek during the March-April season without the help of an organisation. It was just me, a few friends and a backpack. And I didn't even remember that I had asthma.
With the right amount of preparation and caution, asthmatic trekkers can undertake longer treks like the Annapurna Base Camp. Photo taken by Chaitan Sharma.
If you worry about trekking with an asthma condition, I will tell you how you can recognize symptoms, prevent them on your trek and prepare better for it.
Why Do You Get Asthma
Asthma is a common, prolonged, inflammatory condition of the airways that connect your nose and upper respiratory system to your lungs. It commonly starts in childhood, between the ages of 3 to 5 years. It can either worsen or improve during adolescence.
Some of the most common triggers are common cold, environmental triggers like pollen, animal hair, fur, atmospheric pollution, irritant dust and fumes.
The usual symptoms of asthma are wheezing, chest tightening, cough and sometimes, a severe shortness of breath which gets worse at night. You feel suffocated and unable to breathe, as if someone is strangling you.
As a trekker, you may wonder if exercise can also trigger asthma. In fact, there is a separate kind of asthma called Exercise Induced Asthma.
As the name suggests, in this condition, strenuous exercise leads to the narrowing of the airways in the lungs. The main trigger here is dry or cold air. Or both.
In general, exercise that exposes you to cold, dry air is more likely to cause asthma symptoms than exercise involving warm and humid air. So, if you are an asthmatic, avoid exercising in very cold or dry air, or in dusty polluted environments.
"I have asthma. Can I do a high-altitude trek?"
Well, that depends on the severity of your asthma. It could either be mild or severe.
Mild Asthma
Mild or refractory asthma is when you have occasional symptoms, or less than two attacks per week. Generally, you can manage this by taking short acting drugs to control the inflammation. The most common way of doing this is by using inhalers.
If you have mild asthma, you can do a high altitude trek. Make sure you discuss this with your doctor first and your asthma is under control. Try something along the lines of a Dayara Bugyal in the summer season and see how you fare on a five day trek.  Push it up to something like Buran Ghati afterwards – but make sure you take your medications with you. Campsites like Dayara and Dhunda can get too cold; that may cause asthmatic symptoms.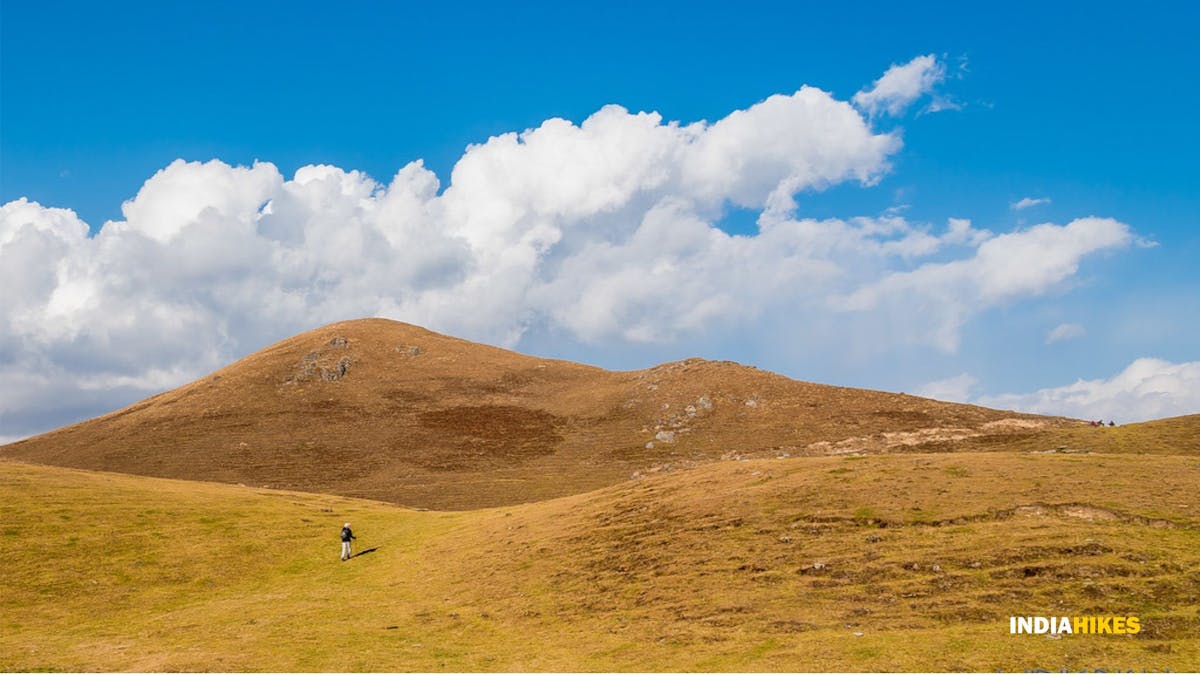 Dayara Bugyal is a 6 day long easy-moderate trek. It is a good introductory trek for mildly asthmatic people. Picture by Vinkrish.
Severe Asthma
Severe asthma is when you have more than two attacks per week. To treat this, you have to go on a longer course of drugs. These drugs are used along with inhaled steroids to control inflammation.
You can still trek with severe asthma, but with the right precautions. You need to get a certificate of clearance from your doctor, to ensure that your symptoms are under control with medication. You will also need to follow a good fitness regimen to be well prepared for the trek. Try a smaller trek at first – Deoban Weekend trek should do fine in winters (watch out for the cold in the campsite!) and in summers, consider four day treks like Beas Kund and Bhrigu Lake. When you see yourself doing well on these short treks, try something longer – a Har Ki Dun or maybe even a Hampta Pass.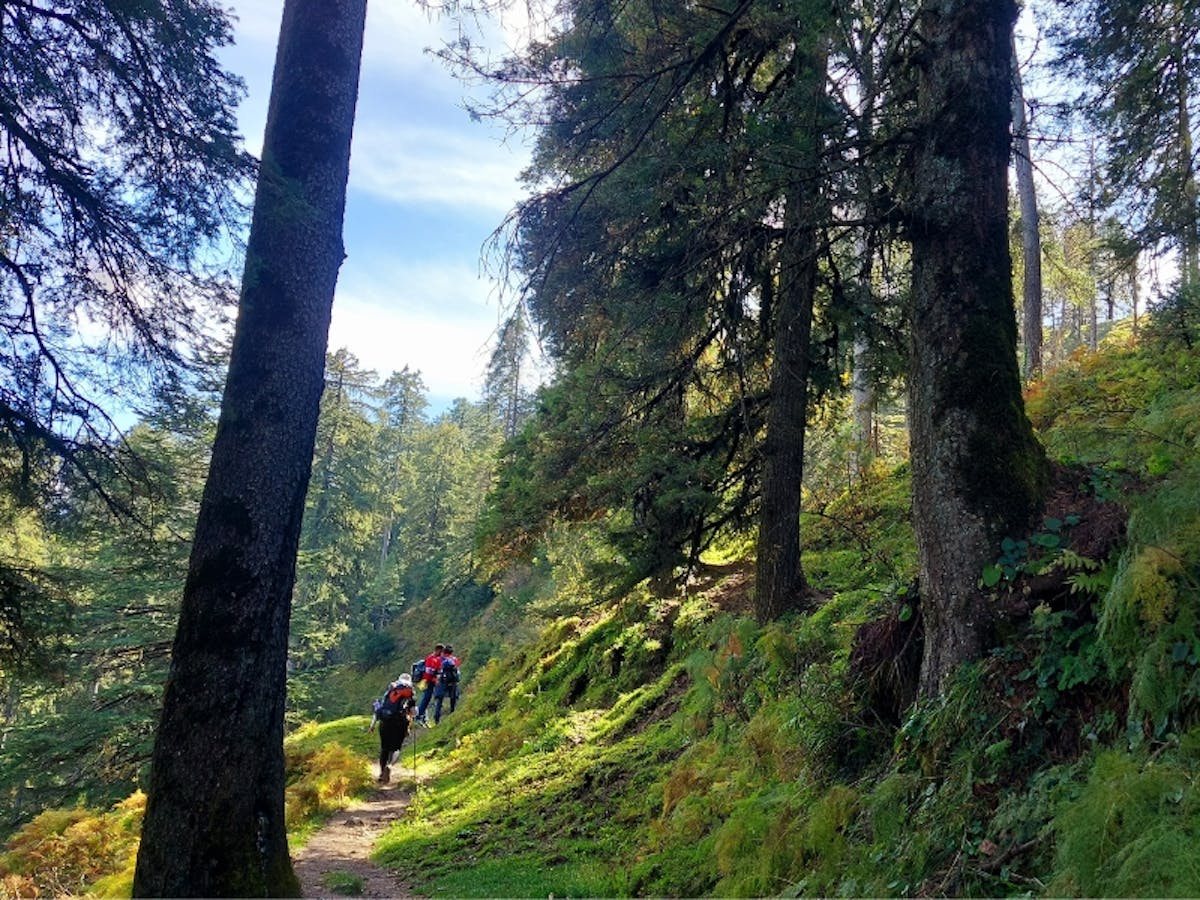 If you are new to trekking, you can begin with a short 2 day weekend trek to test how your asthma will fare in trekking conditions. The Deoban trek is a good one to start with. Photo by Mrinal.
Severe Uncontrolled Asthma
Severe uncontrolled asthma is where you have several attacks per week. This makes you prone to Status Asthmaticus. When this happens, you get attacks one after the other, without a pause. These attacks are severe and acute and are not responsive to drugs.
As the symptoms worsen, you experience breathlessness and cough (often worse at night). In fact, breathlessness may be so severe that it is impossible to speak more than a few words (inability to complete sentences). It usually requires hospitalisation. It can be life threatening if you do not start therapy and receive life saving injections right away.
I would advise you not to trek if you have severe uncontrolled asthma.
How Does High Altitude Trekking Affect Asthma
Studies on the affect of high altitude on asthma have had varying results.
Some patients demonstrated profound changes in their immune system with reduced inflammatory activity to an extent that they could even cut down on their medicine dosage. On the other hand, not all people showed such improvements and were prone to asthma attacks. 
It is already known knowledge that exposure to cold weather and thin air with less oxygen can trigger asthma. In addition to this, all studies, even the ones that show improvement of asthmatic conditions at higher altitudes, list these additional triggers to watch out for:
– Upper respiratory infections – even something as basic as the common cold (very common in high altitudes)
– Unknown allergens
– Exercise induced asthma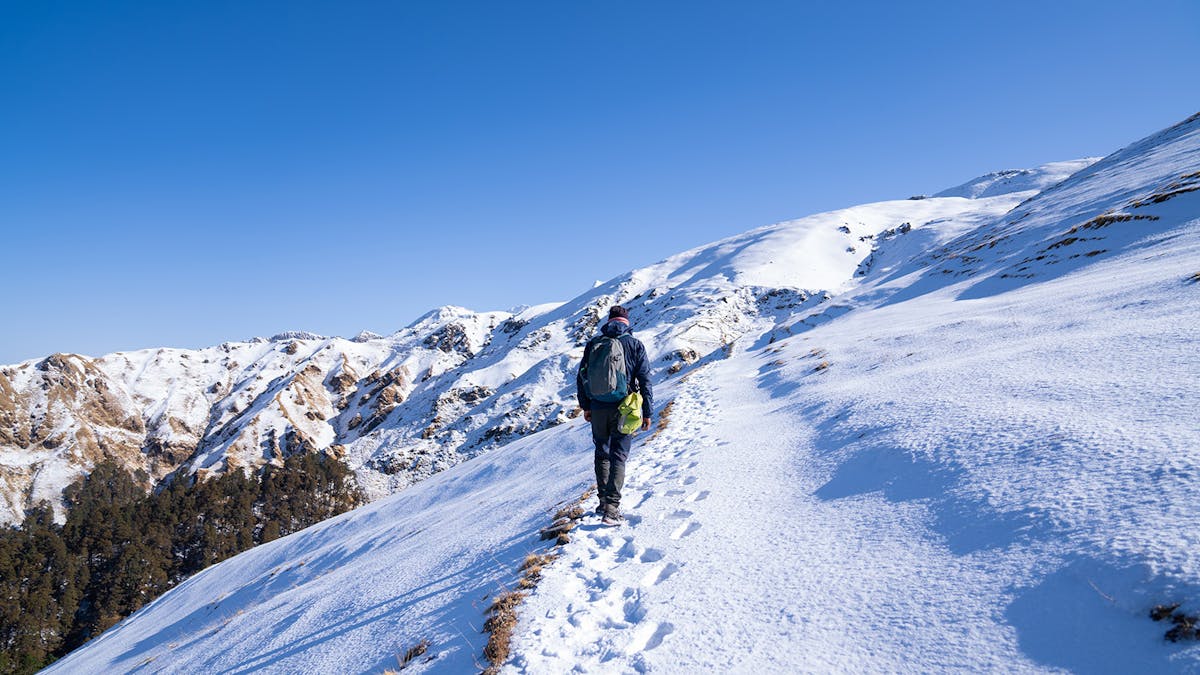 Take extra caution when trekking in snow or cold weather. Cold can be an asthma trigger so it is very important to keep your body warm. Picture taken by Yash Trivedi on the Ali Bedni Bugyal trek.
What You Should Do If You Are Trekking With Asthma
1. If you are asthmatic and thinking of going on a high altitude trek, make sure you get a clearance from your doctor first.
2. Know the severity of your asthma. Do not attempt advance level treks or treks without good connectivity and infrastructure if you have severe asthma.
3. While preparing for the trek, introduce running and aerobic exercise into your fitness routine to increase your lung capacity. Over time, this helps with exercise induced asthma and builds immunity.
4. Carry all your medication along and understand what usually triggers your attacks so you know how to deal with that particular trigger.
5. Knowing your asthma triggers will help you better prepare for the trek and avoid an attack while trekking.
6. Reach the base camp a couple of days early to acclimatise. Proper acclimatisation will help your body prepare well for your ascent.
7.  Inform your Trek Leader about your condition and your general trigger as soon as you reach the base camp.
8.  Hydrate yourself regularly. This prevents the drying of your throat and helps in reduction in incidence of upper respiratory tract infection (URTI).
At Indiahikes, we carry oxygen cylinders on all our treks and it is with trek leaders and at campsites.  Our trek Leaders also carry oximeters checks every day so we can spot immediately if something is slightly wrong.
I will conclude this article with some Frequently Asked Questions:
1. Does keeping warm all the time help avoid attacks?
Yes this would help. This is because, cold weather makes asthmatics more prone to attacks. Keeping warm would help you prevent upper respiratory infections as well. Especially if cold is one of your triggers.
2. Is it ok to take Diamox when I have asthma?
Diamox and asthma drugs have different mechanisms of action. There is no contraindication to taking Diamox if you are an asthmatic.
3. Are asthma patients more prone to AMS?
There is no real record that connects AMS cases to asthma. 
If you are an asthma patient, and have trekked at high altitudes, please drop in a comment below about your experience. We would love to hear about it and learn from your experience! Also, if you have a breathing problem and AMS, you could drop in a comment and volunteer for a case study.
References:
1) Research showing improvement of asthma symptoms and lung function at high altitudes due to changes in the immune system – https://www.ncbi.nlm.nih.gov/pubmed/18320497
2) Research showing that after one month at high altitude, a reduction in airways inflammation occurs in children – https://www.ncbi.nlm.nih.gov/m/pubmed/8693437/?i=2&from=/23775828/related
3) Results suggesting that travelling to high and extreme altitudes is safe for patients with mild asthma – https://www.ncbi.nlm.nih.gov/pubmed/20632917%20%20
4)  https://www.ncbi.nlm.nih.gov/m/pubmed/8620949/?i=2&from=/19519226/related
What you should do now
1. If you want to read more such articles: Head over to this page with all our Expert opinion articles. We have many useful tips that can make your trek experience better.
2. If you want to work with us: Head over to our careers page. We have lots of positions open. We also have lots of applications coming in. The sooner you apply, the better.
3. If you ended up here by chance and were actually looking for treks to do: Then head over to our upcoming treks page. You'll find all our Himalayan treks there.
4. If you want to see the 13 best treks of India: Then get our free guide here.
Related Videos
Can I Trek With a Sinus Problem?
Can you Trek with Arthritis?
Can You Trek With Coronary Heart Disease?
Trekking During Periods! Best Hygiene and Sanitary Practices On A Trek
Sign up for our much loved Weekly Mailer
We have terrific trekking tips, trek updates and trek talks to look forward to