Why Trek Insurance Is Mandatory On Our Treks And What It Covers
Share this story
Why Trek Insurance Is Mandatory On Our Treks And What It Covers
Category Trek Like a Pro
By Venkat Ganesh Gudipaty
2019-07-20
Going on a trek isn't as big an investment as buying a car or a home. However, it is a highly adventurous activity and by nature involves a certain amount of risk.
There are chances of avalanches, floods or landslides occurring in the mountains due to unpredictable weather. From fractures and sprains to higher forms of AMS, injuries and illnesses are thus highly probable for trekkers.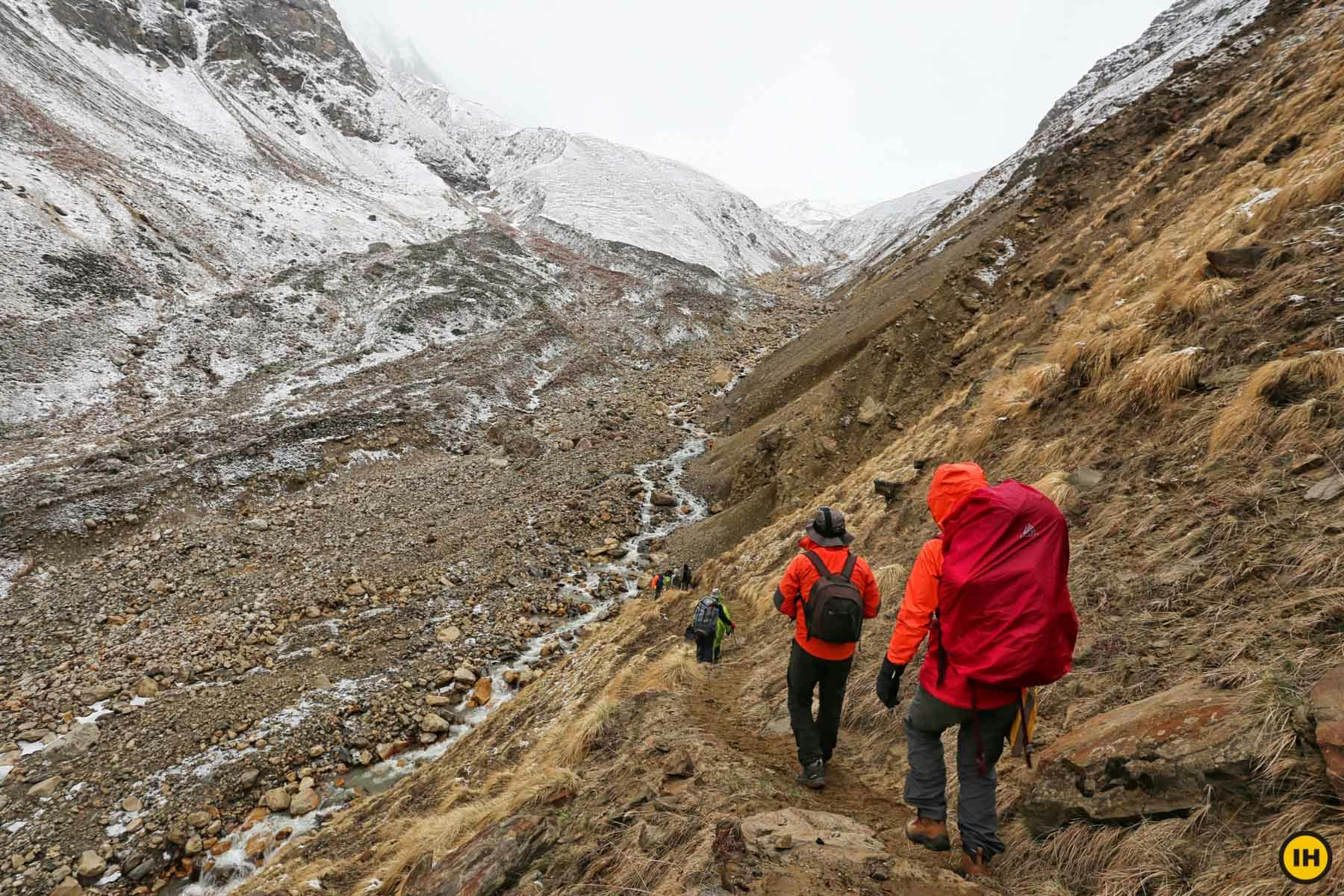 Here's where trek insurance comes into play.
Having a trek insurance is an essential part of your pre-trek planning. At Indiahikes, we have always strived to make treks safer for our trekkers. We used to offer trek insurance as an option over the past years. We have now made it mandatory for all our treks.
Though you may have your own life insurance and/or a medical insurance policy, chances are these policies do not cover any risks incurred while participating in adventurous activities like trekking. Read the fine print and you'll know what we're talking about.
In this article, we explain why trek insurance is important and what our insurance policy covers.
Why we made trek insurance mandatory
Trekking by nature is a high risk activity. You are at a high altitude (above 8,000 ft), the weather is unpredictable and at most times the terrain is difficult too. Illnesses, accidents and injuries aren't uncommon in the mountains. Most of these can be sourced to a couple of reasons.
Firstly, most of our treks are in high altitude.
In most of your treks with Indiahikes, you'll be reaching heights of 11,000 ft or higher. The chances of getting hit by AMS are very real.
When we see a trekker consistently display symptoms of AMS, the first thing we do is make him or her descend. In most cases, quick descent coupled with a course of Diamox treatment does the job.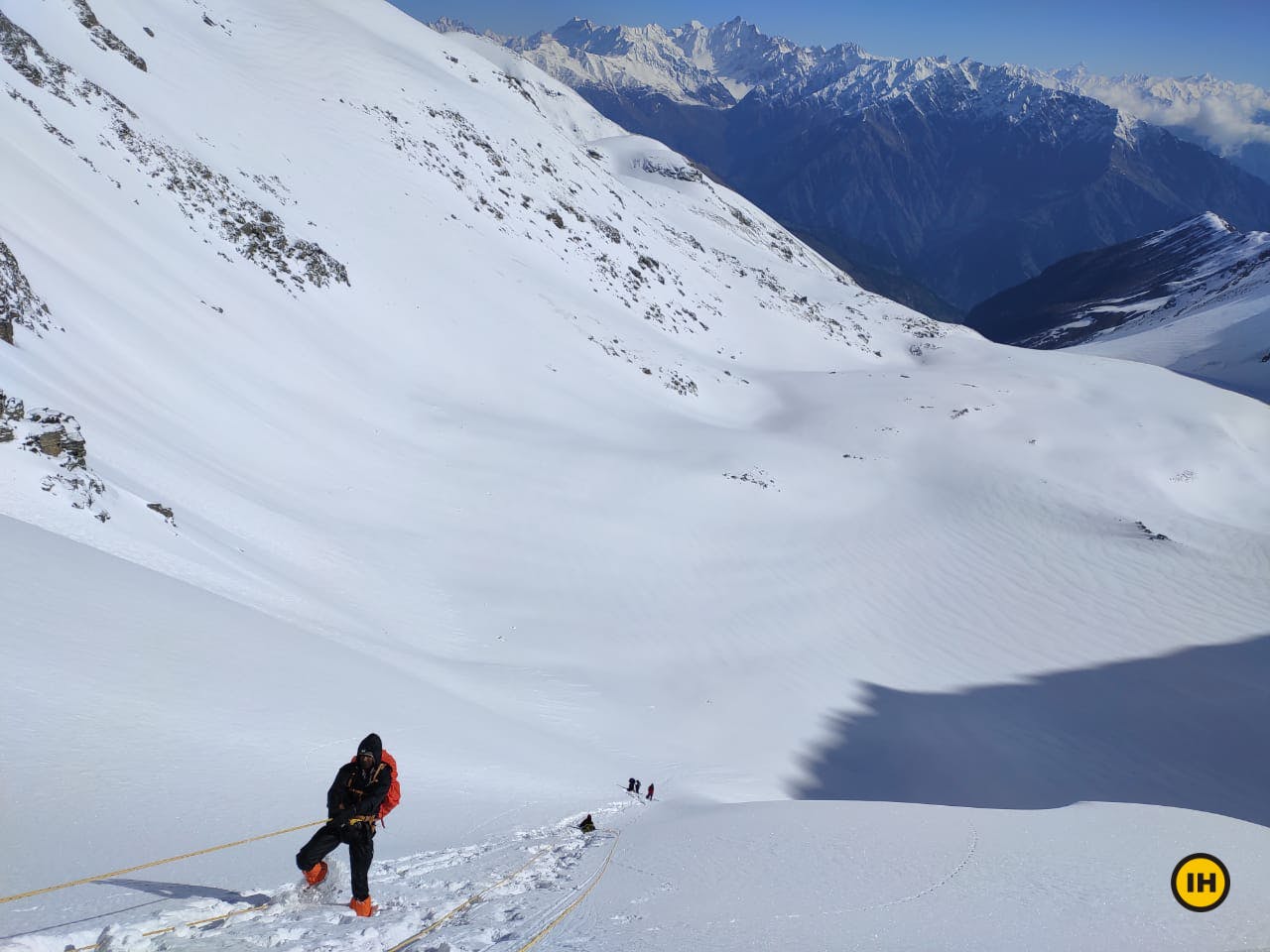 But in some severe cases, the AMS progresses to the more dangerous HAPE or HACE. These require immediate evacuation and medical attention.
The more remote the trek, the more serious the condition. And higher the costs of rescue and medical assistance.
To give you an example, we recently had a trekker on our Goechala trek get hit by HAPE on the Goechala trek. This was at Lamuney campsite (13,743 ft). Out Trek Leader immediately brought her down to basecamp, hired a car, and transported her to the nearest hospital. The total charges for treatment, evacuation and stay amounted to approximately Rs. 11,000.
Secondly, accidents happen.
Even though we emphasise on safety, accidents are inevitable in the Himalayas. Unpredictable weather conditions and nature of terrain can cause unexpected injuries.
In our experience, these are the possible injuries:
Ankle sprains
Ligament tears while climbing steep terrains if your muscles are not warmed up
Arm or leg fractures due to falls
Slipping on wet trails which causes injuries
Injuries during playing games at campsite
Accidents like these always require immediate evacuation and urgent medical expertise.
At Indiahikes, we've always put in processes and measures to increase the safety standards on every single trek of ours. All our Trek Leaders are Wilderness First Responder (NOLS) certified. They are equipped with a High Altitude Medication Kit, oxygen cylinders, and two-way radios for constant communication with base. We have made microspikes mandatory on all our snow treks. And so much more.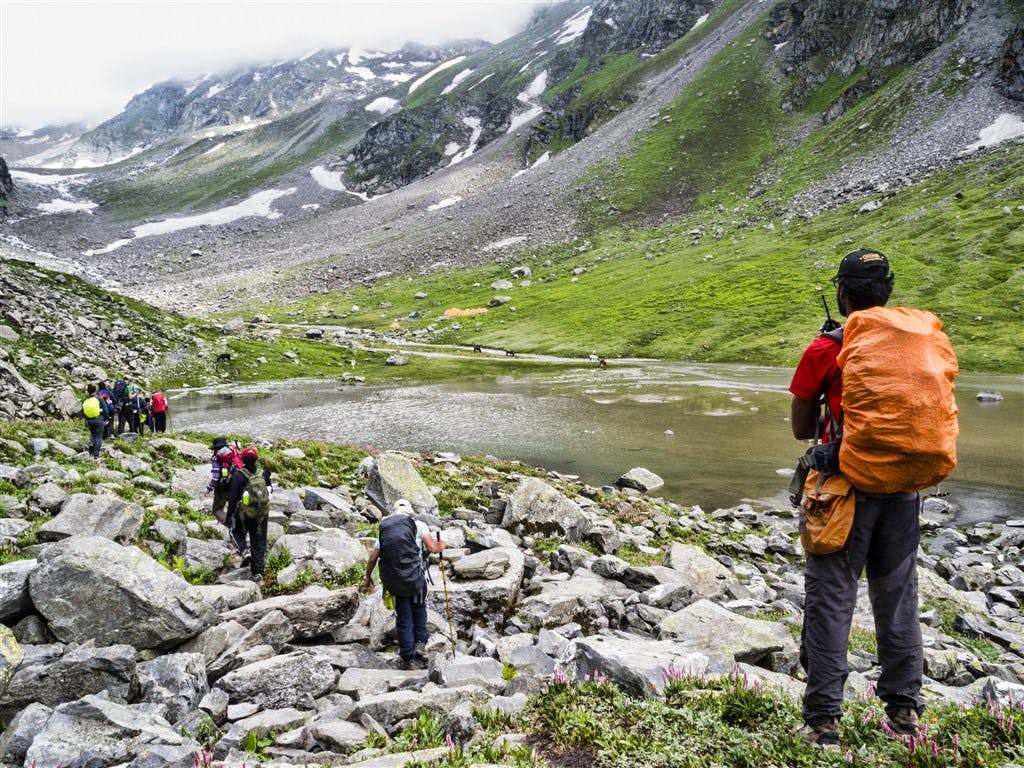 In spite of that, the nature of trekking is such that you never know when a mishap could occur.
And in these cases, owing to the remoteness of the region, expenses may shoot up exponentially.
Here's when the mandatory trek insurance comes to your rescue. It takes care of these emergency expenses which can burn a hole in your pocket.
And since it's a matter of money, we don't want to leave things to fine print.
We'll explain more about our trek insurance policy.
How much trek insurance costs
Our trek insurance policy covers health and medical expenses arising out of illnesses and injuries on the trek. It is a group health insurance and costs between Rs. 70-100 (+18% GST ) per person depending on the duration of the trek. For Nepal treks, it is a bit higher – approximately Rs. 120.
Refer to the table below to know the basic details.
| | | | |
| --- | --- | --- | --- |
| Age Group | Scope | Trip Duration | Price per day (INR) |
| 4yrs to 65 yrs | India (excl. city of residence) | 1-2 days | 10 |
| 4yrs to 65 yrs | India (excl. city of residence) | 3-4 days | 15 |
| 4yrs to 65 yrs | India (excl. city of residence) | 5-6 days | 10 |
| 4yrs to 65 yrs | India (excl. city of residence) | 7-8 days | 12.5 |
| 4yrs to 65 yrs | India (excl. city of residence) | 9-10 days | 10 |
| 4yrs to 65 yrs | India (excl. city of residence) | 11-12 days | 8.33 |
| 4yrs to 65 yrs | India (excl city of residence) | 13-30 days | 9 |
The insurer we have tied up with is Religare Health Insurance Company Ltd.
Which period is trek insurance valid for
The insurance is valid from the time we pick you up for the trek, till we drop you. So for instance, if you're going on a trek like Phulara Ridge, the actual trek begins on Day 1 when you start from Dehradun and ends on Day when you come back to Dehradun.
What our trek insurance covers
Once you register and make a payment for the trek you'll be issued a policy document.  The document will contain details about what expenses will be covered. Also included with be the contact details for rescue and claims processing and reimbursement.
Our trek insurance covers the following expenses:
Personal accident expenses upto Rs 2,00,000
Medical expenses upto Rs 50,000
Medical Evacuation upto Rs. 50,000 (only by land/road)
Adventure Sports Injuries upto Rs 50,000
Out patient cover upto Rs 5,000
Religare has tied up with East West Rescue for any medical evacuation (by land) needed at the time of the trek. In case of a severe illness or injury, the trekker will be evacuated to the nearest exit point from where transport shall be arranged to the nearest hospital.
Here's a copy of the Trek Insurance Policy document, just for your reference.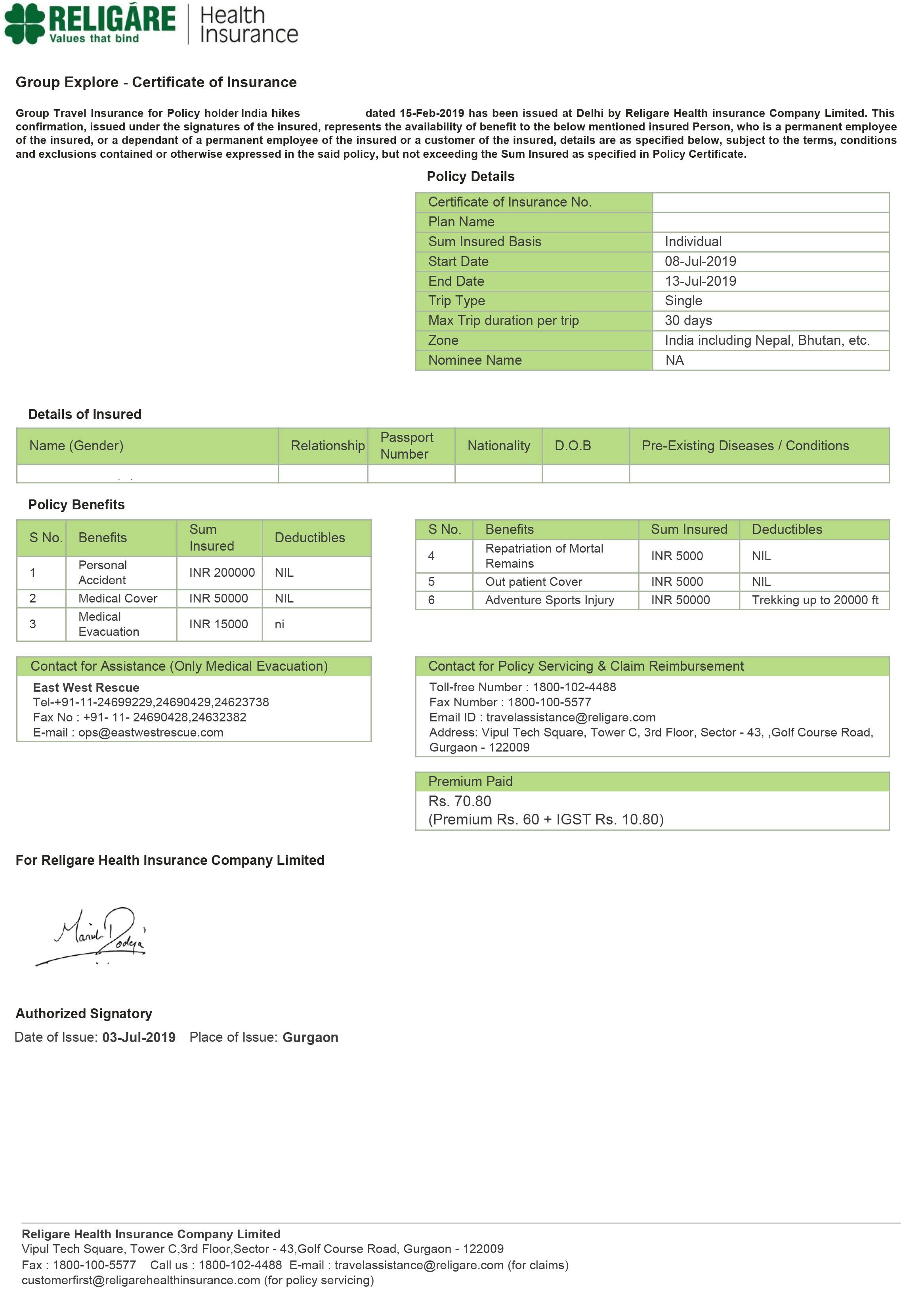 What is not covered
A few cases are not covered under the policy.
Any evacuation expenses arising out AMS related health issues
Helicopter evacuation for any illness or injury on any trek
Any pre-existing health issues/medical conditions
Refund of the trek fee in case the trekker is unable to complete the trek due to medical or non medical reasons
Any loss or theft or damage of baggage, valuables during the period of the trek
How to claim your insurance
If you want to make a claim, you have to fill up the claim form and get in touch with Religare team.
Our finance team too will put a word to Religare and assist you in the initial part but for the most part Religare should be able to take care of your claim.
Here are the steps:
Fill up the claim form
Send an email to Gautam, Finance head, Indiahikes – gautam@indaihikes.com explaining that you want to claim insurance. Attach the filled-up form along with all the expenses bills (original scanned copies).
Gautam will verify the details and write back to you about whether your claim is eligible.
If eligible for insurance claim, you can go ahead and submit the claim form to Religare along with necessary documents
Religare will take it up further.
So there you go! Hopefully, you will have a safe trek and won't have to use the trek insurance at all.
Making insurance mandatory is just one more way in which we're making your treks safer. And we always believe it's better to be safe than sorry.
Have any questions? Do drop in your thoughts in the comments.
LEAVE A REPLY
Your email address will not be published. Required fields are marked
Sign up for our much loved Weekly Mailer
We have terrific trekking tips, trek updates and trek talks to look forward to