Why Trekking During Monsoon is Not a Bad Idea
Share this story
Monsoon just does not descend over India. In early June an arm of the monsoon clouds slowly creeps in from Kerala while another does the same from the Bay of Bengal. They move in an easterly direction, hitting land mass, before making a wide turn to the north. They drift over the country covering India in a broad sweep before settling down for a month or two's stay.
These monsoon rains last across the country roughly from the beginning of June to September. As a trekker, you might wonder if it a good idea to trek during these months. So here are some month-wise tips.
June – Excellent for high altitude Himalayan Treks 
While Mumbai may be experiencing big rains in June, it is still dry in the Himalayas. Monsoon tends to reach Uttarakhand only around the first week of July. A few days later it moves over to Himachal Pradesh. This means that June is an excellent month to trek in the Himalayas. Treks like Roopkund, Rupin Pass, Buran Ghati, Bhrigu Lake or Kuari Pass are brilliant in June. It is bright and sunny. The valleys are deep, dark and beautiful, the grasslands lush green, and the snow still thick on mountain flanks.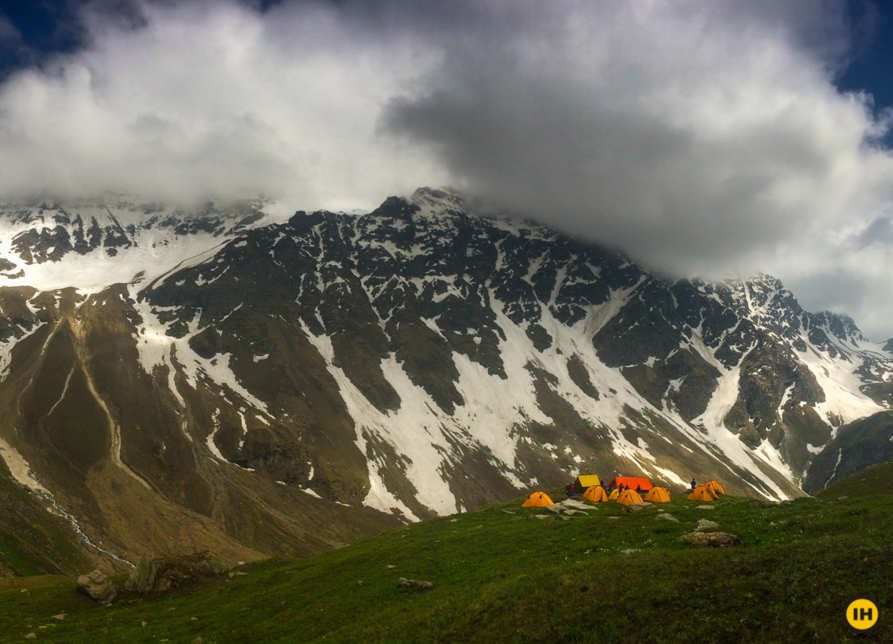 At Indiahikes we wind up our Uttarakhand treks by the first week of July. Because that is when the monsoons begin to make their presence felt.
July – Is it impossible to trek in this month?
Actually it is not.
It is just that unlike in summer, the rains are more frequent — but not so much as to make your life miserable. The real rains take hold in August. That's when we move to Himachal Pradesh and Kashmir.
In Himachal, we begin the Hampta Pass trek only in mid-June when the snow become manageable on the pass. By mid-July, monsoon makes it presence felt. In August, with rains, countless flowers spring up; the valley turns a vibrant green.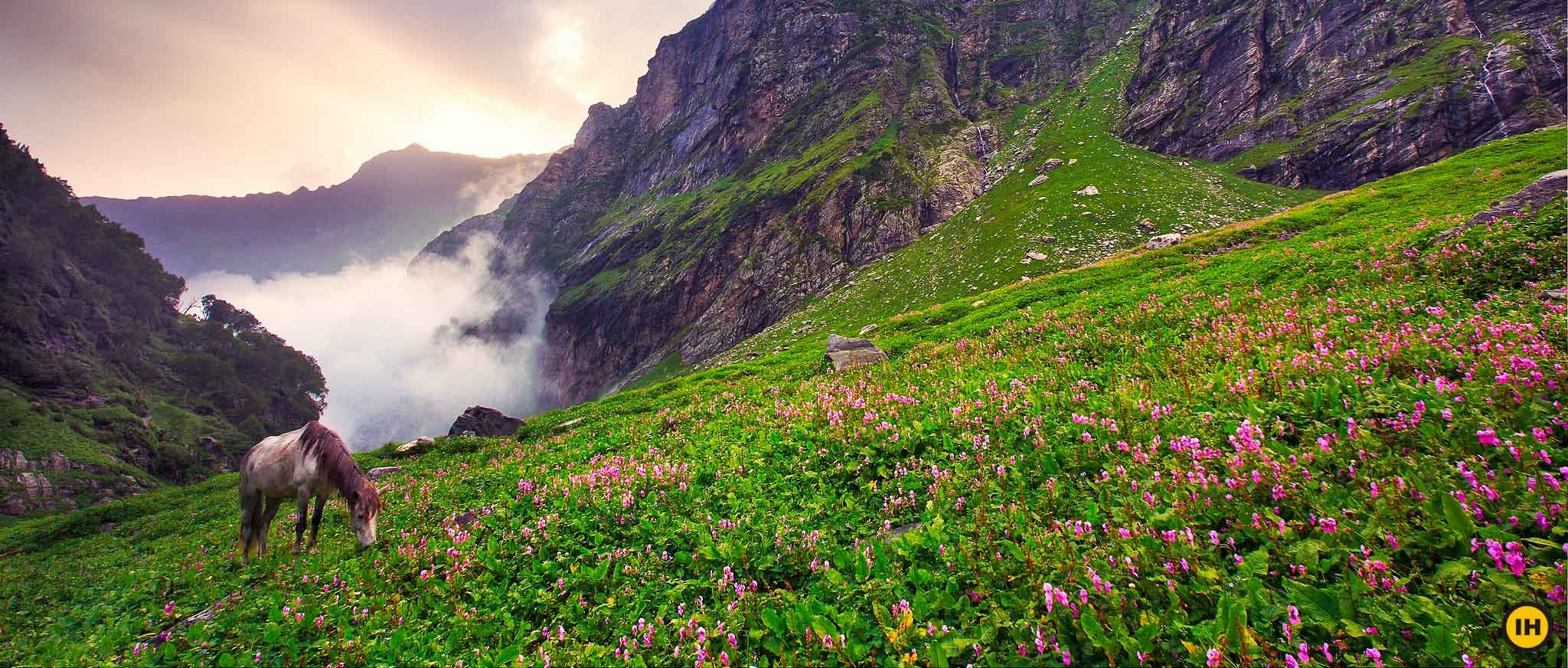 The Hampta Pass is an interesting trek. Crossing into Lahaul the rains reduces considerably. In fact, after crossing the pass, you are in the rain shadow region. So most of the time you get rains only on one side of the trek. That's why even our Pin Bhaba is an excellent trek to do July onward. Most of the trek is in Spiti, which is rarely touched by rains.
Kashmir falls in the rain shadow region too. While the monsoon is vigorous over India, Kashmir experiences very little rain between July and September. In July, we open up treks in Kashmir.
August – Experience flowery trails in the rains
In August it does rain more in Kashmir than in July but it does not stop you from trekking. Our treks run as usual, getting prettier by the day. Towards the end of August and first week of September, Kashmir is at its prettiest. So Bodpathri Lakes, Nafran Valley and Gurez Valley are wonderful treks to do apart from the popular Kashmir Great Lakes and Tarsar Marsar treks.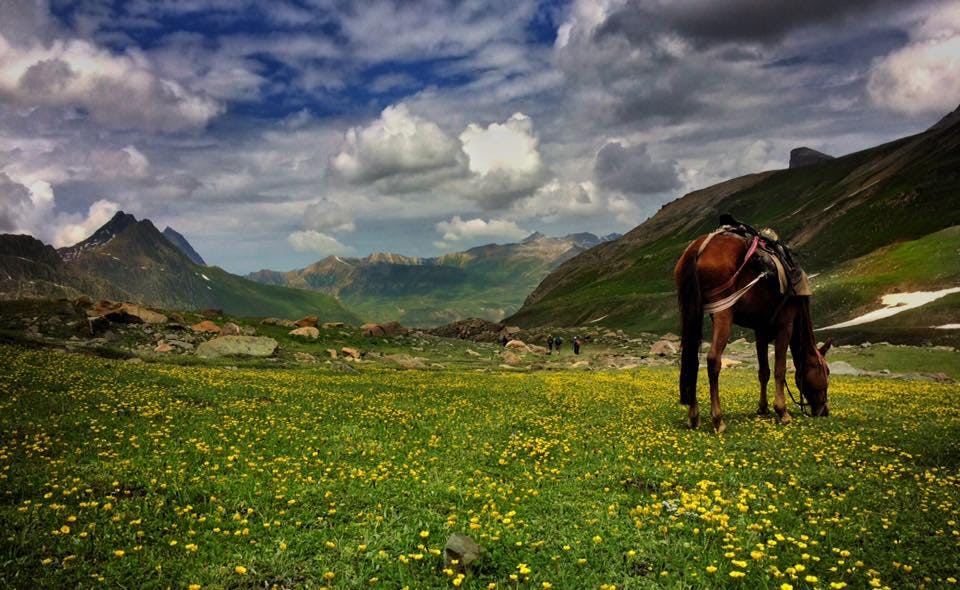 In Uttarakhand, the Valley of Flowers is superb during the monsoons. As rains touch the parched hills, flowers begin to bloom in waves. Every week a new bloom greets trekkers. People are apprehensive about doing the trek during the monsoons, but that's the only time to step on this trail. It is well worth the flowers.
September – Back to the Season of High Altitude Treks
By the third week of September, the first snows come in on the passes, putting a stop to our Kashmir trekking season. But since the monsoon ebbs by the middle of September, the big high altitude treks to Roopkund, Rupin Pass and Buran Ghati are again open for the autumn season of trekking.
Does it rain all the time in the Himalayas during monsoon?
Even during peak monsoon it does not mean that it rains all the time on a trek. In reality, you could get heavy rains for a few days while it might be sunny and dry on other days. Very often you can do a full trek without any rains or with only light showers. Also, in years when El Nino is on (2016 was a year when it was), it is as good as trekking during summer — you get only sporadic rains. But don't even think about stepping on a monsoon trek without taking a poncho or some sort of rainwear.
Avoid trekking in North East India during monsoon
In the eastern part of our country, the rains behave differently. Rains are wetter and more vigorous, making trekking difficult. The Sandakphu and Goechala treks are best avoided between the months of May and September. Most of the grand views these trails are famous for are hidden in these months. Also, the forest trails are infested with leeches.
Choose your treks carefully and enjoy monsoon trekking
Trekking during monsoon is not something to be worried about. Many trekkers imagine Mumbai-like rains during monsoon. It is not really like that. If you choose your treks wisely, monsoon is one of the best times to trek in India.
If you have any questions about trekking in monsoon, drop in a comment.
Sign up for our much loved Weekly Mailer
We have terrific trekking tips, trek updates and trek talks to look forward to