How A Himalayan Trek Redefined What Team Building Means For CodeDay
Share this story
How A Himalayan Trek Redefined What Team Building Means For CodeDay
Category Experiential Learning
By Janusa Sangma
2023-08-16
Recent studies show how building a sense of community is among the biggest challenges companies face in a post-pandemic workforce. Digital workplaces enable seamless collaboration, thanks to technology tools.
Technology, while efficient, cannot replicate the emotional richness of building connections which, in turn, helps in better collaboration.
When we met the CodeDay team, we found out that the organisation was facing something similar.
CodeDay approached Indiahikes with a seemingly straightforward objective – to bring the team together on a Himalayan trek.
This team was scattered across geographies and would be meeting in person for the first time! Their interactions had only been online so far. They knew each other, but not very well.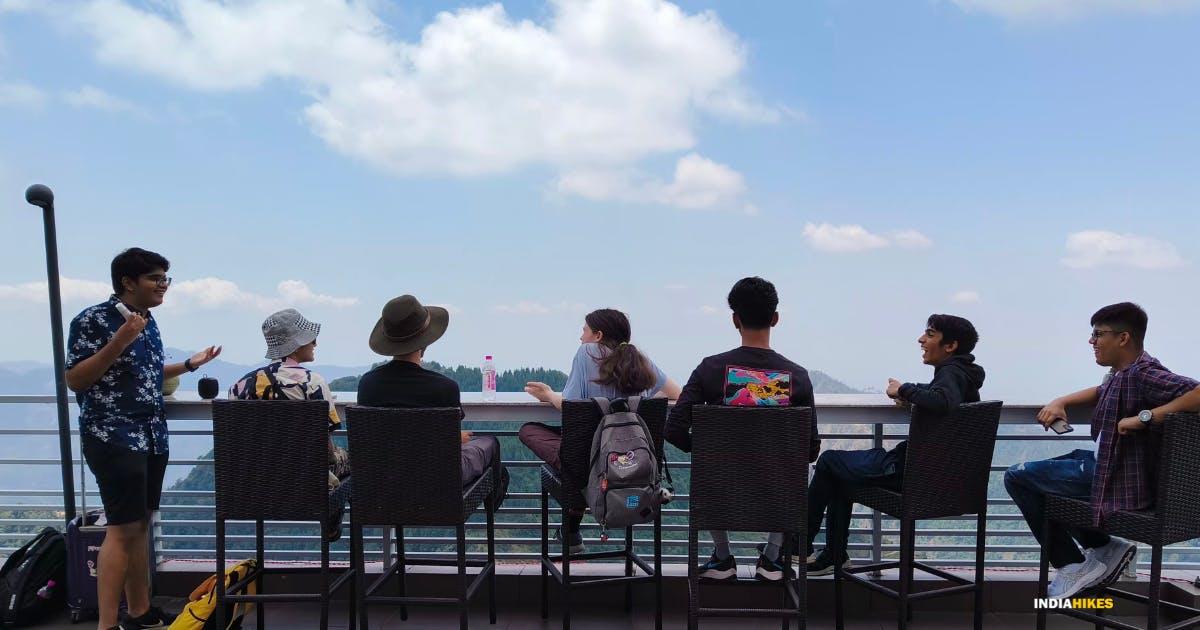 Photo credit: CodeDay
CodeDay, a non-profit organisation, is committed to getting students excited about science - not just any students, but those from typically under-served backgrounds.
The group comprised young trailblazers aged 15 to 22, most from India and two from the U.S. All were senior volunteers and team leaders for CodeDay events in their respective cities.
Why CodeDay chose the Experiential Learning Program at Indiahikes
Environmental psychology research demonstrates how people can break down barriers, build trust, and truly form meaningful relationships in an open and relaxed environment without hierarchies.
Indiahikes, over the last 12 years, has been facilitating programs for institutions and organisations with these very takeaways. After learning about this, CodeDay signed up for our program which we would conduct over a 2-day-long trek.
How the Trek Unfolded
Our destination was Benog Tibba – a picturesque day trek near Mussoorie in Uttarakhand.
When we first picked them up from their hotel, they seemed content to stick to familiar groups of 2-3 people. The trek leader noticed this and quickly switched things up! 
But as soon as the trek commenced, participants wholeheartedly embraced the outdoor experience, both the ups and downs. They stayed optimistic and turned obstacles into opportunities by supporting each other.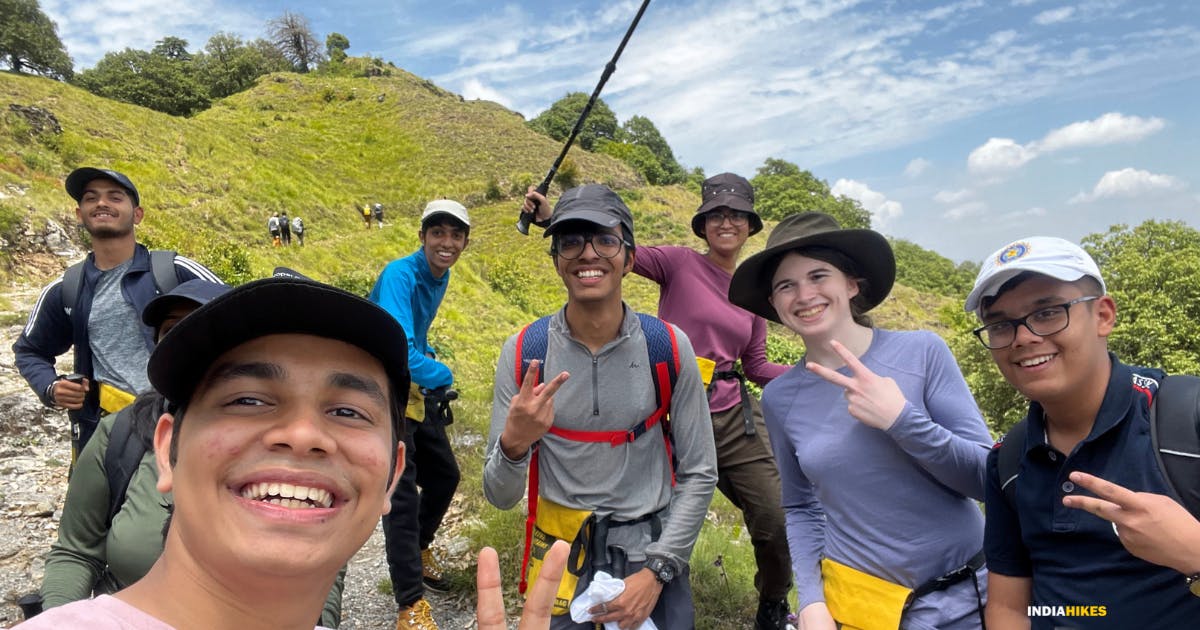 For a group immersed in technology every other day, the CodeDay team effortlessly disconnected from it and immersed themselves outdoors. Photo credit: CodeDay
We observed the participants over two days. It was evident they had made significant strides forward as a united team.
Team building with a difference
But team building took on a deeper meaning on the trek. Traditional ways of measuring team performance rely on numbers and tangible results. 
Creating outstanding teams requires depth and a focus on something more profound – meaningful connection in the workplace.
What unfolded on the Benog Tibba trek is a testament to this. Participants expressed that they had forged stronger connections than ever before.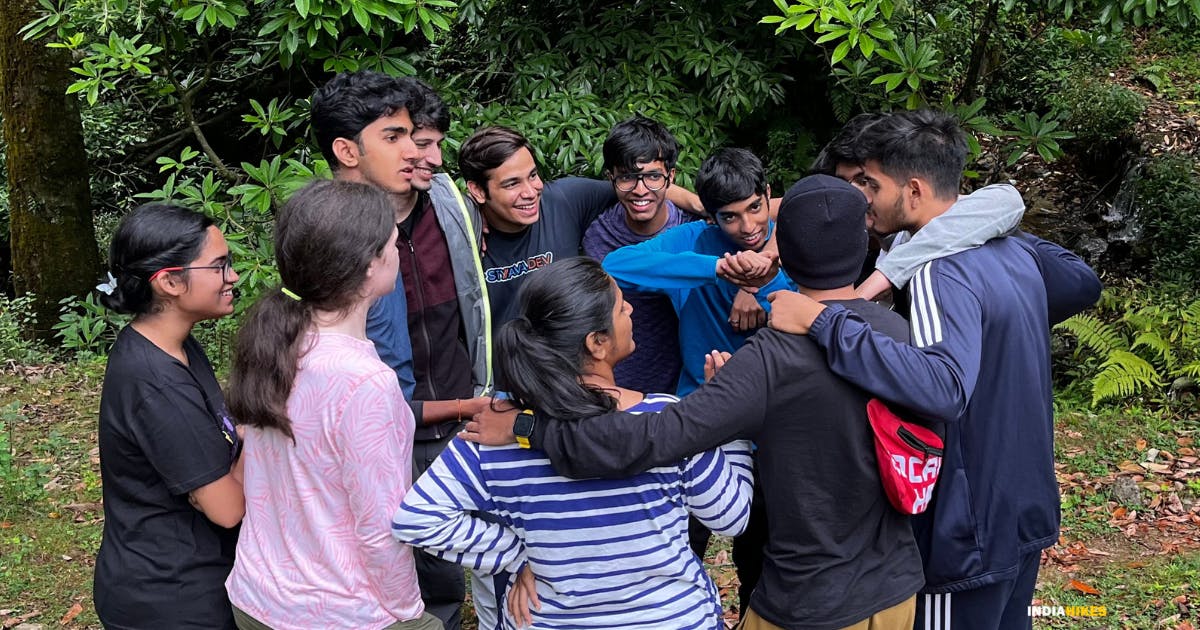 Photo credit: CodeDay
Being outdoors helped in building genuine connections
Participants shared how being together in a natural setting allowed them to truly "see" each other for the first time. It would not have been the same had they met at a hotel, resort or conference.
Stories of individual dreams, aspirations, and challenges emerged, and how everyone had somehow found their way to a common purpose at CodeDay.
Research on behavioural and brain sciences suggests that being in nature increases attentiveness towards others, encourages group participation, and fosters a greater inclination to care for and help one another.
Forging stronger bonds by experiencing "firsts" together
The team came closer together simply by having a shared experience in an unfamiliar setting. Despite the trek being relatively easy, it was the first Himalayan trek for many in the group.
As part of the program design, they walked with teammates they had never interacted with before.
They pitched tents together in pairs, sometimes with one person blindfolded. Every activity was designed to connect them to their senses and each other.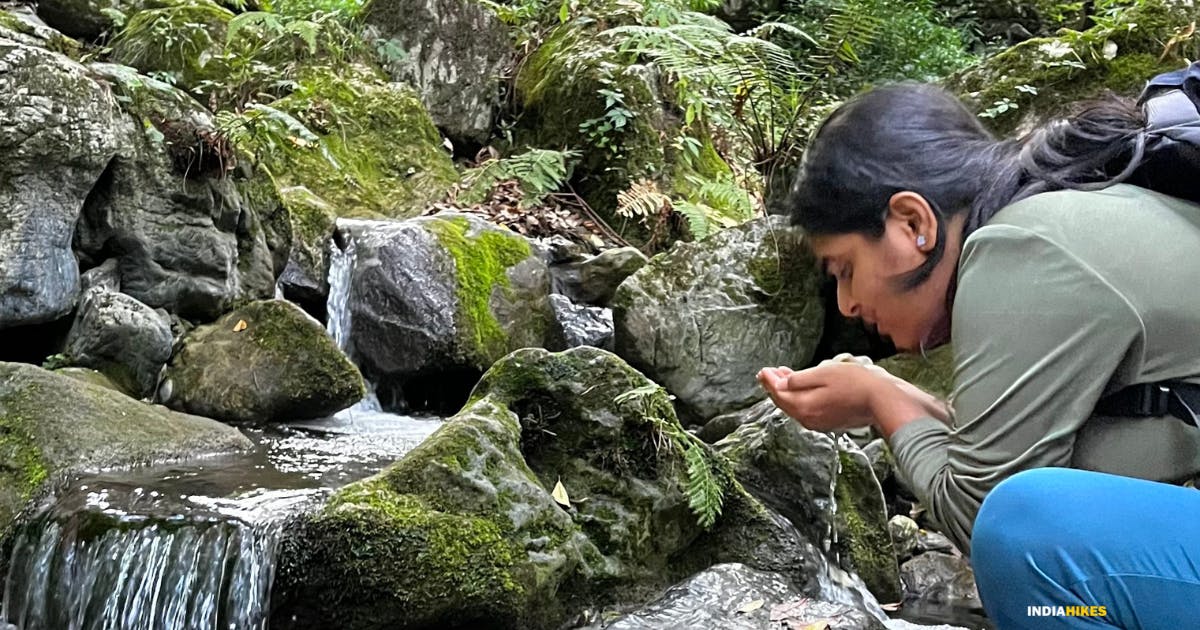 Photo credit: CodeDay
Photo credit: CodeDay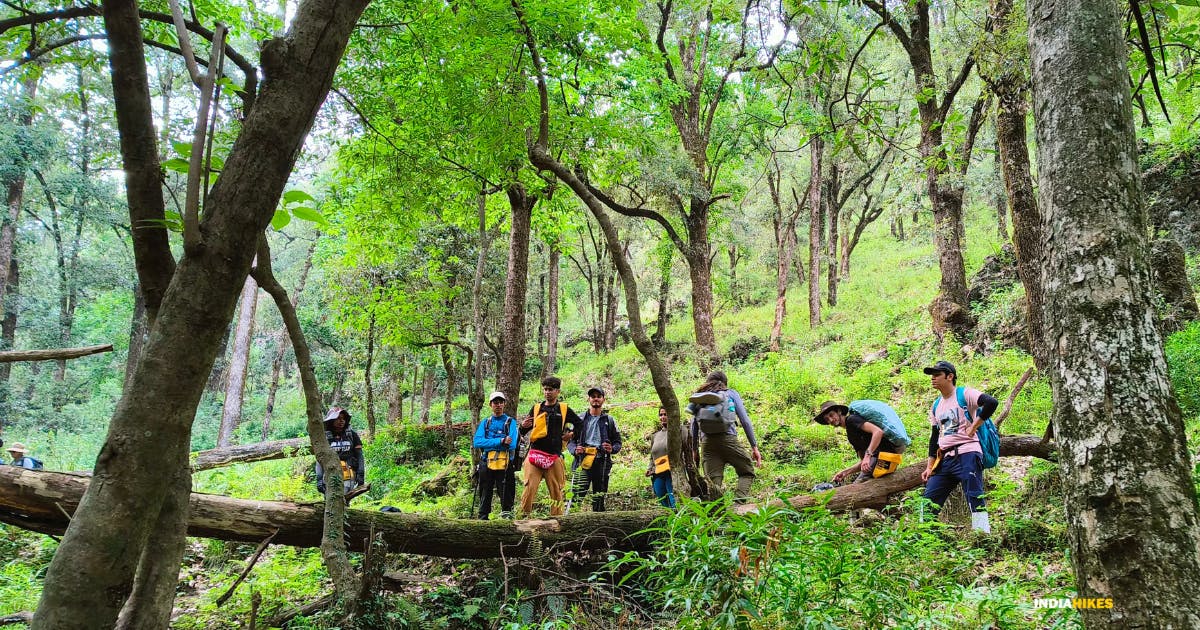 Photo credit: CodeDay
"It was very interesting to see how the team came together. There's a big difference between being friends and deep bonding over a shared experience. Although we had broken the ice a little before the trek, I think the true bonding happened when we started trekking. In the evening when we camped - that was the time people really got to know each other. Activities, games,  pitching tents together  - all these elements of the program design really helped us bond," shares Deven Jadhav, CodeDay coordinator.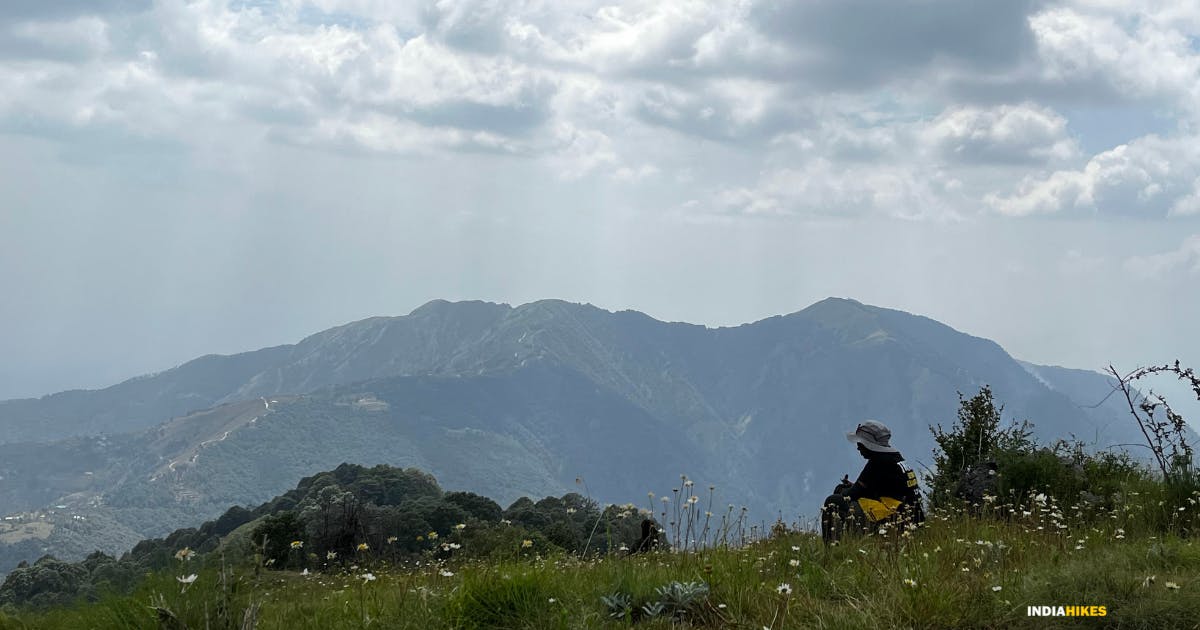 Photo credit: CodeDay
At the summit, the trek leader facilitated several meditative and reflective activities. One of them involved writing postcards to oneself. Everyone took off to find quiet spots to themselves at the summit.
We noticed some of them were overwhelmed with emotion while writing the postcards. They later shared how being in the mountains had had a deeper impact than they realised.
Activities facilitated stronger collaboration and engagement
During a team strategy activity called "Livewire," participants truly understood how they worked together. They spent over an hour figuring out the details and how to meet their goals together, all while considering each one's strengths and weaknesses.
Conversations flowed, and they were not always about work.  The team bonded personally, and they genuinely cared about getting to know each other.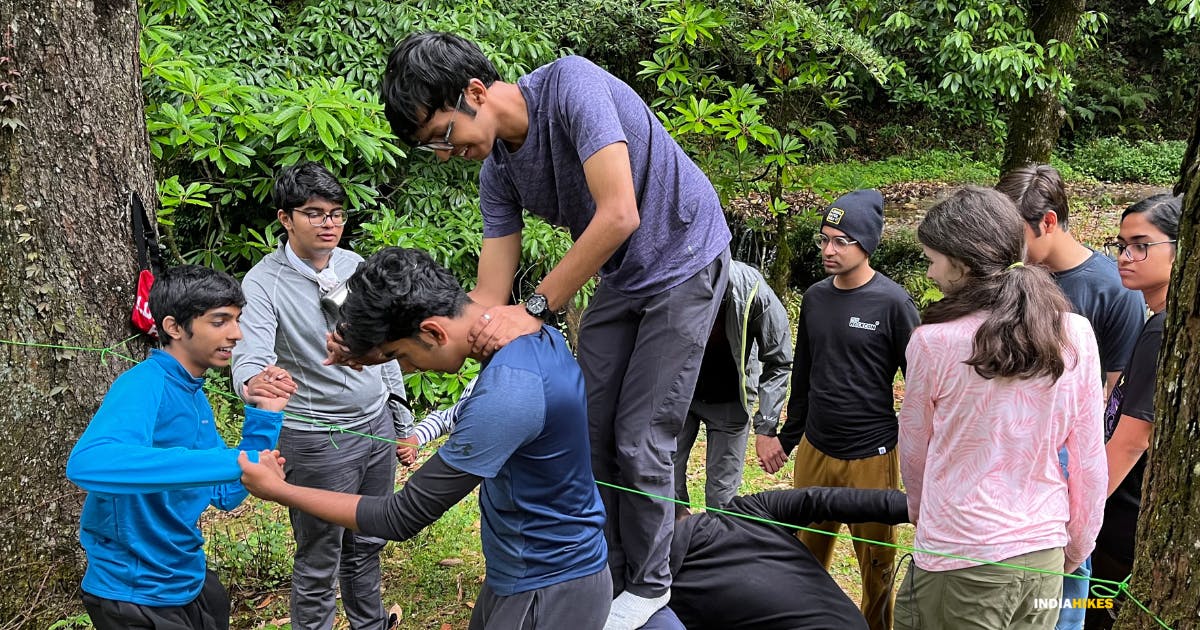 Photo credit: CodeDay
Reflections on what could have gone better
"Green Trails" is central to how Indiahikes operates – an initiative to keep the mountains and trekking trails plastic-free. The trek leader observed that the team had brought disposable cutlery, packaged food, and chocolate bars.
After the trek leader shared feedback, the team acknowledged that they needed to take sustainability as seriously as they take their team building.
Paving the way for lasting team bonds
Since the pandemic, we've been hearing how organisations struggle to engage and retain employees.
We've read about The Great Resignation phenomenon, looming talent shortages, and a young workforce that's been dubbed "fickle."
Many companies resort to old solutions: bonuses, compensation tweaks, and office perks.  Truth be told, these strategies do little for building teams in the long run.
What's often overlooked is the power of human connection and a sense of community.
One might rightfully argue that human connection is organic – it happens naturally or not at all.
But who's to say organisations cannot set the stage for people to find commonalities, have shared experiences, and form deeper bonds by being more systemic in their approach?
As the wonderful team at CodeDay discovered, one of these approaches could be an immersive and rejuvenating learning program in the mountains.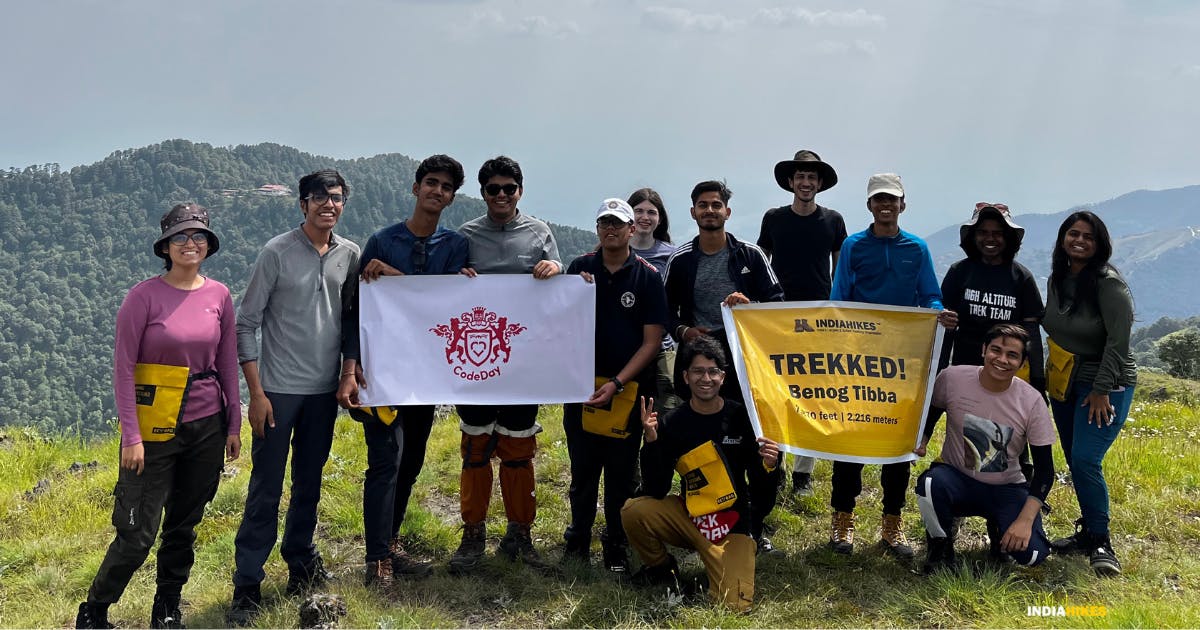 Photo credit: CodeDay
"In this kind of setting, people become more frank and honest. Breaking established structures isn't always possible at work. The nature of business is such, that some form of hierarchy is always in-built. So, it was great to see team members being so open and candid during the trek. Several new ideas presented themselves - ideas that we as an organisation can implement back at HQ. Most importantly, it felt like this was CodeDay's trek, and not a trek CodeDay went on - everything was tailored to our needs. It made a world of difference." - Deven Jadhav.
A meaningfully designed experience while trekking can redefine the norm for teams. It can be a small yet significant step towards adopting new perspectives in the working world as we know it. 
Sign up for our much loved Weekly Mailer
We have terrific trekking tips, trek updates and trek talks to look forward to