How The Bodpathri Lakes Trek In Kashmir Was Explored
Share this story
Last month, in the most unexpected way, we opened a new trek in Kashmir, and it has turned out to be one of our best discoveries in recent years!
I'm talking about the Bodpathri Lakes Trek.
There's already a big buzz about it. If you're following our website or social media, you'd have definitely seen and heard trekkers talking about it. Like this trekker here:
Noticing how trekkers were bowled over by the trek, we decided to open up two exclusive groups to this trek in August and September.
How the Bodpathri Lakes exploration came about 
Early in July, our newest trek in Nafran Valley in J&K could not get off the ground. In a last minute circular, the District Administration of Anantnag prohibited trekking in these areas. The Amarnath Yatra had just resumed after two years. The central government was determined to run it successfully. They wouldn't allow trekking or any other activity to get in their way.   
Consequently, none of our trekkers in that region could get to the base camp of the Nafran Valley trek, including the Tarsar Marsar trek. 
Unfortunately, this was a last minute circular. Trekkers were already leaving from their homes to Srinagar. Flights had been booked. 
Within three days, we needed an alternate trek that promised all the goodness of Kashmir, but at the same time was unaffected by the Amarnath Yatra. 
This was when our exploration team stepped into action. 
One of the biggest power houses of knowledge we could rely on was our own decade of experience in Kashmir. 
The Interesting Backstory Behind the Bodpathri Lakes Exploration
"Back in 2010, when we explored and opened the Kashmir Great Lakes trek for the first time, people took to trekking in Kashmir like never before. Until then, Kashmir was known for strife. The atmosphere in the valley was tense. Militancy was in the air. Information about treks was non-existent. After the exploration though, Kashmir suddenly became a trekking destination. People wanted to see more of Kashmir," recalls Sandhya, co-founder and COO of Indiahikes, who was part of the team that explored the Kashmir Great Lakes trek.
"We were wondering which part of Kashmir to explore next, when our eyes moved towards the Doodhpathri region," shares Arjun Majumdar, founder and CEO of Indiahikes.
"We had seen pictures of Doodhpathri's meadows. We had heard of the Yousmarg lake and the surrounding meadows. We thought this is where we would find the next big trek in Kashmir," he says.
So almost 10 years ago, in 2013, Indiahikes launched a pilot exploration in Kashmir, in the Doodhpathri region. Our then Chief of Operations, Manish Pasad explored this region. 
"While we loved parts of the trail, the region was part of the Budgam district, which was not yet ready for trekking. Back then, militancy was still in the air. We would hear of killings every now and then. We did not feel safe entering the Budgam district. So we dropped the thought of opening up the route," says Arjun. 
How we stitched the Bodpathri Lakes route together
"Ten years since we first visited it, when we were in need of an alternative to Nafran Valley, vivid memories of the Doodhpathri Trek flashed before our eyes," says Arjun. The region was now militancy free. The military had vacated the alpine meadows. 
But there was a problem. As far as we knew, the Doodhpathri region had treks that were not more than 1-2 days long. 
How could we make it a 6 day trek, to match the grandness and the itinerary of the Nafran Valley? 
Our eyes moved further north on the map, where another region caught our attention — Tosa Maidan. This was not far away from Doodhpathri, and was a known natural wonder of Kashmir.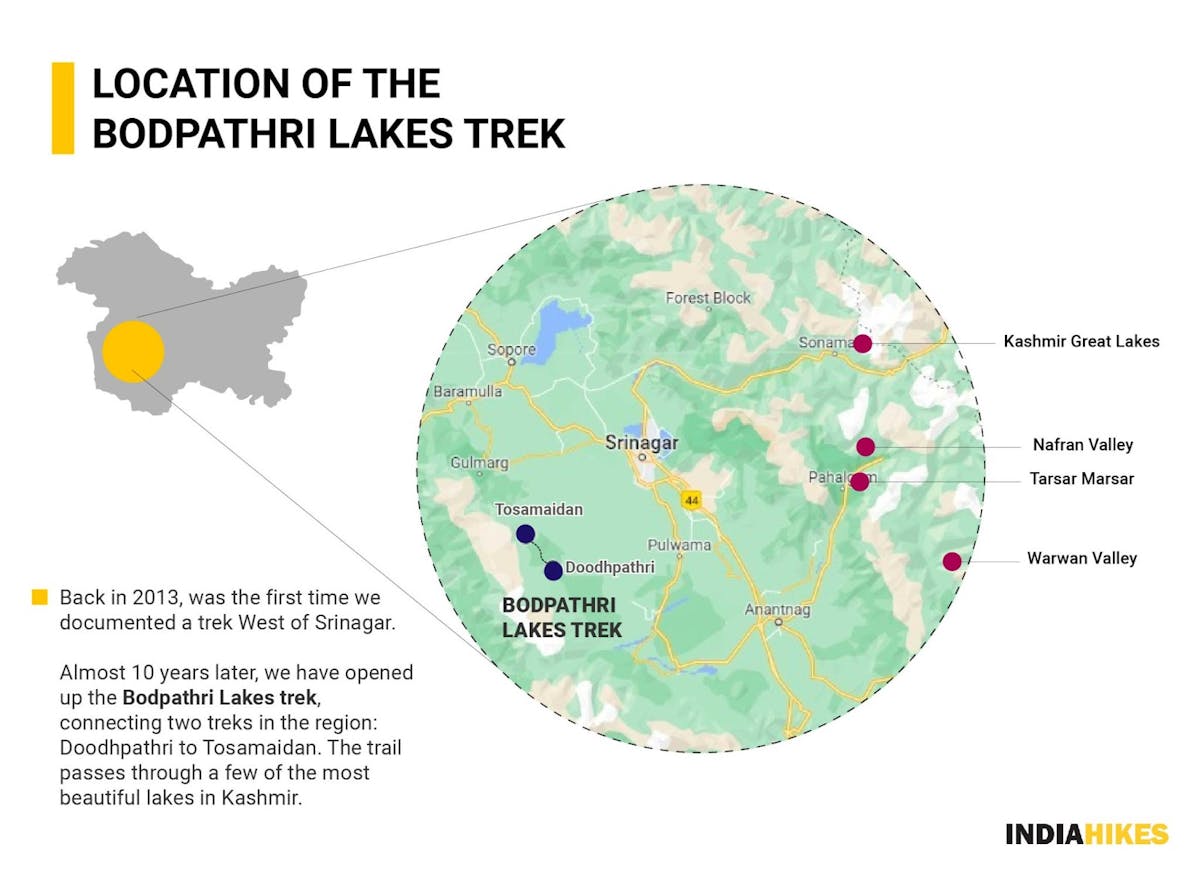 "We thought, why not stitch these two regions together through the mountains," says Suhas Saya, Head of Exploration and Documentation at Indiahikes. 
"We roughly charted out a route beyond Pamsar Lake. The trail cut across ridges, valleys, several alpine lakes, boulder sections, river deltas, and finally arrived at Tosa Maidan. While it looked promising, we wouldn't know until we saw it with our own eyes," adds Suhas.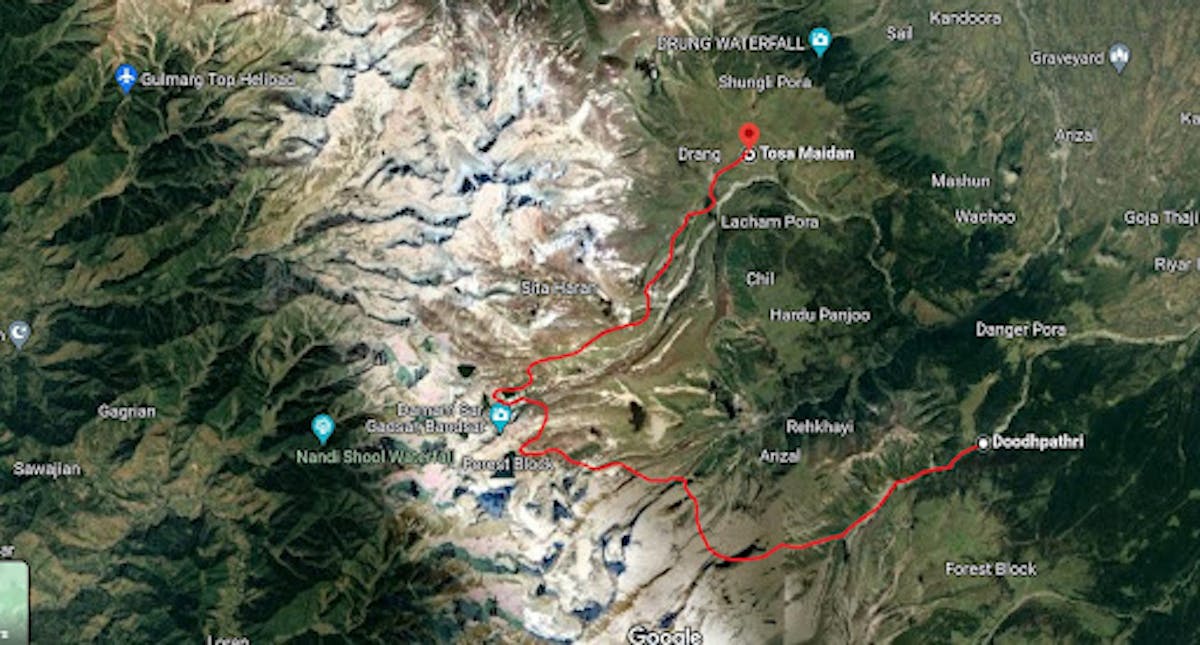 A roughly proposed route for the trek before the exploration team set out
Exploring the Bodpathri Lakes Trek
So on July 2nd, 2022, Nitesh Kumar, Chief Explorer and Senior Trek Leader at Indiahikes, set out on an exploration of the trek. He explored the route from Doodhpathri to Tosa Maidan, covering 76 km in 3.5 days, over multiple ridges, valleys, alpine lakes and unexplored terrain. 
When he returned from the trek, he said, "I have just one word and emotion to describe the trek. It is ZABARDAST!" 
"My god! How lucky I was to be here, I know there are treks like Kashmir Great Lakes, Tarsar Marsar, Nafran Valley and other regions. People keep posting pictures and going gaga. But this is like the elder brother of all these treks!" he exclaimed. 
When we asked what makes it so special, he shared these with us:
Trekkers have never stepped into such a beautiful part of Kashmir. This region was out of bounds until a few years ago. Even now, you see remains of army bunkers and trenches on the trail. What has stayed is the untouched beauty that no one has seen before — the forests, meadows, valleys, rivers and lakes. All come together to show you a side of Kashmir that none of our other treks has shown. 
There are 6 majestic alpine lakes to see. Two of them, the Bodsar and the Pamsar are at par with our lakes on the KGL and Tarsar Marsar. Lakes like the Pathrisar, Lokutsar and Damansar are no pushovers either. Then there are the cute Navkansar twin lakes.
Trekkers traverse through the mind-boggling carpeted beauty of the Ashtaar valley. And then discover there are 4 more such beautiful valleys to trek through. The Guruwansar, Pamsar, Bodsar and the Gadtar valleys. Each is distinctly beautiful. Each has a strong character. 
The start of the trek itself feels like paradise. There is a reason why it is called Doodhpathri (the valley of milk). The golf course-like bowl-shaped valley stuns anyone with its green velvety splendour. 
The forest trails outside Doodhpathri are very enchanting. The coniferous trees are so tall that we cannot see their tops. 
The KGL and Tarsar Marsar treks boast of some great meadows. On the Bodpathri Lakes trek, the meadows are the highlights. They are vast and endless, like a sea, in every direction. You are in the middle of it. It is 360 degrees of manicured alpine meadows — for days.
Rarely will you witness a golden sunrise as beautiful as from the camps around the Gurwansar lake. The sun rises from the meadows torching everything in a golden light. The alpenglow on the snow-capped mountains only adds to this splendour.
On this trek, you camp beside the most picturesque meadows, valleys, rivers and river delta. If you think you have camped at some exotic locations on your other treks, then the campsites of the Bodpathri Lakes trek will make you rethink those campsites. 
You finally enter the forbidden meadows of Tosamaidan. The beauty of Tosamaidan makes you end the trek on a high.
Once he shared a few pictures of the trek, we were as floored as him.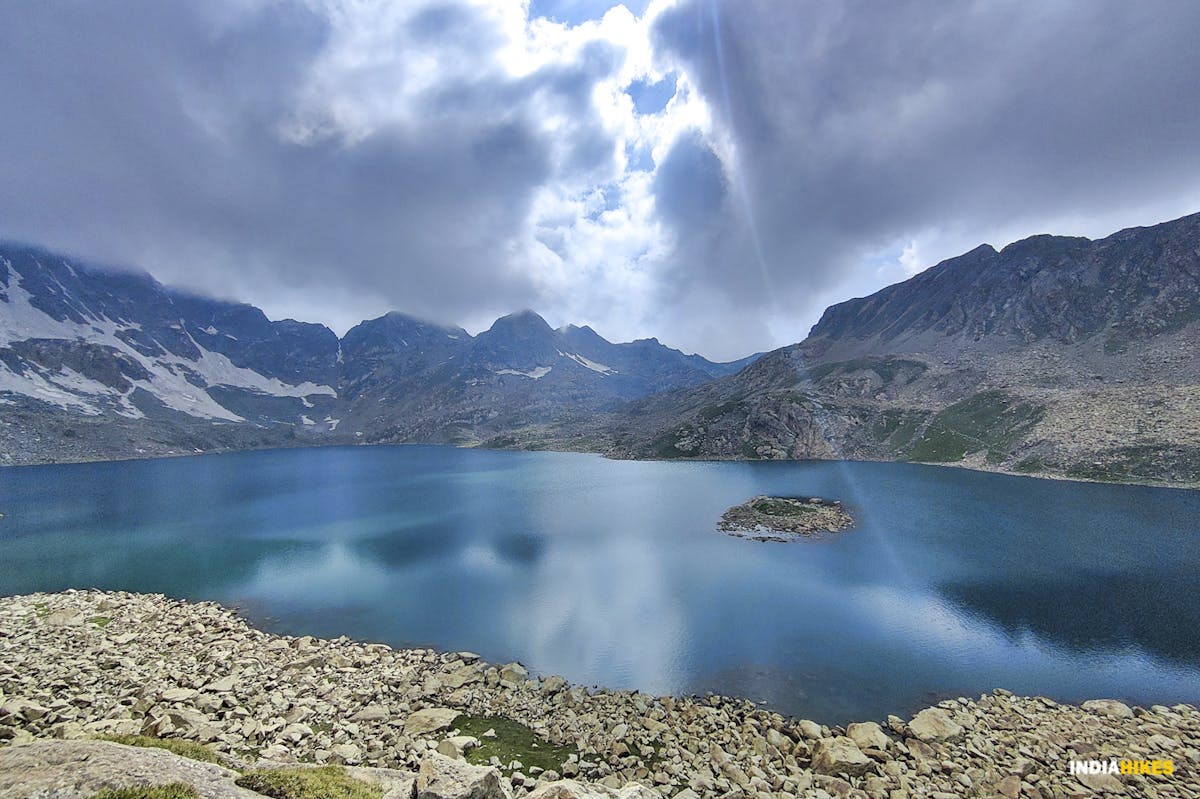 Situated at 13,000 ft, Bodsar Lake is the biggest lake on the trek. Photo by Nitesh Kumar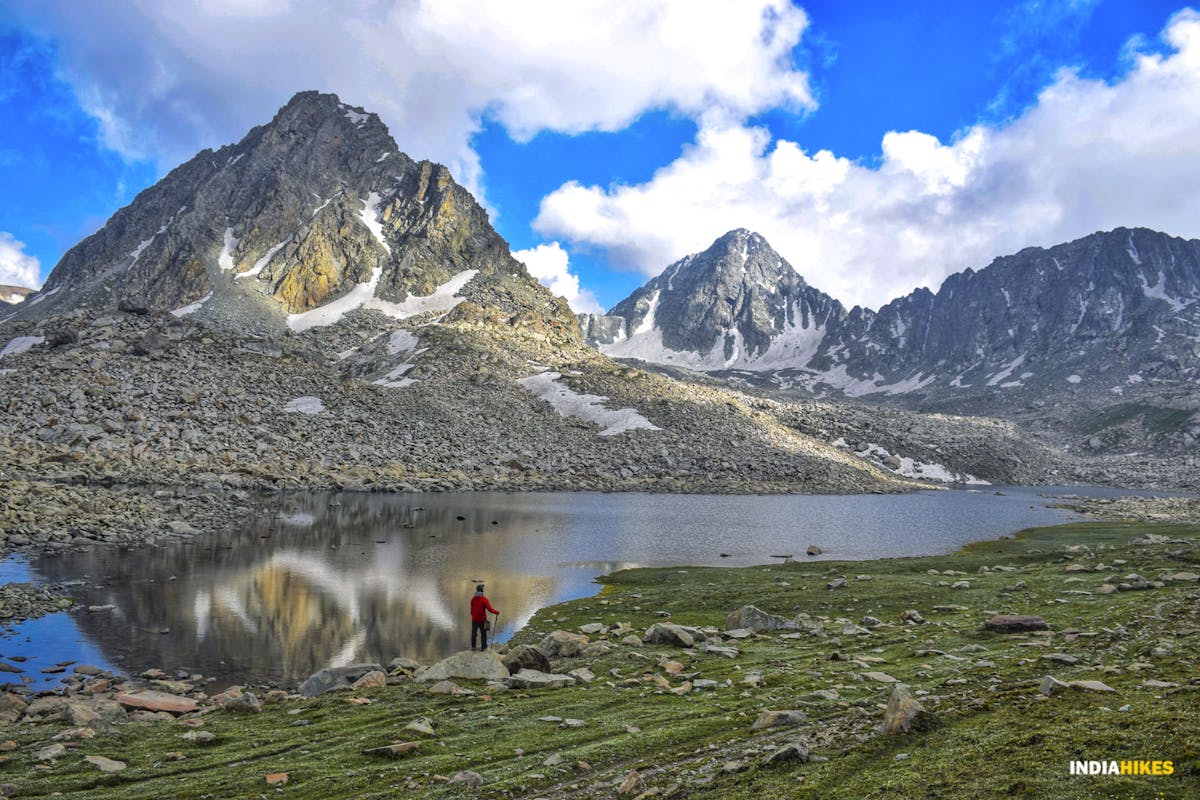 Gurwansar Lake is one of the most majestic lakes on the Bodpathri trek. But it's a difficult trail to this lake, meant only for the very experienced and fit trekkers. Photo by Nitesh Kumar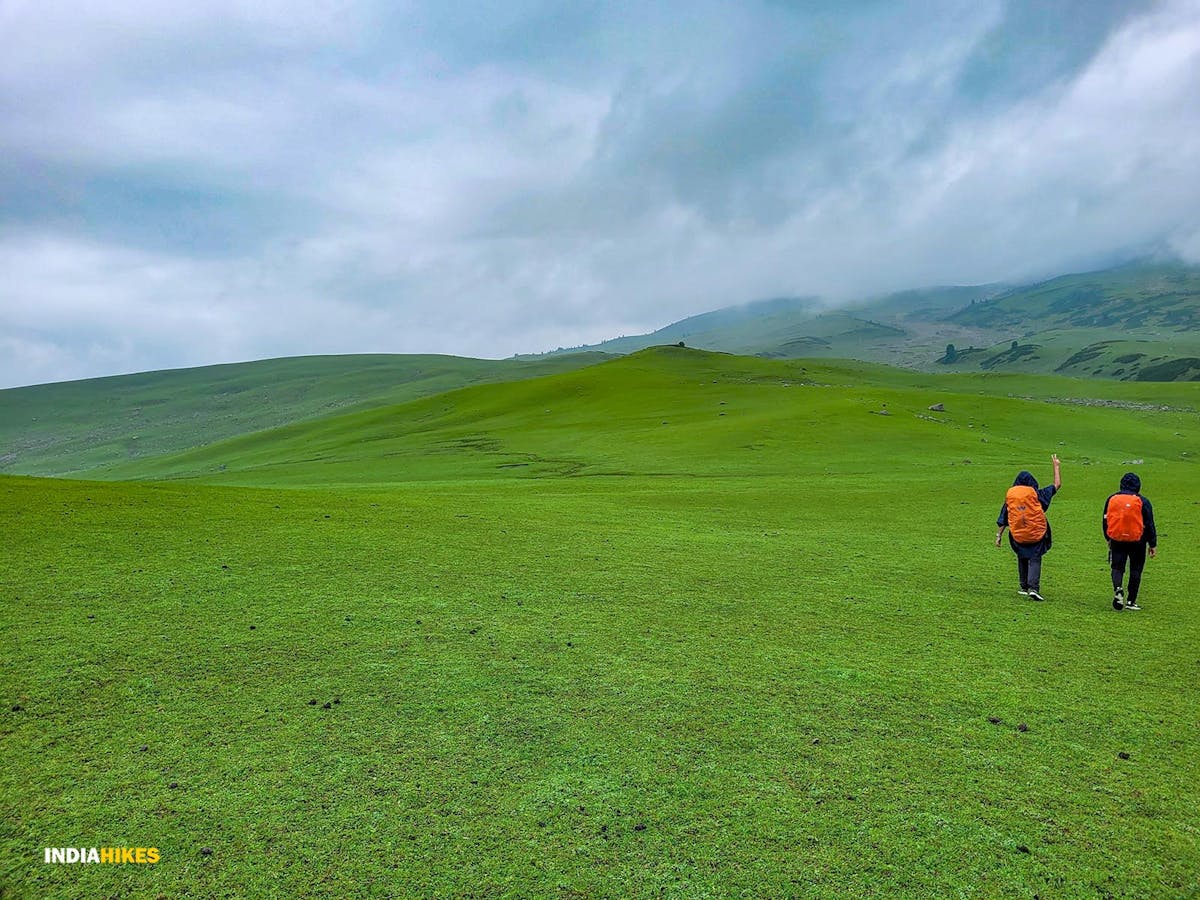 The trek ends on the Tosamaidan meadows. It is almost like ending a trek on such a high that we are left gasping for words to describe what we have experienced. Photo by Diptarka Gupta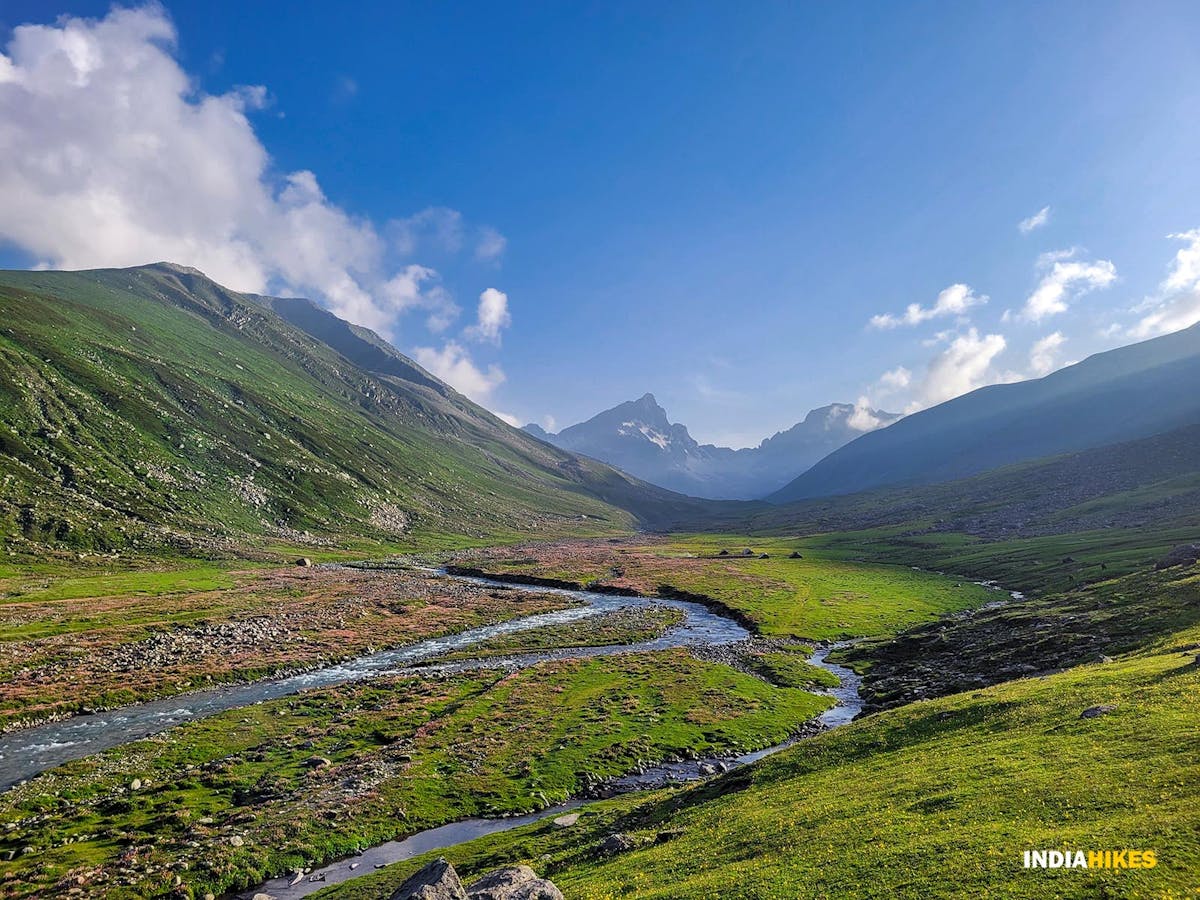 With the combination of valleys, meadows and lakes, this picture encompasses the trek perfectly! Photo by Diptarka Gupta
The first teams have already experienced the trek and loved it
Our first groups of the Bodpathri Lakes Trek have come back stunned by the views. One after the other, from beginners and seasoned trekkers alike, we received raving reviews of the trail. "This trek was like a combination of Indiahikes's best treks!" exclaimed one trekker, whereas "The Bodsar Lake reminded me of Manasrovar," another trekker said. 
We are still reeling in excitement from the first few groups who visited the trek.
We have opened up two dates to the Bodpathri Lakes trek. 
Unfortunately, this year it is difficult for us to open more than two dates for this trek. Our trek leaders are already engaged on our other treks. The two dates that could be freed up on our calendar are: 
28th August to 2nd September
4th September to 9th September
I know it's a bit of a short notice, but if you're a fit trekker, do take this excellent opportunity to be among the first to step on a newly explored trek in Kashmir.
All information about the Bodpathri Lakes trek is available here - https://indiahikes.com/bodpathri-lakes-trek
Related Videos
It Was A Privilege Being In The First Team To The Bodpathri Lakes Trek
The Bodpathri Lakes Trek Was An Amazing Experience For Me
The Bodpathri Lakes Trek Was Like All Indiahikes Trek Combined Into One
I Loved The Campsites On The Bodpathri Lakes Trek
The Bodpathri Lakes Trek Showed Me Why Kashmir Is Paradise
The Bodpathri Lakes Trek In Kashmir Reminded Me Of Manasarovar
Sign up for our much loved Weekly Mailer
We have terrific trekking tips, trek updates and trek talks to look forward to