How To Deal with Leeches On A Trek
Share this story
The monsoon season brings in one of the most delightful experiences for any trekker. The brilliant green of the forests, the grasslands, the meadows and the misty views – it is a surreal experience.
Check out treks you can do in Karnataka here
This is what the Indiahikes team experienced as well when set to explore a trek at Nishani Motte in June. As we trekked, we knew that we were not alone. We were accompanied by some creepy crawlers sucking on our blood all along the trek. We were, however, well prepared to deal with it. Yes, we are talking about leeches.
As much as monsoon is a great time to trek, it is also the peak breeding season for leeches. Ignoring them is a task, especially when they are in large numbers. But that shouldn't stop any of you from panicking on the trek. 
In this article, we will discuss the ways to deal with leeches so that you can make your trek more enjoyable. 
Pre-Trek Leech Bite Prevention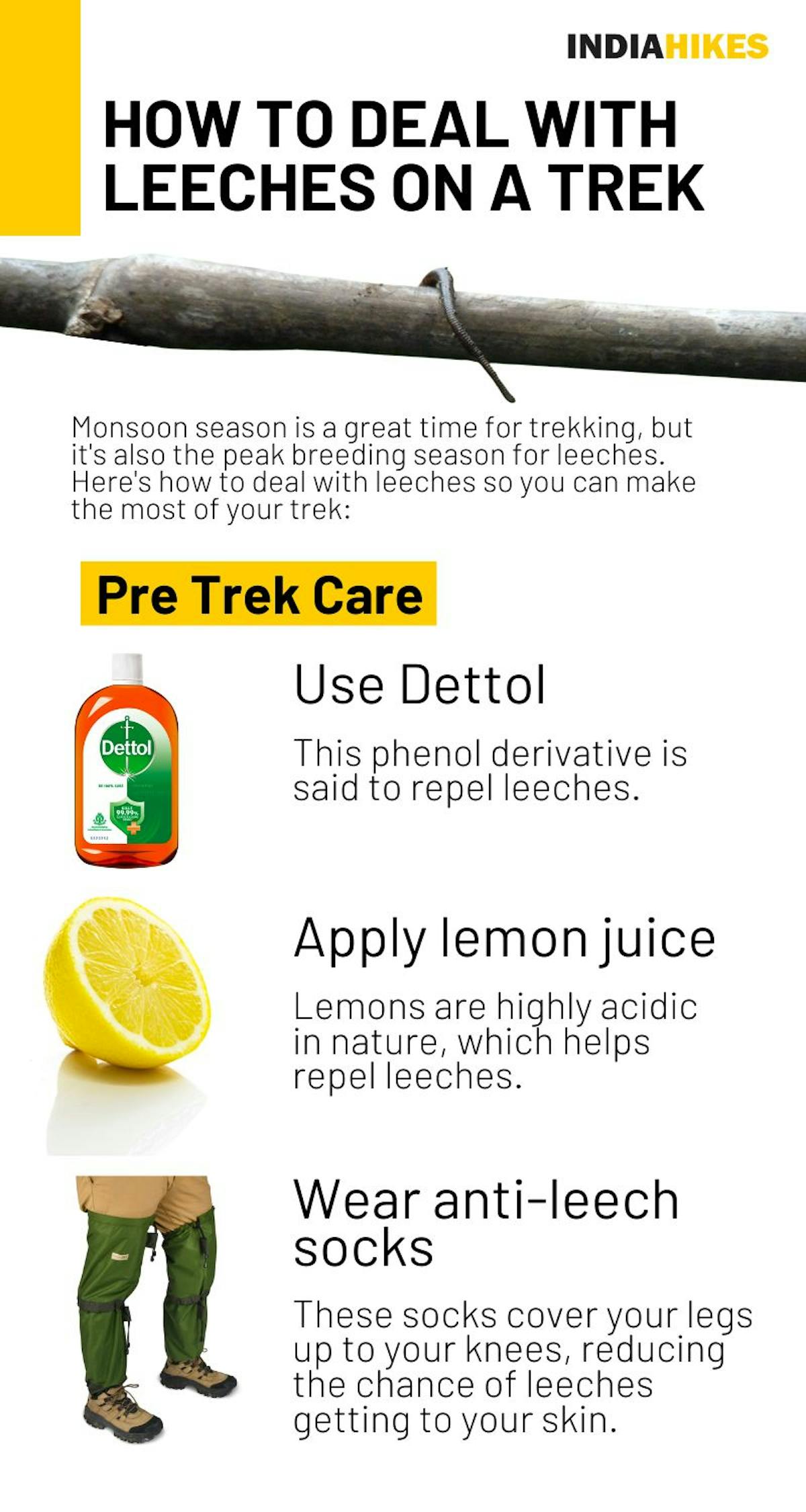 Following are the tips to prevent leech bites even before the trek:
1) Apply a mixture of tobacco + castor oil on your exposed body parts. This is usually used by locals. 
2) Dettol – apply a generous amount of Dettol on your feet, over your socks (yes!), and on the other exposed body parts. The phenol derivative is supposedly said to drive the leeches away.
3) Applying Lemon on the skin before you start the trek. Lemons are highly acidic in nature, which helps repel leeches.
4) Anti Leech socks. These socks get up to your knees covering all the spaces between shoes and trek pants preventing the leeches from touching your skin.
All of the ways mentioned above are temporary solutions. Unfortunately, you will have to deal with leeches if you are trekking in the Monsoon Season. 
Some people sprinkle salt or use fire. We strongly discourage it because this would harm the leeches. At Indiahikes, we don't believe in harming any animals not only in their territory, but also elsewhere.
Our Suggestion - Do not use salt or fire to remove leeches. 
Protip: Always ask the locals for help – Local villagers working day in and day out in the forests to develop the most innovative leech-proof ideas. Feel free to ask; they will be happy to help.
On-Trek Care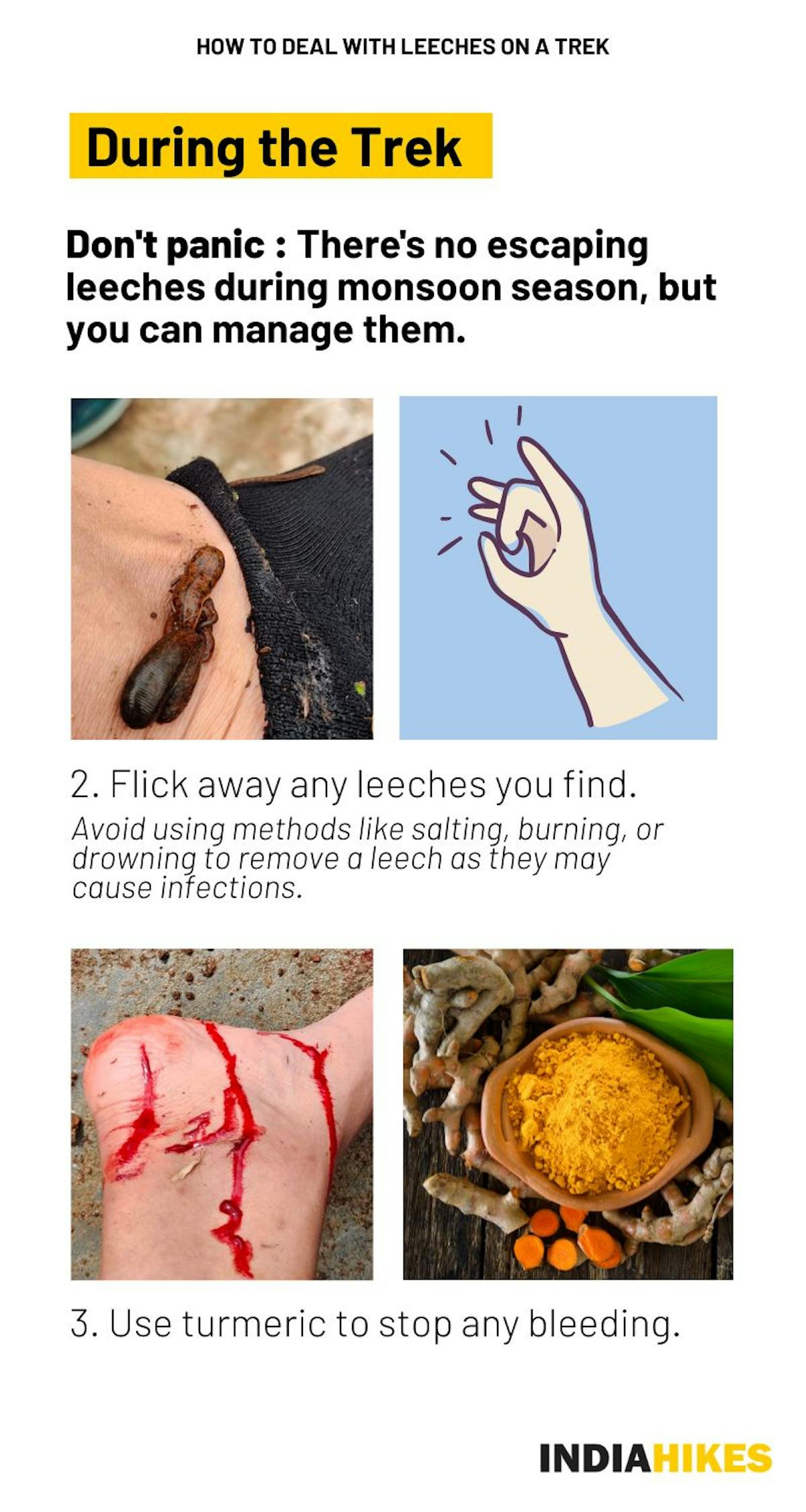 There is no escape from leeches during Monsoon Season trekking, so panicking while on the trek won't change anything. So, stay calm and continue along the trek. 
Once you finish the trek, you can remove the leeches, flick them away, and use turmeric to stop the bleeding. If you are camping, remove all the leeches before entering the tent. 
Post-Trek-Care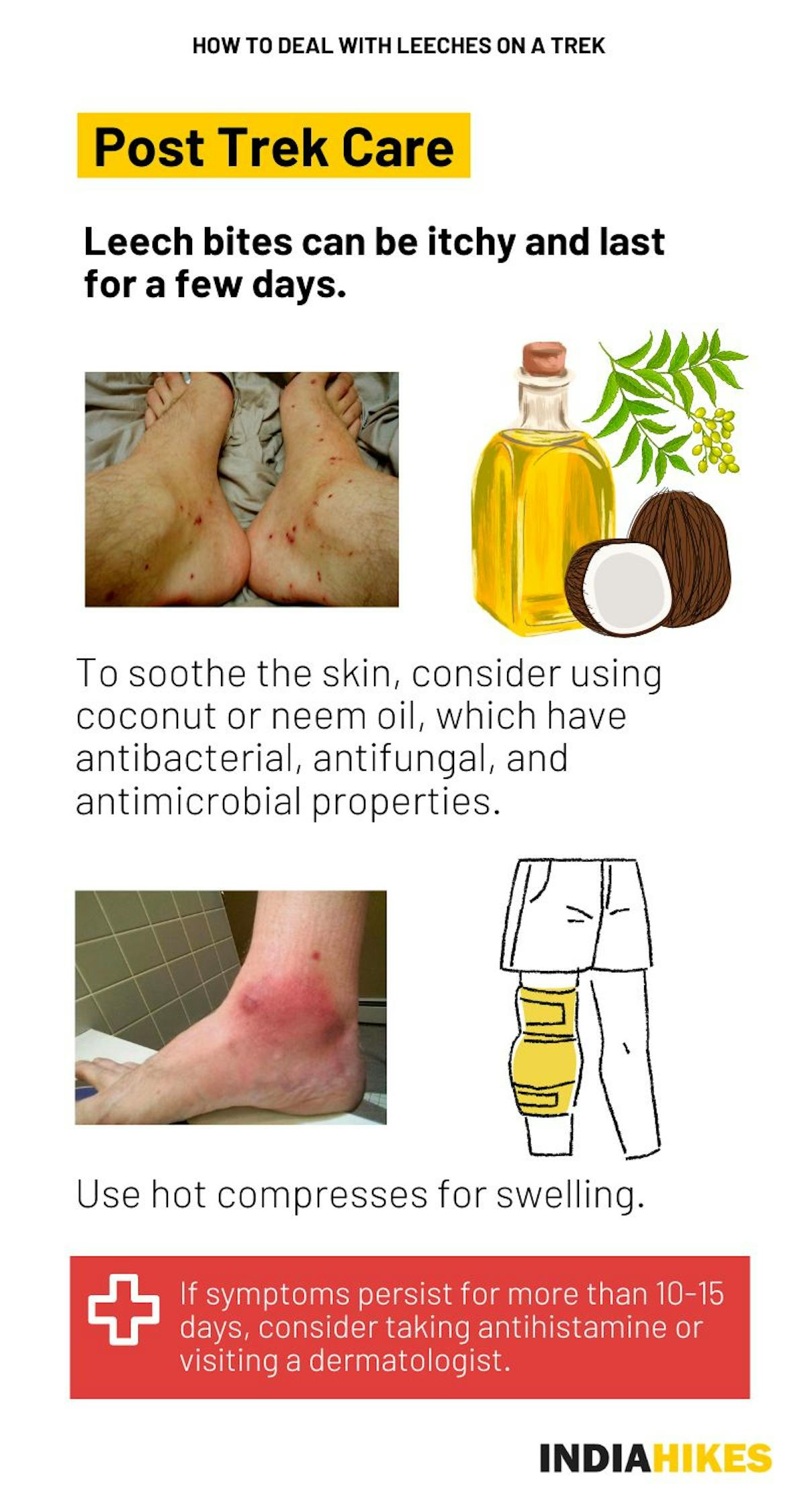 Leech bites are very itchy and last for three to ten days. Scratching would not help, so applying coconut or neem oil would be beneficial. These have antibacterial, antifungal, and microbial properties.
You should apply oil consistently for three to four days to see results, you can even use moisturizer, but I would suggest coconut oil. You can use hot compressions in case of swelling. Suppose it does not cure within ten to fifteen days. In that case, you might have to take a dose of antihistamine or even have to go and visit a dermatologist.  
What to wear during the trek to prevent leech bites: 
Pants or shorts?
There is a constant debate regarding choosing pants or shorts while trekking. When you are in the Western Ghats or anywhere, you might get hurt by thorns and sharp grass, so pants can protect you from that. On the other hand, you can easily pull the leeches out and flick them away in shorts. Therefore, there is no right or wrong.
Shoes or sandals? 
Similarly, shoes and sandals are also debatable topics. Shoes will give you additional grip, and you will have more balance and ankle support. On the other hand, in sandals, you can easily see the leeches and flick them away. However, in terms of safety, trekking shoes are always better than sandals. 
Conclusion 
Not many get the privilege to trek in the Western Ghats. So, everyone should focus more on the beautiful journey and not waste time worrying about the leeches. Follow the tips and be confident!
If you have questions about leeches or Western Ghats, ask them on our community forum. This is a community space or trekkers to ask questions, seek advice, and share their thoughts, opinions and experiences. It is also a space to personally participate and help other trekkers with your expertise. 
Check out the forum and be a part of it!
Latest Videos
What Is The Best Time To Do The Kudremukha Trek | DIY series | Indiahikes
10 One Day Treks To Do Around Bengaluru | With Narration | DIY Series| Indiahikes
Ballalarayana Durga trek - How to do it yourself | DIY Series| Indiahikes
Sign up for our much loved Weekly Mailer
We have terrific trekking tips, trek updates and trek talks to look forward to