The Complete Guide To Treks Near Mumbai (With 10 Treks That You Can Do...
Share this story
The Complete Guide To Treks Near Mumbai (With 10 Treks That You Can Do on Your Own)
Category Region-wise Guides
By Venkat Ganesh Gudipaty
2020-07-29
Are you planning for treks near Mumbai? Then, this guide is all you need to get a sense of direction (literally).
To give you a gist, it begins with the popular trekking regions of Mumbai. Then it moves to the trekking seasons and how to plan a trek. By now, you have a general idea of what treks around Mumbai look like.
With that background, the guide dives deep and pulls out 10 best treks (popular and lesser known) from the various regions. Then, there's a section on how to get to these treks and what to take along. Finally, there's a note on why Mumbai has such a throbbing trekking culture (don't miss that).
It has taken immense knowledge, wisdom and experience to put this guide together. That's why it's a great place to start if you want to go on a trek near Mumbai.
But here, I must tell you that the post is long. You may take time to take it all in. It may not even happen in one go. So, for the ease of navigation, use the table of contents.
Table Of Contents
How To Choose A Region To Trek Near Mumbai?
What Is The Best Time To Go On Treks Near Mumbai?
How to Plan For Treks Near Mumbai
10 Treks Near Mumbai That You Can Do On Your Own
How To Reach The Treks Near Mumbai
What To Pack When Trekking Near Mumbai
How To Choose A Region To Trek Near Mumbai?
For choosing a trekking region, zoom out and see the regions where these treks are placed. The entire belt of Western Ghats in Maharashtra can be divided into 10 regions. To get a clear picture, look at the map below. Pay attention to the regions circled in red: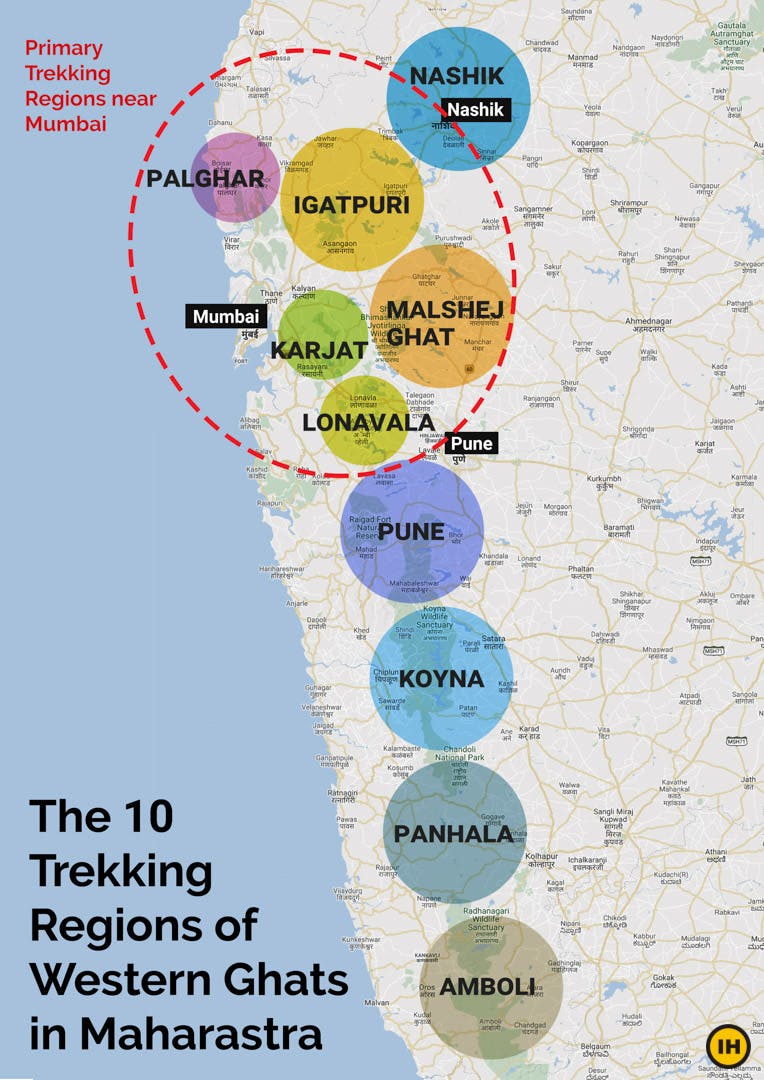 | Note: The trails in Nashik and Pune region may look closer but they are not as easily accessible. Reaching their basecamps takes a lot of time since the transport to the public transport is not regular and reliable.
Therefore, focus on three primary trekking regions when you are looking to trek from Mumbai. They are easily accessible. 
Palghar Region
Igatpuri – Malshej Region
Karjat – Lonavala Region
You must've noticed Karjat and Lonavala might be marked as two distinct regions. Similarly Igatpuri and Malshej are considered two different regions too.
But both lie very close to each other and some of the getaway points to the treks are common even if they geographically lie in different regions. So for the ease of understanding, and the purpose of the article, we have clubbed these regions together.
Now, let's get into the details of these regions.
Palghar Region
It baffles me why, but among the three regions, treks in the Palghar region are the most off-beat. This region is also referred to as North Konkan region. And if you love secluded trails, you must explore this region. Although they are picturesque, they're the least crowded.
Observe how strategically the forts are placed here. They lie very close to the coast. The forts here served as watchtowers and lookouts for any activity by the Arabian sea. In fact even today, on a clear day, you can spot the Arabian sea from the summit.
Three reasons why this region supports trekking:
It's easily accessible via public transport.
Treks here offer a good introduction to trekking in the Sahyadris as they are beautiful, yet short. That's the perfect combination for a first trek.
You don't need to carry food. There are breakfast points near the base and you can be back down for lunch. 
| Recommended treksRecommended treks: Kohoj Fort, Takmak Fort, Asherigad.
Igatpuri – Malshej Ghat Region
This region is home to some grand treks in the Western Ghats. Kalsubai, Harishchandragad and Ratangad being some of them. The spotlight is on them whenever there is a conversation about treks near Mumbai. Perhaps, that's a reflection of its bustling history.
This region is criss-crossed with prominent trade routes from the Arabian sea and the mountain passes facilitated movement across the mountain to the northern part of Deccan Plateau.
Take the example of Naneghat. It is a well known trek in the Mumbai – Pune trekking circles. The word "Nane" meaning coin (signifying trade) and "Ghat" meaning pass.
Good thing is, most of these treks do not require technical expertise. But they do require physical and mental preparedness because, compared to the Palghar region, they are longer, steeper and at a higher altitude.
Protip Plan an overnight trek to soak in the beauty of the trail here. Watch the sunrise from the summit. That's memorable.
Karjat – Lonavala Region
This region is popular with trekkers and tourists. Think of Lonavala, Khandala. It has a range of trekking options for different kinds of trekkers – from beginners to experienced.
The region also lends itself to some mix-and-match. Some trails that lie close to each other can even be clubbed. Or, a trek here can be combined with an excursion to a nearby lake, dam, reservoir; this region is punctuated with such water-bodies. They serve as a good side-trip or camping spot.
But while choosing to trek here, you must also know that it gets crowded here. Simply because it is easily accessible from Mumbai, and Pune. So,stay away from the tourist hotspots if you are looking for a peaceful trek and it is as good a place to trek in as any.
| Recommended treksRecommended treks: Peb Fort, Kothaligad, Bhimashankar are the must-do treks in this region.
What Is The Best Time To Trek Near Mumbai?
The treks in the Western Ghats of Maharashtra can actually be done throughout the year.
But the most popular season is the monsoon – from June to early September. In monsoons, the mountains turn a lush shade of green as you trek through wispy clouds that descend on and cover the mountains.
Right after monsoon, trails become hot, humid and sometimes hazy too.
From November onward winter sets in. You see clear skies, and temperature dips to around 15° C after sun down. This continues till February. Then things start warming up.
Summer, from March to June, are hottest and most uncomfortable for day treks. But you may consider trekking in the night. As we move into March, the weather starts getting hotter and continues until June. Trekking during this time is not an enjoyable experience at all. But shorter night treks can still be done.
Based on the season you are trekking in, there are a few things you must know and keep in mind:
• Monsoon Treks Near Mumbai (Mid-June to August)
Monsoons transform the Western Ghats. Dry and dusty mountains and valleys turn into lush green landscapes brimming with life. During this season, you spot trekkers crowding on wet local train platforms, raring to reach the base camp to start the trek.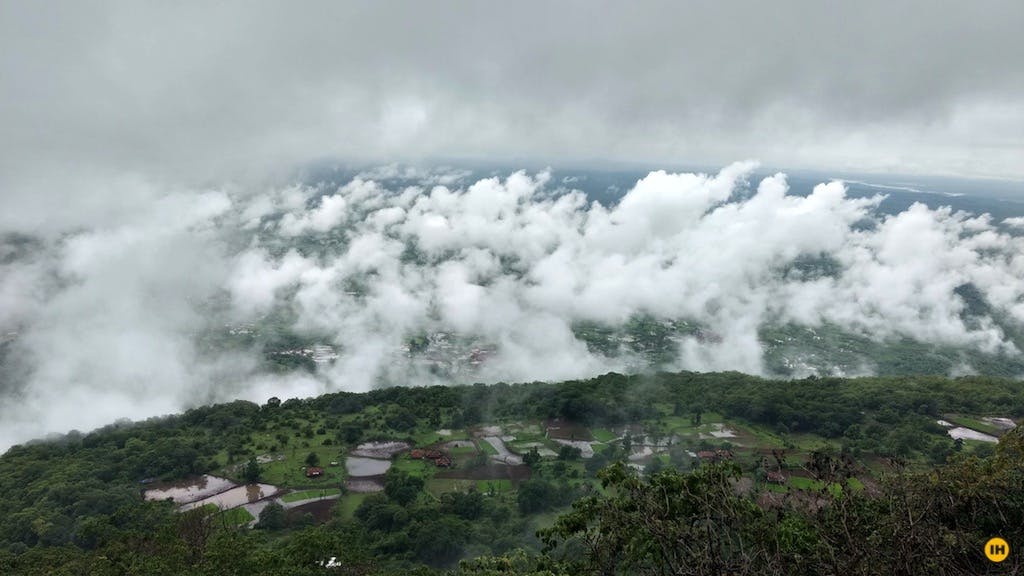 The season starts with a trickle in June and by July the rains are on in full swing. The sight is splendid. A number of seasonal waterfalls and streams come to life and criss-cross the trails.
The rain is intense and nothing can shield you from it. So, forget fussing over your rain-gear like ponchos, raincoats or umbrellas. Trek simply to enjoy the rain. Be open to getting drenched.
Having said that. there are three things you must watch out for while trekking in the monsoon: 
1. Slippery sections on the trail: Be careful of the slippery sections because there are many on the trails. Wear a good pair of trekking shoes with a good grip. Also, pay attention to your footing.
| Expert Tip: Place your foot firmly on the ground and make sure your shoes are not slipping and you've got a good grip before you take the next step. Do not be in a hurry to ascend or descend but take a second to be mindful of your steps.
2. Stream crossings: The water flows with a strong force and it is easy to lose your footing against the flow. Keep a pair of trekking poles handy for extra balance.
3. The beautiful countryside: On the way to treks, you'll see the sowing season in full form. The country roads to the base camps are lined with paddy fields on both sides. Men, women and children working in these paddy fields is a common sight.
• Autumn Treks Near Mumbai (September – October)
Monsoons have officially ended. But there may be a few sporadic showers. Irregular cloud cover makes these regions very humid.
The landscape also changes. Waterfalls and streams fizzle down to a trickle. The strong swell of streams, where it used to be difficult to cross, now are not even ankle deep. The surrounding trail is muddy.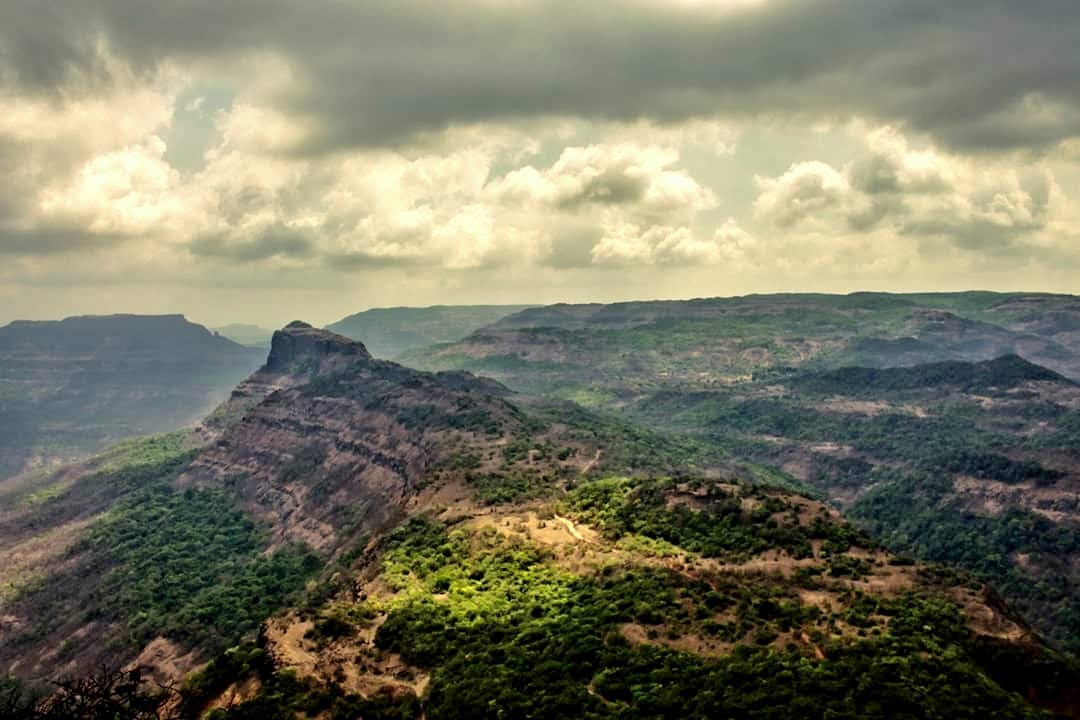 Rocky sections are covered with a layer of algae and moss. The mud and moss makes the trail a bit slippery in these sections. Here again, a good pair of trekking shoes and firm footing is important.
Although days are warm and humid, temperatures are cool after sun down and before sunrise. At night, it may dip to 15-20° C. And if the wind-chill factor is high, it gets a lot colder at the summit. So, go prepared with an additional layer of clothing to keep you warm.
The festival of Dussehra also falls around this time. You'll see a lot of trekking groups come to the mountains with all their equipment. They usually spread their backpacks, ropes, carabiners, shoes at a rock on the trail or at the base of the mountain and offer prayer to the mountains and seek blessings.
It is not a religious ritual as such. But more of a tradition, especially with the older trekking groups.
• Winter Treks Near Mumbai (November To February)
November onward the trails are totally dry. The grass turns golden, jungles are no longer as luminous green that they used to be. The seasonal water sources have also completely dried by now. So carry enough water with you.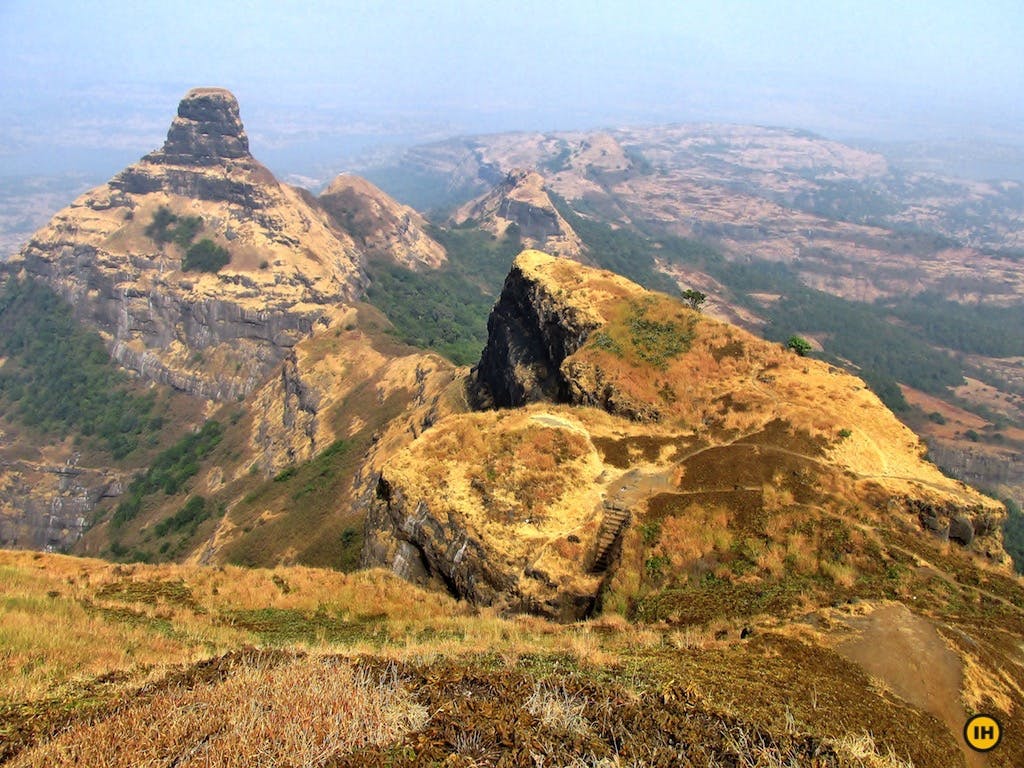 This is also the time the skies are the clearest. A great time for stargazers. You can spot the entire Milky Way. It is a beautiful experience to spend a night in the open under the stars.
Beautiful, yet surprising because you find such clear skies merely a couple of hours from Mumbai. In the city, you barely get to see any stars due to smoke and light pollution.
The crowd has also dwindled during this time as winters are not a popular trekking season here.
Here's an insider scoop — treks that were inaccessible due to monsoons or were considered dangerous in rains, open up. Seasoned trekkers head towards them. In this list you have treks like Gorakhgad, Dhak Bahiri, Sandhan Valley, Alang Malang Kulang.
Camping trips also soar. Trekkers flock to Raigad, Harishchandragad, Ratangad to enjoy a night under the stars.
• Summer Treks Near Mumbai (March To June)
This is the least favourite trekking season. Day time temperatures are in the mid-thirties or higher. There are no potable water sources. And yet, night treks are accessible.
| Tip: if you are trekking at night, go with someone experienced. I would recommend hiring a guide from the local village. They're difficult to find though. On the other hand, if you're a beginner, drop the idea of trekking at night. The trails are not well-marked and you may get lost. When that happens, there won't be a soul on the trail to help you with directions.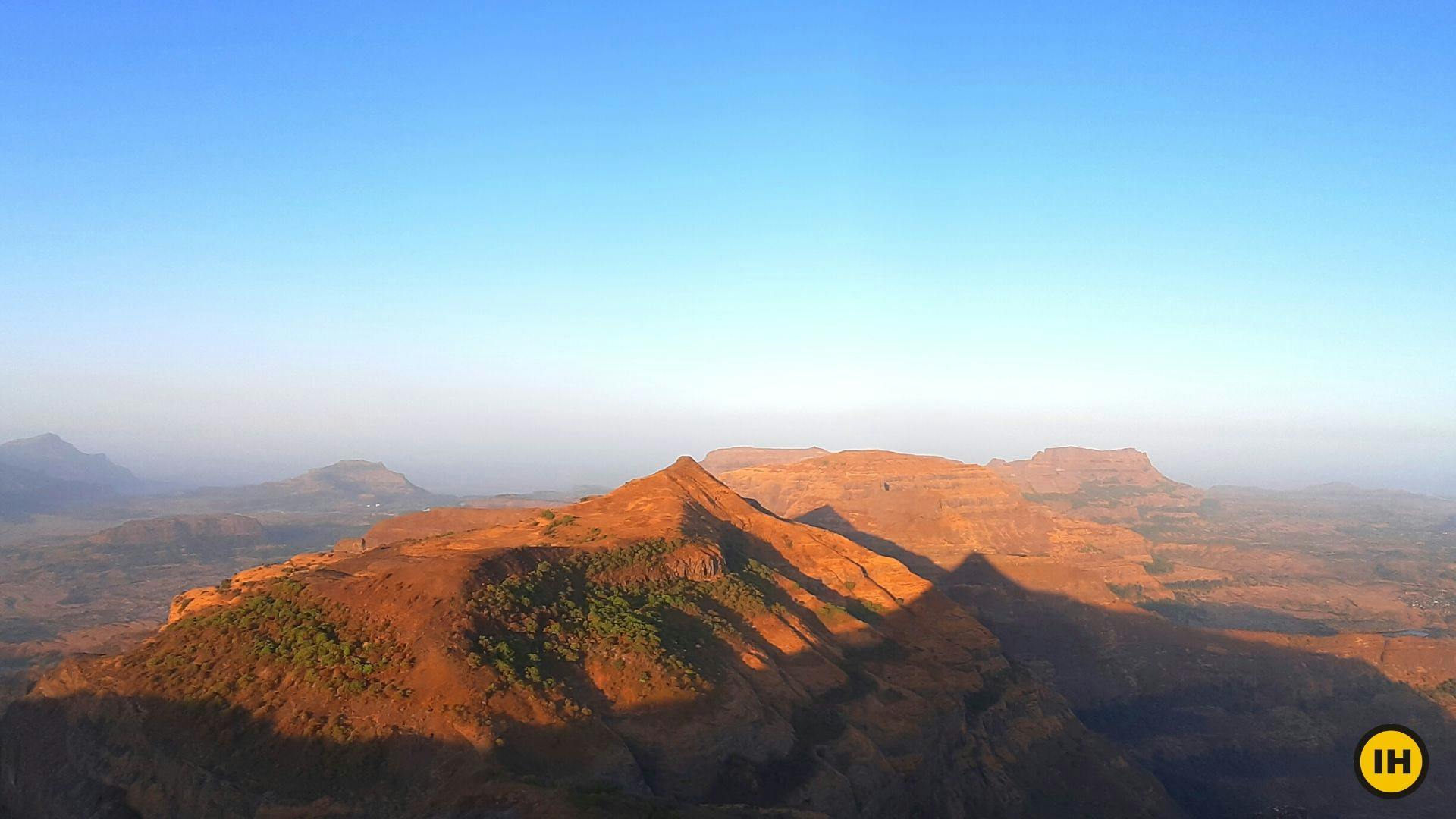 | Indiahikes recommends: The best time for night trekking is just before the monsoons arrive.
From the last week of May to mid June, some of the trails will be lit with fireflies. With them glowing bright during the evenings and night time, you will be taken back to a land of wonder. Rajmachi, Prabalgad, Kothaligad are some of the best ones to experience this.
Now that you have a clear idea of how the treks look in various seasons, let's move to planning a trek itinerary.
How To Plan For Treks Near Mumbai
Here's an itinerary that roughly works for most treks:
On a Friday night take the last local train out from Mumbai.
Arrive at the main railhead of these regions in the early hours of Saturday (usually around 2 AM). Spend the night at the railway station itself. (You can also take the first train out of Mumbai on a Saturday morning) 
Take the first bus of the day and/or hire a shared tum-tum (large rickshaws) to the base camp 
Begin trekking between 7.00 and 8.00 AM 
Reach summit by lunch
Back at base by 2.00 – 3.00 PM and then on to the railhead where you started from
Take a late afternoon/early evening local train back to Mumbai. You can be back in your bed by Saturday night. 
Having said that, you can also:
follow the same itinerary starting Saturday,  OR
spend a night camping on the trek or at base village and be back home by Sunday evening.
| Local Trains: The best way to get to any of these regions is to take the Mumbai local trains. They are fast, inexpensive, frequent and completely reliable.
Protip Download the m-indicator mobile application. It offers clear train schedules, alerts in case of mega blocks and also has chat groups in case you want to ask questions to people traveling in local trains.
10 Treks Near Mumbai That You Can Do On Your Own
In this list, the treks are clustered as per the region. So if you are just starting out, pick a region and then dive deep into the list. Each trek also contains the link to the trek guide which has details about the trail, commute, the best times to visit as well as GPX files you can follow to stay on the trail while trekking.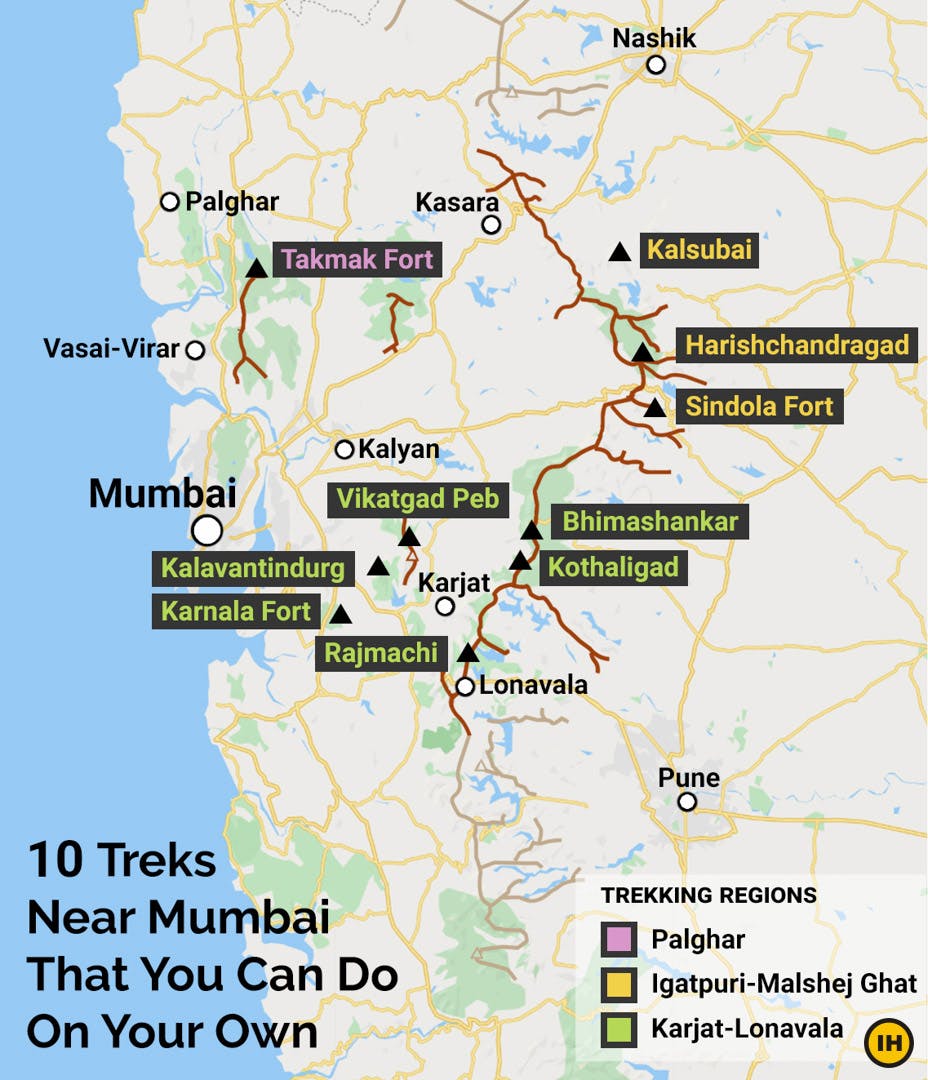 • Region: Palghar
| Takmak Fort
Difficulty: Easy – Moderate | Best Time: June – February | Altitude: 2,000 ft | Base village: Sakwar | Nearest Railhead: Virar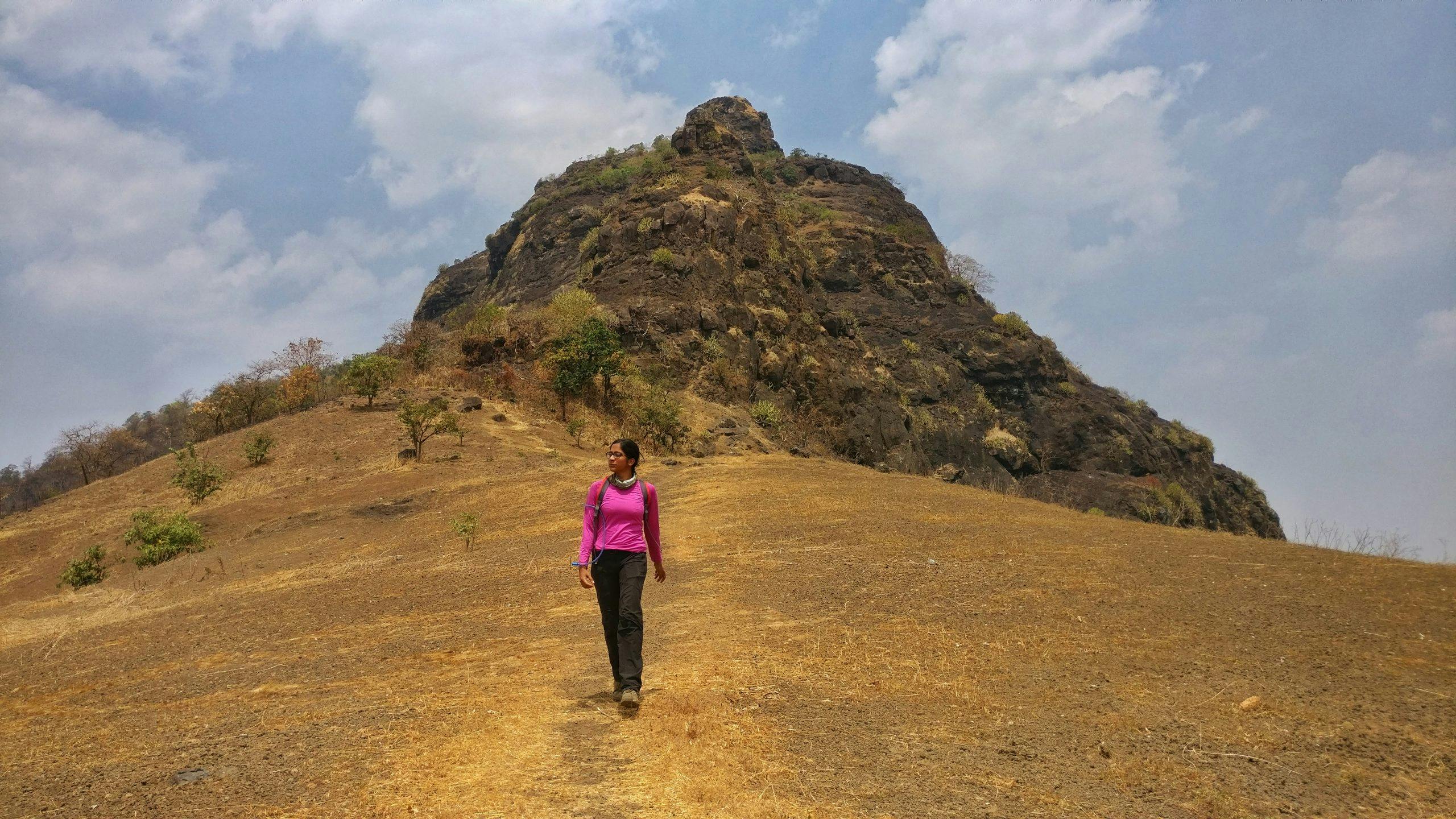 This is a hidden gem of the Sahyadris. The fort is situated in the Vasai Tehsil, Thane district. An interesting thing about this trek is, even though it is closer to Mumbai, it still remains unexplored.
The base village for the trek is Sakawar which is at sea level. From there, you climb to 2,000 feet.
Takmak Fort has a very rich history and was held by many rulers. The Marathas and the Portuguese were fighting for almost two centuries until the British took over this fort during the 18th century. They used this fort as a prison. The fort has seen a history for more than 400 years of tussle to control.
The hike also takes you through a dense forest with thick vegetation and is rich in flora and fauna. You can find many Curculigo Orchioides and starflowers. You will also find crabs crawling along with you (surprise!).
Here is a Complete Guide to Takmak Fort Trek
• Region: Igatpuri And Malshej Ghat
| Kalsubai
Difficulty: Moderate | Best Time: July – February | Altitude: 5,400 ft  | Base village: Bari | Nearest Railhead: Kasara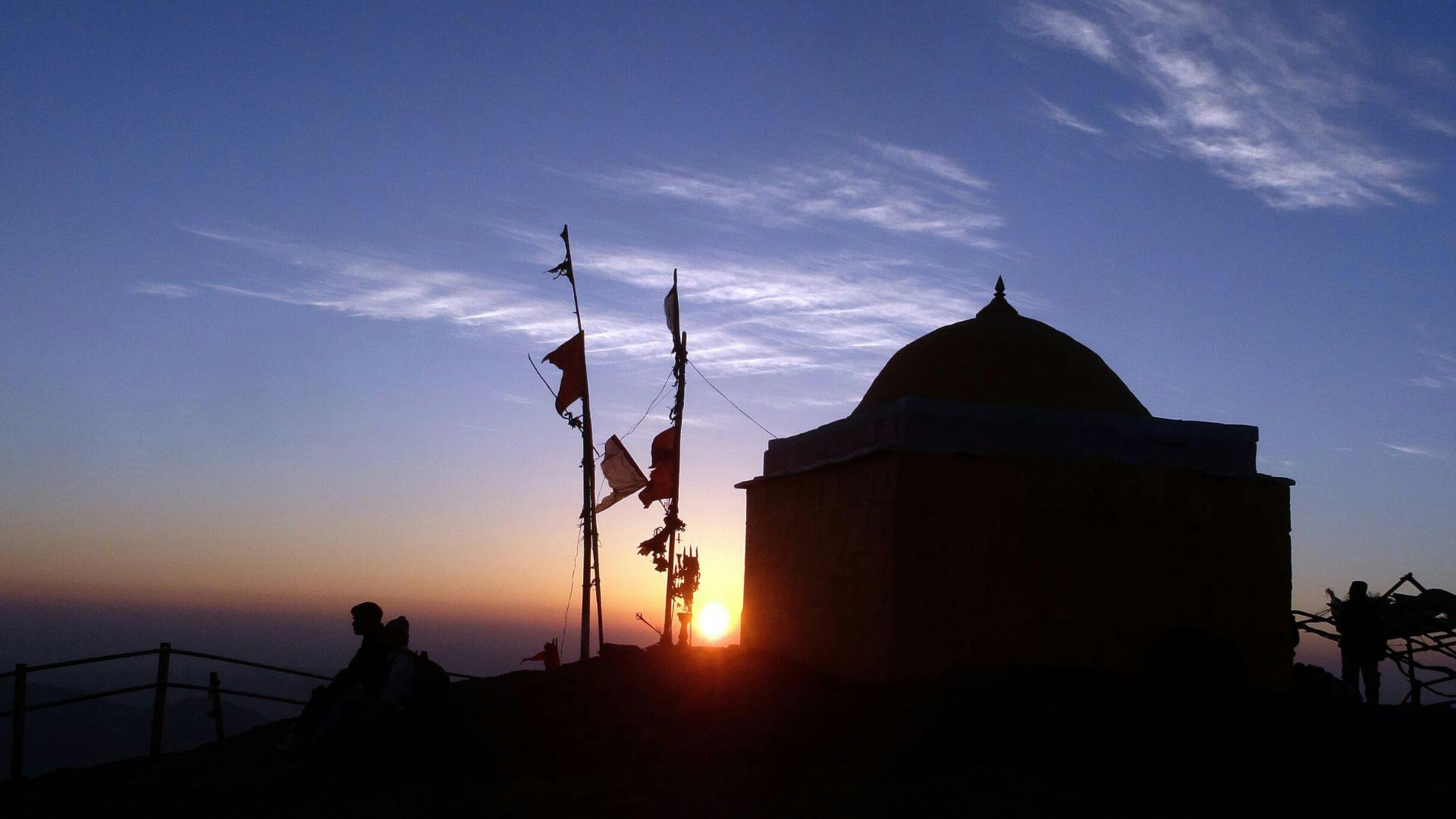 At 5,400 feet, Kalsubai might seem like a daunting task. And it is. But not something that cannot be managed within a day. Lying in the Kasara range of Western Ghats, it is the highest peak in Maharashtra. And that in itself, is a huge rush.
The final climb up the almost vertical ladder is an adrenaline shot. But once at the summit, you're calmed by the incredible views you see. To the south is the Bhandardara lake and beyond it lie  Ratangad and mighty Harishchandragad.  Turn west and you might see the trio of Alang, Madan, Kulang forts on a clear day.
Here is a Complete guide to Kalsubai Trek
| Harishchandragad
Difficulty: Moderate – Difficult | Best Time: August – February | Altitude: 4,670 ft | Base Village: Pachnai, Khireshwar, Belpada | Nearest Railhead: Kasara for Pachnai, Kalyan for Khireshwar and Belpada Route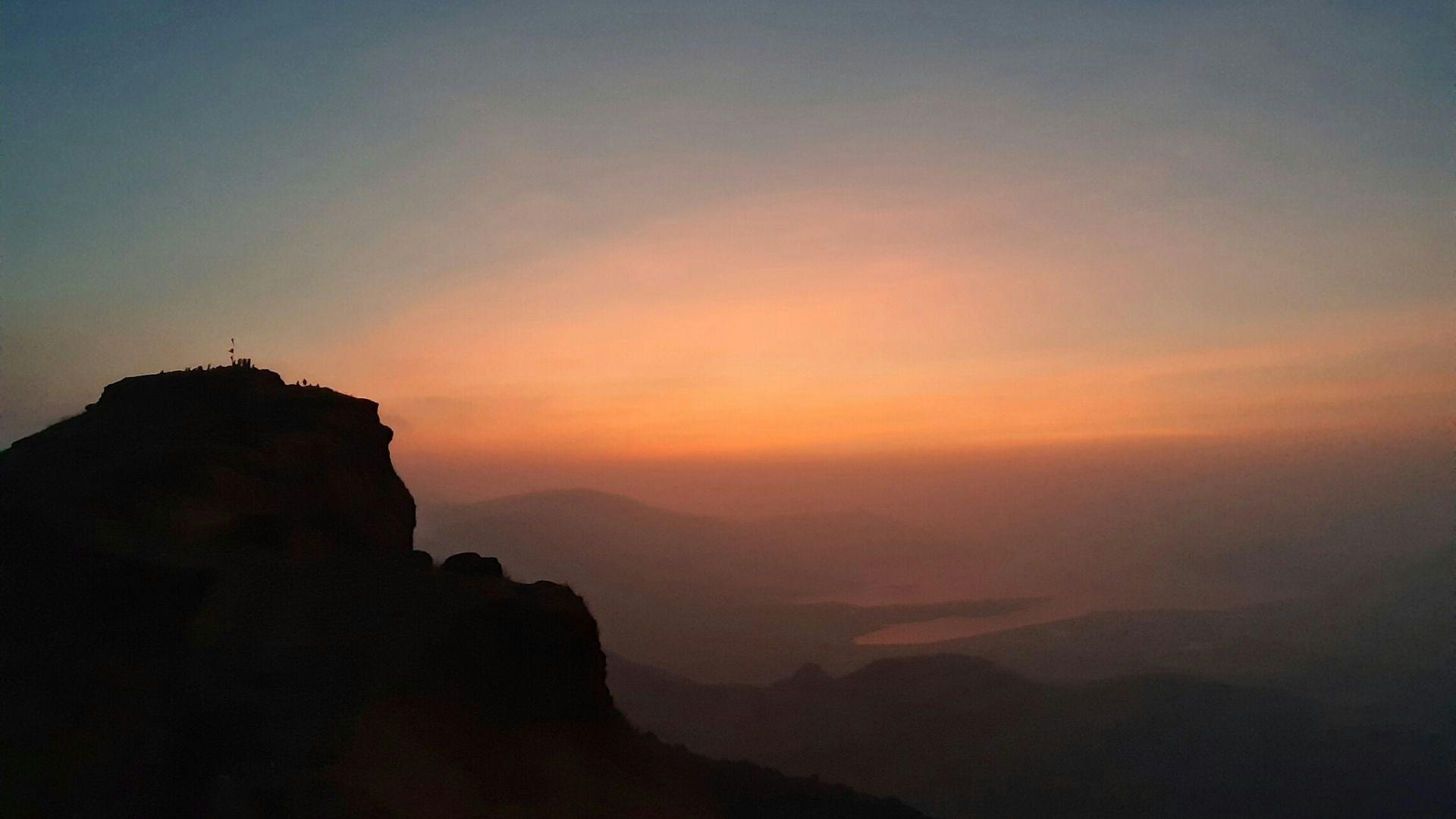 Harishchandragad trek is one of the most challenging treks in the western ghats of Maharashtra. It is a hill fort in the Ahmednagar district situated in the Malshej Ghat. 
Harishchandragad is said to have been in the 6th century during the rule of the Kalchuri dynasty. But various constructions on the fort and those in the surrounding region indicate the existence of diverse cultures. 
Saptatheertha Pushkarni, Kedareshwar cave, Harishchandra temple and other caves are the examples for that.
There are multiple routes to Harishchandragad, each having its own specialty. While Nalichi Vaat is done by experienced trekkers who are technically skilled, the Pachnai and Khireshswar routes are popular with beginners.
Here is a Complete guide to Harishchandragad trek
| Sindola Fort
Difficulty: Moderate | Best Time: May – June; September – February | Altitude: 3,680 ft | Base village: Karanjale Phata | Nearest Railhead: Kalyan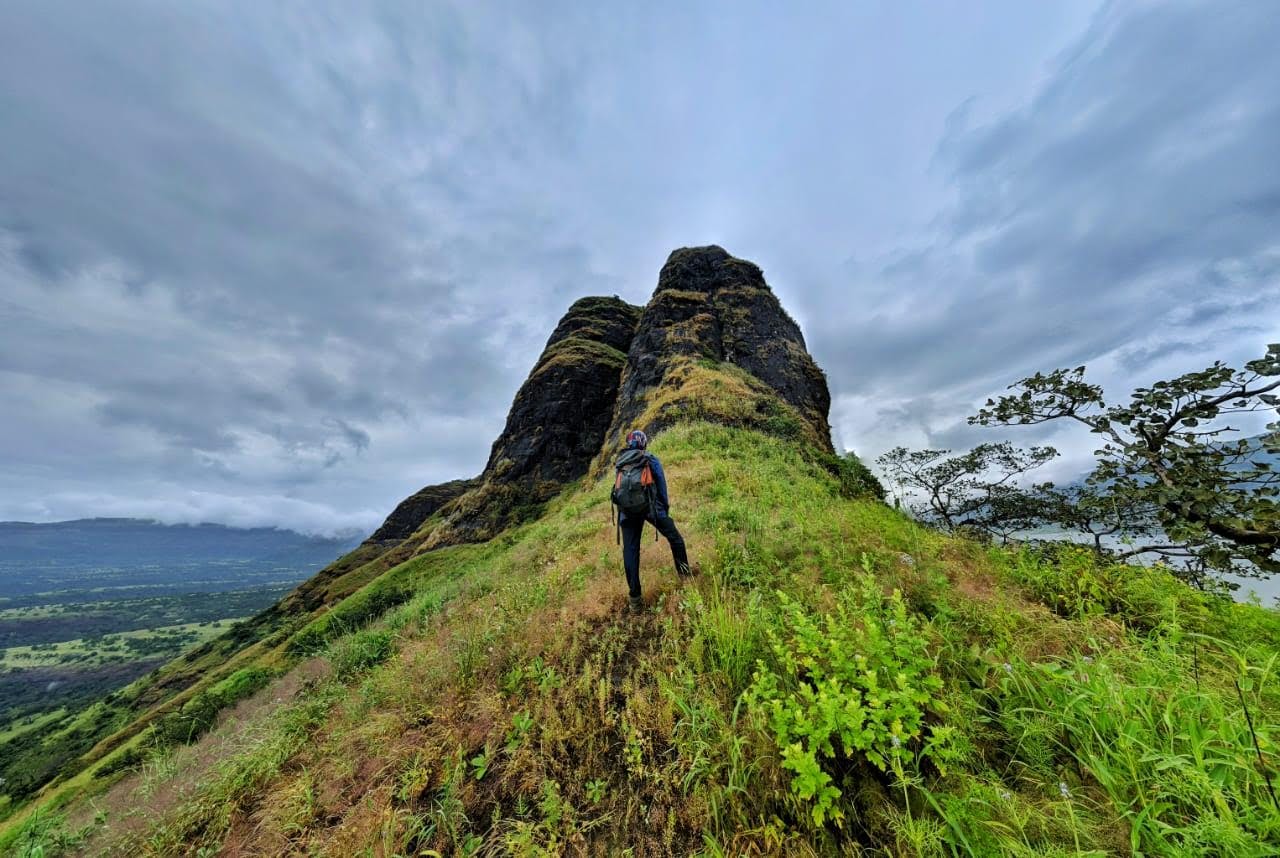 Sindola fort trek is one of the lesser-known treks situated in the Malshej ghat in Junnar region.
Sindola fort is a small one compared to others in the Junnar region. It dates back to the times of Nimgiri and Hadsar when it was used as a watchtower. It offers a complete view of Malshej Ghat, Pargaon village. 
At the top of the fort, you will find the ruins of bastions, few water reservoirs and a Ganesha idol. They're beautiful and take you back in time. Also, observe the solid, rock-cut steps while climbing to the pinnacle. The architecture is astonishing.  
You can spot many forts and landmarks of Malshej ghat from the ridge section of Sindola Fort trek. On your right side, the crystal clear Pimpalgaon Joga dam and on your left side, some of the peaks like Devdandya, Bhojgiri and Nimgiri-Hanumantgad are visible. 
Here is a Complete guide to Sindola Fort
• Region: Karjat – Lonavala
| Rajmachi
Difficulty: Easy – Moderate | Best Time: May – February | Altitude: 2,670 ft | Base Village: Udhewadi | Nearest Railhead: Neral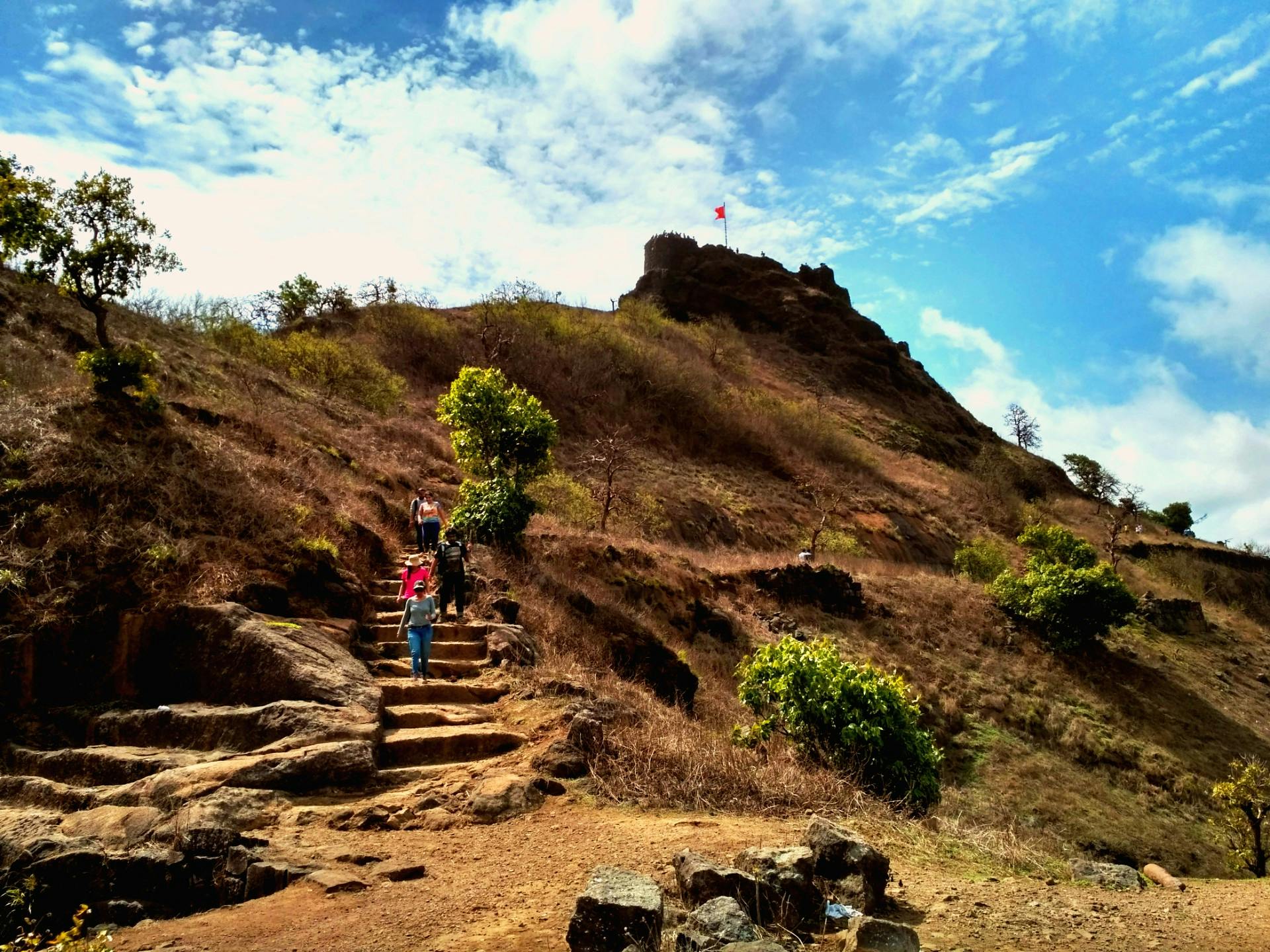 Rajmachi Trek is nestled in the midst of two popular hill stations – Lonavala and Karjat. The trek can be approached either via the Lonavala side or another being the Karjat side 
You can climb two forts from the same base village of Udhewadi. They are the west-facing Manaranjan fort (2,510 ft) and the east-facing Shrivardhan fort (2,710 ft).These forts were built by the Satavahanas but gained its fame under the rule of Shivaji Maharaj, who took over the fort in the 15th century. 
From the vantage point you see the Madan point, Dhak Bahiri, and Bhimashankar. The south side offers the views of Kataldhar, Lonavala, Karjat.
Look down and see the valley which cuts through the hill stations. You can also spot Valvan Dam, Tungarli Dam and also Duke's nose at the end. To your left is the glimpse of Kataldhar Waterfall (in monsoons), and the twin hill stations of Khandala and Lonavala 
Here is a Complete Guide to Rajmachi Trek
| Bhimashankar
Difficulty: Moderate | Best Time: August – March | Altitude: 3,050 ft | Base Village: Udhewadi | Nearest Railhead: Karjat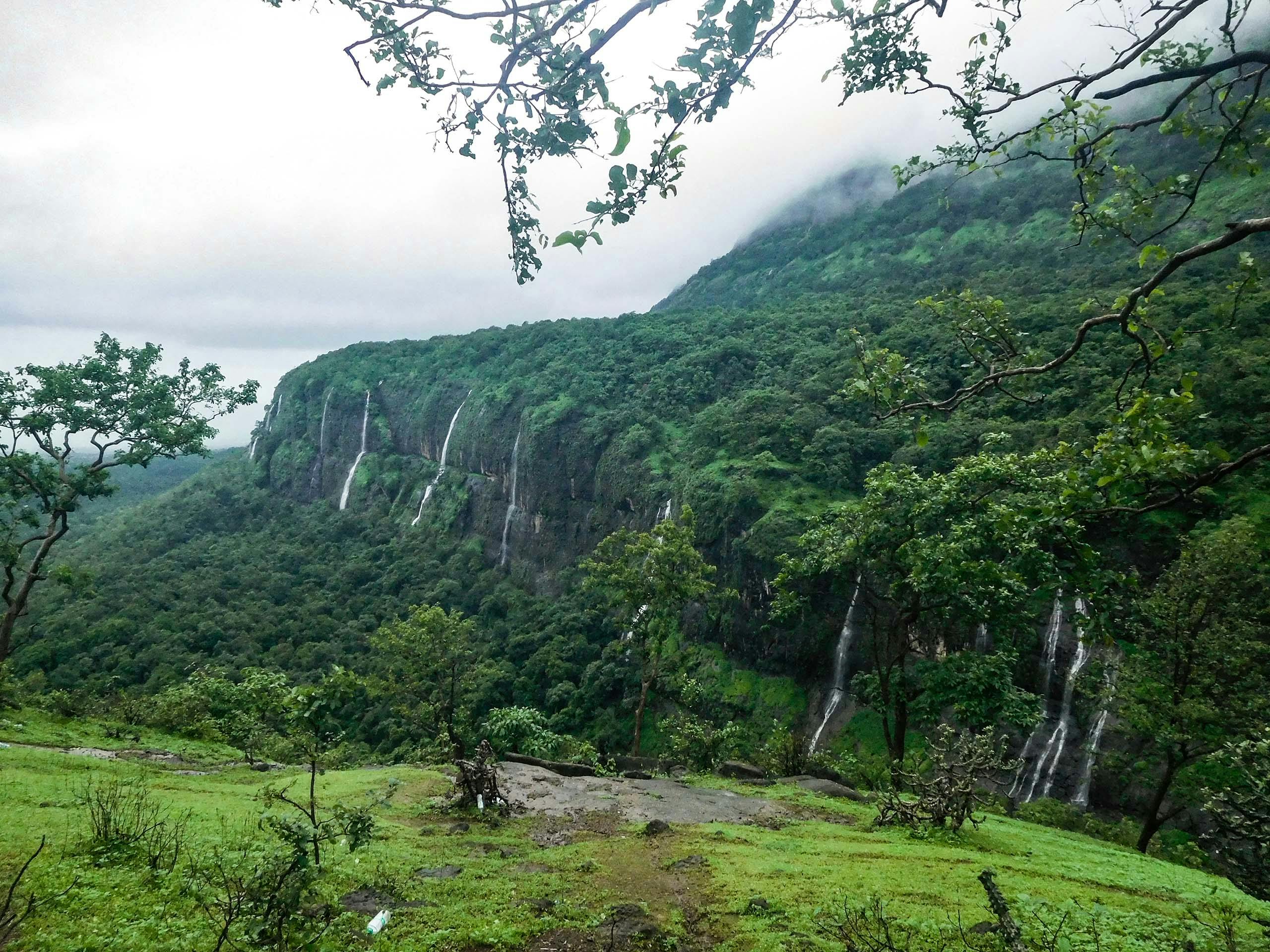 The Bhimashankar trek is a nature lover's delight. There are two reasons to do this trek.
Wildlife
Gupt Bhimashankar
The wildlife is prolific because this trek takes you into the heart of the Bhimashankar Wildlife Sanctuary. You spot a variety of birds, langurs, and spotted deer for company, maybe even a 'shekar' or the Malabar Giant Squirrel.
| Note: Seasoned trekkers can attempt this trek via Shidi Ghat route. While for beginners, the Ganesh Ghat route is advisable. It offers splendid views and is easier.
Then, the highlight is the trail to Gupt Bhimashankar. It is located in the middle of a stream, underneath a rock. The architecture and placement of the Lingam is spellbinding.
Here's a Complete Guide to Bhimashankar Trek
| Kothaligad
Difficulty: Easy – Moderate | Best Time: June – March | Altitude: 2,033 ft | Base Village: Ambivali | Nearest Railhead: Karjat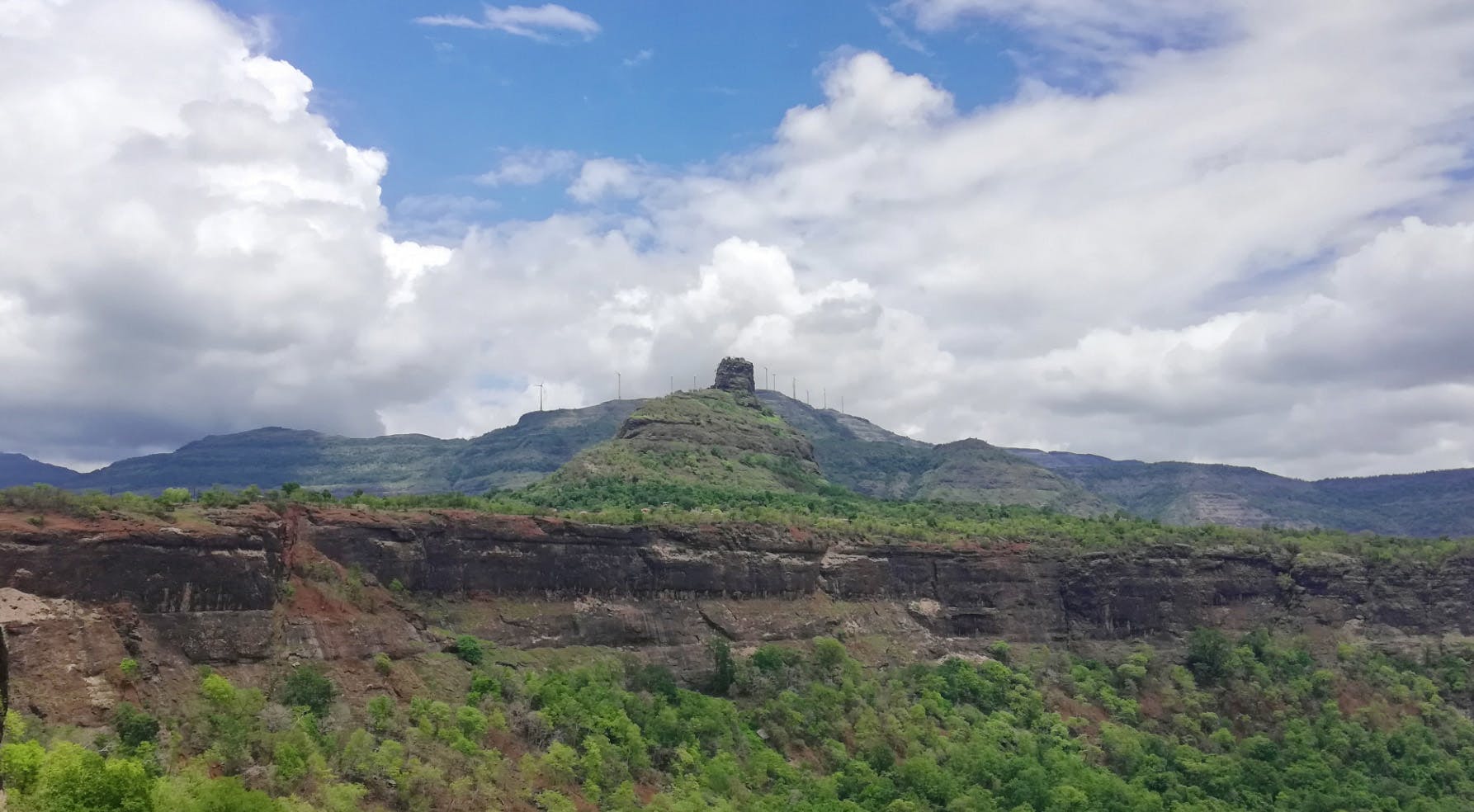 Located 100 km from Mumbai and Pune, this is another trek in the famous Bhimashankar Wildlife Sanctuary. It is also known as Peth fort. 
The fort was used as a watchtower and ammunition depot by the ruling armies. Its strategic location of the hill provides a commanding view of Padargad, Malanggad, Siddhagad, Chanderi fort, Bhimashankar and Matheran plateau in clear weather.
Here's a Complete Guide to Kothaligad Trek
| Peb Fort / Vikatgad
Difficulty: Moderate | Best Time: June – February | Altitude: 2,050 ft | Base Village: Anandwadi | Nearest Railhead: Neral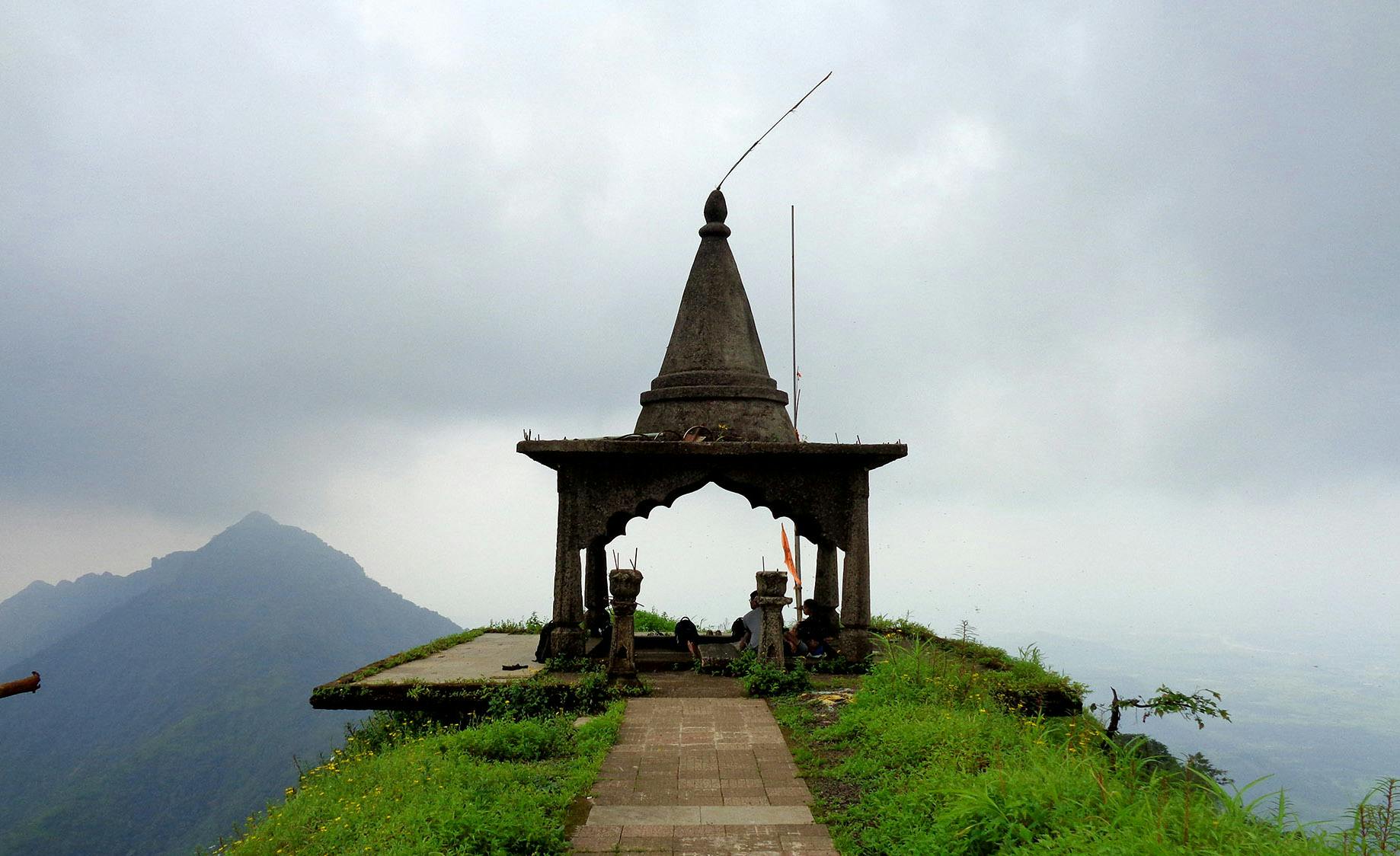 Also known as Vikatgad, this trek is situated 80 km from Mumbai and there are various trails leading to this one. It makes for a pretty excursion if you are setting out from Matheran.
The strategic location of the hill provides a commanding view of Chanderi fort, Nakhind hill, Malanggad, Tahuli, Prablagad, Kalavantin & Matheran plateau in clear weather. It was primarily used as a granary and watchtower by the ruling armies.
Here's a Complete Guide to Vikatgad Trek
• Day Treks Near Mumbai
| Kalavantin Durg
Difficulty: Easy – Moderate | Best Time: July – March | Altitude: 2,205 ft | Base Village: Thakurwadi | Nearest Railhead: Panvel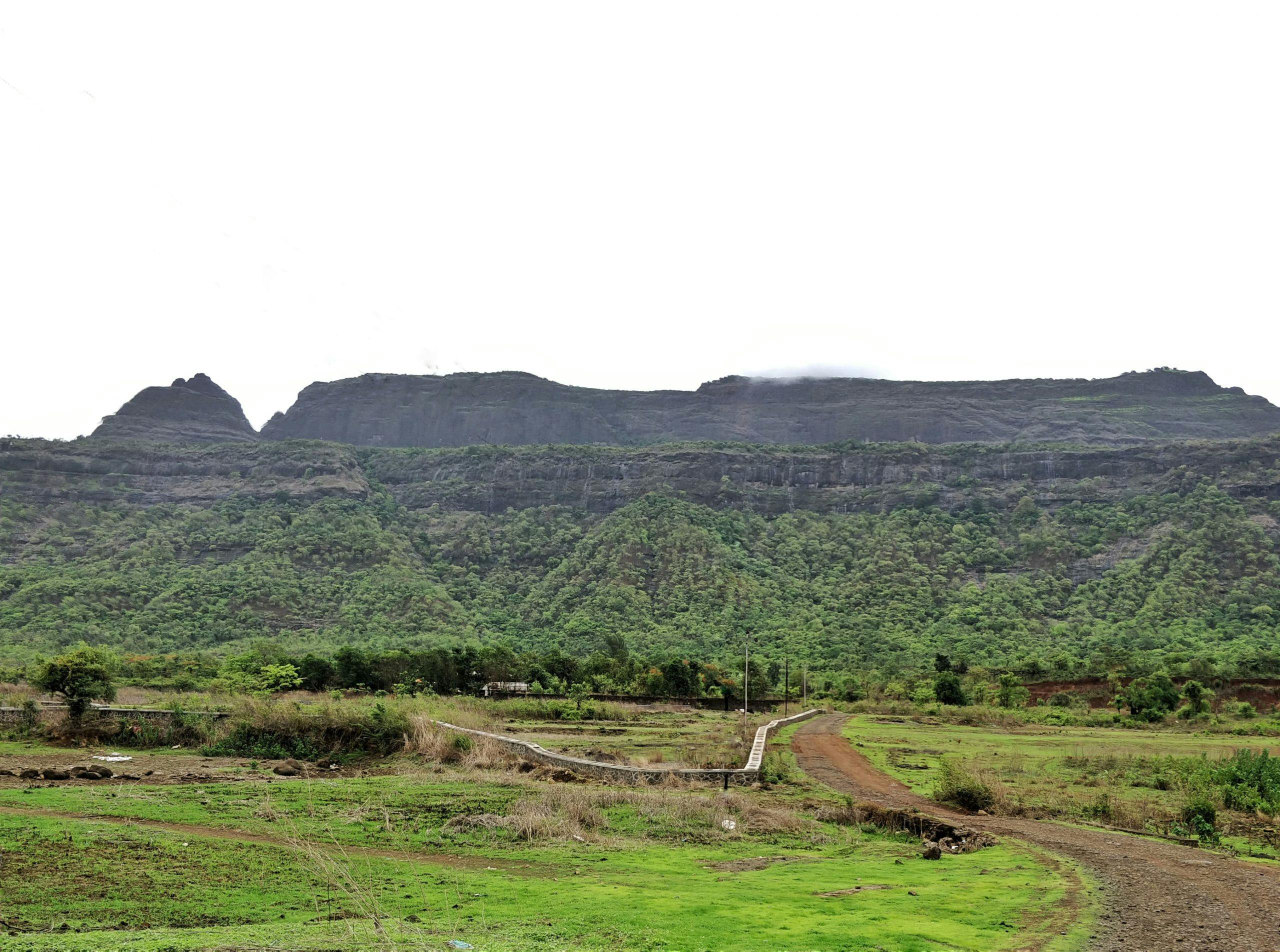 Kalavantin Durg Trek is one of the most popular treks in Maharashtra. Situated in the Raigad district of Maharashtra, the trek is perfect for adventure seekers. 
The climb to the Pinnacle of Kalavantin is a thrilling experience. Although it looks tricky in the photos, it is a misconception that it is a treacherous trek. With enough precautions and know-how, the trek is safe and offers an adrenaline rush when you get to the top.
Protip You can combine this trek with Prabalgad or camp at the vast Prabalmachi Plateau. Also, it can get crowded during peak seasons. So, choose your time carefully to enjoy the climb to the pinnacle.
Here is a Complete Guide to Kalavantin Durg Trek
| Karnala Fort
Difficulty: Easy | Best Time: October – April | Altitude: 1,440 ft | Starting Point: Karnala Bird Sanctuary | Nearest Railhead: Panvel
This is one of the most accessible treks from Mumbai which starts at Karnala Bird Sanctuary. There are multiple routes to get to the top, but the trails are well defined in spite of the thick vegetation around.
The trek, though a bit challenging, is thoroughly enjoyable and provides a great introduction to trekking for beginners. The forest department also has a few shelters along the way to rest and catch your breath.
Once at the summit, you see the 600+ year old fort that has changed hands beginning with Devagiri Yadavas and ending in British East India Company with the Tughlaq rulers, Portuguese, Shivaji's command and the Mughals in between.
The highlight of the trek is the 360° view of the Raigad district. On clear days towards the end of the monsoons, you see the entire surroundings painted in green and that is a sight to behold.
Here is a Complete Guide to Karnala Fort Trek
Once you've zeroed in on the trek to do, the next step is to chart out your travel. The next section comes in handy here.
How To Reach The Treks Near Mumbai
• How To Reach Palghar Region
The Palghar region lies to the north of Mumbai, bordering Gujarat. This comes on the Western Line of Mumbai Locals. There are three main gateway-suburbs to the treks in the regions – Vasai, Virar and Palghar. All of them are accessible from Churchgate Railway Station.
By Train
When traveling from Churchgate, your journey may be broken down into two parts
Churchgate to Vasai/Virar
Vasai/Virar to Palghar
This is because there are very few direct trains from Churchgate to Palghar. But trains leave every 10 minutes from Churchgate to Vasai/Virar. From there, take a train to Dahanu. The entire journey will take 2-3 hours depending on whether you get a direct train or your journey gets broken.
Protip Don't miss the countryside from the train. An hour into the train journey the views outside the window start changing. There will be miles of marshlands filled with mangroves, salt pans, creeks, and even paddy fields along the way.
Try and get a window seat on the left side. For this, catch a late night or early morning train on a weekend (especially from a starting point). It isn't that difficult to get a window seat.
By Road
Using Public Transport: At the time of writing there were no buses from any of the major suburbs of Mumbai to Palghar. Having said that, you might find some State Transport buses leaving from Vasai or Virar towards Palghar from the respective bus stands. Both are located right outside the railway stations.
We recommend taking the train because they are frequent, and faster. Moreover, since you're outside of the Mumbai, the trains are not as crowded.
Using Private Transport: Take the Western Express highway and head north if you are driving down to the base camp. Stay alert for any detours to the base village depending on the trek route you choose.
| Tip: For detailed instructions on how to reach the base village of a certain trek, go through the individual trek information. There are not just detailed driving directions but also links to maps and GPX files to follow along.
• How To Reach Karjat – Lonavala Region
The Karjat – Lonavala region lies to the east of Mumbai. You can access them through Kalyan, Neral, Karjat, Khopoli and Lonavala itself. This is the Central Line of Mumbai Locals. The trains here start from Chhatrapati Shivaji Terminus (CST), and not from Churchgate.
By Train
From CST, a local train leaves every 10 minutes for Kalyan. The frequency of trains going beyond that reduces to 30 minutes – 1 hour from there. The further you go to the north, the lesser the frequency. (ReminderReminder: Use m-indicator).
While on this journey, after Kalyan you will notice a sudden change in the atmosphere. You are outside of the furthest outskirts of Mumbai. There are not as many buildings on either side of the railway tracks. The air becomes fresher. And the speeding train makes the air seem cooler than what it is.
Protip Carry a light fleece for late night/early morning journey on the trains. It gets cold inside the train. Almost like a fridge.
By Road
Using Public Transport: You can also take state transport buses. But they take a lot longer time and traffic en route makes it extremely unpleasant. Save the bus journey for once you are at Karjat or Lonavala. Trains are the fastest and most enjoyable option of the two.
The only time we recommend taking a bus is if you are starting from somewhere close to Panvel. There are regular buses from Panvel to Karjat. As Panvel lies almost on the outskirts of the city and close to highways (old and new) to Pune, you won't have to face as much traffic.
Using Private Transport: To reach Karjat is to take the old Mumbai-Pune highway. This is more convenient for treks like, Kalavantin Durg-Prabalgad, Peb Fort or Kothaligad for instance.
Another way  is to take the Mumbai Pune Expressway and get off it from the Khopoli exit for treks closer to Karjat. For the ones near Lonavala, keep heading straight and exit at Lonavala itself. However, with the toll fees this might be a slightly expensive option. 
• How To Reach Igatpuri – Malshej Region
The Igatpuri-Malshej region lies to the north-east of Mumbai. Again, this is accessible from the Central Line of Mumbai Locals. Kasara is the last point along the route. From here on you'll have the make the rest of the journey on state transport buses or shared tum tums/jeeps.
By Train
The journey to Kalyan is the same as the Karjat-Lonavala region. Once at Kalyan, head Northeast towards Kasara and Nashik which are further ahead.
Depending on the trek that you're going to, you can either get off at Kalyan and take a state transport bus or continue your train journey to Kasara.
| Tip: For treks like Naneghat, Jivdhan, Gorakhgad, Siddhagad, Kalyan is the better option. For Ratangad, Kalsubai, Alang Madan Kulang,  Kasara is the better choice.
By Road
Using Public Transport: You can also take state transport buses. But they take a lot longer and traffic en route makes it extremely unpleasant. Save the bus journey for once you're at Karjat or Lonavala. Trains are the fastest and most enjoyable option of the two.
Having said that, you can find buses to Kasara from Thane Bus Stand (right outside railway station) or Kalyan Bus Stand (outside railway station). Although it is just 90 km away from Thane and 70 km from Kalyan, expect to spend approximately 4 hours.
Using Private Transport: Take the Mumbai-Nashik Highway if you're headed for treks in this region.
If it is the treks in the Mashej region like Naneghat, Harishcandragad (via Khireshwar), Gorakhgad then take a right at crossroads at Ranjoli  and head right on the road to Murbad and then further towards Malshej Ghat region.
On the other hand, treks like Kalsubai, Ratangad would require to continue till Kasara on the Mumbai Nashik highway, before taking a detour to the country roads.
What To Pack For Treks Near Mumbai
The good thing about trekking in Western ghats is that packing is a lot simpler, easier, lighter. There are a few factors that make it so:
There are a lot of day hikes. So, you will be back home within 24 hours.
Weather is manageable. You need rain gear and a pair of fresh, dry clothes only in the monsoon. 
Food is easily available near most treks.
Food and water on treks near Mumbai
Although the villages can provide Roti, Vegetable Sabzi, Dal and Rice for meals, ask if they can provide Pitla Bhakri with dry spicy chutney. There might be shacks set up by the villagers along the trails on the weekends.
I must add that unlike Himalayan treks, there aren't regular water sources along the trail in the Western Ghats. Except in monsoons. Generally there is a water source only at the base village. Water on the trek or in cisterns might not be potable.
| Note: Irrespective of a day hike or one night camping trek, traditionally whenever local trekkers venture into these mountains, they bring a packed breakfast and lunch from home. If they're camping overnight, they usually carry cooking equipment and ingredients and cook it themselves.
Do Your Bit Of Green Trail: These shacks serve tea, lemonade, buttermilk, Maggi and bhajiyas. Some of these might be packaged or served in disposable cups and plates. This adds to the litter on the trail and it is an eyesore. Pack your snacks from home and be a zero waste snacker.
Based on the above information, you can divide your packing list into six parts:
To eat/drink: Lemons and salt OR Electrolyte Powder/Drink (Electral/Gatorade/Glucon D, etc.), High-calorie snacks (nuts and dry fruits, home-baked cake, etc).
Trek Equipment: Tent & Sleeping Bag/ Mat, Trekking pole, Utensils, Antiperspirant powder (Candid, etc.), Magnesium Flint/ Match boxes, Water filter/ Thin cotton cloth and water purification tablet.
Basic Toiletries: Toothbrush, Toothpaste, Toilet Paper.
Medical kit: Scissor, Band Aids (Regular & Waterproof), Analgesic spray (Relispray, Volini, etc.), Antiseptic Liquid (Savlon, Dettol etc.), Antiseptic Powder (Povidone-Iodine based powders like Cipladine, Savlon, etc.), Cotton Roll and Bandage, Crepe Bandage, 1-inch wide Medical Tape (paper or cloth), Micropore Tape, Tablet for Motion Sickness (Avomine), Acidity (Gelusil, Digene, etc.)., Mild Pain Relief Tablet (Crocin), Sunscreen Lotion (SPF 50+).
Accessories: Insect Repellent , Multi-Tool/ Swiss Army Knife, Torch/ Headlamp with spare batteries., Powerbank, Safety Pins, Rubber bands & Whistle (Useful in emergencies.), Optional: Rope, Camera.
To wear: Quick Dry T-shirts are preferable over cotton tees, Poncho, Additional set of clothes, socks, etc. (to change into after the trek), Rehydration pouch/bladder, extra sandals .
In Conclusion
Here's what we suggest you do:
Pick any one of the 10 beginner treks from above. 
Pack your bags as per the list we shared. 
Plan your commute to any of the three regions – Palghar, Igatpuri-Malshej, Karjat-Lonavala.
Use the trek guides that we have for all the above treks in Do-It-Yourself treks of Maharashtra.
And when you come back, don't forget to share your trek stories, guides and help us keep the information on the site up to date. 
Thousands of trekkers just like you read these guides to plan their next trek. You'll be helping the trekking community in a huge way by sharing this knowledge and stories. Write to us at info@indiahikes.com
At the same time, we have more than 150 treks to choose from in the Do-It-Yourself Treks page. But do note that Indiahikes does not organize these treks.
If you want to trek in the Himalayas with us, check out our upcoming treks section.
What to do next…
1. If you have any other treks you'd like to suggest, or if you have questions, drop in a comment below.
2. If you're looking for Himalayan treks for 2021, you'll find a list here.
3. If you would like to help us with updating trek information,photos, maps or sketches of our Do-It-Yourself Treks, fill this form
4. If you'd like to see the 13 best treks of India, get a downloadable guide here.
LEAVE A REPLY
Your email address will not be published. Required fields are marked
Latest Videos

"Trekking Shoes Vs Sports Shoes"

"How To Choose The Right Trekking Shoes"
Sign up for our much loved Weekly Mailer
We have terrific trekking tips, trek updates and trek talks to look forward to