4 Ways To Pack Your Trekking Poles Without Damaging Them
Share this story
Trekking poles are a must if you are headed for any Himalayan trek. They allow you to trek with ease by saving energy and providing additional support. In fact we always recommend that you use two trekking poles, instead of one.
But we've noticed that many people do not know how to pack their trekking poles. Sometimes they either damage their pole before the trek or lose it during transit.
To help you, we are sharing four easy ways to pack them. Remember these next time you set out for a trek.
1. Pack them inside your backpack
This is the most secure and safest option to pack your trekking poles.
They are collapsible, so you can actually fit your them into your backpack. We suggest you place them at the back of your backpack and use your clothes like jackets and thermals to cushion them.
If you're travelling by air, you should know that most of the airlines don't allow trekking poles in cabin luggage. Make sure you consider this while packing.
It is advisable to check them in with your luggage. Don't forget to put a fragile tag to your backpack if you check them in.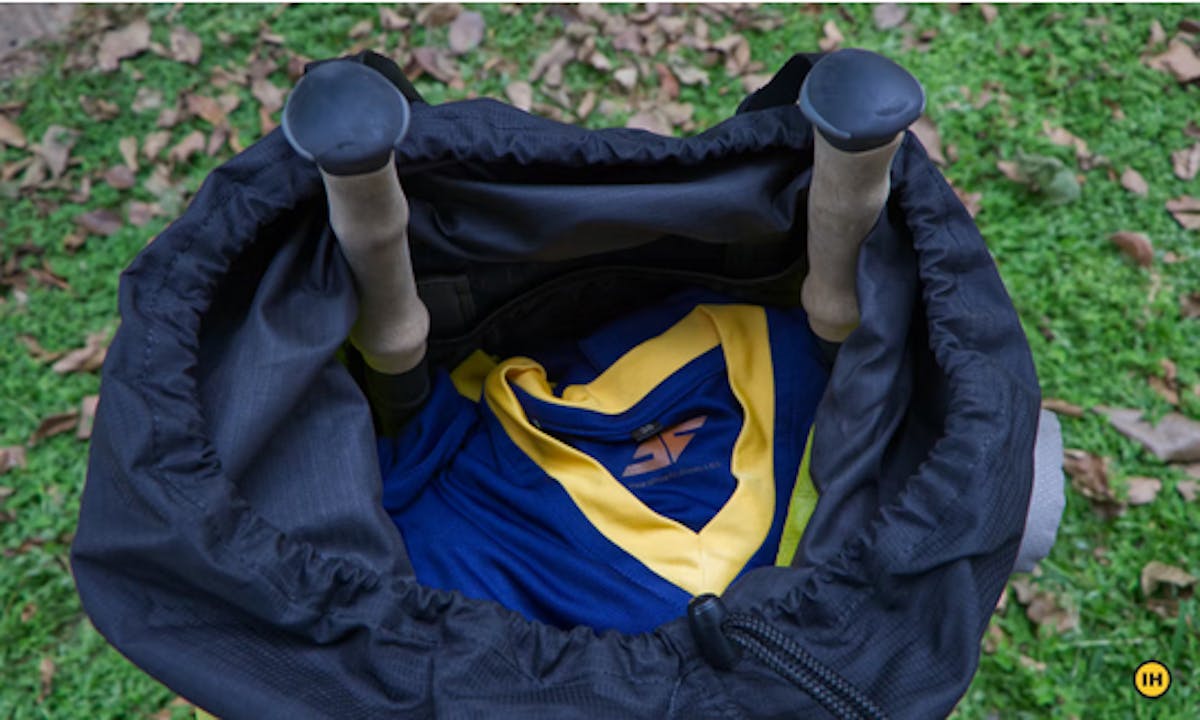 The picture shows how to pack your trekking poles inside your backpack.
2. Attach them through loops and secure with straps
Most backpacks come with loops on the sides. You can use these to pass your trekking poles through them and secure them.
Run them through the loops and tighten the compression straps. This will secure your poles from falling even if the backpack is kept straight.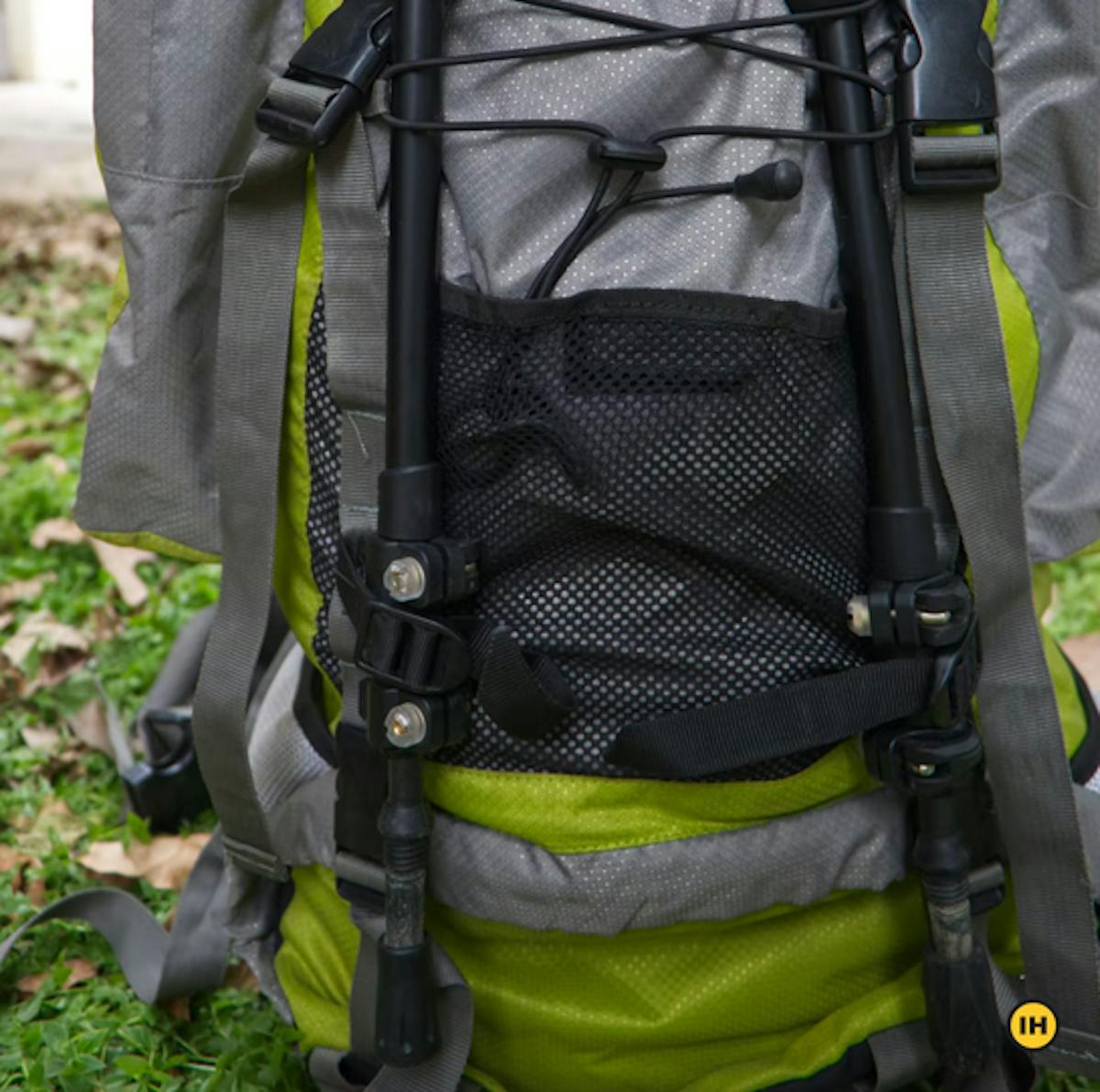 If your backpack has loops and straps, use them to secure your trek poles
3. Use other loops on the sides to secure your poles
Some backpacks have small loops specifically designed for your trekking poles on the sides. Insert your poles into these loops and leave them there. They will stay secure. Adjust as per your requirement.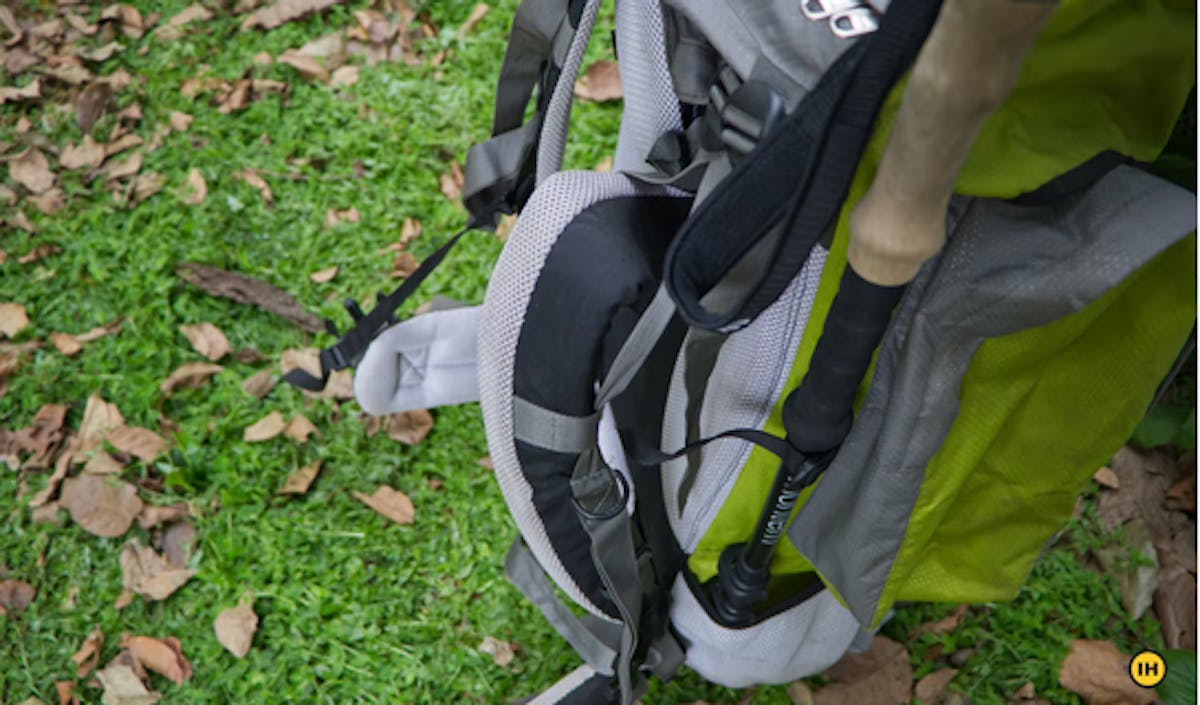 Packing trek poles sideways
4. For a daypack, get one with straps on the sides to attach the poles
If you are using a daypack then you can use the adjustable side straps. Look for a backpack that has side straps and loops. You can easily latch the trekking pole onto these and tighten the straps.
Additional tips on packing poles:
– You're more likely to lose your trekking poles while travelling if you carry them separately. Whether you are travelling by road, train or flight, make sure your they are packed with the rest of your luggage. You don't want to lose a pole before you set foot in the mountains.
– Most airlines don't allow them in cabin baggage. So, make sure to check it in along with your backpack. For this, placing them inside your backpack is safest.
– When you are travelling by train too, keep them inside the backpack, so that it stays safe from getting damaged or stolen.
If you are not a frequent trekker, you can rent trekking poles from Indiahikes. This will save you from the trouble of packing your pole as you can collect it directly from the basecamp.
Conclusion
These are some tips to pack your trekking poles for your next trek. Let us know if you have any other tips or hacks in the comments section below!
Related Videos
"Why you need a trekking pole"
"How to use a trekking pole"
"How to Fix a Broken Trekking/Tent Pole With a Sling"
Sign up for our much loved Weekly Mailer
We have terrific trekking tips, trek updates and trek talks to look forward to