How to Trek in Switzerland On Your Own (Includes Best Treks + 9 Import...
Share this story
It's been a month since I wrote to you from Switzerland. I still cannot believe that I spent time trekking and hiking in the Swiss alps. 
Ever since I came back, people have asked me just one question — how can we trek in Switzerland on our own?  
That's what I'm going to answer today. 
In this post, I'm sharing with you a guide on how to trek on your own in Switzerland. These are good treks to do on your own without a guide. 
I'm also sharing some pointers on where to stay and how to travel in order to maintain a respectable budget (as much as Switzerland allows).
Let's start with some basic understanding of how people trek in Switzerland, this will apply to you too.
Switzerland is not a very big country. So don't expect to do multi day treks like how we do in India. The entire country can be crisscrossed with a combination of trains and cable cars in a matter of hours.
Most treks in Switzerland are day treks. They range anywhere between 3 hours to 6-7 hours (although what the Swiss mention as 4.5 hours took me around 6 hours!)
Each day has a destination where you'll either be staying at a mountain hut or a hotel. This is the norm when it comes to trekking Switzerland.
Camping is not a very popular practice. They have mountain huts even in the remotest high altitude regions, where stock is sometimes replenished with helicopter services!
There is no concept of a Trek Leader or guide in Switzerland. They have well-marked routes so you never get lost. You also have a mobile network throughout (with some network providers), which give you easy access to Google maps or Swiss topo apps.
With that, let's get started. 
1. Blümlisalphütte SAC: 
This is the first trek I did after landing in Switzerland. And what an introduction it was to the Swiss Alps! 
Blüemlisalp is a high mountain in the Bernese Alps, rising to 12,011 ft. It is a lesser known massif in the region, since it is overshadowed by its famous neighbours, Jungfrau and Finsteraarhorn. 
This particular trek takes you to a mountain hut (hütte in German) at the base of the Blüemlisalp massif. It's an intimidating view. You take one step out of the hut and you step on the crackling Blüemlisalp glacier.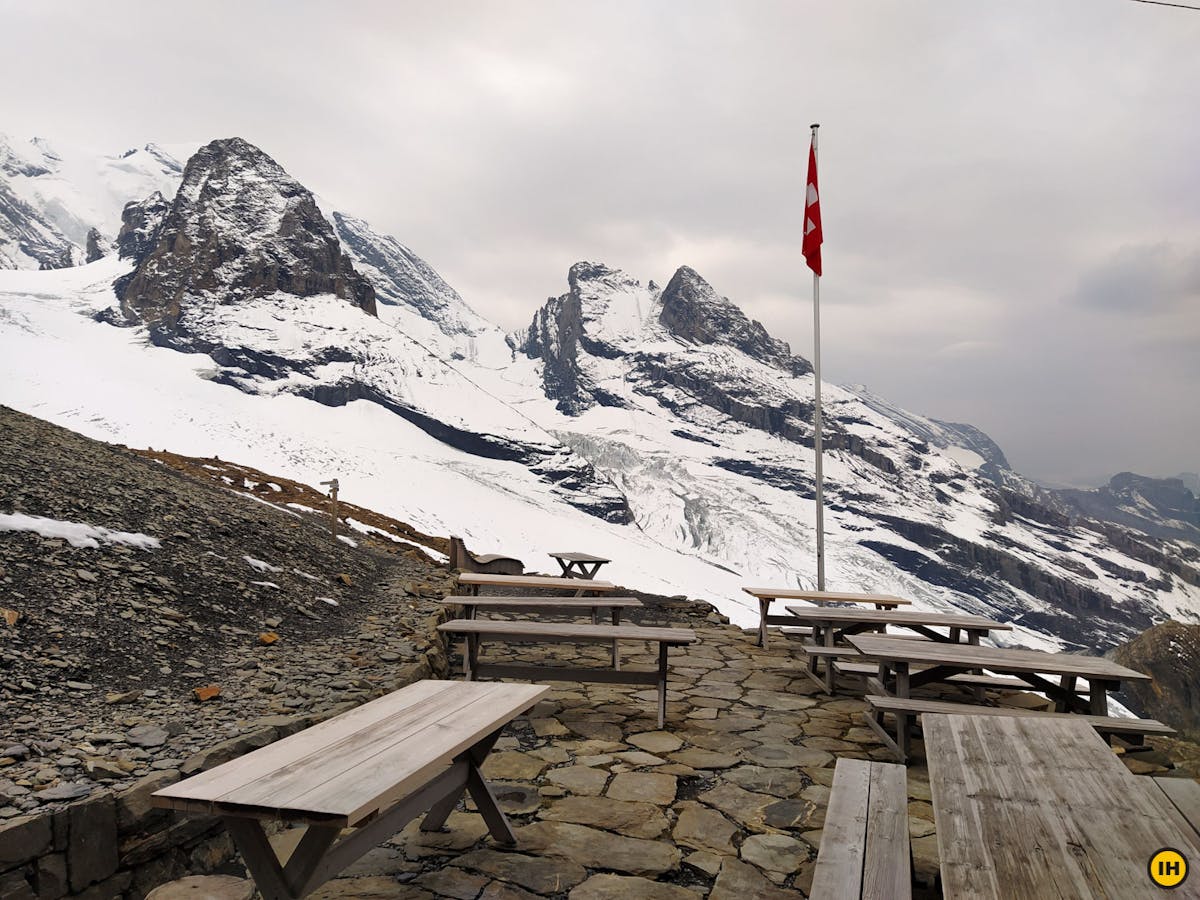 A view of the Blümlisalp massif from the hut. Picture by Swathi Chatrapathy
From here, you get a few of the most spectacular views of the Bernese Alps, especially during sunset. In fact, many people climb up here just to experience the sunset! Just below the hut is also a col called Hohtürli Pass, from where several treks begin. This is perhaps the most Himalayan-like trek I did in Switzerland. 
The trek starts from a lovely pine forest. Not too dense, but tall and earthy. Small rivulets meander through the trees, sometimes cascading down small rocks.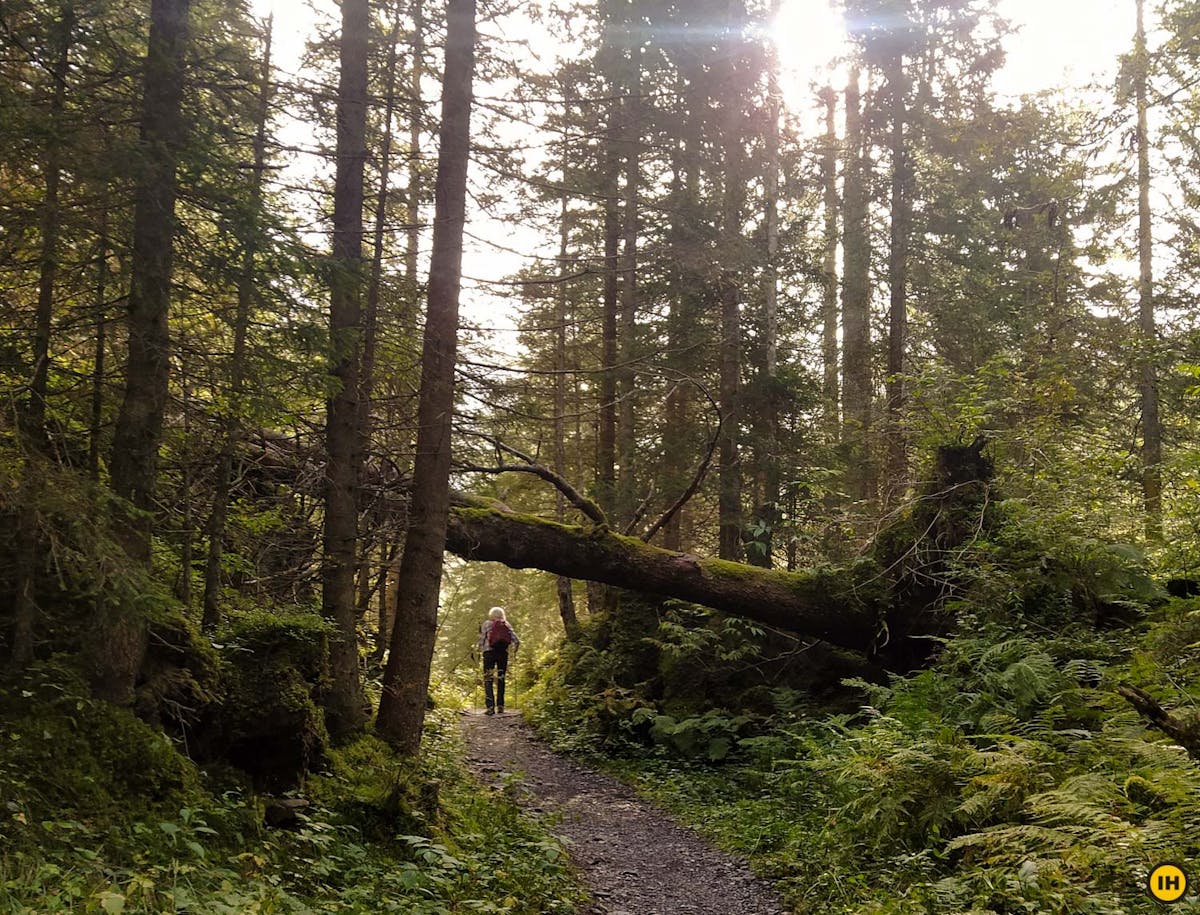 The forest trails just rising out of Griesalp. Picture by Swathi Chatrapathy
At the end of the forest, the scenery opened up so suddenly that I was caught off guard. Ahead of me were endless meadows set against the backdrop of snow-capped mountains. A huge glacier rolled down on my left. The trail from here onwards climbed steadily uphill. It was a pleasurable climb, but a challenging one!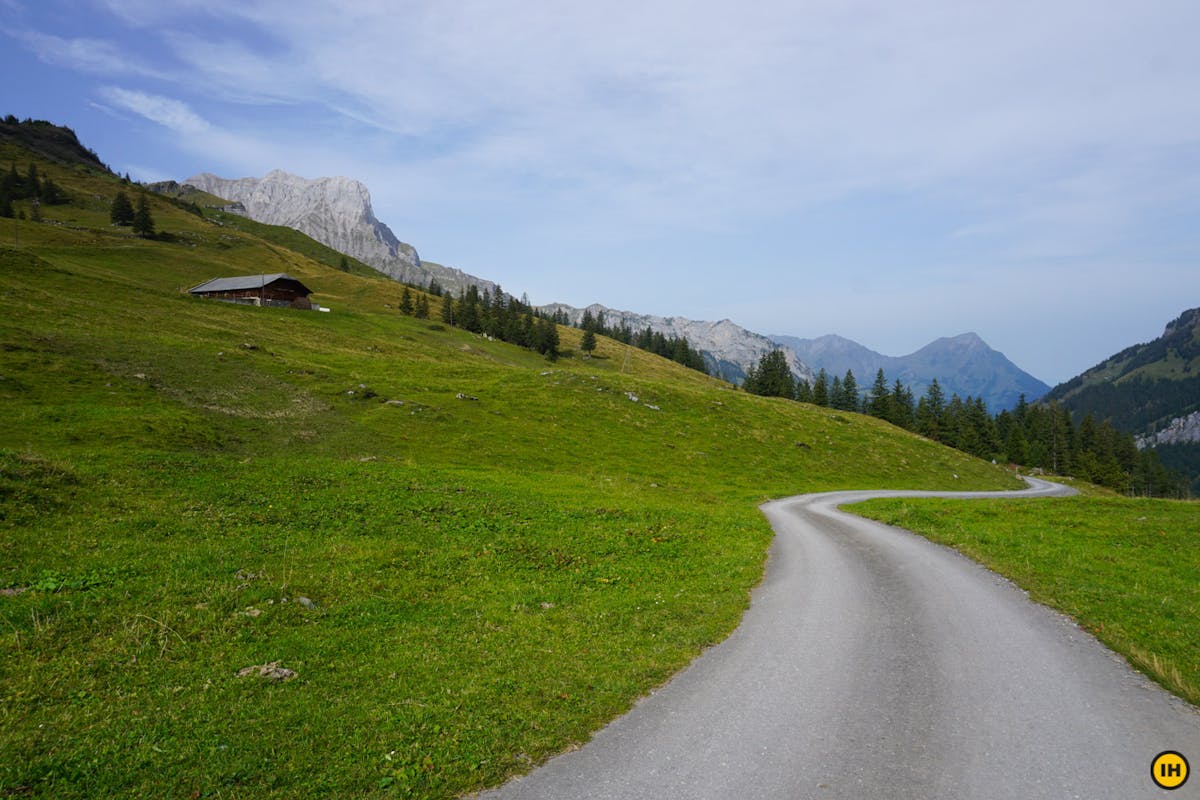 Looking back on the trail to Blümlisalphütte. Picture by Swathi Chatrapathy
Within four hours, I had crossed the treeline, entered the grasslands, crossed the grasslands, hit the moraines and even touched the snowline. That's how quickly the trek climbs. The mountain hut is in alpine terrain, usually surrounded by snow after September. 
I would highly recommend this trek to a slightly more experienced trekker. You'll enjoy the challenge and the rewards at the end of it. If you're a beginner, I have more treks for you.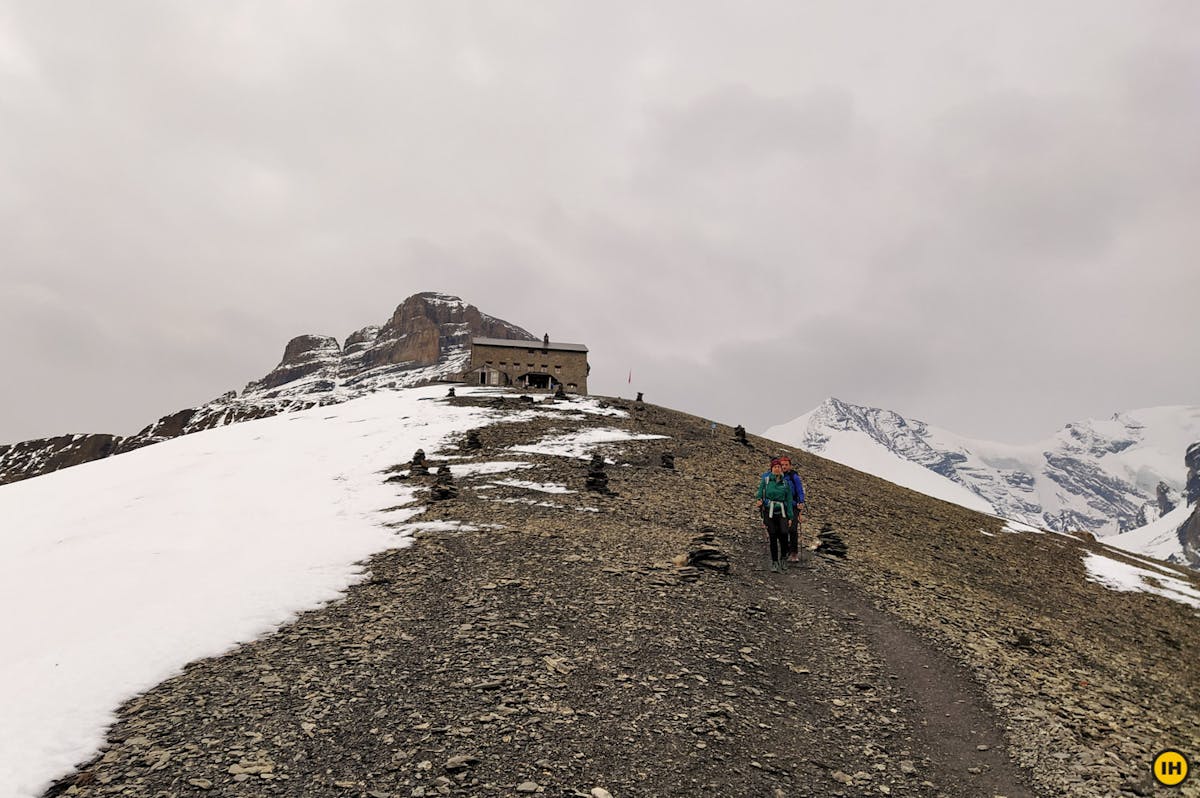 The mountain hut as seen from Hohtürli Pass. Picture by Swathi Chatrapathy
Inside the mountain hut: This was an experience in itself, meeting hikers, skiers and mountaineers from all around Switzerland at the common dining area. They serve you hot, delicious meals and have quite a vast menu. The huts have shared rooms (bunk beds) and shared toilets. The stay was warm and cosy. All mountain huts across Switzerland have similar facilities and cost around 70-80 CHF per night (inclusive of dinner and breakfast).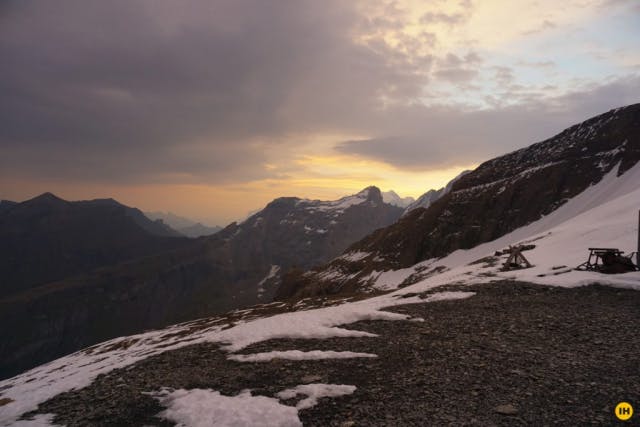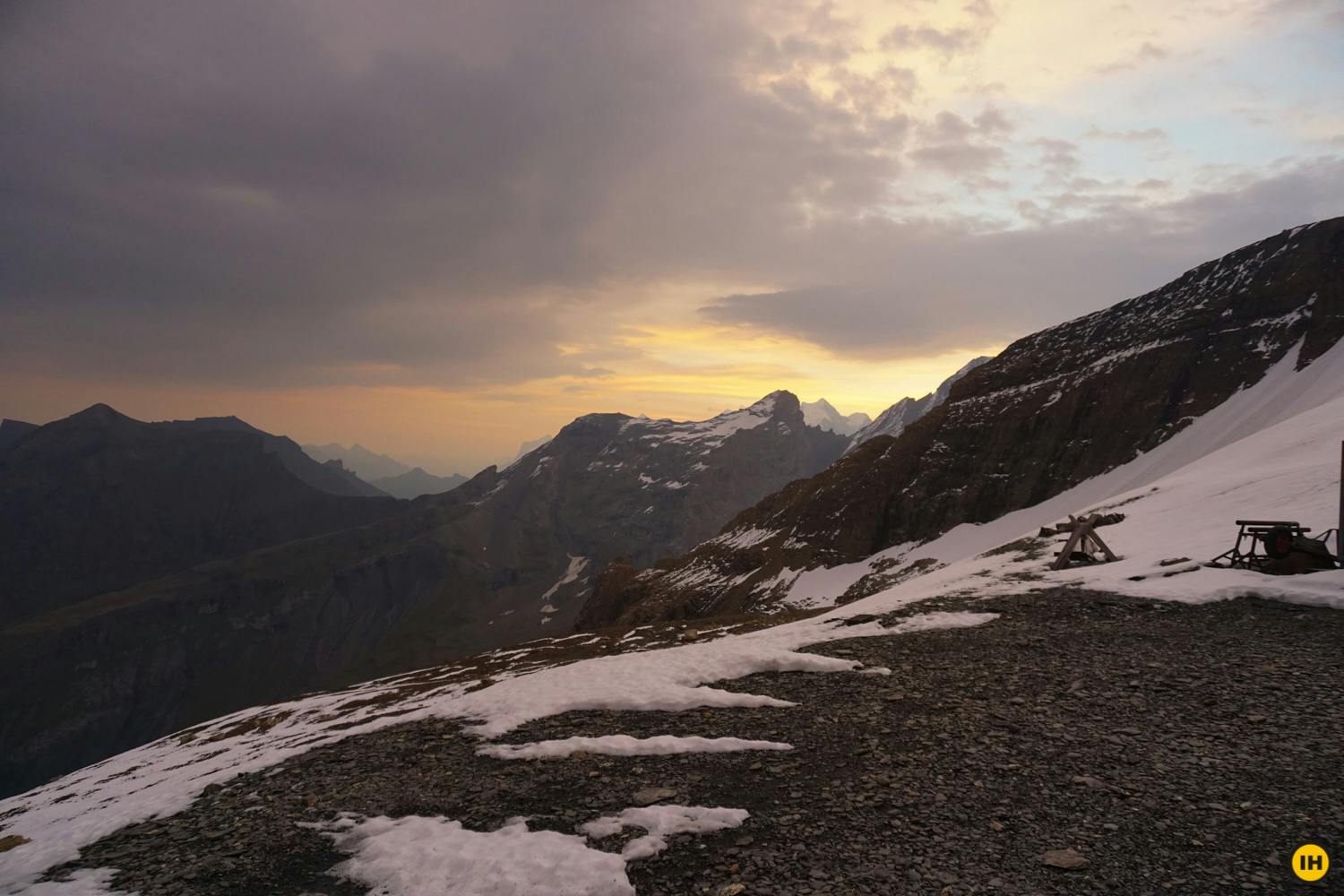 Blümlisalphütte SAC
Highest altitude: 9,317 ft
Altitude gain: ↑ 4,675 ft (4,642 ft to 9,317 ft)
Duration: 5.5 hours from Griesalp
Difficulty: Difficult, meant for fit and experienced trekkers. A lot of the walk is on moraine and snow.
How to reach Griesalp: Stay overnight at Spiez. From Spiez, take a train to Reichenbach im Kandertal and a bus further to Griesalp. Start early, as soon as you finish breakfast.
Best season: May to late September
2. Lake Oeschinensee
One of the things I was looking forward to the most in Switzerland was seeing alpine lakes. I had seen pictures of turquoise blue waters glimmering in the sunlight, many of them reminiscent of the Gadsar lake in Kashmir, but much larger in size.
That's exactly what I saw at Lake Oeschinensee. Azure waters fed by several creeks around it, pine trees dotting the landscape, majestic cliffs walling the lake. It was an incredible sight, one meant for wallpapers!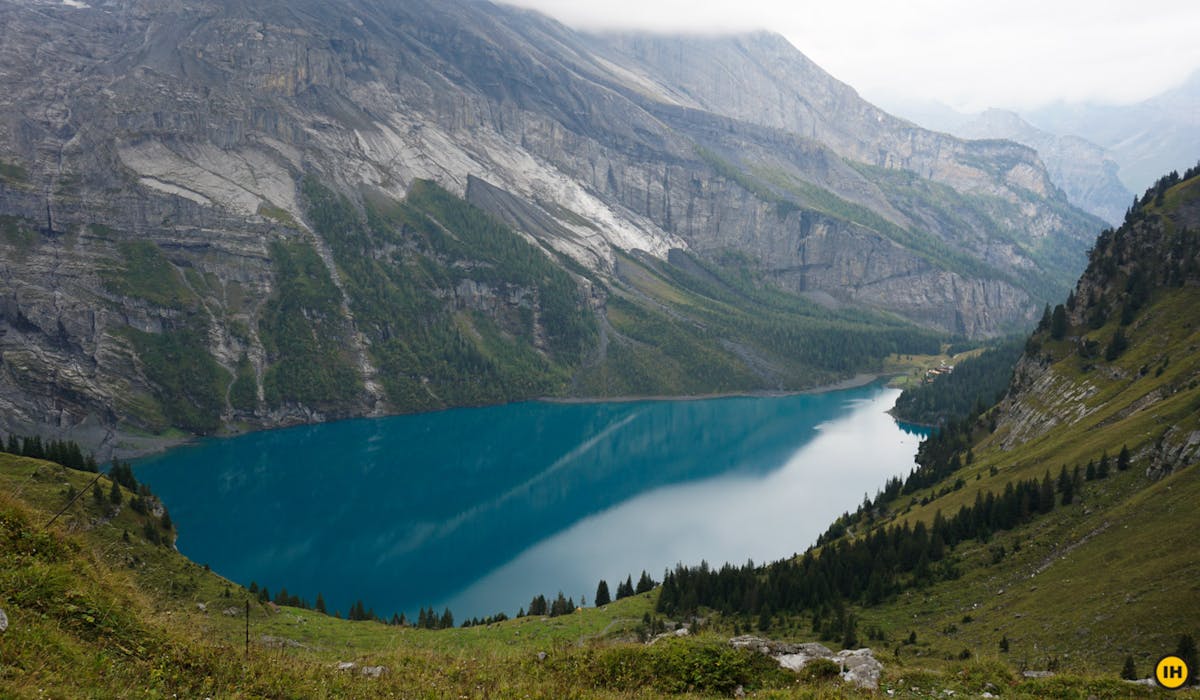 My first view of Lake Oeschinensee from the Blümlisalphütte route. Picture by Swathi Chatrapathy
There are two ways to get to the lake. I trekked to the lake from Blümlisalphütte. If you trek to Blümlisalphütte, you must definitely trek down this route too. It starts right below the hut, from the Hohtürli Pass. It's a steep descent to the lake, speeding down glacial moraines, rocky terrain and grasslands. 
What mesmerised me is that this lake was nowhere in sight throughout my descent. I almost thought this lake was a farce, when suddenly it loomed in front of me! I stood transfixed at the view for several minutes, until a few passersby shook me out of reverie. 
The route from the other side, Kandersteg, is incredibly pretty too. It climbs through pine forests alongside the Oeschibach river, which is fed by the lake. Not only do you get to walk by the river, you'll also be spoiled by the view of Kandersteg, a charming town nestled in a glacial valley.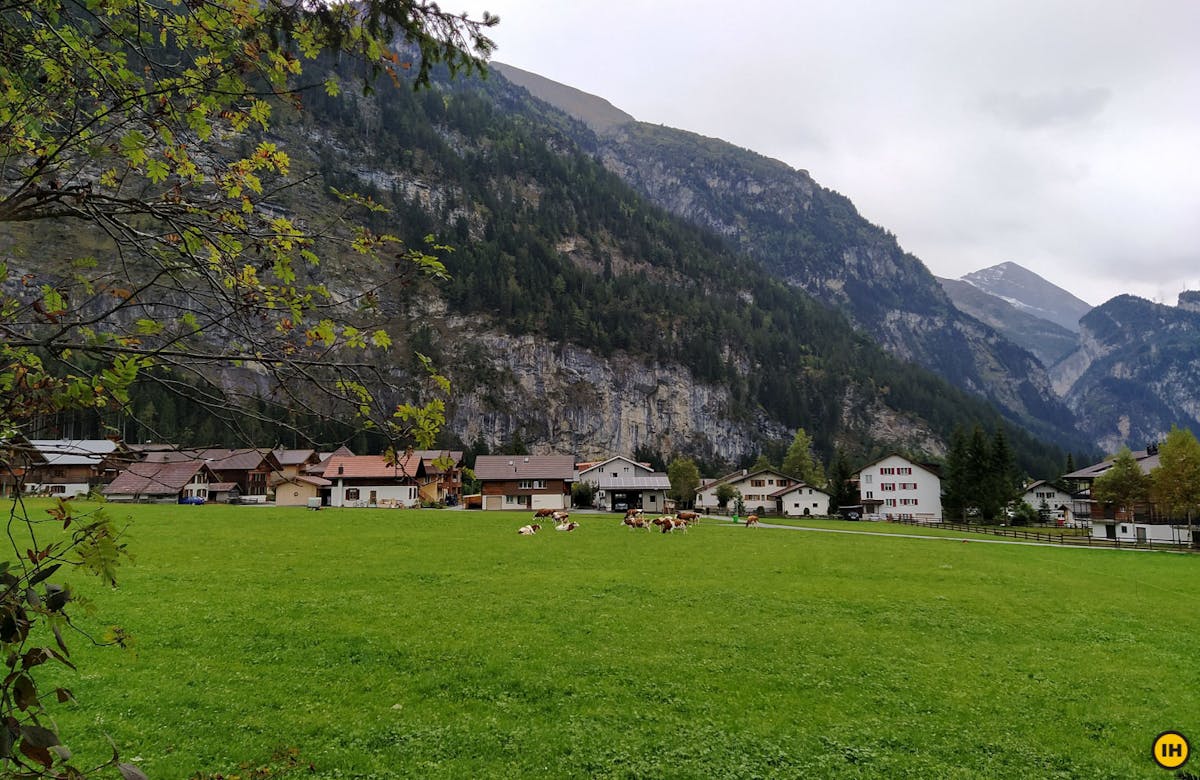 The town of Kandersteg. Picture by Swathi Chatrapathy
Once you get to the lake, you can spend 4-5 hours by the lake side. Walking around the lake, it can take nearly 2 hours to see it from all sides, although one side has been cordoned off because of possibilities of rockfall. You can take a dip, take a boat, or toboggan beside the lake. Of course, you have to go in the summer for this. In winter, the lake remains frozen for months, making it an ice skaters' haven.
On your return, I would recommend the gondola ride to Kandersteg, just for the experience of it. There's also a route to hike back down, which is different from the route up. I found this blog quite useful for the routes.
Lake Oeschinensee
Highest altitude: 5,177 ft
Altitude gain: ↑ 1,277 ft (3,900 ft to 5,177 ft)
Duration: 2 hours uphill from Kandersteg
Distance: Approx. 5 km
Difficulty: Easy from Kandersteg route, slightly challenging descent from Blümlisalphütte route
How to reach Kandersteg: There's a train station at Kandersteg, so it's easy to reach here from anywhere.
Best season: May to Late September
Good blog for information: https://tinyurl.com/exys3yxz
3. Lötschberg-Südrampe
Here is a classic trail in Switzerland, steeped in history and rare sights of the Swiss backcountry. What I loved about this trail is that it showed me a side of Switzerland that you never get to see in postcards. And it is a superbly flexible trail. It stretches across 26 km. You can get on and off at several points with easy railway accessibility. The starting points are the stations at Hohtenn, Ausserberg, Eggerberg, Lalden, Dorf and Brig. 
To me, there were four highlights of this trail:
(1) Walking in and out of innumerable tunnels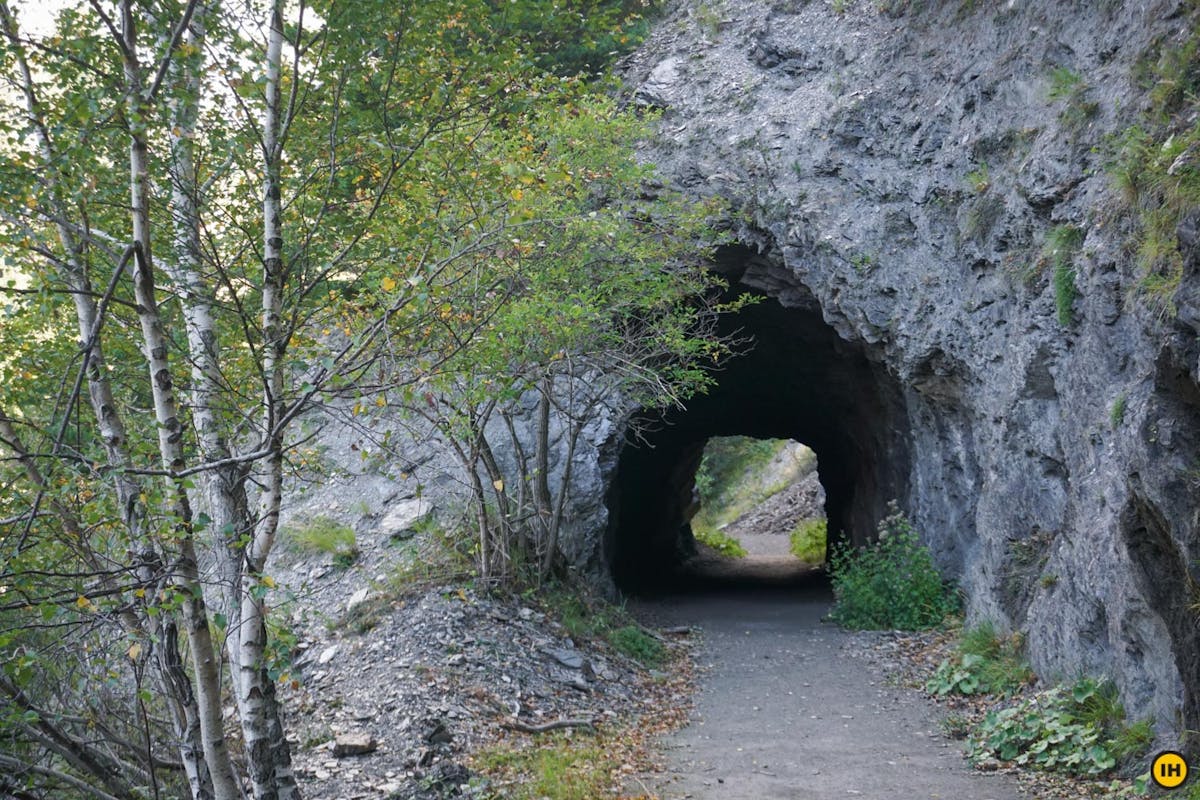 There are countless such tunnels on this trail. Picture by Swathi Chatrapathy
(2) Crossing the Bietschtal hanging bridge (scary but incredible!)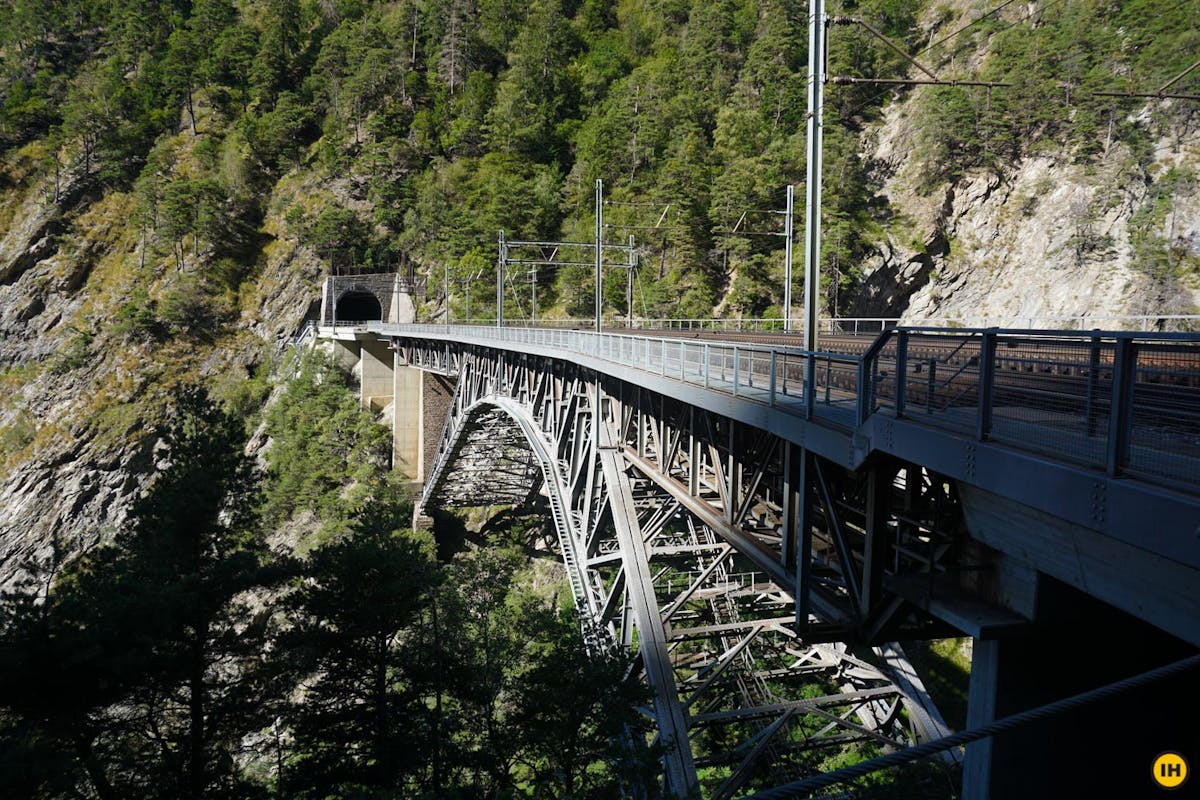 The Bietschtal hanging bridge around a 1000 ft above the river. The railway bridge is still functional. So don't be surprised if a train whizzes by as you're crossing the bridge. Picture by Swathi Chatrapathy
(3) The view of the Rhône river and the settlements below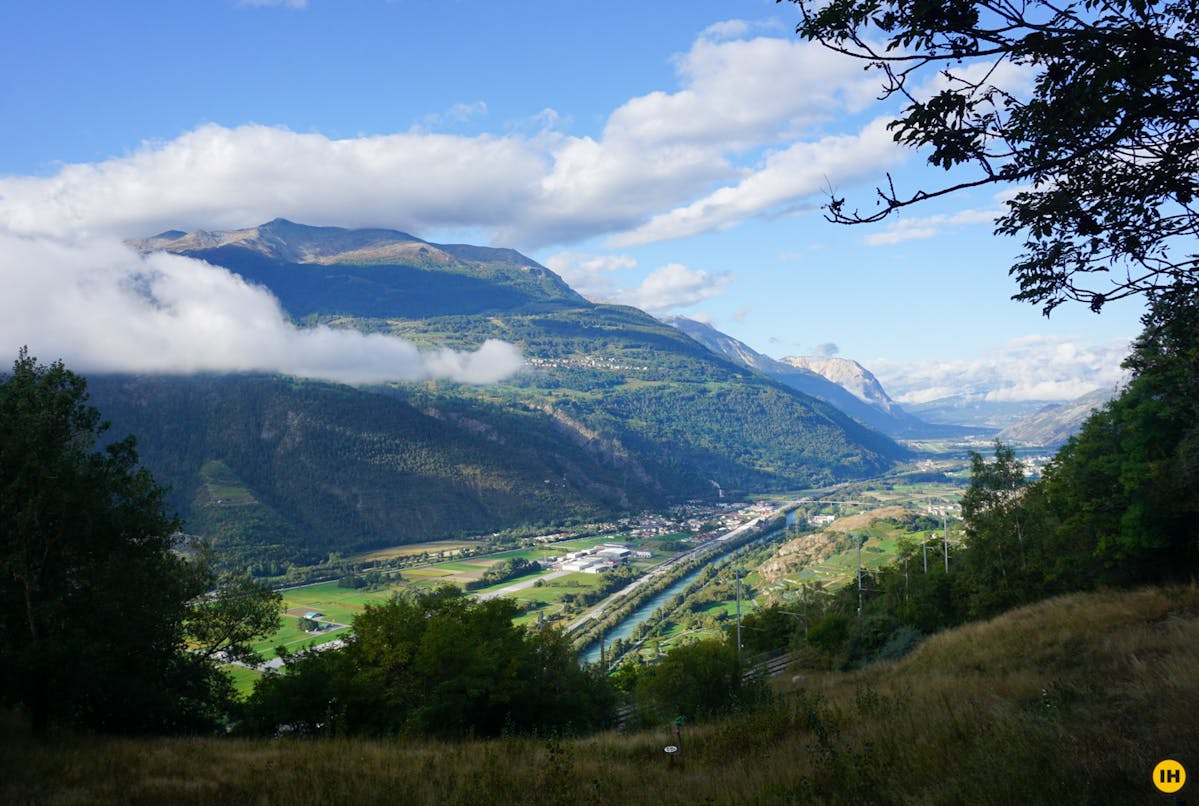 A view of the towns below from the Lötschberg-Südrampe trail. Picture by Swathi Chatrapathy
(4) Having a historic water channel as my companion throughout the trail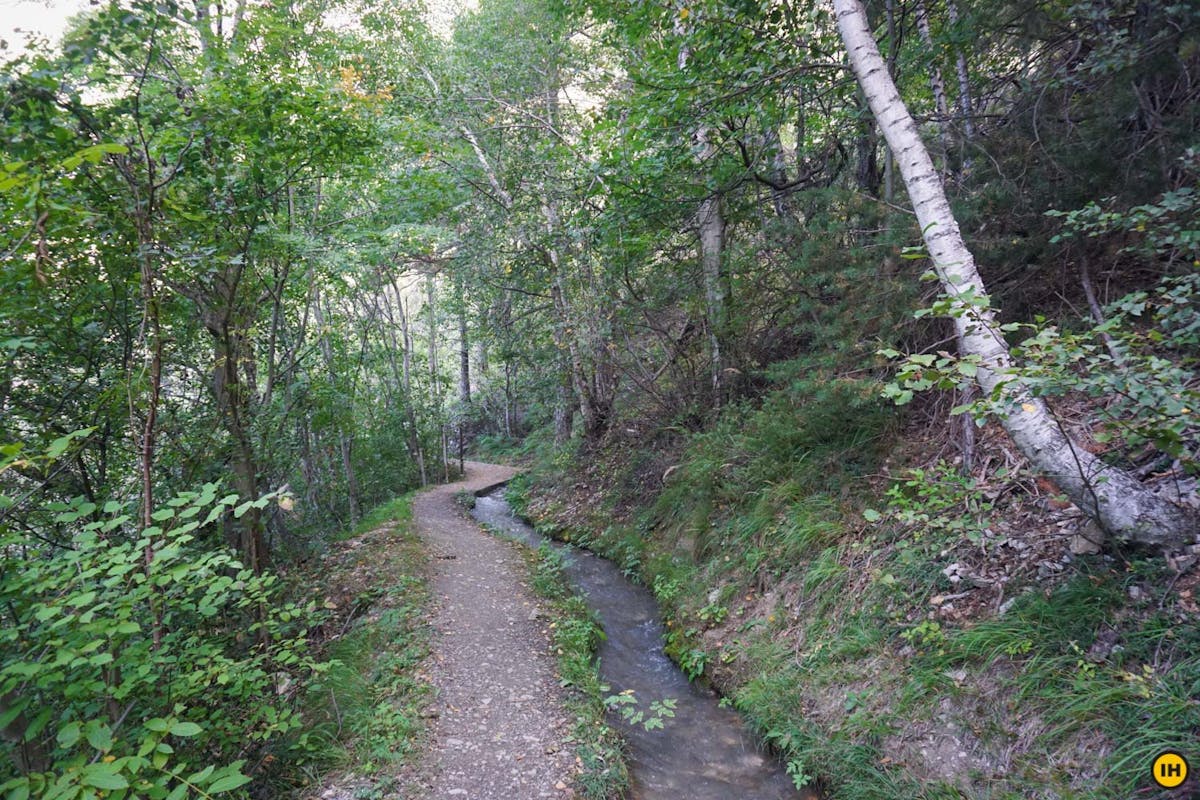 The water channel along the Lötschberg-Südrampe has a fascinating history of how it was made! Picture by Swathi Chatrapathy
What's unique about this trail is that it is laid out entirely beside the Lötschberg railway track. This track was built way back in the early 1900s, boring through imposing mountains and over newly constructed bridges that hung 1000 ft above a gushing river. You cannot help but marvel at the architectural genius of the Swiss people over 100 years ago! 
On the other hand, this is one of the warmest trekking trails in Switzerland. It faces the south and witnesses the sun right from dawn to dusk. The trail is dry and barren, with lots of lizards and possibly snakes. There were a few completely deserted sections where with every step I took, I saw about 50 skinks scuttling away. It's a rare experience in Switzerland, popular with keen trekking enthusiasts only.
Which route to take: I did this trek from Ausserberg to Raron, around 8 km long, across the hanging bridge of Bietschtal. I would recommend this route to you too. This way, you'll get to experience Ausserberg too, a faraway village in Switzerland, housing just around 650 people. You'll get to see how Swiss people live, untouched by tourism.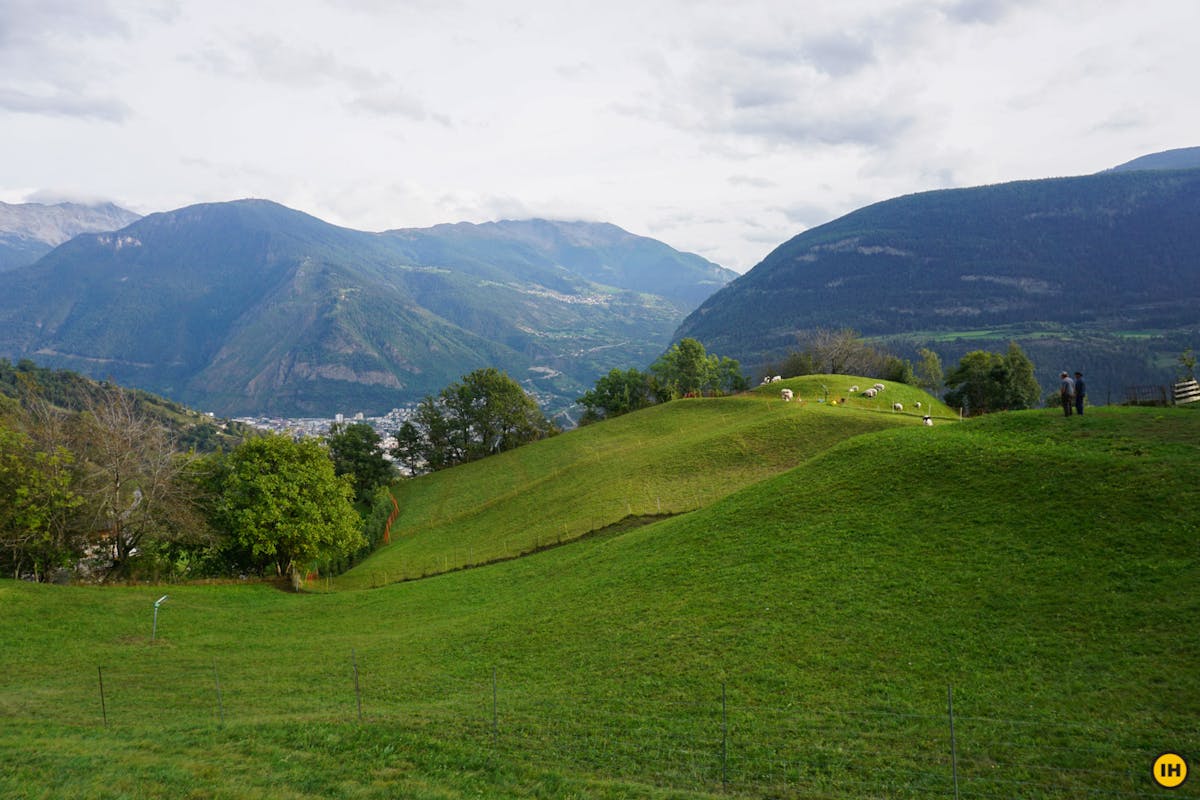 A pasture in the village of Ausserberg. Picture by Swathi Chatrapathy
Lötschberg-Südrampe
Duration: 3-4 hours from Ausserberg to Raron
Distance: Approx. 8.5 km
Difficulty: Easy
How to go about it: Stay overnight at Ausserberg, which is accessible by train. Start your journey from there.
Recommended hotel: Hotel Bahnof, Ausserberg (Costs approx. 125 CHF per night, includes only breakfast)
Open between: April and November
4. Belalp to Riederalp 
This is another terrific trek in Switzerland, because of the flabbergasting views of the Aletsch Glacier and the suspension bridge over it. This is the longest glacier in the Alps, stretching across 23 km. From your starting point at Belalp, you're already floored by the view of the snout of the glacier.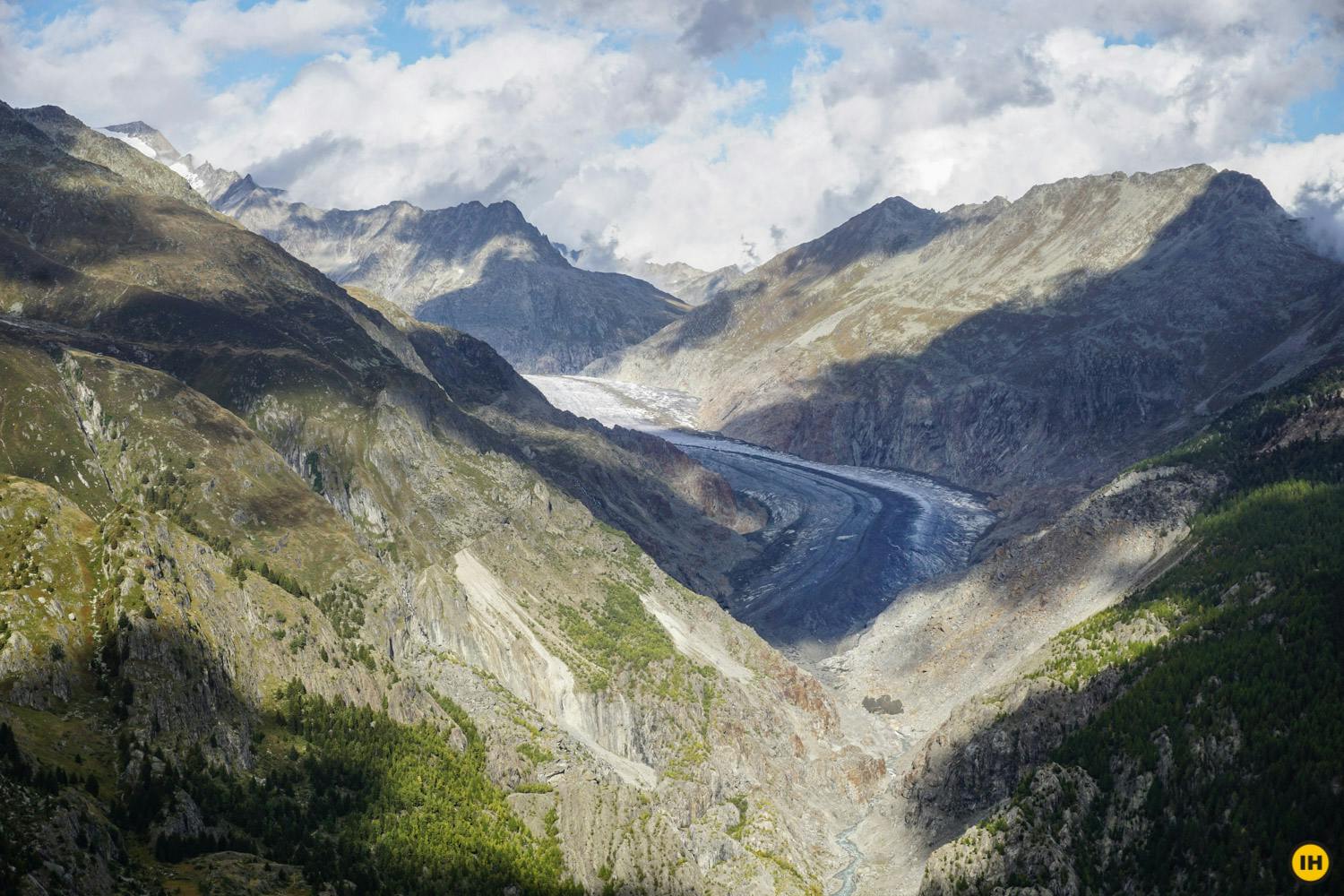 Only when you start trekking do you realise that you're going closer and closer to the glacier, at one point, you're standing right above it on a suspension bridge, hanging 80 m above the ground and suspended across a gorge for 125 m. It's not for the fainthearted. 
From the bridge, it's a complete ascent to Riederalp, through lovely shady forests of Aletschwald. It's one of the most unique forest experiences, trekking beside 100 year old Swiss stone pines, yet with a view of the glacier near you. 
I personally didn't trek this route because I was short on time, but having been to Belalp, seen the glacier and spent the night there, I know how grand this trek is going to be. If and when I go back to Switzerland, I'm definitely going to complete this route. 
Another small trek here: From Blatten to Belalp (ascent through beautiful 800-1000 year old pine forests) or the reverse route. There is the option of a cable way here, but the hike is gorgeous.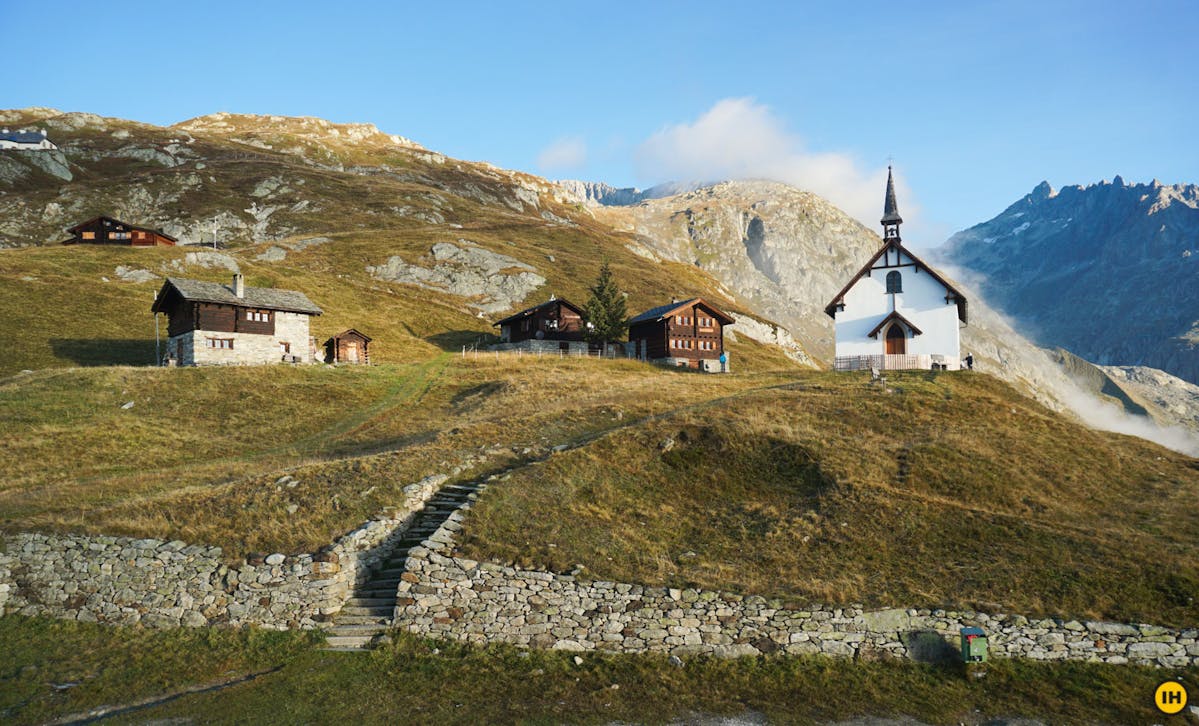 A view of the famous chapel at Belalp. Picture by Swathi Chatrapathy
Belalp to Riederalp
Highest altitude: 6,994 ft at Belalp
Altitude loss: ↓ 1,702 ft
Altitude gain: ↑ 1,476 ft
Duration: 5-6 hours
Distance: Approx 10 km
Difficulty: Moderate-difficult. Requires high fitness levels.
How to reach Belalp: Take a train to Brig. From Brig, take a bus to Blatten. From Blatten, take a cable way to Belalp (or hike up to Belalp)
Best season: June to October
Good website for info:
Other great treks to do (recommended by Swiss trekkers):
1. Trek to Leutschachhütte from Arnisee via Nidersee (Normal route)
A lovely trail starting beside the Arnisee lake and climbing to another alpine lake at Nidersee. From Nidersee, it's a stiff climb over switchbacks to Leutschachhütte. The views from the hut, especially in summer when Switzerland is in its peak greenery is astounding. 
Click here to find more info about the trek to Leutschachhütte
2. Schynige Platte roundabout trek
This is a 6 km loopy trail over a plateau that allows you to experience the best alpine flowers of Switzerland, especially from May to October. It takes hardly 3 hours to cover the distance. Given that it is in the Interlaken region, the panoramic views of Lake Brienz, Lake Thun and the Bernese Alps (Mt Eiger and My Jungfrau) are out of the world.  
You can reach here only by hiking up or by taking a cogwheel train from Wilderswil (which is accessible by train or bus). You can avail a 50% discount on the cogwheel train if you have a Swiss travel pass. 
3. Hikes around Grindelwald First
Almost everyone who goes to Switzerland visits Grindelwald. But what not many people do is hike around the place. Just look up Grindelwald First and you'll find umpteen trails around the region, like the hike up to Bachalpsee lake, taking just two hours. 
Find more information here: https://www.myswitzerland.com/en-in/experiences/grindelwald-first-1/
9 Important Tips to trek on your own in Switzerland: 
1. Get a Swiss Travel Pass:
Switzerland's train and bus connectivity will be your best friend while you're in Switzerland. The travel pass allows you unlimited access to trains, buses and boats. You can move from one corner of the country to another within 2-3 hours. This gives you tremendous freedom and flexibility to plan your treks. It even accommodates last-minute change in plan at all times. 
For history buffs: This travel pass allows you free access to over 500 museums in Switzerland too. 
| Costing: The Swiss travel pass costs around 281 CHF for 4 days and 418 CHF for 8 days. This price is going to reduce significantly by around 20%-30% from Jan 2022. It is quite pricey if you convert it into INR. So avoid the mental exercise 🙂 
You'll find more information on their official website here.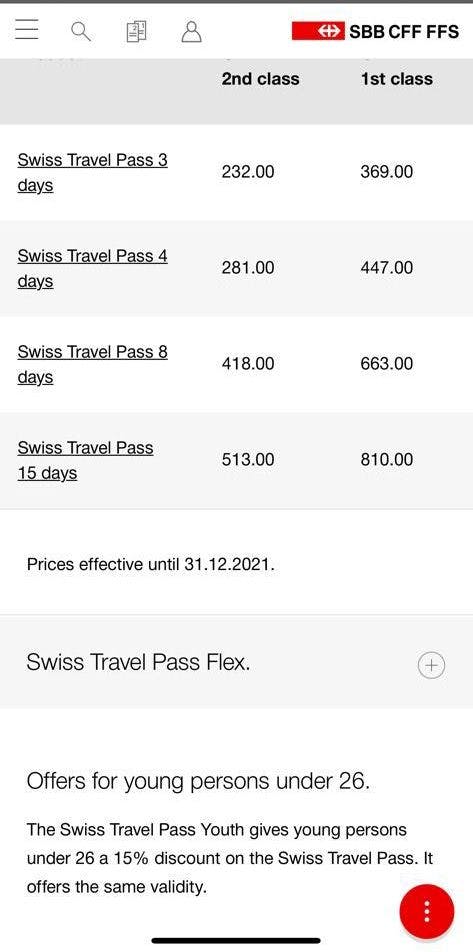 2. Make use of the iconic cable ways in Switzerland
One of the most iconic experiences in Switzerland is riding the cable way. Before visiting Switzerland, I thought these were few and far apart. Once I got familiar with the transport system though, I was astonished to see how many cable ways exist! It is used much like a bus or a train in Switzerland. So if you have planned a trek and you're not feeling up to it, or you're injured, you can just get into a cable way and come all the way down. 
What was more astonishing was that the sizes and distances of the cable ways vary. While going to the Matterhorn Glacier Paradise restaurant, from where we climbed Mt Breithorn, we changed cable ways thrice, from large sized ones to smaller ones, climbing uphill for almost 45 minutes! 
| Costing: The costing of the cable car varies from the distance to the size of the cable car. Gondolas (smaller cars) are cheaper. It could cost anywhere between 7 CHF to 25 CHF for a ride. If you have a Swiss travel pass, the cost is 50% less.
3. Get a local sim card for yourself: 
One of the most convenient aspects of trekking in Switzerland is that you have mobile connectivity on most trails. For trekking purposes, I would recommend a Swisscom SIM card. It had the best connectivity on the remotest trails. You can easily use Google maps or any other apps on its network. 
| Costing: It costs 20 CHF for a pre-paid SIM card, has unlimited data for a month, upto 10 GB. The SIM card has data only in Switzerland though, not other European countries. 
4. Download the SBB Mobile App:
If I had a penny for every time I opened this app in Switzerland, I'd be a millionaire. The most useful app to travel around in Switzerland. It shows you train, bus and cable way timings, updated and accurate to the second. It never fails. 
| Costing: It's a free app and can be downloaded on Android and iPhones too. 
5. Download SwitzerlandMobility App 
Switzerland Mobility is a lot like the Indiahikes website for those who want to trek on their own. It has all the information you need to do a trek on your own. So you can just look for the route you want to trek on and find it on the app, along with the routemap, section by section break-ups and trail information. 
| Costing: It's a free app and easy to use. 
6. Choose to stay in mountain huts or hostels
Hostels and mountain huts cost less than half the price of regular hotels in Switzerland. 
Hostels are available in most of the touristy areas where hotels are doubly expensive (like Zermatt, Interlaken, Lucerne, Zurich and Grindelwald). These may not be your most convenient places if you're trekking in remote areas. But they're very pocket-friendly if you're travelling around the touristy regions. 
Useful websites to book hostels: Youthhostel.ch, hostelworld.com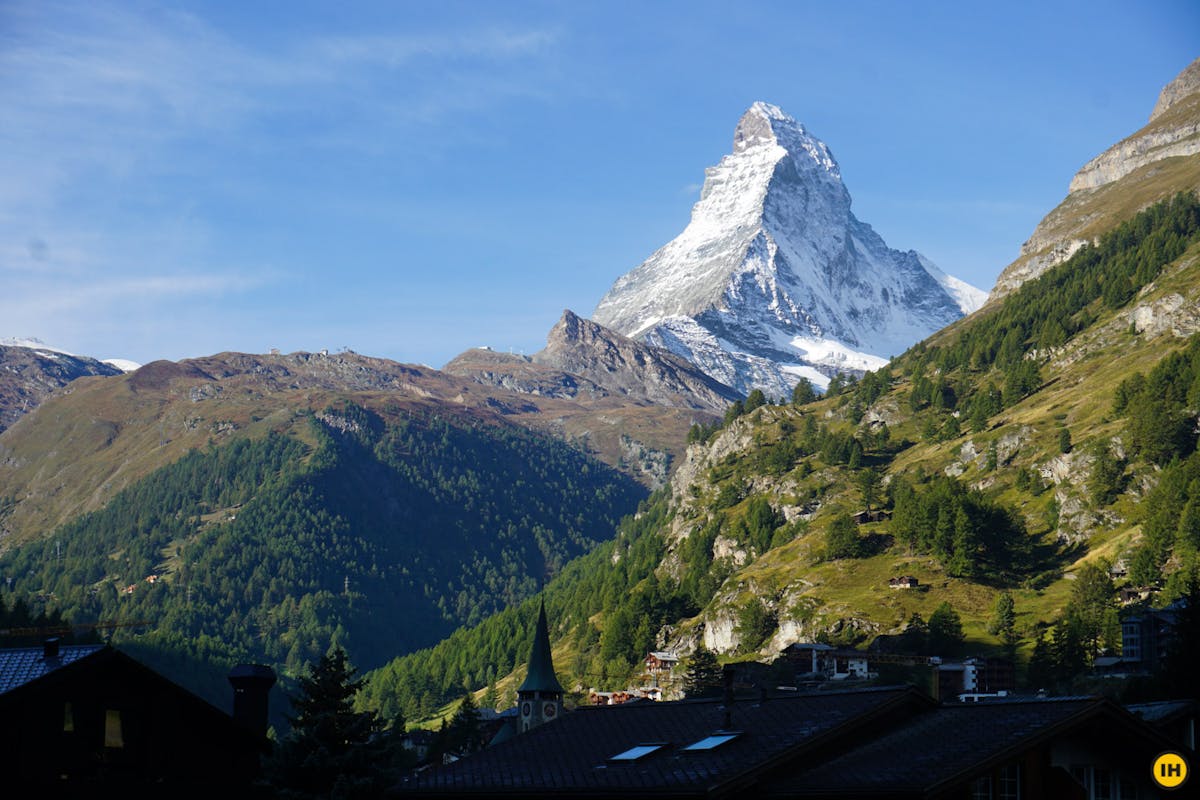 In touristy places like Zermatt, it's best to stay at hostels. Picture shot at Zermatt by Swathi Chatrapathy
Mountain huts, on the other hand, are your most convenient places to stay if you're trekking. These are maintained by SAC (Swiss Alpine Club), have excellent facilities and give you a feeling of community, where you meet fellow trekkers and hikers. (Funnily, they have almost never seen Indians trekking in Switzerland. They were very surprised to learn I was from India! Let's hope to change that!)
How and where to book: Much like hotels, you have to book these much in advance, especially in peak trekking season. They have limited slots (around 150) and usually get booked out soon. 
SAC website to book stay: https://www.sac-cas.ch/en/huts-and-tours/sac-route-portal/?type=hut
7. Get in touch with trek experts in Switzerland
Euro Trek is a company that organises treks in Switzerland and other parts of Europe. They made my trek itinerary for me, and helped organise my stay and meals. They don't have too many guided tours, but can help you with the logistics. They are very flexible with itineraries and plan it according to your needs. 
4 excellent multi-day treks Euro Trek organises in Switzerland: 
| Costing: They charge around 850 CHF for an 8 day tour like Via Alpina, inclusive of your food, accommodation, transfer of luggage and planning your itinerary. 
8. Familiarize yourself with trail markings: 
Nobody in Switzerland really treks with guides. All trails are well-marked. Familiarize yourself with the signs, so that you don't get lost. Also, for your safety, download the EchoSOS app for emergency purposes.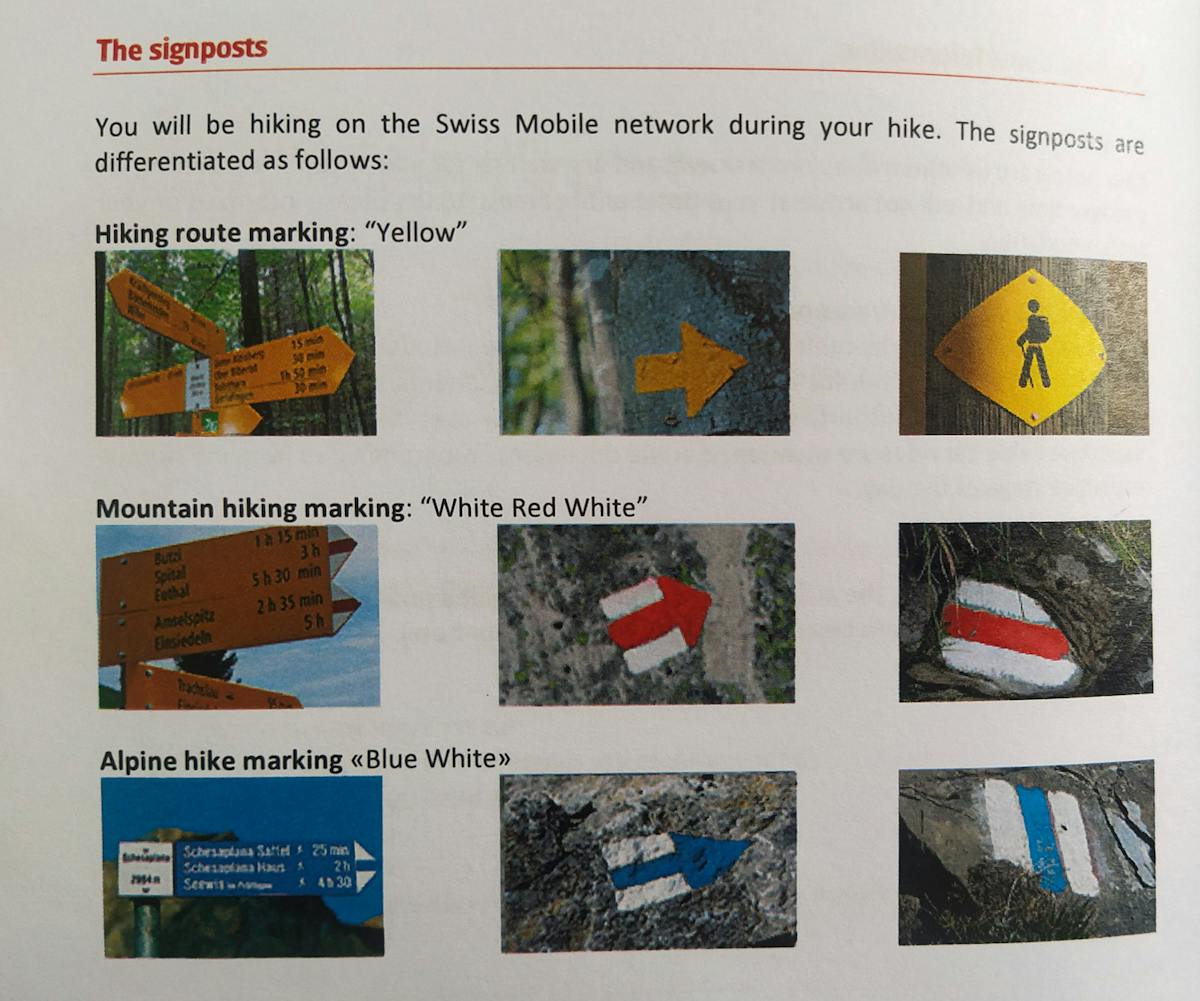 Trail markings in Switzerland
9. Get fit before you trek in Switzerland
This is the last tip I'm going to leave you with. The Swiss Alps are incredibly beautiful, but you'll be able to enjoy it only if you're fit. The Swiss locals have made trekking and hiking a part of their lives. It is second nature to them. Where they mark a trail as 4 hours, you can consider it 6 hours if you're moderately fit. 
So get fit. Carry two trekking poles. Plan your trip well.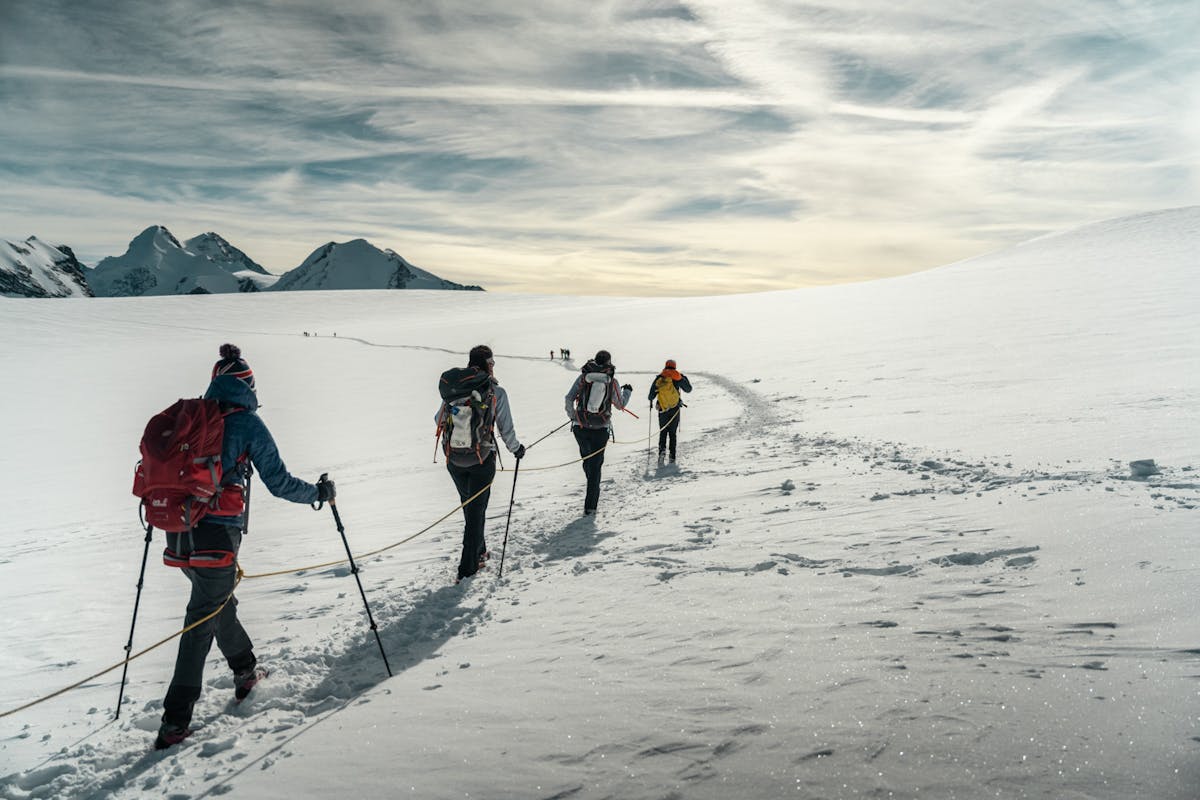 Trekking in Switzerland requires good fitness levels. Don't underestimate any trail. Picture from mountaineering ascent to Mt Breithorn shot by Nicole Schafer
That brings me to the end of this post. I hope it gives you enough information to trek on your own in Switzerland. It's hard to cram more information into one post. So if you are curious about anything in particular — food, stay, budget — just drop in a comment. I'll get back to you. I'm sure it will help other trekkers as well. 
I want to thank Günther Lämmerer from Euro Trek and Miiriam, a fellow trekker whom I met at Blümlisalphütte, for helping me gather this information. I also want to thank Switzerland Tourism for inviting Indiahikes to write about trekking in Switzerland. I truly hope to see more Indian trekkers in Switzerland. 
Sign up for our much loved Weekly Mailer
We have terrific trekking tips, trek updates and trek talks to look forward to