Trekkers Brave Heavy Snow to Complete the Season's First Trek to Ali B...
Share this story
Trekkers Brave Heavy Snow to Complete the Season's First Trek to Ali Bedni Bugyal
Category News
By Gourab Nandy
2022-01-25
Today I'm writing this note with great satisfaction in me, with a lot of happiness, and above all with a lot of pride in my heart.
Yesterday, our 17th January Ali Bedini Bugyal Trek Team has returned to our Lohajung Basecamp after the successful completion of the Trek.
It may sound like the returning of any other Indiahikes Trekking Group. But somehow it was a lot more than that.
Yesterday, at Lohajung Basecamp, we are fortunate enough to witness a story and incident of courage, mental toughness, and indomitable spirit to maintain the highest professionalism of Indiahikes.
A little bit of background story:
A few days back a 5-member recce team started their journey from Lohajung to open the route for the grand Ali Bedini Bugyal Trek.
They faced a lot of challenges throughout their recce for a huge amount of snow on their entire way. When the team came back to the base camp after recce, we were shocked to know about the amount of snow and challenges they faced on the recce.
We thought may be our first group to Ali Bedni Bugyal on 17th January will not be completely successful. Perhaps going beyond Abin Kharak, camping at Gheroli will not be possible at all.
Planning:
So, on the planning part, we were confused about what to do with the trek as we were not only worried about trekker's experience but also about the successful operation of the Trek from Lohajung Slope.
After a discussion with the team leaders, we decided that we will take trekkers to Bedni Bugyal by camping at Didna ( 1st campsite) and Abin Kharak (2nd campsite).
If need be, we would camp at Abin Kharak for two nights. Our aim was to show the trekkers the majestic snow-covered meadow of Ali and Bedini Bugyal which is Asia's one of the largest meadow.
To camp at Gehroli Patal (3rd campsite) and to go beyond Bedini towards Gehroli Pataal didn't come to our mind not a single time as it was not possible at all at this kind of huge snow.
The Team
6 Trekkers – 4 males and 2 females. This was the first high-altitude Himalayan trek for four of them.
What Happened on the Trek:
Our Ali Bedini Team camped at Didna village and according to the plan started their journey to Abin Kharak campsite. This, despite getting huge snow on the way.
The team couldn't pitch the tent at Abin Kharak because of the huge snow. So they stayed in two forest huts for the night.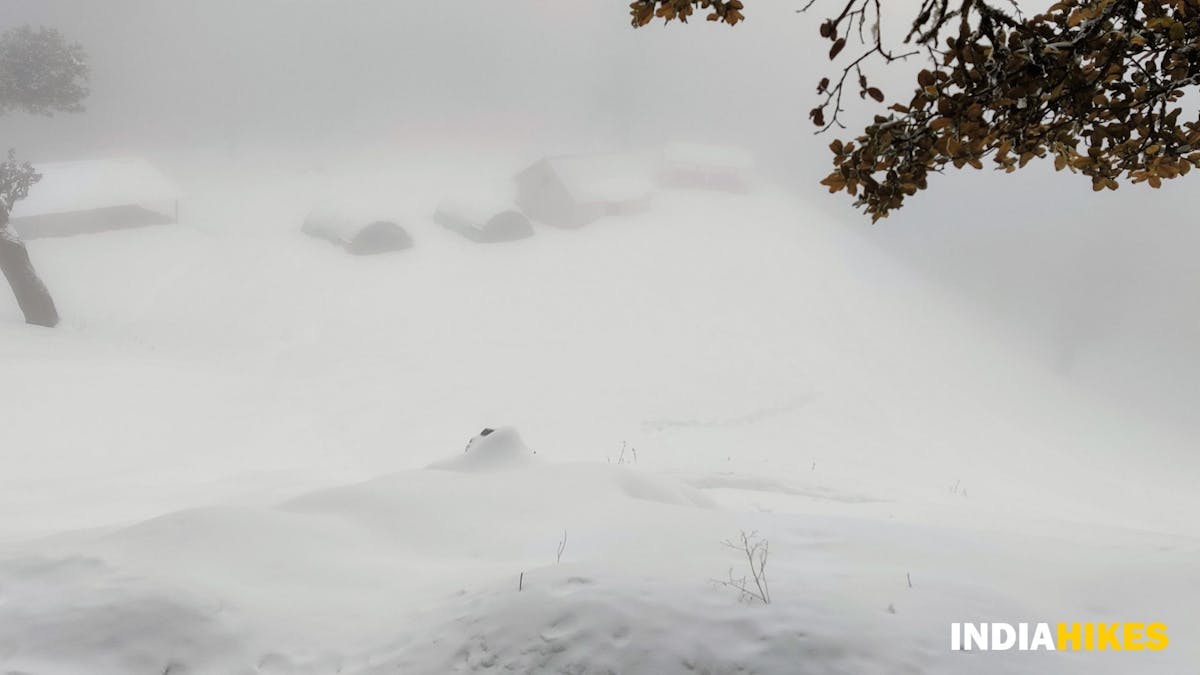 The whiteout at Gheroli Patal. Photo shared by Trek Leader Mrinal
The team couldn't get the water source even after searching a couple of times. They melted the snow and collected water for cooking and drinking. That's how they survived the night at Abin Kharak.
Turning Point:
It seemed okay up to the second campsite of Abin Kharak. But during the night our staff decided that they will give a try to camping at Gheroli Patal as per to the original itinerary.
To execute this, we planned to bring the mules from Didna to the Gheroli side to Abin Kharak. This route was low, charted just for the mules. Trekkers were slated to take the route via Bedni Bugyal.
We planned our movement and the team broke into three sub-teams:
Major Challenges and How the Team Overcame Them:
The biggest problem was to bring the mules up to Abin Kharak. It was impossible because of 4 feet of snow. 1 km away from Abin Kharak, the mulemen had to take a call to turn back.
The information was passed from Team 1 to Team 3.
On getting the news, Team 3, while packing the equipment decided to carry the heavy equipment for 1 km on their shoulder to reach the mile point.
So 5 staff along with 3 mulemen completed 4 rounds of to and fro to transport all the equipment. They were carried all the equipment through 4 feet of snow. Snow was coming to the waist level all the time, sometimes even to their chest level.
On the other hand, communication was not reaching to Lohajung Basecamp from TL Mrinal, she called TL Kanishq who was at Brahmatal Trek & asked him to inform the Base for a certain communication to pass to the Horsemen from the Base. We immediately pass the message after getting communication from TL Kanishq from Brahmatal. Later We communicated with TL Mrinal also via Walkie Talkie and got a detailed update.
The team also faced bad weather. There was snowfall and whiteout. This made the movement even more difficult.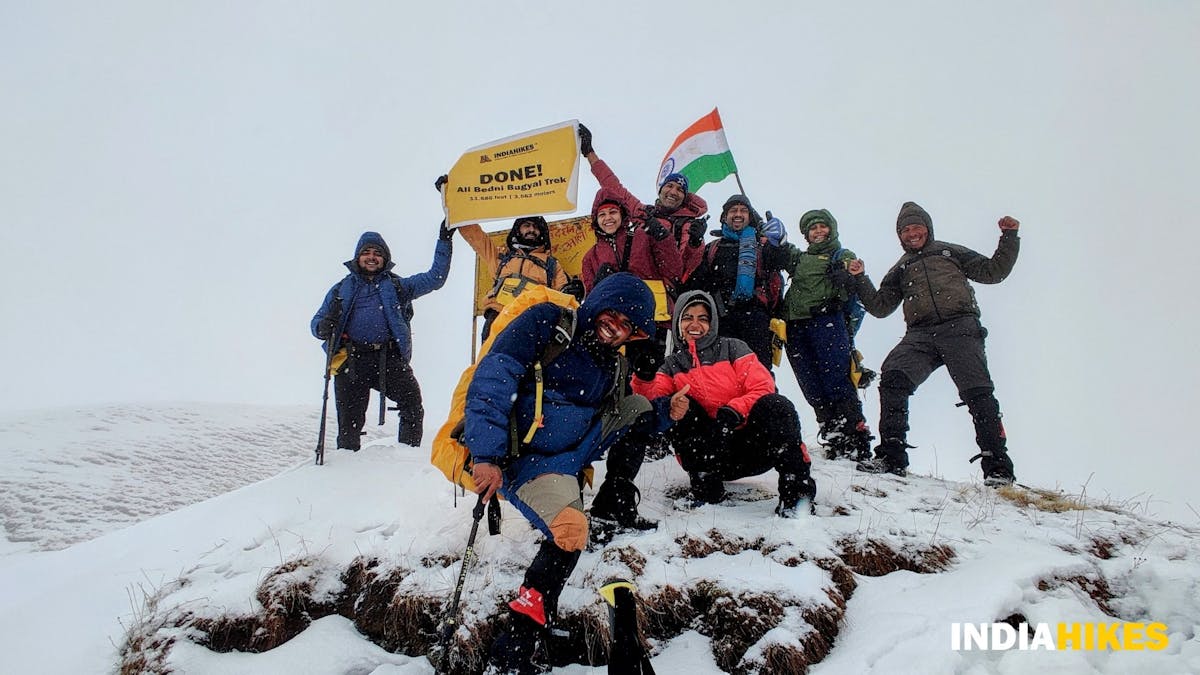 Team at the highest point of the Ali Bedni Bugyal trek. Photo shared by Mrinal.
After putting in a lot of effort, the team reached Gheroli Pataal.
What Trekkers Took Away
In the debriefing, trekkers not only appreciated the entire team's efforts but also mentioned that they are taking back sustainability along with them. They talked about that value and honesty we always carry in our organisation is exceptional.
They said, "Yes, the trek has a great transformative power".
Today after hearing all these incidents from staff and trekkers, my heart is overwhelmed.
So in the end, I would say…with all these incidents, We (Team Lohajung) are not only happy but feeling proud today after the completion of our season's 1st Ali Bedini Bugyal Trek.
I'm overwhelmed by the performance by our team over here at Lohajung towards maintaining a high level of professionalism and showing courage against odds, I'm sharing the stories with you all.
Sign up for our much loved Weekly Mailer
We have terrific trekking tips, trek updates and trek talks to look forward to