Indiahikes opens up new Kedarkantha route
Share this story
Indiahikes opens up new Kedarkantha route
Category News
By Aswati Anand
2017-03-03
We have opened a new route to Kedarkantha
We have exciting news for our Kedarkantha trekkers. We will be taking a new route this season. The new route, which starts from Naitwar, goes through lovely oaks and pines, fantastic clearings and has superb access to the summit. Find the new route updated in our trek guide. 
Why have we changed the route?
Kedarkantha, not without reason, is an extremely popular trek. With its popularity, the trail has been getting extremely crowded. Here are some of the reviews we received. "I felt there's too much traffic on the mountain. We summitted with 250 other people. Campsites are crowded as well." "Other organisations play loud music. It's so annoying. I come to the mountains for peace and tranquility. The whole purpose is broken when people like these are right beside our campsites. IH's crowd is great but can you do something about these other people?"
We agree with our trekkers. Most other organisations don't limit their batch sizes.  Which is why we explored a new route this winter. It took a long time to find the perfect route that would match up to the old route.
At Indiahikes, we firmly believe that new routes must be explored and brought out to the world. Every trail has something new to offer.
Why you'll fall in love with this new route
With the new route, we want to give our trekkers the feel of walking on a virgin trail. Most trekkers might be worried about not camping at the Juda Ka Talab campsite. But here's the best part. You go through the virgin trails in this fresh route and get to camp at the famous Juda Ka Talab and see Sankri. You get the best of both worlds. Here's what the itinerary looks like. 
| | |
| --- | --- |
| Day 1 | Dehradun to Naitwar |
| Day 2 | Naitwar to Jalouta |
| Day 3 | Jalouta to Pukhrola (new Kedarkantha Base) |
| Day 4 | Pukhrola to Kedarkantha Summit; descend to Juda Ka Talaab |
| Day 5 | Juda Ka Talaab to Sankri |
| Day 6 | Sankri to Dehradun |
The new trail hits the old route at Talkhetra (old Kedarkantha Base Camp), goes down to Juda Ka Talaab and ends at Sankri. 
If you're still not convinced, look at the pictures below. The January 2nd batch of Kedarkantha did this trail with our Trek leader Gurdit Singh.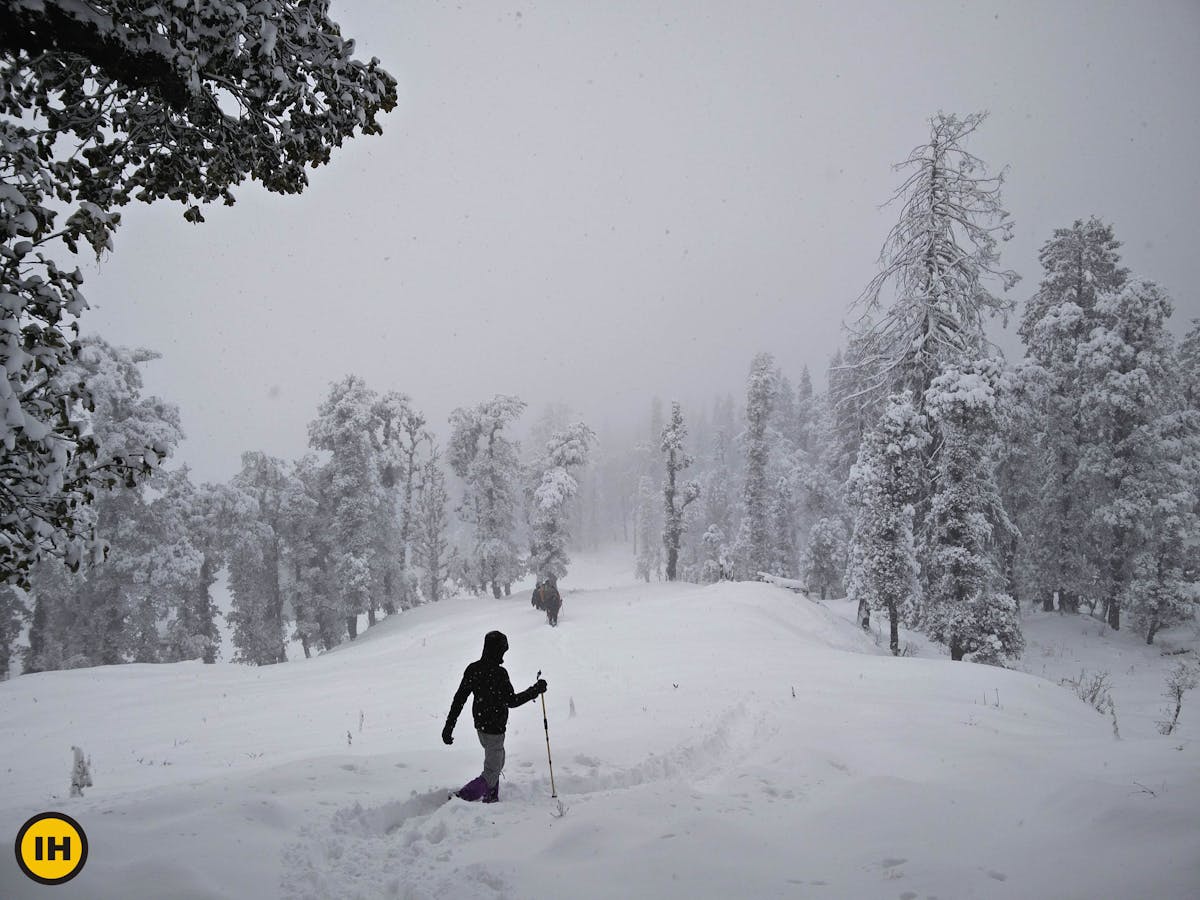 A stormy day at Kedarkantha. PC: our trekker Chandrasekhar R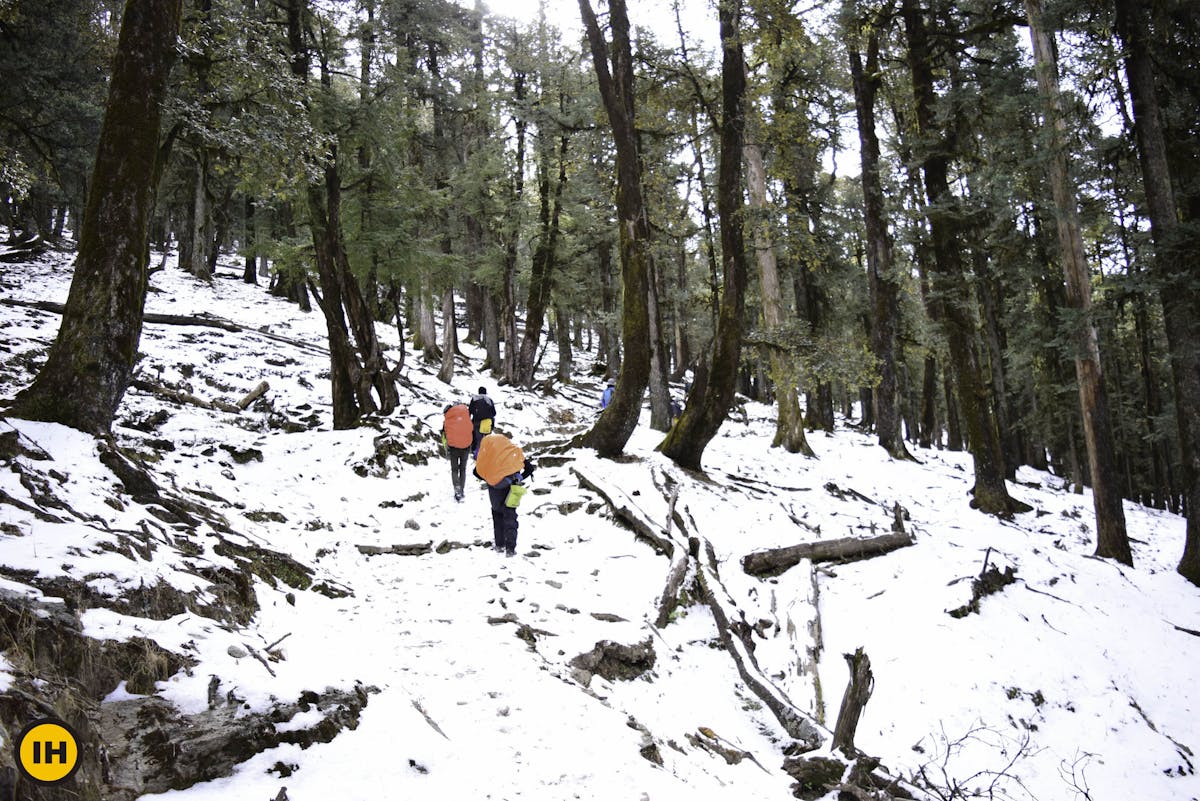 The lovely forests on our new route! PC: Chandrashekhar R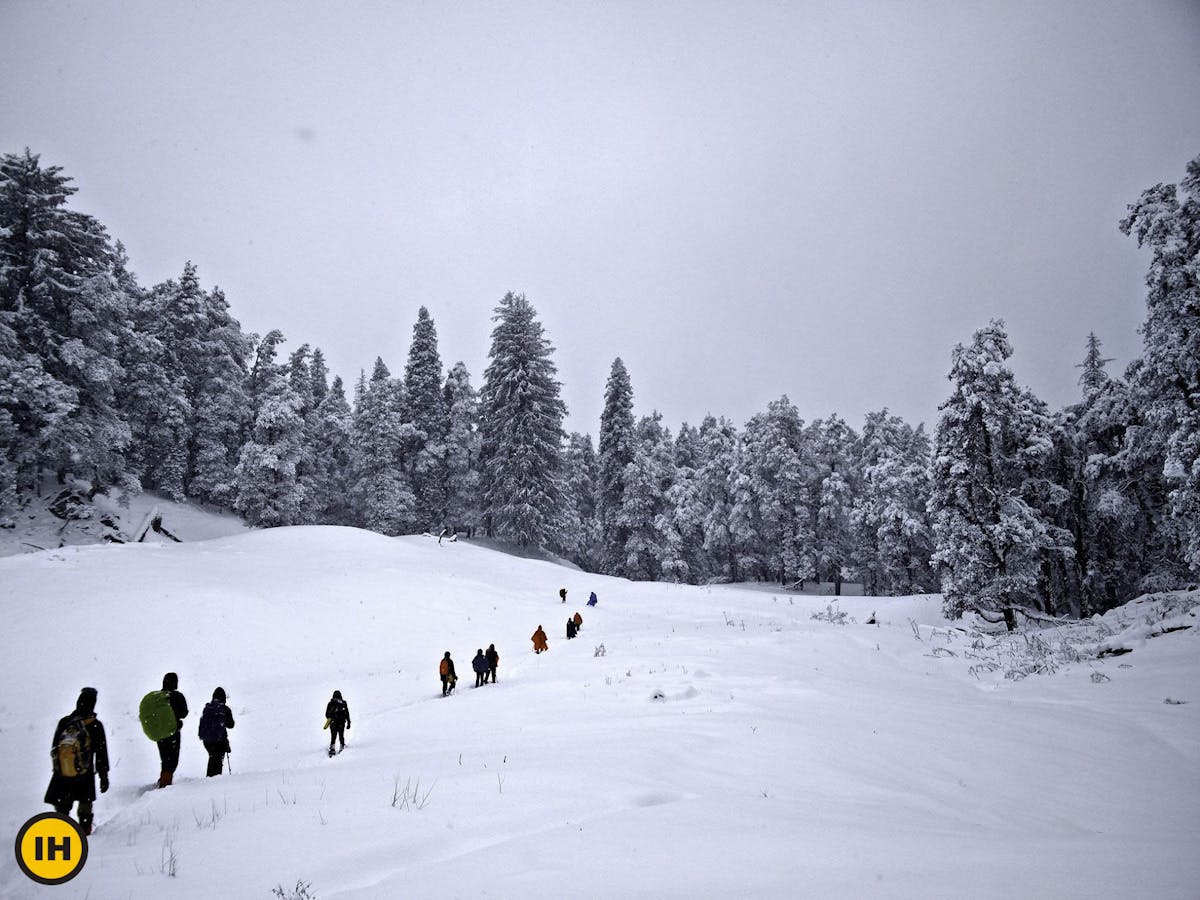 Right out of a book! PC: Chandrashekhar R
Updates from currently running Himalayan Treks
Second batch of Thakoor Top returns with clear vews
Our Trek leader Indrajit lead the second successful batch to Thakoor  Top. This batch got a bonus. Unlike the last batch, which faced foggy weather, they got clear views of Nanda Devi, Nanda Ghunti,  Maiktoli, Trishul, Mrigathuni and Panchachuli from the summit. The weather was generous for half an hour. Then the haze took over. Our Trek leader managed to take a picture during that window!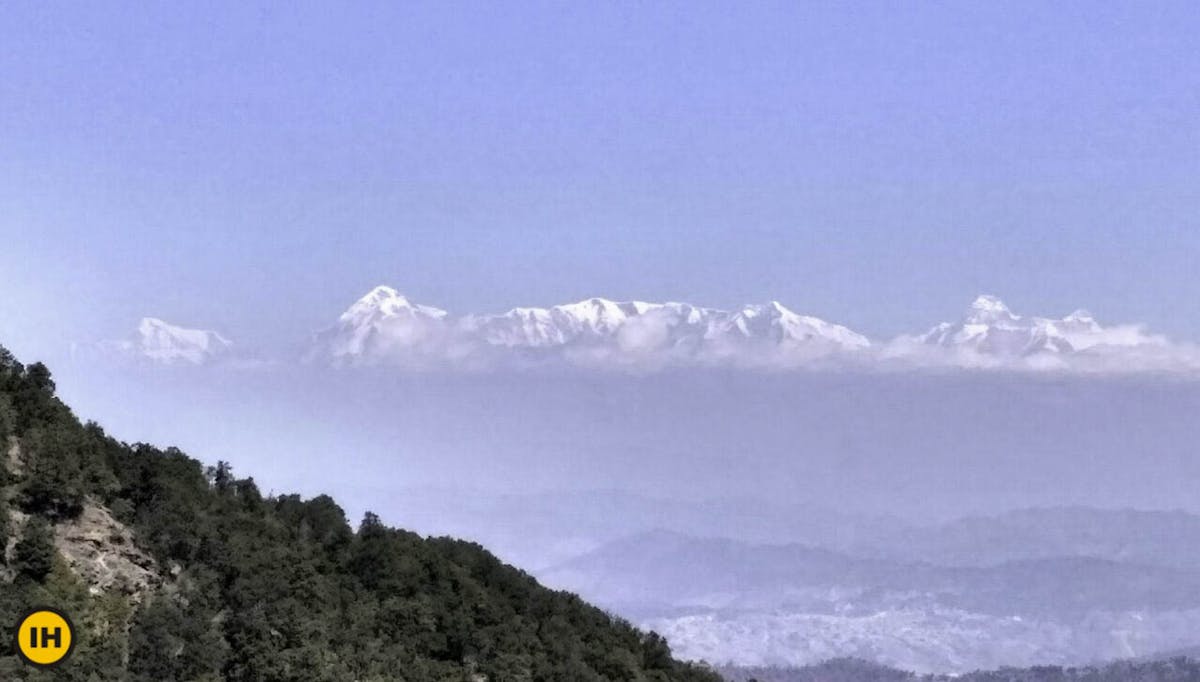 The view from Thakoor Top. PC: Indrajit Hazra
"The entire trail made me feel awestruck. Our trek lead Indrajit has explored something really extraordinary. This trek is beautiful and is definitely one of my best trek so far. It was my first solo trek and  I felt so connected with the nature and people. The enitre crew was supportive. Kuddos to our trek lead IJ." – Navna Chawla, February 2017 batch
Brahmatal sees intermittent snowfall
Our Brahmatal trekkers saw clear weather in first two days. They experienced intermittent snowfall at the last camp. The first shower of snow turned the whole campsite into a mesmerizing white. To our trekker's surprise, it melted within an hour. At midnight, the campsite saw a second bout of snowfall. The Brahmatal campsite was under a blanket of snow!
This particular trek has been wonderful to our trekkers this year. So much so that our Trek Leader Vishal says it is his current favourite trek! See what he has to say about the trek in this Trek With Swathi interview below.
Sandakphu has clear weather
Moving on to our eastern slope, the weather added to the Sandakphu experience in an interesting way this time! The batch was lucky to get clear skies when it was important. The skies were clear on the day our trekkers were on  the stretch between Sandakphu and Sabargram. It gave them wonderful view of Sleeping Buddha, Everest and the three sisters. There was dense fog on all other days– which made the jungle trails extremely appealing.
Speaking of Sandakphu, here is what happens in the base camp when there is no batch.  
Our staff decorated the base camp by putting up two prayer flags.  It is believed that the wind carries the prayers of these flags to the area around it. That's why you often find prayer flags at mountain summits.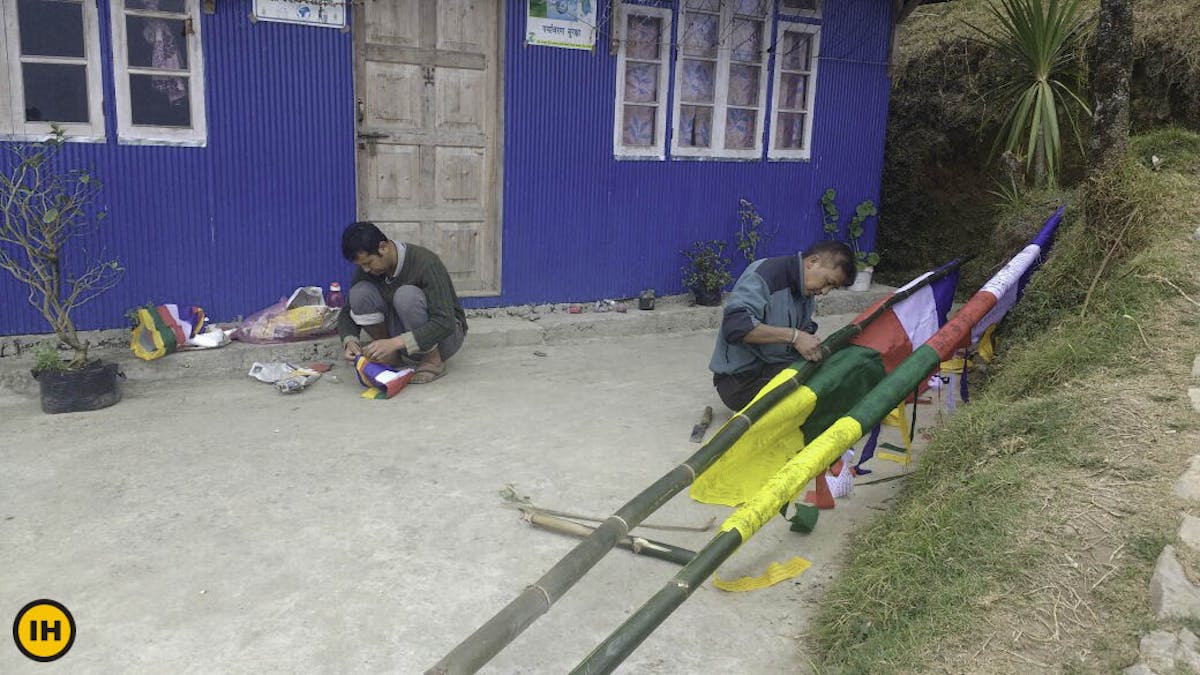 Decorating one of our prettiest base camps, Jaubhari! PC: Our trek leader Sushant
If you buy a prayer flag as souvenir now from any hill station, hang it at places where it would catch the wind.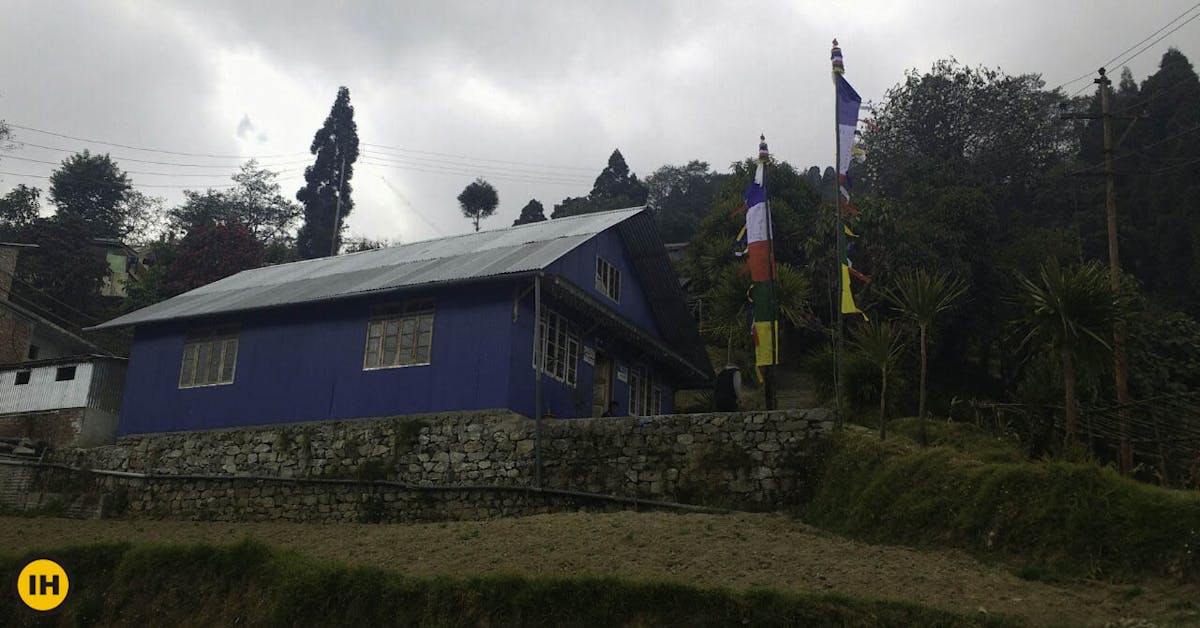 Our Sandakphu base camp, Jaubhari. Now with prayer flags up! PC: our trek leader Sushant
After Thakoor Top, Trek Leader Indrajit continues explorations
In other news from our slopes, our Trek leader Indrajit is back from his exploration of Pithorgarh and Champawat regions. The trek he explored was on Indo-Nepal border with superb views of Kali river. This trail was beautiful until the end where he saw road construction by BRO. That killed the trek for him.  The regions leave a lot of scope for explorations. Here is a peek into his exploration: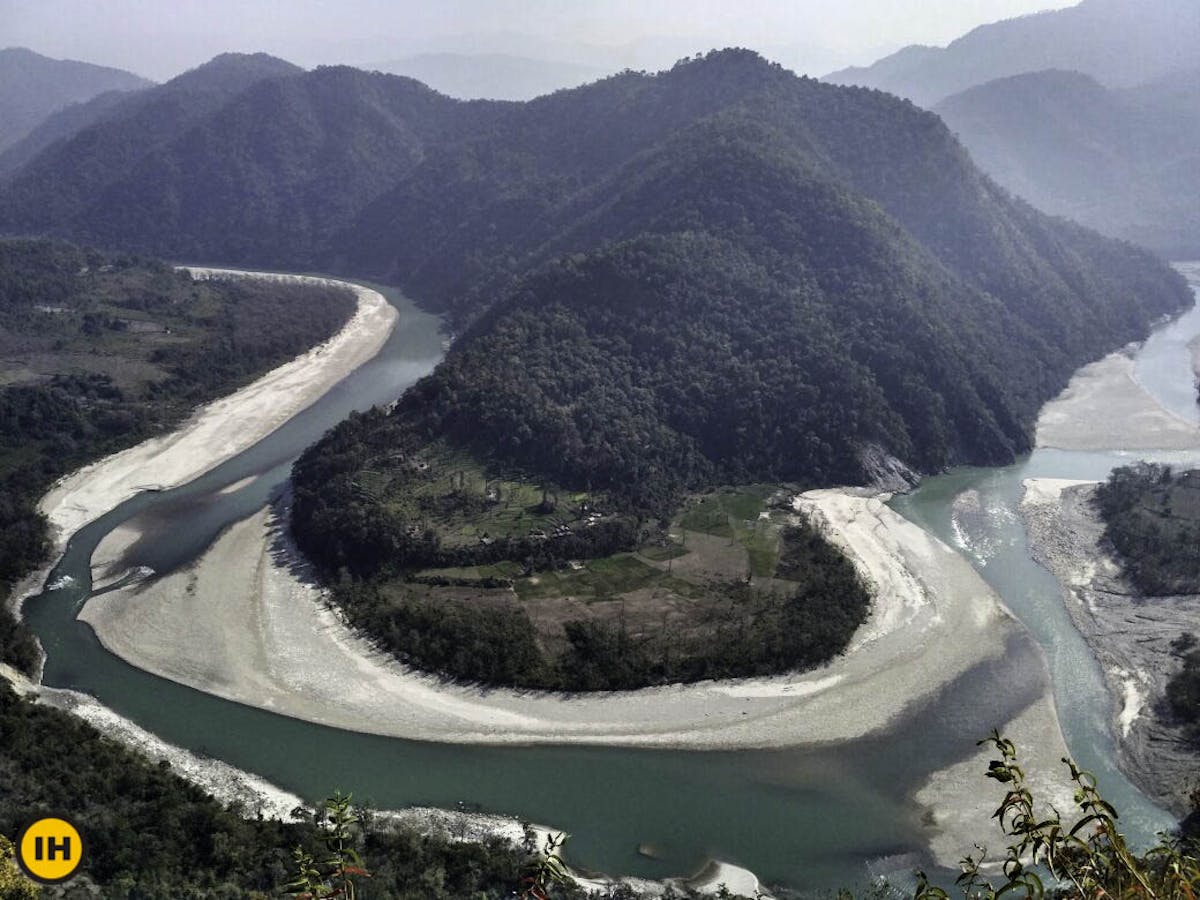 A picture from Indrajit's exploration. Look at River Kali winding through the mountains!
Must-see photographs from our January Contest
Every month, our trekkers amaze us with their photography skills. And each month gets better than the previous one. It is a delight for us to host the Trek Photographer of the Month contest when we get such grand entries.
January entries have been especially dramatic thanks to constant snowfalls. We just chose the winners today. Here are the winners. Don't miss seeing them. They'll make chills run down your spine.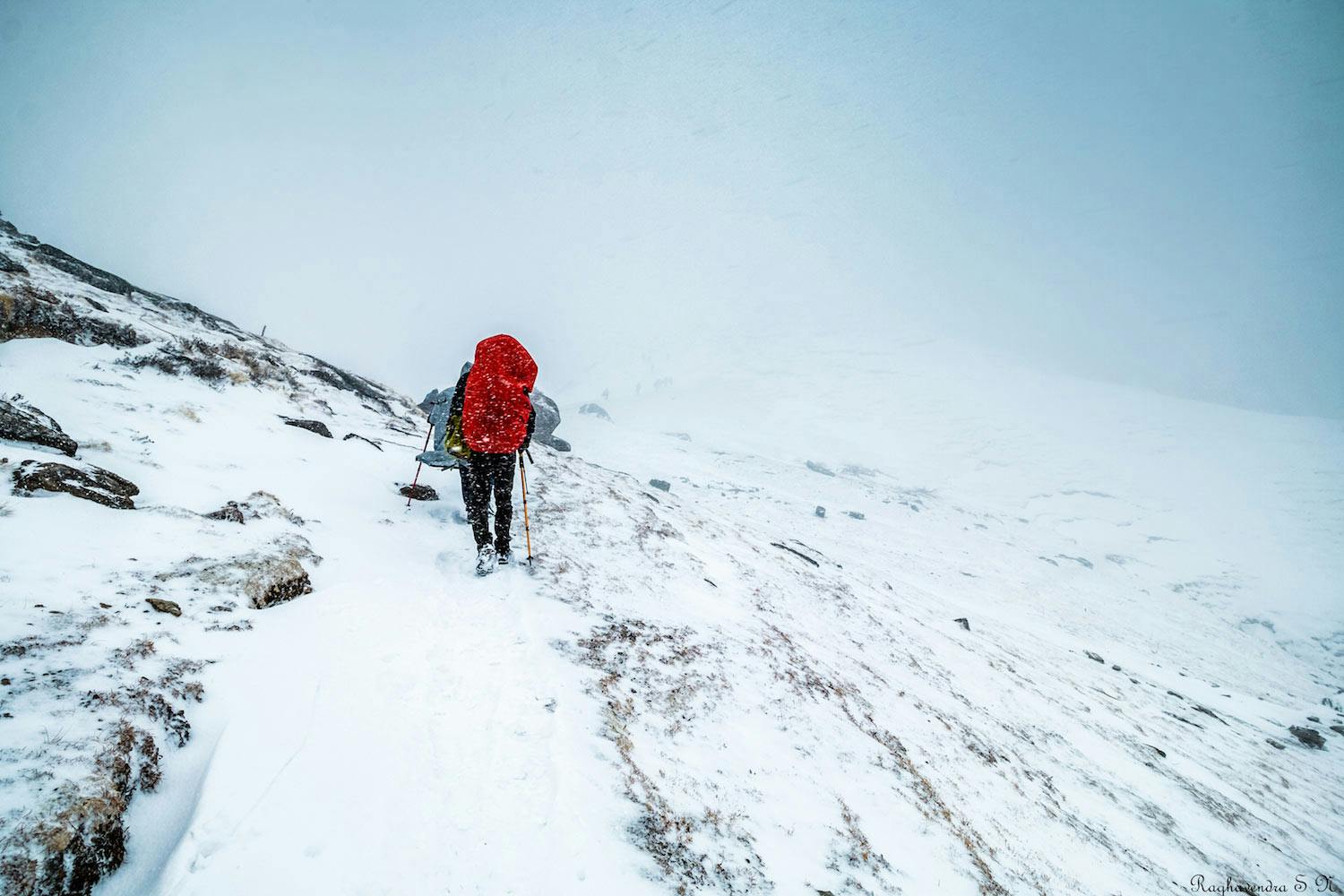 Our Ground Coordinators set new milestones 
Suhas completes a year at Indiahikes
This February marks the completion of one year for one of our most integral team members, Suhas. You might have spoken to him as your Ground Coordinator. When he came in, he was a very, very quiet young lad. He was in love with trekking. It didn't matter to him whether it was a small local trek or a Himalayan trek. He would always find something fascinating about the trek. Then he went to Roopkund in June. He came back transformed. He wore a massive grin, and he spoke his heart out. He spoke more in a day than the previous four months! 
Now, he's one of the most dependable guys at Indiahikes. Our founder, Arjun says if he hands something over to Suhas, he can forget about it, knowing Suhas will handle it. It is wonderful working with you, Suhas!
Congratulations on completing a year at Indiahikes! 🙂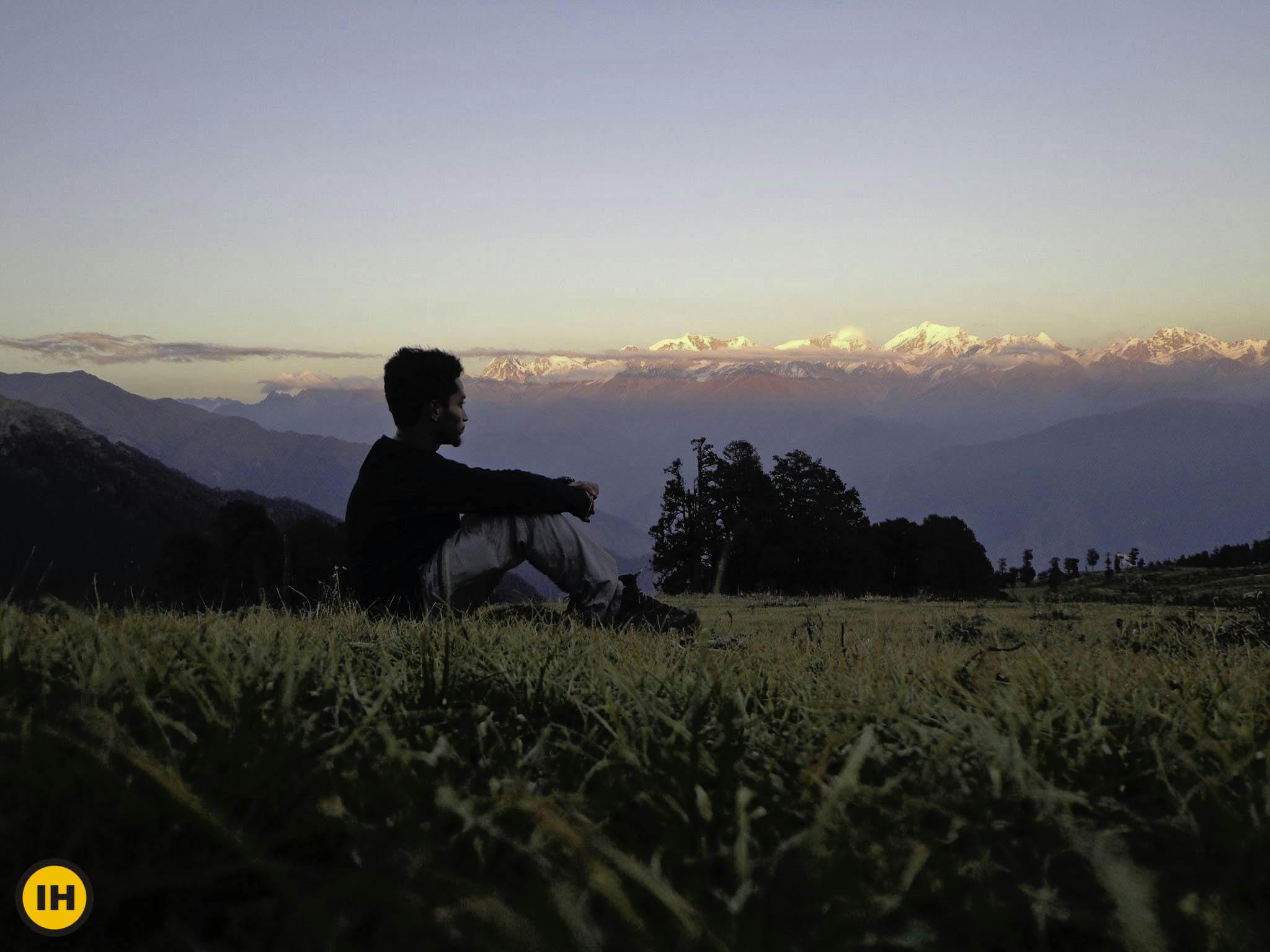 Prathima completes a half marathon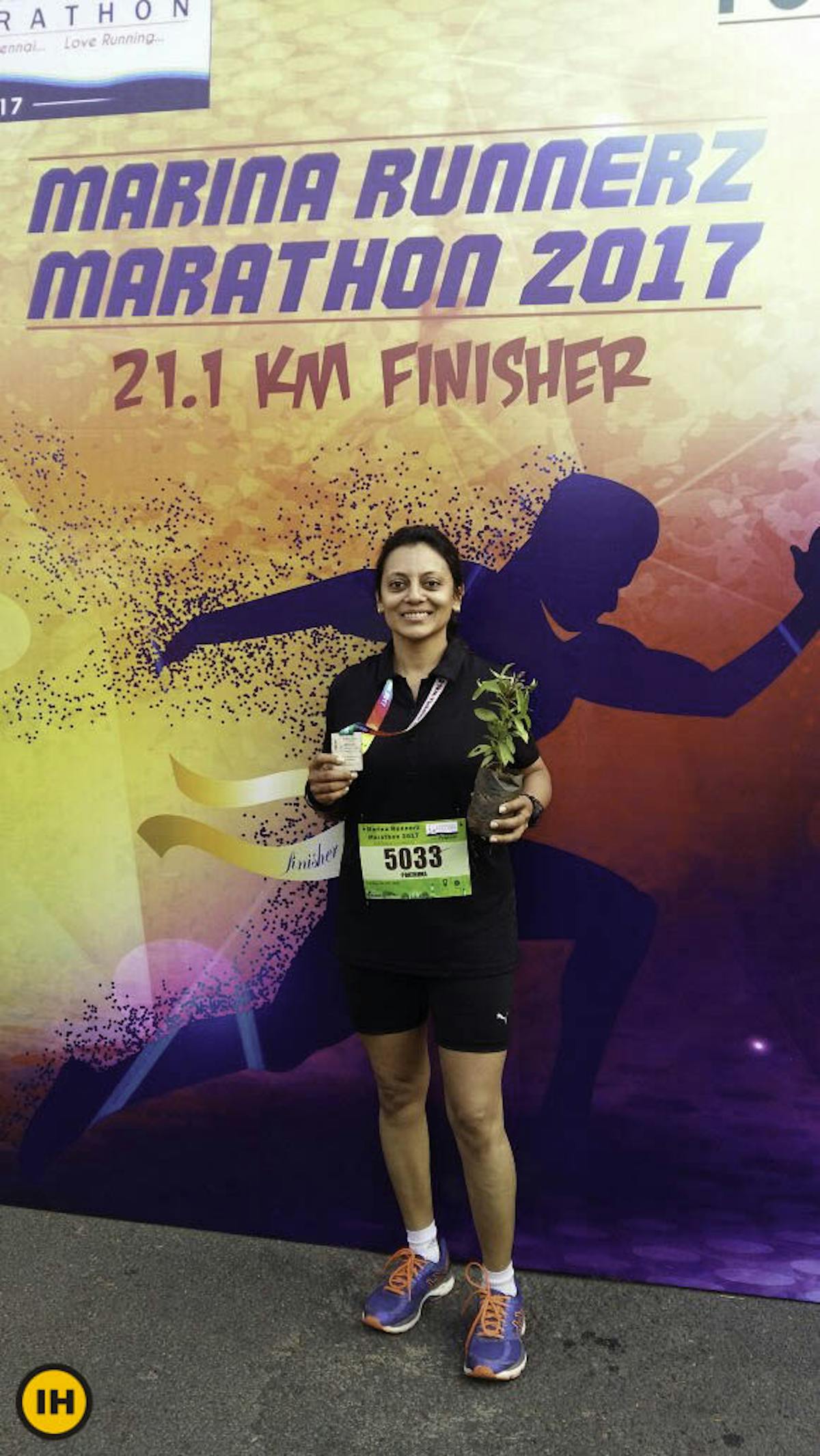 Prathima sets new benchmarks for fitness everyday. She completed a half marathon in less than 2 hours! What can we say! She is in a different league altogether.
Vishnu is set to complete an Intermediate Level Ski Course
On the other hand, Vishnu is having a time of his life on his ski course.  "I am meeting so many people. The local Kashmiris are such honest, welcoming people. This place is filled with trekkers and skiers who have many courses under their belt. Many of them have done courses along my Indiahikes local staff. My identity has changed now. I work for Indiahikes. I am in the adventure field now. That took time sink in. When people ask me what I do– I not only feel proud, but it makes me cautious too. It is an added responsibility that I carry. I am glad to be working with the best!" says Vishnu.
Here is a picture from the slopes of Gulmarg that made us all green with envy.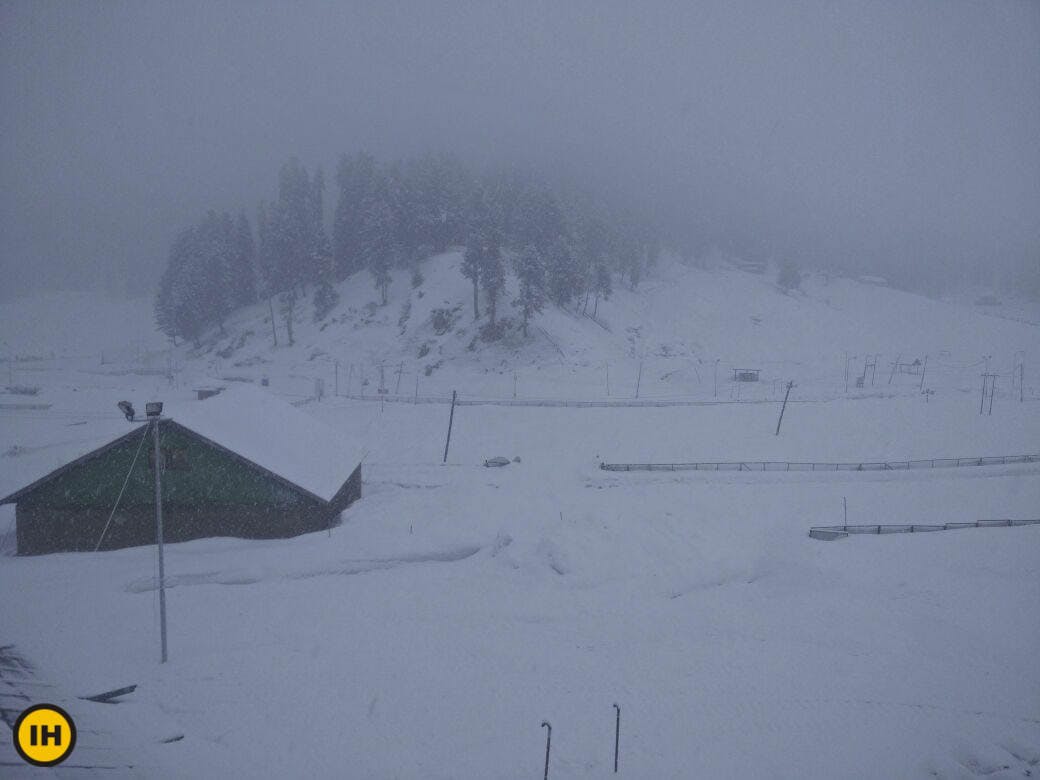 Kashmir inching back to normalcy
Speaking of Kashmir, schools have reopened after eight months.
The locals we work with at Kashmir visited our office today. They informed is that the situation is looking better in Kashmir. We are hopeful about our treks to Kashmir this year. 
Tourism is their bread and butter. With last year's treks being washed off, most of the locals around our trekking routes have been struggling quite a bit. It is imperative for them that the situation goes back to normalcy and all treks run smooth.
Snow leopard spotted at Kibber
To end our updates on a lighter note, we received this picture of a snow leopard! We received it from our Kanamo guide Namgyal.
This rare animal was spotted in his village, Kibber. We are in awe. Happy World Wildlife day!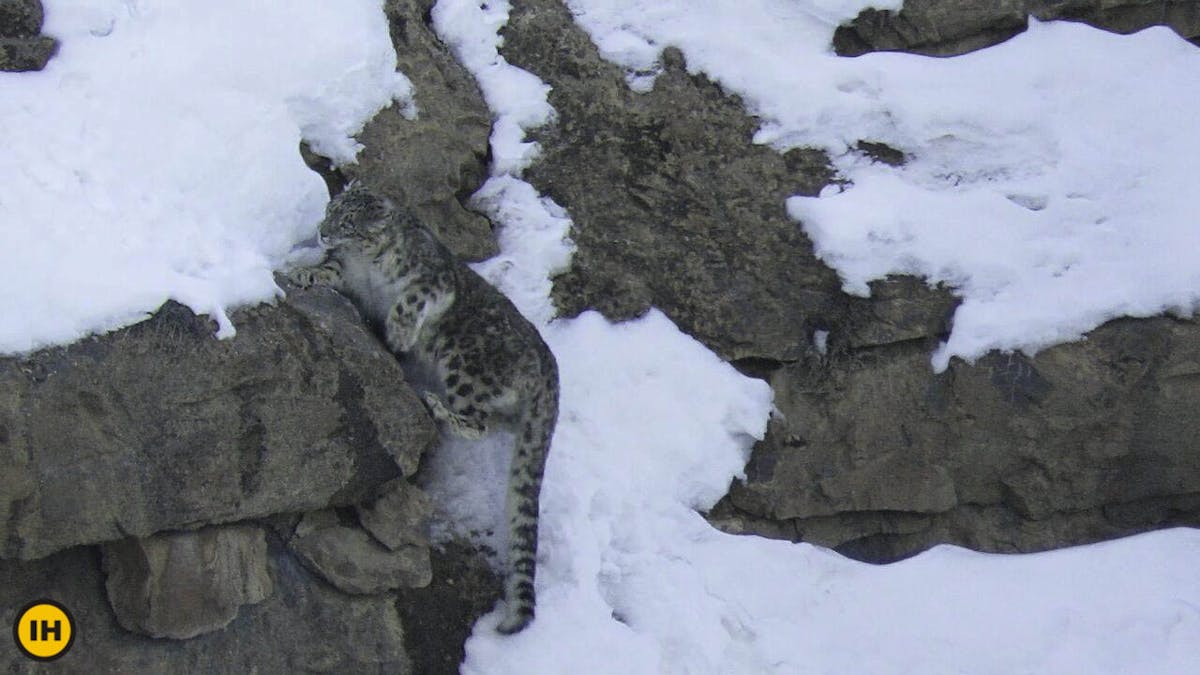 The elusive snow leopard spotted in Kibber!
If you have any thoughts about the new route to Kedarkantha or any of our other treks, drop in a comment below. 
Sign up for our much loved Weekly Mailer
We have terrific trekking tips, trek updates and trek talks to look forward to