How lack of oxygen affects you on treks
Share this story
The amount of oxygen decreases as you climb higher up a mountain. And this deficiency tampers with your body's functioning, mood, muscles and  the entire experience of the trek. Here are slices from lives of trekkers who battled lack of oxygen and Acute Mountain Sickness.
Trek leader Vaibhav Chauhan was so dizzy in the head that he almost stumbled over the edge of a slope. Around 200 metres below, River Parvati gushed furiously. "I anchored myself with the help of the trek pole, using it like an ice axe and doing a self-arrest of sorts to save myself from falling," Vaibhav said. "Nobody was with me at that time."
A risky move. But such risks have to be taken when you're battling a foggy mind. Vaibhav was on a difficult exploratory trek to Pin Parvati. It included hiking in heavy rain, wearing damp clothes all day long. To make matters worse, Vaibhav got hit by Acute Mountain Sickness. AMS is a result of dipping air pressure and lack of oxygen at high altitudes. Its symptoms are headache, nausea, dizziness and stomach uneasiness. Quite similar to a hangover, actually.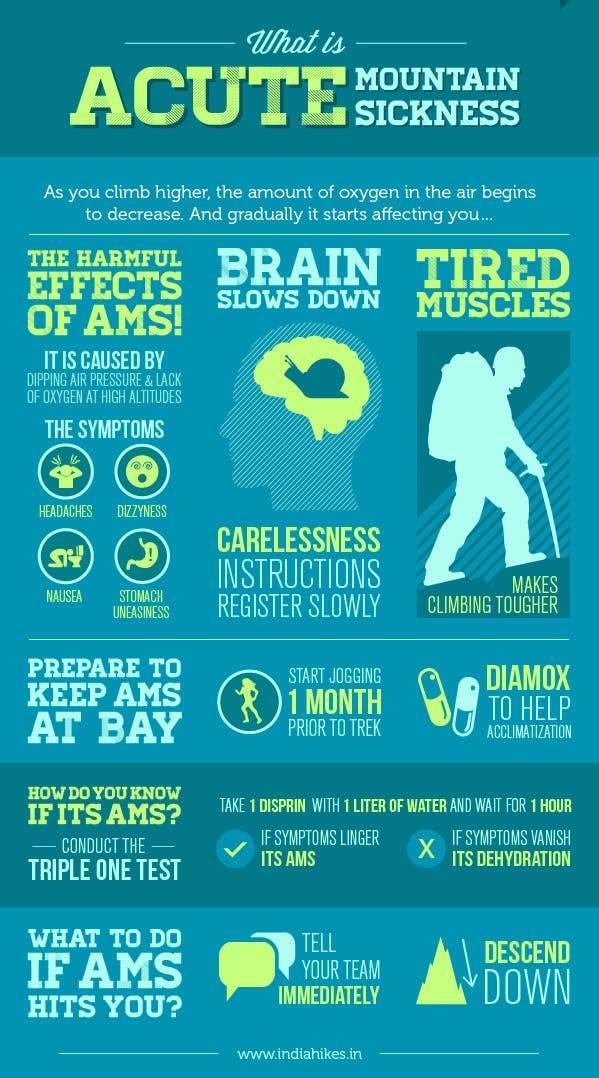 "When you hear the story of two Everest climbers almost being beaten to death by local sherpas, it is not hard to analyse why all this happened. It's the co-relation of stress, AMS. I got a taste of it the hard way," Vaibhav said, mulling over his experience, where two of his team mates – one Bengali and another Punjabi – almost got into a brawl over a frivolous debate.
Oxygen in the air starts thinning beyond 2,000 metres above sea level. And if your body isn't used to long hours of exertion, the effects of the lack of oxygen start showing up very clearly.
Your brain slows down
When the oxygen level in the air drops, your brain does not receive adequate oxygen. As a result, your brain slows down and instructions register a tad slowly.
Something similar happened with Sandhya UC, who recounts one such incident from her trek to Stok Kangri. It was the last and the most difficult leg of the trek when fellow trek-leader Arjun Majumdar placed his camera precariously on the slope and stepped down on the side of the trail. Sandhya, who kept an apprehensive watch on the camera also kept cautioning trekkers, "Take care, don't touch the camera or it'll roll down."
But one trekker, even after hearing the instruction loud and clear, still managed to nudge the camera. The camera rolled down the slope and into oblivion leaving the guilty trekker feel remorseful for the rest of the trek.
Could it be blamed on the trekker's carelessness? Not really. Instructions do register a tad slower on higher altitudes. And that's what happened in this case.
Tired muscles
While lack of oxygen can affect the grey area of moods, it can also have physical effects on the trekker – muscle fatigue. As you gain altitude, your muscles tire easily. You're prompted to take breaks every now and then.
Green Trail Expert Izzat Ansari's trek resonates with this fact. Even though she was in good shape, the lack of oxygen did make her pause to catch her breath every now and then on the trek to Roopkund. "It makes the climb tough," Izzat said.
AMS, and how to keep it at bay
The cumulative effect of lack of oxygen and exertion could lead to AMS. And the best way to prevent it is by taking precautionary measures and preparing for it. That's because little can be done after AMS sets in.
Physical exertion
When you exert your body, it needs more oxygen to fuel the exertion. That's why we pant when we run or jog. When you trek at higher altitudes, you exert your body in an environment where adequate oxygen isn't available. In order stay fit under these circumstances your lungs need to be in good shape.
Exerting your lungs regularly is a good way to go about it.  With time, the efficiency of your lungs increases. And that helps them fare better at higher altitudes. So if you've registered for a trek, make time for running or jogging in your schedule. It helps.
Diamox
Izzat was apprehensive about how her body will react to the lack of oxygen during the trek to Roopkund. So, as a precautionary measure, she took a dose of Diamox (Acetazolamide). She experienced tingling finger and toe tips and loose motions as mild side effects. "Apart from that, all was well," she said. So yes, Diamox helps you you to acclimatize faster. But if you still get hit, descent is the only medicine.
What if you get hit by AMS
The symptoms of AMS and dehydration are very similar. In order to cure AMS, you first have to be sure that you're suffering from it. So how do you confirm your fears?
Triple one test
The afflicted trekker is made take one Disprin along with one litre of water and then made to wait for one hour. If, after an hour, symptoms like headache, nausea, etc. vanish, it's dehydration. But if the symptoms persist, then it's AMS.
It happened with Vaibhav while he trekked to Pin Parvati. "Knowing the fatality of AMS and how life threatening it can be if I do not descend, I told team members about my decision of going back." And that was a sensible thing to do. If you're hit by AMS the only thing to do is to descend.
In the end, lack of oxygen is inevitable when you are on Himalayan treks. And trekkers deal with it every time they make their way up the mountain. Some battle it and emerge victorious, others are forced to give up and return.
So tell us, what happened to you when oxygen levels dropped in the air?
Sign up for our much loved Weekly Mailer
We have terrific trekking tips, trek updates and trek talks to look forward to