Latest Updates: Bad weather takes hold on all our slopes
Share this story
Latest Updates: Bad weather takes hold on all our slopes
Category News
By Aswati Anand
2017-06-23
It is raining cats and dogs on all our slopes! Weather has been unkind to our trekkers when it comes to mountain views. The window of clear weather this week has been very tiny.  Nevertheless, the treks themselves remain an experience to cherish– even with this weather. All our batches are running as per schedule.
Let me start the updates from the treks that is our favourite at the moment: Buran Ghati.
Updates from our Himalayan Slopes
While it has been raining on all days in Buran Ghati this week, our trekkers were spared on the Pass day. The Pass day saw brilliantly blue skies. There was fresh snow on the Pass, which made the slide sections more fun. Our Trek Leader Sandeep called our Ground Coordinator Vishnu from the Pass with this news yesterday.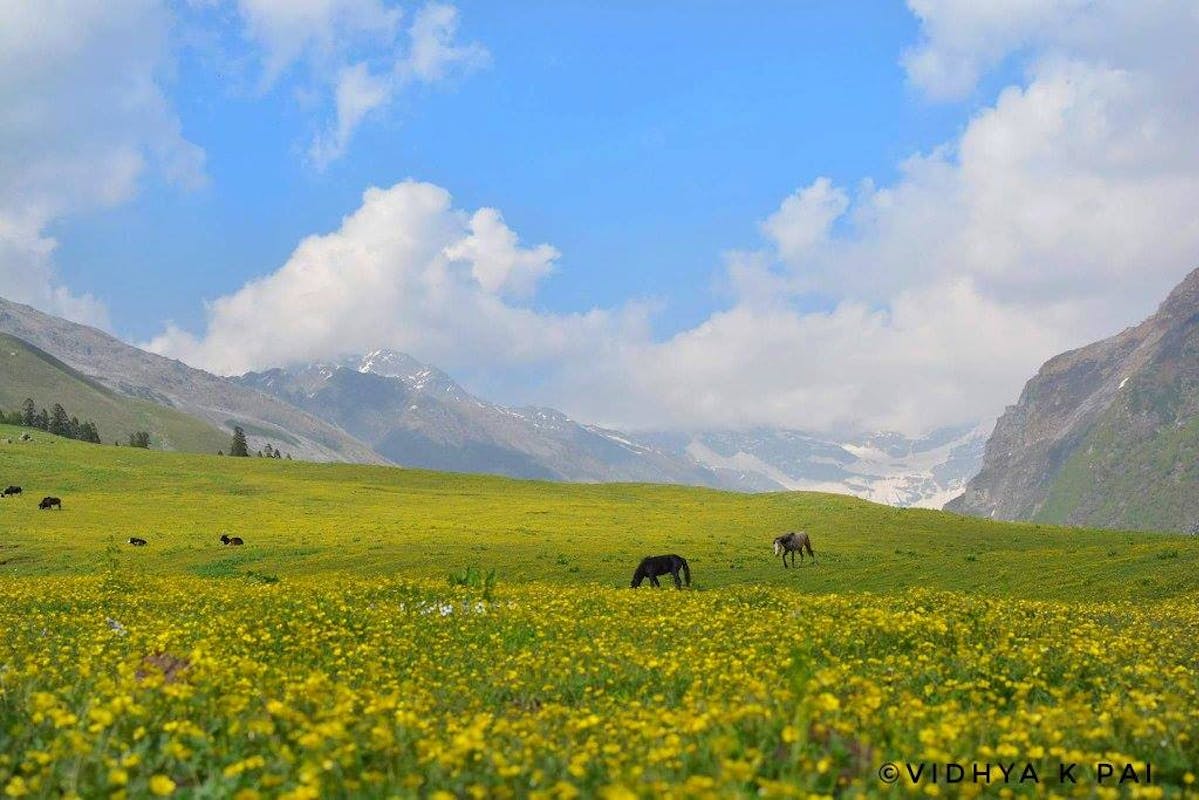 The Dayara campsite on Buran Ghati trek. Picture by our trekker Vidhya K Pai
Vishnu has been putting out regular updates from the slopes on his channel. Follow him here to get more quick updates!
Speaking of Buran Ghati, our Ground Coordinator Suhas is back from the trek.  We have a tradition here at the Indiahikes office.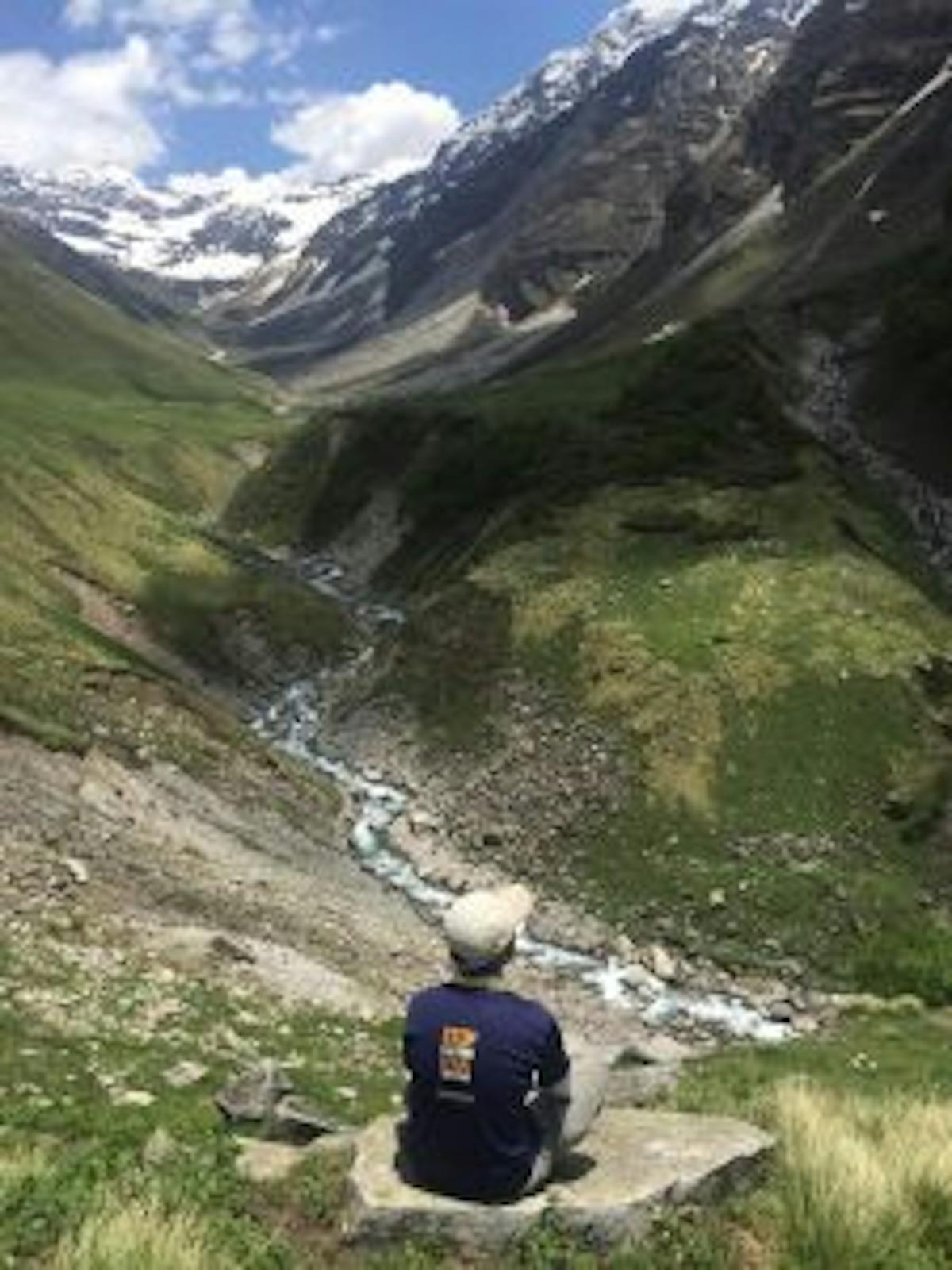 Suhas on the Buran Ghati trek. This is the trail from Dayara to the valley floor of Litham.
Whenever anybody from our Bangalore office gets back from a trek, the first two hours of his day back at work go in a story telling session. The highlights of his trek from beginning to end in vivid word pictures.
Suhas had the most unusual highlights from the trek. Apart from the thrill of the exciting Pass crossing, he thought the descent from river campsite to Baruva village was one of the most beautiful descents he has done in a long time.  The excursion to Chandranahan is vastly different from the rest of the trek.  Although, the water on the Chandranahan Lakes have depleted considerably since last week.
Buran Ghati is indeed a buffet of the best of Himalayan treks.
Last year, at this time, Suhas was in Roopkund. Our founder, Arjun posed the question he debated in an article he had written to Suhas: "Buran Ghati or Roopkund?"
Suhas hesitated a little bit before he said definitively, "Buran Ghati!"
Our Ground Coordinator also recommends you take the train from Shimla to Kalka after your trek. The track cuts through the loveliest forests and it would soothe that part of you that is missing the trek!
Here is what our trekkers had to say:
The trek was absolutely wonderful. The way IH had everything in place without much hassle despite ours being the first batch is really commendable. The food was delicious.  I am amazed by how the kitchen staff can do wonders like these at such high altitudes. The whole of staff were really good and helpful. We played games at all the campsites. It was all lovely! Kudos to the whole team of IH for the top notch organizing 🙂 IH has the best trek leaders. Vishal Negi was an amaaaazing person to have around as a trek leader.  The local guides, Satyadev ji and Rajesh ji were wonderful too. The local stories that they enlightened us with are something to ponder on, even after being back from the trek. – Vidya Pai, Buran Ghati, June 2017 batch
The last batches of Rupin Pass would be leaving this weekend. The trek, like much of our other treks, is seeing a lot of rain. The Pass day for last week's batch was cloudy, with little to no views. Do not forget to get your ponchos, trekkers!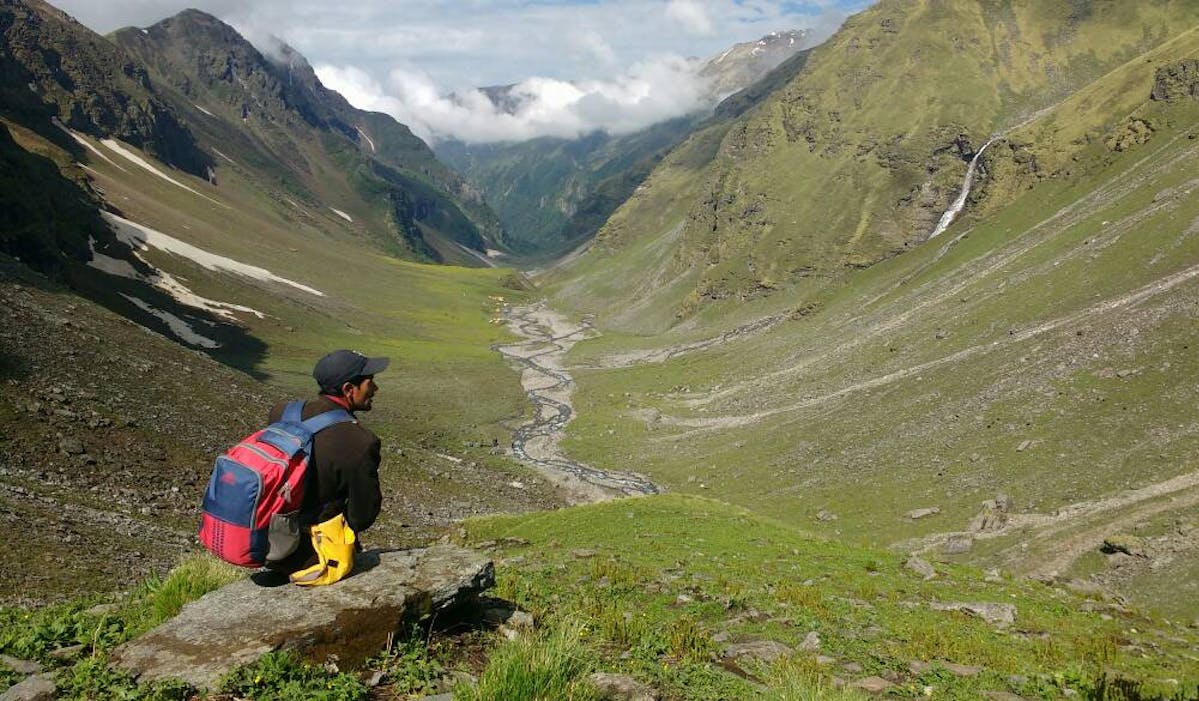 The snowline on this trek has receded. Now, the trek sees more rain. You can see the clouds starting to swoop in. PC: Sushant Ale
Despite the bad weather, here is what our trekkers had to say about the trek:
Right from Dhaula to Sangla, the journey of Rupin Pass trek was most memorable. As it was my first ever Himalayan trek and even High Altitude trek , completion of this trek has even motivated me further to look forward for other treks. The accommodation and the food India Hikes served was amazing and I personally have no complaints. To say about the leader Sushant handled us very well. He was very punctual and even strict at times but always enjoyed along with the team. Jagat Ji was extraordinarily helpful and over all helped us through out the trek and kept motivating us. I would like to Thank India Hikes for making our trek memorable and also look forward for more treks with Indiahikes. – Shreya Ranade, Rupin Pass June 2017 batch
Meanwhile, check out a lovely story from our trekker Dhaitri Boro here. This was about a guide on the Rupin Pass trail. She submitted the story as part of our Weekly Photo Challenge on Instagram. Follow our Instagram to participate! This week's winner will get a surprise gift from us.
The Roopkund trail is seeing a lot of rain as well.  The Pathar Nachauni campsite was almost flooded! We are shifting our camp location on the trail. In a breakthrough, our Green Trails interns have set up a rainwater harvesting catchment in this camp. The design- with its low centre of gravity- was made to combat the wind conditions of Pathar Nachauni.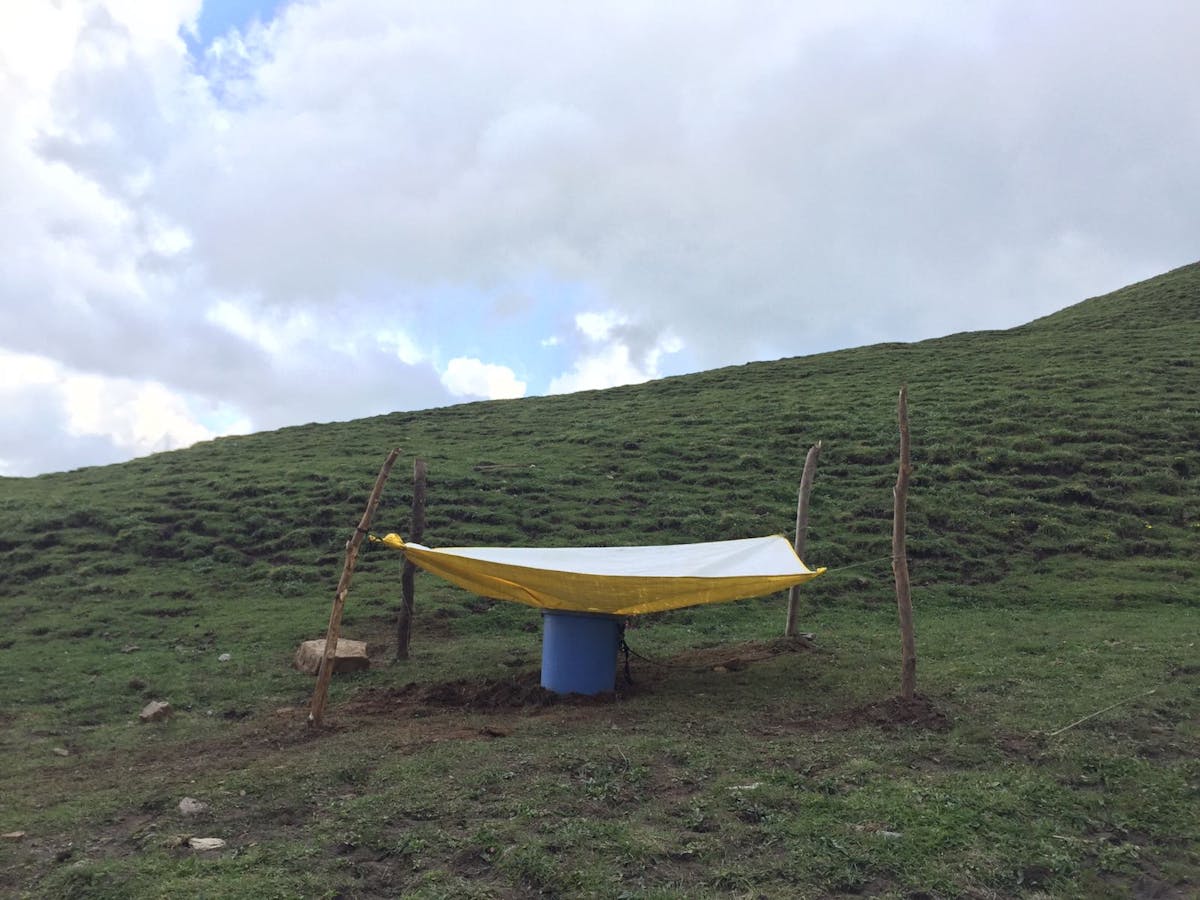 The rainwater harvesting set up at Pathar Nachauni. The model was put up by our super enthusiastic and proactive Green Trails intern Ori!
We are planning to have multiple set ups should solve the water problems of the campsite. In few windows of clear weather, we have second batch attempting Junargali this week.
Here is what our trekkers had to say:
I feel the food what IH is providing is very calculative. Lots of thought process must have been there while deciding food at each campsite.  Everything was well arranged. Cooks were so perfect at each and every campsite.About Trek Guides, we were fortunate that we got Veeru Paji and Heera as our guides. Both were full of energy and enthu. We never felt that they are doing this slope multiple times. Every time both were ready help. Be it helping in carrying backpack for those who are struggling to walk, be it giving info for each and every campsite, temple and each and every spot.About trek leader, Naada was truly a leader. On very first campsite at Ghairoli Patal, she introduced a game by which everyone got to know everyone's name. And by that we could make a strong bonding between trek mates. Hats off to her! I got a best group on my this trek. – Sagar Kalpadi, June 2017 batch
Hampta Pass sees clear mornings and rainy afternoons on the Kullu side of the Valley. The Shea Goru campsite continues to chill our trekkers to the bone with its wind conditions! Trekkers going to Hampta this week must bring appropriate gear.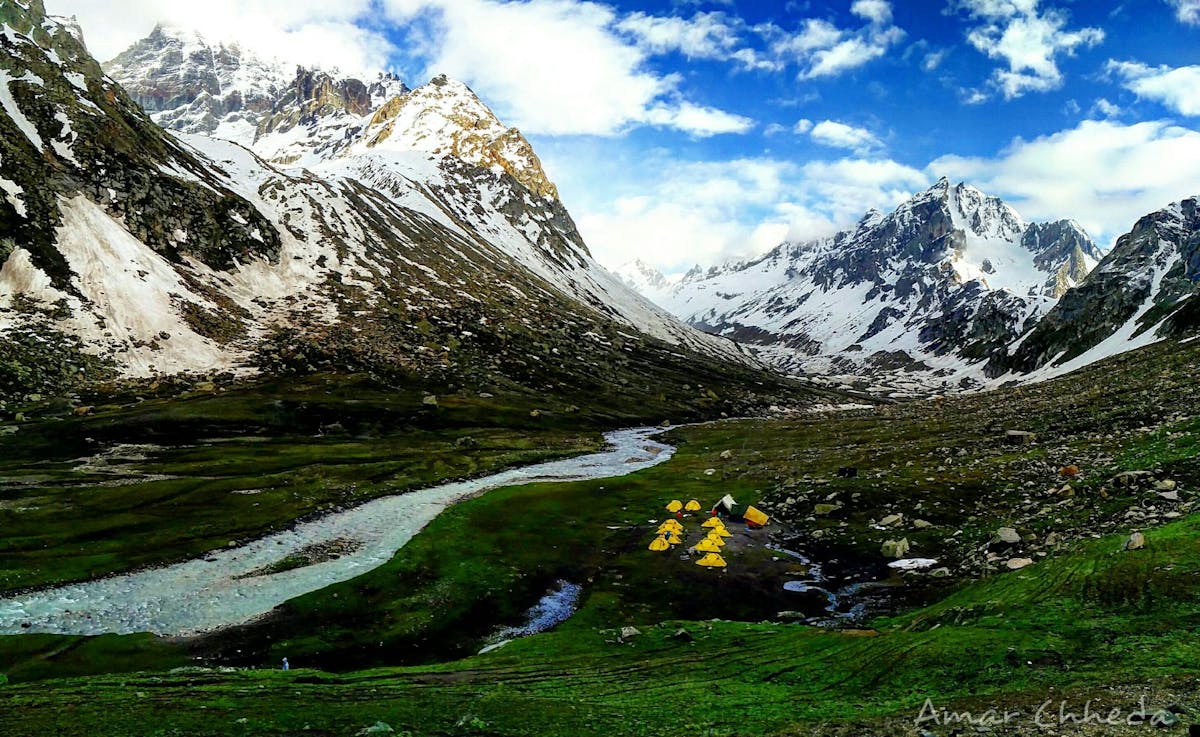 The Shea Goru campsite in Lahaul Valley. PC: Amar Cheda. The picture was taken on June 10th batch.
Here is what our trekkers had to say:
Hampta Pass was the perfect first trek! As someone who hasn't trekked at all, it sure inspired me to trek more. I'd read a lot about the sudden change in scenery from Kullu to Lahual, but to sit on a mountain and see lush greenery and snow on one side and crystal-blue water among desert mountains on the other was an experience I can't fully express in words. What really touched me, and a lot of my teammates, was how dedicated our guides were. At every step, they'd be there. Every time someone got tired, they'd do everything in their power to keep them going. They made us laugh, challenged us, motivated us and kept saying they'd carry us on their backs if that was what it took to make us reach the top. The food was delicious AND nutritious. I usually develop a cough every time there's a change of weather, but the constant dose of ginger water, hot water and tea kept all my worries at bay.  I've already started planning my next trek, and it will definitely be with Indiahikes! – Aastha Sharma, Hampta Pass June 2017 batch
Bhrigu Lake is seeing dull weather with rain and hail on the later part of the day. There is no snowfall. However, with onset of rain, comes the wildflower bloom in meadows. Here is what our trekkers had to say about the trek:
I came to hear about Indiahikes from my brother and initially,  I was apprehensive as I had never been trekking before. But I did all the training recommended by Indiahikes before leaving for the trek. It was an experience out of this world! Waking up to beautiful views all around and leaving city life behind to appreciate the wonders of nature daily. It was great fun chatting with Shyam Bhai and  Kamal Bhai about their local mores and traditions. I came to know a lot about the local Flora and fauna. Bhrigu lake was the ultimate destination and I have never before seen a more beautiful place ever! It was a treat to the eyes and totally worth the pain and falls that came with walking in the snow. I am definitely excited to go on more treks in the future.– Aparna, June 2017 batch
Other updates
Our Bangalore office is super busy these days with Hiking Club treks. We have been doing back to back batches to Makalidurga with DPS school children. Here is a picture from one of the batches!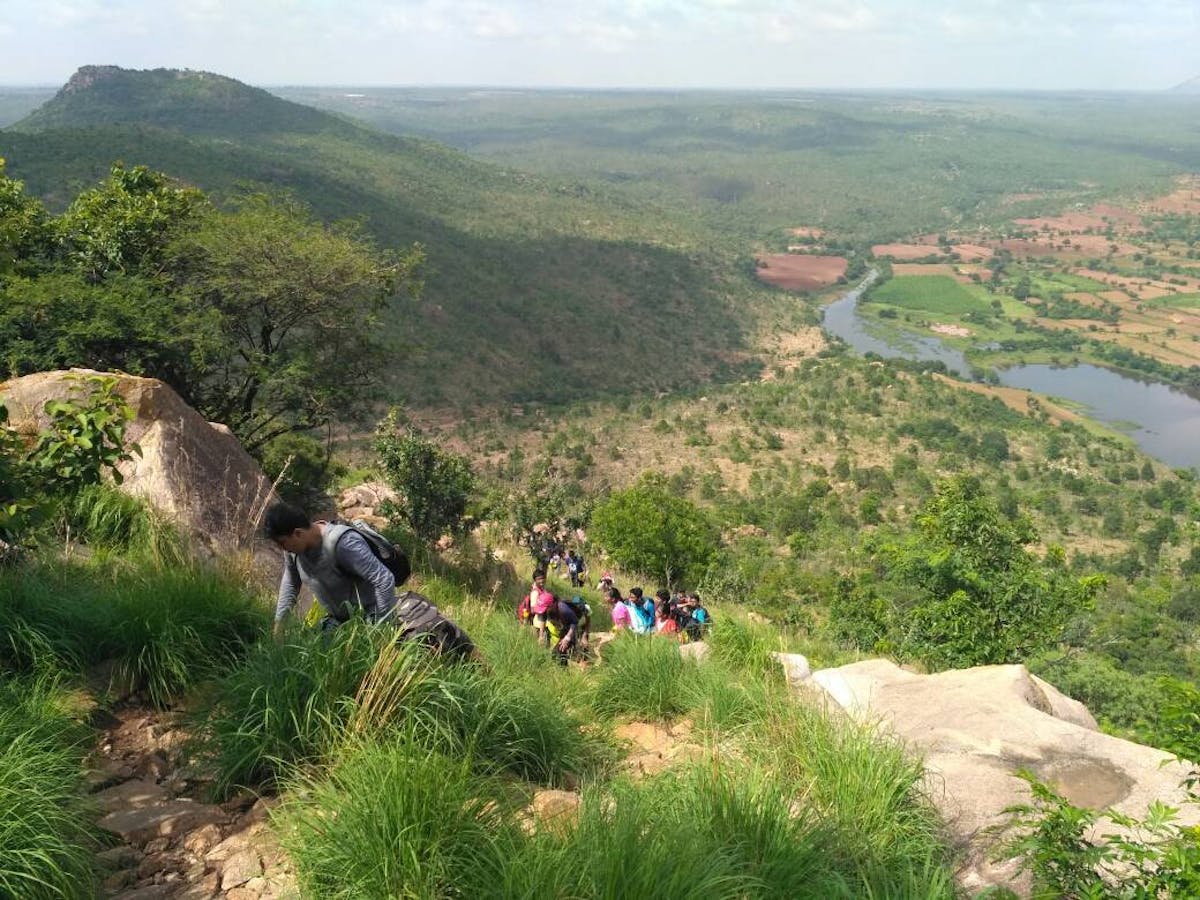 The Makalidurga trek with DPS schoolchildren.
If you wish to start Hiking Club in your school, write to swathi@indiahikes.com
As I write this, our Kashmir season is being set up. We are ready to move out of Uttarakhand as the monsoon will start taking hold in July. You can read about how monsoon affects a trekking season here.  
We can't wait for the season to start! On this note, I'll end the updates. Stay tuned to our website for more.
Sign up for our much loved Weekly Mailer
We have terrific trekking tips, trek updates and trek talks to look forward to