Ledlenser MH6 Headlamp Review: A Premium Headlamp For Regular Trekkers
Share this story
Ledlenser MH6 Headlamp Review: A Premium Headlamp For Regular Trekkers
By Arjun Majumdar
2017-06-06
When I took the Ledlenser MH6 out of the box, I was immediately impressed. What I hate most in headlamps is the flimsy plasticky feel that you get. But not so with the MH6. It felt sturdy with good grade plastics.
While good looks are important, a great headlamp must be able to survive the harsh trekking conditions that we usually deal with. It must be able to last the rigours of everyday use for a prolonged period.
I tested the Ledlenser MH6 Headlamp on the Kuari Pass trek in April.
In this article, I take you through the pros and cons of the MH6, and also talk about a few details that most trekkers miss when they think of buying a headlamp.
Headstrap
This is the first thing that I look at when I consider a headlamp. While most headlamps have fancy straps, the buckles and elastic are often a cause for concern. I really don't like headlamps that have extra straps that run across the centre of the head. It is meant to give additional stability, but wearing such headlamps over a balaclava or a woollen cap is a task.
I love the circular straps of the Ledlenser MH6. The headstrap slipped easily over my head and I was able to tighten the straps in less than a minute.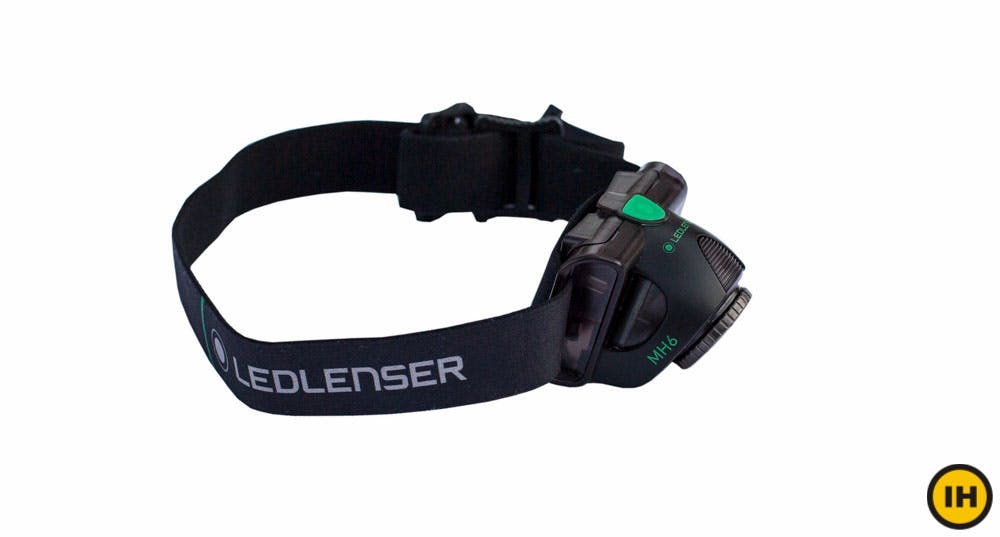 Headlamp light output
This is perhaps the most important aspect of a headlamp. Most headlamps have poor light output. The light looks fine when you check it at the store, but on a trek you find it is not bright enough. Some headlamps are bright but they don't throw light too far.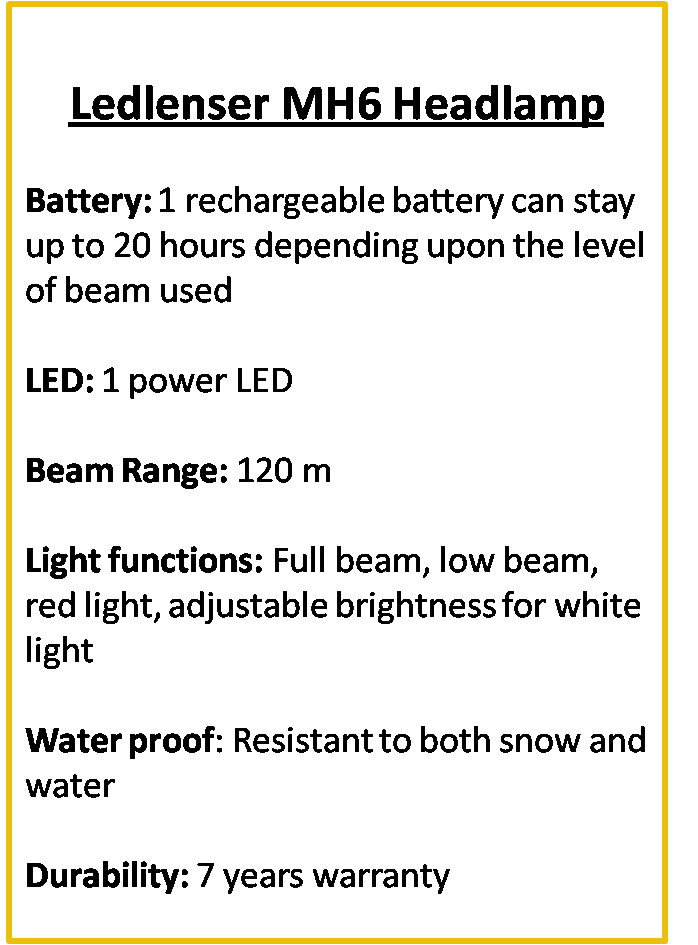 Brightness and throw are two different aspects of a headlamp. Brightness alone is not enough. Headlamps need to throw light to a certain distance as well. With most headlamps, I often struggle to see beyond our kitchen tents which are usually not more than 15 metres away!
The Ledlenser MH6 headlamp that way is brilliant. I love the 200 lumens light (which really is the brightest light I have seen in headlamps for long), but more than the light I like the beam distance. I was able to see well beyond our campsite, easily more than 50 metres, even on half-dimmed light.
Which brings me to the dual focus of the MH6. With a turn of the headlamp it is possible to change the beam into flood mode (or wide focus). This is excellent for inside-tent work. It floods the entire tent with light, illuminating all corners. It came particularly handy when I had to perform emergency medical aid on one of our trekkers.
The spot mode (or narrow beam) is great when you have to see something at a distance. Particularly useful when you have a summit climb that leaves dead of night and you want to gauge distances from afar.
Different brightness modes
Ok, this was one of the surprises of the headlamp. The MH6 comes with dimmable lights. With a double click and a long press of the switch button you can dim the light to a level you are comfortable with. This has two benefits. One, you can dim down the brightness of the white light (it is that bright!). Two, it helps the battery last longer. On a multi-day trek, you really want headlamps to last long.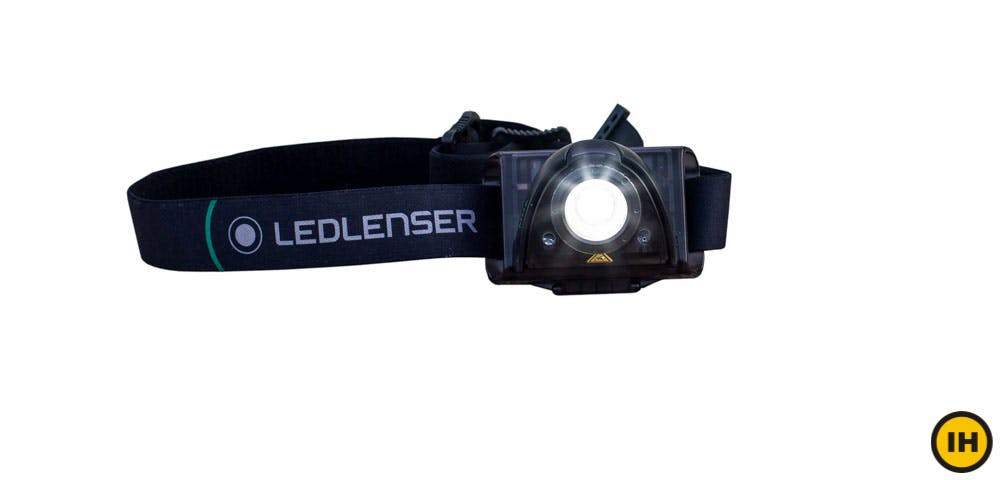 Batteries
The Ledlenser MH6 comes with lithium polymer batteries. Simply put, these batteries give a lot more power than our typical AA or AAA batteries, which explains the super bright light that you get with the Ledlenser MH6.
On the flip side, the headlamp died on the third day of the trek, which was due to the regulated output of the headlamp. Regulated output gives a steady brightness until the batteries run dry — which can happen abruptly. Some will find this an asset and many might find it a nuisance.
The MH6 can be charged with the regular power source of a mobile phone. So if you are carrying a power bank then you can charge the headlamp on the go. Without a powerbank, though, the MH6 may not last a full trek.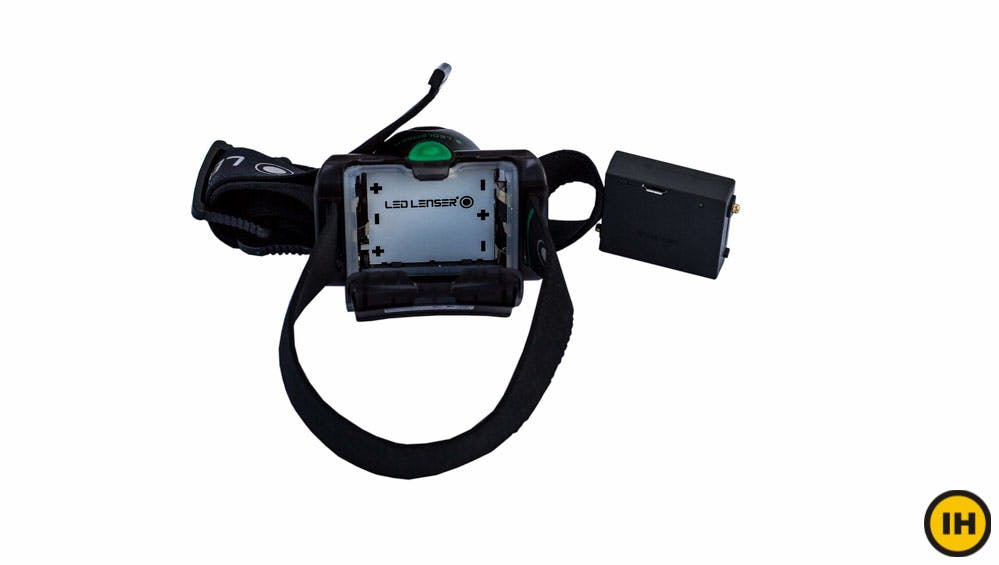 Light modes
The MH6 has the usual white/red light mode. As well as the white and red flash mode. For those who don't use these modes, perhaps it is time to start.
The red light is useful because it does not shrink your pupils, which makes a big difference in seeing things beyond the zone of light. With a white light, trekkers often trip on the guy wires of a tent or fail to see movement outside the white light zone. Use the red light if you are picking up your dinner, washing your plates or when you simply want to do some reading. Red light saves an enormous amount of battery.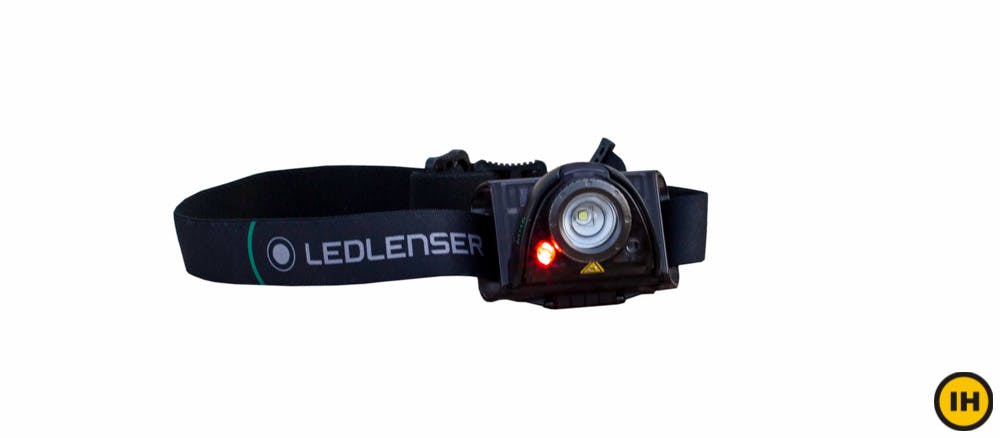 I have not had the chance to use the flash mode on a trek, but I remember how helpful it was when I saw one of our guides use it during a rescue. With his arms glued to the stretcher he had the flash mode on to alert the rescue team that was coming up to relieve them. The rescue team could spot them because of the consistent flash mode.
Water and snow resistance
The day we had to climb the summit, it started to snow lightly. Not much but enough to cover the ground with a fine layer of snow. Snow fell on the headlamp and settled on it. I expected water to seep through, but I liked the fact that the body was water resistant. The lamp shone through the snow drift. I can't tell you how much of a blessing it was that night. I didn't want to take too much chances though, so after about 30 mins of exposure, I cupped it in my hand to protect it from the snow. Anyway, the snow stopped falling after another ten minutes so I couldn't test it further.
Tilt
Many headlamps available these days in stores do not come with a tilt. This reduces the cost considerably. If you are a trekker, then avoid buying such headlamps. You need a headlamp that can tilt to various angles. It is particularly useful to see objects that are close to you, like your dinner plate or your medicine box. I have seen trekkers craning their heads in impossible angles to factor in a tilt.
The Ledlenser MH6 comes with a wonderful tilt. With a flick of your fingers you can tilt the lamp to almost 45º, which is more than what you require on a trek.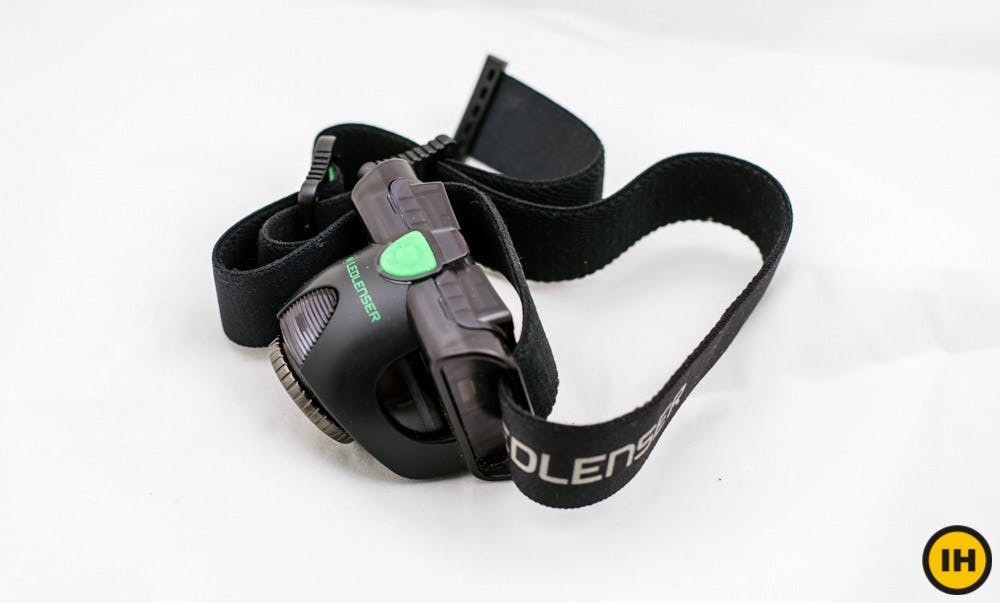 The verdict
I loved the Ledlenser MH6. It is a sturdy headlamp with wonderful features. The operations are simple. It gives superb white light and throws it to a good distance. What I didn't like was the shorter-than-expected battery life though that was taken care of by the power bank that I carried.
Though the features are terrific, at Rs 3,290 the Ledlenser MH6 is a premium product. So buy it only if you are planning to invest in a headlamp for the long term.
LEAVE A REPLY
Your email address will not be published. Required fields are marked
Latest Updates
Our Second International Trek is Here!
We've Opened Groups for 4-Day Treks Near Manali
Warwan Valley Dates Announced
We Are Looking For Remote Trek Documenters
New Video On How To Do The Sandakphu Trek On Your Own
Sign up for our much loved Weekly Mailer
We have terrific trekking tips, trek updates and trek talks to look forward to