Upping Safety Standards: Indiahikes local team undergoes BLS training
Share this story
Upping Safety Standards: Indiahikes local team undergoes BLS training
Category News
By Seersha Nambiar
2016-11-23
At Indiahikes, we secure the safety of our trekkers in three ways – training our staff, carrying good equipment and following certain protocols. As part of the first rung, last week 22 of our local staff members went for a Basic Life Support and First Aid course. The course was conducted by Max Super Specialty hospital Dehradun.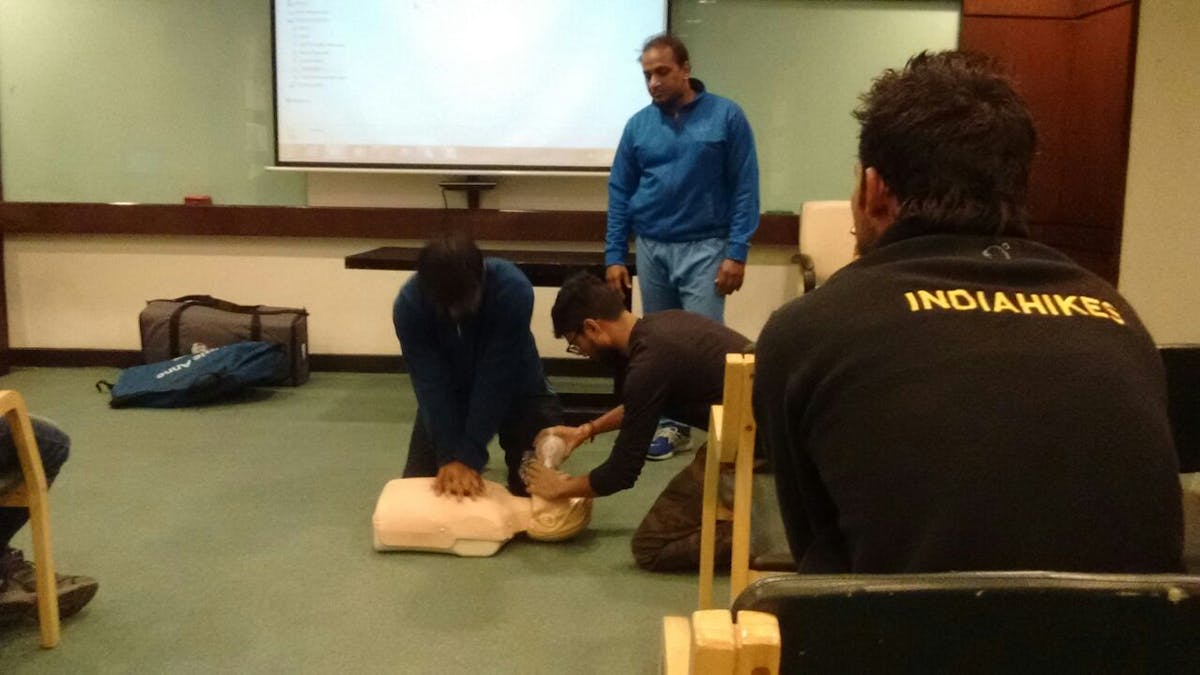 Our team member watches on as CPR is being performed on a dummy during the Basic Life Support course
They were taught the theoretical aspects of handling fractures, ankle twists, burns, wounds, frost bites and internal bleeding. This safety training is a part of our safety process upgradation.
But a large portion of that safety lies in your own hands – it depends on whether you're fit and prepared for your trek. That's when you have to assess your fitness.
Assessing your BMI
There is a minimum amount of fitness required to do any Himalayan trek. We have found that unfit trekkers are more prone to risks at high altitude. Which is why we have introduced an eligibility criteria for all our treks.
We are aware that BMI is not the most accurate way to measure fitness, but it is the most accessible way for a layperson. If your BMI is beyond the upper limit, our ground coordinators will be asking you for a proof of fitness, just to ensure we are not eliminating the wrong people.
Watch the video to know more!
Miles away from the bustle of Dehradun, our trekkers are enjoying clear views of the Garhwal ranges. Let's see what's happening there.
Pleasant weather at Uttarakhand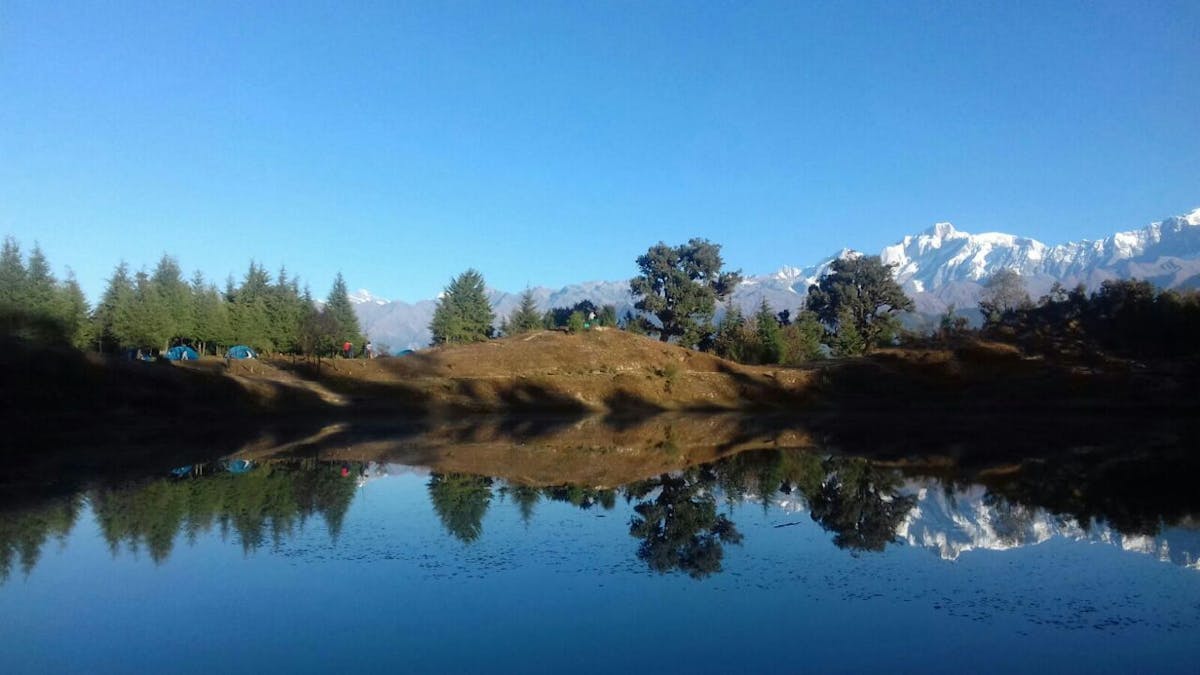 The Deoriatal lake in morning light
Here is what one of our trekkers had to say about his experience trekking to Deoriatal with Indiahikes.
"Awesome experience! Brilliantly managed by the Indiahikes team. Trek Leader Ankit led us from the front both in terms of discipline and care. He was ably supported by Dashodh, Rahul and Manoj Ji. The campsites were at breath-taking locations. We were given ample time to absorb and explore the surroundings. Ankit and Manoj Ji explained about flora, fauna, Himalayan history and geography making our trek a wonderful learning experience. Lastly, the food was sumptuous. Well prepared hot and fresh food at such remote locations is nothing less than a delight! Great job by Indiahikes team. Thanks a ton!" –Ashish Sharma, Deoriatal Chandrashila trek batch of November 2016
It's getting colder by the day on Har Ki Dun and Kuari Pass treks. It is yet to start snowing though. If you are heading to any of these treks don't forget the golden rule of 5 Warm Layers .
Weekend treks
The weather on the Nag Tibba trek is sunny and pleasant. Our trekkers from the November 19th batch sent this in on Whatsapp! A trek can do funny things to you! 🙂
Here is what Dr.Ritu had to say after her trek to Nag Tibba.
"The medical facility on trek as well as knowledge of guide Mayank was excellent !! As a doctor, I really appreciate this! Trek Leader Mayank was perfectly organized and led everybody in a very pleasant and professional manner. He was alert to individual needs of all and all were quietly on his radar 🙂 The pace of walking was comfortable. I am impressed with Indiahikes. Also, our ground co-ordinator Sandeep Verma kept everyone in the loop all through as well as before the trek! It was amazing how cooperative and prompt everyone is with phone calls as well as emails at Indiahikes"- Dr. Ritu Singh, Nag Tibba trek batch of November 2016
As for Prashar Lake in Himachal, here's a stunning picture shot by Surya Narayana.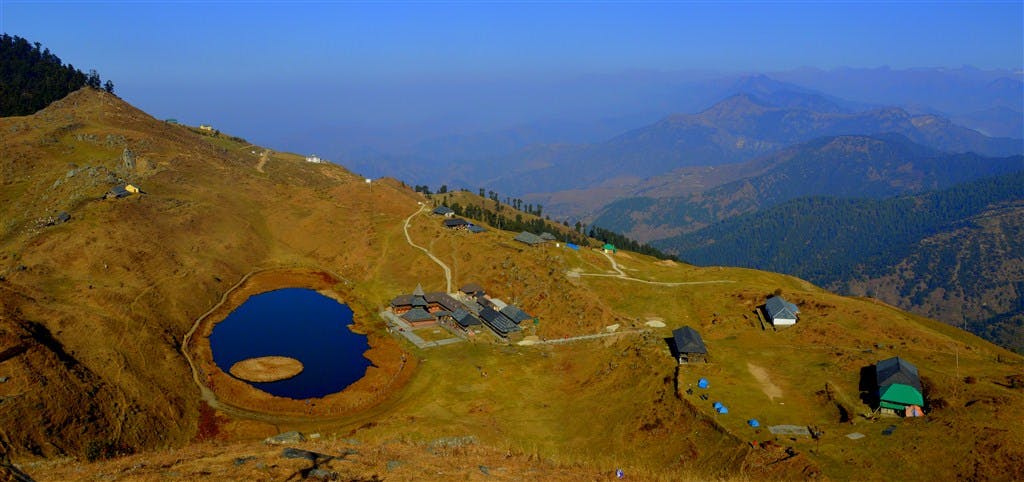 This photogenic weekend trek can be done all year round. Honestly, you don't need someone to organise the trek. You can go ahead and use our trek guide to do the trek yourself.
Speaking of going on treks without guides. If you are looking for a Do it Yourself trek this weekend  around Karnataka, head to Kumara Parvata.
Kumara Parvatha Trek
This trek is an overnight bus trip away from Bangalore. You can read the detailed itinerary here.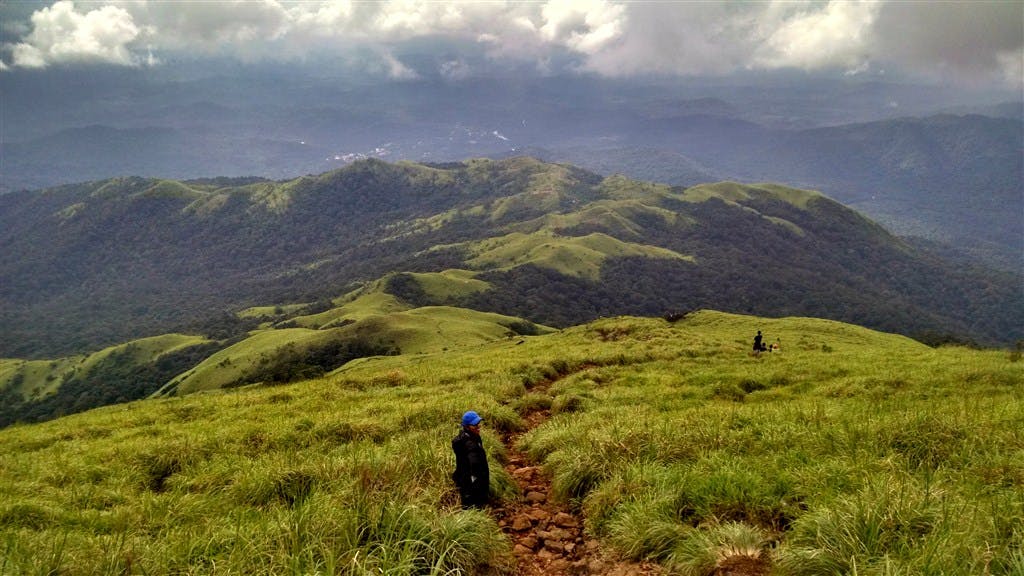 Indiahikes trekkers are spreading the word about Green Trails! Nothing makes us happier than this!
Our trekker spreading the message of Green Trails
Unaad went on the Hampta Pass trek with Indiahikes this year. Impressed by the concept of Green Trails he followed the same practices on the Kalsubai trek in Maharashtra. "We didn't have enough garbage bags," exclaimed Unaad. We do hope more of our trekkers follow his footsteps! It would be nice to see all trails in India cleaner and greener.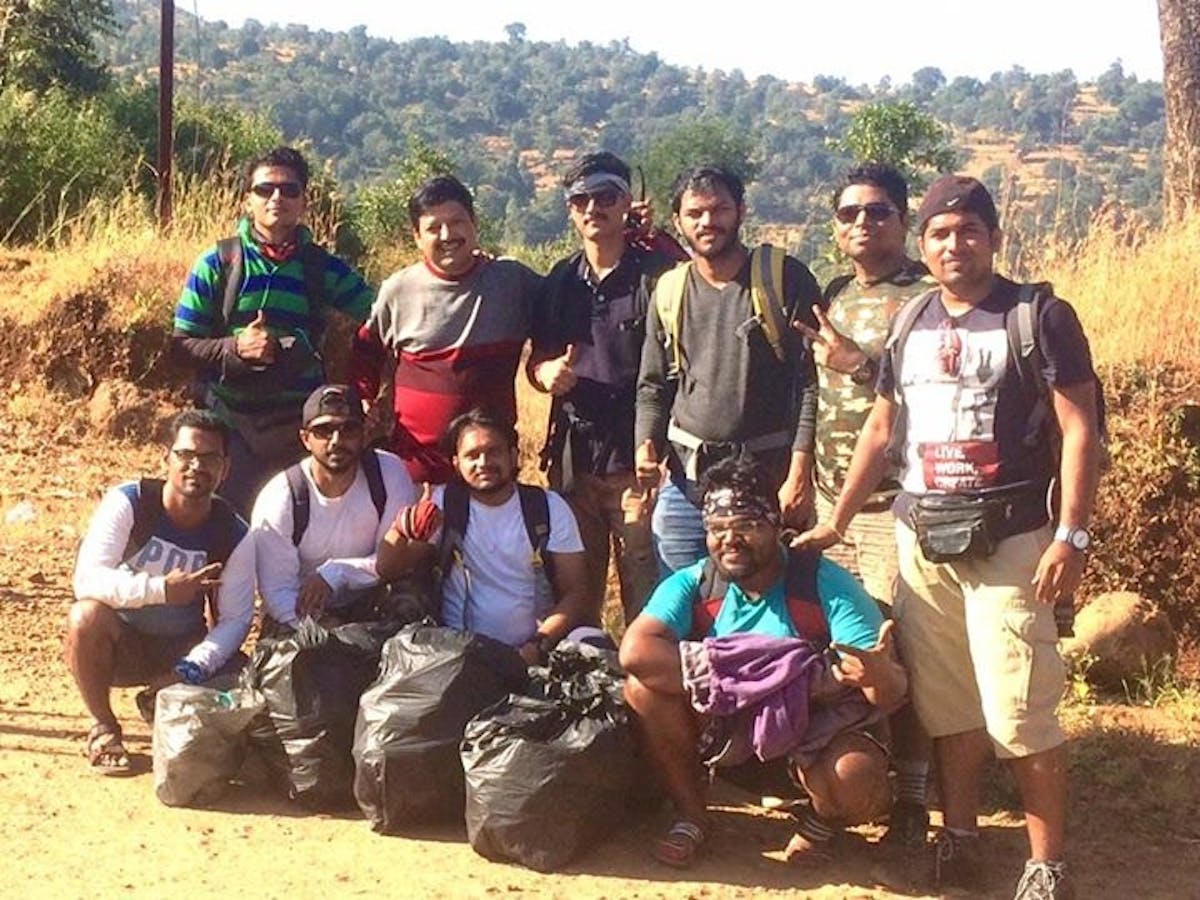 Indiahikes trekker, Unaad, implements Green Trails on the Kalsubai trek in Maharashtra. Here's a picture with the garbage they collected.
Stay tuned to our website for more weekly updates from the trekking world.
Sign up for our much loved Weekly Mailer
We have terrific trekking tips, trek updates and trek talks to look forward to